Unless you've been hiding under a rock or hanging out on a tropical island (we're jealous!) you've likely heard all about TikTok by now.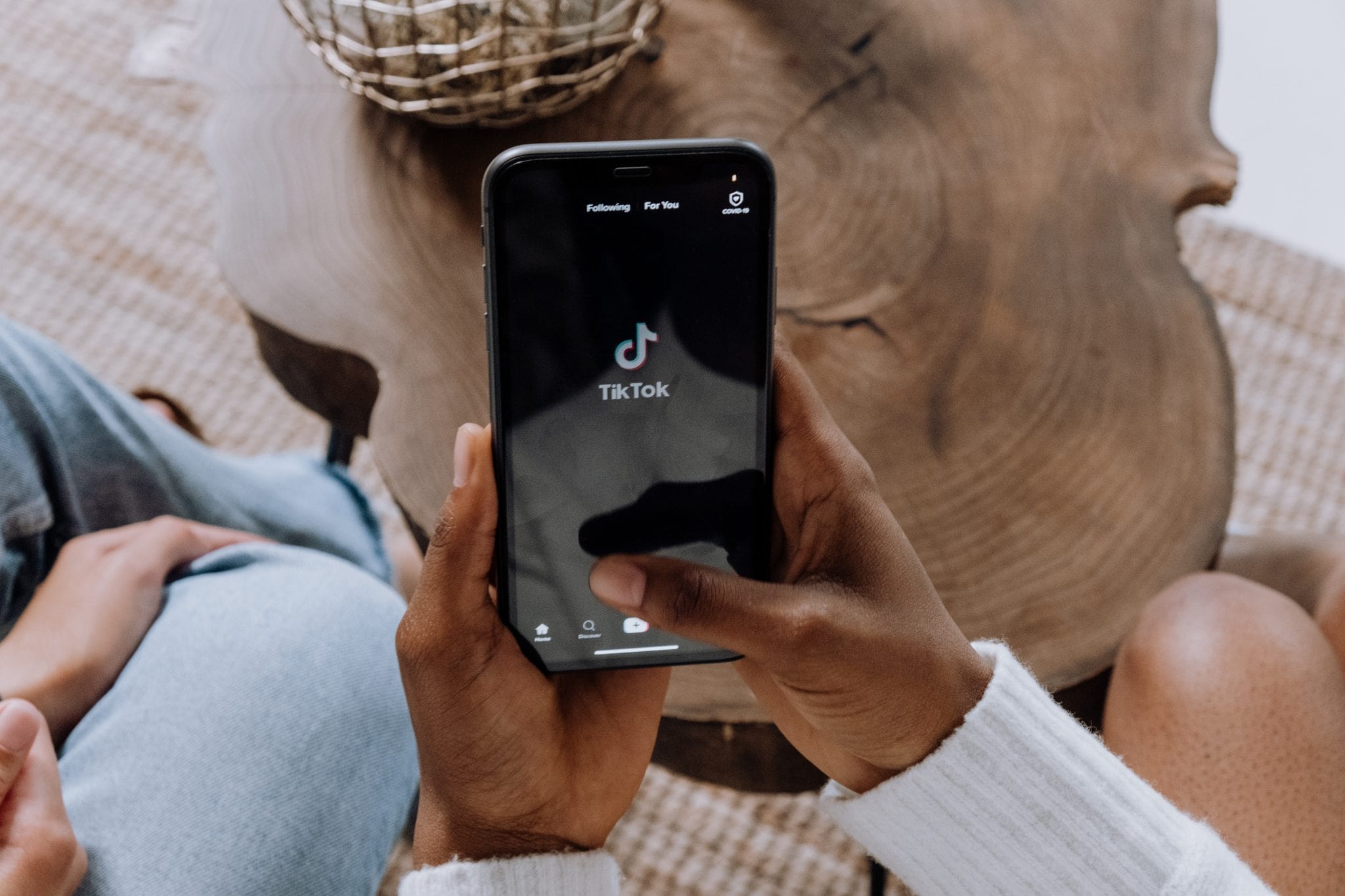 The OG short-form video platform burst onto the scene in 2016 and was instantly embraced by teenagers. Fast forward to now and it's far from just a Gen Z hangout spot. TikTok is one of the biggest social media platforms in the world, with over 1 billion monthly users as of 2022. TikTok is one of the most engaging social media apps–even beating out Instagram! The app is opened at least eight times by users in the US daily.
The duration of TikTok videos ranges from 15 seconds to three minutes. Similar to Instagram Reels, these videos are displayed vertically, making it easier for users to scroll for hours together.
With an algorithm that's dictated more by the quality of videos than other arbitrary guidelines, TikTok marketing  is one of the best ways to grow your business or personal brand in 2022. But, if you're new to the platform, it can feel overwhelming to know where to start. That's why we've put together this quick start guide to TikTok.
The good news is, TikTok isn't just for people who are too young to know that Lenny Kravitz isn't just 'Zoe Kravitz dad' Nor is it only for influencers or content creators! TikTok marketing has the capacity to turbocharge your reach and get your offering in front of the exact people who need to see it.
The top 10 industries booming on TikTok right now are Beauty, Fashion, Jewelry, Art, Home Interiors, Food, Apps, Cleaning and Maintenance, Toys and Dental. A lot of variety there, right? It goes to show that whether you're a brick-and-mortar store, beauty blogger or business coach, there's a way you can use TikTok to grow your brand.
TikTok is one of the most engaging social media apps–even beating out Instagram! The app is opened at least eight times by users in the US daily.
What's the secret to a great TikTok marketing strategy? If you're feeling a little confused by TikTok marketing, these tips are for you. In just a few simple steps, you can revolutionize your strategy and take the next step in TikTok marketing. TikTok has the power to help you as you build your audience, grow your account, and reach all your star-studded business goals.
Be consistent
You're probably tired of hearing it, but consistency really is the key to social media success. On TikTok, where popularity moves at lightning speed, posting regularly is especially important. It's especially important to be posting regularly when you're new to TikTok– even 2-3 times/day as TikTok learns who you are, and who to serve your content to.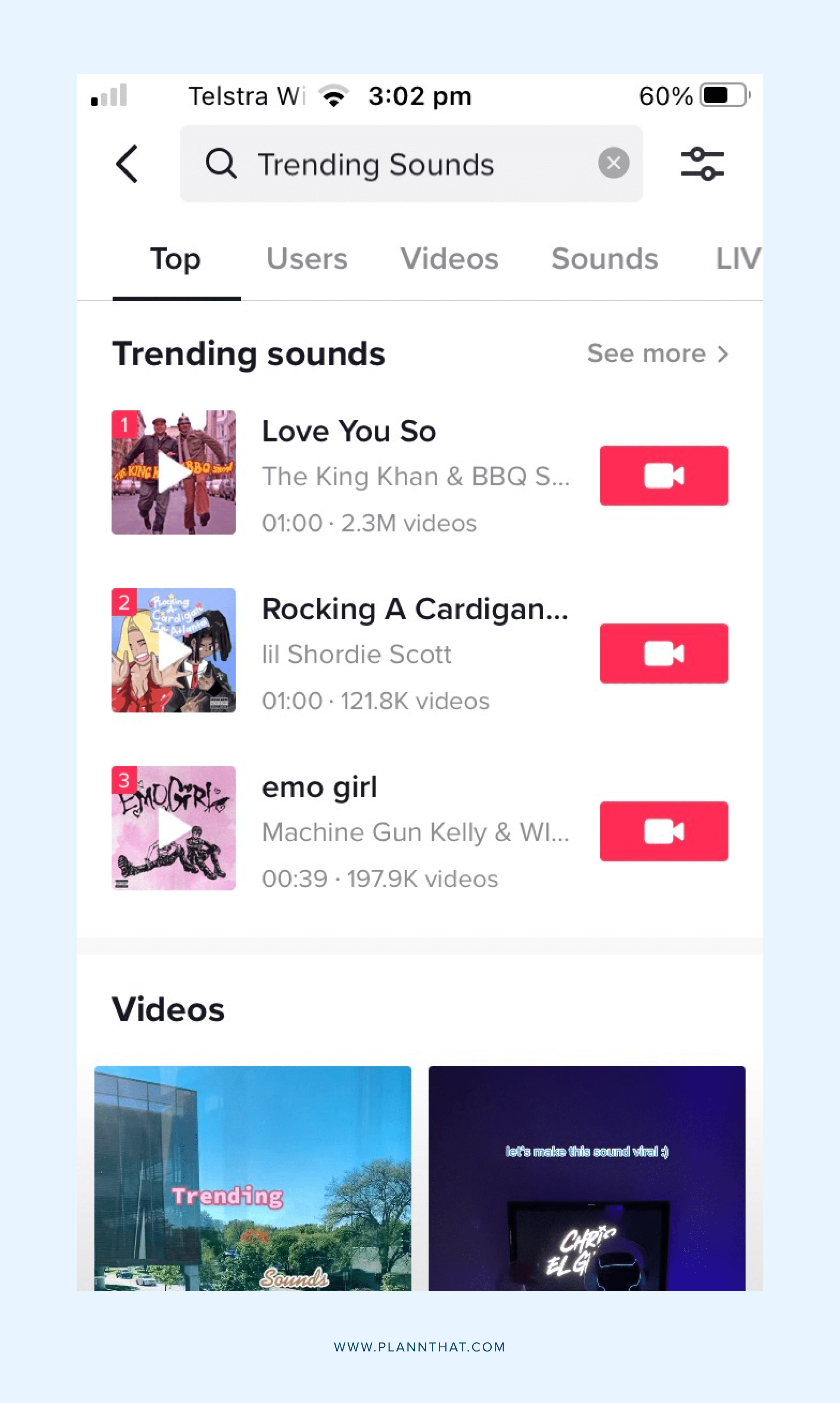 Track the trends
On TikTok, trends have the power to make or break your content strategy. Whenever you can, put your own unique spin on trending sounds, challenges, and hashtags. Trending content can also be a source of inspiration when you're running low on content ideas. Check out our guide to trending TikToks.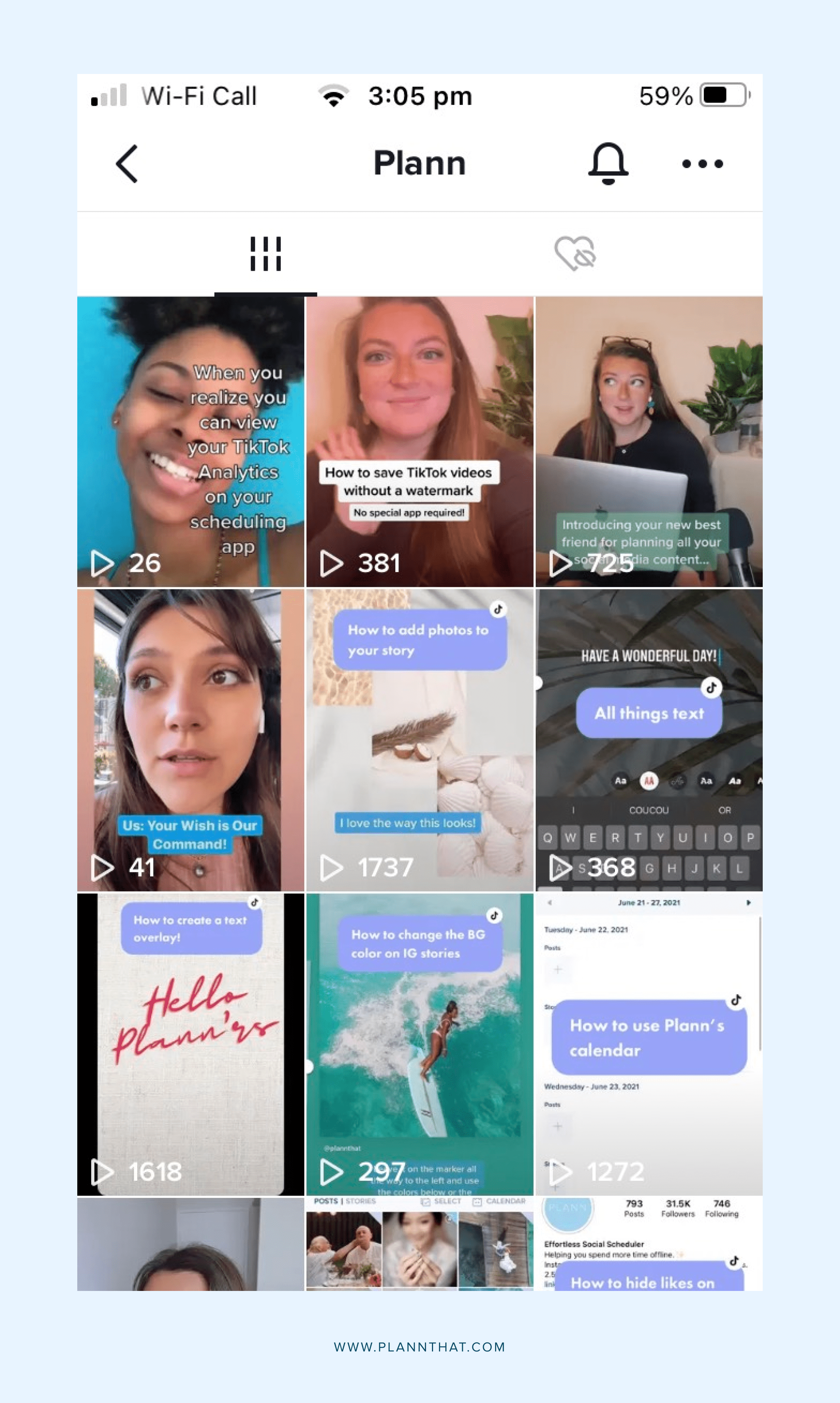 Be a trendsetter
Why not start a trend? When you're not joining in on existing trends, there is great marketing power in setting a few trends of your own. Put your creative thinking cap on, and get shooting!
Stay confident
Even seasoned TikTok stars sometimes find it difficult to keep up with busy posting schedules and come up with unique, creative TikTok content. Good TikTok marketing takes time, so it's important that you stay confident in your content and stick to your plan… the results should follow!
Take advantage of TikTok's in-built features
From filters to text, audio, GIFs, and more, there are plenty of great features you can add to your TikTok videos. As you build your TikTok marketing strategy, it's a good idea to use the app's features as much as you can. They can help you enhance your content quality and win favor with the TikTok algorithm.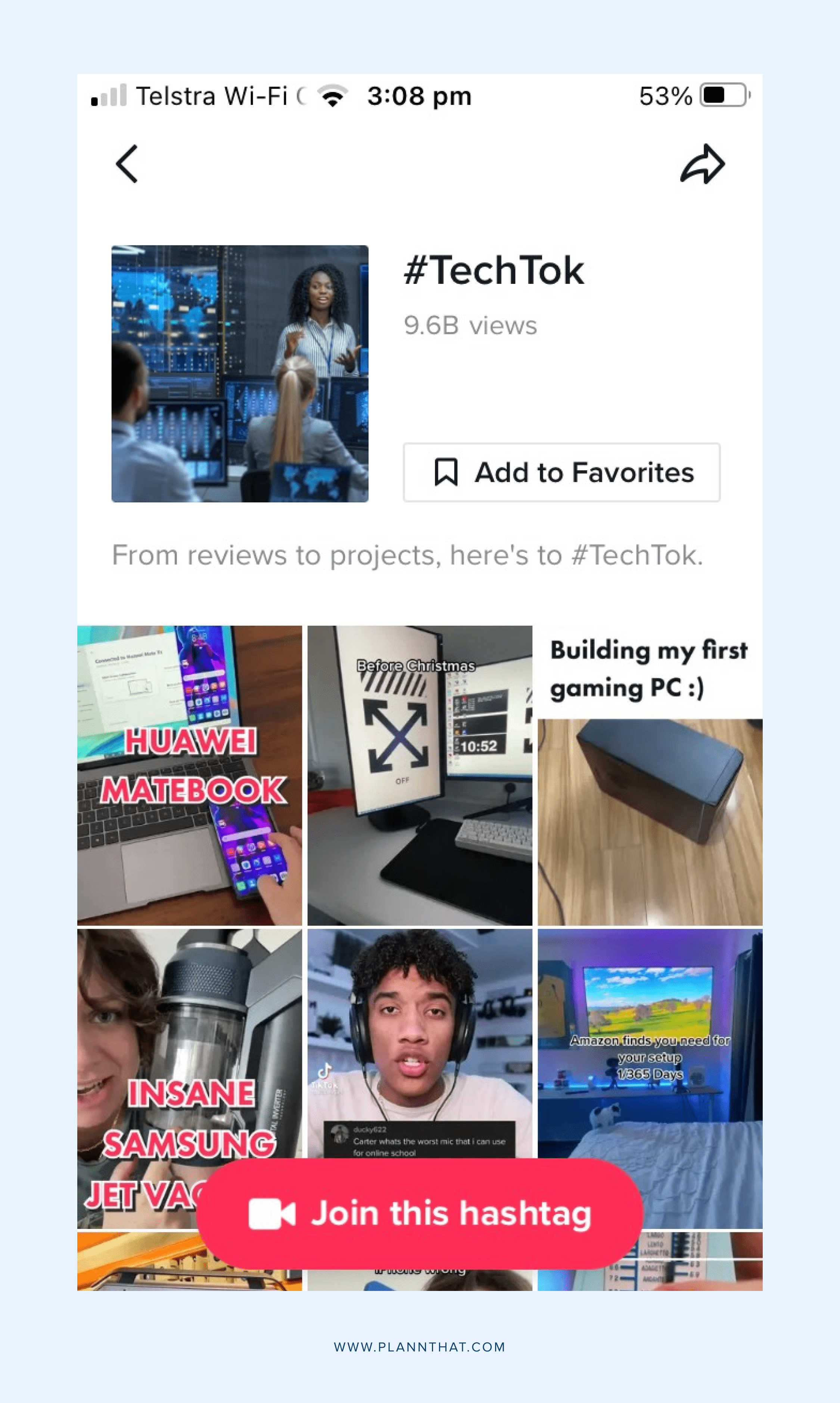 Say it with hashtags
Like many social media platforms, TikTok uses hashtags to help with content categorization and discovery. The right hashtags can help users find your videos! In most cases, it's best to keep your TikTok captions short and simple and to use between two and five hashtags. Whenever possible, try to keep your hashtags closely aligned with your brand and the content of your video.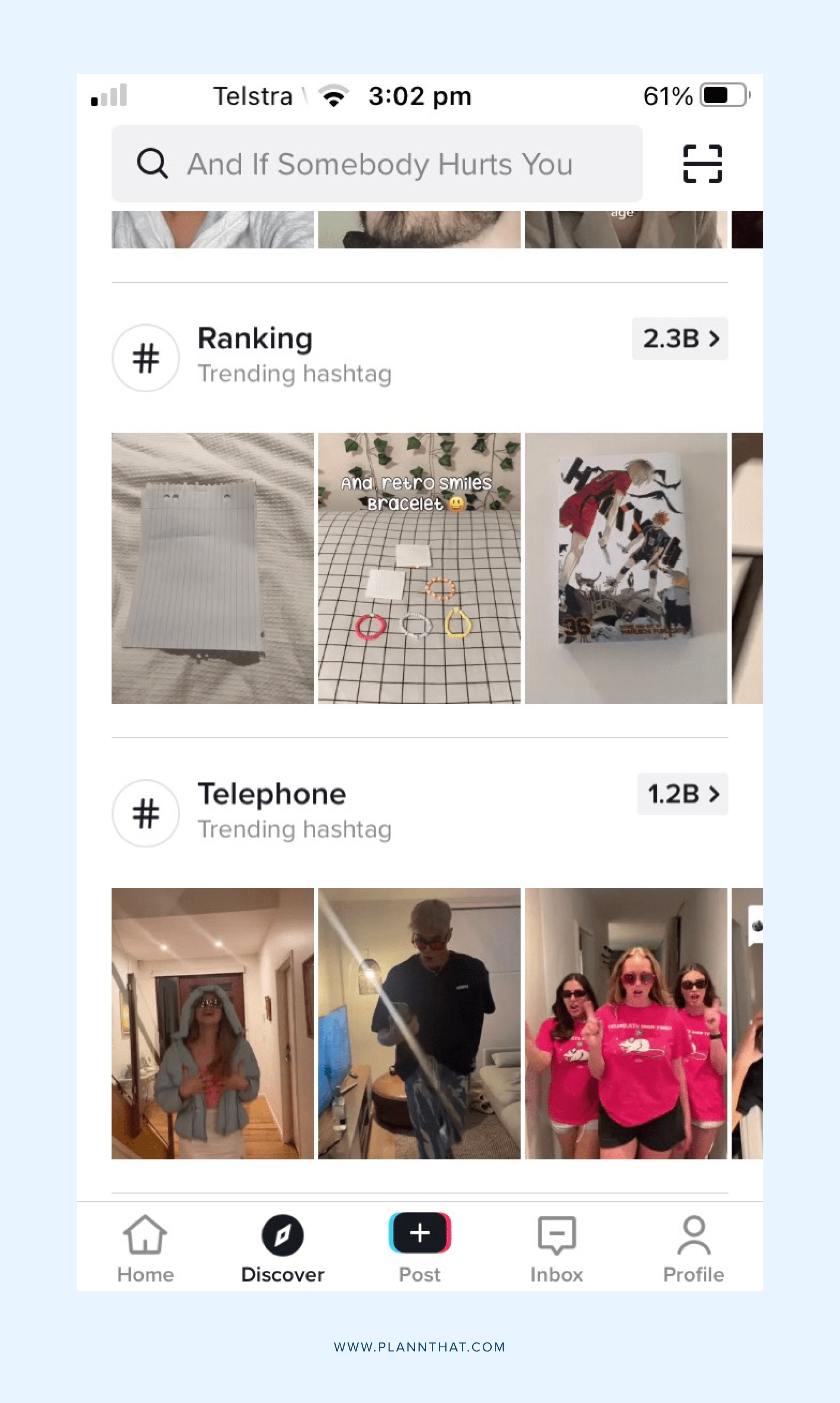 Stay to scroll
The best way to learn what works on TikTok is by using the app, just like your audience does. Instead of posting and ghosting, stay to scroll, and watch content shared by other users in your niche.
Engage everyday
Engagement, engagement, engagement! We say it all the time because it's true on nearly every social media platform. Engagement is the key to building your audience. By engaging with other TikTok users, you can start to create an online community, driving more people to your account and TikTok content. Meaningful engagement helps you connect with your audience and build meaningful relationships.
Listen to your audience
On all social media platforms, TikTok included, your audience should be the center of the content you create and the marketing strategies you choose. Use your TikTok videos and captions to communicate directly with your audience. Ask market research questions. Find out what your followers enjoy and what they want to see more of on your account.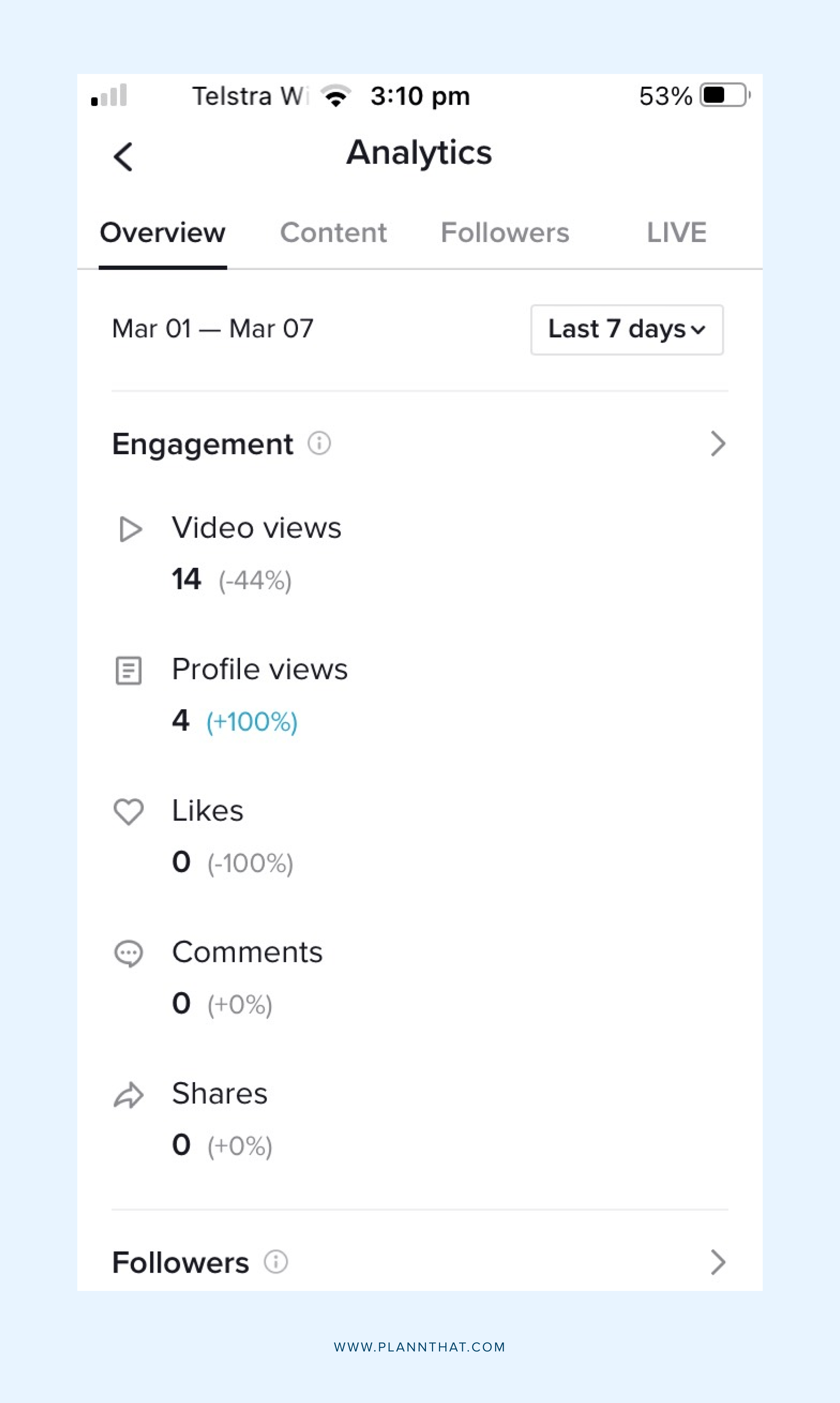 Follow the stats
TikTok analytics don't lie. Keep a close eye on stats and insights to see what's working in your TikTok marketing and how you could improve your strategy.
TikTok marketing is all about trending content. But we know that coming up with new, click-worthy video ideas can be challenging and time-consuming. Keeping up with constantly changing trends may sound like a lot, but it really doesn't have to be.
TikTok is all about raw, unfiltered content. There is little need to strive for polished perfection with your videos. In fact, the most popular videos on the platform are usually just normal videos recorded with mobile phone cameras. This means your marketing team can take a break and just be themselves while creating content on TikTok. The funny slip ups in the office, the quirky backstories, and inside jokes, are the type of content that goes viral on this app.
With each TikTok you create ensure there's content that hooks your audience, provides value and where appropriate use a trending sound or audio.
What kind of content is good for business on TikTok?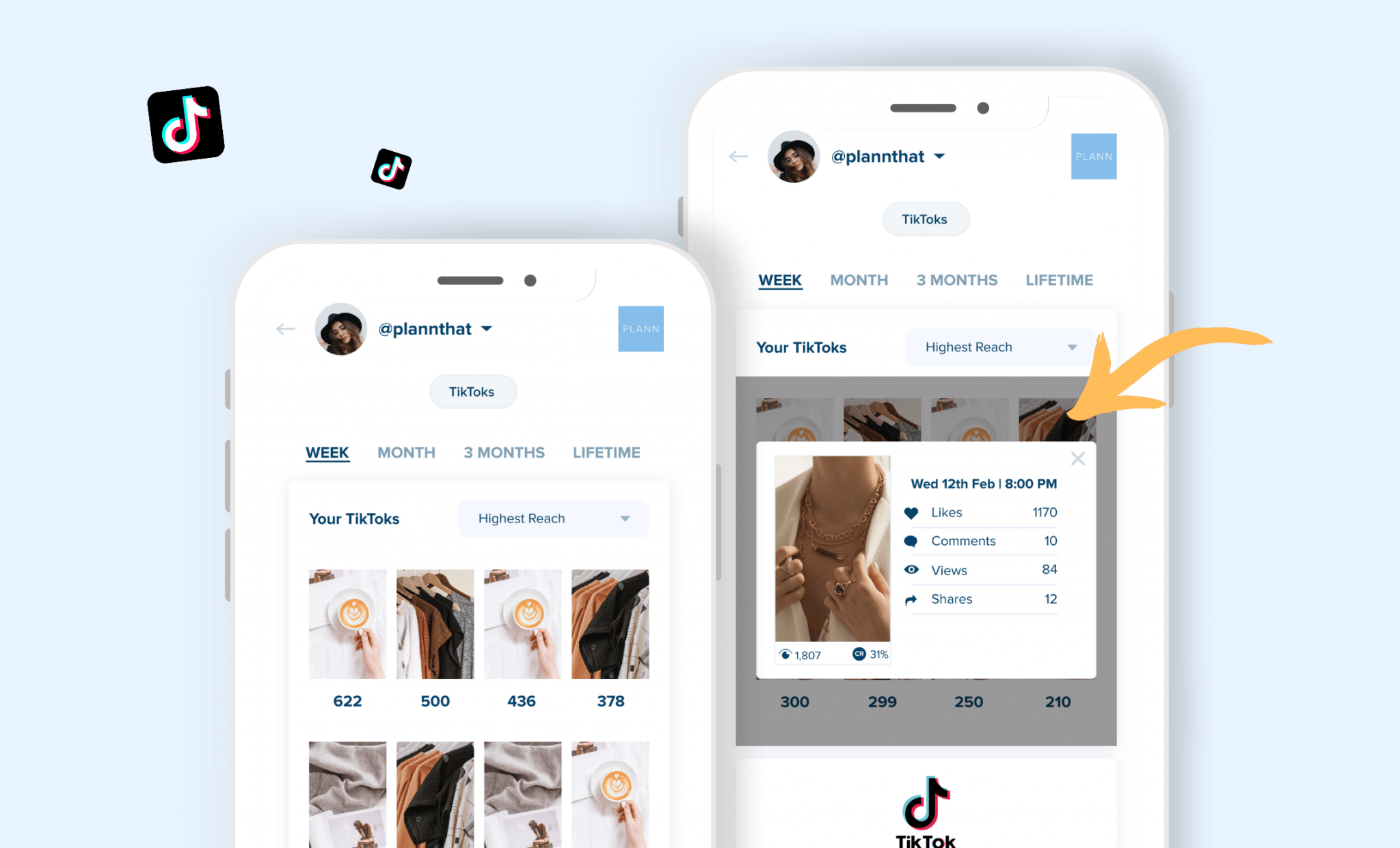 How do you get on the TikTok content for business bandwagon? Here a few tips that can help you get started:

1) Familiarize yourself with the platform
Like virtually any other social media platform, TikTok has a learning curve. And even previous video-editing knowledge might not be of much use on the app as it has its own peculiarities. Before you start creating content, take time to watch and learn what content is catching your attention.

2) Choose your niche
Choosing a niche is a universal rule of content creation and TikTok is no exception. The platform has an aura of generality that might deceive you into thinking you don't need to niche down, but it is absolutely false. There are niche channels and trends within the app that will boost your exposure faster than if you just tried to jump on every popular trend you come across. Pick a niche that aligns with your business and stick to it.

3) Keep it simple
Your content doesn't have to be perfect. It's TikTok, not a music video. Make your videos relatable and avoid hard-sales content. If you choose to create your first video around an already existing trend or challenge, try and put your own industry or niche spin on it.
Yes, you can now film TikToks that are up to three-minutes long but when starting out, we recommend keeping the video as short as possible regardless of the type of content you want to share. This is because you are more likely to have people watch a 10-15 second video than a two to three-minute one. This tip works best to share quick tips, mini-reviews and product recommendations.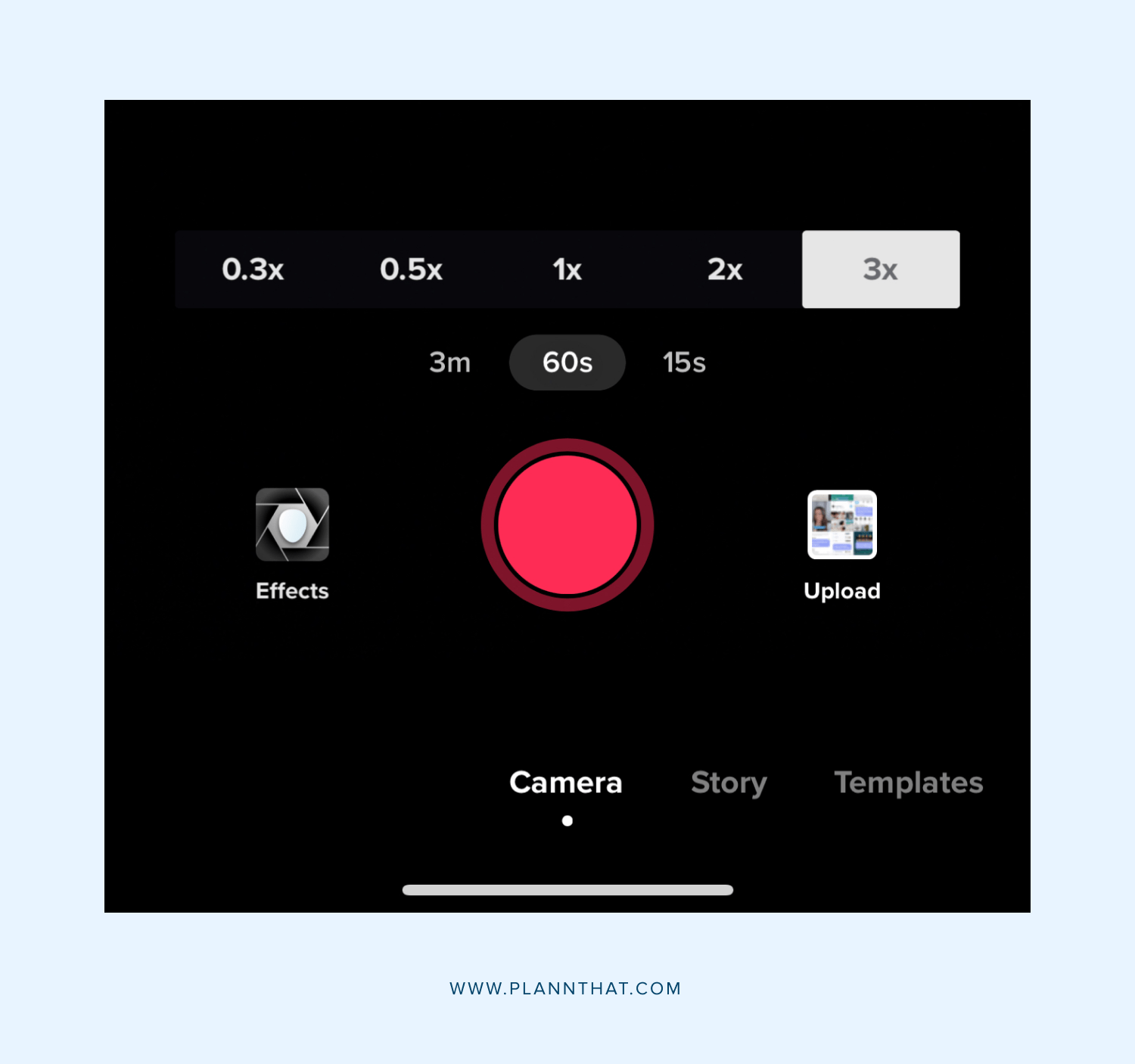 While creating a video, you can use the in-built features, including filters, effects and editing tools like flip, speed, and templates. Here is how you can record a video using a trending song on the TikTok app:

Click on the +button at the bottom of the screen
Tap on the 'Add Sound' button at the top of the screen. You may have already saved a trending sound, so you can find this in your 'Favorites' tab.
Browse through TikTok's playlist to find a trending song or type a song you know in the search bar.
Tap on the music you want, and it will start playing
Click on the red check mark that is present on the right of the song to add it to your video
Start recording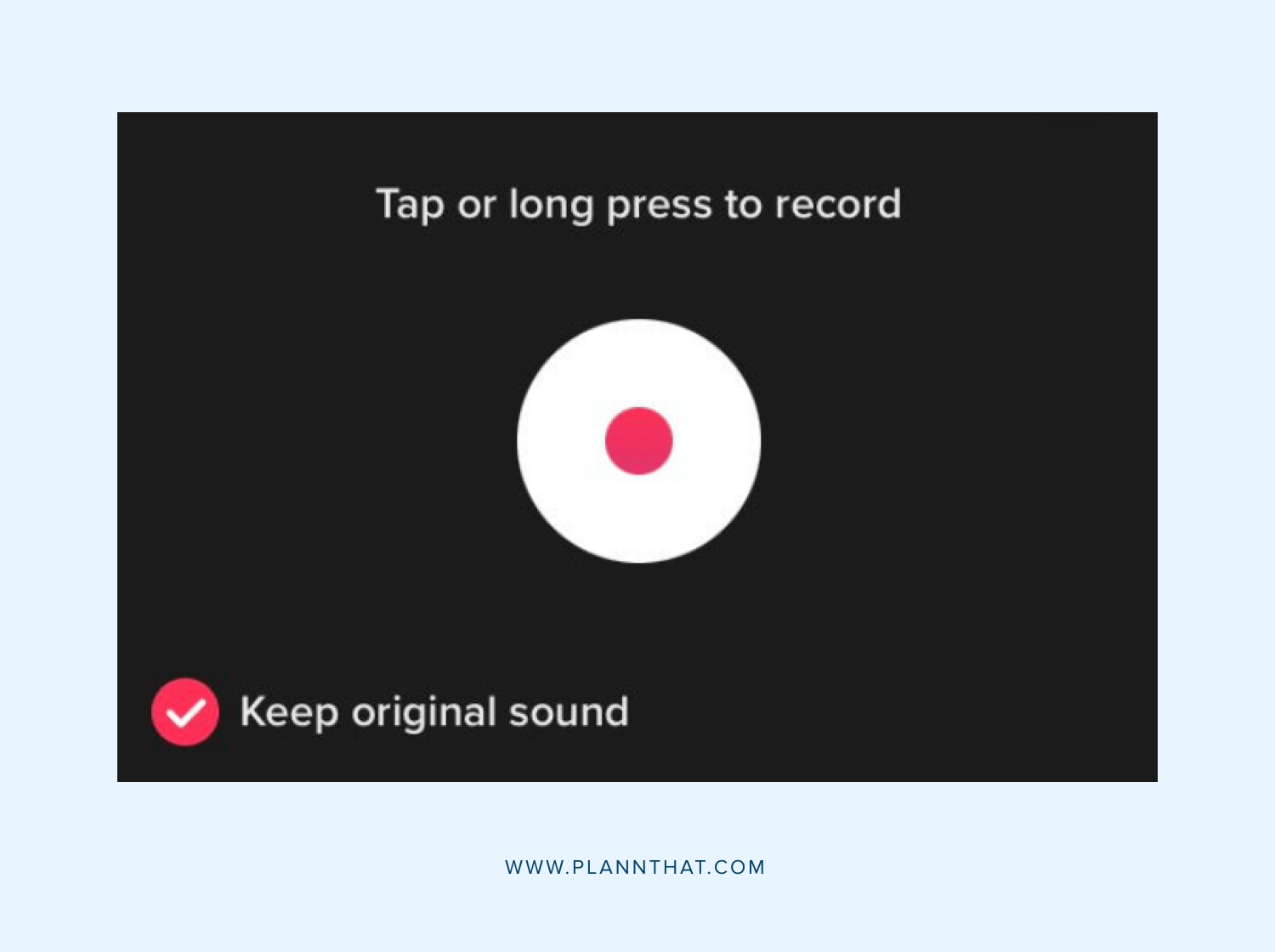 Add a call-to-action
At the end of your video, include a call to action. This can consist of 'follow for more,' 'stay tuned for the next video,' 'hit the like button for part 2' or 'share this video with your friends.'
Write a compelling caption
At this point, 90% of your work is done. All you need to do is write a compelling caption and post it for your audience.
Just like your video, try to keep the caption short and simple, preferably one or two lines. Don't forget to place the most important words at the beginning of your caption, as this is what your viewers will see first. Also, if you fail to include a call to action in your video, mention it in your caption.
If you want to use hashtags, try to use the trending ones that align with your content. Stay away from generic hashtags like #foryou, #FYP, #comedy and #funnyvideo, as they aren't going to help your video land on the For You page.
Once your video is ready with the caption, it is time to post it. Now, all you have to do is sit back and wait for the views and engagements to roll in!
There's nothing worse than feeling pressured to 'create content' when you're not sure what the objective is.
Use Plann's strategy tool to design a unique, purpose-driven TikTok posting strategy so that you're always on track with what you're creating, rather than scrolling for hours looking for inspiration and losing hours and hours of precious content creation time.

The unique strategy tool is the perfect way to organize batch creation and your TikTok creation list.
Ready to start growing your audience on TikTok? You'll need a consistent content strategy.

Easily save trending TikToks to recreate later
Spotted trending clips, audio or effects and want to be able to refer back to them later?Now you can save everything right inside your new TikTok planning space!
When you're binge watching TikTok videos and spot something you'd like to recreate, simply tap the 3 dots on TikTok itself and save it.
Easily paste this link, along with any trending hashtags, comments, or username tags (or upload any screenshots), directly into your TikTok space in Plann.
The Best Time to Post on TikTok
When you post will dictate the success of your post.To maximize your success on TikTok, you need to build a content schedule around where your audience is from.
For example, if 80% of your followers are from Los Angeles, and you're from South Africa, you don't want to post when it's 3 am in the United States.


According to Influencer Marketing Hub, who analysed over 100,000 posts, here are the best times to post on TikTok in Eastern Standard Time (EST):
Monday: 6 am, 10 am, 10 pm
Tuesday: 2 am, 4 am, 9 am
 Wednesday: 7 am, 8 am, 11 pm
Thursday: 9 am, 12 am, 7 pm
Friday: 5 am, 1 pm, 3 pm
Saturday: 11 am, 7 pm, 8 pm
 Sunday: 7 am, 8 am, 4 pm
If you want to see where your followers are from, switch to a TikTok Pro account. It's free, but you will need more than 100 followers to qualify.
Sign up for a free Plann account today, and you can Plann out your TikTok videos. Upload it to the platform, add your caption, and schedule it out for the time your audience is most active on the platform.
TikTok has some of the highest social media engagement. The app has a 9.38% engagement rate for accounts under 1,000 followers and 5.3% for more than 100,000 followers.
To put this in perspective, Instagram only has a 7.2% and 1.1% engagement for the same follower numbers.So it's not surprising TikTok is becoming the app of choice for creators.
Want a slice of the engagement pie? Here's a breakdown of how the TikTok algorithm works and how to get TikTok views as a brand, business, or creator.
What is the TikTok algorithm?
Until recently, the inner workings of the TikTok algorithm have been a mystery. Users had wild theories about how to increase their content's exposure, like tagging your video with #ForYou would get you onto people's recommended feeds, boost views, and increase followers.
TikTok cleared up all the speculation recently, revealing they generate recommendations and priorities content on the FYP based on several factors such as:
User interactions: Likes, comments, shares, follows, and content you create.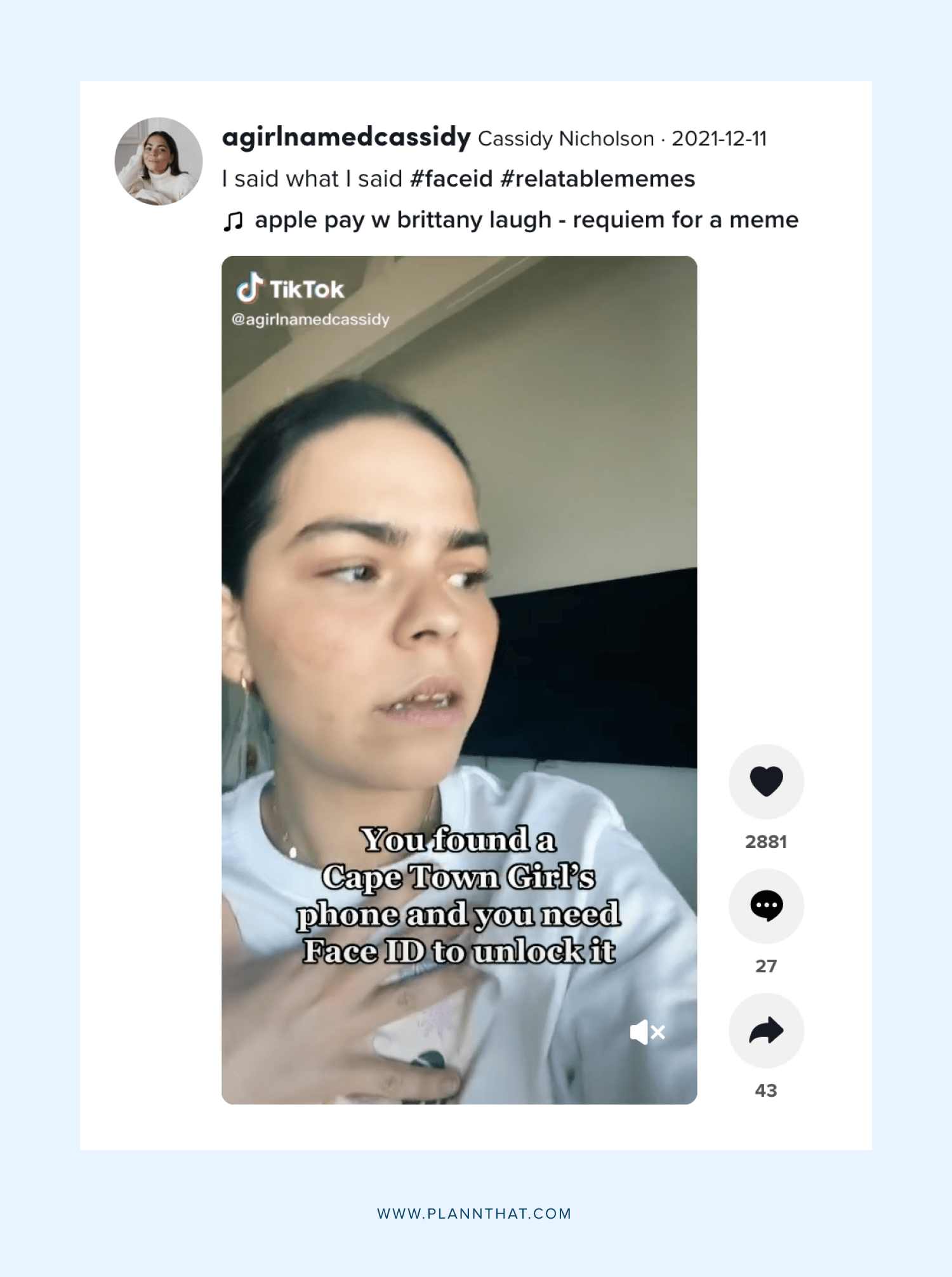 Video information: Captions, sounds, and hashtags.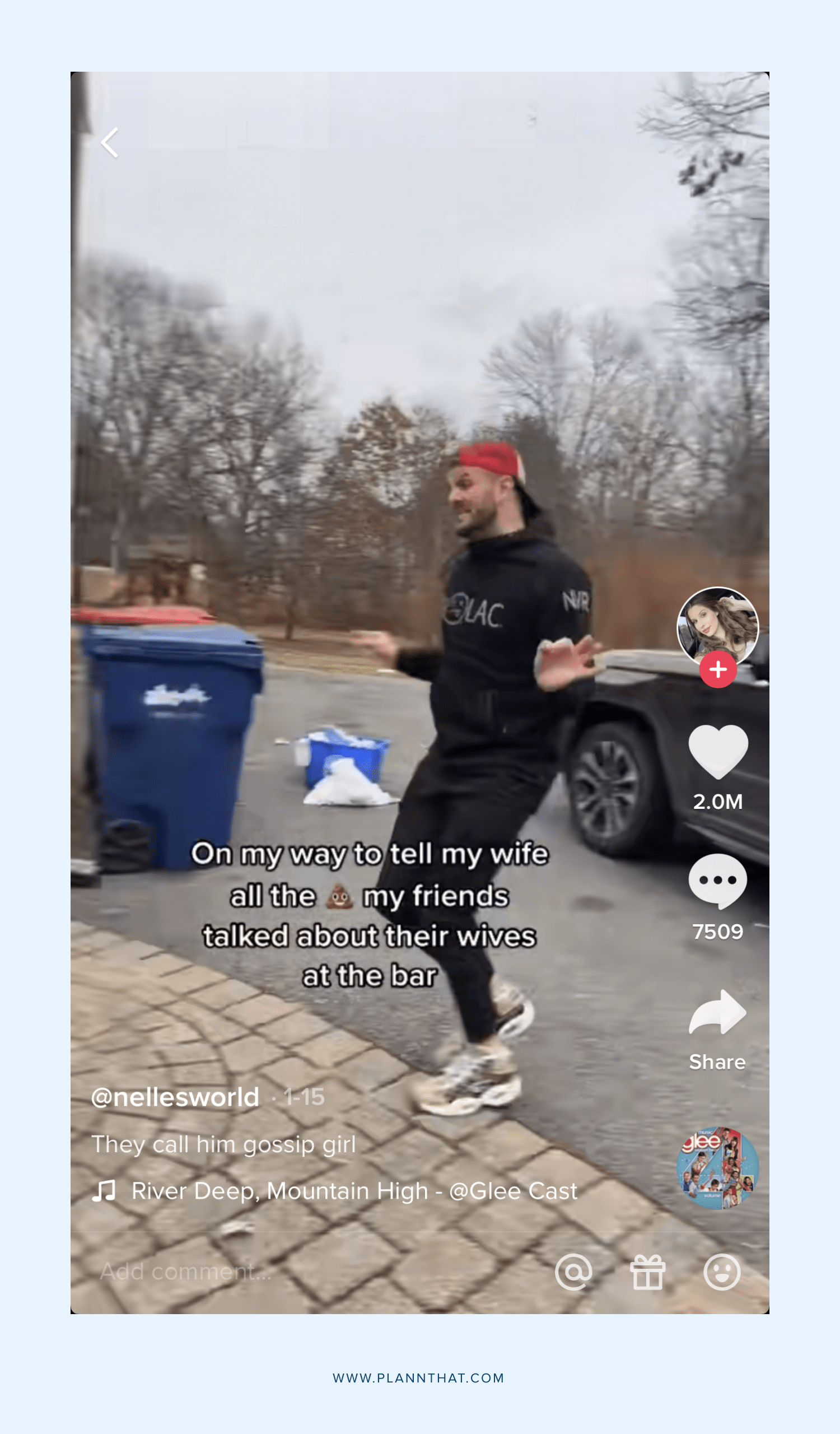 Device and account settings: Language preference, country of residence, and device type.
What does this mean?
Your FYP on TikTok is 100% unique to you. It's a curated feed based on your preferences and activity history. Worried your track record on TikTok is going to hinder your chance of going viral? The good news is you're wrong.
The algorithm does NOT take into account how well your previous videos performed. Your last couple of videos that only got 100 views won't stop you from succeeding on the platform. This will be music to any creator's ears who's starting out and doesn't have a huge following… yet.
With so many in-app video editing tools and features, it's easy to become overwhelmed. How can you use TikTok tools to create the best-quality videos? To get started with TikTok video editing, you'll need to know how to use a few key editing tools and features.
First, you have to consider how your video content is making its way to the TikTok app! On TikTok, you have two main options for this:
You can film video footage directly in the TikTok app.
You can film using your phone's camera, and then upload footage to TikTok.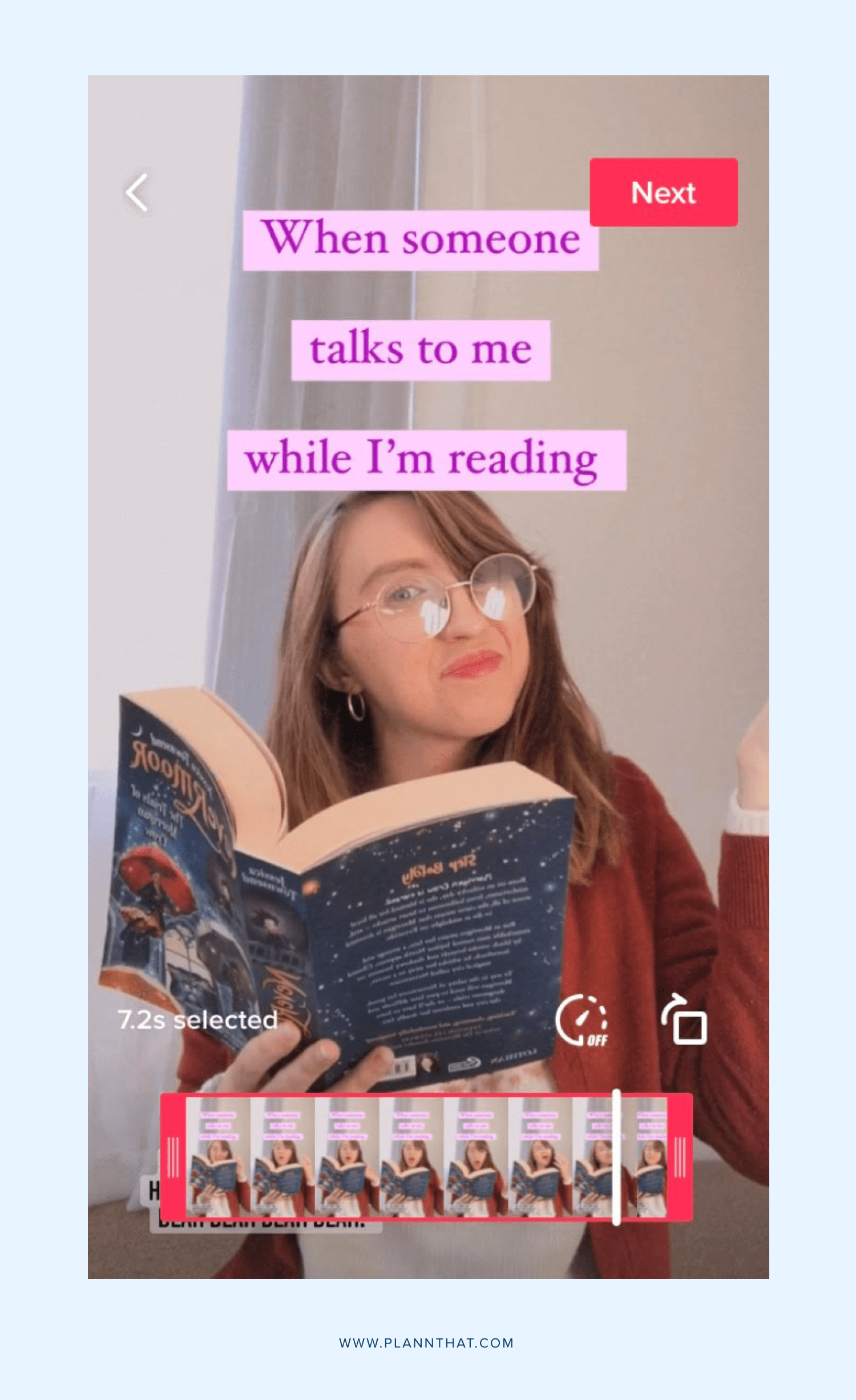 When possible, we recommend filming directly on TikTok. This way, you can access more video editing features, and it will be easier to sync and line up content.
If you're filming on TikTok, there are a few tips you should keep in mind:
First, choose your sound ahead of time! This makes it easier to line up audio. Second, use the TikTok countdown timer, available from the features list on the right side of your screen. This allows you to film hands-free! Finally, choose and apply any filters or visual effects (more on these later) before you begin filming.
When filming in the TikTok app, you can move immediately from filming to editing. If you're uploading your video content from an external source, you can do this by creating a new video project and clicking the photo icon at the bottom left of your screen.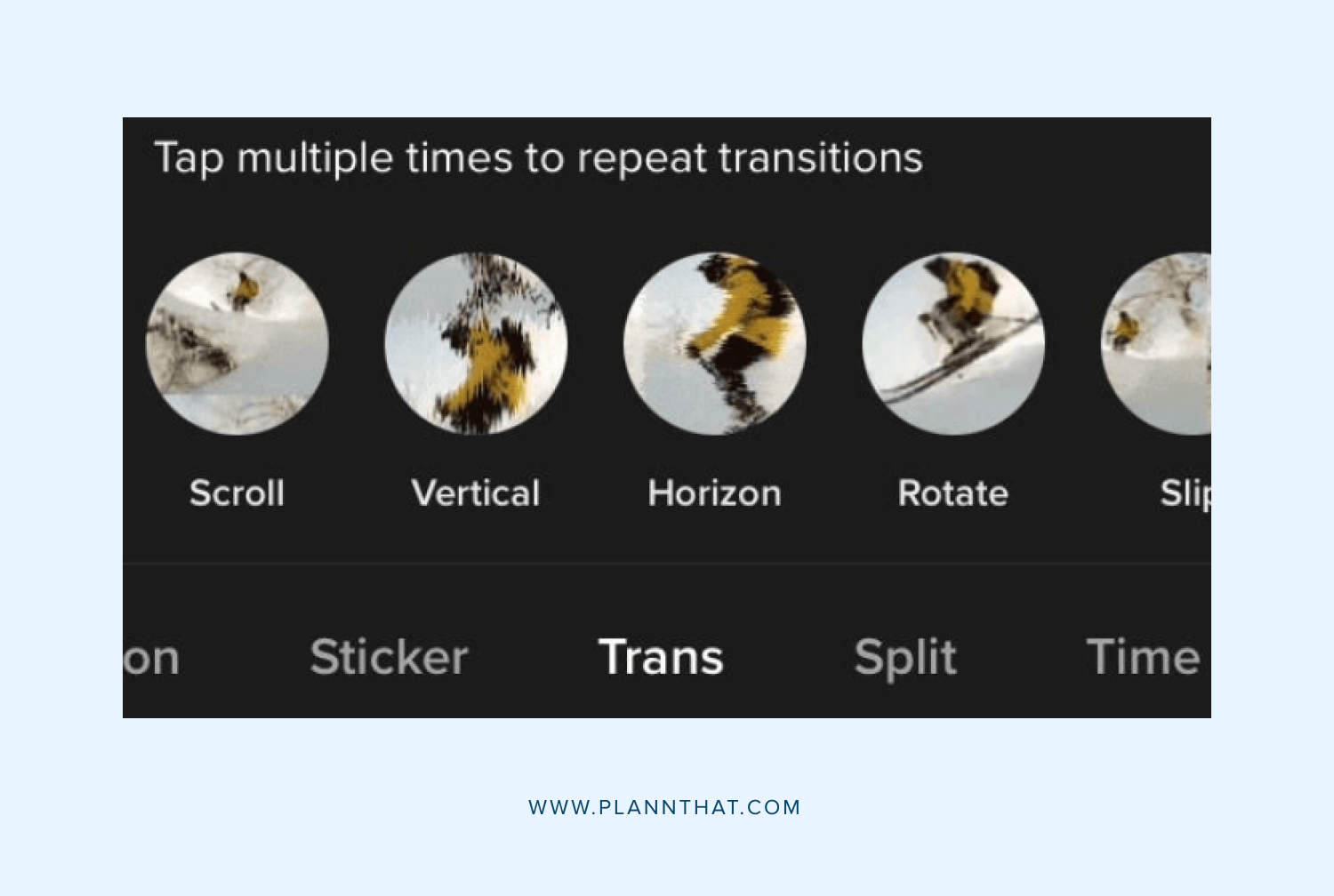 Adding Transitions
Smooth transitions are a big part of TikTok video creation! These allow you to switch between different clips purposefully. Luckily, the app makes transitions easy for even novice video editors to apply.
Jump cuts are a great way to introduce transitions if you're still new to TikTok video editing. These allow you to place one clip after another without any extra effects appearing between them.
The best way to execute a smooth jump cut is by trimming your videos so that the subject appears in the same place at the end of one clip and the beginning of the next. You can also time your filming to align well, using clicks, claps, jumps, camera covers, or something else to signal each new transition.

Turning on auto-generated captions
Auto-generated captions are another amazing TikTok feature, allowing you to reduce your editing time while providing audiences with multiple ways to access your content.
TikTok's auto-generated captions are designed to save you time by converting voiceover or spoken audio to closed captions, improving video accessibility and driving engagement.
Enabling auto-captions is simple. Once you've recorded or uploaded your video, choose captions from the right-side column on the edit screen. Wait for your video's audio to be processed, and your captions will appear!
You can use the pencil icon to review your captions and edit any errors before clicking save at the top-right of your screen to apply changes.
Find out about other popular in-app TikTok editing features here: including adding on screen text and text-to-speech, recording a voiceover, adding sounds and audio features, adding filters and trimming and syncing videos.
Have you noticed a TikTok video performing really well and you'd like to test it out on Reels? Repurposing is the best way to reduce the overwhelm of a busy business owner or social media manager.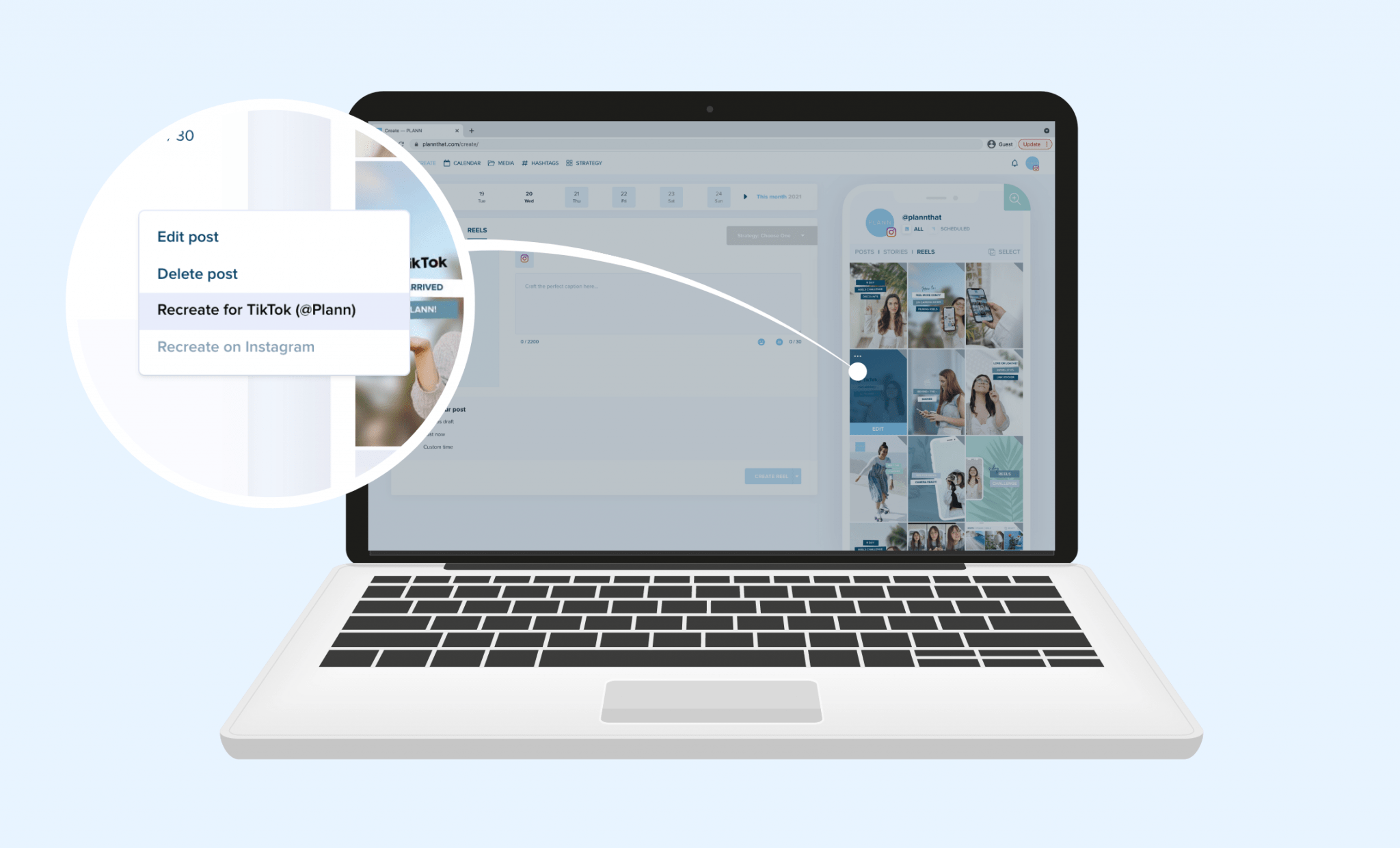 Our motto? Work smarter, not harder! Simply repurpose your short-form video content across the two biggest social media platforms for maximum reach. By rescheduling and repurposing content across TikTok to Instagram (or vice versa), you're reaching more people – by doing the same amount of work!
Here's how to do it:
If you've uploaded a draft TikTok video to Plann in your dedicated planning space, you can now choose to share it with your Instagram Reels schedule.
While in the draft phase, click the three-dot menu on your image to repurpose your video to Instagram Reels with one click. That's it!
If you don't need to edit your content for your different audiences (e.g on Instagram Reels your viewers may be more of a known entity and interested in "consideration" content, while TikTok may be more unknown and "awareness" content may be the best fir) you can cross-post directly from TikTok to Reels.
Linking your Instagram account to TikTok is super easy. All you need is your smartphone and 60 seconds.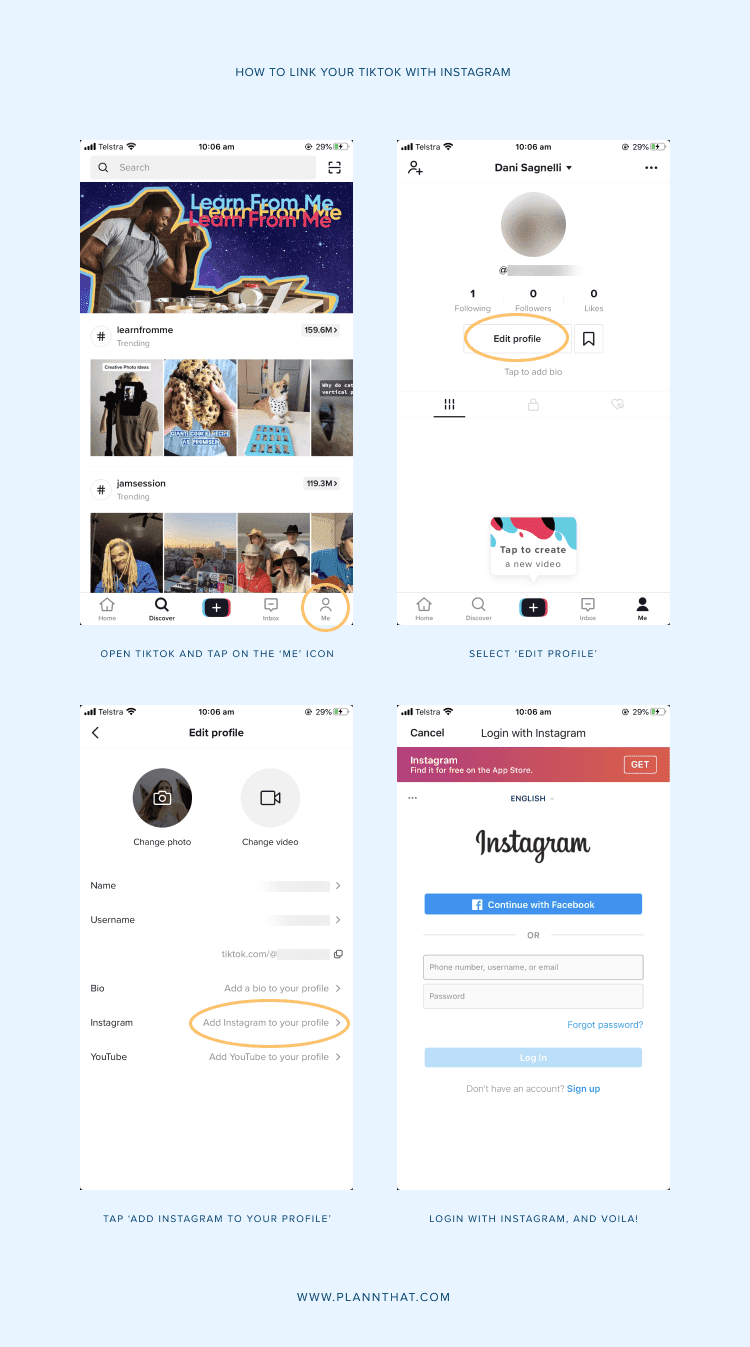 Here's how to do it:
– Open the TikTok app and tap on the "Me" icon at the bottom right of the screen.
– Tap on "Edit Profile".
– Underneath the bio, you'll see a section that says "Instagram". Tap on the section that says "Add Instagram to Your Profile >".
– The Instagram login screen will load. Enter your username and password and tap on "Login" when done.
– You'll be redirected to your TikTok profile. There is now an Instagram icon next to the "Edit Profile" button on your bio page.
Want to unlink your Instagram profile from your TikTok bio?
– Follow steps 1-3 and tap on your Instagram handle.
– A pop-up box will ask you to confirm if you want to, unlink your account, tap "Confirm".
– Voila! Your Instagram link is removed from your TikTok profile.
Now your followers, friends and family will never be able to confirm if it is you rocking the spooky dance challenge or your doppelganger.
TikTok is full of innovative brands determined to boost their reach and engagement, marketing to over a billion monthly active users.
As TikTok continues to climb in popularity, more brands are considering it an important part of their social media marketing strategy. With a strong TikTok strategy or even a TikTok campaign, you can connect with new audiences in new ways. You might even go viral!
Our top picks are Duo Lingo, Telstra, RyanAir, We're Not Really Strangers and the Washington Post.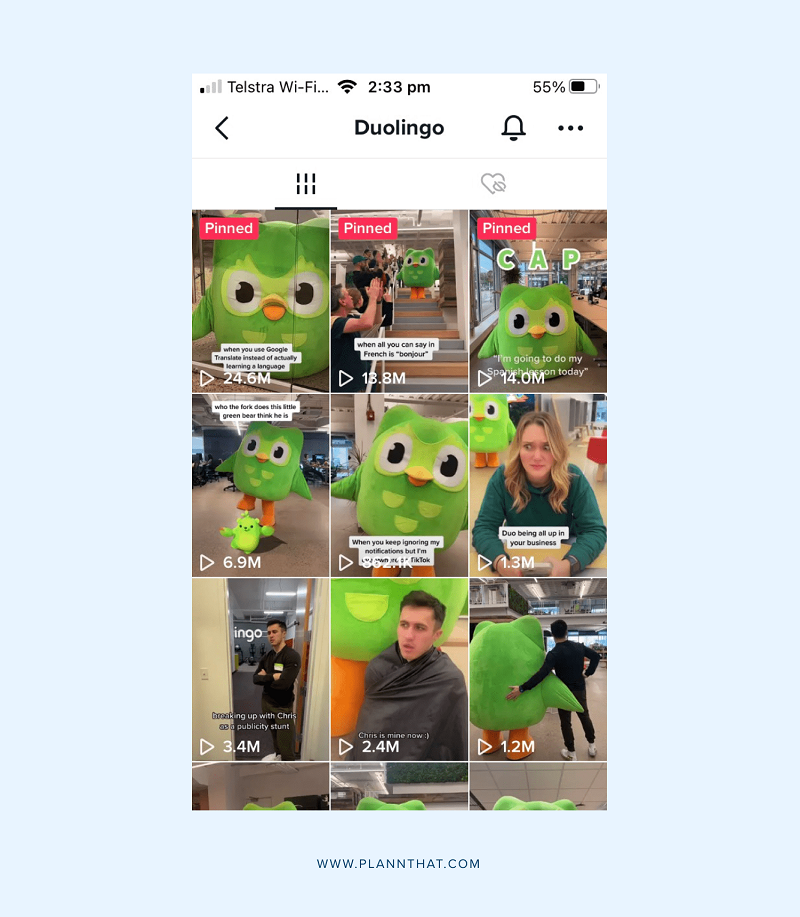 These brands understand how hopping on trends, prioritizing community engagement, and maintaining a regular posting schedule can help you boost your TikTok performance.
Like most social media apps, TikTok is equipped with in-app data and analytics tools to help you see which posts are performing well and how users are engaging with your account.
The TikTok analytics tool should be an essential part of your social media strategy. You can rely on your metrics to determine what you post, how you post, and when you post.
If you have a TikTok Business account you can access analytics directly in TikTok or anyone with a Plann Plus account can access TikTok analytics in Plann, alongside their TikTok workspace.
To check analytics for your full TikTok profile:
Open the TikTok app
Press 'me' at the bottom right of your screen
Click the three lines at the top right of your screen
Select 'creator tools', then 'analytics'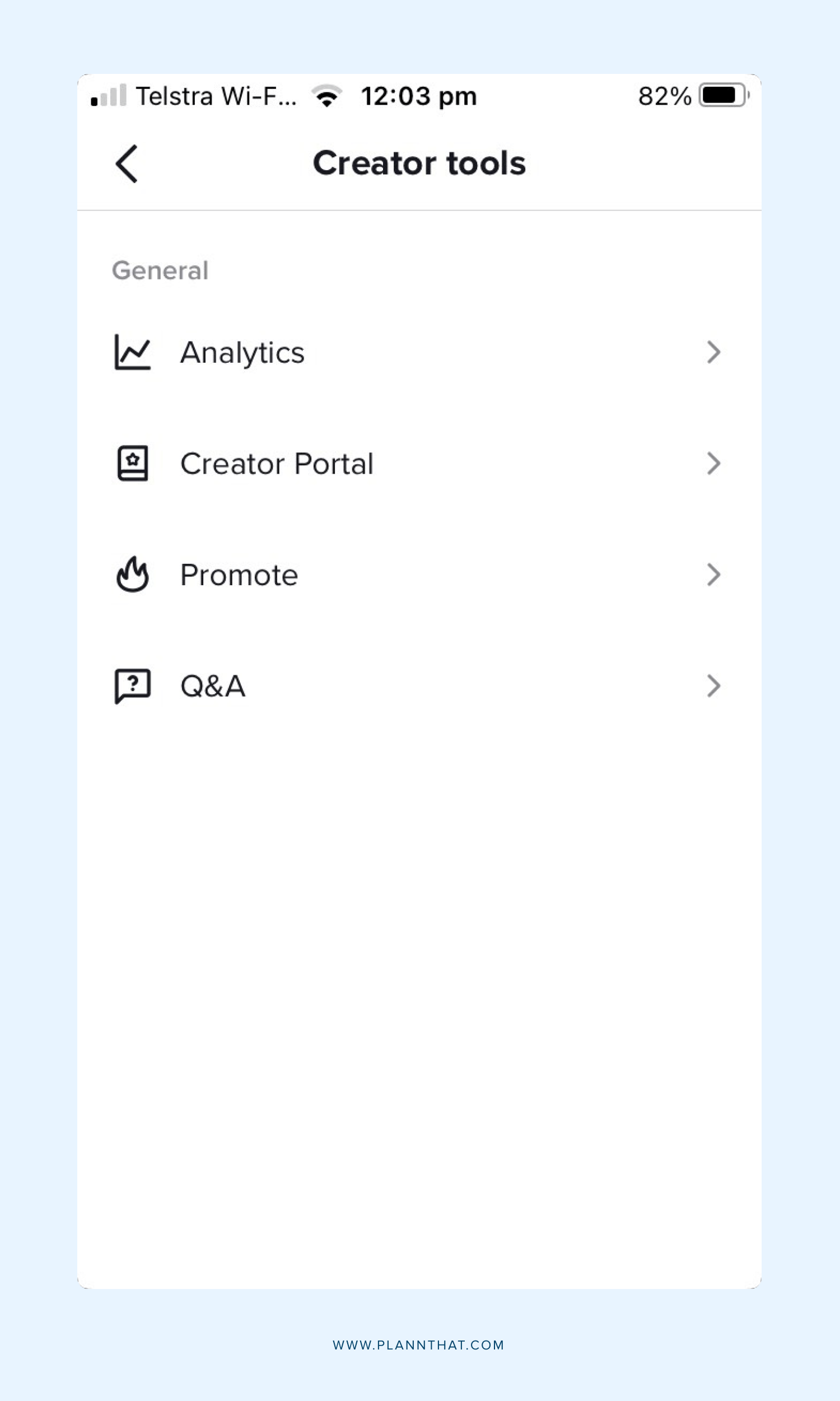 There is also the option of seeing analytics data per post. When you click on an individual video, you'll find information detailing:
*  How many views the video has received
* The video's average and total watch times
* The video's traffic sources (profile visits, followers, for you page)
*  What actions (likes, comments, shares) users have taken from the video.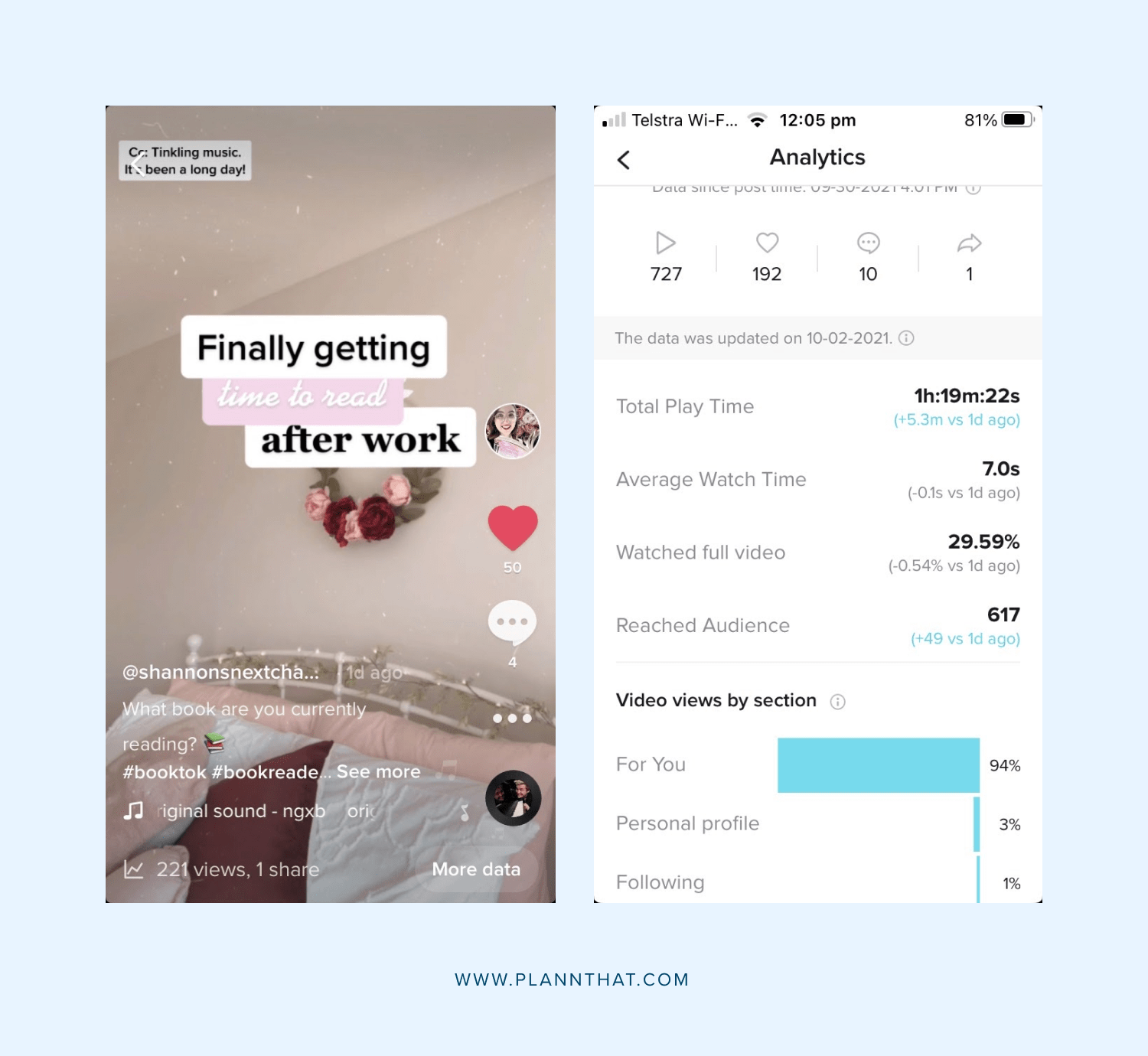 Analytics will allow you to see which content types are the most popular and effective for your audience – which is key information for curating your strategy and content calendar.
By thinking about your analytics as you develop new TikTok content, you can ensure that all of your TikTok videos respond to the interests of your audience. All of this means more opportunities for long-term success on TikTok!
Once you've used your TikTok analytics to fuel some new ideas, it's time to Plann them ahead of time. Start your free trial of Plann to map out your TikTok strategy and start scheduling your videos to post at the best time for your audience!