With 1+ billion monthly active users worldwide, TikTok is one of the fastest-growing social media channels (and the perfect place to build awareness for your brand or business).
Instagram comes right after TikTok with more than 900 million users worldwide.
Jumping on new trends and emerging platform features is your way to keep your finger on the pulse of what's hot in social media marketing. And creating Instagram Reels and producing short, bite-sized TikTok videos is what needs to be top of your social media agenda in 2022 (and beyond).
But we get it: coming up with new, click-worthy video ideas can be challenging and time-consuming.
Luckily, we've pulled together 10 winning Reels and TikTok video ideas you can start posting right now. Let's dive in.
10 Must-Try Video Ideas for Instagram Reels and TikTok
1. Break a move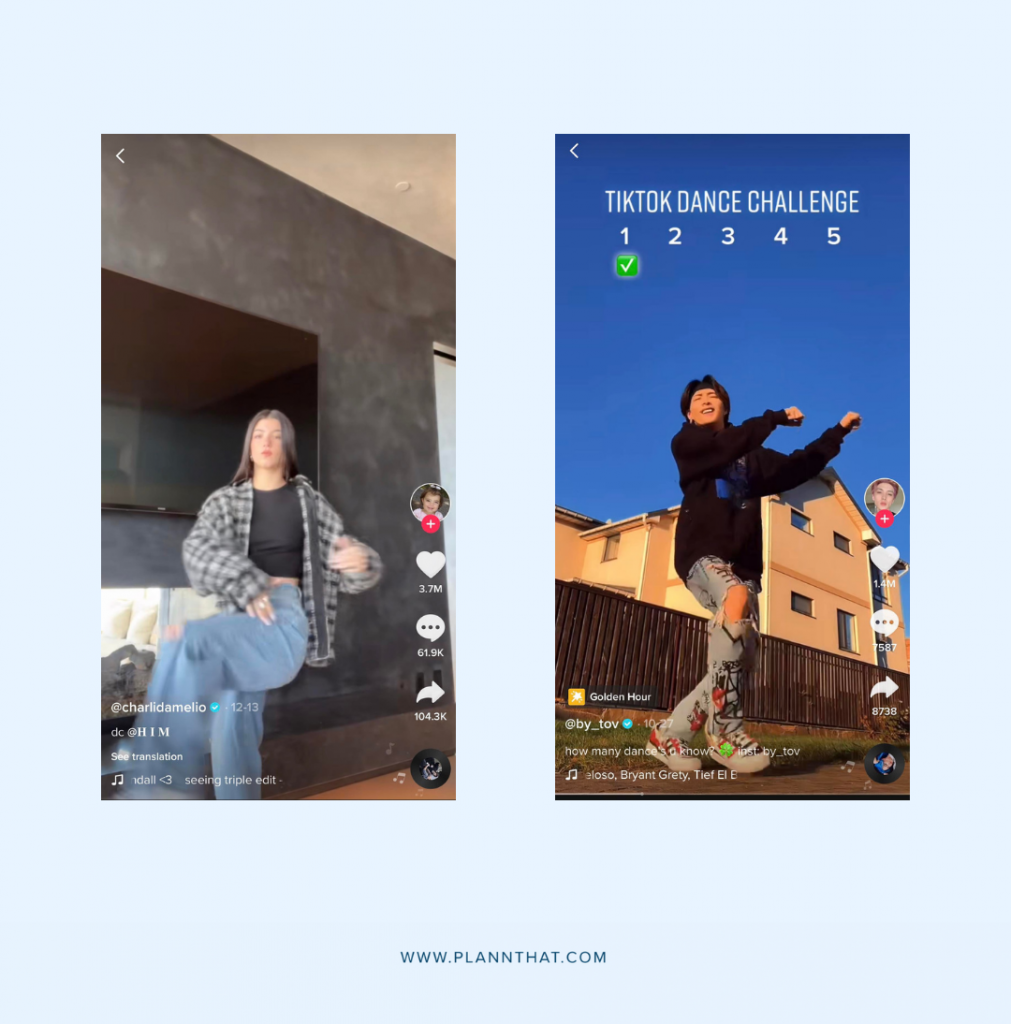 Dances are one of the most popular types of content you can put out on TikTok and Instagram Reels. Dance videos give you an opportunity to jump on trends, share information in a fun and engaging way and show off your killer dance moves.
But what if you think that you're not really good at dancing?
The good news is this: most trending dances on TikTok and Instagram Reels are easy to learn. Just spend some time scrolling through TikTok and Reels (or head to the Discover tab) and you'll definitely find trendings dances you can jump on.
2. Show off your talents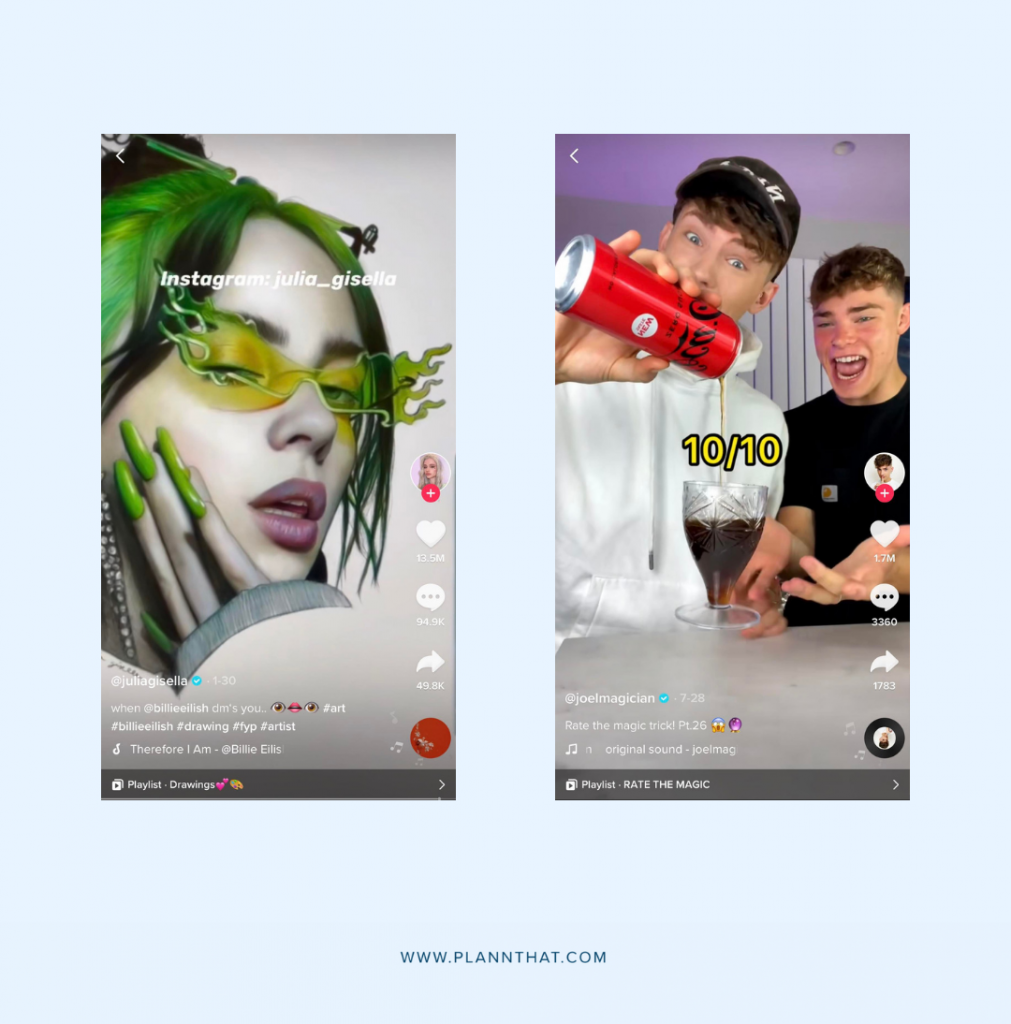 If dancing isn't your passion, you can show off any other talent you might have. 
For example, you can record an interesting short-form video or even a timelapse of you doing any of the following:
• Drawing
• Doing magic tricks
• Showcasing acting or voiceover skills
• Doing unique makeup
• Sewing
• Creating DIY items
• Performing fitness or gymnastics tricks
• Yoga
And the list goes on!
Plus, the video doesn't even have to be about you. If there's someone in your office with a cool talent, why not encourage them to jump in front of the camera and show their skills off. This can humanize your brand and provide engaging content to your audience.
3. Educate your audience 
Reels and TikTok videos are excellent ways to flex your expertise and skills. Simply think about what it is that you're an expert in and break down valuable bite-size information using TikTok and Reels.
Educational content works because you can apply it to any industry or niche and share your knowledge about a particular subject. Plus, most of your audience are likely to be visual learners, making video content the perfect format to share your knowledge with the world!
If you're not sure where to start, we'd recommend taking a look at FAQs related to your industry on Google. Also, make sure to gather feedback from your followers by using Instagram Polls or Question stickers to create content that your audience is actually interested in.
4. Engage and inspire
Inspirational content will make your audience feel empowered. Plus, it's an excellent opportunity for you to share your brand's values on Tiktok and Reels.
While you may think that inspirational content is great for niches like wellness and entrepreneurship, it can actually work for any industry.
Regardless of your business industry, make sure to reflect your mission, the values you want to communicate, and what you think will resonate with your audience.
5. Share practical tips and tricks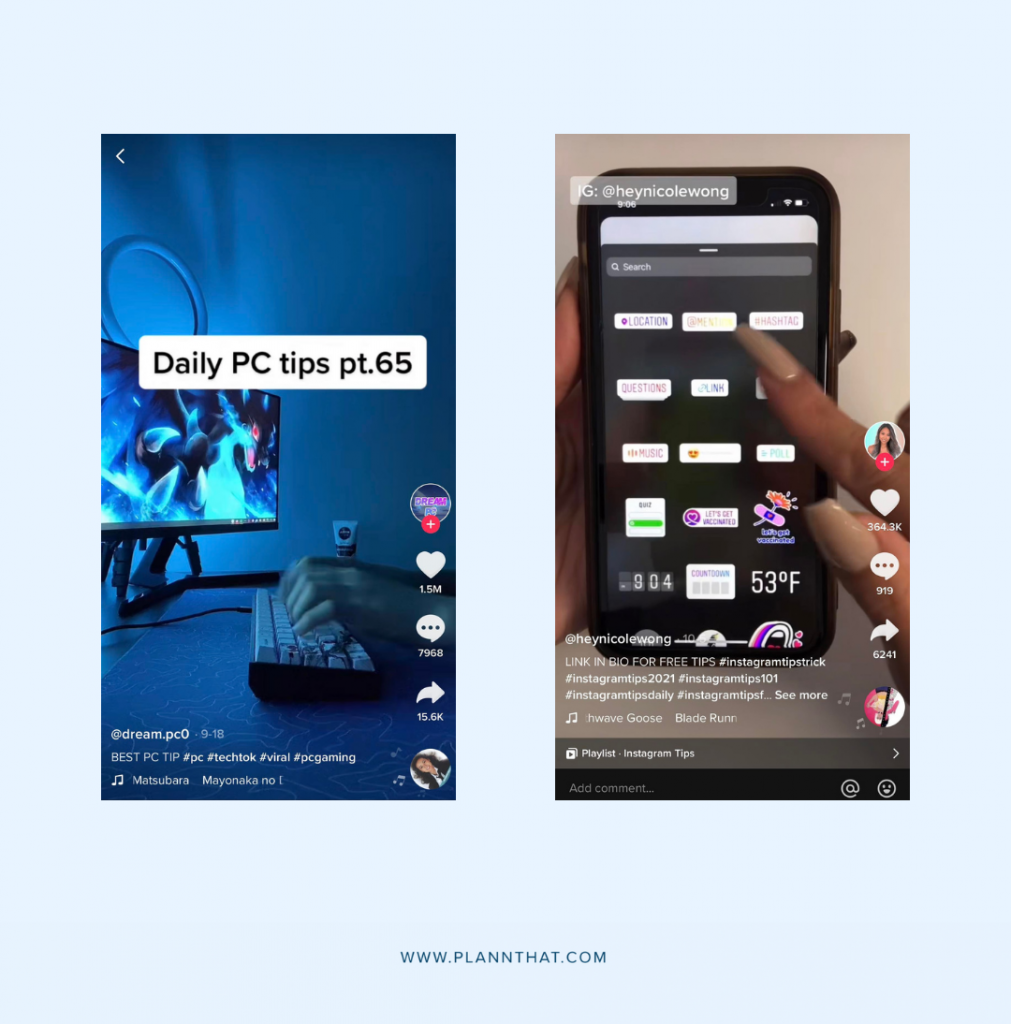 Who doesn't love hearing a unique tip or trick that would make their life easier, right?
And people on social media are more inclined to share and save a TikTok video with tips and tricks with their friends if they think it's useful.
So whether you know a Canva hack or a way to keep your dog calm during a bath, you have a great chance of distributing shareable content. Make sure the tips you're sharing relate to your business and what you do for the best results. 
6. Tease a new product release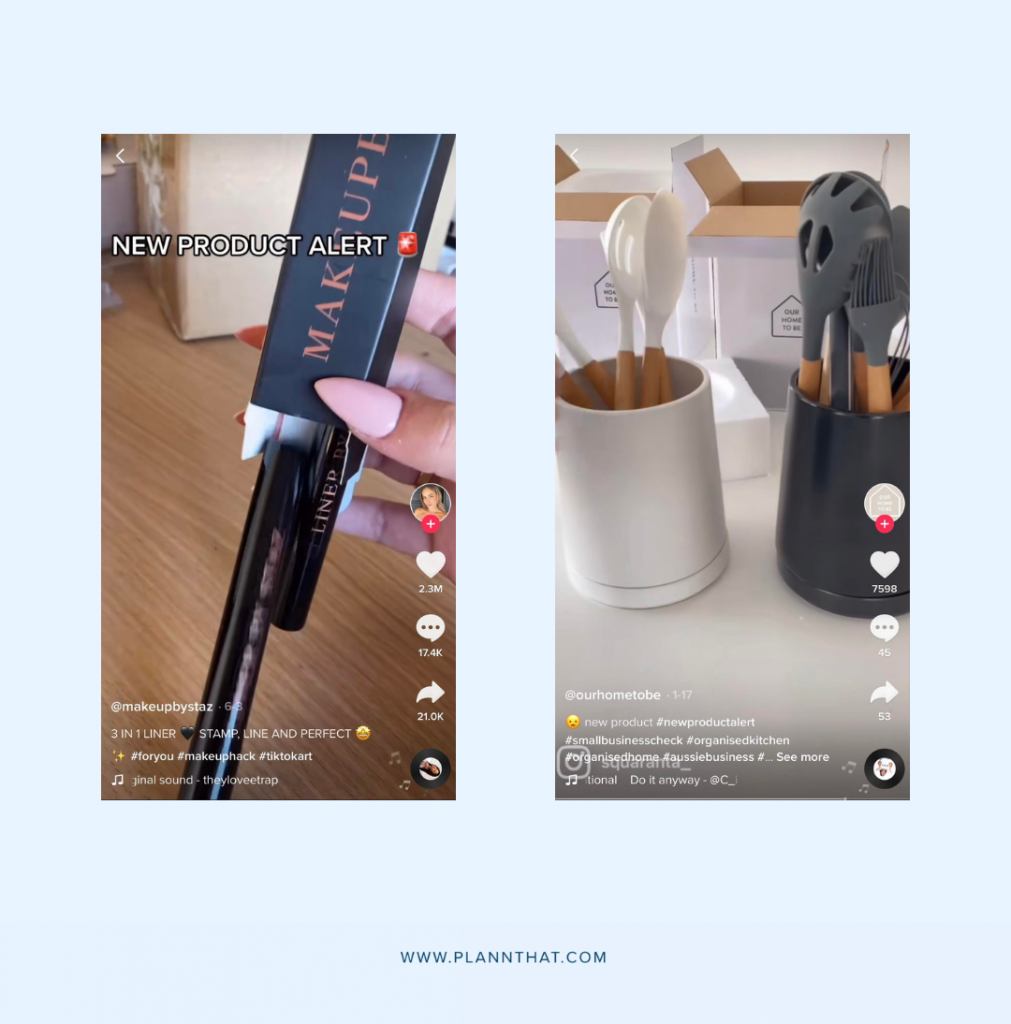 Another thing everyone loves is seeing teasers and sneak peeks.
Publishing a new product teaser on your TikTok or Instagram can help you boost awareness of a new product or service. It's also an excellent way to build anticipation and excite your audience for your upcoming launch.
Our tip? Add a strong call to action at the end of your video to get your audience to take action (whether that's pre-ordering your product or signing up to a waitlist). 
7. Bring viewers behind the scenes

Showing your audience what's going on behind the scenes is one of the best TikTok and Reel ideas you can post right now. 
Audiences love to engage with Reels and TikTok videos that show them behind-the-scenes content from brands and businesses. This is because it humanizes a brand and gives viewers an interesting glimpse into how you create a product, how you work on a daily basis, or how you provide a service.
8. Share a how-to video
How-to videos are one of the best TikTok video ideas that you can try, regardless of your niche or industry. 
Not only are how-to videos informative, but they can also be oddly satisfying to watch. And people love to share satisfying content with their friends and family, which means more eyeballs on your content.
Keep your instructions clear and easy to follow and use text overlays and visual cues to keep your audience engaged.
9. Get creative with transitions
One trend that got viral on TikTok and Instagram reels is outfit changes to the beat of the music. The kind of transition is actually fun to watch and gives you an opportunity to show off your unique style.
However, the outfit changes trend is more of a niche-specific kind of content. So if you're in the fashion industry, we'd recommend you jump on the trend ASAP.
10. Host a Duet or a Stitch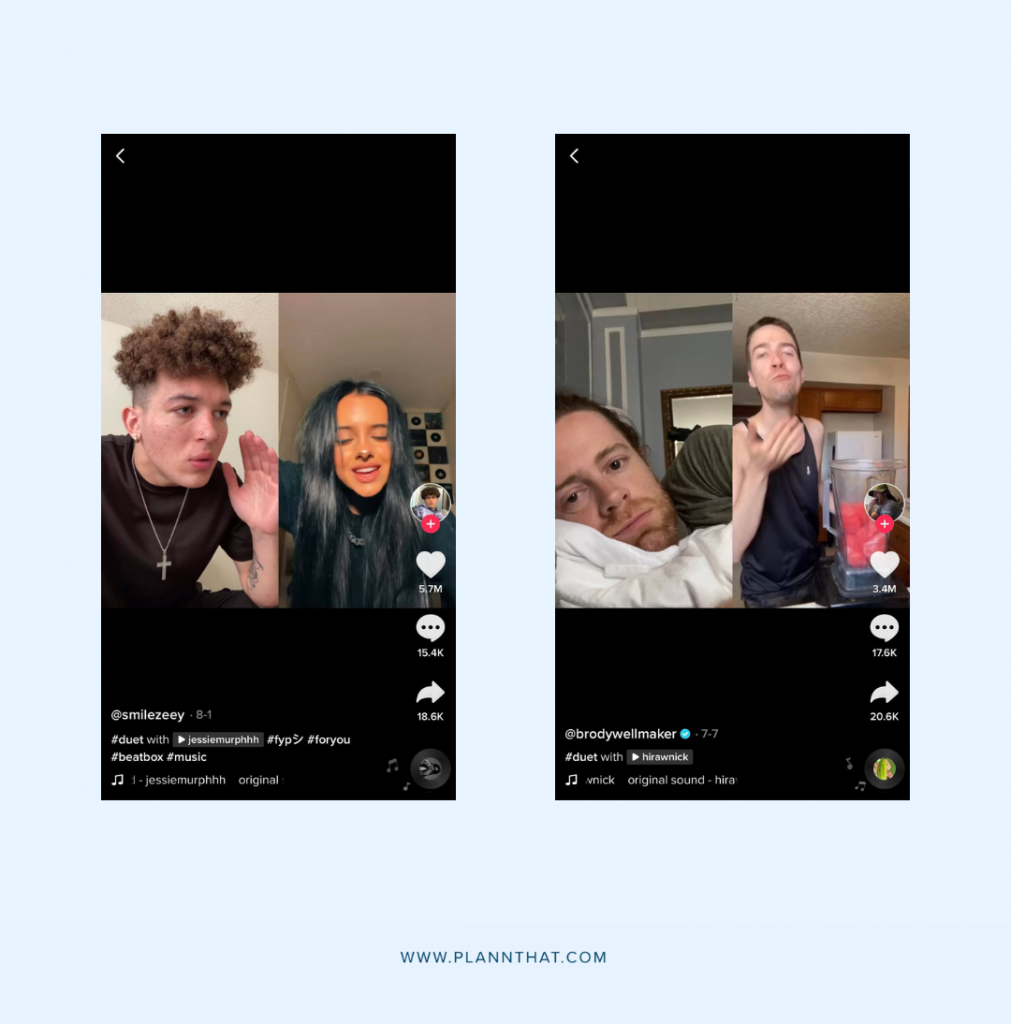 Duet and Stitch are two popular features that you can find in the TikTok effects menu. These effects enable you to collaborate with other TikTok accounts. Let's see the difference between the Duet and Stitch effects:
• The duet effect creates a split-screen
• The stitch effect allows you to clip and edit a recording in response to an existing TikTok video
These video effects are an excellent way to get creative, show your personality, and reach new audiences.
Ready to create engaging Reels and TikTok videos?
Now that you know some of the best Instagram Reels and TikTok video ideas, it's important to create a social media strategy and stick to it. 
Sign up for a free 7-day trial of Plann today and you can manage your entire social media strategy from one effortless dashboard, including planning and scheduling your Reels and TikTok videos (and even auto-posting your Reels!).