With the majority of users spending three or more hours watching videos and more than 80% of users deciding to purchase a product or service based on that brand's video content, TikTok and Reels are quickly becoming the best way to market your brand!
How to Schedule Reels with Plann
Do you like to smash out all of your social media scheduling on your desktop? Maybe you're more of an on-the-go Plann'r who loves to shoot and schedule Reels on the fly? Either way, we've got you covered.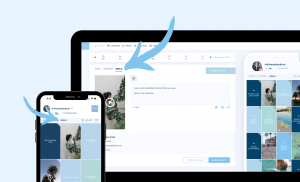 Login to Plann Desktop or the Plann Mobile App 

Upload your Reel + Reels Cover image 

Schedule your Reel  + check Autopost

That's it! 
The benefits of scheduling Instagram Reels
Whether you film all of your Instagram Reels content in one day or want to batch schedule your Reels in advance, you'll find planning your Reels content is easier than ever with Plann. 
As a busy business owner, keeping up with social media marketing can seem exhausting. By creating a strategy, planning out your content, and scheduling Reels in advance, Plann can help you maintain brand consistency and make sure you never forget to post engaging content regularly. 
Plus, bite-size video content (like Reels and TikToks) are becoming an essential part of any marketing strategy, and are some of the most engaging content formats available to brands, businesses and creators.
How to repurpose and schedule to TikTok
Our motto? Work smarter, not harder! Simply repurpose your short-form video content across the two biggest social media platforms for maximum reach. 
Here's how to do it: 
Simply choose the Reel you would like to repurpose, click the 3 dots, and click "Recreate for TikTok". That's it!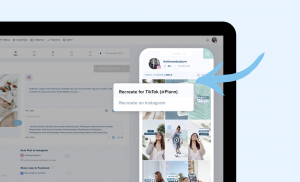 What are Instagram Reels?
Imagine a world where you can create one snappy video, reach millions of people, and increase your brand's engagement. That's exactly what you can score with on-brand Instagram Reels.
Instagram Reels are short-form video content that can be up to 60 seconds in length.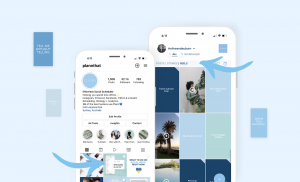 Users record vertical videos, edit them together, and put them to music (or a voice-over) to share to their Instagram feed. 
With short-form video taking off, Reels can be utilized by brands to bring a more fun and engaging element to their Instagram grid. From educational how-to Reels to engaging mini vlogs, the creative opportunities are endless with Instagram Reels.
How does the Reels algorithm work?
Instead of only seeing Instagram Reels from accounts you follow, you'll be served Reels from popular and trending accounts on Instagram through the Reels feed.
Plus, these videos also have the opportunity to be 'featured'. These featured Reels are hand-selected by Instagram's in-house content curators, who search for trending themes and content across the platform. 
Once an Instagram user engages with a certain type of Reel, the Instagram algorithm with then persoanlize their Reels feed (thanks to the power fo AI).  
Want to get your Reels content noticed by Instagram? Make sure you're creating engaging, unique content that puts your own spin on current trends. This isn't the time to shy away from originality and quirkiness — it's important to let the Reel (see what we did there) you shine through!
How can I use Reels for business?
Ready to tap into the power of Instagram Reels, but don't know where to start? Don't sweat it! We've got you covered with a stack of Reels ideas to get your creative juices flowing.
Jump on new

Reels trends

! 

Introduce the face behind the brand 

Showcase your product or service in action 

Take your followers behind the scenes of your office

Bust an industry myth or share a surprising industry stat
Whether you're a content creator or business owner, short-form video content can help you increase your overall reach and boost your engagement rates. Plus, they're REEL-y fun to make!
Create an Instagram Reel in 6 Easy Steps
Let's get filming! Here's a step-by-step guide for how to get started with your first Reel.
Step 1: Open up the Instagram Stories camera and select "Reels".
Step 2: Click "Audio" to choose from Instagram's audio library. You can even trim the audio to just your favorite part!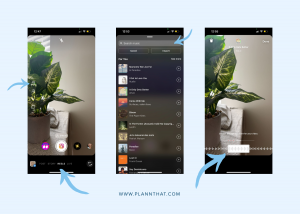 Step 3: Film or upload video footage. Remember, Reels can be a series of clips (filmed one at a time and spliced together), or all at once.
Step 4: Select the length of your video and set a timer. 
Instagram allows you to film 15, 30, or 60 second Reels.

Set a timer for each clip and give yourself a countdown.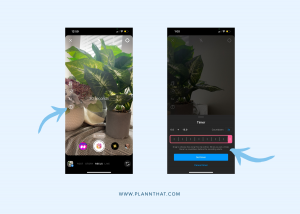 Step 5: Once you're done filming, add stickers, text, or even a voiceover to edit your Reel.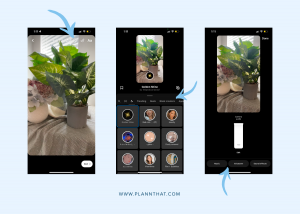 Step 6: Add a Cover Image to your Reel.
Edit your cover photo with a video thumbnail or add a cover from your camera roll.
Best practice tips for nailing your Instagram Reels
1. Use on-screen text or captions 
By adding captions to your Reels, you ensure your content is inclusive for all viewers and help viewers still capture your key message (even with sound off).
2. Create content directly for your audience 
Think about the questions your ideal customers are asking, the problems their facing and the valuable insights you can share with them. Always keep your target audience in mind when coming up with your next Reels topic.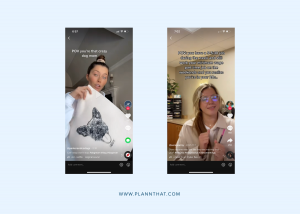 3. Answer FAQs (and address objections)
Proactively address the customer objections that prevent them from buying your product — before your audience actually has a chance to ask them! FAQ videos are a popular Reels idea for businesses, because they're quick, easy and effective. Simply think of some questions you're often asked about your product or service, and pop on camera and answer them!
4. Get creative with the trends
Spend a few minutes scrolling through trending Reels on Instagram or checking out Plann's trending audio to get ideas about where to get started! Take each trend and think about how to make it your own.
Get creative and don't be afraid to have fun. Short-form video can be an engaging way to *Reel-y* captivate your audience, show off your brand, and unlock to a whole new world of possibilities for your business.
Get started with Plann's updated Reels Scheduling Tools
Feeling ready to start scheduling and auto-posting your Reels with Plann?
Watch Ashley walk through how to schedule a Reel with Plann 
Boost Your Engagement by Joining the 9 Day Reels Challenge