TikTok is full of innovative brands determined to boost their reach and engagement, marketing to over a billion monthly active users.
As TikTok continues to climb in popularity, more brands are considering it an important part of their social media marketing strategy. With a strong TikTok strategy or even a TikTok campaign, you can connect with new audiences in new ways. You might even go viral! 
Here at Plann, we've got the inside scoop on who to watch on TikTok. So, here are five brands smashing it on TikTok and what you can learn from their efforts!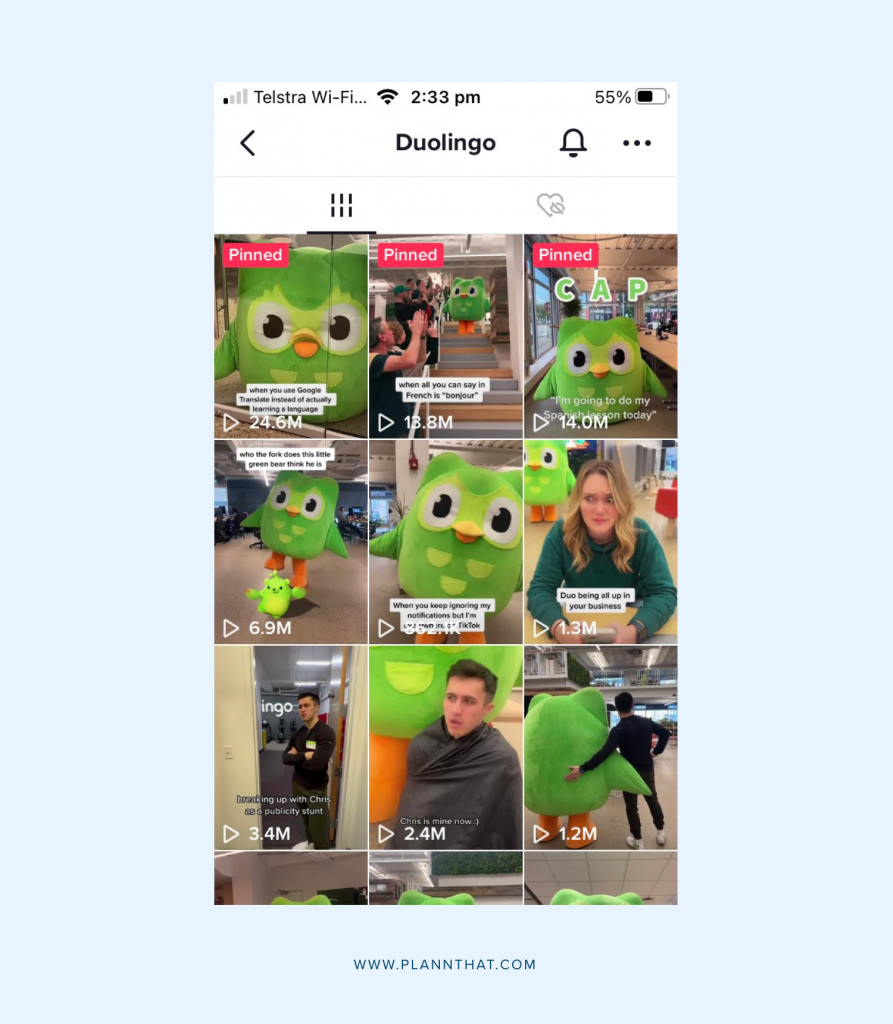 The brand
Duolingo is a global language-learning app. In just a few minutes every day, users can participate in gamified challenges, learning new words and phrases. Duolingo courses are available in 38 languages, covering everything from French and Japanese to Klingon and High Valyrian.
As an ode to its famous green owl mascot, on TikTok Duolingo describes itself as "just an owl tryna vibe."
The strategy
Posting regularly, Duolingo stays up to date with all the latest TikTok trends and finds ways to reinvent them, incorporating their brand message.
Duolingo's TikTok videos are short and sharp, consistent with the fast-paced TikTok environment. 
Videos feature the brand's green owl mascot as he adventures through the Duolingo office. They're accompanied by brief, witty captions and a few relevant hashtags. 
When Duolingo isn't focusing on original content, the account engages with other TikTok users, leaving comments and replying with video. 
Often, Duo can be found singing along to the TikTok's latest trending audio and asking scrollers why they aren't completing their daily language lessons. 
The takeaway
Duolingo is one of the most popular brands on TikTok, having earned over 3 million loyal followers. Many of Duolingo's TikTok videos achieve viral status, with some clips reaching up to 32 million views! 
Duolingo is a perfect example of how hopping on trends, prioritizing community engagement, and maintaining a regular posting schedule can help you boost your TikTok performance.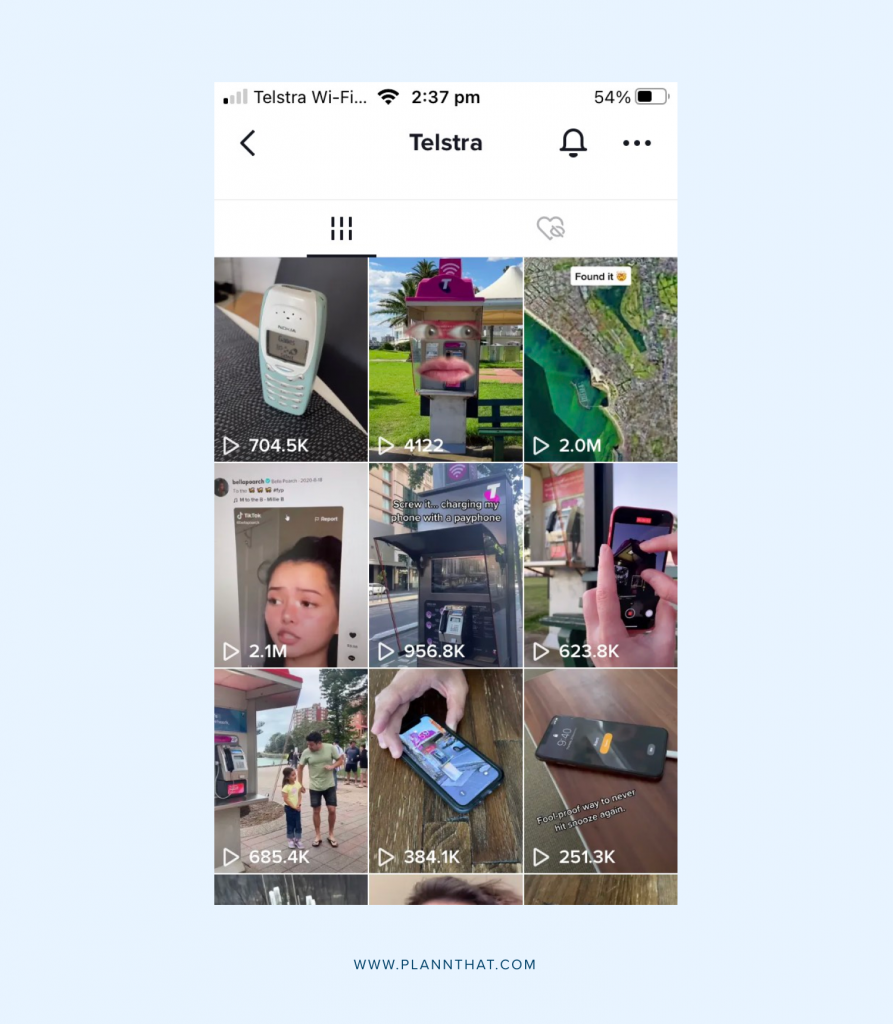 The brand
Telstra is a popular Australian internet and broadband provider. The company keeps people across the country connected with high-speed phone, internet, and network plans, with options for residential and corporate customers. 
On TikTok, Telstra's mission is modest, with the brand saying it is "here to become an internet sensation."
The strategy
Telstra's TikTok strategy focuses on a few key pillars, which combine a comedic approach with the brand's offers, services, and campaigns. 
On TikTok, Telstra documents Australia's Telstra payphones or shares fun, engaging clips and tutorials, featuring tech products or team members on the job.
Content often uses voiceovers and includes captions for maximium accessibility. The TikTok team write short, emoji-rich captions and regularly create new TikTok clips in response to commenters.
The Telstra TikTok team is mostly likely to be found visiting payphones, creating payphones photography tutorials, and reminding the masses that payphones still exist. The Telstra team love payphones. 
The result
With almost 78k followers, Telstra has achieved star status on TikTok! While some videos reach a modest audience of a few thousand, others are viewed by millions of users. 
If you're wondering how to keep content entertaining and on brand, Telstra is a go-to TikTok brand example! The company shows you how to balance informative content with a fun, comedic tone.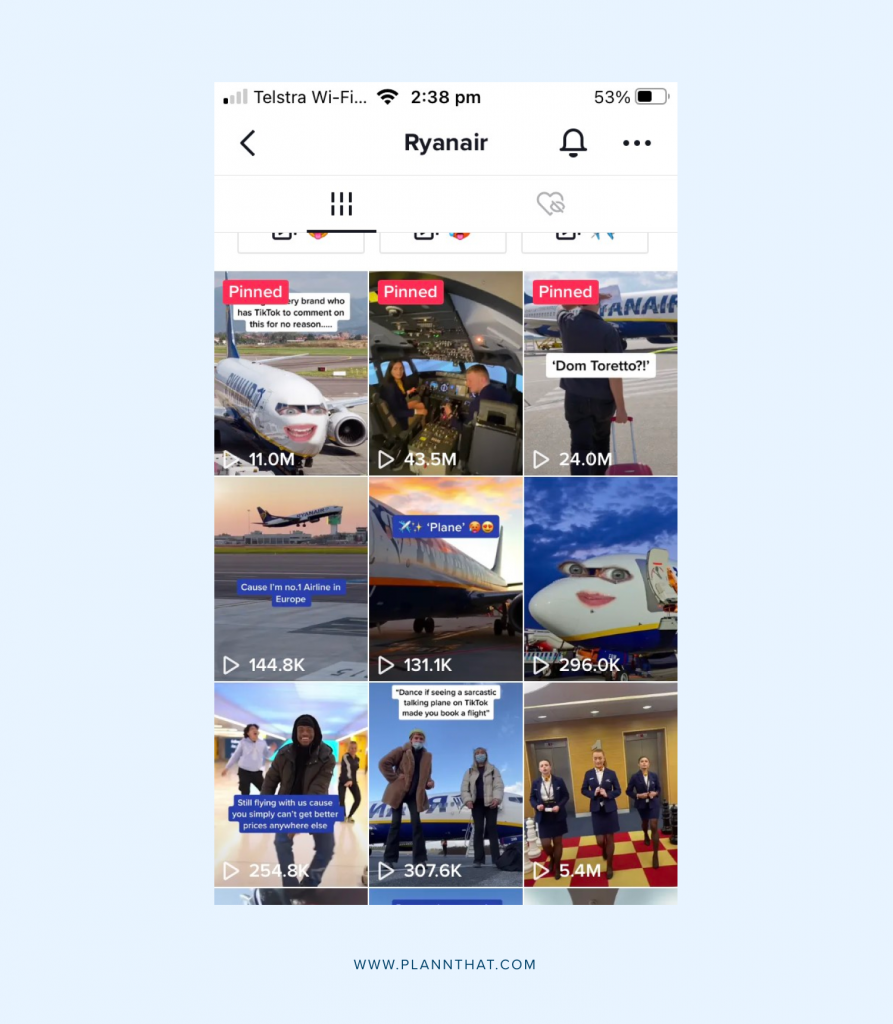 The brand
RyanAir is a well-known budget airline, offering affordable flights to some of the world's most popular holiday destinations. RyanAir services over 40 countries and 230 airports, with 2,500 airplanes taking to the skies every day.  
RyanAir has a simple reminder for its TikTok followers: "Catch flights, not feelings." 
The strategy
RyanAir's TikTok account has quickly become famous, mostly thanks to the regular appearance of a sassy talking airplane. 
The RyanAir TikTok strategy focuses on clear communication and plenty of comedy, with the airline using trends and popular audio tracks to tell the world about its low prices. Posts include short captions, plenty of emojis, and the branded #ryanair hashtag.
You'll find the RyanAir TikTok team superimposing faces on airplanes or rehearsing choreography for their next viral video. Keep an eye out for collabs with other TikTok-savvy brands, like Duolingo!
The result
RyanAir's sassy, sarcastic TikTok tone has earned the brand an impressive 1.5 million followers. Videos regularly reach hundreds of thousands of viewers from around the world, with some content generating up to 10 million plays!
Considering using humor as part of your social media marketing strategy? RyanAir is a great example of how you can create content that is both clear and comedic. Win-win!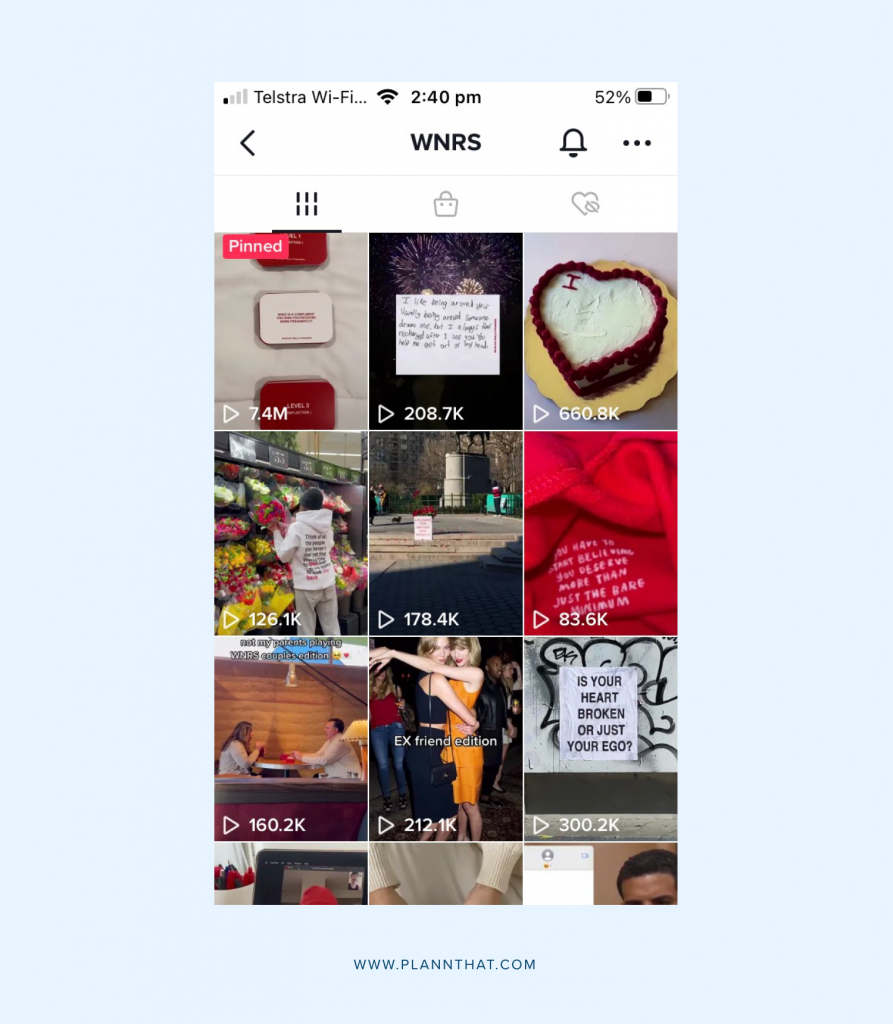 The brand
We're Not Really Strangers (WNRS) is a card game about connection. By asking meaningful questions, WNRS encourages players to build stronger, healthier relationships. WNRS is available for all kinds of relationships, with editions to suit families, friends, couples, exes, and more.
WNRS lets its TikTok followers know what's in store: "Warning: feelings may arise."
The strategy
WNRS keeps its TikTok content closely in line with its brand message, sharing videos that promote love and togetherness. 
Some WNRS videos feature empowering quotes, while others share the brand's community efforts–free flowers, anyone? 
Many WNRS TikTok videos feature new editions of the WNRS cards, showing viewers how the game works. Videos are accompanied by short, simple captions and are instantly recognizable by WNRS's trademark red. 
When the WNRS TikTok team aren't busy getting to know each other better, they're sharing empowering quotes with the world– on TikTok and in real life.
The result
Over 3.8 million followers stay up to date with WNRS, with the brand earning thousands and even millions of views on its videos.  
WNRS offers the perfect example of a TikTok strategy that incorporates key brand colors and a gentle, meaningful tone. You don't have to be a comedian to succeed on TikTok! Like WNRS, you can center your message.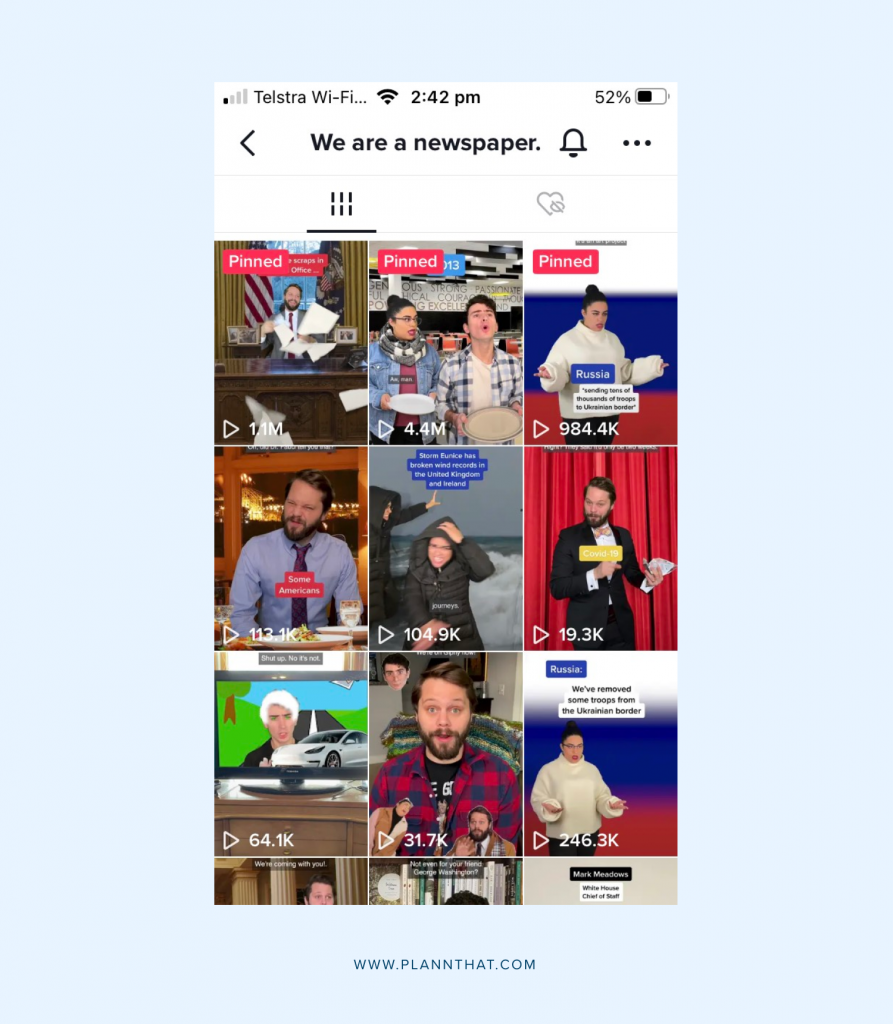 The brand
Washington Post is a popular news site, keeping worldwide readers up to date with the latest in politics, entertainment, science, and more. The brand maintains an active online presence, both on its website and on social media. 
Washington Post's TikTok description is all about the facts: "We are a newspaper." We couldn't have said it better ourselves.
The strategy
Like many popular brands on TikTok, Washington Post recognizes the value of humor on social media, turning news into entertainment. 
Washington Post shares TikTok videos that feature comedic skits and fun dances in response to current affairs, from political debates to coronavirus updates. 
Often, the brand adapts trending audio to apply to news topics. Washington Post writes clear, easy-to-understand captions accompanied by relevant news hashtags.
The Washington Post TikTok creators can usually be found planning their next post. News videos go live several times a day, covering a range of stories.
The result
With over 1.2 million followers, Washington Post is one of the most TikTok-savvy news publications and has built a global audience. 
Washington Post shows us how we can use short-form TikTok videos to make even mundane content fun, vibrant, and entertaining. That's the key to improving engagement! 
Achieving TikTok genius with Plann
Ready to put your newfound inspiration to the test? Start planning your TikTok content ahead of time with Plann! Sign up for a free 7-day trial today.