Are you working to grow your TikTok account and gain more social media followers (let's be honest — who isn't?) The TikTok analytics tool will be your best friend.
When it comes to building a brand and improving your reach, there's no better place to start than with the data. Because while there's no denying that TikTok holds massive potential, it can be hard to know if all your dancing, lip syncing and pointing at words is actually going to pay off.
By regularly checking and understanding your analytics, you can find patterns that could help you share more engaging and successful content in the future. To save you a heap of time, your TikTok analytics is now available directly in your Plann Desktop and iOS account so that you can easily learn more about your TikTok video performance by uncovering the number of likes, comments, views and shares your content gets – all without leaving Plann.
Why TikTok analytics matter
Like most social media apps, TikTok is equipped with in-app data and analytics tools to help you see which posts are performing well and how users are engaging with your account.
The TikTok analytics tool should be an essential part of your social media strategy. You can rely on your metrics to determine what you post, how you post, and when you post.
Analytics can help you make decisions to maximise your reach and engagement — whether it's the best time to post on TikTok or what videos your audience is going to enjoy most.
Who can access TikTok analytics?
Anyone with a Plann Plus account can access TikTok analytics in Plann, alongside their TikTok workspace. If you are ready to level up and access even more analytics data, you always have the option of jumping directly into TikTok!
It's important to note that not all TikTok account types have access to the analytics tool. To make sure you can access your account data, you'll need to make sure you're using a TikTok Pro account.
You can check this by visiting your account and clicking the three horizontal lines at the top right of your screen. Choose 'manage account' and check you're set to TikTok Pro.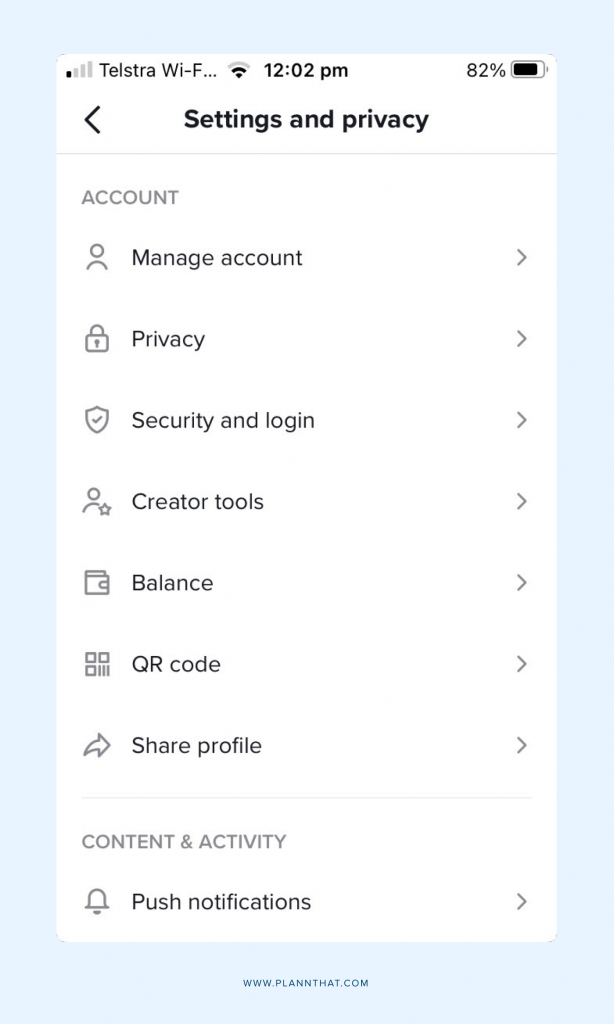 Both creator and business accounts are eligible for analytics.
How to check analytics on TikTok
Checking your TikTok analytics is easy when you know how. So where do you begin?
To check analytics for your full TikTok profile:
1. Open the TikTok app
2. Press 'me' at the bottom right of your screen
3. Click the three lines at the top right of your screen
4. Select 'creator tools', then 'analytics'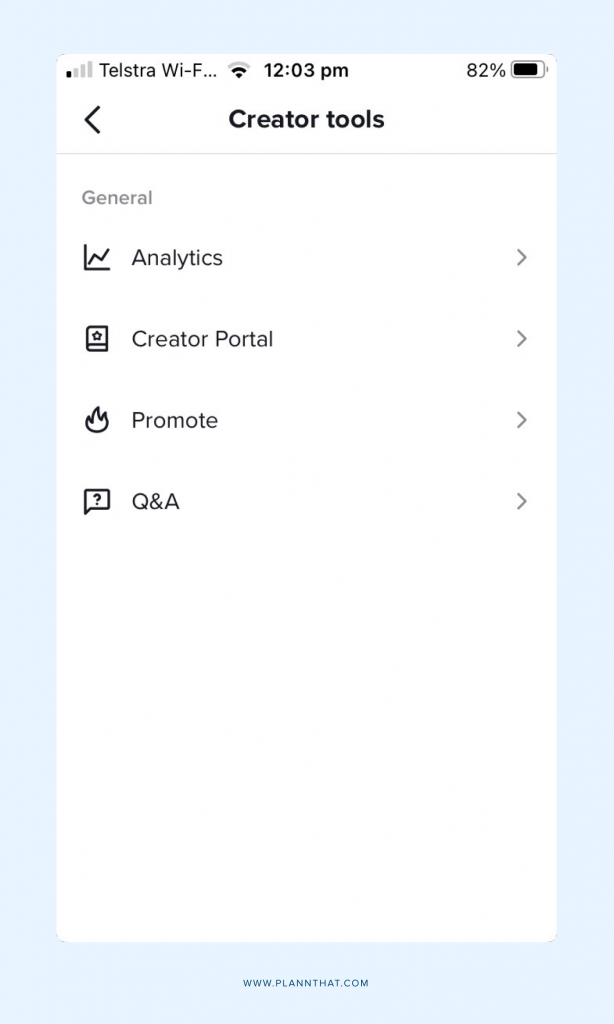 To check analytics for a single TikTok video:
1. Open the TikTok app
2. Press 'me' and the bottom right of your screen
3. Choose the video you want to check analytics for
4. Select 'more data' at the bottom right of your screen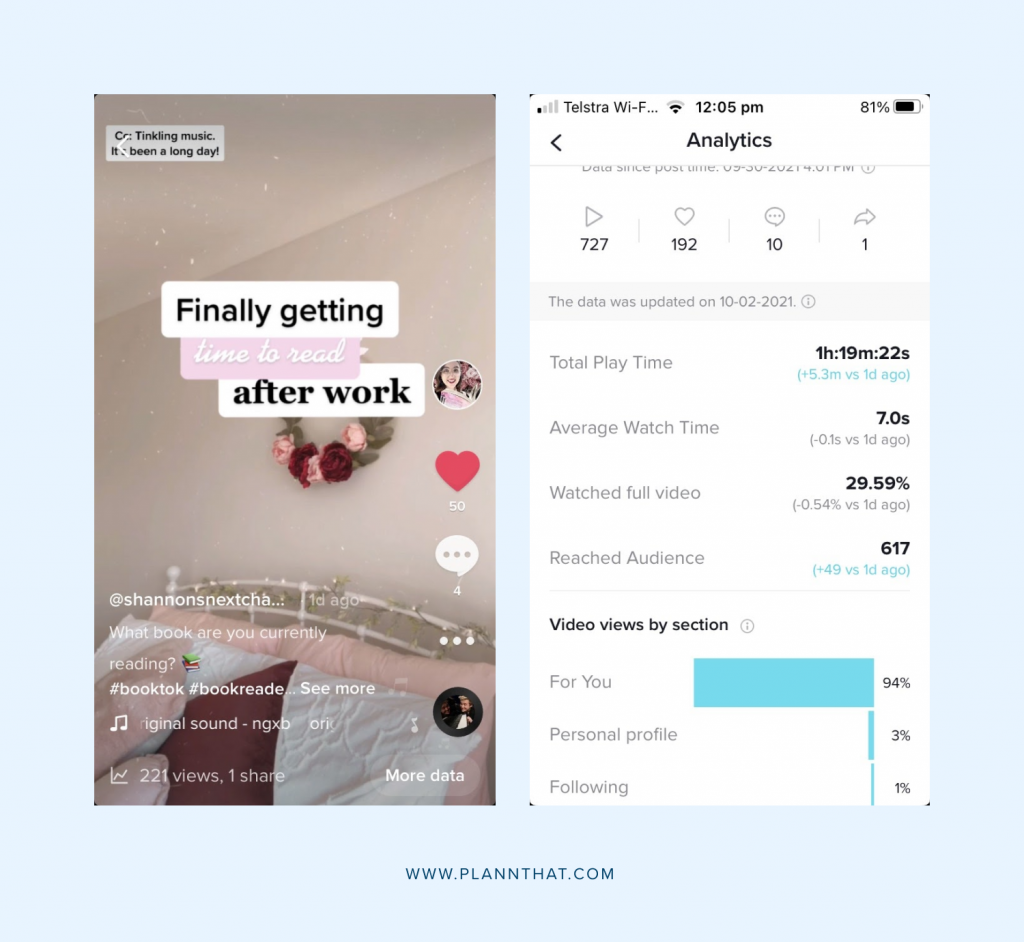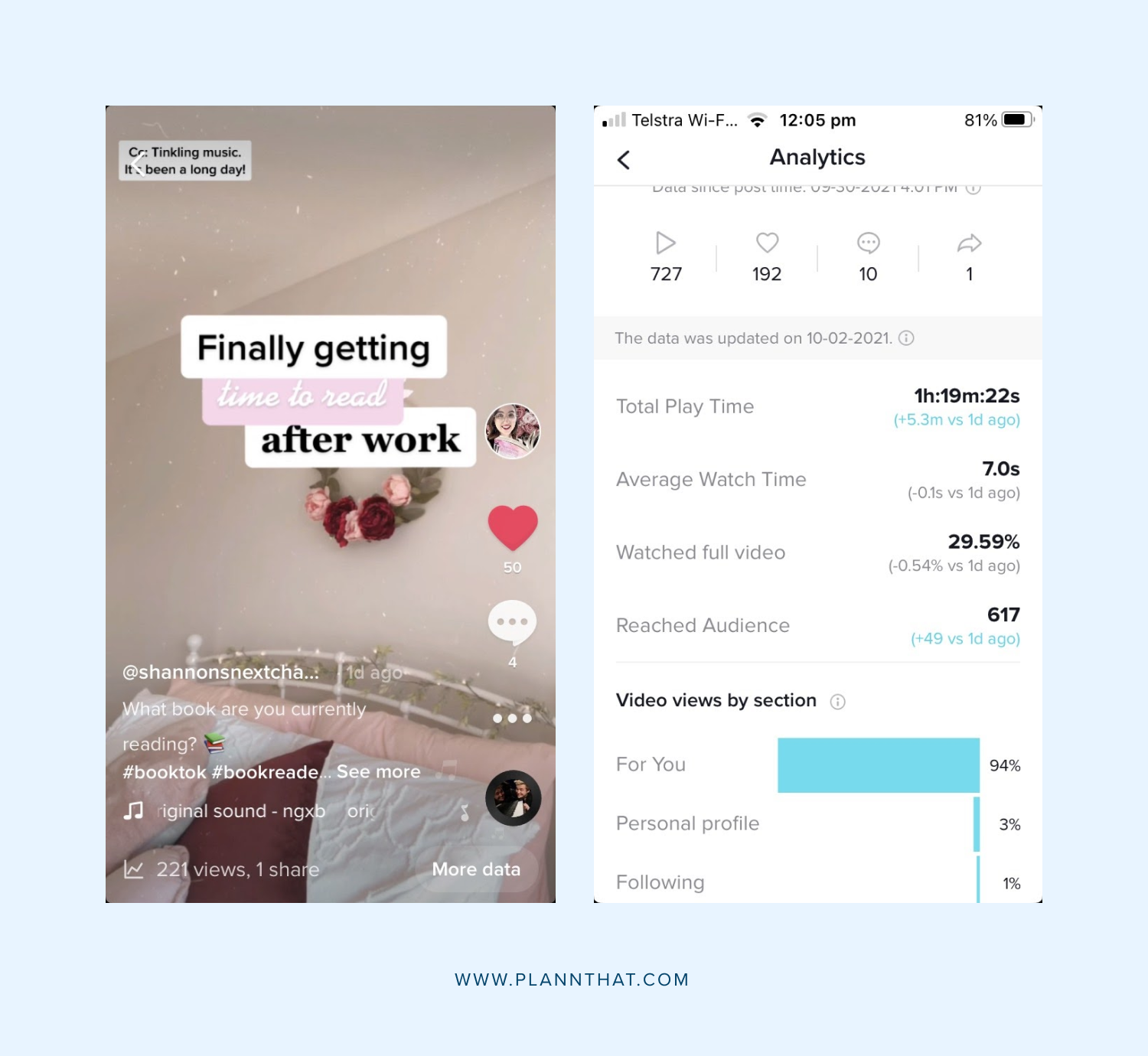 What analytics are available for TikTok?
There are a range of analytics tools available to help you better understand your TikTok account and its performance.
TikTok analytics cover everything from how many followers you've accumulated to how many views and interactions your videos have received.
You'll also find data covering TikTok trends, audience demographics, account growth, and peak activity times.
All of this information can help you adjust your content strategy for optimum performance.
How to navigate the TikTok analytics tool
There are four main TikTok analytics tabs: the overview tab, the content tab, and the followers tab. Here's what you'll uncover within each:
Overview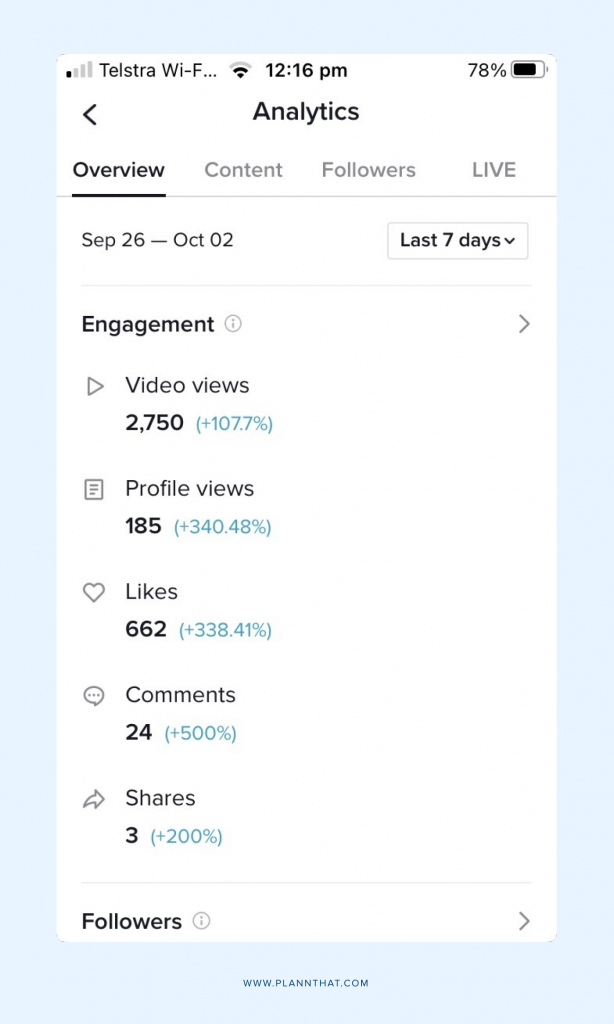 When you open analytics for your TikTok account, your account overview is the first thing you'll see.
As a default setting, you'll see your account's performance over the last 7 days. You can adjust this date range at the top of your screen.
TikTok's account overview allows you to see your total views, total follower count, how many followers you've gained or lost, and how many people have viewed your profile within your chosen date range.
The overview tab also allows you to see how performance in your chosen date range has differed from performance in previous periods.
Here, you'll see whether your account is improving or whether your content strategy needs some work. This is your at-a-glance snapshot to understanding your overall TikTok performance.
Content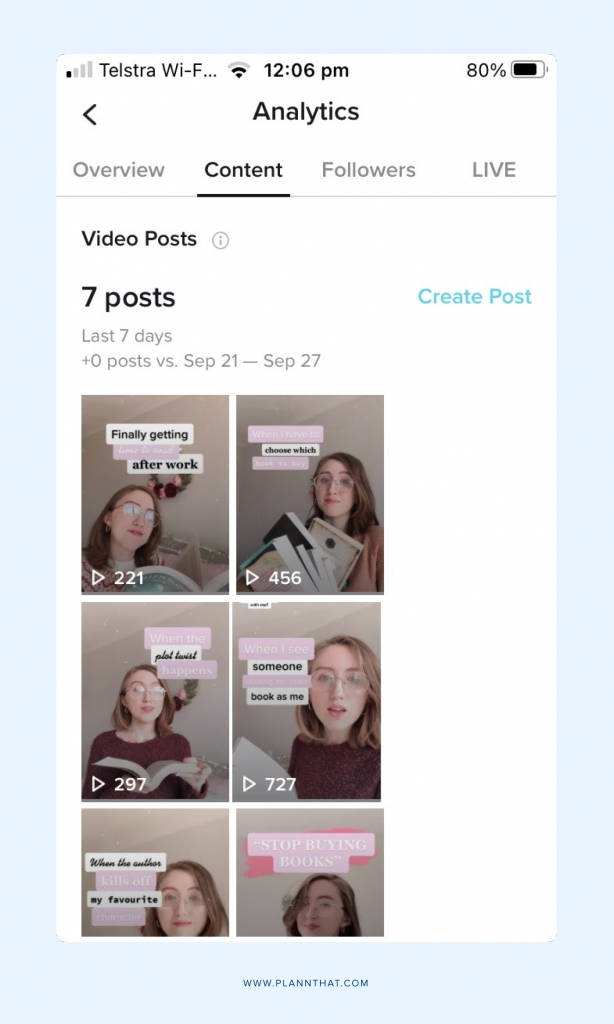 The TikTok content tab allows you to focus specifically on your previous TikTok posts.
Again, you'll see a default date range of 7 days, but you'll be able to adjust this range at the top of your screen.
Using the content analytics tool, you can view how many videos you've posted, how many videos are trending, and how each video is performing in terms of reach and engagement.
When you click on an individual video, you'll find information detailing:
• How many views the video has received
• The video's average and total watch times
• The video's traffic sources (profile visits, followers, for you page)
• What actions (likes, comments, shares) users have taken from the video.
The TikTok content analytics tool allows you to take a closer look at individual TikTok posts. You'll see which content types are most popular and effective for your audience — important knowledge when it comes to curating your content calendar!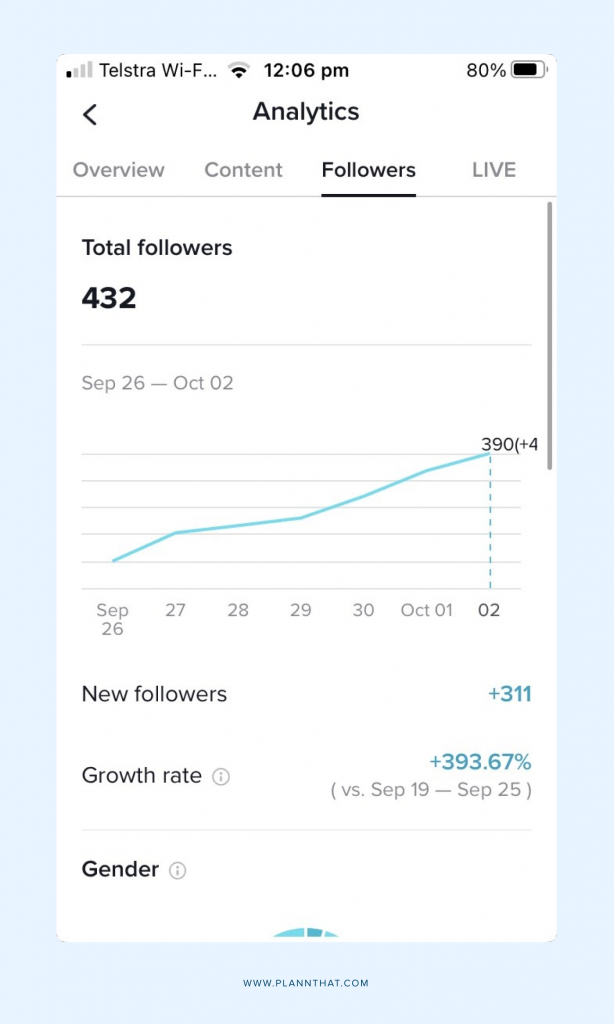 Followers
The followers analytics tab allows you to focus on your TikTok audience, better understanding who your followers are and how best to engage them.
Under the followers tab, you'll find information about your total follower count and your follow and unfollow rates over the course of your chosen date range.
Here, you'll see information about where in the world your followers are based and what their ages and genders are. You'll also be able to see when most of your followers are online, helping you determine the best posting times.
You'll also find data about trends and audios your followers are interested in, offering you a headstart for future content ideas.
Live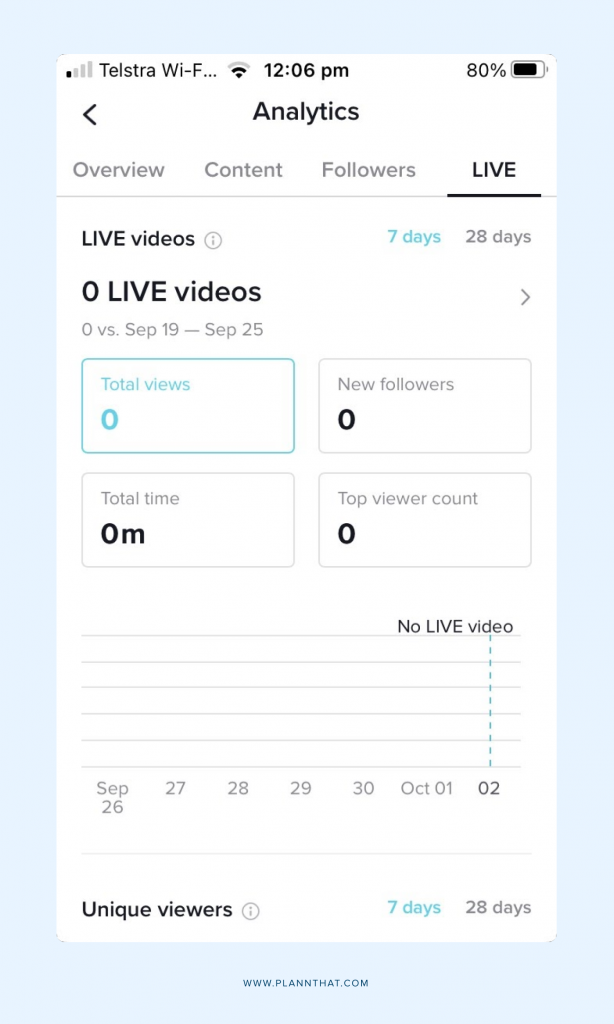 Finally, the LIVE analytics tab is where you'll find data relating to TikTok livestreams (if you're eligible for them — only those with over 1000 followers can go live on TikTok)
Like TikTok's other analytics tools, this will default to a 7-day date range, which you can adjust at the top of your screen.
LIVE analytics provide information about total views, new followers, live time, and top viewer count.
How to use TikTok analytics to grow your account
TikTok analytics can help you gain a much stronger understanding of your account and its audience, making it easier to create highly engaging posts.
By thinking about your analytics as you develop new TikTok content, you can ensure that all of your TikTok videos respond to the interests of your audience.
All of this means more opportunities for long-term success on TikTok!
Don't forget, that if you're overwhelmed with all of the TikTok analytics available to you, you can simply hop into Plann to uncover most of your key metrics right inside your supercharged analytics dashboard.
Use Plann to schedule ahead your TikToks
Once you've used your TikTok analytics to fuel some new ideas, it's time to Plann them ahead of time. Start your free trial of Plann to map out your TikTok strategy and start scheduling your videos to post at the best time for your audience!