Wondering 'how to link TikTok to Instagram?' Good thinking — it's an awesome way to attract a whole new audience by promoting their Instagram account and cross-post your content.
The good news is, Llnking your Instagram account to TikTok is super easy. All you need is your smartphone and 60 seconds.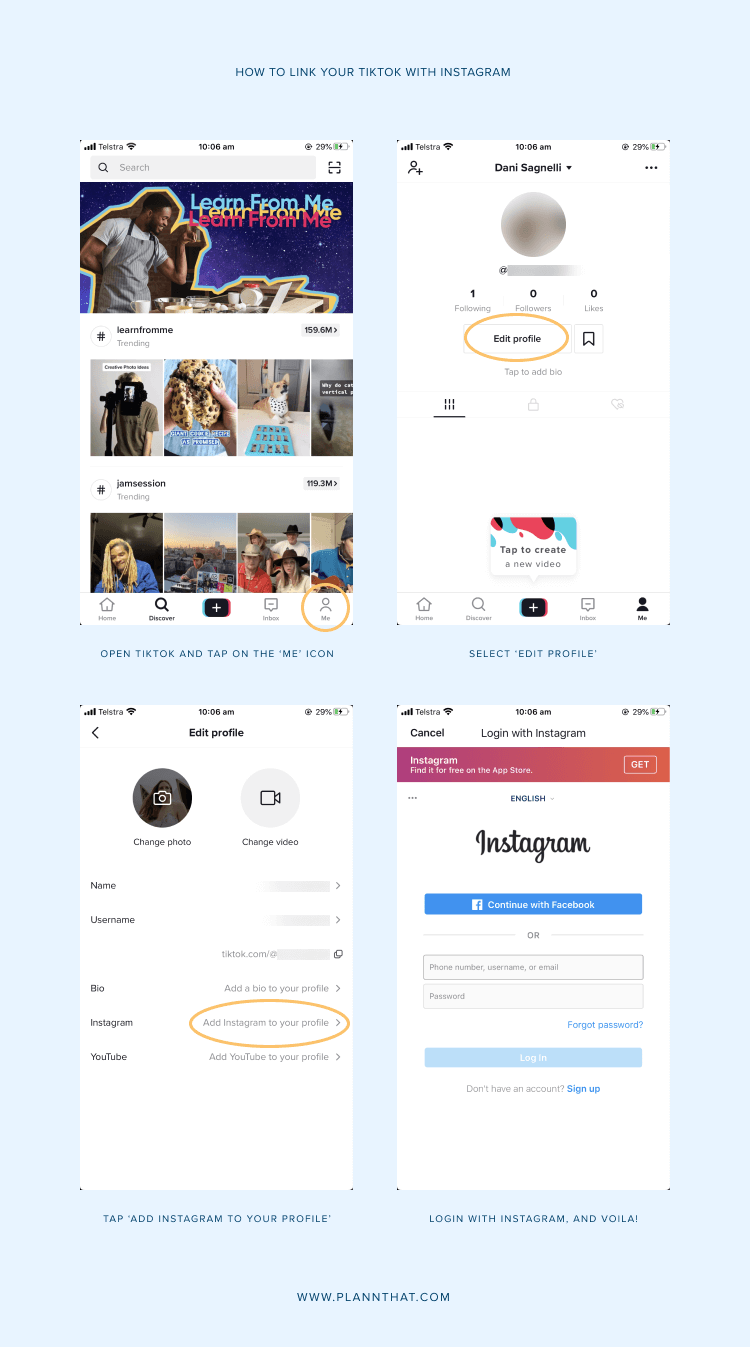 How to add Instagram to TikTok
Here's how to do it:
– Open the TikTok app and tap on the "Me" icon at the bottom right of the screen.
– Tap on "Edit Profile".
– Underneath bio, you'll see a section that says "Instagram". Tap on the section that says "Add Instagram to Your Profile >".
– The Instagram login screen will load. Enter your username and password and tap on "Login" when done.
– You'll be redirected to your TikTok profile. There is now an Instagram icon next to the "Edit Profile" button on your bio page. 
Want to unlink your Instagram profile from your TikTok bio?
– Follow steps 1-3 and tap on your Instagram handle.
– A pop-up box will ask you to confirm if you want to, unlink your account, tap "Confirm".
– Voila! Your Instagram link is removed from your TikTok profile.
Now your followers, friends and family will never be able to confirm if it is you rocking the spooky dance challenge or your doppelganger.
How to Share a TikTok Video on Instagram
Want to show off your "Say So" dance moves with your Instagram followers? 
With your TikTok account linked to your Instagram profile, you can seamlessly share your video content.
Here are two easy ways you can do it:
1. Sharing a Public TikTok Video to Instagram
– Open TikTok and tap on + icon.
– Hold the red button to record a video or upload a one from your gallery.
– Once you are done editing the video, tap on Next.
– Select the Public in the "who can view this video" section. 
– Tap on the Instagram icon and then tap Post. 
– Once the video is live on TikTok, the app will redirect you to Instagram, and you'll see two options "Feed" and "Stories".
– Select the one you want, and you'll go through the normal Instagram post or stories prompts where you can add captions, filters and hashtags.
– When you're done, tap "Publish" and you're done!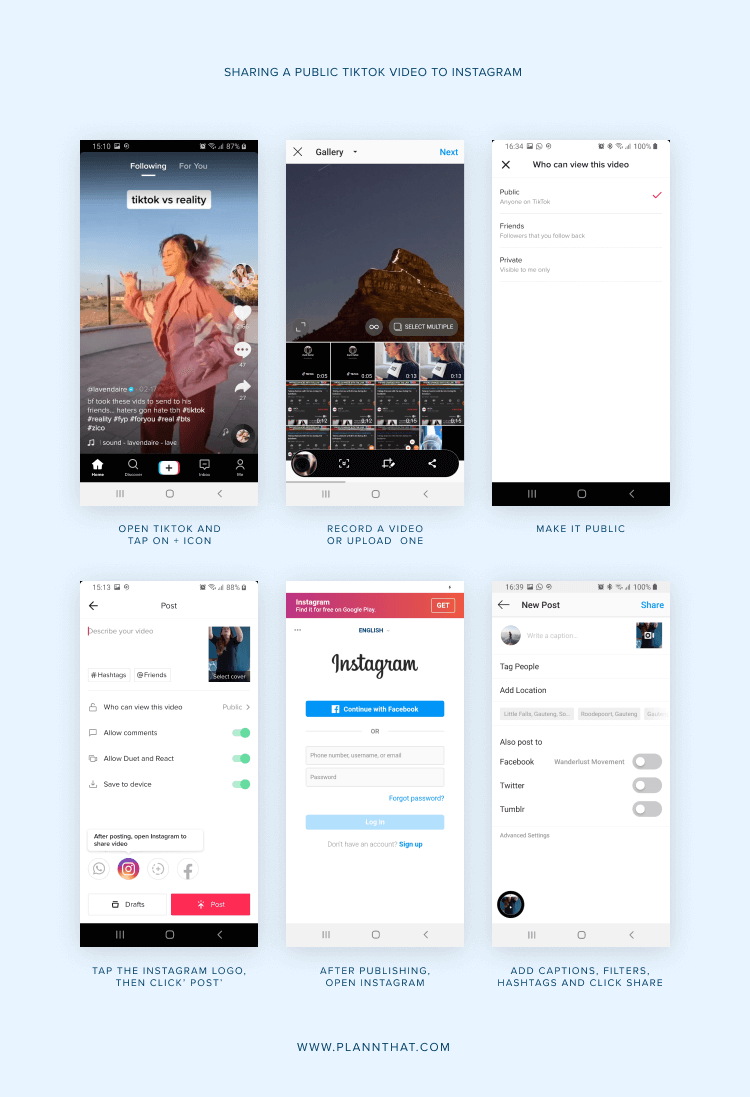 2. Sharing a private TikTok video
– Open TikTok and tap on + icon.
– Hold the red button to record a video or upload a video from your gallery.
– Once you are done editing the video, tap on Next. 
– Select the Private in the "Who Can View This Video" section. 
– Go to your profile page and select the private TikTok video you want to share to Instagram.
– Tap on the three dots on the right side of the screen and select "Save Video."
– Open Instagram and choose if you want to share the video on your feed or Stories.
– Make your selection and tap on your downloaded TikTok video in your gallery to upload it to Instagram.
– Once you are done with editing your video and writing a caption, tap "Share".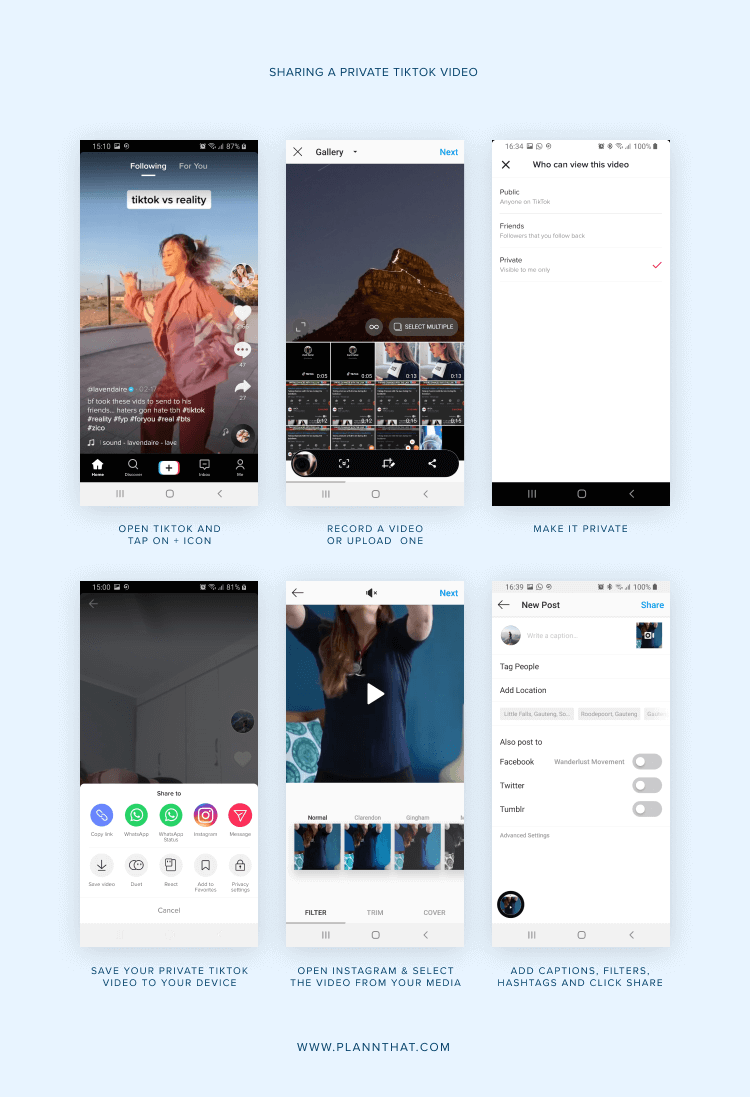 Can I Add a TikTok Link to My Instagram Profile?
The only way to share your TikTok profile on Instagram is to use the link in your bio.
Here's how to edit your profile link:
– Go to your profile page on Instagram and tap "Edit Profile".
– A new screen will load where you can add a link in the "website" section.
– When you're done, tap the tick in the top right-hand side corner.
What About Sharing My Instagram Posts to TikTok?
Unlike TikTok, you don't have an option to share your posts directly to the app. You would need to make sure your Instagram posts and Stories save directly to your phone and manually add them onto TikTok via your camera roll.
Repurposing your TikTok videos to Reels
Another great way you can repurpose your TikTok videos on Instagram (and vice versa) is with the new kid on the block, Reels!
While some are raising eyebrows at the glaring similarities with TikTok, we think Reels has its own unique potential. For starters? It exists within the Instagram app where we're all already hanging out, so you don't have to get your head around a whole new platform.
It's also no secret that Instagram has a….uhhhh, slightly more mature (cough: older) demographic than TikTok and is already more geared towards consumers. So, it's a great idea to cross-post your short-form video content across both platforms to roaden your audience. As they both support videos up to 15 seconds, you won't even have to chop your videos! Just record them natively on your platform of choice (whichever one you prefer the editing tools in), save it to your camera reel and re-post it on the other platform.
Schedule Your TikTok Content to Instagram with Plann
Use your TikTok videos to get creative with your Instagram Stories.
Use Plann's Stories and Post planner to schedule out your TikTok content and stay on top of your content calendar.
It takes the guessing out of trying to figure out what to post to Instagram every single day. You can schedule out all your Story content for the entire week or month without worrying about slipping off your follower's radar by accident.
All you have to do is create an account. Plann is free to use and comes with intuitive features like choosing to post when your audience is most online and which hashtags give you the best results.