Repurpose your short-form video content across TikTok and Instagram Reels


If you're already making videos, now easily reuse and recycle your content across two leading social platforms with just a click.
Available now on Plann Desktop (*and coming soon to Plann apps)
Why do I want to repurpose my content?
We're all seeing the rise of short-form video content across most major social media platforms.

Whether that's a push towards Instagram Reels, TikTok, YouTube Shorts or Pinterest Stories we're also seeing many requests to be able to upload more video files into Plann.

Algorithms are favoring video, with Instagram Reels and TikTok currently beating most platforms for organic reach.
If you're already focusing your efforts on creating and producing video content, we wanted to make sure it's as easy as possible to amplify your existing social presence with as little effort as possible.


What should I repurpose?


Have you noticed your Reels or a TikTok video performing really well and you'd like to test it out on another platform?
Do you know you've got different audiences on different platforms, OR, you're aware that not all of your followers will see your Instagram content so would like to catch them on TikTok?
You can repurpose anything, the best way to save time and reduce the overwhelm of a very busy social media management role.

I've been thinking of getting started with Instagram Reels or TikTok but I don't really know how?

Whether you're wanting to start with Instagram Reels, or creating TikTok videos, getting started is exactly the same.
Plus, once you've filmed for one of them, Plann can help you organize and plan ahead so you have a strategy to be able to publish across to the other platform too.

(We're currently seeing viral trends get started on TikTok, and then end up on Instagram a few weeks later so it's really up to you where you'd like to start.)
READ MORE:

Why you should be using TikTok for Business
Instagram Reels vs. TikTok
Where to find Reels + TikTok trends that you can use
How to get started making a TikTok
How do I repurpose and schedule my content across both platforms using Plann?


By rescheduling and repurposing content across Instagram and TikTok, you're reaching more people – by doing the same amount of work!

Where excited to help, here's how it works:

Reels to TikTok

You can crosspost from Instagram Reels to TikTok from both your draft and published Reels.
Simply click the 3 dots on your Reels thumbnail during planning to be able to select to duplicate for TikTok.

TikTok to Reels
If you've uploaded a draft TikTok video to Plann in your dedicated planning space, you can now choose to share it with your Instagram Reels schedule.
While in the draft phase, click the three-dot menu on your image to repurpose your video to Instagram Reels with one click.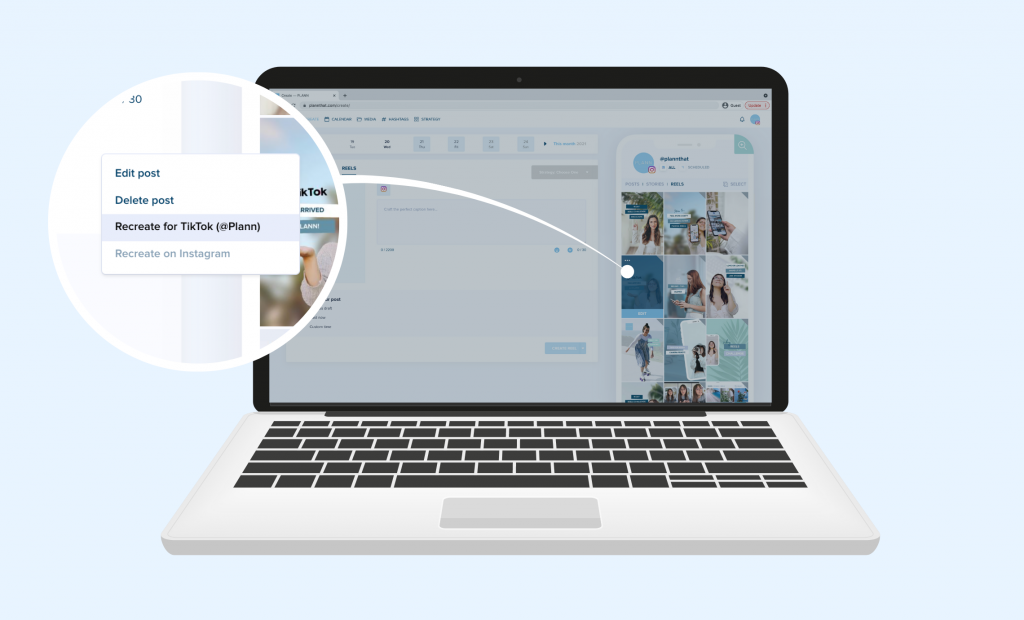 Watch customer success superstar Ashley walk you through how to do it (quickly!)

Can't find your content to repurpose?

If you've already published your content to a social media platform and then decide you'd like to repurpose and reshare it, Plann will save your video into your 'published posts' media collection to make sure you've always got it on hand.
Find it in your media collection and from here you can add it back into your grid layout, then choose to duplicate and re-share your video.
Here's how you can use Plann's dedicated planning space to design your Reels and TikTok schedule:


Use Plann's unique strategy feature to build out themes, ideas, placeholders and prompts for future videos.
Here are different ways you can build out your strategy with a dedicated planning space.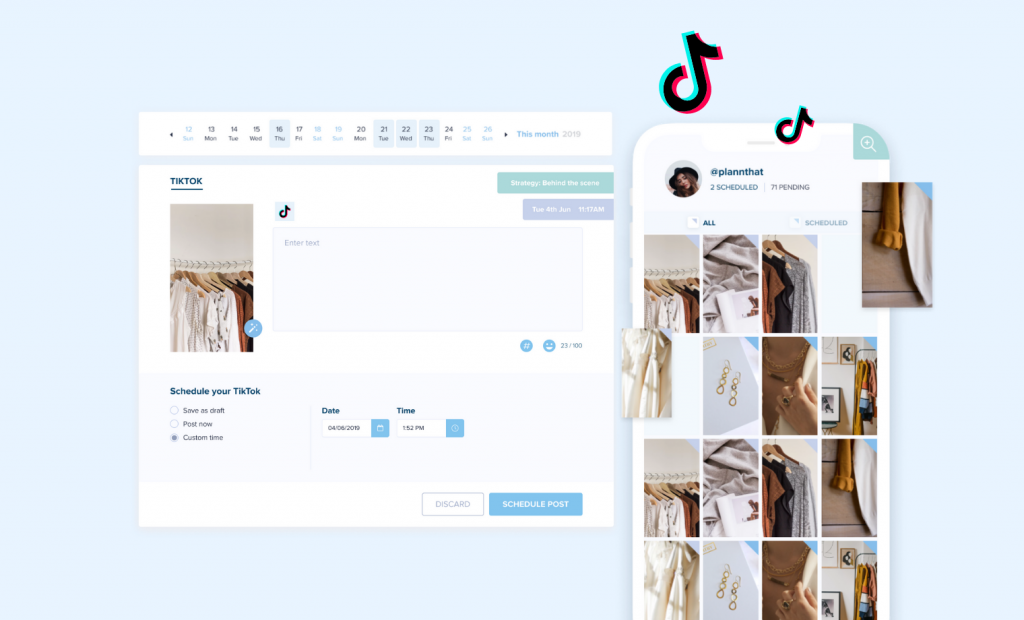 1) Organize your files together in one place
Upload, store and manage all of your video files ready for your next social media video.
Choose to store files ready to create new videos, OR, batch create your content and save them here in your new planning space, ready to post.
If you work with a team you may have noticed that even though you're sharing an Instagram and TikTok login, – your 'DRAFT' folders are not shared(!) so your work is unable to be found across different people, although you're all logged into the same Instagram or TikTok account.
Additionally, there are still quirks in the Instagram platform where users are reporting they're losing work… ouch!
Plann is the perfect place to keep everything all together to access, safely.
2) Use Plann's strategy tool to design your own TikTok or Instagram Reels strategy
There's nothing worse than feeling pressured to 'create content' when you're not sure what the objective is.
Use Plann's strategy tool to design a unique, purpose-driven posting strategy so that you're always on track with what you're creating, rather than scrolling for hours looking for inspiration and losing hours and hours of precious content creation time.
Plann's unique strategy tool is the perfect way to organize batch creation and your content shoot list.

3) Save links to trending TikToks, Reels, audio, or effects you'd like to recreate later.
Spotted trending clips, audio, or effects and want to be able to refer back to them later?
Now you can save everything right inside your new planning spaces!

When you're binge-watching TikTok videos and spot something you'd like to recreate, simply tap the 3 dots and choose to save the link while you're in the app.
Easily paste this link, along with any trending hashtags, comments, or username tags (or upload any screenshots!), directly into your planning space in Plann.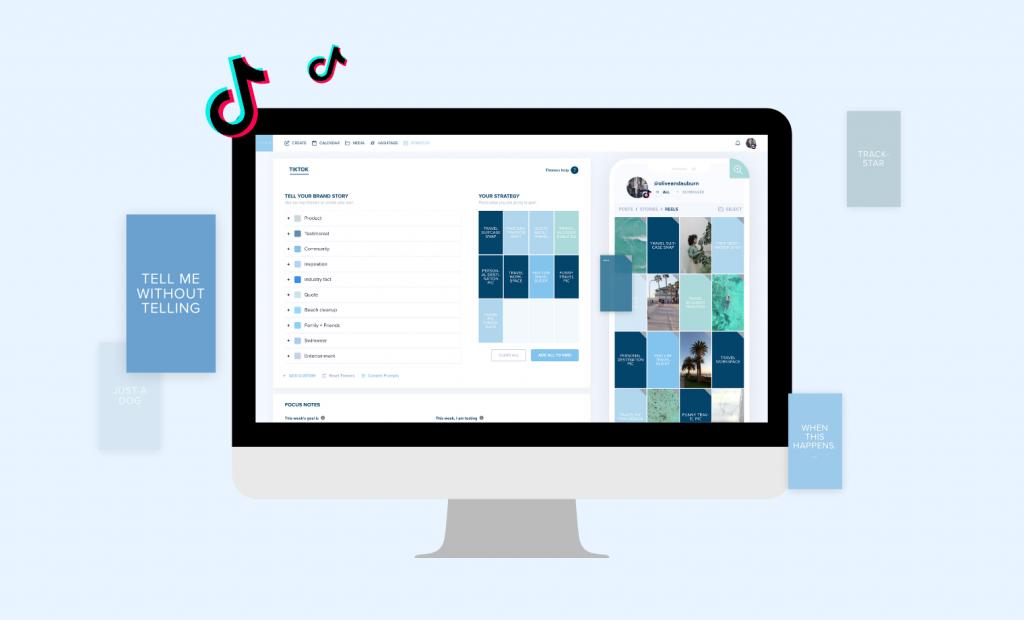 When I schedule videos to TikTok or Reels, will they auto-post for me?

Currently TikTok does not support auto-posting to their platform, and Instagram does not currently support Reels auto post.

At the time you've selected to post your video, the Plann App will send you a reminder to publish it to the platform that makes it completely painless.


Working with a Team?

When social media workflows are housed in each of the individual platforms, it can quickly become a nightmare for virtual assistants, team members or business partners to access work.

Having one centralized location inside Plann makes working together a b-r-e-e-z-e!
Our pricing is designed to grow with you and your team.

If you're growing and need more team members to help you manage your social media, simply upgrade your Plann subscription at any time with the exact amount, so you only pay for what you need.


Available now with Plann Plus, you'll also get:
– Auto posting (and re-posting) across TikTok, Instagram, Facebook and LinkedIn social media platforms
– Unlimited media uploads and scheduling tools
– Social Starters, our done-for-you caption solution!
– Custom events on your calendar to design your own content, editorial or brand schedule
– Unlimited hashtag sets (to auto-post in your first Instagram comment)
– Advanced Instagram analytics
– Custom strategy tools to plan with intention
– Comments and mentions management to quickly respond and keep conversations flowing
– Free professional stock photos and videos for when you're short of content
Gift Plann to your friends, family or followers <3

Gift your friends, family, or followers $10 off Plann with your unique referral link!
By using your unique link, you'll gift them a month of Plann free, PLUS, you'll get $10 Plann credit just for sharing a favorite tool.

HOW TO FIND YOUR UNIQUE REFERRAL LINK: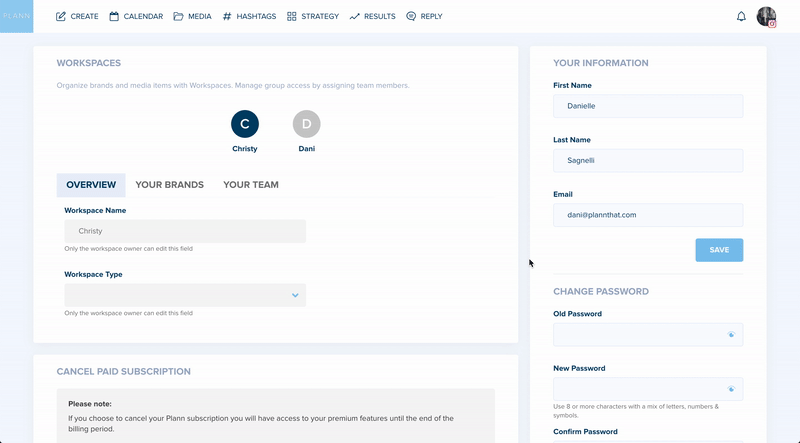 We genuinely love hearing from you and all of your ideas for Plann.
Reach out to the product team directly at feedback@plannthat.com, we read every single one.
Christy Laurence
Plann Founder