New! Instagram Product Tagging
Tag your products before they go live and easily turn your Instagram feed into a beautiful, shoppable storefront.

If you've already set up your Instagram shop, you'll now be able to access your catalog inside Plann and tag your products to your next post, the perfect way to streamline your scheduling AND intentionally sell more products!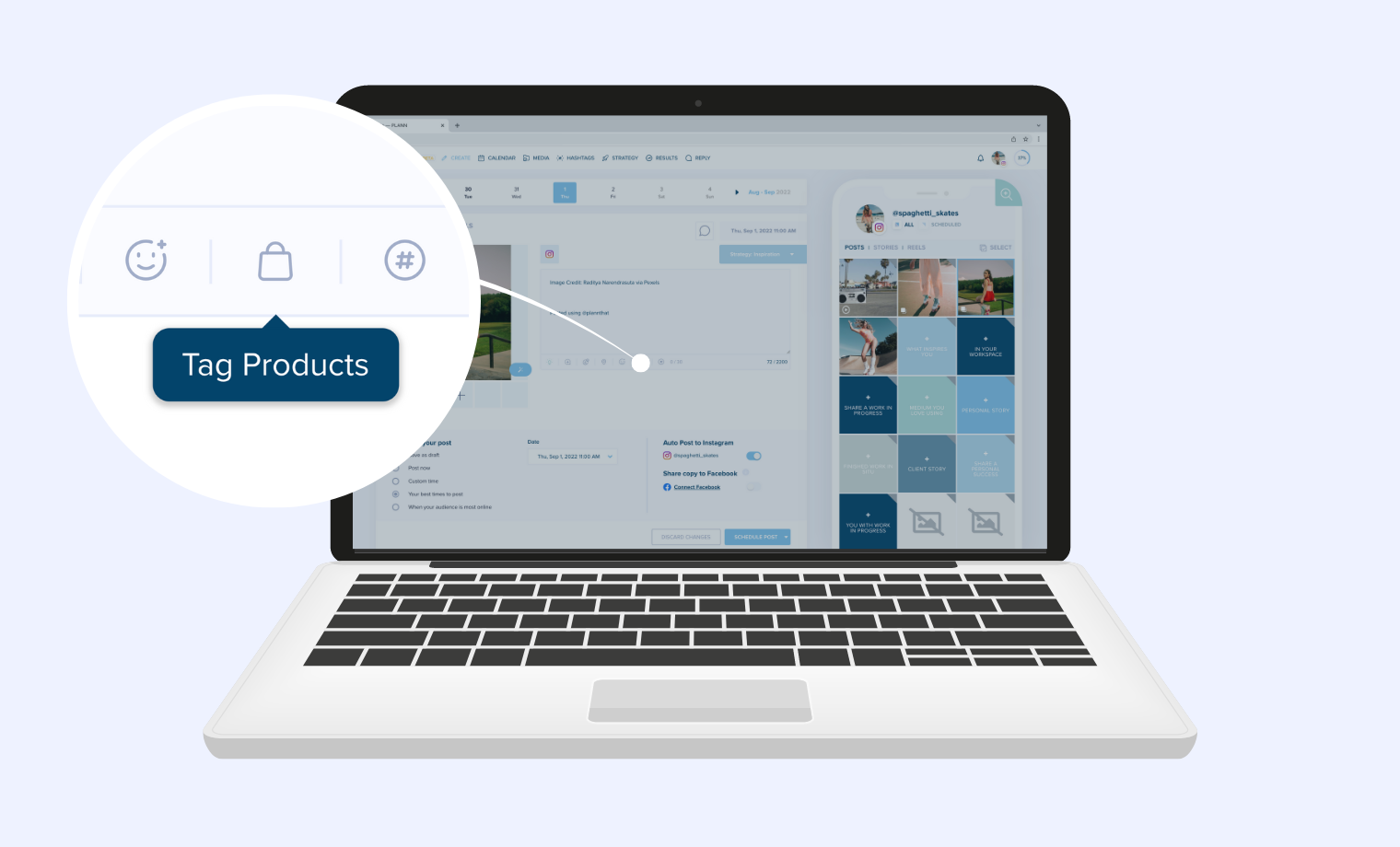 How Do I Tag Products?
Once you've uploaded media to create your next post, simply click on the shopping tag icon in your workspace to open your product tagging tools.

Click on your post and we'll help you plot, then drag and drop your product into the perfect location to help your audience know exactly how to find what they're looking for.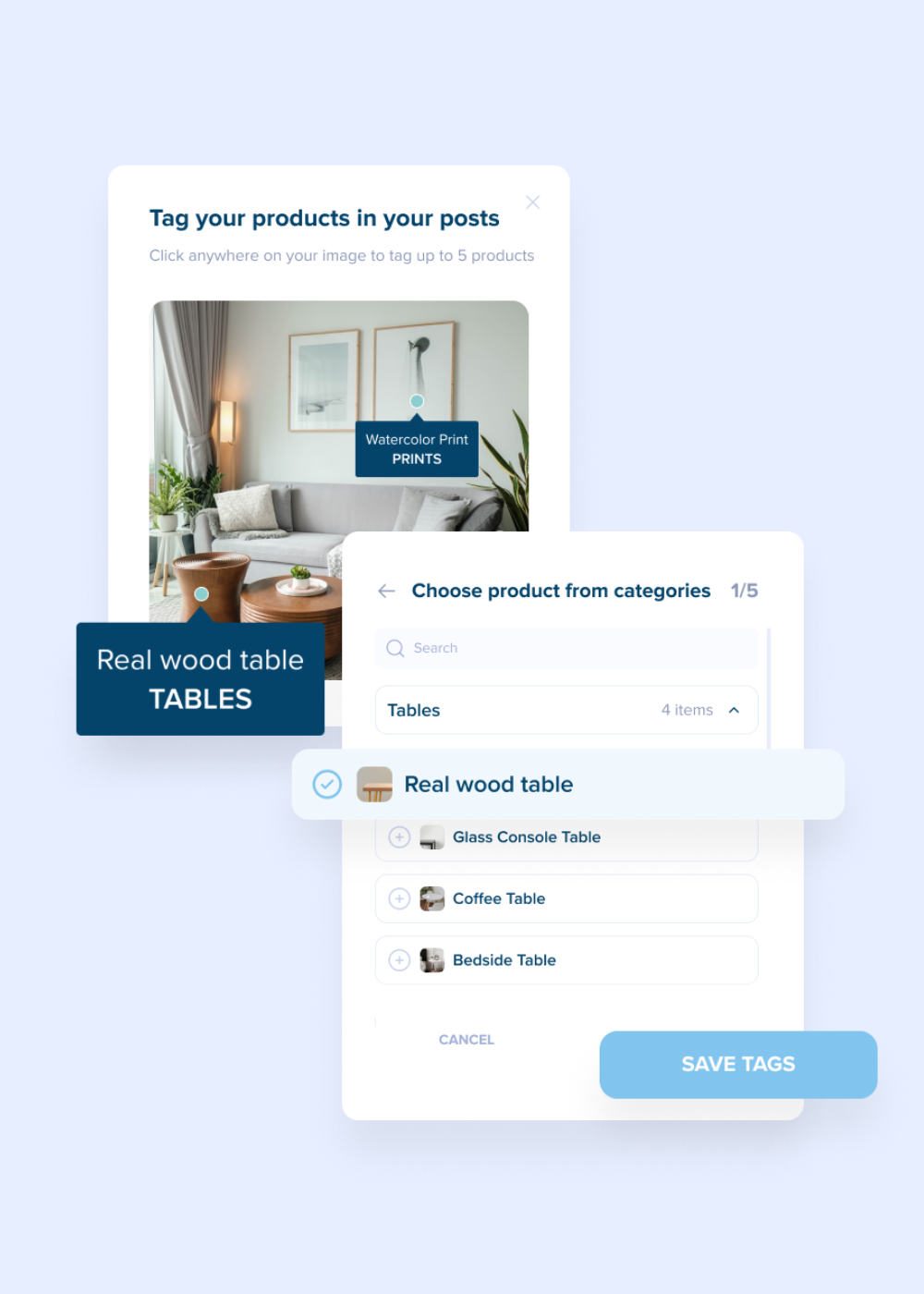 Will My Posts With Product Tags Be Auto-Posted?
Yes! Once tagged and scheduled for the right time, Plann will automatically publish your Instagram posts with product links for you, ready for people to discover and purchase.

Ching-ching!
What Types Of Posts Are Supported?
– Single Image Posts (5 products tagged)
– Single Video Posts (5 products tagged)
– Carousel Posts, including a mix of images and video (5 tags per media)
*Please note, Instagram's criteria for auto posting applies including videos and images that are too tall or too wide. You'll be notified if you have to make any changes.
Don't Have An Instagram Shop Yet?
Once you're approved, your Instagram shop products are visible within Plann, ready for you to tag your images. 
Note: You'll need to have Physical products to have your Instagram shop approved.
Please refer to their help articles for any help setting up/organizing, and managing your store: https://www.facebook.com/business/help/626723211000233
Who Is Instagram Product Tagging Available For?
Product Tagging is instantly available for everyone with a Plann Plus (paid) subscription and an Instagram Business Account connected to their Plann workspace.

Note: Facebook's API does not currently support auto post by Instagram for Creator or Personal accounts.
Read more: How do I set up an Instagram Business Account?
How Do I Turn On Instagram Auto Posting With Plann?
Once your Instagram Business account is connected to Plann, setting up auto-posting for Instagram is easy. Simply log in to your Plann workspace, navigate to your 'Settings' and make sure auto post is toggled on. 
Read more: How do I Turn on Auto Posting?
Read more: Having Trouble Auto Posting for your Instagram Business Account?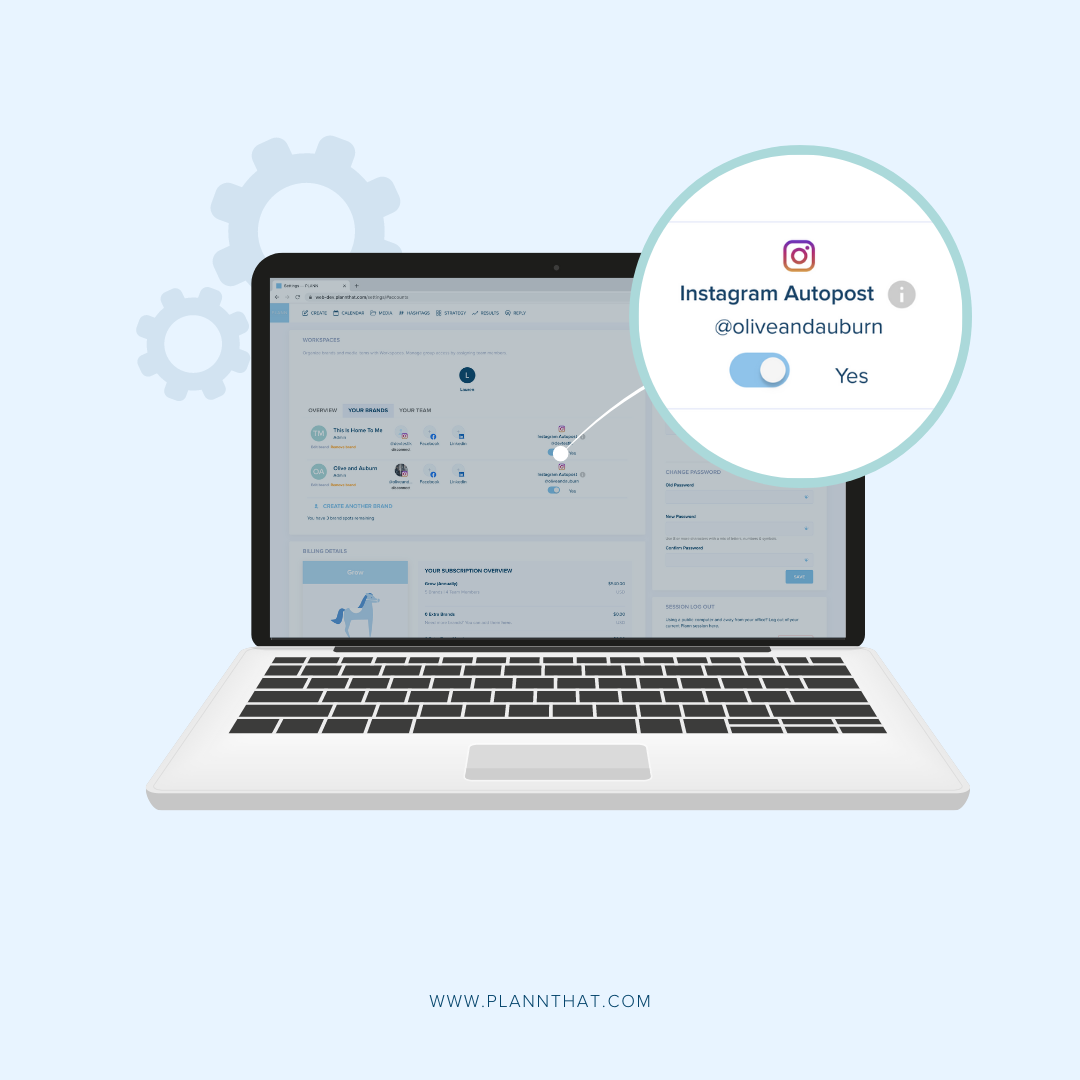 Perfect for when you need a weekend away, are stuck in meetings or just enjoying that little social holiday.

Alternatively, you can manually choose which of your posts and carousels to auto-post while in the drafting phase of scheduling your content.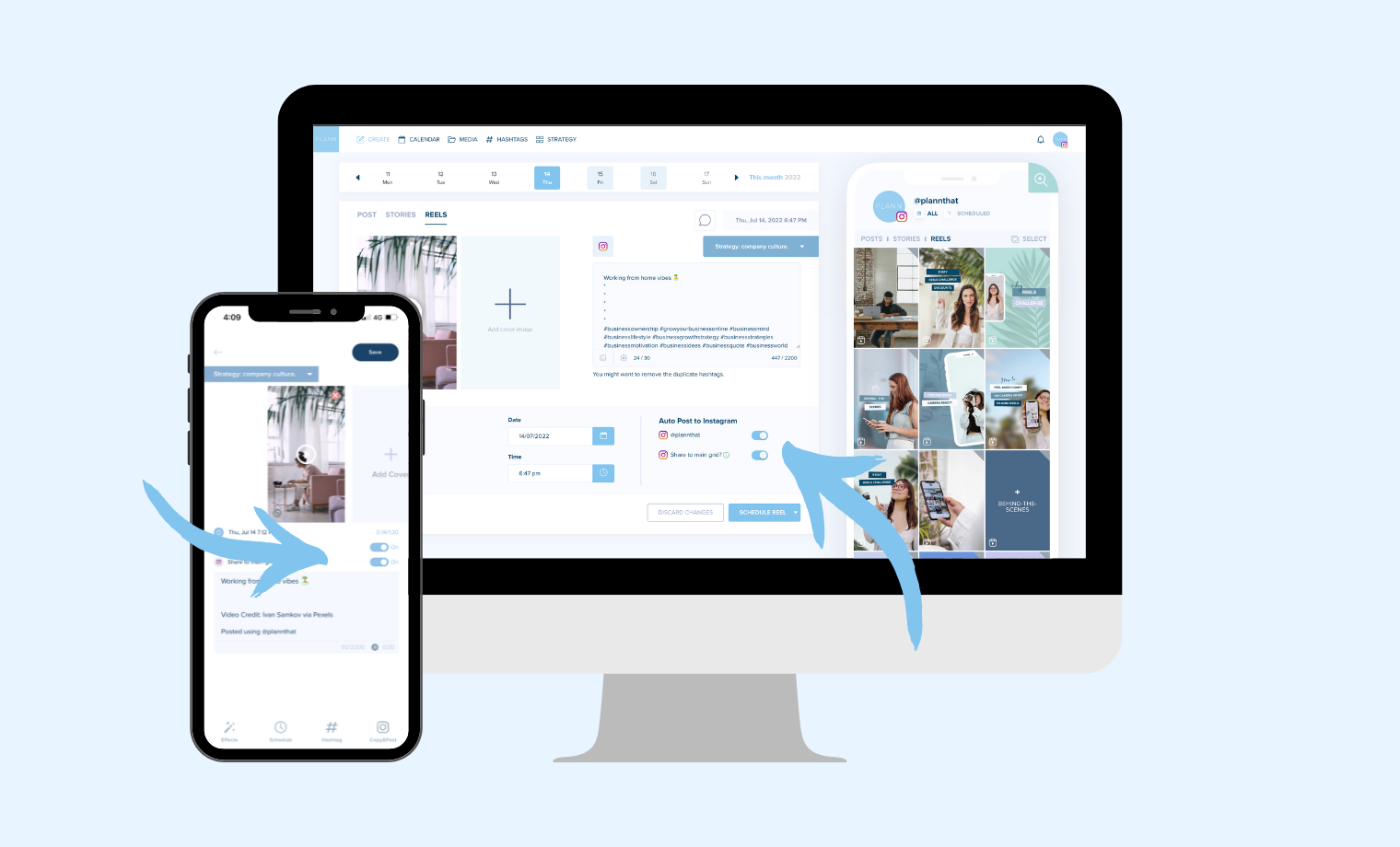 Available Now With Plann Plus, You'll Also Get:
– Pre-tag usernames, suppliers and business besties in posts for when they're published live to Instagram.
– Tag your location into your auto posts.
– Auto post your first comment at the same time as your Instagram post to help include hashtags, instantly.
– Unlimited amounts of hashtag sets (to auto post into your first comment!)
– Auto posting (and re-posting) across TikTok, Instagram, Facebook and LinkedIn social media platforms.
– Unlimited media uploads and scheduling tools.
– Social Starters, our done-for-you caption solution!
– Custom events on your calendar to design your own content, editorial or brand schedule– Advanced Instagram analytics.
Gift Plann To Your Friend, Family & Followers 💙
Gift your friends, family, or followers $10 off Plann with your unique referral link!
By using your unique link, you'll gift them a month of Plann free, PLUS, you'll get $10 Plann credit just for sharing a favorite tool.
Find your unique link in your Plann settings to gift the sunshine in someone's day
How To Find Your Unique Referal Code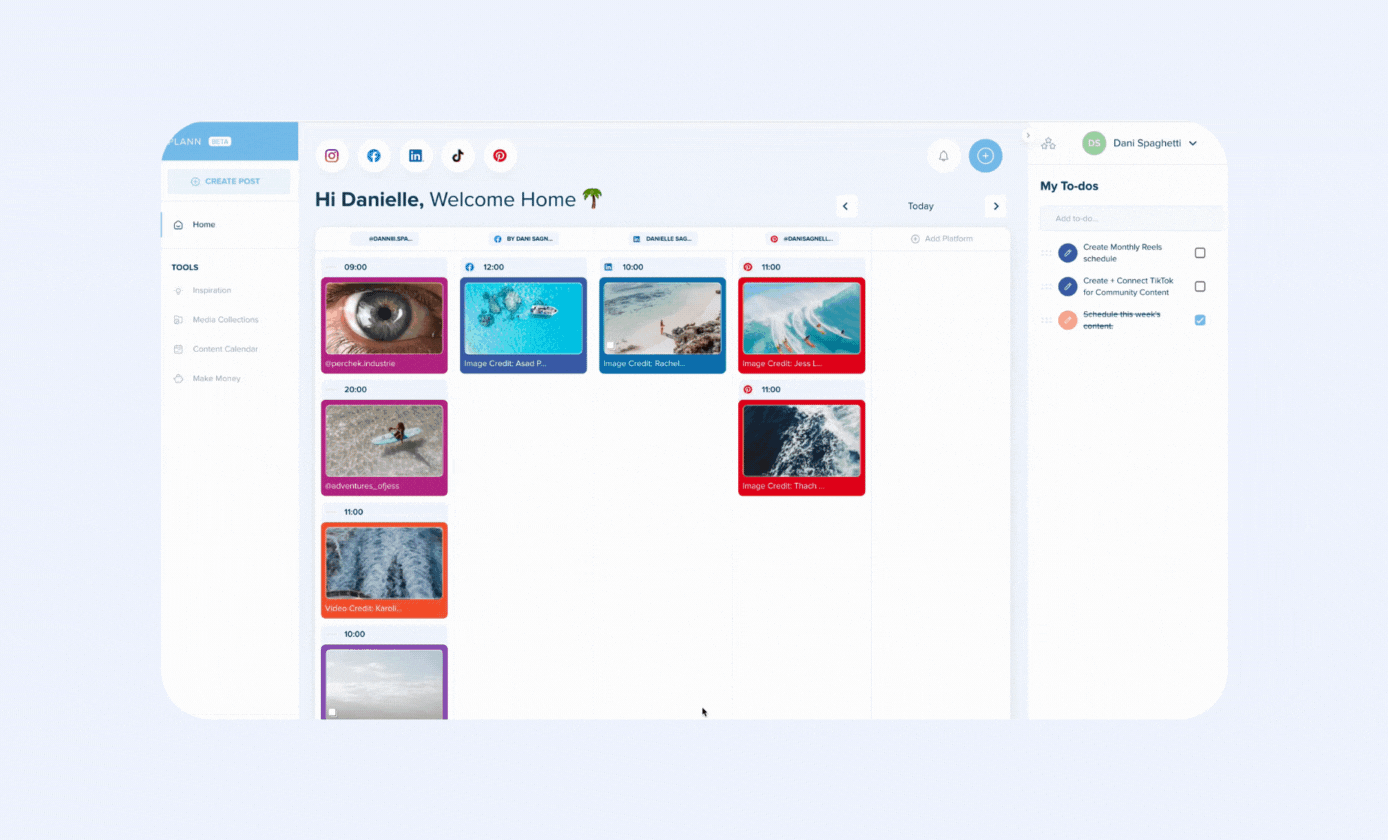 We genuinely love hearing from you and all of your ideas for Plann.
Reach out to the product team directly at feedback@plannthat.com
Christy Laurence
Plann Founder
@plannthat