Looking to build your 'Gram? You've come to the right place because we've compiled this massive, research-based blog to guide you through how to create an online presence that matters. Enjoy!
One of the quickest ways to tell if your brand, or an influencer you are looking to work with, truly has a loyal following is to take a peek at Instagram engagement rates.
That percentage puts a big shiny spotlight on how many followers are actually interested and invested in what someone is sharing on the 'gram.
What do they say… data doesn't lie? 
Today we're going to dive into the depths of how you can increase engagement using different techniques that are really easy to implement.
6 Ways to Increase Engagement on Instagram
Respond to Comments, Quickly!

If you want your audience to feel appreciated, do your best to respond to Instagram comments as they come in (after posting something new) or within at least 24 hours. Responding to comments will mean that your followers will be more likely to leave future comments which increases your engagement rate.
Ask Questions.
At the end (or beginning) of your Instagram captions, try asking a question. By asking simple questions that are on-topic for your brand, it will help start a conversation with your audience.
Be Really Funny.
Whenever we post a seriously funny (and on-brand) quote graphic to Instagram our comments go through the roof. People start tagging their friends without us even having to ask! If being funny or lighthearted suits your brand, try sharing a bit of humor from time to time.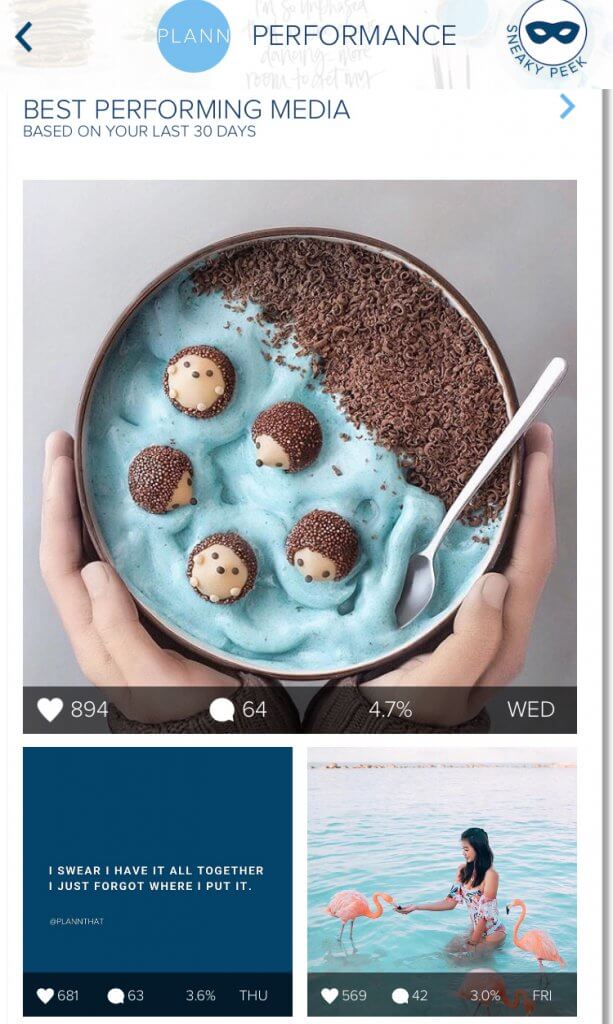 Give CRAZY Value.
There is an account on Instagram that I follow purely because I learn *so much* from them. They are all about shedding a light on the toxic ingredients in beauty and household products and showcasing alternatives and they never skimp on their research or with their detailed captions. I get so much value from them that I always leave a comment and often tag a friend or family member to share the info around. Being valuable pays off!
Post to Instagram Every Second Day.
This may seem a bit strange but trust me, this one works a treat! By leaving a 'spare' day in between posting to Instagram I allow people to continue joining the discussion on our previous post. That, in turn, can boost your engagement rate and help with news feed distribution – aka, the algorithm. Ba-ba-boom!

Make Friends with Influencers!
There are a few influencers and accounts with larger followings than you, that you can make friends with on Instagram, it's just a fact. By leaving them lovely, genuine, long-form comments regularly, you may find they start to check out your account and leave you a few comments. Those comments from people with larger accounts can help you to improve your Instagram 'ranking' which can then help your content be seen by more of your current followers in their news feed.
All in all, increasing your Instagram engagement comes down to delivering content that is valuable to your ideal customer. Try a few of these strategies alongside different content styles and then check back in with your Plann app analytics to see which posts got the highest engagement rate.
If you were wondering, a 'good' Instagram engagement rate is typically at or above 3%. As your following grows it will become harder and harder to keep up a 3% engagement rate so remember that!
Now that you're all over your engagement, let's create a content plan…
If you want to save time and get better results from your Instagram marketing efforts, now is the perfect time to discover your Instagram content formula.
Keep on reading for a deep dive into how to create a winning content strategy based on your analytics that will keep your Instagram audience entertained and engaged.
What Is an Instagram Content Formula?
Essentially, your Instagram content formula is a recipe for creating consistently high-performing posts.
Rather than just posting content willy nilly that you're not 100% sure will get your audience's attention, following a clearly-defined content formula you will be able to rest easy knowing that you are sharing content that your audience will love to engage with.
For example, at Plann we've worked out what our winning content formula is and today we're going to share with you how we got to this point.
Once you've mastered your content formula, increasing your Instagram engagement rate and gaining new followers will become easy as pie.
Analyze Your Top Performing Posts
The first step to creating a completely customized content formula for your brand is to review your Instagram analytics.
Inside Plann Desktop you'll get access to advanced Instagram analytics including your stories completion rate and audience insights that will totally rock your world.
One area you need to look at in your analytics dashboard is your top-performing Instagram posts.
It is most helpful to look at your top-performing posts from the past 3 months and the lifetime of your account so that you can get an accurate look at what content types truly works for you.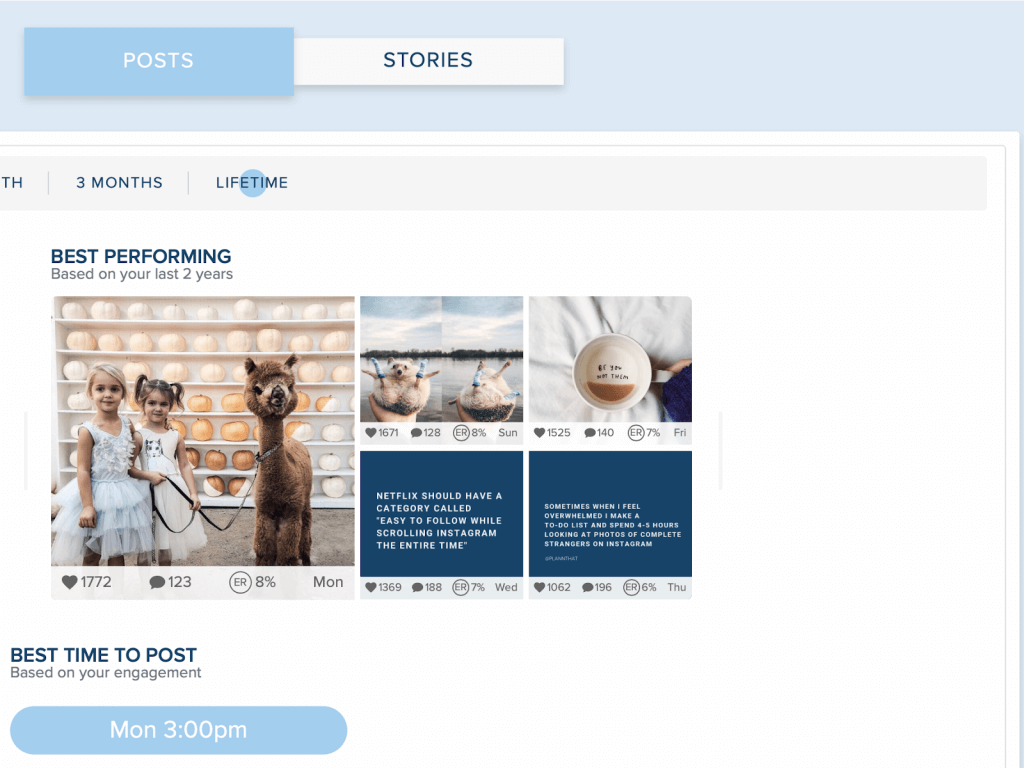 When you get to take a peek at your top-performing posts, look out for similarities in:
Caption content

Image colour/composition

Image focus

Whether images or videos are your top-performing content types
At Plann we checked over our analytics for months and the similarities that we found between our highest performing Instagram posts were really interesting.
Here's a quick run-down of the pieces of content that our audience l-o-v-e like nothing else:
Dark blue, Plann-branded memes/funny quotes

Cute animal snaps, particularly hedgehogs and alpacas

Relatable, down to earth captions such as our 'Instagram Rumour' series

Nature photos, particularly of the ocean, waves, and beaches
Clarify Your Instagram Content Strategy
Once you have a clear picture of the types of content your Instagram audience loves, it is time to move onto creating your content strategy.
If you've got Plann Desktop, you'll be able to plan out your content strategy digitally and save the trees! Woohoo!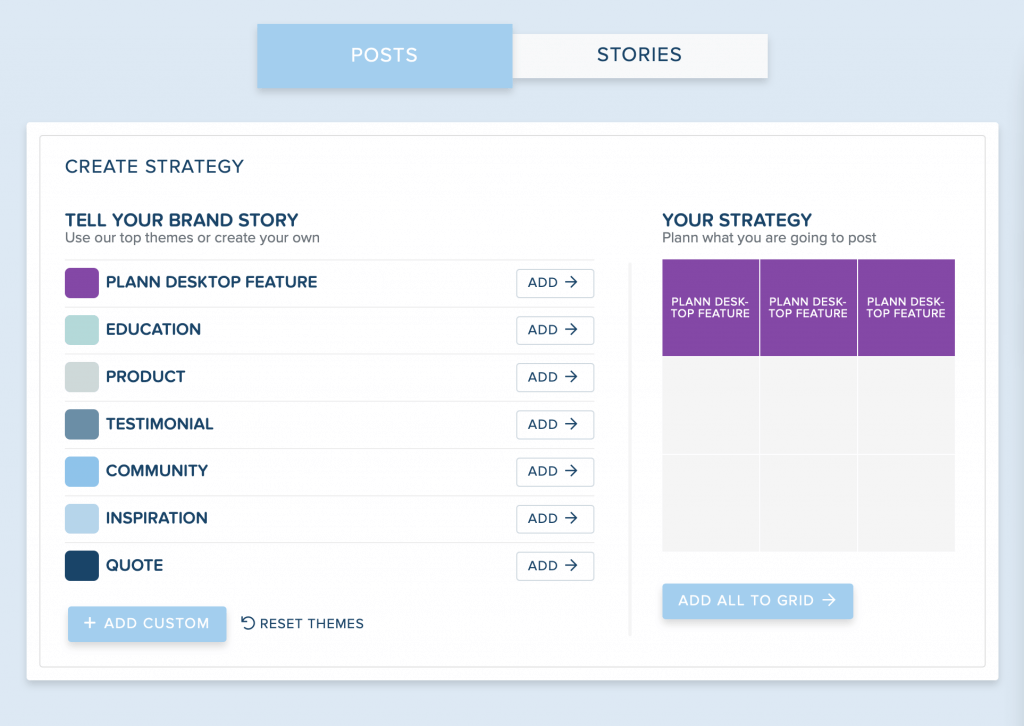 You can customise your strategy tiles inside Plann Desktop by changing their names and the colours. How cool is that?!
Once you've got a strategy together you can add it to your grid, and start adding in content and captions one by one.
Organize Your Instagram Content
When you have a clear Instagram content formula to follow, it makes customizable media collections that much more effective!
Seriously, take a peek at the way we've organized the 'Plann' Plann Desktop media collections: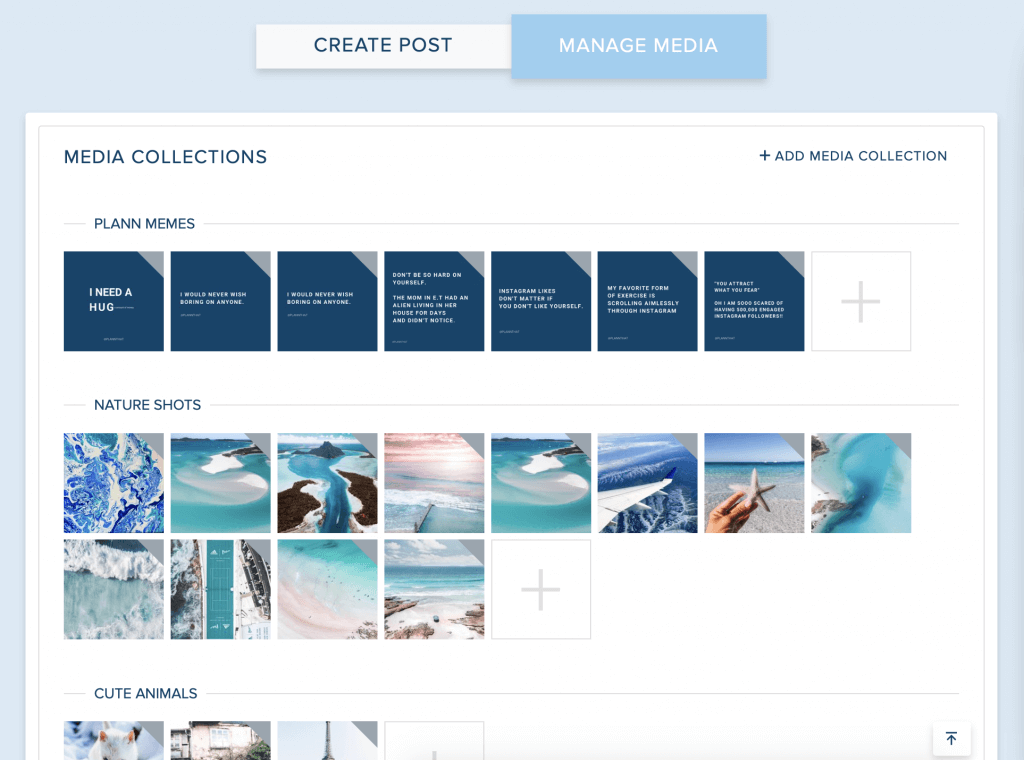 While you can't see aaaall of our media collections in this snapshot, it gives you a good idea for how we use this feature, doesn't it?!
This game-changing option really helps when you need to plan out a week or two of content quickly, but don't want to spend 30 minutes fluffing about trying to find images and videos to post.
You can upload content to your Plann Desktop media collections via Google Drive, Dropbox, your computer, 3x royalty-free stock image libraries and you can even repost existing Instagram content. Woohoo!
Once you've mastered your Instagram content formula your business results are going to go through the roof.
You'll be pumping out quality captions with ease, and your audience will be more engaged because you are consistently delivering the content they want to see.
Now, let's bring it all together…
Coming up with caption ideas.
Finding the perfect images.
And remembering to flipp'n post the thing!
Ugh – Instagram Marketing can be super duper stressful at the best of times.
And if you happen to be one of the lucky people who run a business completely on your own… well… it's tough.
But it doesn't have to be that way!
Now we're going to share how you can create a marketing plan for Instagram that leaves you feeling organized, on top of your shizz and feeling fine.
Keen to find out what that strategy is? Keep on reading!
What to Post
One of the very first things you'll need to work out as part of your new Instagram marketing strategy is what on earth you're going to post.
*cue panic*
Don't fret! Here's something that's going to be a game-changer for you, and completely put an end to your worry of what to post on Instagram.
It's the Plann Strategy feature: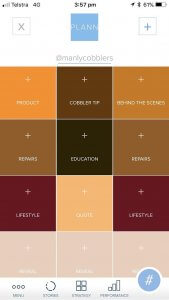 When you open up the Plann app, head on over to the Strategy feature to start creating a mock-grid of the content types you'd like to post.
If it's your first time using the Plann app, you'll notice that we've pre-filled your strategy with content ideas we think everyone should be sharing on rotation!
Content like:
✔ Testimonials

✔ Product photos

✔ Education posts

✔ Behind the scenes snaps
This will help you to visually plan out your strategy and make sure that you aren't accidentally scheduling a testimonial right after another testimonial, and so on.
How flipp'n cool is that?!
If you're not quite sure how to use the Plann strategy feature, get instant access to our Pro Plann'r course right here. It's freeeeee!
Okay, now this one can be a big ol' pain the butt.
When should you post to Instagram to get the best results?
I'm sure you don't want to hear this, BUT, it completely depends on where in the world your audience are.
Some of the most common 'best' times to post are:
7:00am, 11:30am, 3:00pm, 7:00pm, 10:00pm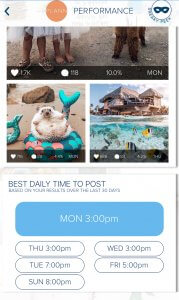 We recommend trying out different times to post, each time you post for 1-2 weeks straight and then take a peek at your Plann analytics to see which is your best posting time for each day of the week.
Easy peasy!
How to Post
As we mentioned, one of the biggest stresses for business owners and influencers alike is actually remembering to post.
This is why writing your captions on the fly is a bad marketing strategy!
To stay consistent and stress-free, we recommend using the Plann app to schedule your Instagram grid posts as well as your Instagram Stories content.
It makes your life a breeze!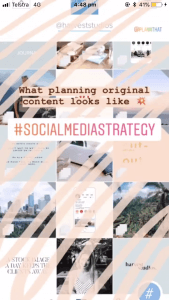 With Plann you can schedule your content a few days in advance, a week, or if you're feeling productive… you can organize your content for a whole month!
Let me know in the comments below; how often do you schedule your Instagram content?!