In order to win on Instagram, you need to be regularly analysing your results, and there's nothing better than tracking your engagement rate on Instagram.
Tracking and measuring means you can optimise and grow your following authentically while having real results backing up your decisions for what to do next.
We've got the easiest formula ready for you to calculate your engagement rate on Instagram.
If your eyes glazed over with the words 'tracking, measuring and data', you're definitely the exact person this easy to follow post was written for.
Does the engagement rate on Instagram really matter?
If you're an influencer — yes, your engagement rate will be one of the most important factors that determines whether brands want to work for you. If you're a business, it matters less, bere's nothing better than making decisions based on cold hard evidence. By being aware of patterns in your engagement rate, it can help you create more intentional content that resonates with your audience.
What is considered a good engagement rate on Instagram?
Instagram is known for having higher engagement rates than any other social media network.
Facebook & Twitter attract 0.5% – 1.0% overall engagement whereas Instagram has a baseline of 3%-6% engagement.
So if you're killing it on Instagram, you should expect an engagement rate of more than 6% and will lead you to much bigger opportunities.
How do I calculate my engagement rate on Instagram, per post?
It's much easier than it looks.
Say you have a following of 2,500, your 'engagement' is measured by your likes and comments combined per post, divided by your following.
Get a pen and paper handy and select a post to analyse.
Note down the number of comments and number of likes that post received.
Let's say your total likes were 137 and comments came to 10.
137 + 10 = 147
You then need to take this magical number and divide it by your total followers, and times it by 100 (this will give you the percentage).
147 / 2,500 x 100 = 5.88%
Your total engagement rate for this post is 5.88% which is sitting smack bang in the middle of the average engagement rate on Instagram.
We suggest keeping a spreadsheet with your post types and engagement rates so you can accurately gauge what your audience are responding to, and what they're not.

Reviewed your Analytics for Instagram but have no idea what to do next? Here's how we analyse our own data to see what's working(and what's not!)
What is the average follower growth on Instagram?
Instagram has the highest engagement rate and also the quickest follower growth. On average, brands doing a fine job on Instagram, can expect an increase of 6% -8% per month. That's 3 times what's commonly seen on Facebook, Twitter and Pinterest.
So if you're a brand, we'd suggest aiming for 6% growth per month as a strong goal.
FEEL LIKE YOU DON'T HAVE ENOUGH TIME TO ENGAGE ON INSTAGRAM? HERE'S HOW AN INSTAGRAM PLANNING APP CAN HELP
How do I calculate my follower growth?
Alrighty, let's say your following at the beginning of February was 2,500.
And that by the start of March your following had increased to 2,650.
That's an increase of 150 followers. (Rad!)
You simply divide the number of NEW followers by the total number of followers you had previously and times it by 100. Like so:
150 / 2500 x 100 = 6%
In this example, your follower growth for the month was up a total of 6% which again is BANG on the average accumulated by most brands on Instagram. Go you good thing.
Can't be bothered doing the maths for every post?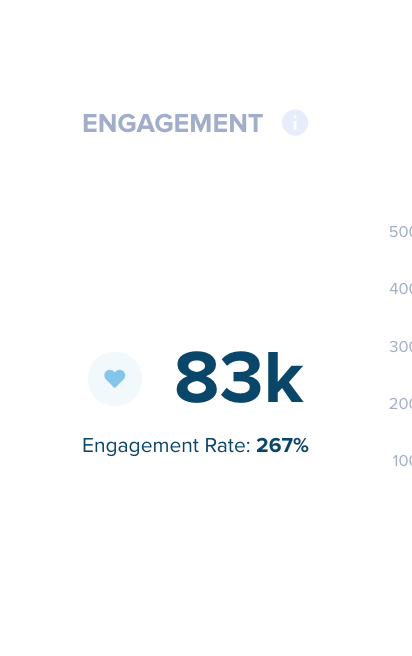 Totally understand – and hey, neither could we!
That's why we built an Engagement Rate calculator for each of your posts inside our app, including what days of the week get the best traction and you can toggle to see which have the best comments (in our opinion, they're worth a little more than likes along).
Download our visual planner and scheduler for Instagram, close your calculator and let us do all the work for you.
How to improve your Instagram rate on Instagram?
So, what do you do if the engagement rate number staring back at you is…a little underwhelming. Don't beat yourself up! The Instagram algorithm can be a challenging beast. Here are 10 tips you can use to quickly improve the engagement rate on your posts
1. End each caption with a question to your audience
2. Commit to posting on your stories at least once per day
3. Show your face on your feed more — research shows people engage more with photos and videos containing people
4. Cull your spammy or 'ghost' follows — it will push your engagement-to-follower ratio up
5. Poll your audience on the topic from your post
6. Use stickers on your stories — these are amazing for engagement
7. Hold a giveaway where the entry metric is sharing, commenting and liking your post
8. Use Plann's scheduling tools to schedule your posts at the times your audience is most active
9. Respond to all comments on your posts, especially within the first hour
10. Pin your most interesting comments on the top of your comment section