One of the big questions we're faced with as social media content creators is how to craft an authentic Instagram grid that still manages to help us achieve real-world results.
Phwaaor, that's a massive task if I ever did see one!
Thankfully we've got the creative genius that is Amy Tangerine here to help us simplify the process of crafting a visually stunning and authentic Instagram account.
Take it away, Amy!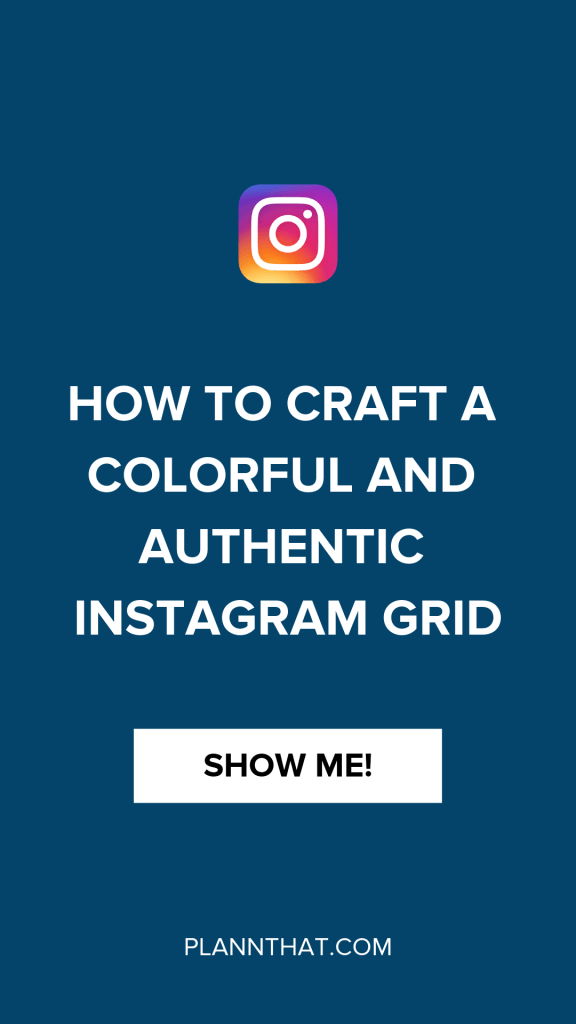 How to Craft a Creative and Authentic Instagram Account
Instagram is an excellent tool to build a business, measure engagement, share your life, and connect with a target audience.
But how can you do it well? How can you do it in a way that conveys messaging in a beautiful, compelling, and marketable manner?
Here, I will share my top 6 tips for crafting a colorful and authentic Instagram grid that will have you building a dedicated following in no time!
– Get clear on what you have to share.
What defines your brand? What makes it unique and interesting to the people scrolling through their feeds? Everyone has a different perspective, a different eye for detail and a different message to share with the world.
Think about what your message is.
What would you like to contribute and how would you like to present it?
There are a ton of people on social media trying to "make it." But if you want to be truly effective and stand out, it's important to keep in mind that the best way to be different is to be yourself. Own who you are and be willing to share your gifts with the world. As you establish your brand, keep in mind who your audience will be. Who is going to seeing your images and reading your message? Why will your message appeal to them?
– Select a color palette.
This step goes hand in hand with step 1.
The focus of this step is to think about translating your brand and your message into meaningful images that will best convey everything you've laid out in your brand. Pick and set a color palette or aesthetic that is in line with your branding.
Are you focused on positivity and sunshine? In that case, consider bright colors, white backgrounds, and infuse negative space. If you're considering health and simplicity, make minimalism a priority. Earth tones are great for a more grounded message and graphic, edgy colors or fonts fit best with bold and countercultural ideas.
Now, one of the most important things to keep in mind is authenticity. Don't pick a color palette that's not in line with your brand just because you think viewers will respond well. I love a rainbow and bright palette, but can also appreciate black and white. Don't be afraid to try new things too. As much as I want to have a little slice of orange and yellow given that my company name is Amy Tangerine, it turns out that pink is actually what really resonates with my audience.
– Figure out your values.
What kinds of images would you like to portray?
What is in line with your branding and messaging?
What kinds of followers are you hoping to attract?
This is a vital set of questions to consider as you venture out into building your Instagram grid. It will become vital as you build your grid because knowing what your brand stands for will enable you to direct growth, select sponsors and advertisers, and attract your target audience.
My love of inspirational quotes carries over into my Instagram feed because I love not only the messaging but also it challenged me to really step up my brush lettering skills after people started to share and repost.
– Establish content categories.
Now that you have a sense of the brand, color palette, and values on your grid, it's time to consider the content.
What kinds of images do you want to include?
Candid shots, lettered quotes, selfies, flat lays, pictures of your meals, the view from a landmark or a quick shot from the window of your plane – figure out what pictures you like to take.
Chances are, you take several different types of photos. Once you know your categories, pair them with the color palette in order to create variety within your branding.
– Plan Ahead.
You don't want to constantly post the same thing over and over again.
Not only with this be boring, it will not lead to growth. So, keep in mind what your sequence of pictures will be. Maybe you want to break up landscape pictures that feature canyons and oceans with the occasional outfit of the day.
Maybe you want to post a sequence of three photos that correspond to one another on the grid. Keep track of your most recent posts and make sure to vary between categories of content. One of the best tools at your disposal is the Plann Instagram Marketing Suite.
You can save a ton of posts ahead of time and schedule or reschedule at your own pace. If you take a ton of pictures of your bullet journal spreads ahead of time, you probably don't want to post them all at once. Post one and schedule out the rest. Perhaps even decide that you're going to share a shot of your workspace every Wednesday. Spread that amazing content out.
– Pay attention to reactions/stats.
(But don't let it drive you bonkers.)
What types of pictures get the most engagement from followers?
Look at comments as well as views and likes. It's important to take note of who is drawn to your content. Make adjustments accordingly– especially if you stumble on something that people absolutely love. It's difficult to anticipate what will get the most attention, so don't be afraid to experiment until you find the right compromise.
Don't cater solely to the numbers and lose your message in the process. Don't hold so tightly to your brand that you're unwilling to evolve and flow. The solution is somewhere in the middle. Accept that it may take you some time to figure out what works best for you, your brand, and your followers.
Hopefully, you were able to glean some ideas and inspiration from this post. What are your tried and true Instagram grid tips? Which step are you most excited to try out? Be sure to let me know!