Understand what's working…and what's not.
Analytics for Instagram, by far the fastest way for you to uncover what's working for account.
By understanding exactly what's happening on your feed, you'll learn exactly what you can do more of – and less of what isn't working!
Let's look at some numbers first to get you in the mood
95 million photos and videos are shared on Instagram per day (WUT!)
Over 40 billion photos and videos have been shared on the Instagram platform since it started.
60% of users say that they have learned about a product or service on the platform.
The scale and size of which Instagram is (and I sit here quietly thinking about how much it must cost to run a server with that many billion high res images! That really is phenomenal storage capacity in some giant mountain somewhere!)
Instagram in essence, is a marketing channel. A social media (marketing) channel, that requires a social media strategy.
With any great marketing, comes great tracking and understanding of your audience and the ability to optimise.
So with that said, let me dive in and show you how to understand how to make decisions about your performance when you're reading your analytics for Instagram.
Analytics for Instagram
Not only is it fascinating to learn how wide your post reached, but analytics is a fantastic tool to use meet your goals.
Firstly, you need to make sure you have a goal!
Without one, you truly are just chucking a plate of spaghetti at the wall to see what sticks, but you'll never know why the ones that do have made a mess on your wall.
For today's example, my goal will be: I want to find the content that my target audience engages with the most.
What now? Where do we start.
Firstly, open Plann and tap performance.
1. Review what has worked for you this week, this month, (or if you're new! the last 3 months and lifetime!)
– Have you spotted any common themes while looking at your analytics on Instagram, are there any stand out performers?
– Are there certain colour schemes, camera perspectives, people or objects that instantly hit you?
– What's happening inside your Instagram insights?
– Toggle between 'most commented, and 'most engaged' because the goal here is: I want to find the content that my target audience engages with the most.
Let's review mine together, I can use the in app analytics to review:
– Best performing posts (over multiple time periods)
– Engagement Rates over time periods
– Best time to post
– Best performing hashtags
– Best performing Colour swatches
– Follower growth tracking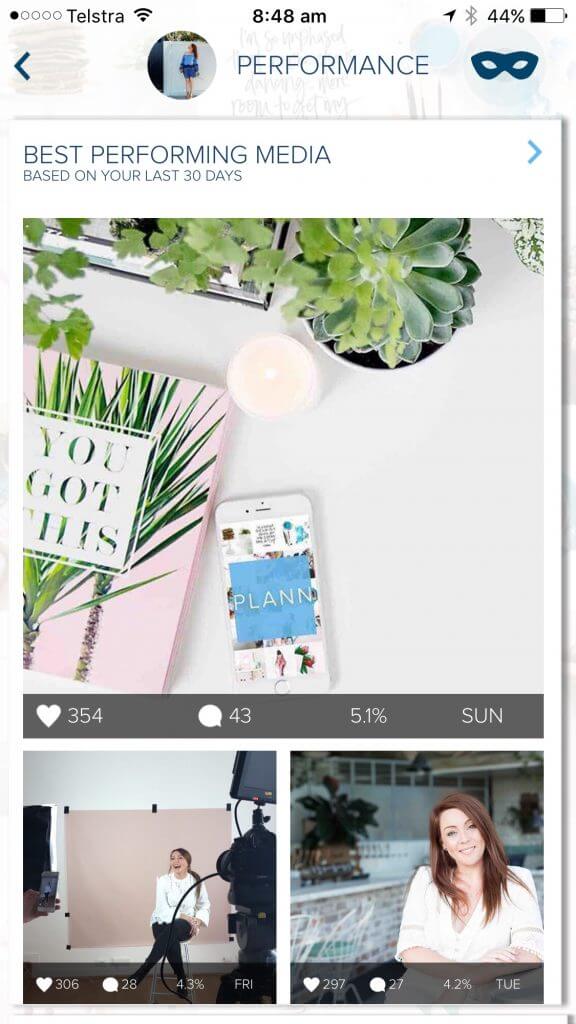 Instantly I noticed that I was someone people were engaging with, and mention of the app. hmm.
The themes here were behind-the-scenes, me talking about my daily life behind building a very fast growing app, and some really cool achievements.
I also notice the colour palette here that people are engaging with. Open space, fresh, and fairly bright.
2. Review what is NOT working.
What content have you been putting out into the world that is getting crickets?
Is there anything that isn't doing as well as other topics, themes or imagery? (I'm not only reviewing the imagery here).
Although performing OK, I noticed a few topics weren't doing as well as others and made a mental note to change these during my next batch of content creation.
3. Un-measurable Insights
If you want some extra inspiration for content, here's where we go exploring, and why following your people is important and there are two ways to do this.
Firstly, Inside Instagram and have a quick scroll through the 'explore' page.
Don't spend too long, just be aware of trending content and what is working well for others here to end up in the explore page in the first place.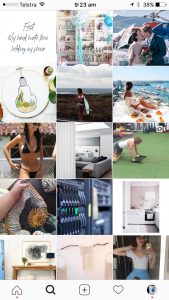 Secondly, discover what your own followers are enjoying.
How? Open instagram and toggle over to the heart icon and choose FOLLOWING.
You'll get an idea of what the people you're following are engaging with.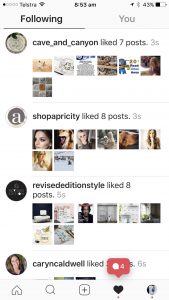 4. Optimise your content, test, then review your analytics for Instagram again!
What did I take away from this?
– My colour schemes and lighting in my images are working well.
– I need to provide more benefits of how the app can help in your everyday life so you understand WHY the features will help users grow their account.
– I need to wash my hair, put on some makeup and get some more photos of myself (HA!).
– I need to show more examples how the filters inside Plann can help you create trending content.
Now, to create the content!
5. How often should I be doing this?
You've got it, this is a constant process and the reason you give a testing time limits is so you dedicate time to review what's working (and what's not so much) again!
How long you give it is a personal choice, however I would recommend a month posting consistently to give a) your followers a chance to notice the different content, and b) time to allow your users to get used to engaging with you on a higher frequency!
Are you about to see my revise my whole feed over on @plannthat?
You betcha!
6. Repeat.
Again, and again.
Welcome to marketing on social media!
You'll notice those with measurable goals, those who take note of their account statistics and followers will start to outperform everyone else because they understand what's working.
Is it all just too much? Need a hand? No problem at all. Plann was designed to make growing a business a breeze.
With Plann you can share your entire strategy, hashtags and scheduled posts with a team member in real time using the app.
You'll also want to use it for our sneaky peek!
Try it now !