What's the first thing that comes to your mind when you think about a side hustle?
If it sounds like hitting on an opportunity to pad your main income through doing something you love for extra profit, then you've nailed the essence of the side hustle. It's a lucrative way to live for the right type of scrappy, ambitious individual, and may be right for you. We think we've found the perfect person to tell you all about it.
Meet Andrew, the man behind the excellence at @cheepjokes.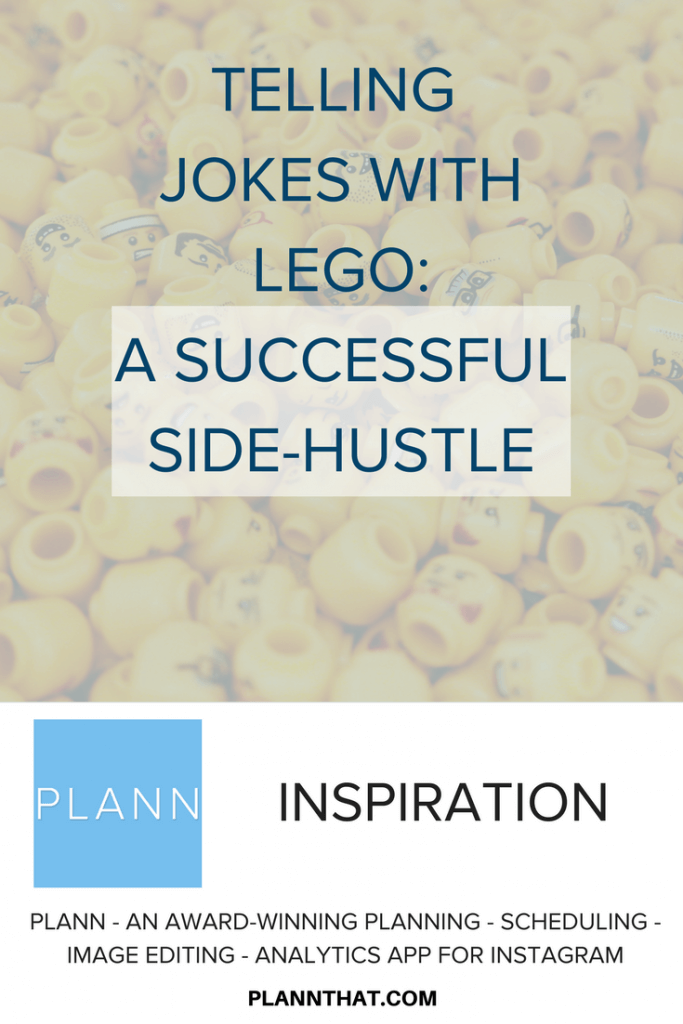 1. What's your personal history with the side-hustle life?
And . . . how long have you been doing it?
Probably since about 1994… when I was about 12, my uncle had a paper shredding business. he gave me a spare machine and I would deliver documents that needed to be destroyed. I was selling these huge garbage bags of shredded paper to my clients.
I had a regular who would use it for his greyhounds. I was basically self employed from a young age, but that's when the side-hustle began. It fired up again around 5-6 years ago, when I got sick of having these ideas and not following through with them. So this one year I decided I would start acting on them.
There were three:
An eBay business. I started with selling old items from around the house to clear them out as practice, and to learn the platform. I then used the money from that as a bit of a gamble, to buy items I knew I could make money on — and sell them for profit on eBay. I remember walking out of a comedy show one night, looking at my notifications, seeing I had made $400 while I was in there!
A photography business. This was short-lived, but at least I gave it a shot. I was at a large comic & movie convention, and noticed all these people in really amazing cosplay, posing for photos, but their backdrops were boring, just getting photos wherever they stopped. I thought it would be great to photoshop them into a scene that resembled the surroundings of the character they were dressed as. Although a cool and really fun idea, I would have needed to invest in a lot of technology to back the idea, and it wasn't something I wanted to continue further, but I tried.
I wanted to make a sitcom. After studying TV broadcasting years earlier, I had a passion for this that I still wasn't utilizing. So a friend and I sat down one weekend and wrote a script. The problem with productions is that you need a lot of other humans for acting, cameras, lighting, etc… So I thought: "Well, maybe I could make it with LEGO animation." But knowing how difficult this was, I needed practice. This was right when Instagram introduced video, and I literally did my first animation in Instagram, hitting the shutter button as quick as I could, to get the frames. I believe the settings work a little different and that's not possible now. So I was putting these test videos on Instagram and YouTube, and within only 6 months I was contacted by a PR company in the US to make them a 15 sec video. It all snowballed from there! Five years later, it's still going!
I guess the message in all of this is to throw mud at the wall and see what sticks!
2. When did you figure out telling jokes with LEGO was your niche?
It was really playing around with an idea, doing it in my free time and for the fun of it (which is the most important part … refer to question 10 where I'll bang on more about this). LEGO was just an easy medium to tell stories, as its super easy to mix and match character and situations, it's small and easy to move.
So instead of doing sketch comedy with a human production, I could create these productions in a room that's smaller than your walk-in closet.
3. How do you fit in running a business around your 9-5?
There is a lot of time after 5 pm to do things, work on the side-hustle, and still be social.
It's all time management. Don't get me wrong, I love watching TV, but to me it feels like downtime where I could be working on my 'escape plan' (The Escape Plan is the dream of the side hustle becoming full time, and being able to quit the 9-5.)
Let me tell you about my winter last year… I had my full-time day, I was studying part-time online, and I had a contract with a large local insurance company to make 7X 1-2min stop motion videos for them (and in case you don't know, 7mins of video in animation takes a long time!)
So my hours at the day job — by choice — are seven in the morning until about three-thirty or four pm. I live close to work, so I'm home by four-thirty. Straight in the spareroom/office/studio (its called a second bedroom on real estate sites, but could also pass as a cupboard). I alternate between study and production, set myself deadlines, and if the deadlines are met, I reward myself with social activities. Plus I get cabin fever hard-core and lose inspiration if I don't hang out with other humans.
4. Do your clients know @cheepjokes is a side-hustle?
Some do.
There are occasional clients who I'll work on projects for where I am able to build a strong rapport with due to the amount of communication we will have throughout the process. I definitely enjoy these projects the most as I not only build a strong working relationship with them, but we get to know each other on a friendly level as well, and end up chatting quite often, even swapping travel tips (hi to Cath from Nandos)!
5. Do you ask for the same rates as full time influencers?
I assume so? Rates vary based on a lot of things — If I'm doing just a photo, the rate is different than video. I know a lot of influencers from the world of fashion, food and animals, and everyone operates differently. So it's hard to say.
6. Who are your favorite brands you've worked with?
Well, it's ridiculously cool to say I have made videos for Disney & Star Wars, I'm really proud of the content I have recently made for Victorian Insurer RACV.
Their initial brief was rather dry, and I ended up supplying them with seven scripts for seven videos and managed to tie them all in together. If you watch them end to end, you will pick up on a lot of consistent themes. The style it was made in was very in line with how CheepJokes started, as a sitcom.
7. What is, in your opinion, the key to success on social media and how you won Mumbrellas Influencer of the Year?
Just be authentic.
As nice as it is to get paid for doing social media campaigns, would I still be interacting with my audience, and posting photos regardless? YES!
8. What is your top secret for growing such an engaged Instagram community?
You answered the question yourself. It's about being engaging.
That's why you have a following in the first place. There is something about you and your account that people are connecting with. You want to connect back.
I did an event on the weekend, where I got to meet people in person and teach them how to make LEGO videos. I got people coming up to me and they say '"I know who you are!"… My normal response is usually laughter with '"ha ha – no you don't!"
They will go on to describe one of my videos, and how their child continually quotes it! This is the point where my jaw drops to the ground in surprise that something I wrote and created had an impact on someone else!
9. Have you ever thought about quitting your job and becoming a full-time influencer?
God no!
This is something that is nice while it's here, but could be gone in a second!
I'm still playing under the rules of Instagram & YouTube's terms and conditions, and if THEY decide I have breached something (which hopefully never happens), everything could be lost overnight. Or they will suddenly become uncool, and the username will start to collect dust along with my MySpace login.
My exit plan for my full-time job and influencing is to turn CheepJokes into something of its own.
10. What would you tell anyone else thinking about creating a side-hustle?
Do something you love because you love doing it. Maybe someone will pay you, and if they do, make sure you still only do it because you love it.
Not a week goes by without someone coming up to me and asking "Can you teach me how to grow my Instagram?"
My first question back is always '"Why do you want to grow your Instagram?" There are two ways their answer will go, and only one of them will benefit from my knowledge, and guess what?
They are already on the right track anyway.
Takeaway
Are you thinking of turning your hobby into a side-hustle? It's time to give it a try!
Who knows? You may just hit on a niche that brings you some level of fame and fortune.
Plus, you have Plann to help you with your scheduling and editing. Play with over 60 filters and editing tools and create a personalized plan for building a dynamic, professional, and engaging feed.
Download Plann now for iOS and Android!