Not sure what to post on Instagram today, or can't think of what to schedule for the week ahead? 
We've all been there.
You scroll through your camera roll for something, anything, and all you find are approximately one million photos of your dog/cat/baby.
Not exactly the stuff of an inspiring Instagram feed!
Creative Roadblocks Can Happen To Anyone
To grow your influence on Instagram and to stand out, you need to consistently share content that is high-quality and fits with your brand style and brand voice. There's no denying that sometimes our creative minds reach a roadblock, or our schedules get so hectic that we don't have time to figure out what to post on Instagram on the fly!
The good thing is there are plenty of apps to help you schedule Instagram posts and prepare captions and hashtags (hello: Plann). Also, they help make sure you've always got something new for your followers to like and tag their friends in.
Feeling stuck?
Here are 33 amazing content ideas you can save for when you're stuck for what to post on Instagram! Want to skip to the best one for you? Here's a list of what to post on Instagram –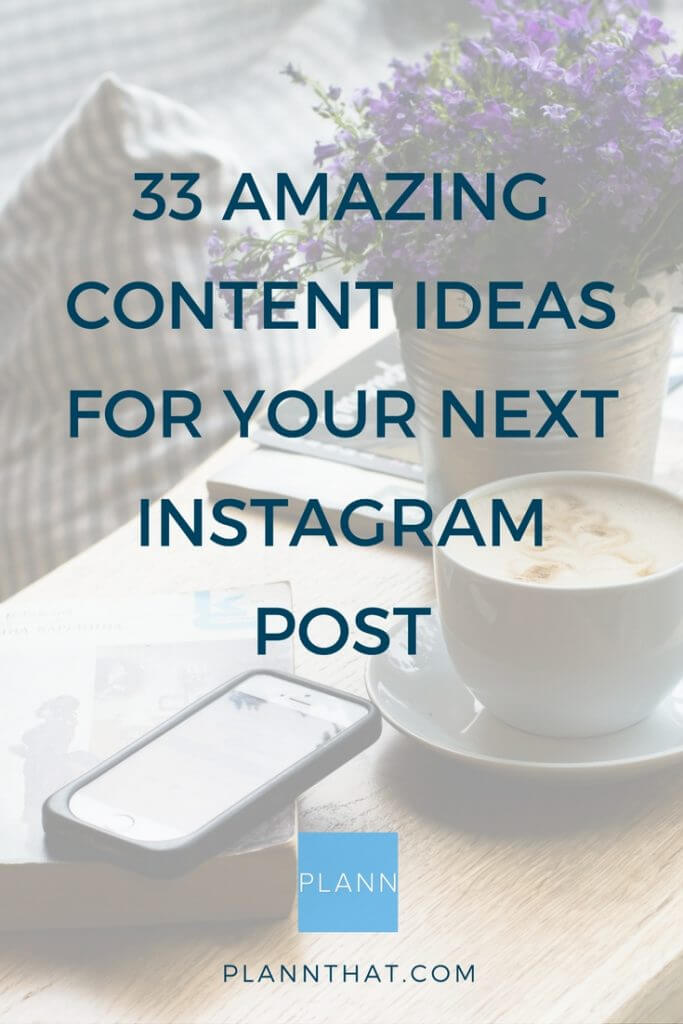 A tutorial
What could you teach your audience in a snapshot?
For example, are you a Beauty Blogger? Eyebrows are life!
Ask any girl who isn't blessed with perfectly neat yet bushy brows and you'll know how important mastering the art of brow makeup is.
Share your tips on how to use your favourite products, whatever they may be, to engage with your audience on a helpful level.
Inspire your followers to get outside and get moving
Did you know that exercise can have a massive effect on our brains?
Just 30 mins a day can improve cognitive function, lower anxiety levels, increase memory capability AND boost your mood, yeow!
Technology is fast becoming a huge part of our lives, and for most people, it means more time spent in front of a screen. Set a great example and motivate others to make it part of a daily routine.
Your favorite holiday
Re-live your favorite holiday experience next time you're not sure what to post on Instagram and share a series of snaps of your most inspiring place to visit. It's a great way to re-use content you already have (and a great reason to revisit your holiday snaps!).
Instagram is primarily about a lifestyle so choose a location that made you happy.
Haven't been on a trip lately? ROADTRIP!
What about planning a trip to the beach – there's always something about the ocean that makes people happy! (Ocean images are renown for being popular for engagement!)
Flatlay what's in your bag
Also known as 'The Bag-Spill', a neatly (or messy if that's your style!) arranged view of what's in your bag gives great insight into your personality, your must-haves and your life in general.
To prompt your imagination, we're thinking: your work bag, gym bag, handbag, clutch, artist bag, makeup bag or even what's in your new shopping bag! Flatlays are an easy and effective 'go to' on Instagram.
Your morning routine
Self-care is an area many people know they need to prioritize more –  and when they see others making time for themselves they'll feel empowered to follow your example.
Do you get up and have some 'me time?', or do you jump straight onto your phone to check your Instagram DM's?
Tell your audience how you set your intention for the day – you'll either inspire them or if you're work-o-holics like us, perhaps give insight into what you are planning to change.
Great for building a stronger community.
What you had for breakfast
Breakfast foods aren't just delicious to eat, they're also delicious to look at, especially if you take a photo of it like a pro!
Great styling, composition, and lighting is the key to this shot, and if you can manage to get your hands in the frame too, we've learned they get more engagement – the power of human connection!
Taking a photo from a bird's eye view is a pro tip, so get ready to climb up on that chair safely, of course!!
Your workstation
Try a photograph of your desk with a positive caption could help your followers hate Mondays a little less.

Your outfit
When we need to go full office/business chic, we head straight to Instagram and search for #chicoutfits.
If your office outfit game is strong, do Instagram a little favor – pose, and post! 
Your flavor of the month
Are you obsessing over a new piece of camera equipment, your newest Pottery Barn home decor purchase or you've scored 3 pairs of Bonds socks for less than $3? Woo! Share what product is getting you so excited.
Design a cocktail that your brand would drink
Would you like a Plannocolada?
Design a cocktail (or drink!) and give it a fun name that suits your personality (or your brand's personality!).
Cocktails are a fun way to talk about the end of the week – however, they're usually taken in dark lighting with very warm tones (slightly orange-y) that don't perform as well as we'd hope. Always check your lighting when taking indoor shots.
(Psst, not the right fit for your Instagram feed? What about a boomerang announcing the end of week celebrations. Extra points if it's on brand!)

Need some help with Instagram's newer features? Here's what you should be posting to your Instagram Stories!
Flowers
Our go-to for when we're not sure what to post on Instagram – blooming yes! Flowers are known to freshen up any feed, grab a posy, hold it against a backdrop and get snapping.
See if you can find you're 'on brand' blooms! Play with nail color, arm, and hand accessories and break through your roadblock with a bit of creativity.
Latest apps you've found
Spread the word about apps, new software or new tools that you've found helpful, or fun!
Found something that's useful and think more people could benefit from knowing about it? Don't keep it a secret, share it with your audience! The creators of the product may even get in touch to offer you something to say thanks – hint hint

(If you'd like to share how helpful Plann, our visual Instagram Planner App is, we're happy for you to use any of the images on our website or IG feed! Tag us with @plannthat so we can take part in your conversation!)
Who is someone that inspires you every day?
Showcase someone who you admire, post an image of their work and describe why they light you up from the inside!
Talk about how they motivate you, and why you're so inspired and look up to them. Although you might not have met in person, this is a great way to acknowledge someone's direct influence in your life.

Great for building strong relationships or getting in front of new people.
Your DIY projects
Trawling Pinterest and been inspired to make something yourself?
(You might need to give yourself a Pinterest curfew for this one otherwise you could keep scrolling all day!)
Whether it's a DIY floating bookshelf or a mason jar vase, see how you can tie it into your Instagram theme.
Create a custom graphic
Inspirational quotes are a great way to show what you're working towards, but how about creating your own? 
Is there a quote you always say? Or something you imagine your company's voice would say?
Pull out the pens and paper, or jump onto Photoshop (or your favorite app!) and create your own graphic to share.
Your Sunday morning
How do you start your Sunday?
Do you sleep in until 11 AM? Do you get up early for a jog at 6? Or do you wake up at 7 but stay in bed reading or catching up with your favorite Netflix series while drinking coffee? Give your followers a glimpse of how your Sunday mornings are every now and then.
#sundaystyleloves is a good hashtag to use for this!
Sneak peek
Have you got a project bubbling away in the background, but not ready to do a 'full reveal' just yet?
Post a little snippet of what's going on and create some mystery, one of our favorite things when we're thinking about what to post on Instagram!
This could be handwriting your to-do list or using a couple of your materials, or even a map with a few areas circled if you're planning a new adventure!
Ask a question
Engage with your audience by asking them a quirky question.
It could be anything at all and designed as a fun way to strike up a conversation (and lift your engagement rate).
Hey! Need some tips on increasing your Instagram engagement rate?
Hold an impromptu giveaway!
There's nothing better than scrolling through Instagram to find a bit of afternoon delight, in the form of a snap giveaway.
If you're feeling a little flat, nothing will lift your mood faster than by making someone else's day and giving something away.
Deconstruct your equipment and design a flatlay!
Collect the equipment or items you love to use daily and lay them all out to create your own flatlay.
Describe why these things are all so important to you – an interesting way to show what your life is like behind-the-scenes!
Brownie points if you can do it in a color scheme!
Your cute pets
It doesn't matter whether it's a fat cat or a cute little pooch, photos of pets on Instagram will brighten anyone's day. 
Create white space
Is your Instagram feed looking a little busy lately?
Lots of busy photographs making your feed feel a little crowded?
Sometimes busy feed = busy brain, and no space to think of what to post on Instagram!
Step back and take a look at your Instagram gallery, does it need a little white space?
Take a photo of something plain (but still in your color scheme), whether it's a textured wall, a scene from inside your favorite cafe or the water at the beach or in a pool.
There's even a hashtag for these types of shots called #photosinbetween
Sunrise or sunset
There's always something special about the dawn of a new morning.
Team it up with your own thoughts on goal-setting or reflect on your own milestones
Find an 'Instagrammable wall'
You've seen them all over Instagram, some of your favorite people are standing (or jumping!) in front of colorful walls.
Why can't this be you too?
Grab a friend for a coffee and head out to explore – once you get busy snapping you'll find you'll leave with many more shots to spread out over the months when you get stuck again!
Pro Tip: We recommend taking a few different shirts, hats or sunnies so you're prepared for any color combo!
Want some Inspiration? Our favorite hashtag to follow for these is #walltraveled
Share something you've learned recently
Self-guided learning online is a multi-million dollar industry – everyone is learning about something.
Is there anything that has fascinated you lately? Make it relative to the people you're wanting to continue relationships with!
Want to know which 60,000 hashtags Instagram banned?
Any books you'd recommend?
Whether it's 'THE BEST BOOK EVER!' or the one you've just put down, talk about your key takeaways and give your audience something to think about, plus solve the question of what to post on Instagram!
Hot tip! If you're going to team this shot with a cup of tea, we've learned that 'milky teas' perform better than darker beverages like black coffees and black teas! How Interesting!
Real talk
Share something that's challenging you at the moment or a struggle you've faced recently. You never know who might be going through something similar, and reaching out and being honest will help you foster stronger connections with your community. 
Your go-to coffee (or tea!)
Hot Beverages are life. It keeps the mind working on extended work hours and it gives comfort on a cold day. We're sure your followers feel the same way too.
Think it's a little drab? These cute coffee stencils from Amazon are a great way to inject personality (and a fun 'me-time' moment to add a little joy to your day!
The pizza you ordered just for you.
We'll just leave this one there.  
Time management
Productivity is a massive talking point, with thousands of books, podcasts, and productivity apps – everyone is looking to focus on how they can effectively use their time. Time is one of the hardest things to get better at using.
Post about how you manage your time, or techniques that you're trying out.
A bird's eye view of your shoes and flooring
Team this shot with #ihavethisthingwithfloors or #ihavethisthingwithtiles and join the already existing community.
The interior of your favorite shop
Give a sneak peak of how your favorite place to hang looks from the inside. Bonus points for Scandi-chic minimalism vibes.
A photo of you
Flash that smile; it's contagious. Share positive vibes with your followers by posting a happy photo of you!
Post about why you're passionate about what you do, the big WHY behind what drives you to get better every day and your passions for your Instagram feed. Put that out to the world, and we'll all fall in love with you.
Have any of these ideas jumped off the page at you to get started straight away?
Tell us below which one you're working on and we'll help hold you accountable! We can't wait to see your grand plans for what to post on Instagram.
Ready to get a social media calendar cracking now you know what to post on Instagram? Plann is the app you need. We built our award-winning Instagram planning app to help creatives organise and curate their feed. Download Plann now from the iOS and Android stores and get started.