Well, 2021 was certainly a massive year of social media updates. All of the big players (from TikTok to Pinterest) have rolled up their sleeves to launch a bunch of innovative updates to help businesses succeed on social media.
To make sure you haven't missed a beat, we thought now would be the perfect time to round out 2021 with a wrap up of the biggest social media updates from the year gone by.
From the launch of Link stickers on Stories to TikTok shopping and everything in between, here are 10 of the juiciest, most surprising updates we've scouted out in 2021.
TikTok rapidly rises as a go-to business platform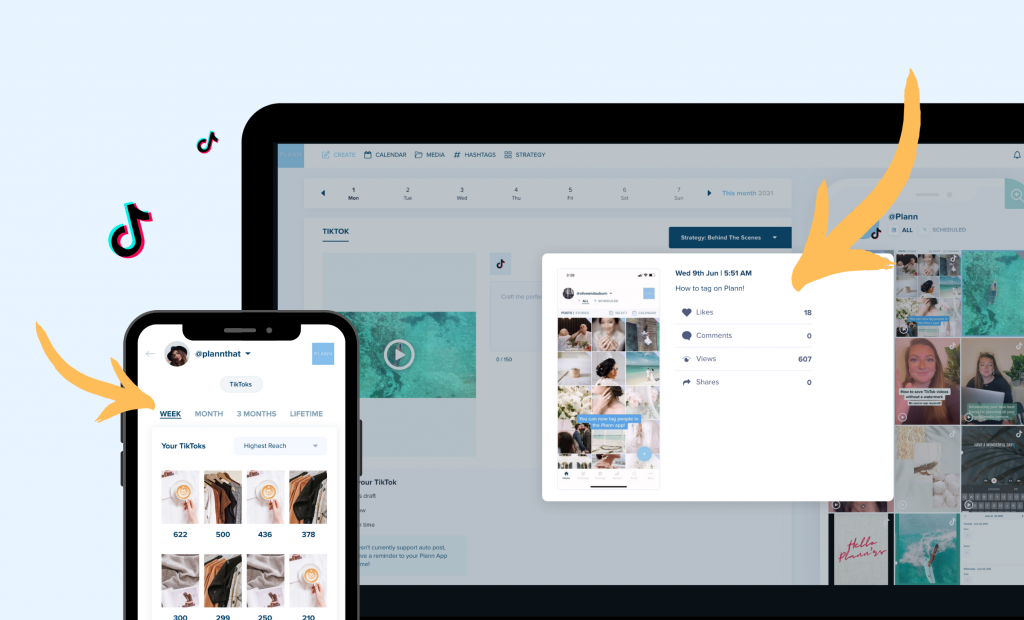 Think TikTok is just a platform for pointing, lip syncing and dancing? Think again! TikTok was one of the fastest growing social media platforms in 2021, clocking up a whopping 689 million monthly active users.
For businesses looking to get through on social media (particularly with audiences aged 18 to 34 years old), TikTok is the platform to be on. More than 1 billion videos are viewed daily on TikTok and an incredible 90% of TikTok users open the app more than once a day.
This creative short-form video platform allows brands to share unfiltered and engaging content and tap into the power of trends and hashtags. With TikTok showing stronger engagement rates than both YouTube and Instagram, it's a no-brainer for businesses to add TikTok into their social media marketing strategy.
Psst… did you know that TikTok joined Plann in 2021? That's right, you can now use Plann's desktop scheduling platform to map out your TikTok strategy, save trending inspo, audio and effects and schedule your TikTok content for set-and-forget business growth.
TikTok adds in-app shopping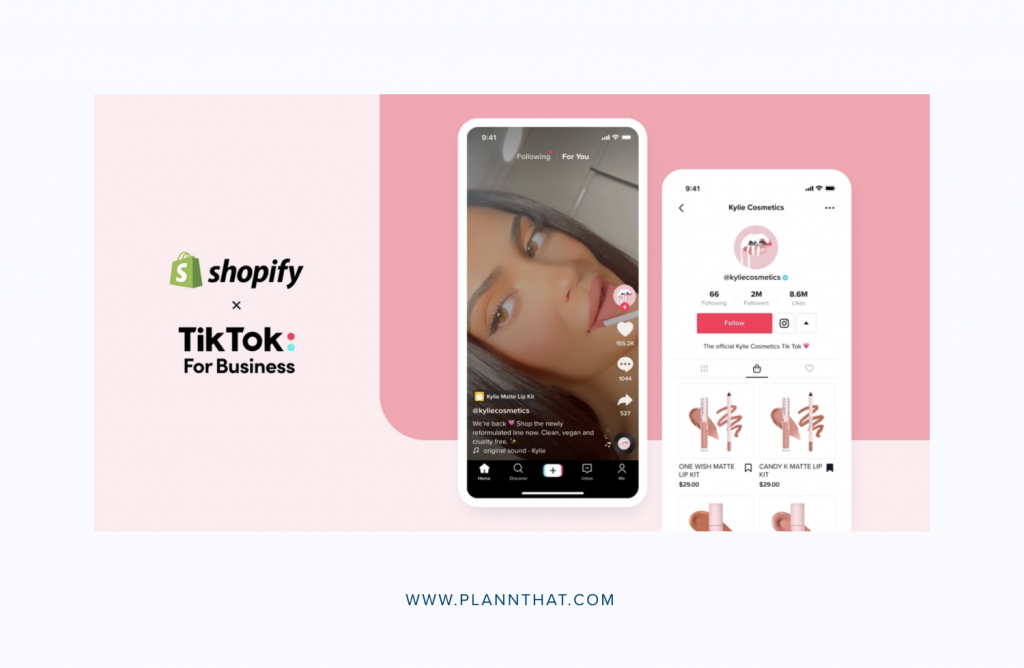 Speaking of TikTok, 2021 was the year that this booming social media platform added in-app shopping. Along with testing out longer form 5-minute videos, TikTok has been busy building a stack of shoppable features to help business and brands drive sales directly from social media.
After partnering with eCommerce provider Shopify in October 2021, TikTok has expanded their 'Shopping' tab feature to businesses in the US, UK, Canada and beyond.
All businesses need to do is sync their Shopify product catalog to add shoppable tags and a mini digital shopfront to their TikTok profile.
Instagram expands Insights to Reels and Lives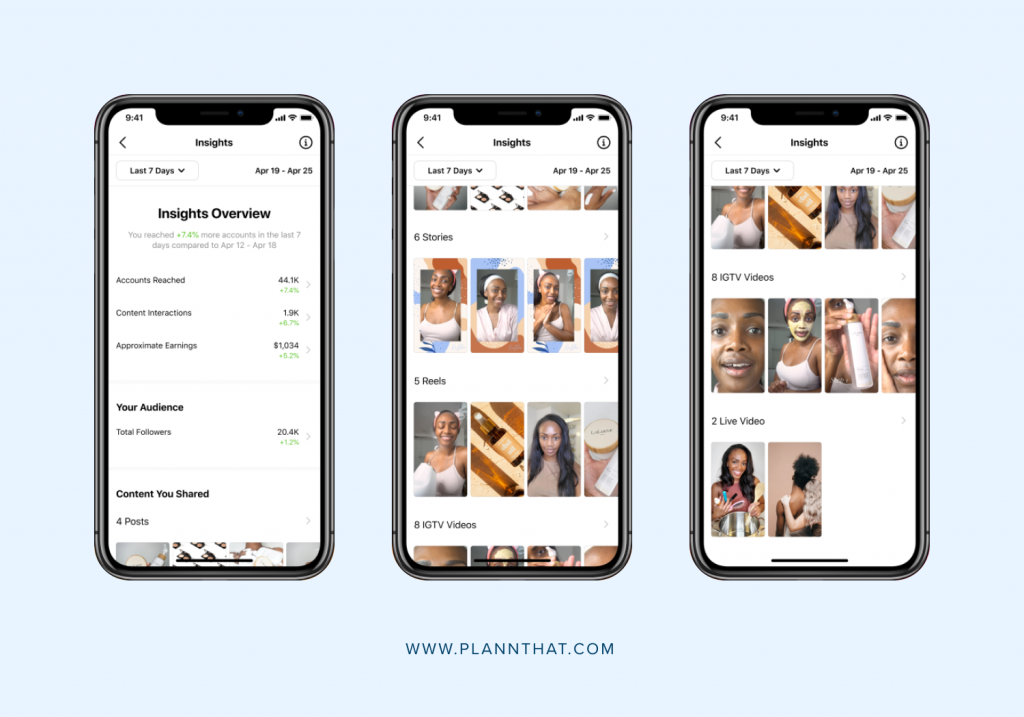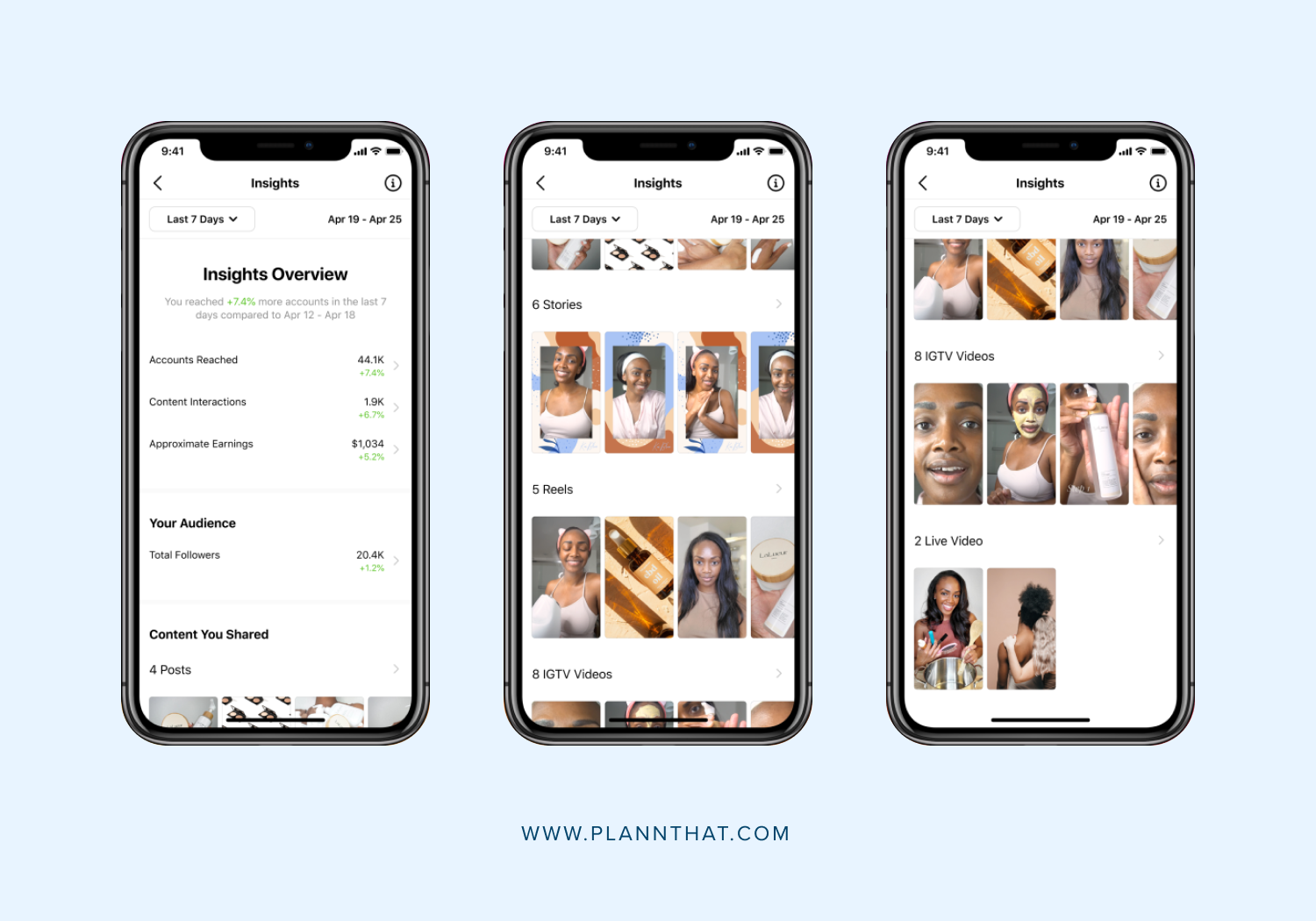 Over at Instagram, the team have been busy building out their Instagram Insights to include new content placements such as Reels and Lives.
To help businesses and creators make data-informed decisions, Instagram launched new insights and analytics for both Reels and Lives.
These new insights (covering everything from Reach to Saves to Shares) are available for Creators and Business accounts to help brands get a deeper insight into how their video content is performing.
That's why we decided 2021 was the perfect time to add Instagram Reels scheduling in Plann! We crafted a brand new workspace dedicated to helping you plan, organize, and schedule your Reels with ease. Talk about the easiest way to boost the reach and engagement on your Instagram content.
Instagram introduces Reels remixes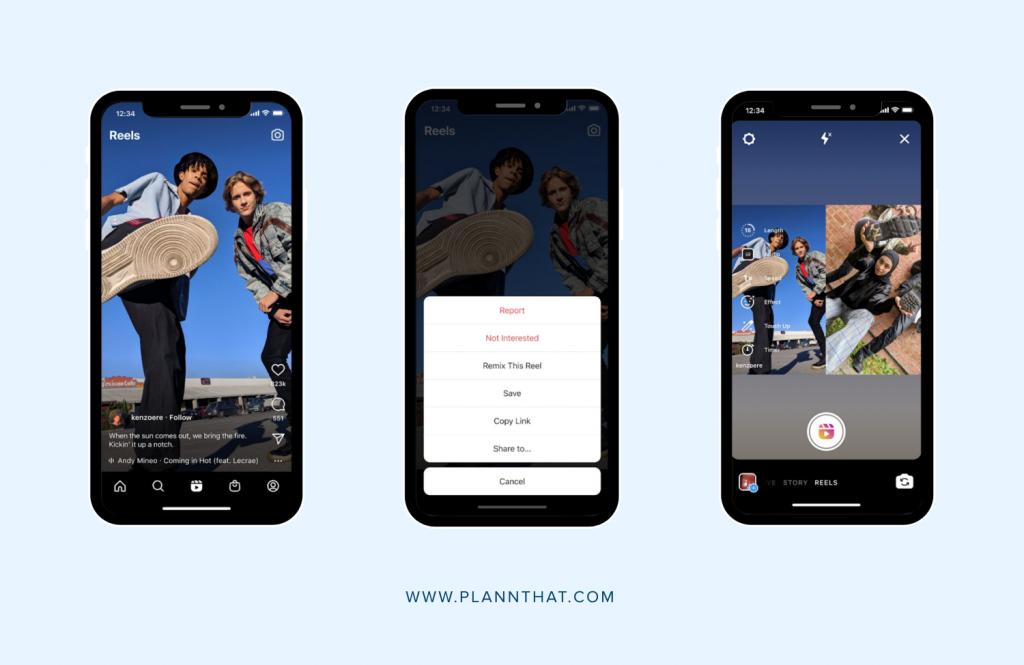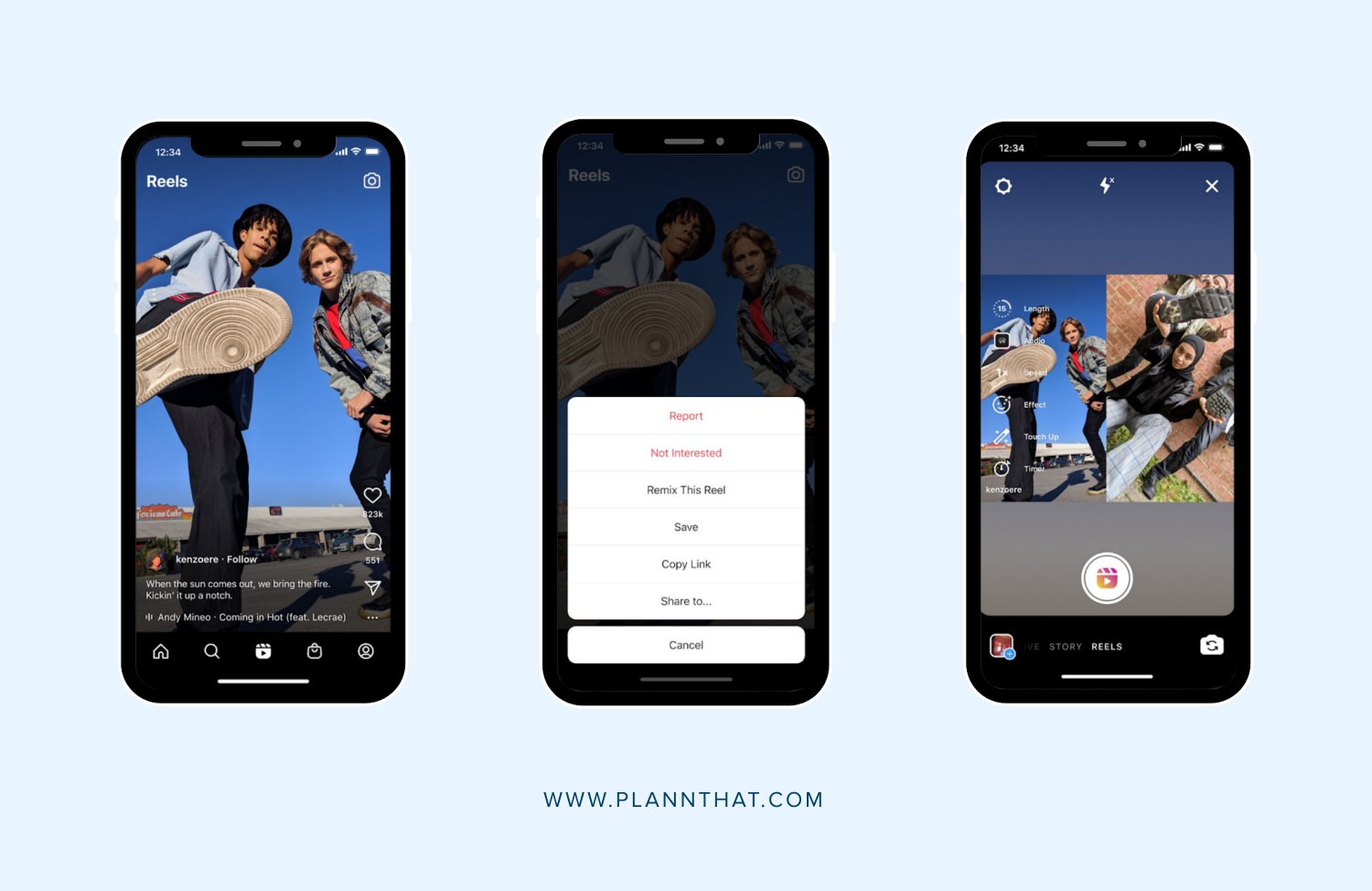 In response to TikTok's popular 'Duets' tool, Instagram launched a fun new feature in 2021 called 'Remix'. In a nutshell, this allows you to watch someone else's Reel, hit 'Duets' and film your own reaction or response to it.
Plus, you can even allow other Instagrammers to remix your video content by selecting 'Enable Remixing' when publishing your next Reel.
Did you know that Plann also launched a new feature that lets you repurpose your short-form content across TikTok and Instagram Reels? On Plann desktop, you can expand the reach and impact of every single piece of video content you create (a.k.a. Cross post between Instagram Reels and TikTok).
Instagram Stories Link stickers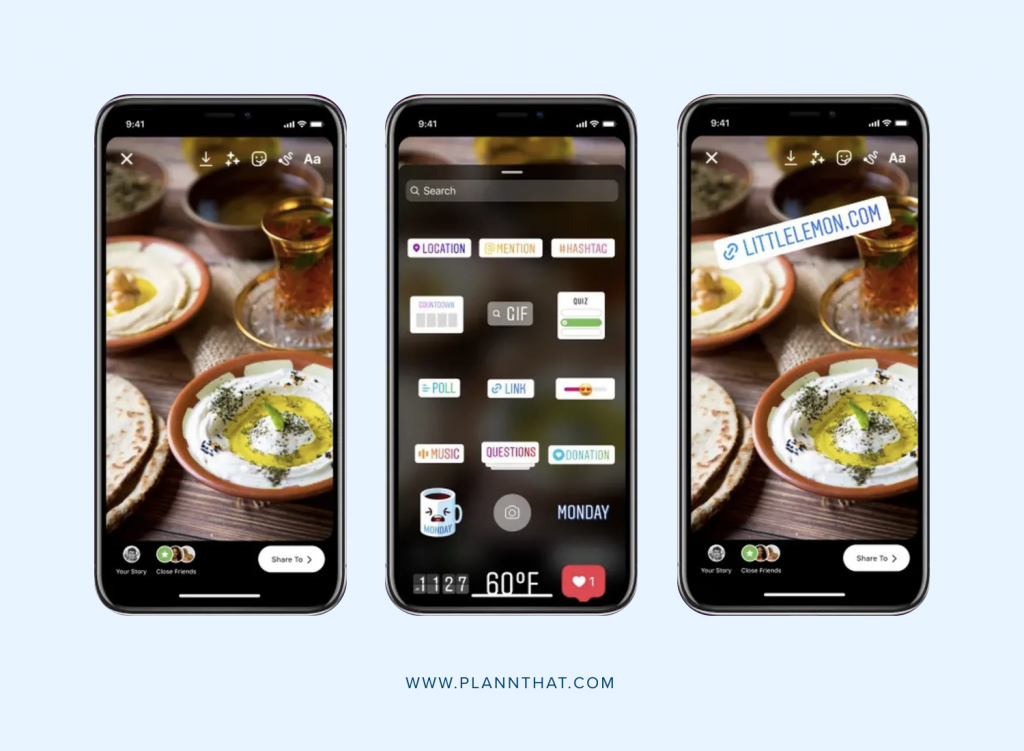 This was a HUGE social media update for 2021, and we welcomed this change with open arms! In 2021, Instagram ditched the 'swipe up' feature in favor of Link stickers on Instagram Stories. Plus, these clickable Link stickers are now open to everyone (even if you don't have 10,000 followers).
This big change sent shockwaves throughout the social media community, making it possible for every single brand and business on Instagram to drive traffic directly to their website, landing page or app.
The launch of Instagram Video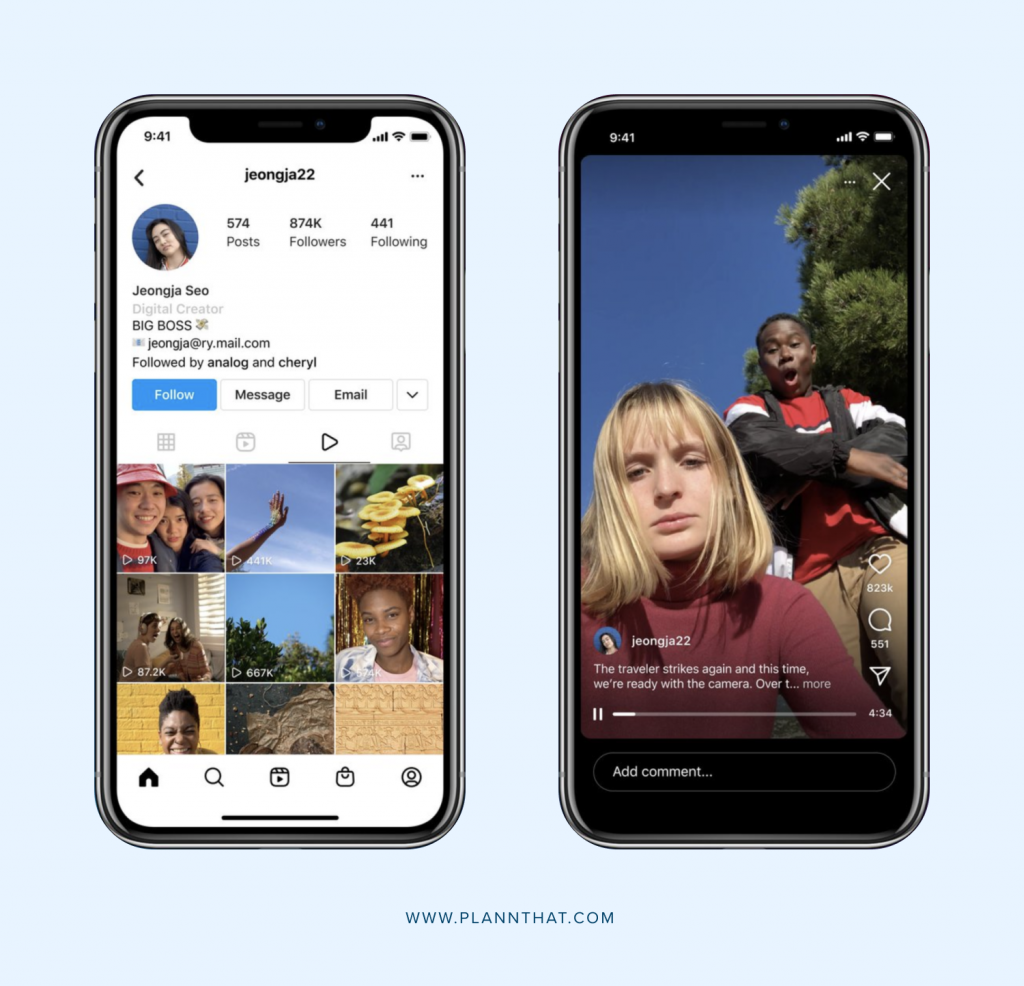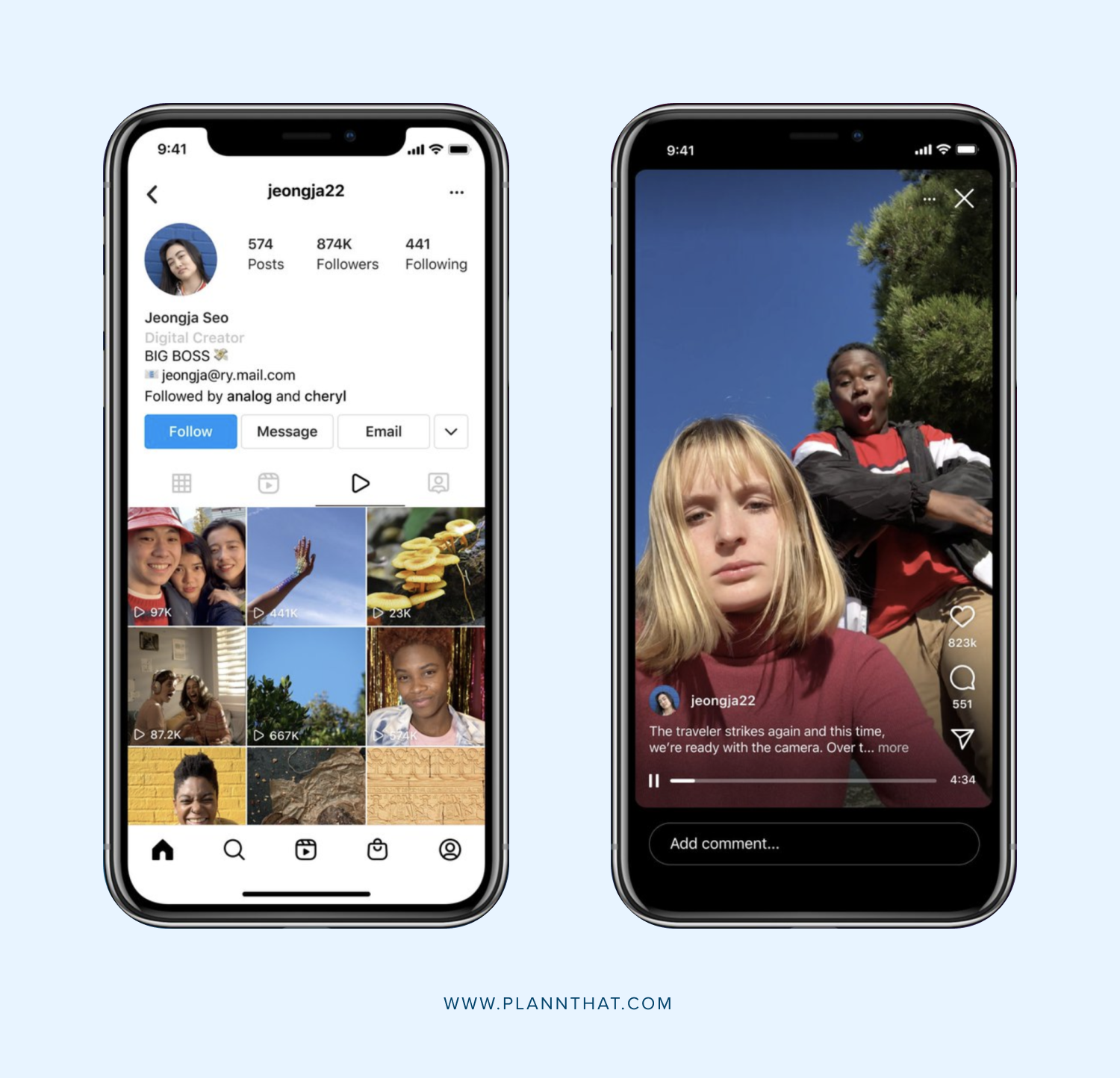 Plus, video content on Instagram had a big overhaul with the introduction of Instagram Video. This new hybrid video type combines IGTV and Feed videos into one brand new feature.
Just like IGTV, these videos can be up to 60 minutes long and are accessible in their own tab on your Instagram profile. Plus, they can now be discovered by new audiences on the discovery feed (just like Reels).
Plus, Instagram Videos can now be trimmed before you post, can have video captions added when uploading plus can include tagged locations and people, too.
New best practice for Instagram hashtags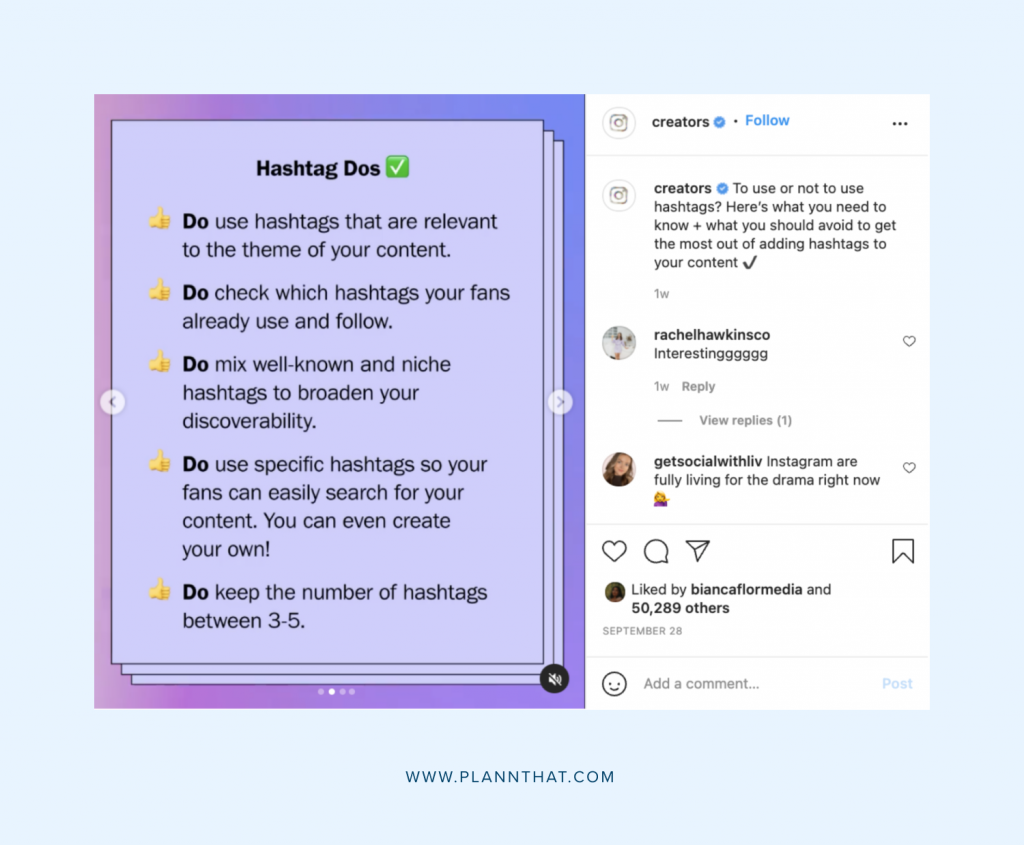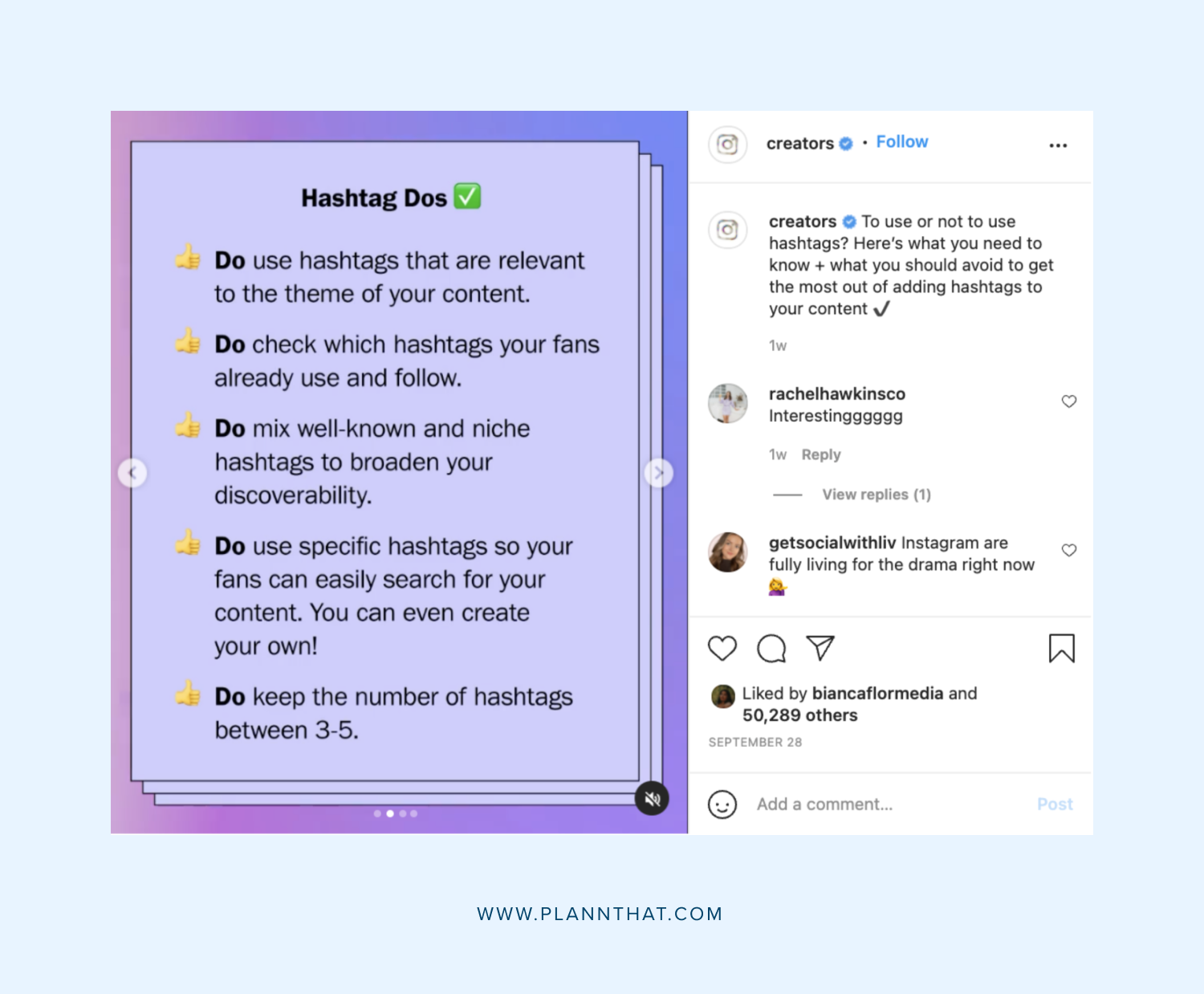 Gone are the days of throwing 30+ hashtags into the first comment of your Instagram feed posts. In 2021, the rulebook was rewritten when it comes to hashtags and the best ways to use them to boost your businesses' visibility on Instagram.
In a nutshell, Instagram now recommends brands and businesses only use 3-5 hashtags per post to boost the reach of your content. They're also encouraging us to use a mix of niche and popular hashtags.
Want to save time when adding hashtags to your Instagram posts? With Plann, you can save your hashtags sets for easy use when scheduling your videos or images ahead of time.
Brands and Creators can co-author posts with Instagram Collab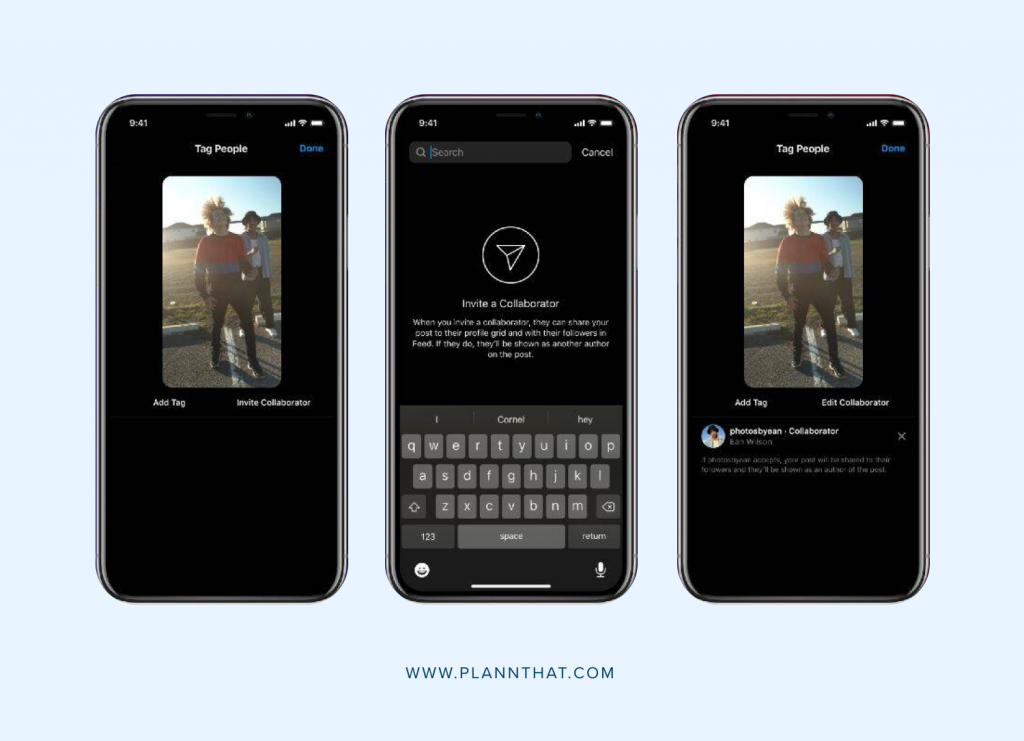 Speaking of boosting the reach of your content, one of our favorite updates of 2021 was the launch of Instagram Collab.
This exciting new feature allows two creators to post the same content on their pages at the same time. This means you both gain the reach, exposure and share the same analytics in Instagram, too.
Instagram adds pronouns to bios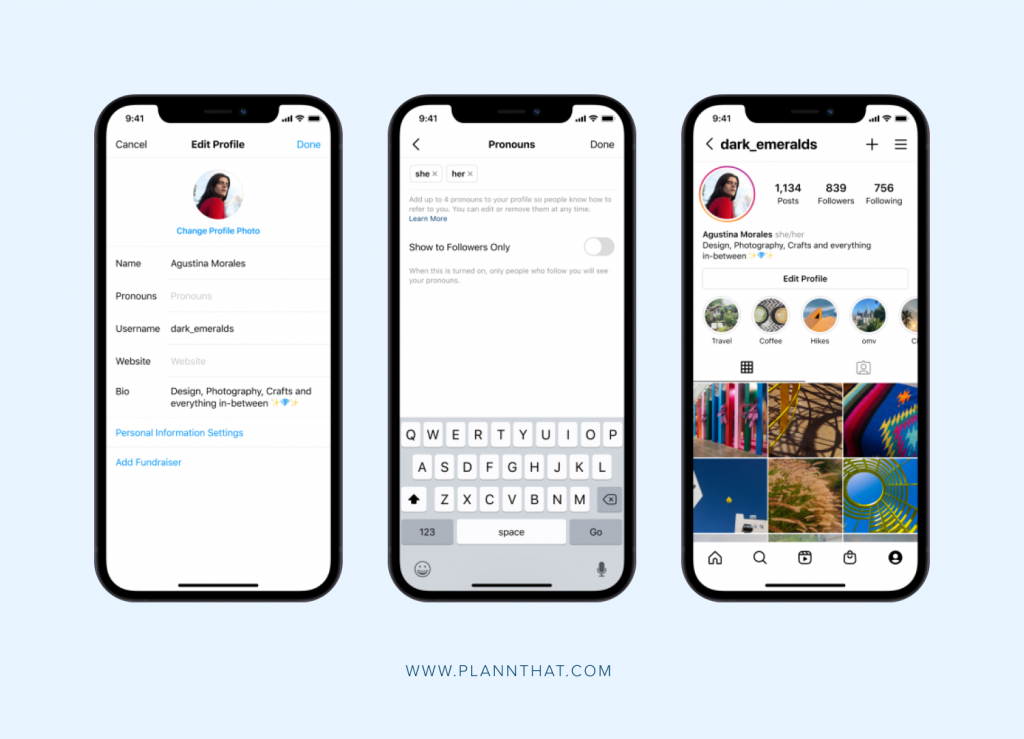 In a big diversity win, Instagram rolled out an exciting new update that allows users to add pronouns to their bio on Instagram.
It might seem simple, but this is an important and powerful change that ensures no one is making assumptions about each other's gender identity.
Instagram launches auto caption sticker on Stories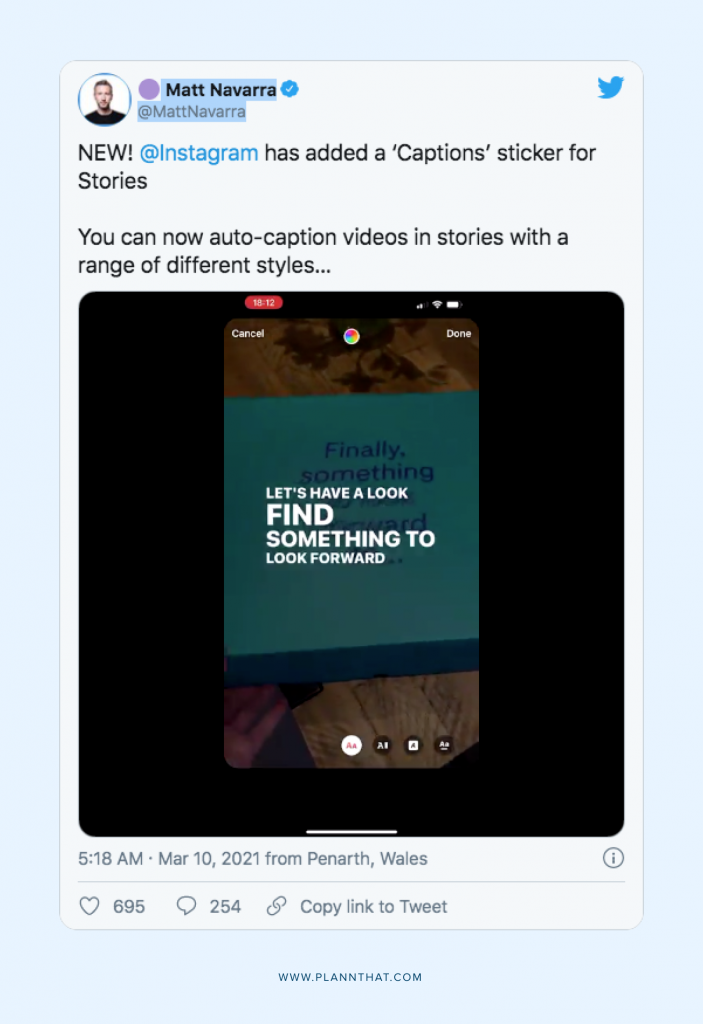 Last, but certainly not least, is this final social media update of 2021: the auto caption sticker on Instagram Stories.
This handy feature now makes it easier than ever to close caption your Stories and improve the accessibility of your content. It's an absolute game changer that allows your users to get the full experience of your videos (whether they're watching with sound on or off)!
And that's a wrap for 2021! We're so excited to see what exciting and unexpected social media updates are rolled out in the New Year.
Ready to take your high-performing social strategy to the next level? From mapping out your strategy and designing your graphics to saving plug-and-play hashtag sets, you'll find everything youneed inside Plann.
Go on, redeem your 7-day free trial of Plann Plus. If you don't like it, keep using Plann for free!