New! Instagram Reels Planning!

Add short-form video to your marketing strategy, with a
 NEW dedicated space to manage your Instagram Reels.

In your Plann planning space, you'll now find an entirely new gallery for you to organize, and manage your Instagram Reels video content, ready for you to publish with your Plann app.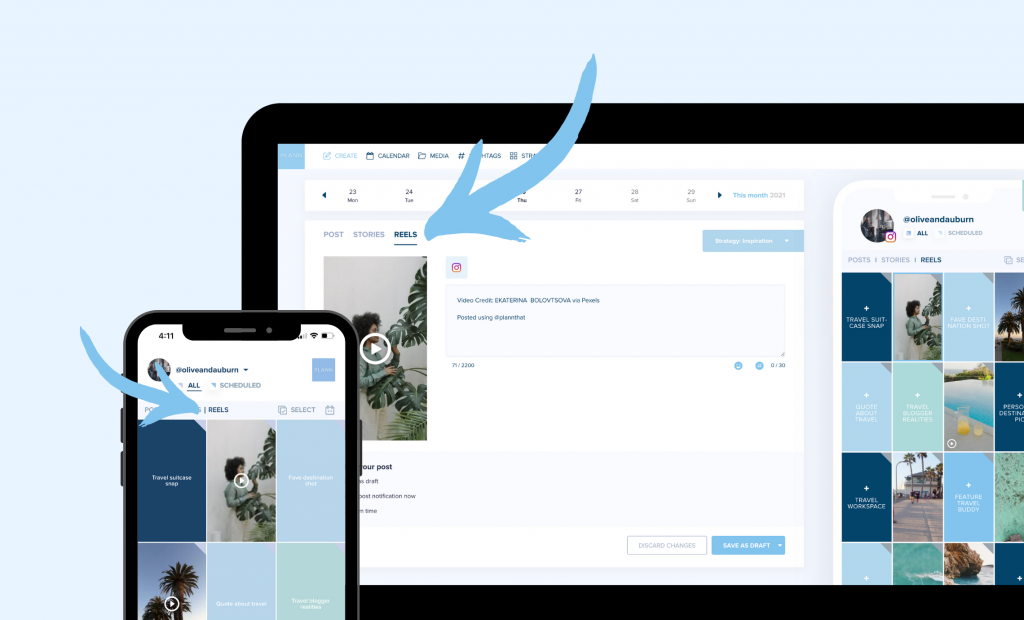 Customer Success star, Ashley Kendrick, walks you through how to use this brand new feature!
3 Seamless Ways To Plan Your Instagram Reels
We know your planning process is as unique as you, so we've made sure we can support you in every way that works best for you – and your whole team!


Here are 3 great ways to utilize your new space:


1) Organize your files together in one place
Upload, store and manage all of your video files ready for your next Reel.

Think of it as your own Reels dropbox! Choose to store files ready to create new videos, OR, batch create your content and save them here in your new planning space, ready to post.

If you work with a team you may have noticed that even though you're sharing an Instagram login, and Instagram account – your 'DRAFT' folder on Instagram is not shared(!) so your work is unable to be shared across different people. Additionally, there are still quirks in the Instagram platform where users are reporting they're losing work… ouch!

Plann is the perfect place to keep everything all together to access, safely.




2) Use Plann's strategy tool to design your own Instagram Reels strategy

There's nothing worse than feeling pressured to 'create content' when you're not sure what the objective is.

Use Plann's strategy tool to design a unique, purpose-driven posting strategy so that you're always on track with what you're creating, rather than scrolling for hours looking for inspiration and losing hours and hours of precious content creation time.

Plann's unique strategy tool is the perfect way to organize batch creation and your content shoot list.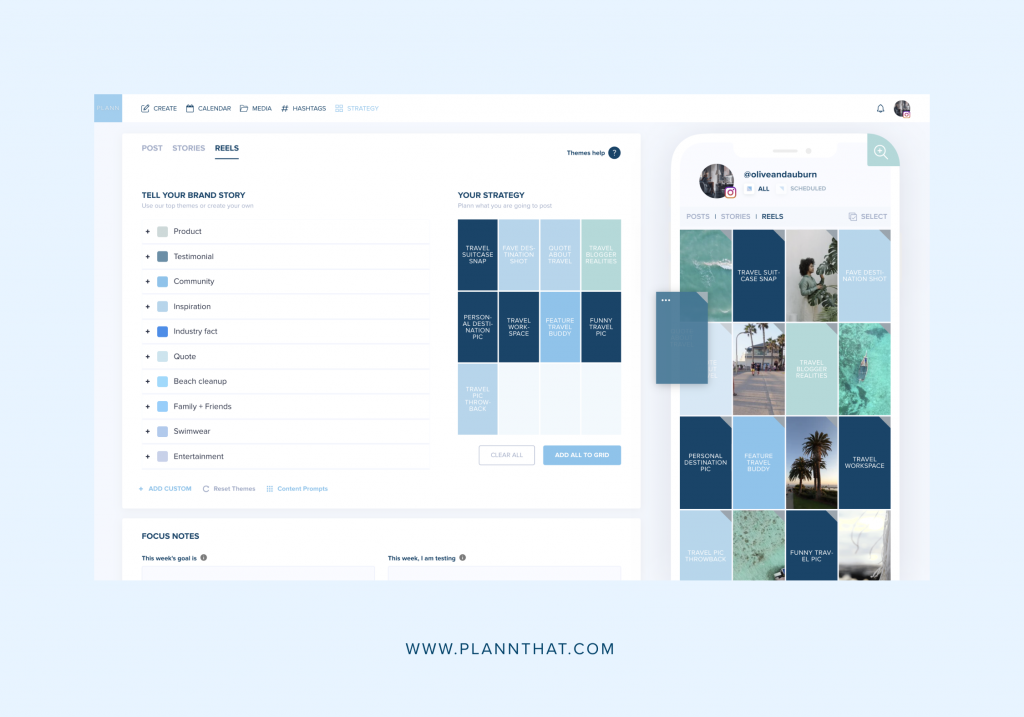 3) Save links to Reels, audio or effects you'd like to recreate later


Spotted trending clips, audio or effects and want to be able to refer back to them later?
Now you can save everything right inside your new Reels planning space!
When you're watching Instagram Reels and spot something you'd like to recreate, simply tap the 3 dots on the Reel itself and choose to save the link.

Easily paste this link, along with any trending hashtags, comments, or username tags (or upload any screenshots), directly into your Reels space in Plann.



Can I see a calendar view of my entire Instagram strategy?
Yes! You can even create a Reels post straight from your Plann calendar too if you notice a gap!
If you create an Instagram Reel in your new planning space, Plann will automatically add it to your calendar so you can see the whole month (or three!) ahead.

You'll find Reels color-coded differently so you quickly and easily tell the difference between your Instagram Posts, Stories and Reels.

Design your entire brand marketing strategy with blog posts, emails or even sales right from the Plann calendar. Learn more about Plann's powerful calendar feature here –>

When I schedule an Instagram Reel, will it automatically post for me?
Instagram does not currently allow third-party platforms (like Plann) to display previously posted Reels, Reels analytics, or allow Reels to auto post.

Use this space to design a strategy, store and schedule video files, save hashtags, Reel-y great ideas and execute at the right time. We're furiously watching out for their updates and as soon as they open this feature to us, you'll have it!


How do I post one of the Instagram Reels I have planned?

You'll find your Reels planning space perfectly syncs in real-time with your Plann app and at the time you've chosen, we'll send you a friendly notification to post!

Simply tap the Instagram icon to 'copy and post', and you'll find your Reel is now saved to the top of your camera roll.

Simply open Instagram and choose to upload your video, plus paste any caption or hashtags you've saved with it that we've automatically saved to your clipboard,


How long are Instagram Reels?

Instagram Reels can be up to 60 seconds in length, but Plann will let you store video files longer than that in case you or a team member need to trim these down later.

Easy!


Want to get started with Reels but not sure how?

We'll help you get the confidence you need to create Reels with the support of the entire Plann community.

Sign up for our incredibly popular Instagram Reels challenge where you'll learn how to use the tools, how to work the music feature, overlay sound and even how to find trends.

Available now, let's get you get started reaching more people with Reels. Sign up here.

There's no limit to how you organize your video content!

We'd love to see how you use this new space so we can share your progress with our community while teaching more people how to make the most of organizing their Instagram Reels too. We're all learning together!

Share your planning system with your audience and tag us so we can share it!


Available now with Plann Plus, you'll also get:
– Auto posting (and re-posting) across Facebook, LinkedIn and Instagram social platforms
– Unlimited hashtag sets (to auto post in first comments)
– Advanced Instagram analytics
– Unlimited media uploads and scheduling tools
– Custom strategy tools to plan with intention
– Comments and mentions management to quickly respond and keep conversations flowing
– Free professional stock photos and videos for when you're short of content
– Custom events on your calendar to design your own content, editorial or brand schedule


Gift Plann to your friends, family or followers <3
Gift your friends, family, or followers $10 off Plann with your unique referral link!
By using your unique link, you'll gift them a month of Plann free, PLUS, you'll get $10 Plann credit just for you sharing a favorite tool.

Find your unique link in your Plann settings to gift the sunshine in someone's day
HOW TO FIND YOUR UNIQUE REFERRAL LINK: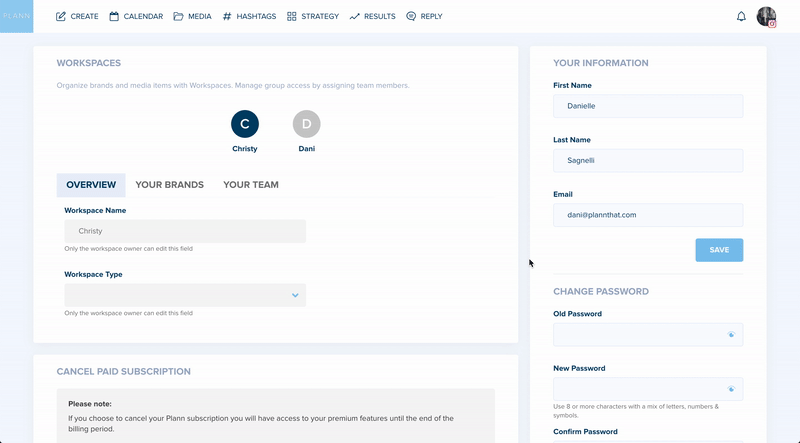 We genuinely love hearing from you and all of your ideas for Plann.
Reach out to the product team directly at feedback@plannthat.com

Christy Laurence
Plann Founder
@plannthat