Okay, so it might seem like we say this every month…. But, July has been a HUGE month in the social media world. Like, behemoth-sized. The month to end all months!
First up, Adam Mosseri went on an Instagram live to make a huge announcement that sent shockwaves through the industry: Instagram is no longer just an image-sharing platform. In order to stay competitive with TikTok, they're going to be focusing on investing heavily in their video features — in particular, Reels.
Sure, we saw the takeover of video coming like a big freight train. But, to hear the words come straight out of the horse's mouth? Huge.
But, that was just the tip of the iceberg! Over the last few weeks, there have been even more updates to shake up the social media space: including, the Instagram story feature we've been waiting on FOREVER!
Read on for the latest news that needs to be on your radar.
Instagram is testing stories links without 10,000 followers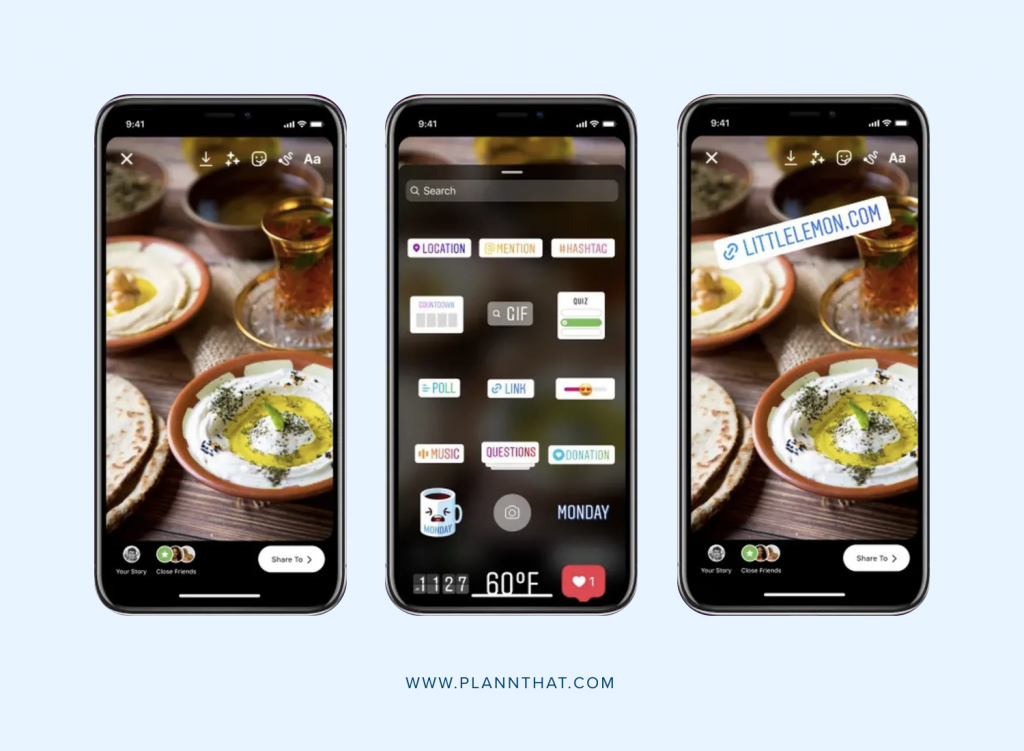 We're a little bit excited about this one — and by that, we mean a lot excited. Previously, if you wanted to link to an external website from your Instagram, you would need to wait to unlock the swipe-up feature (which requires 10,000 followers) or direct your followers to the link in bio. Sure, there was that IGTV workaround, but let's face it — it's not quite the same as being able to just pop a link in your stories.
BUT, it seems like all this might be about to change. Instagram is currently rolling out a new way to link on stories that don't require you to hit that 10K threshold. Rather than adding a 'swipe up', the new feature is a link sticker you add to your stories. You can add a link to your website, podcast, YouTube or whatever you like, and your followers will be able to tap to check it out. You can do this in create mode, or add it on the top of images and videos.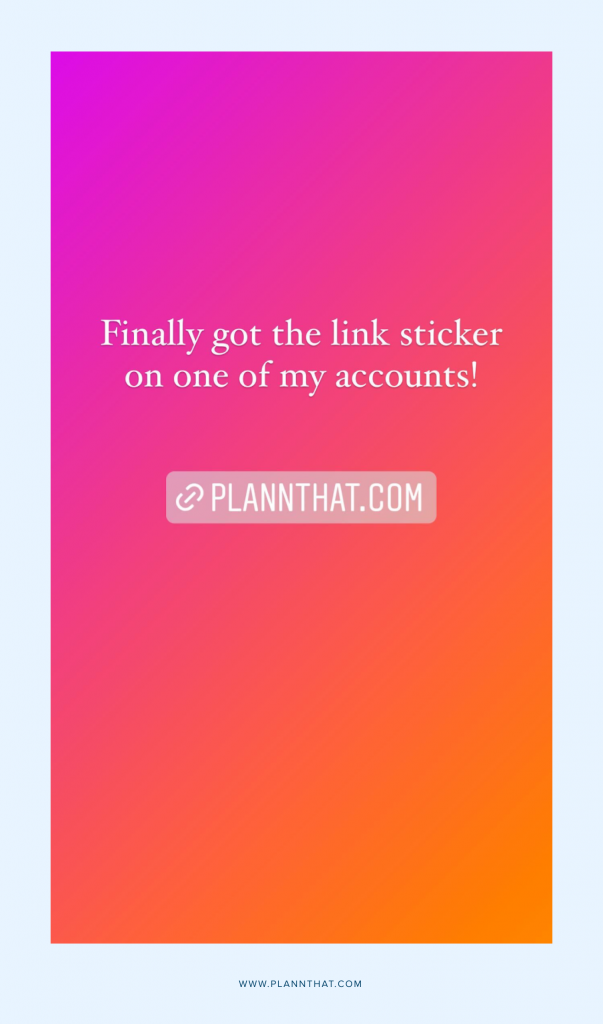 Currently, Instagram has rolled out this feature to a small group of users, mainly in the US. But, if it's widely embraced (as we suspect it will be!) it looks like this sticker might replace the swipe-up button.
….and, a reshare sticker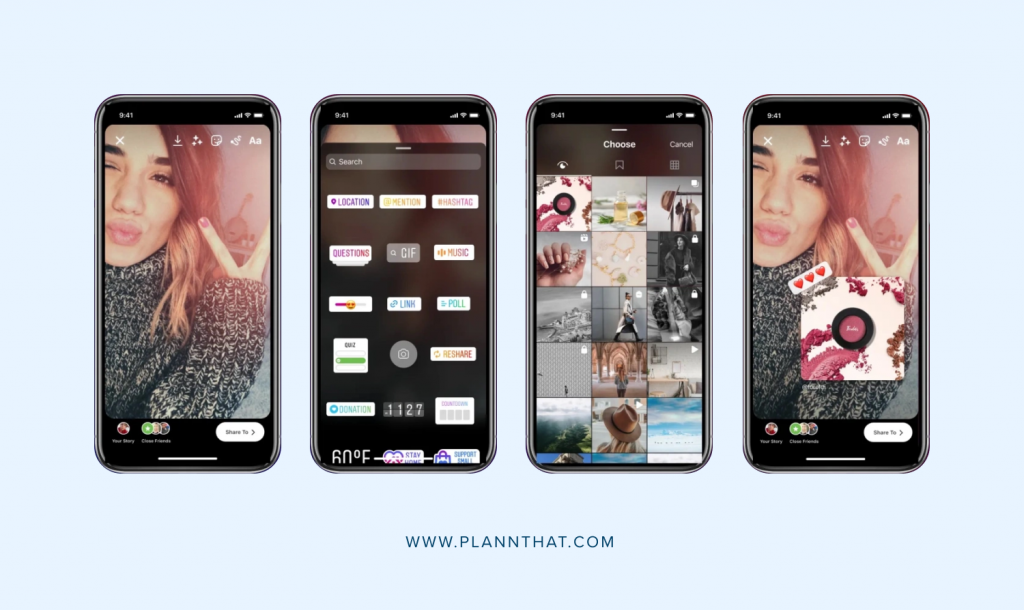 Speaking of Instagram story stickers…. You may remember a while back, there were rumbles about the platform removing the ability to reshare other people's content on stories.
But, it seems the platform may now be experimenting with a different approach. They're currently testing a new 'reshare' sticker on stories, which would allow users to reshare content they've viewed recently. This option would show posts and Reels viewed in the last hour, as well as posts recently created by you.
So, what's the thought process behind the new feature? Well, according to an Instagram spokesperson: "We know that people sometimes find reshared content less engaging, personal and fun," an Instagram spokesperson said of the test. "We hope that with this new test experience, people are encouraged to be more intentional and deliberate when sharing things that matter to them."
As long as we get to keep the handy reshare feature in some form or another, we're happy!
Facebook is testing new group and monetization features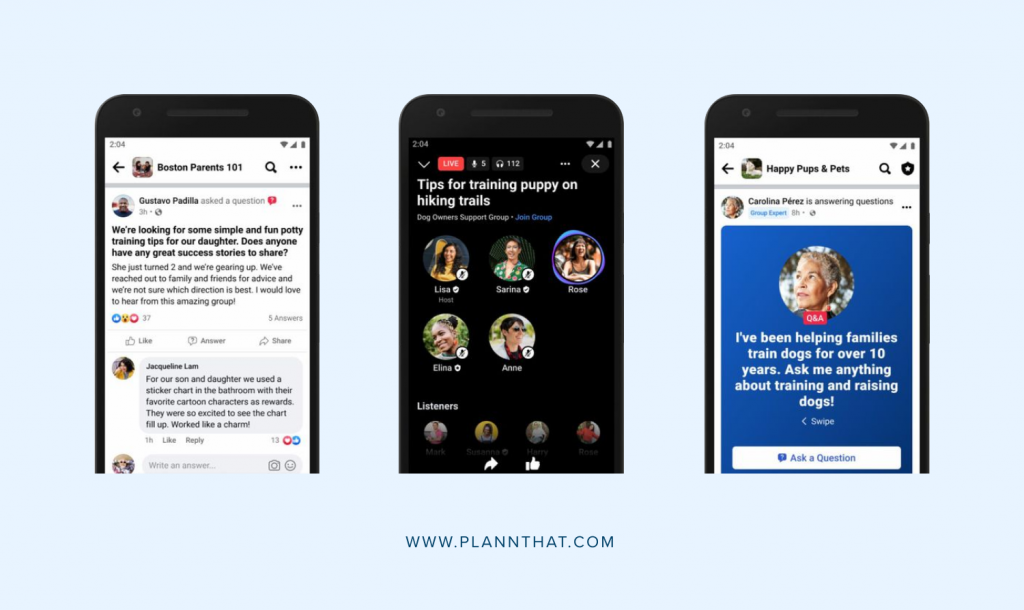 If you've been on Facebook lately, you've likely noticed some changes in Facebook groups — such as where they're located on your feed. And, it seems like the changes are just going to keep on comin.'
The platform is currently testing the ability to designate people as 'experts' in user Facebook groups. Unlike the badges you can currently be assigned in groups (such as, 'conversation starter and visual storyteller) this one isn't automatically decided based on activity — the group owner designates them.
"Admins now have the ability to select specific members in their communities who stand out, empowering them to play a more meaningful role," Facebook executive Maria Smith wrote in a blog post. "Admins can collaborate with group experts to host Q&As, share perspectives on a topic and respond to questions," she added.
Once nominated, users have the opportunity to accept or decline their expert status. Currently, Facebook is just testing the thought leadership feature. But, if it all pans out, it could be an interesting feature that helps industry experts stand out, and raises the standard of contributions in groups. But, it does raise concerns about whether it could heighten conspiracy theories if the feature gets in the wrong hands.
Meanwhile, groups aren't the only thing Facebook is investing in right now. Word is, they're about to open their wallets to creators — big time. By the end of 2022, Facebook is set to spend $1.3 billion on social media creators, encouraging them to create more content.
The new monetization options will allow creators to be financially rewarding for hitting milestones on the platform. On the main Facebook platform, creators and gamers will receive monthly bonuses if they broadcast for a certain number of hours, or earn enough Stars (tips from fans) Meanwhile, Instagram (which is owned by Facebook) has its own suite of financial rewards for influencers coming out, too.
All we can say is, it pays to be a creator right now!
Twitter is retiring Fleets… but has an exciting new feature
In news that's unlikely to shock anyone, Twitter has announced that they are retiring their 'Fleets' feature. In case you need a reminder, this was the platform's answer to stories, in the form of disappearing Tweets. While the feature had been around for less than a year, the company announced (in a refreshingly honest statement) that they just hadn't taken off as they'd hoped.
"We built Fleets as a lower-pressure, ephemeral way for people to share their fleeting thoughts. We hoped Fleets would help more people feel comfortable joining the conversation on Twitter. But, in the time since we introduced Fleets to everyone, we haven't seen an increase in the number of new people joining the conversation with Fleets like we hoped" a Twitter spokesperson said in a statement.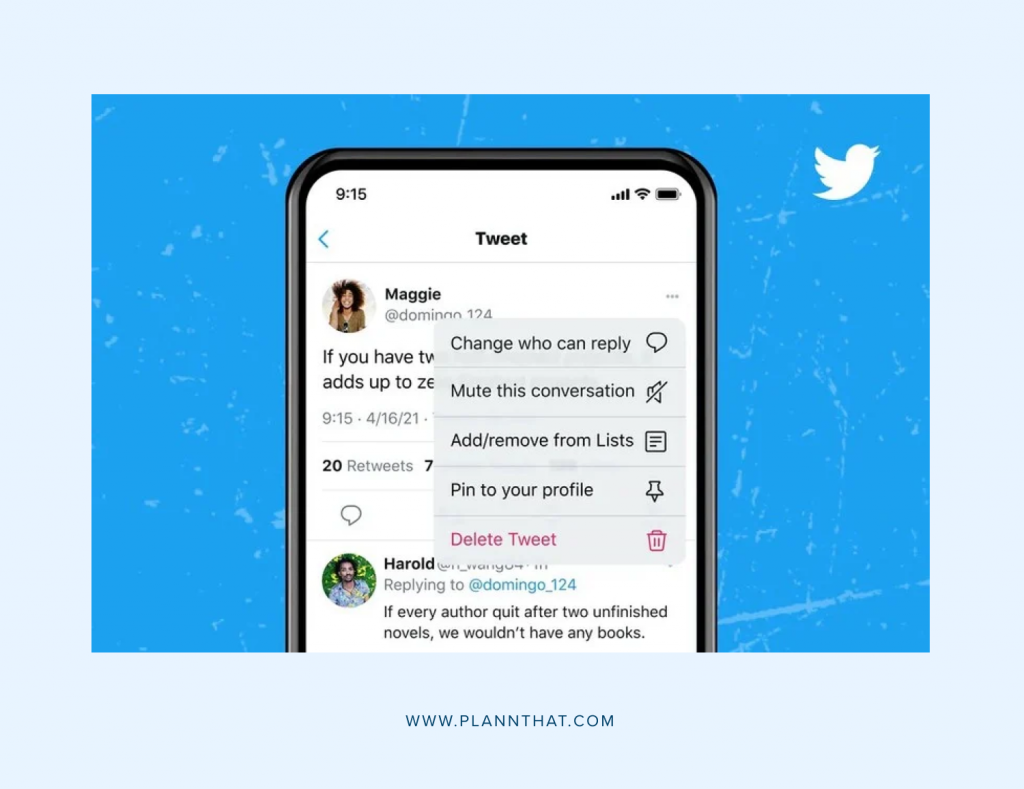 But, while Fleets wasn't quite the home run they'd expected, never fear! The company confirmed in a Tweet that they're working on some cool, new stuff. Among that list is a new button that allows you to choose who can respond to your Tweet — even after you've already posted it.
Last year, the platform rolled out the ability to control who can respond to your Tweet — but you had to make that decision before Tweeting. But now, with this new tool, you'll be able to do so after the fact (for example, when things are getting a little too spicy on your Tweet)
After you post, tap on the dots menu in the top-right corner of a tweet and select 'Change who can reply' from the dropdown menu. A 'Who can reply?' Card will pop, from which you can choose one of the three same options that are available when composing a tweet: 'Everyone,' 'People you follow,' and 'Only people you mention.'
While it's a simple update, it's one that's set to give users more control over their content, and reduce harassment on the platform. It's currently rolling out worldwide to both iOs and Android users worldwide.
Instagram is rolling out ManyChat integration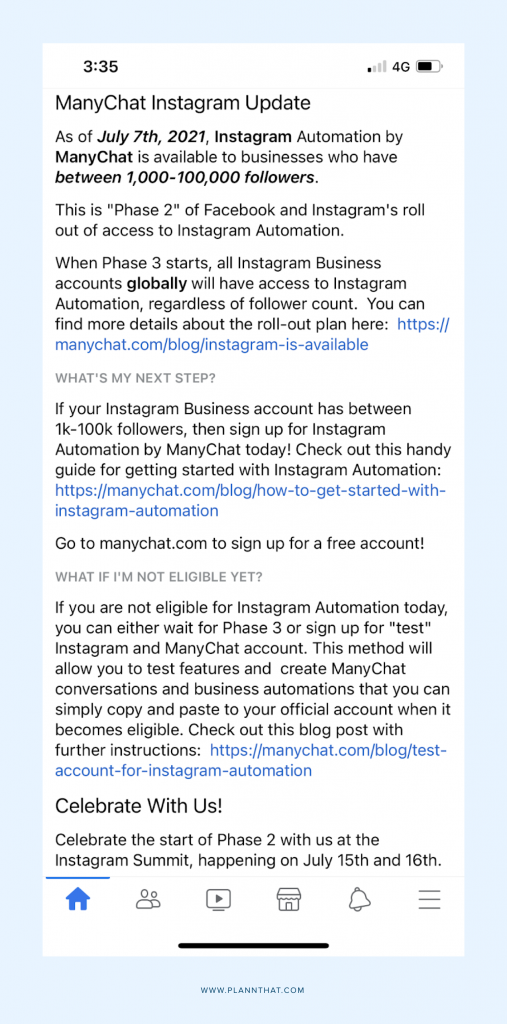 Here's another Instagram feature that has been in the works forever, but is finally seeing the light of day. The platform teased last year that they would be integrating with chatbot platform ManyChat to allows businesses to automate their marketing and customer service processes. Now, in a statement, they've announced that they are in phase 2 of the rollout.
This means that as of July, Instagram users with between 1000-100,000 followers will be able to start using the ManyChat integration. That means that if you're already past that threshold, you can sign up for Instagram Automation by ManyChat today! You can see a guide here. And, if you're not quite there yet? You can either wait for phase 3 — or, if you're super keen, sign up for a 'test' account.
The world of social moves fast but *brushes shoulder*, we're faster. Make sure you're on our mailing list so you never miss a new feature or update.
Ready to revolutionize your Instagram Stories game?
Struggling with showing up consistently on Instagram Stories?
With our groundbreaking Auto Post feature for Instagram Stories, you can effortlessly schedule and publish captivating content, engage with your audience in real time, and keep your brand top of mind.
Take your Instagram presence to the next level with Plann and unlock the full potential of your Stories.
Go on, and redeem your 7-day free trial of Plann Plus. If you don't like it, keep using Plann for free!