"Reels, TikTok, Reels, TikTok…" It feels like those are the words we're repeating more than any others right now. And, it's not just because they're fun to say and easy to make puns about (although, that's a nice bonus!) Instagram and TikTok battling it out to become the top short-form video platform… and a side effect of that is, they're launching exciting new features all the time! It's a race to the top, and we're reaping the benefits.
That said, all of these new social media updates can feel kind of overwhelming if you don't know what to do with them. That's why we regularly do these social updates, so you get only the most relevant information and can throw away the rest! From the new Instagram reshare stickers to loads of new TikTok features, here's what needs to be on your radar.
Instagram is testing a 'reshare' sticker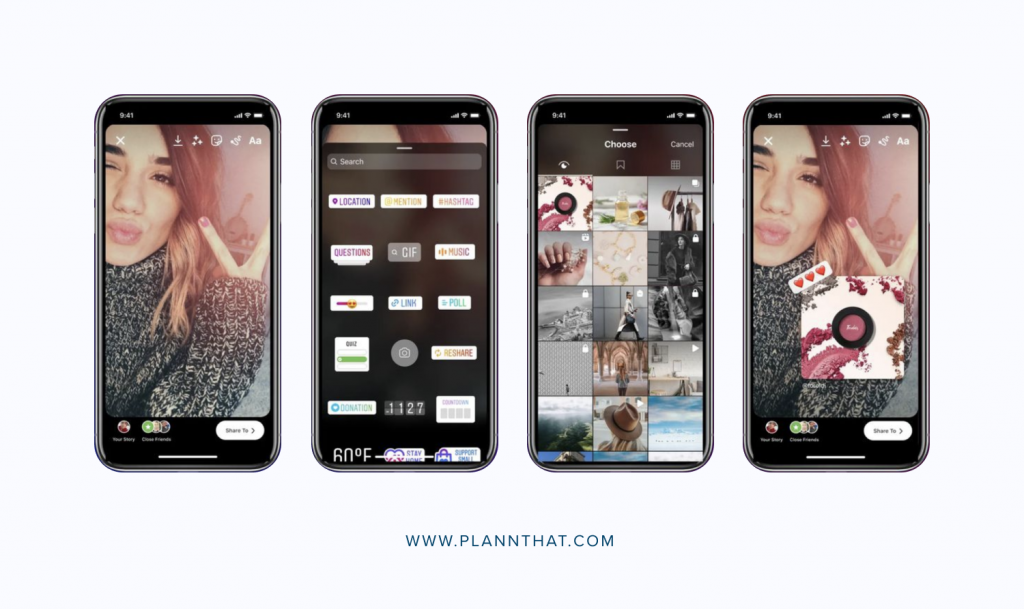 Every now and again, a new Instagram update comes along that stirs up a social media storm of controversy and debate (hiding like counts, anyone?)
Something tells us the 'Reshare' sticker is going to be one of those updates!
Instagram has retired the 'reshare posts to stories' feature for some users (the little airplane icon that allowed you to reshare your own and other's grid posts to your stories) This has been replaced with a 'reshare' sticker that allows you to choose from recently viewed and saved posts, as well as your grid posts…and well, let's just say, not everyone is happy about it.
Some early recipients of this feature are arguing that this feature is clunkier than the original reshare icon, which has lead to a petition to stop this from being rolled out to all users!
Who has the Instagram reshare sticker?
Right now, it seems that Instagram is testing the Reshare sticker with a small group of users (as they usually do) You'll know if you're part of the lucky (or, not so lucky!) group if you no longer can see the little airplane icon to share your post to stories.
How does the Instagram reshare sticker work?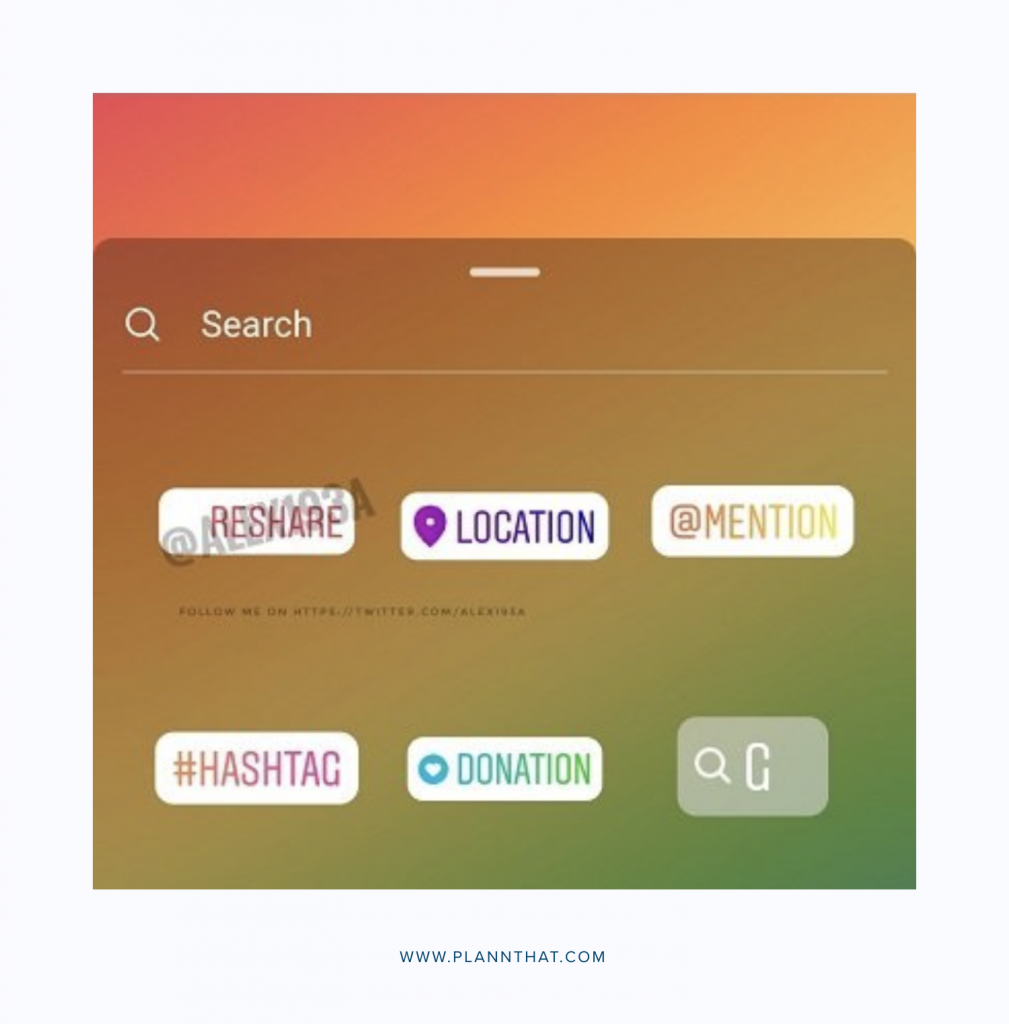 Part of the exclusive 'no more airplane icon' club? Here's how to use the new Reshare sticker to share grid posts to stories.
1. Click the bookmark icon next to any grid post to save it
2. After saving, go to your stories and enter 'create' mode
3. Press the 'smiley' icon at the top of the screen, then select the 'reshare' button
4. This will pull up a screen with 3 options: Recently seen posts, saved posts, and your grid posts
Click on saved posts, and select the post you want to share to stories. (Note: you will need to select which slide you want to share, if it's a carousel post)
5. Then, send it to your stories like you normally would!
There's no word yet on when everyone will have this (and, if angry Instagram users have their say, it might not make it into the product) But, keep an eye out on our Instagram or updates blogs for any future news.
TikTok is testing 5-minute videos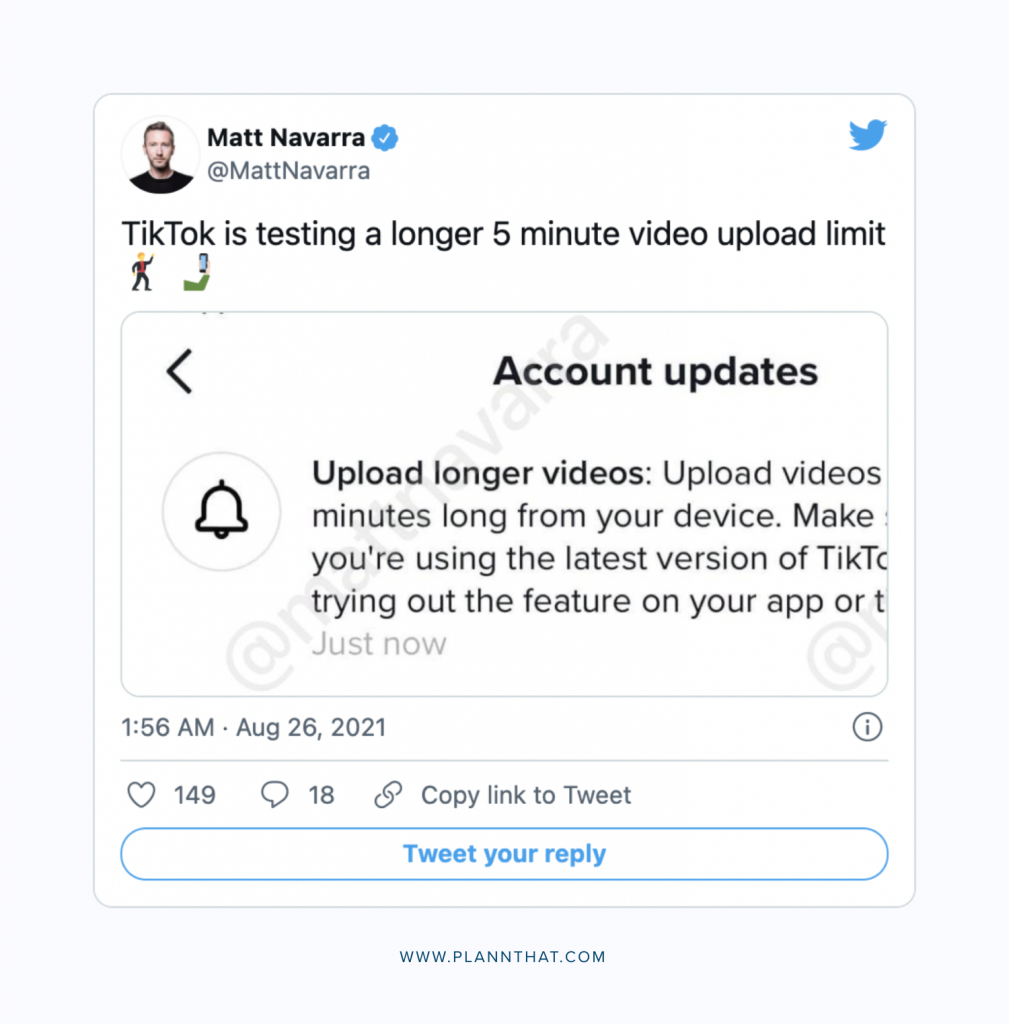 While TikTok was the OG in the short-form video game, it seems they may be expanding their horizons! According to social media commentator Matt Navarra, the platform is currently testing videos up to 5 minutes long. The eagle-eyed tech expert Tweeted an account update he spotted while (presumably) snooping around in the ethers of TikTok's code.
It comes just a few months after TikTok rolled out 3-minute videos, after previously only supporting 15 and 60-second videos. While TikTok is yet to release a statement, it presents an opportunity for more in-depth storytelling on the platform if it's true.
TikTok has added in-app shopping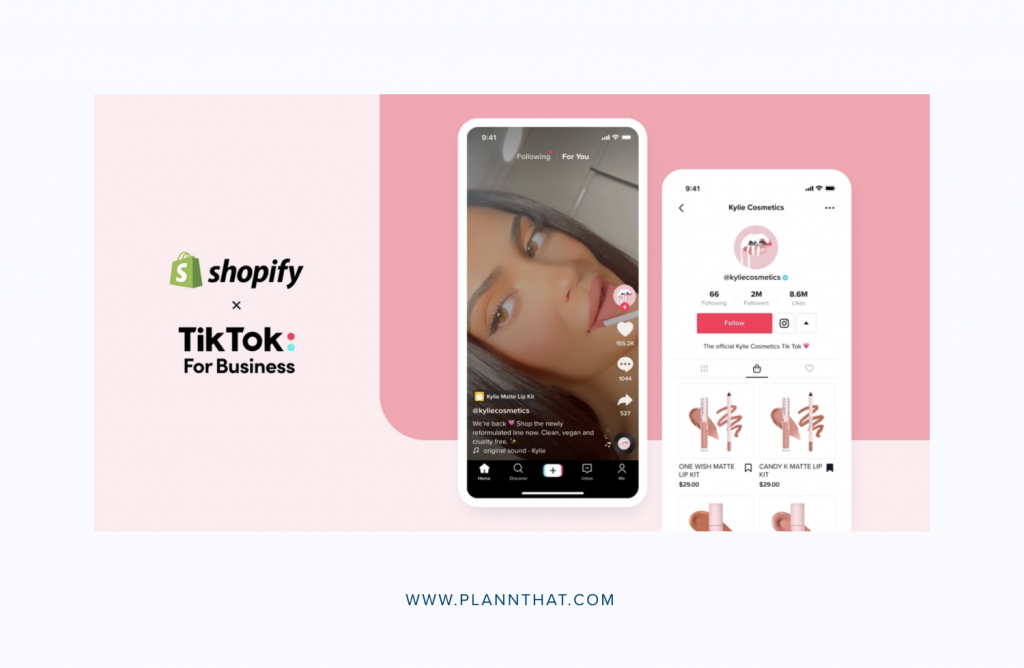 Longer videos aren't the only thing TikTok has been working on recently. They're also moving deeper into the eCommerce world! Back in October, the platform announced they were partnering with Shopify to allow merchants create, run and optimize their TikTok marketing campaigns directly from the Shopify dashboard.
Now, they're expanding the partnership, starting with a pilot test of TikTok shopping among a handful of Shopify businesses in the US, UK, and Canada. Much like Instagram shopping, the new update will allow merchants to create mini storefronts on their TikTok profile by adding a 'Shopping' tab to their TikTok profiles and syncing their product catalog. Users will also be able to tag their products in videos.
One surprising (or, unsurprising, depending on how you look at it!) early adopter of TikTok shopping is none other than Kylie Jenner! The beauty mogul is set to be one of the first TikTok users to have an online storefront for her brand, Kylie Cosmetics.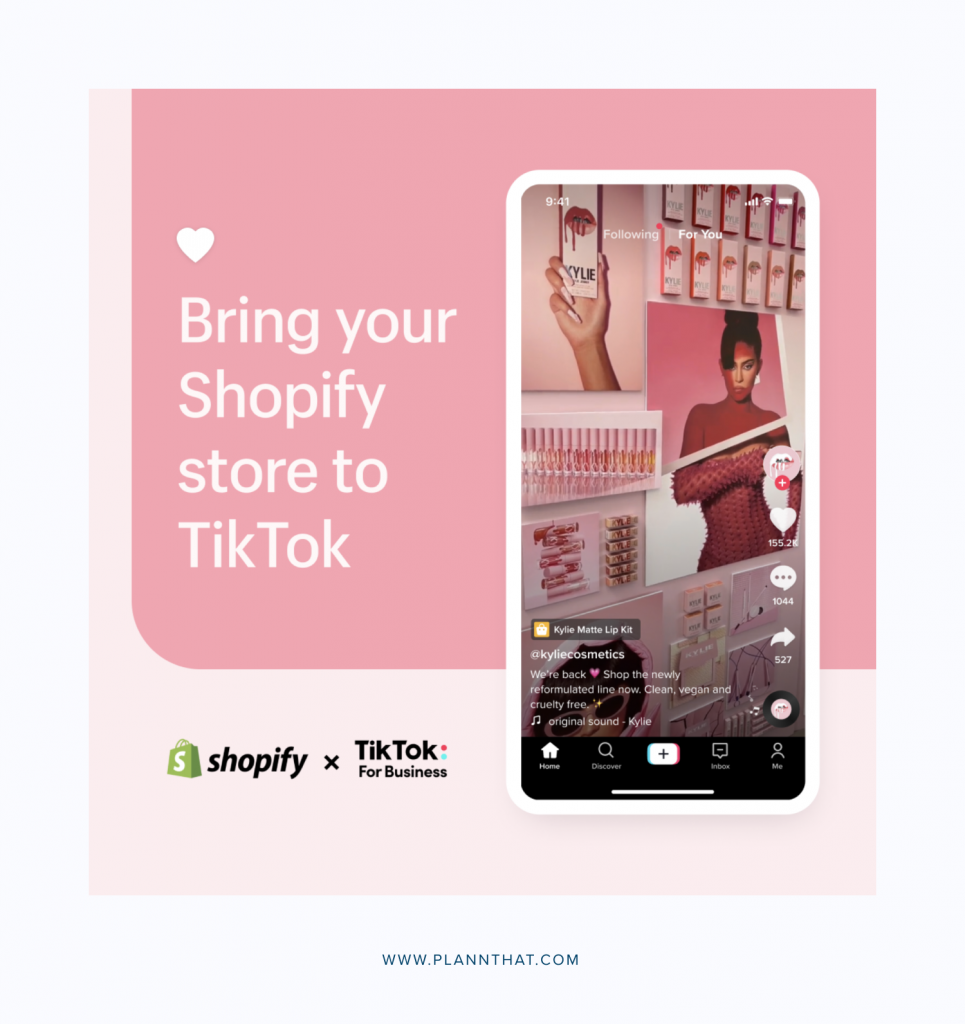 "Creators are paving the way for a new kind of entrepreneurship where content, community, and commerce are key," said Harley Finkelstein, president of Shopify, in a statement.
"By enabling new in-app shopping experiences and product discovery on TikTok for the first time, Shopify is powering the creator economy on one of the fastest-growing social and entertainment platforms in the world. We are excited to help this next generation of entrepreneurs connect with their audiences in more ways—and with TikTok as a visionary partner."
We're on board!
Instagram is testing Fan Clubs and Collectibles
It's safe to say that Instagram has already got its eCommerce offerings down pat. But, not to be outdone by their competitor, they're currently testing not one but TWO more monetization features for their users.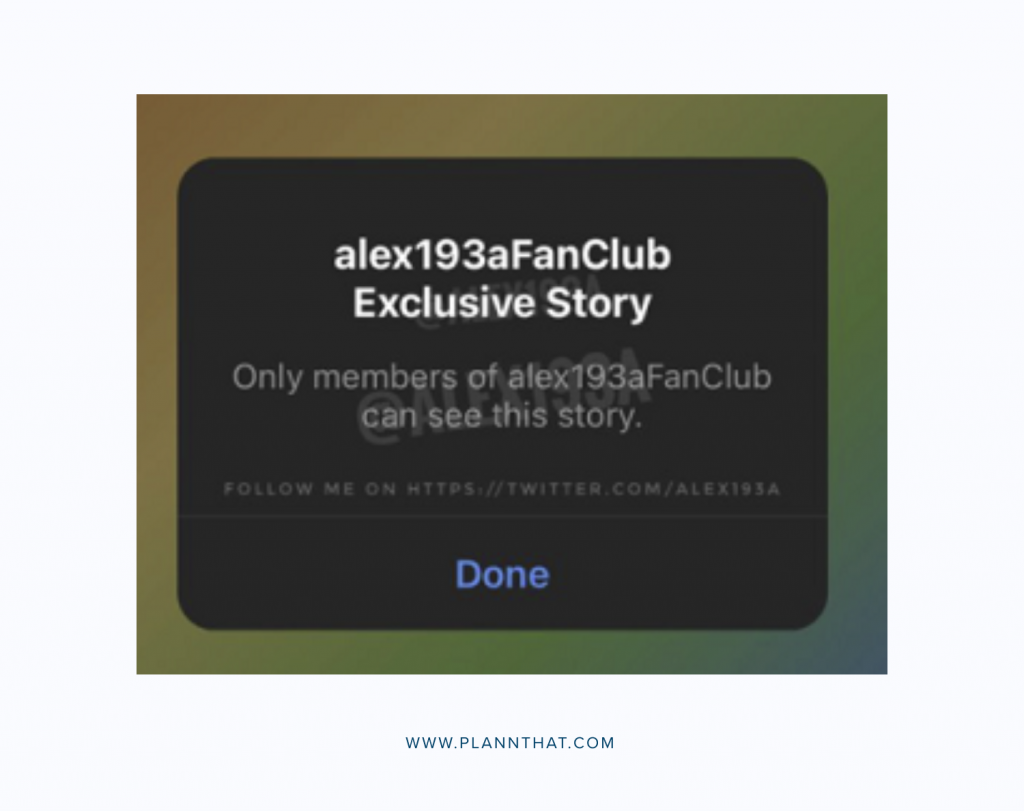 The first is Fan Clubs, which would allow users to post exclusive Stories content that can only be viewed by members of a fan club or approved group. Presumably, creators would be able to charge for these fan club memberships, in a similar model to OnlyFans or Twitter's subscriptions feature.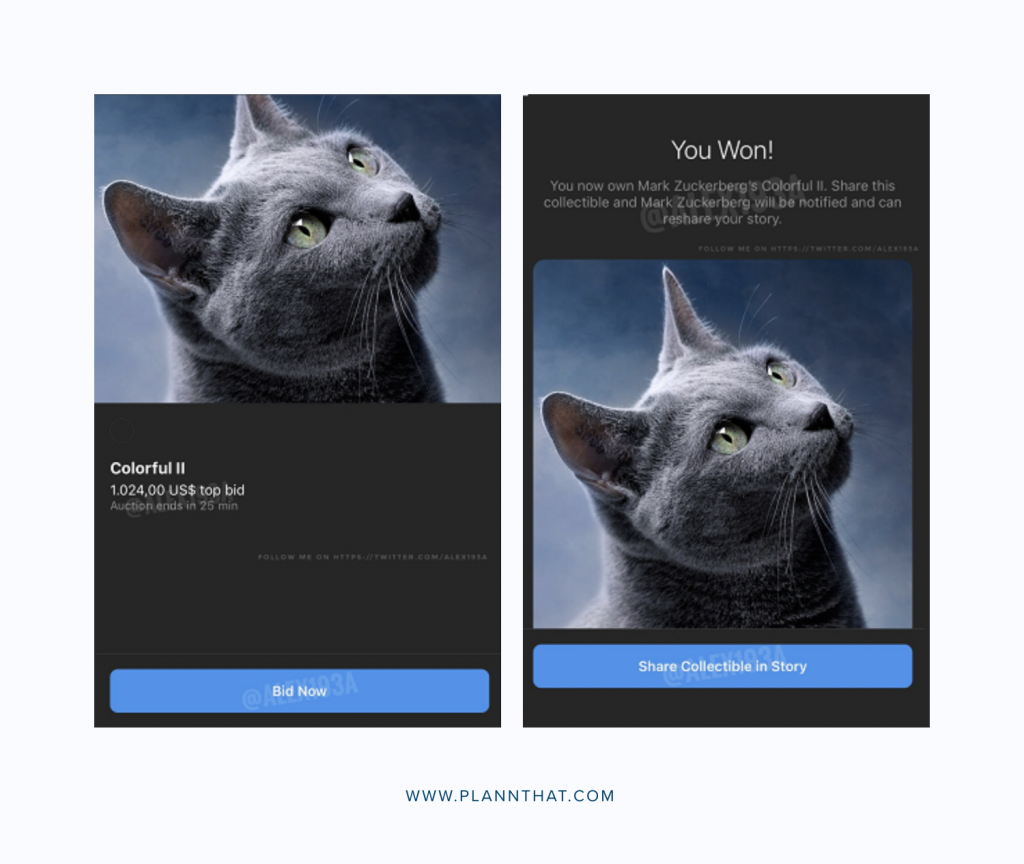 App researcher Alessandro Paluzzi also spotted another monetization feature in the works that seems to tap into the NFT (non-fungible token) craze. It appears this new 'Collectibles' feature would allow users to bid on digital assets, such as images and memes. The main objective of this feature seems to give digital and visual art creators another avenue to monetize their work.
While we don't have too much info to go off about these new features as of yet, all we can say is — what a time to be alive!
Goodbye, LinkedIn Stories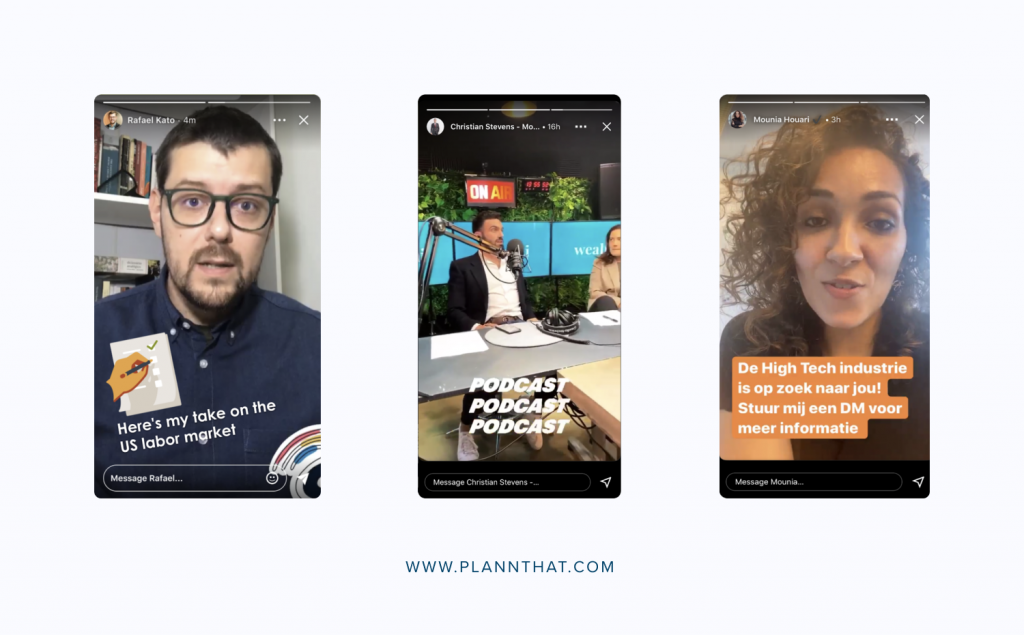 Barely a month after Twitter retired Fleets, it's time to say goodbye to yet another short-lived Stories feature. LinkedIn announced recently that they would be replacing their Stories tool by the end of September. The Stories were first launched in February 2020, but are being removed for one simple reason: LinkedIn users just don't want disappearing content.
"In developing Stories, we assumed people wouldn't want informal videos attached to their profile, and that ephemerality would reduce barriers that people feel about posting," Liz Li, LinkedIn's senior director of product, said in a statement. "Turns out, you want to create lasting videos that tell your professional story in a more personal way and that showcase both your personality and expertise."
But, don't worry — this isn't the end of LinkedIn's evolution into a holistic multimedia platform, with Li adding: " We want to embrace mixed media and creative tools of Stories in a consistent way across our platform, while working to integrate it more tightly with your professional identity." Li also opened the floor to LinkedIn users to share their thoughts, so it will be interesting to see what they come up with.
With Stories failing to take off across various platforms, it will be interesting to see the fate of TikTok's forthcoming Stories feature!
From exciting new social media updates to the features that are no longer worth your time, make sure you're on our list so you never miss a thing.