We think we can all agree that 2020 has been a huuuuuge year, filled with plenty of twists and turns, changes and pivots. The social media world is no exception! From OG platforms like LinkedIn to newbies like TikTok, we've seen all the major players adapt and evolve to meet the changing needs of the time. And, the year ain't over yet!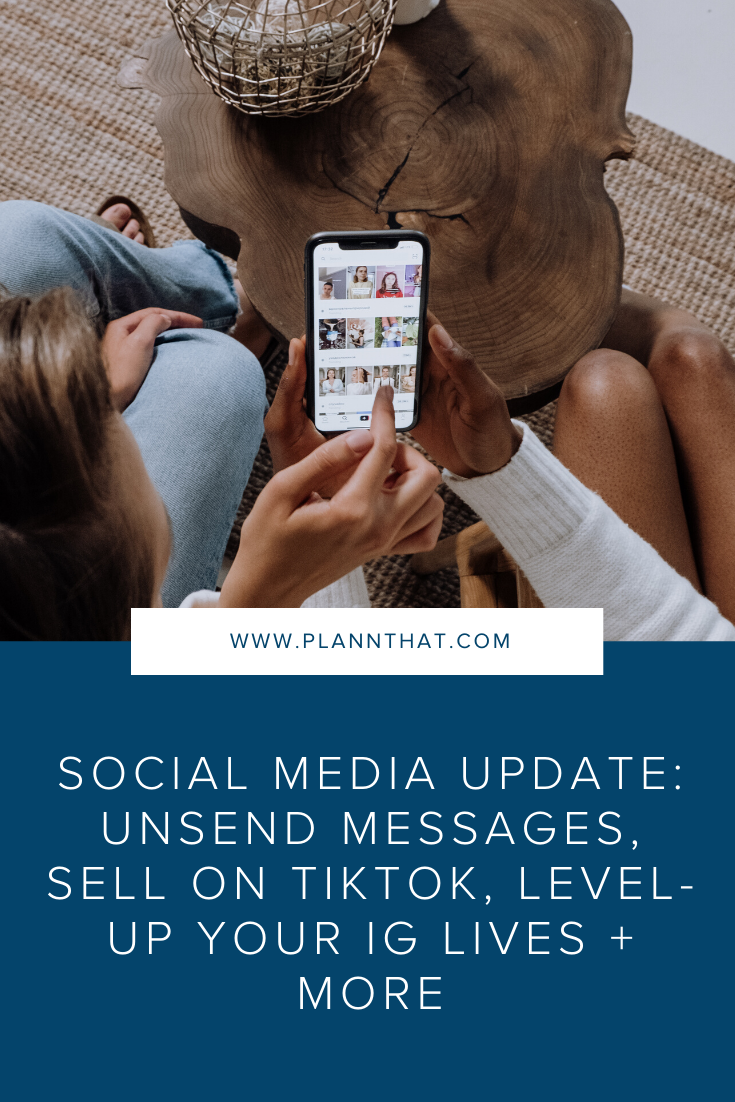 The tech wizards at our fave social media apps have recently rolled out some fun and helpful new updates — with plenty more in the works. From surprising partnerships to features to uplevel your content creation, here's what needs to be on your radar.
1. New updates to Instagram live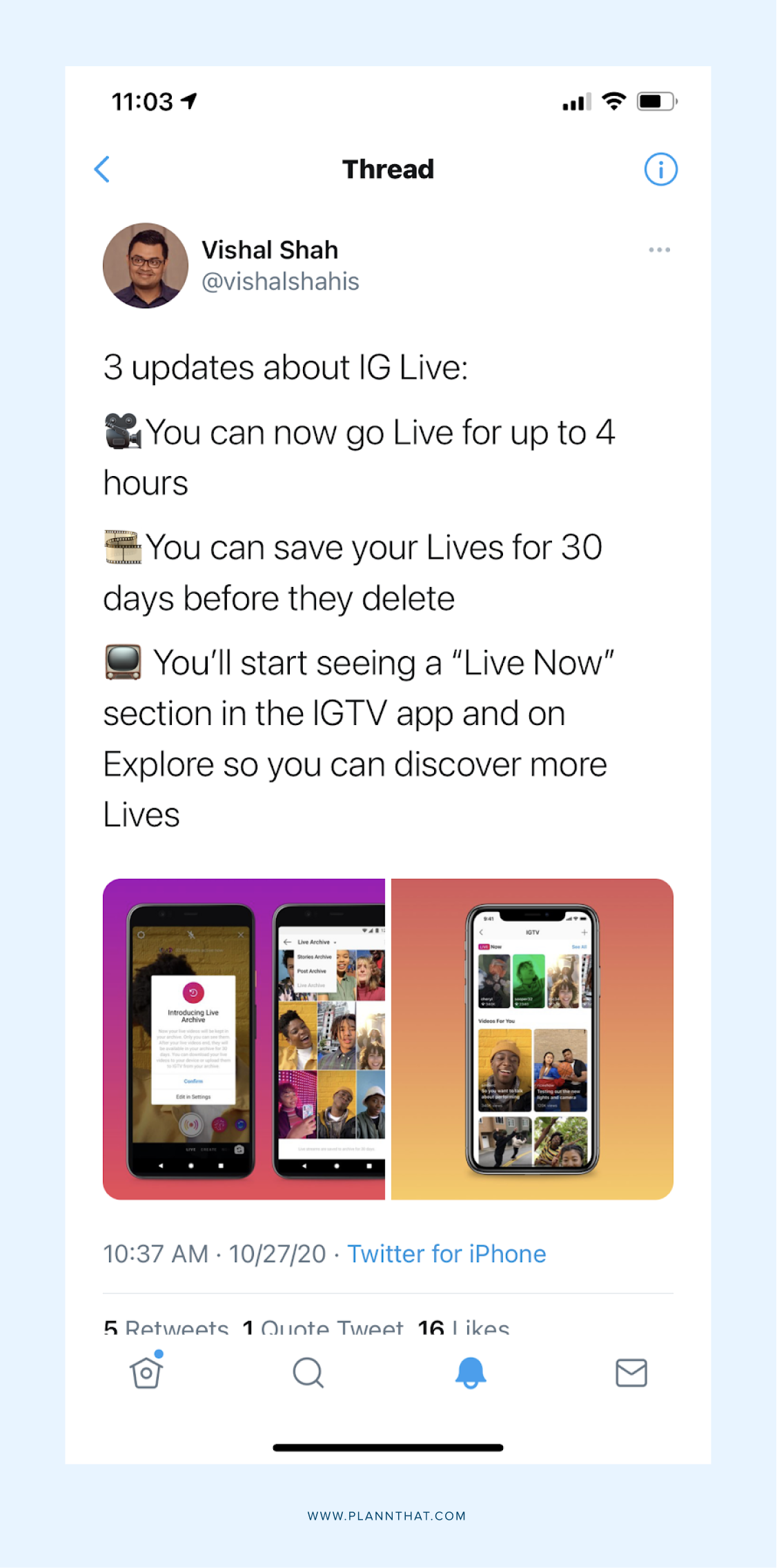 There's a lot of love about Instagram Lives. They're one of the best ways to build a deeper connection with your audience — and on the flipside as a viewer, they're often packed with valuable, free info! But, if we have one qualm about Lives, it's that they're often quite…fleeting. Unless you happen to remember to download them, they seem to disappear from your feed almost as quickly as you make them!
But, thanks to some upcoming updates, it looks like Instagram is about to massively improve its Live functionality and make them a more permanent part of our feeds.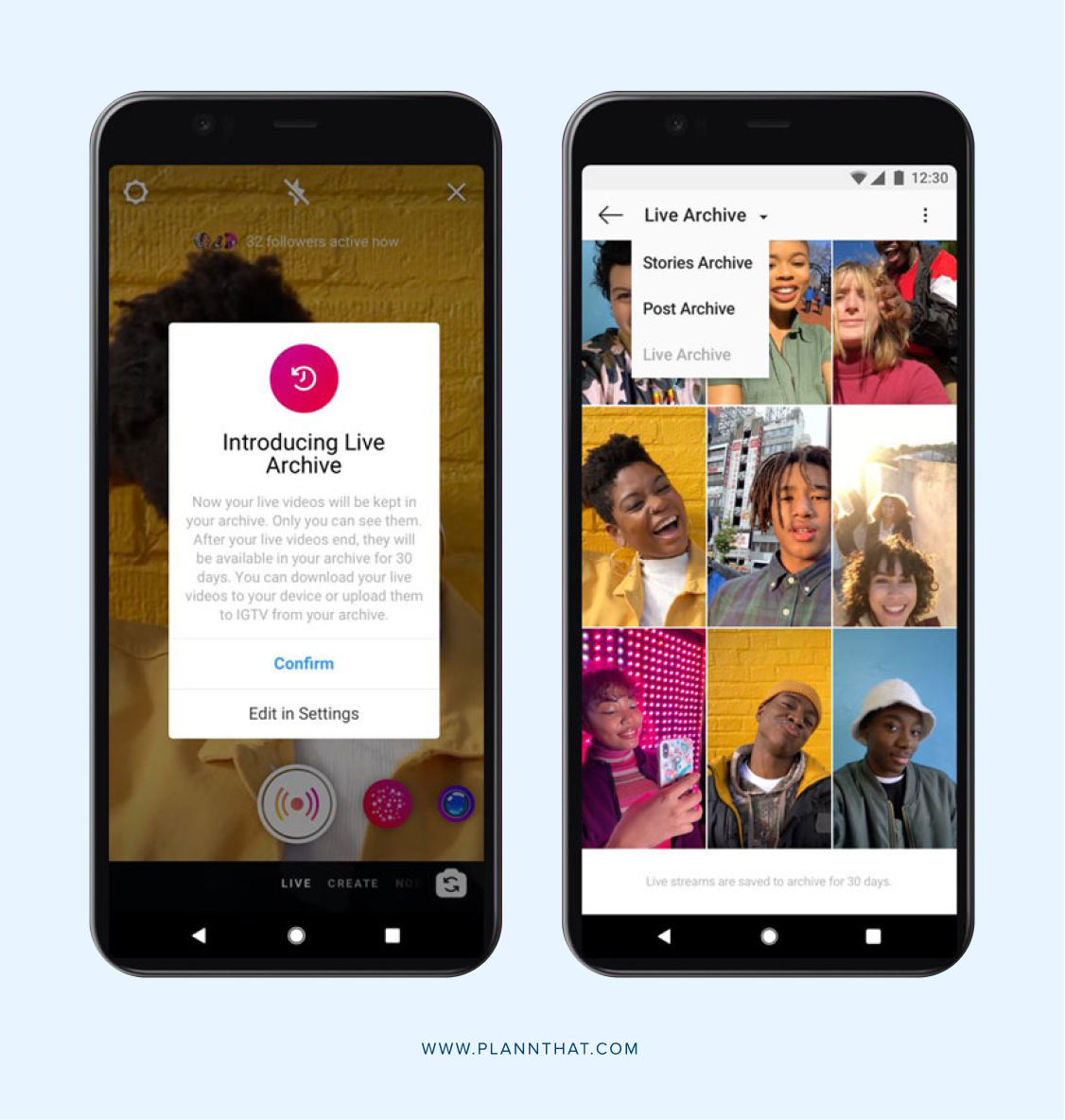 With their new 'Live Archives' features, you can now save your lives for up to 30 days after you go live. That means you no longer have to instantly upload them to IGTV or save to your camera reel if you want to access or use them later.
Instagram has also announced plans to add Lives to IGTV's 'Live Now' feature — giving creators more opportunities for their content to get discovered.
This comes off the back of the new creators badges Instagram recently added to Lives. Instagram users will now see three options to purchase a badge during live videos from their favorite creators: badges that cost $0.99, $1.99, or $4.99. These badges not only allow them to show love, but also unlock features like a heart badge or being added to the creator's list of badge holders.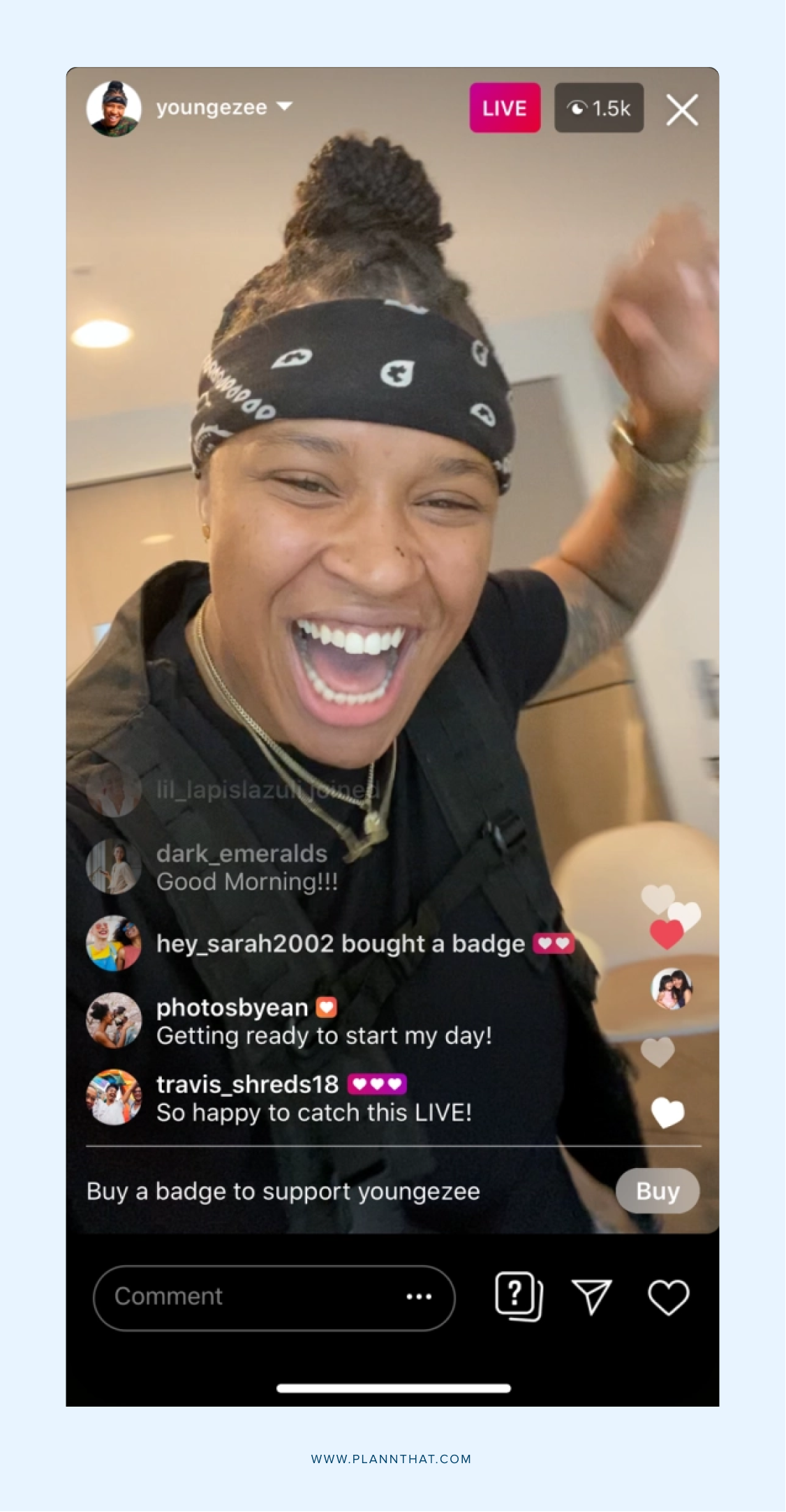 Lastly, Instagram is working on increasing livestreaming video length from 60 minutes to 4 hours. This would mirror the much longer time length of Facebook Lives, and make it much easier for businesses to broadcast their events lives on Instagram.
The updates are yet another sign that the live-streaming format is still hot-to-trot for Instagram, especially with folks continuing to work and run their businesses from home.
2. You can now unsend messages on Facebook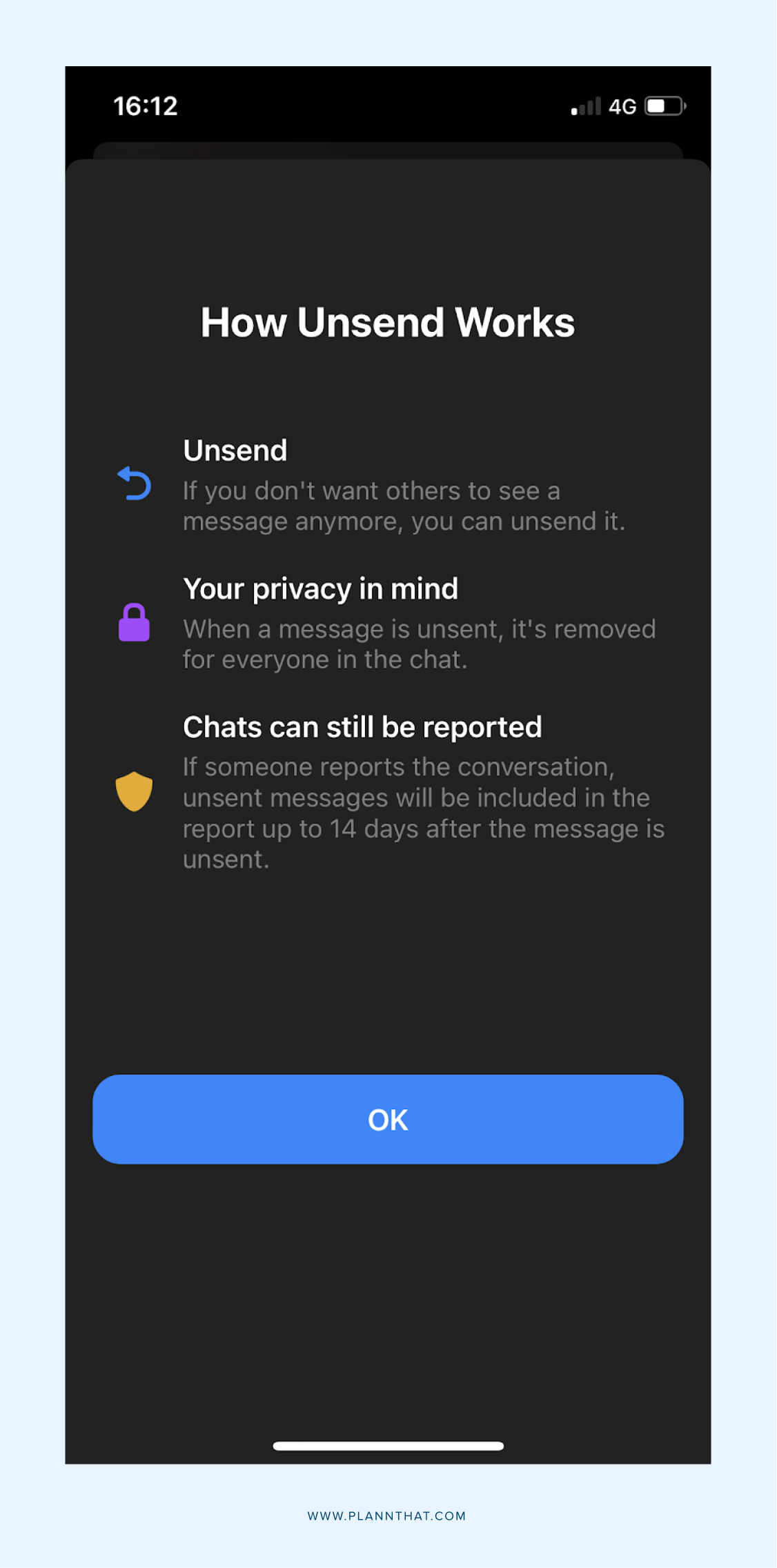 Hands up if you've ever sent an angry message to someone in the heat of the moment, then frantically Googled 'how to unsend on messenger' before they got a chance to see it. Or, perhaps you've sent a message to the wrong person — worse yet, to the person that the message was about. Yikes!
Previously, your options in Facebook Messenger were limited to deleting the message in your own chat window but not your recipients….which was about as helpful a solution as sending ice to an eskimo!
But, not anymore! In excellent news for our anxiety levels, Messenger has finally rolled out an 'unsend' button. Previously, Facebook tested the ability to 'unsend' a message for up to 10 minutes after the message was sent. But now, you can retract your message for anyone in a chat, no matter when you sent it. To do this, just tap the message, press 'remove' and click 'unsend.'
Facebook will send a notification to the recipient that a message has been deleted. But hey, it's still better than the alternative! The message will also still be visible to Facebook if the conversation is reported — a measure they've likely taken as part of their ongoing crusade against online bullying.
3. Instagram is testing a new layout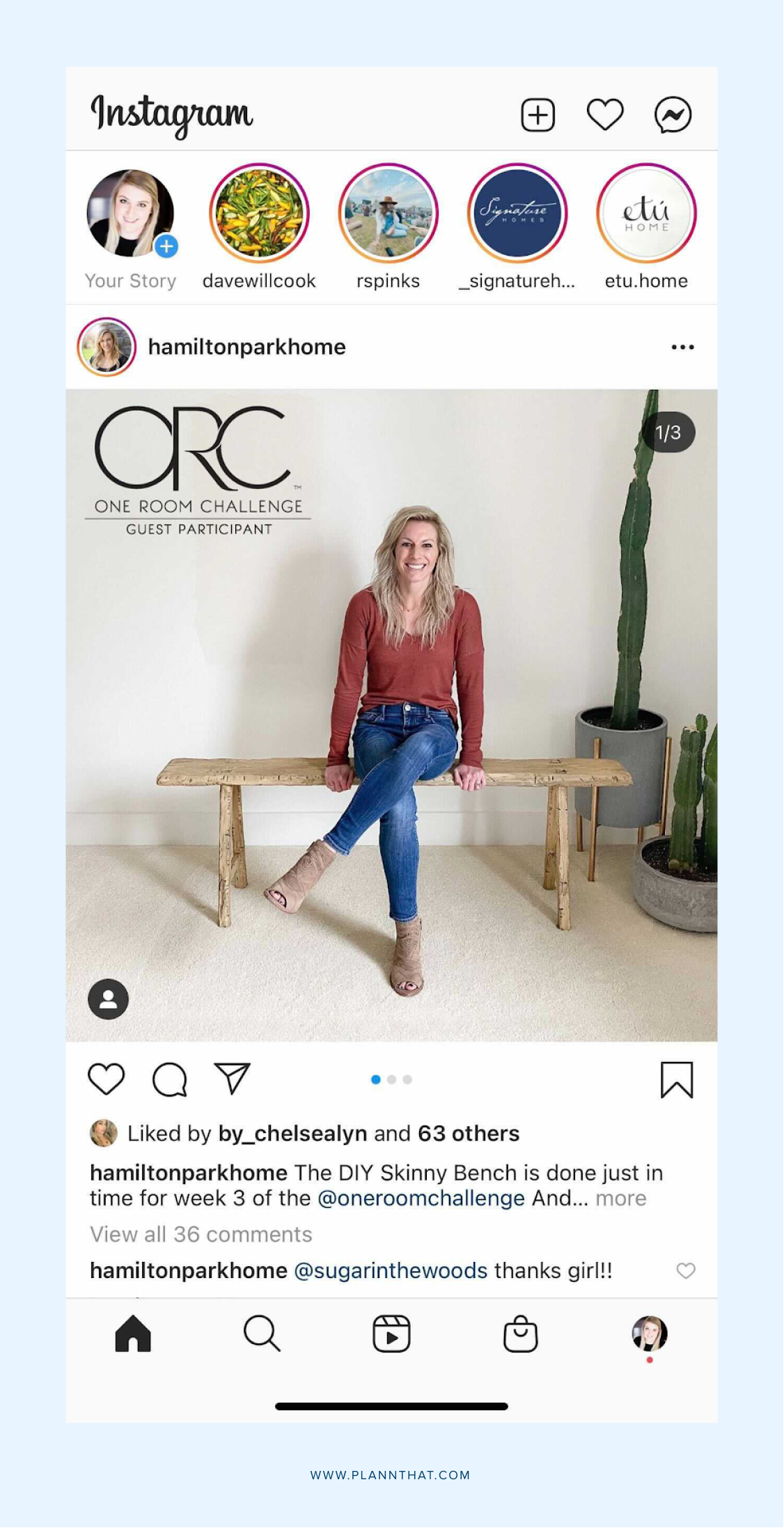 Have you logged into your Instagram account recently and felt totally lost? Like, "Where the heck did the 'create new post' button go? Where are my DMsI!?" Don't worry, you haven't stumbled upon another dimension! Instagram is testing multiple new layouts to make sure their final version is one we can easily move forward with.
All of the variations we've seen have lots of real estate for Reels and Shopping features, giving them centre stage to "give extra love to creators, videos and shopping". We don't know when exactly we'll see this hit all accounts, but it looks like change is coming soon!
4. TikTok has partnered with Shopify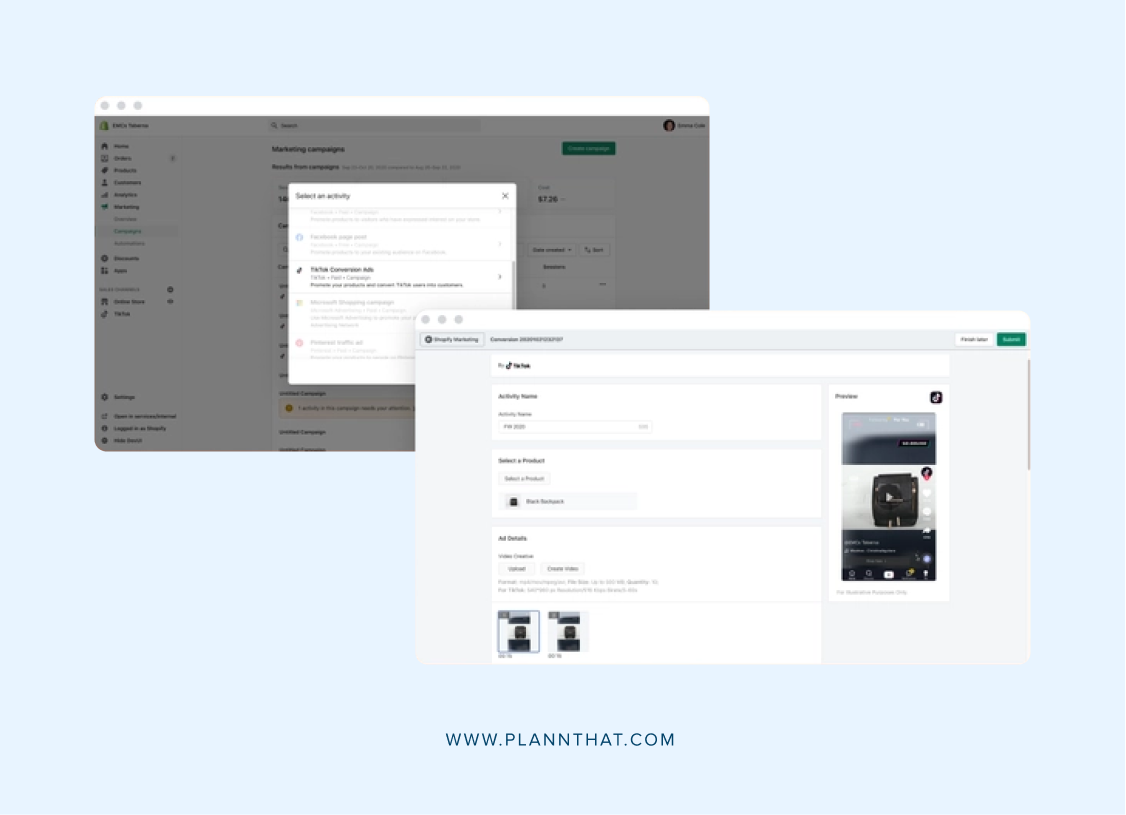 ManyChat and Instagram. Facebook and WhatsApp….we've seen all sorts of unexpected partnerships in the tech world recently! And here's another one we didn't see coming, but that totally makes sense now that we think about it! Marking its entry into the world of eCommerce, video giant TikTok has just announced its new partnership with Shopify.
The integration will allow Shopify merchants to create a 'TikTok for Business account' and deploy in-feed shoppable video ads directly within Spotify
"We are delighted to partner with Shopify and provide a channel for their merchants to reach new audiences and drive sales on TikTok," Blake Chandlee, TikTok's Vice President of Global Business Solutions said in a statement.
"As social commerce proliferates, retailers are recognizing that TikTok's creative and highly engaged community sets it apart from other platforms. We're constantly exploring new and innovative ways to connect brands with our users, and Shopify is the perfect partner to help us grow and expand our commerce capabilities globally."
Translation: businesses on Shopify will be able to get their products in front of a global audience in a place where ads aren't already oversaturated. Smart! We're interested to see how this one plays out.
In other partnership news, TikTok has also just announced a new agreement with Sony Music Entertainment (SME) to make songs from their extensive catalogue of superstars and exciting emerging artists widely available across the TikTok app. TikTok will also partner with Sony Music in promoting artists on the platform. Exciting stuff!
5. Pinterest rolls out new eCommerce features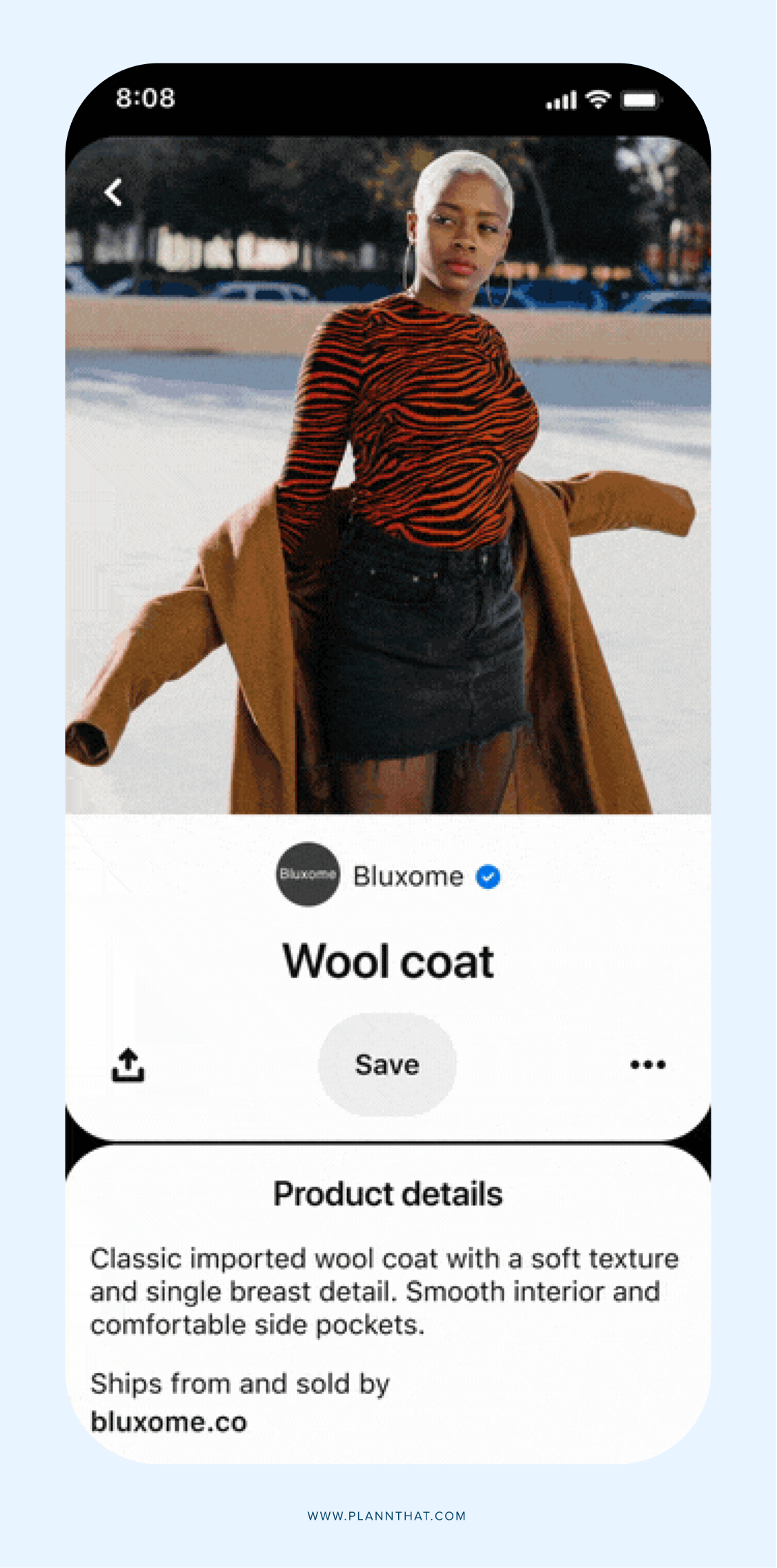 TikTok isn't the only platform jumping on the eCommerce bandwagon! Pinterest has dipped their toe into the water previously with features like their shopping camera, but it seems now they're jumping in headfirst!
In the lead up to the holiday season, they've rolled out a slew of new commerce features. This includes a new storefront you can display on your Pinterest profile. This allows businesses to transform their shop tab into a storefront with featured in-stock products organized by category, featured product groups and personalized recommendations.
When Pinners makes shopping-related searches, these storefronts will now show up. This makes it easier than ever for shoppers to find the perfect solution for their needs (and, for businesses to get more eyes on their products!)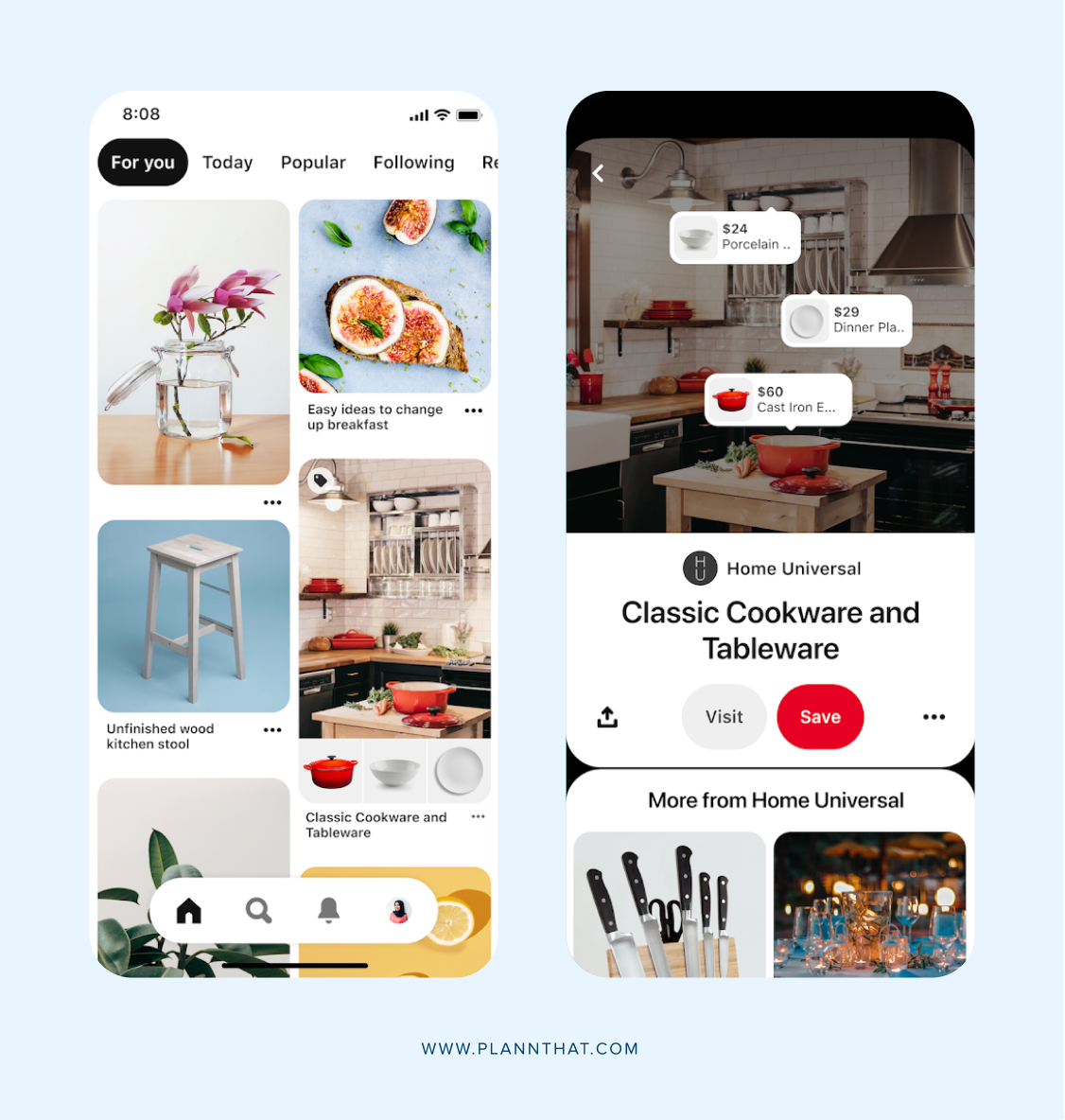 Pinterest is also testing an improved product tagging tool that gives businesses the ability to tag their own scene images with exact products. Basically, this works in a similar way to Instagram shopping, where you can add the tags exactly where you want in the photo so people know which product is which!
Personally, we think these new features are going to be an absolute game changer for driving sales for product-based businesses on Pinterest — in the holiday season, and beyond!
6. LinkedIn has officially launched stories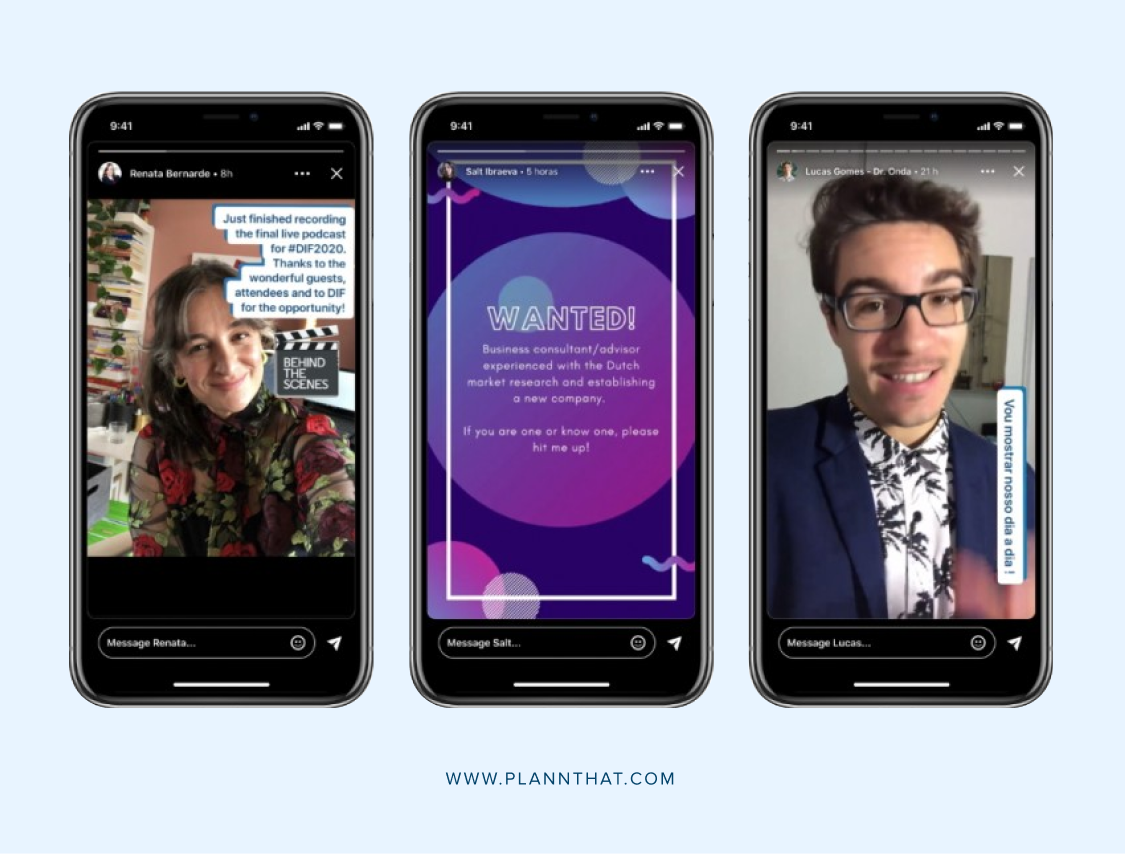 It feels like we've been talking about LinkedIn stories forever (what can we say, we like to be across new trends early!) And now, they're finally here! The platform has just rolled out their Stories feature worldwide, allowing individuals and businesses to share disappearing content on their profiles.
Much like Instagram, the content will only be viewable for 24-hours before disappearing from your profile. You can post photos and videos up to 20 seconds, and overlay text and stickers to bring your stories to life, too.
The new feature offers a way to share more immediate news and updates in a more casual and personal way. To post a LinkedIn story, just head to the stories tab at the top of the screen on mobile, then click 'your story.' You can either use the Stories camera to capture images or videos in real-time, or upload saved content from your mobile device's gallery.
We can't wait to see whether stories take off on LinkedIn (who knows, you might even see it as a content type on Plann soon~)
In the meantime, you can plan and schedule your feed updates and posts for LinkedIn (as well as Facebook and Instagram!) straight from the Plann app. Login to Plann on desktop or mobile to start making some social media magic today!