Earlier this month, global chaos ensued when Facebook and Instagram went down for a full six hours (which is basically the equivalent of six months in technology land!) TikTok and Twitter cheered, productivity soared and social media managers everywhere refreshed their feeds like it was an Olympic sport.
While it was a great reminder of the importance of not putting all your eggs in one social media basket, it's safe to say that the platform is well and truly back with a bang. In the last week alone, they've unveiled a bunch of exciting new updates that are more than enough for us to forgive and forget the whole outage snafu.
From a whole suite of brand new Instagram video features to official new best hashtag guidelines, here are some of the biggest social media updates that should be on your radar.
Instagram is combining IGTV and feed videos into one format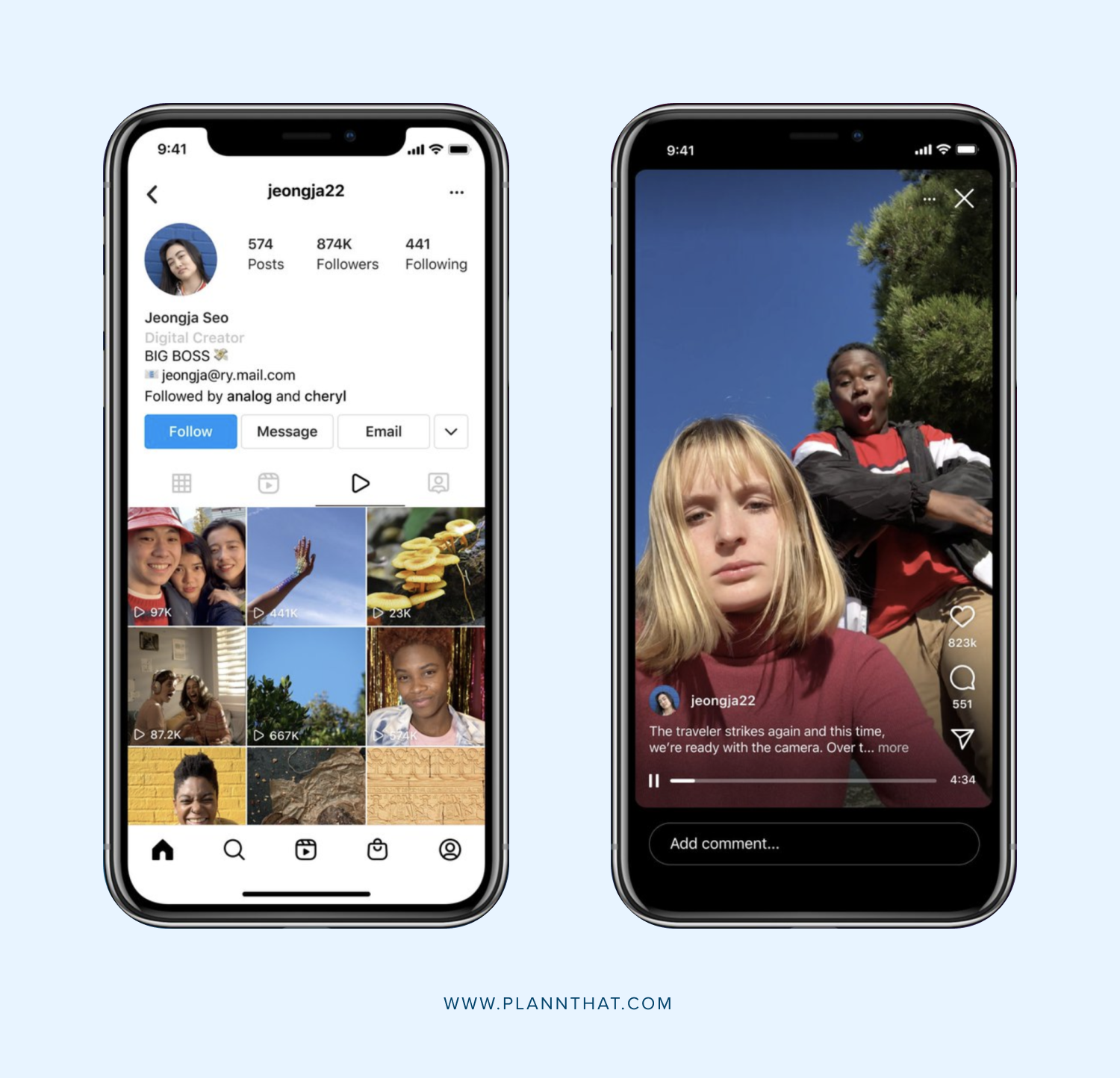 With the widespread popularity of short-form video, we now mentally categorize Instagram videos into two types: Reels and… everything else. It seems that Instagram is well aware of that, as they recently announced that they will be combining IGTV and feed videos into one, simple format: Instagram Videos.
Yep, that means that Instagram's OG video feature IGTV is no more! Instagram explained this decision was made because people were predominantly watching IGTV through the previews shared to the feed and explore page, rather than its designated section. 
Now, when you upload a video over 60 seconds (the maximum length for Reels), it will now automatically be an Instagram Video (which can be up to 60 minutes.) You'll still be able to upload your non-Reel videos in the same way, by selecting the plus sign in the top-right corner of Instagram, clicking 'post', and uploading your video. 
Instagram is adding a new 'video' tab to profiles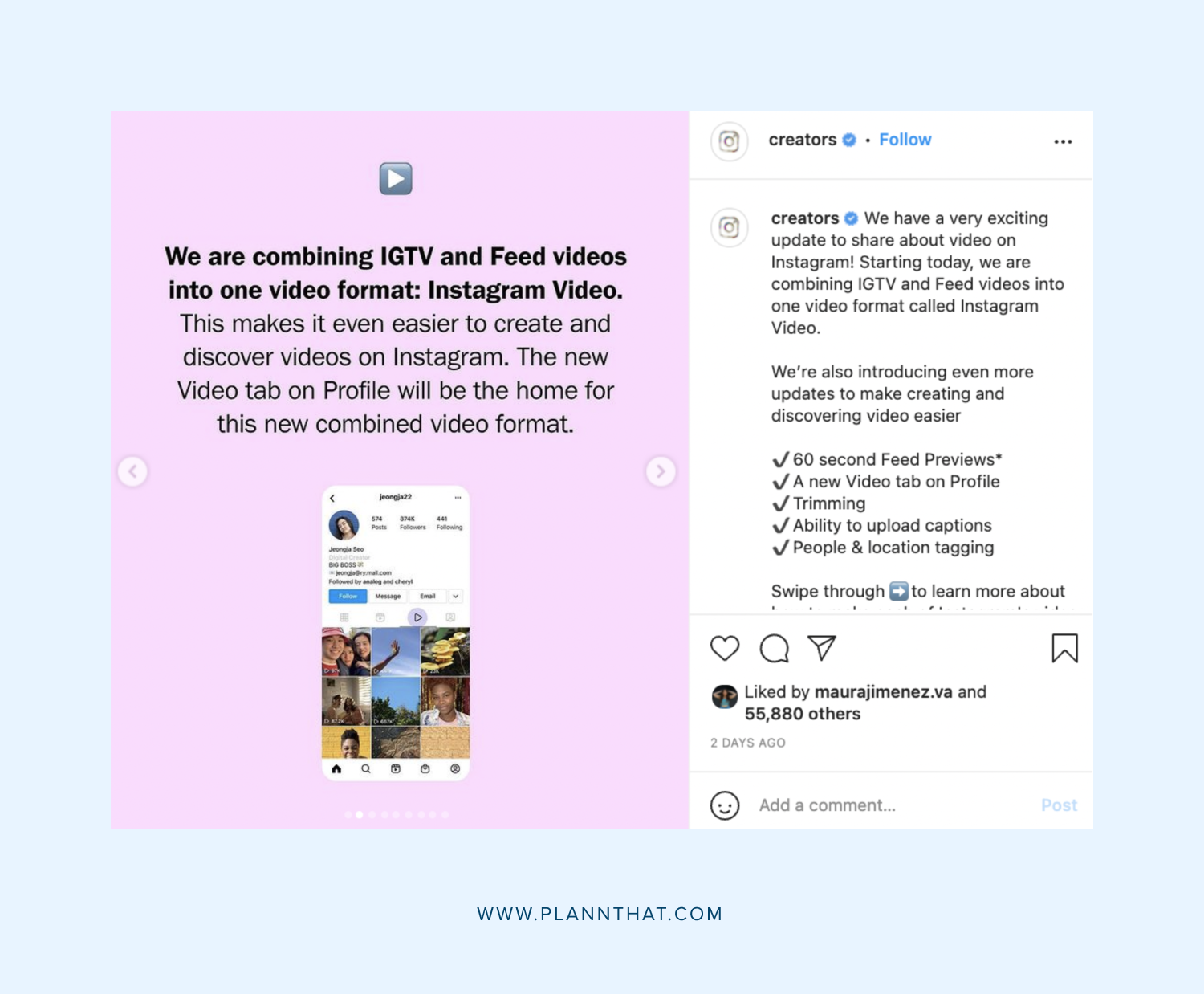 Speaking of Instagram Video, this hybrid content type will now be hosted in a new, designated tab on your profile. With a new 'play' icon instead of the original TV, this is where all your non-Reel videos will live (Reels will still have its own separate section)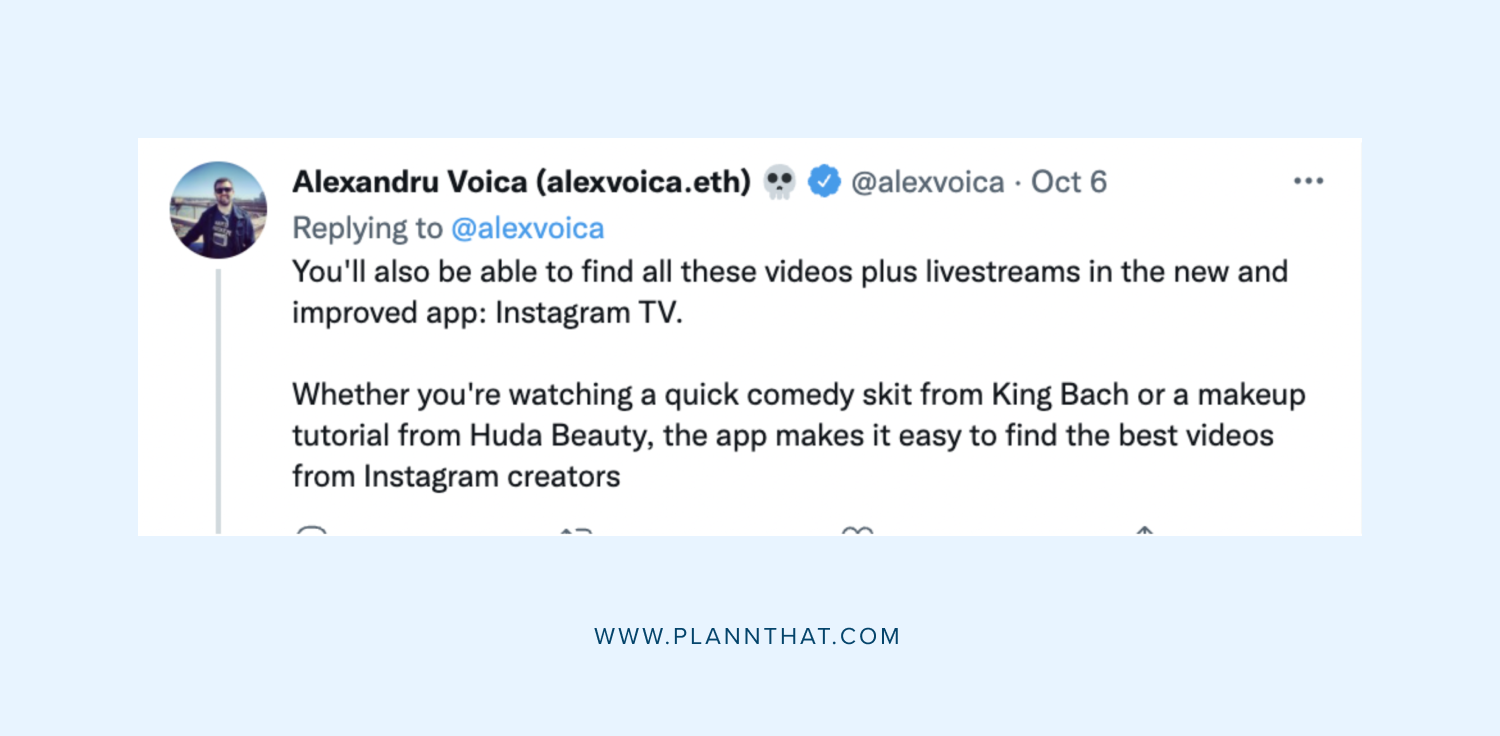 Alexandra Voica from Facebook's communication team also mentioned that you'll be able to watch Instagram Videos as well as livestreams in their Instagram TV app. While this standalone app hasn't quite achieved mainstream success yet, it's handy for when you want entertainment value (cough, distraction) of Instagram videos without getting distracted by other content types. 
Instagram is working on new video editing tools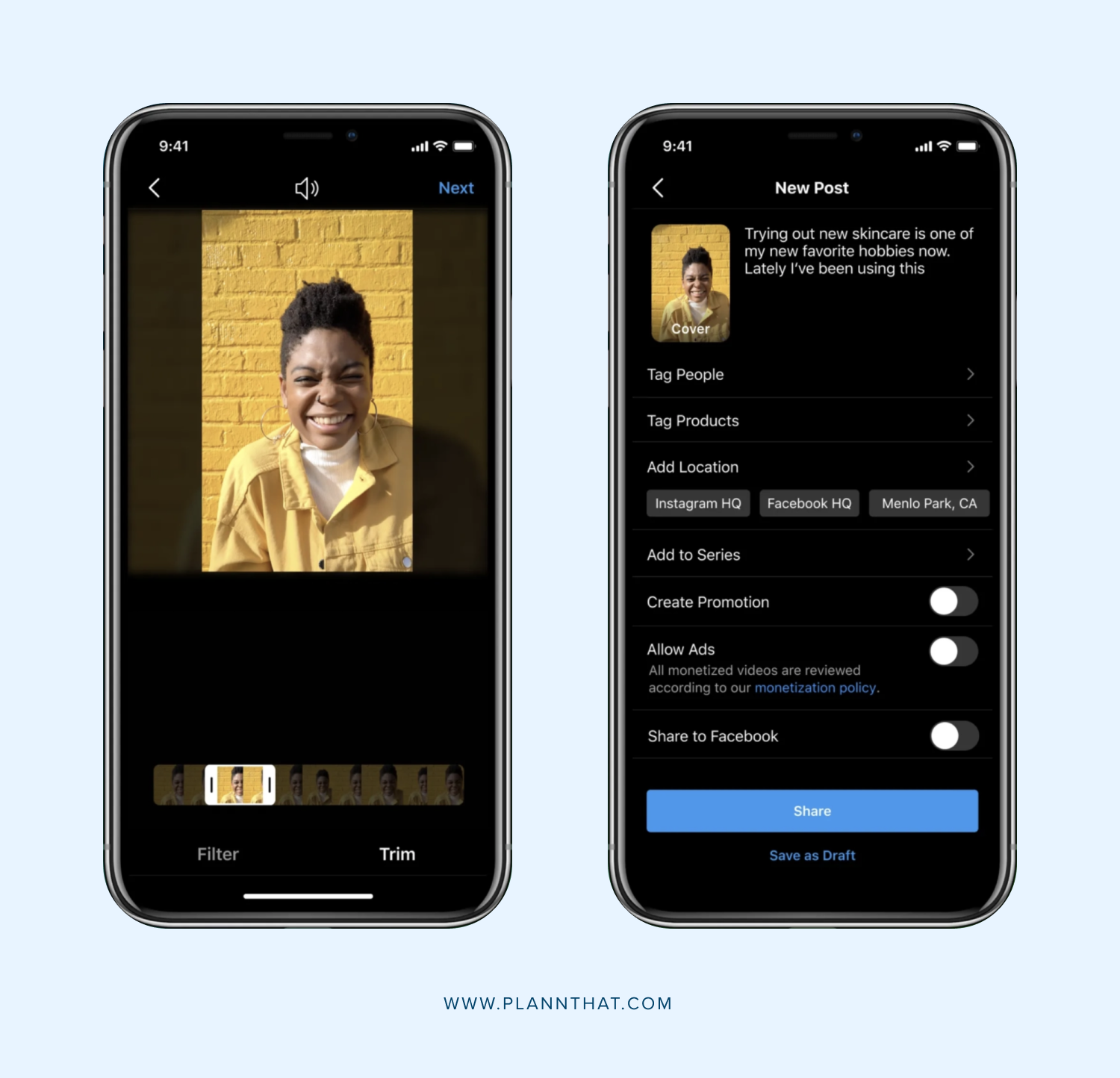 The video updates don't end there! Facebook's Alexandra Voica  also announced that they'll be adding a brand new suite of video editing tools to the app.
This includes the ability to trim videos, and add filters, like you would on a story or Instagram post. You'll also be able to tag people and locations. It's a big step forward for the platform to be able to compete with TikTok's more user-friendly editing tools.
You can now share Reels to Facebook

Instagram aren't the only ones Reeling out the new video features! Word is, their parent company Facebook is jumping on the bite-sized video fun, too!
Some users in the US have spotted a new 'Reels' section in the Facebook app, where you can watch videos from Instagram. These videos are still captured and posted within the Instagram app — eligible users just now have the option to share these across Facebook, too. Those who have the feature will see a notification pop up in Instagram, prompting them to allow Facebook to recommend your Reels to their users.
There's also a switch you can toggle on to share your video to Facebook, when posting your Reel on Instagram. With 2.809 billion users on Facebook, it's a great way to capture a new audience with the Reels you're already creating — and, just like Instagram, the platform is likely to reward users who jump on this feature early. Currently, Reels for Facebook seems to only be available in the US. But, keep an eye out for the notification, as the rest of the world likely isn't too far behind!
Instagram is testing the ability to 'like' stories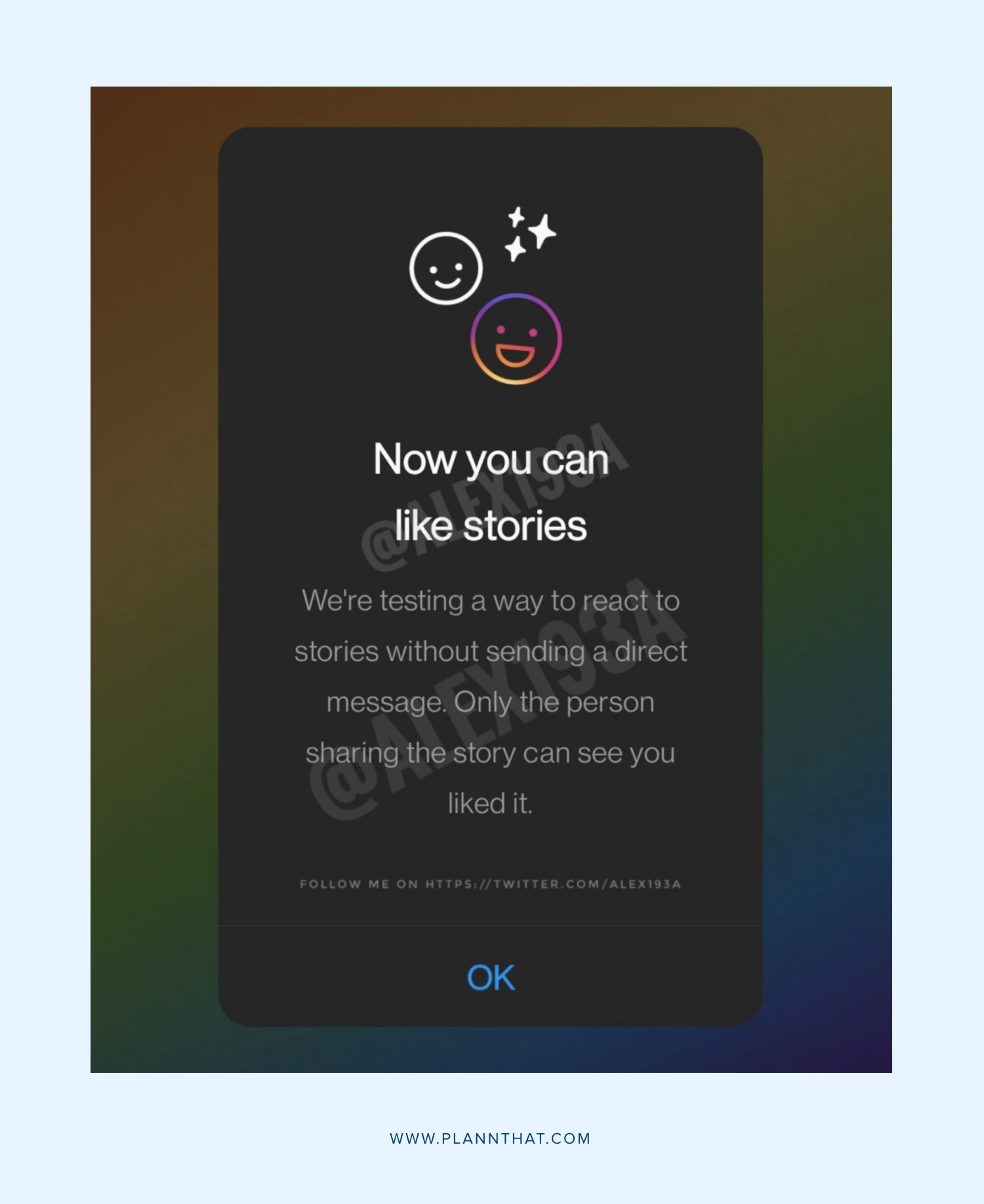 Ever wanted to show your appreciation of someone's Instagram story without feeling like you need to start a full-blown conversation with them? You're in luck! Social media commentator and reverse engineer Alessandro Paluzzi has spotted that Instagram is working on the ability to 'like' stories.
The new feature would allow you to love heart react to people's stories without starting a DM conversation. This isn't the first time Instagram has tested this feature — it was rolled out temporarily to select users a few months ago. However, a significant difference with this round of testing seems to be that the like count would be visible on stories (although, only the person who posted the stories can see who liked it), and that you can like stories multiple times. 
If it does get rolled out to all Instagram users, we'll be curious to see whether this becomes an important new engagement metric for stories!
Instagram has announced new best practices for using hashtags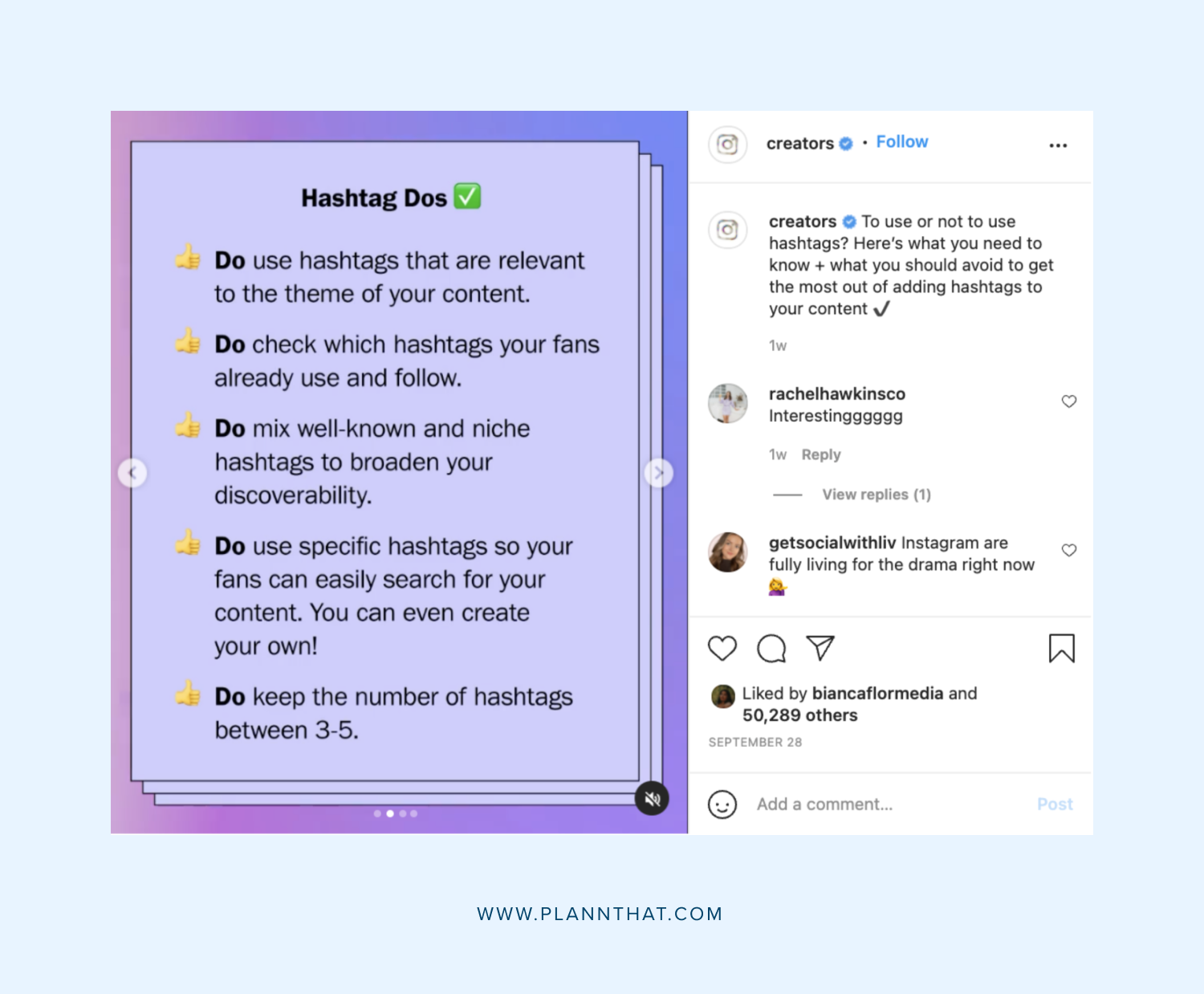 Ahhh, hashtags. while they're an undoubtedly helpful tool for getting discovered, they also can make us want to tear our hair out! 
How many hashtags should we be using in each post? Is it okay to use the same hashtags every times? It better to put hashtags in the comments or first post?
These are just a few of the questions we see about hashtags on a daily basis. The good news is, Instagram's Creators account has finally gone on the record to clear up some of our most burning hashtag questions.
In a recent post, they announced that the best amount of hashtags to use per post is now 3-5, and that any more than 10 is unlikely to get you any extra reach. They also suggested using a mix of niche and popular hashtags and steering clear of irrelevant or generic hashtags like #explorepage. They also encouraged the use of branded hashtags, so that your followers can easily find your content.
While this advice was specifically for creators (such as influencers and bloggers), we think it's applicable for brands and businesses too (after all, the algorithm doesn't discriminate!)
Whether you want to plan and schedule ahead your videos or save your hashtag sets, you can find everything you need to start your high-performing social strategy inside Plann.