Over the past few years, Facebook HQ has been busy finding ways to streamline all of its platforms, with Instagram being of particular focus. One of its most recent innovations announced on October 5th, 2021, is that the platform is officially saying goodbye to the separation of IGTV and feed videos, and rather unifying them to become a brand new feature, Instagram Video.
If you're like us when we first discovered this news, you probably have a lot of Q's about this hybrid content type. So, let's get right into the A's.
What is the Instagram Video feature?
Instagram Video is the new replacement for IGTV and feed videos. Now, instead of tossing up whether to post your video to your feed or IGTV, you have the one choice — which is Instagram Video.
While reduced choice can seem limiting, it is in fact a way of making your interactions with the platform all the more simple! Just like with IGTV, Instagram Videos can be up to 60 minutes long, and are accessible via a tab in your Instagram profile. They can also be featured in your profile feed and discovery feed, just as Reels can be.
In addition to this, Instagram Videos now allow you to:
• Trim videos before posting them
• Tag locations and people in your videos, something previously not achievable with IGTV
• Upload video captions — a major win for the hard-of-hearing community!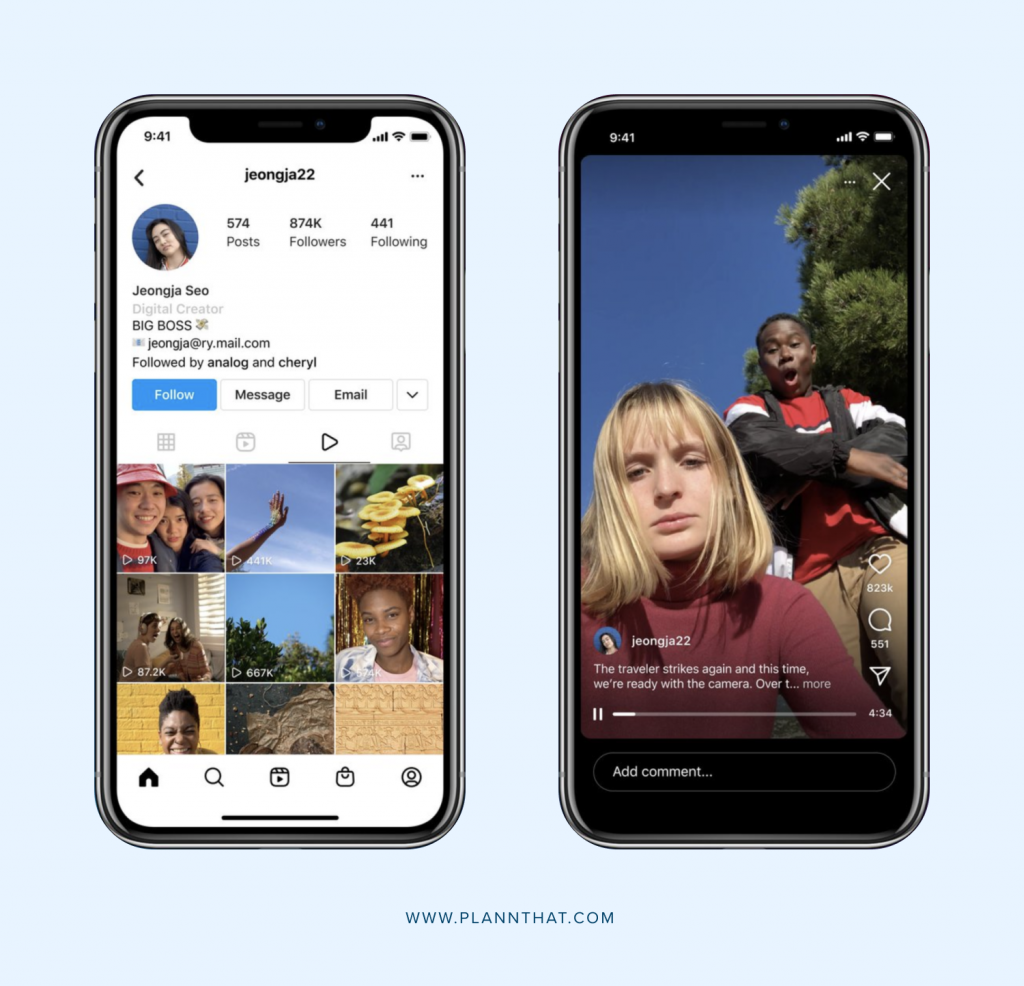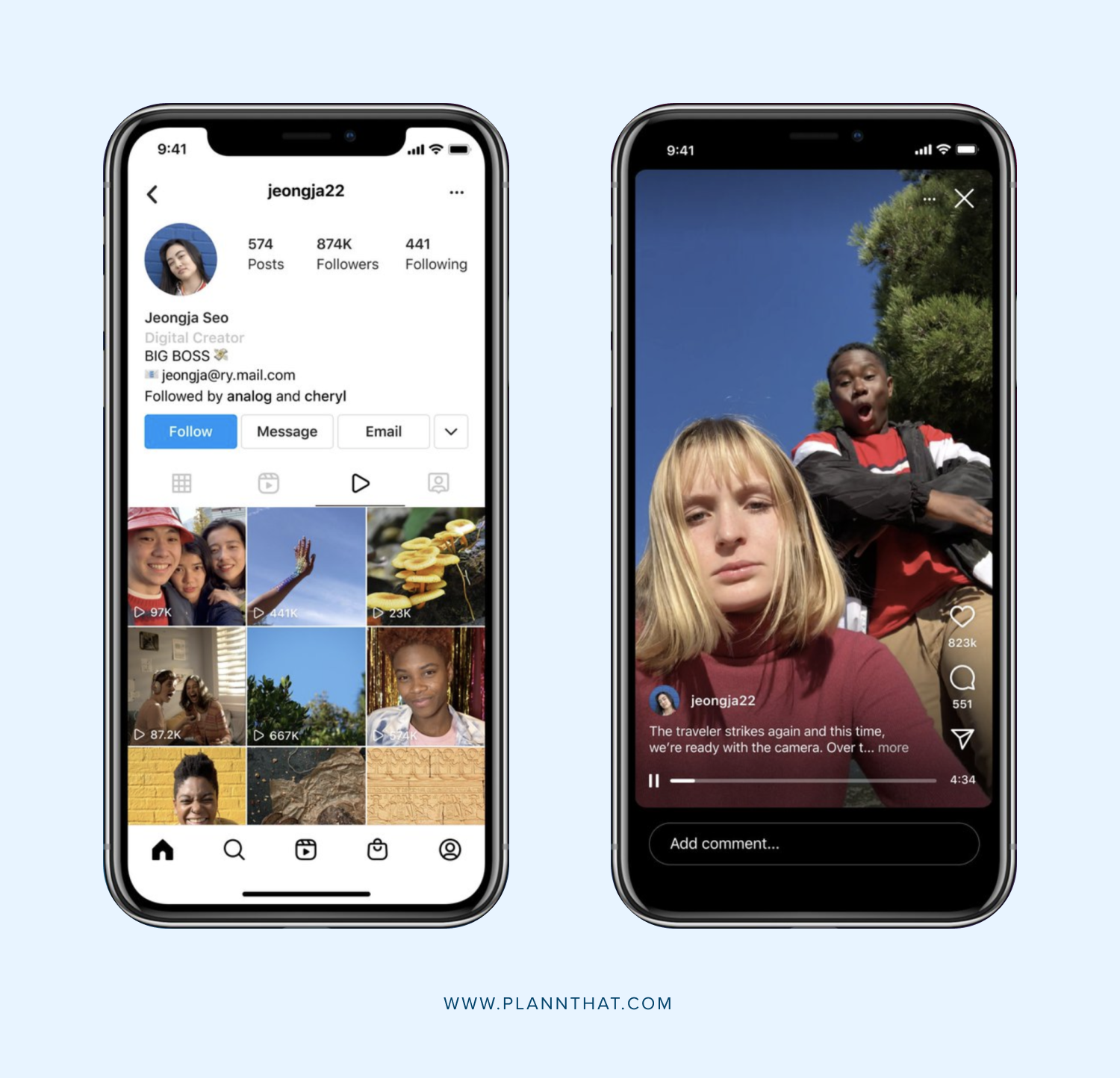 How does this update impact the way you post?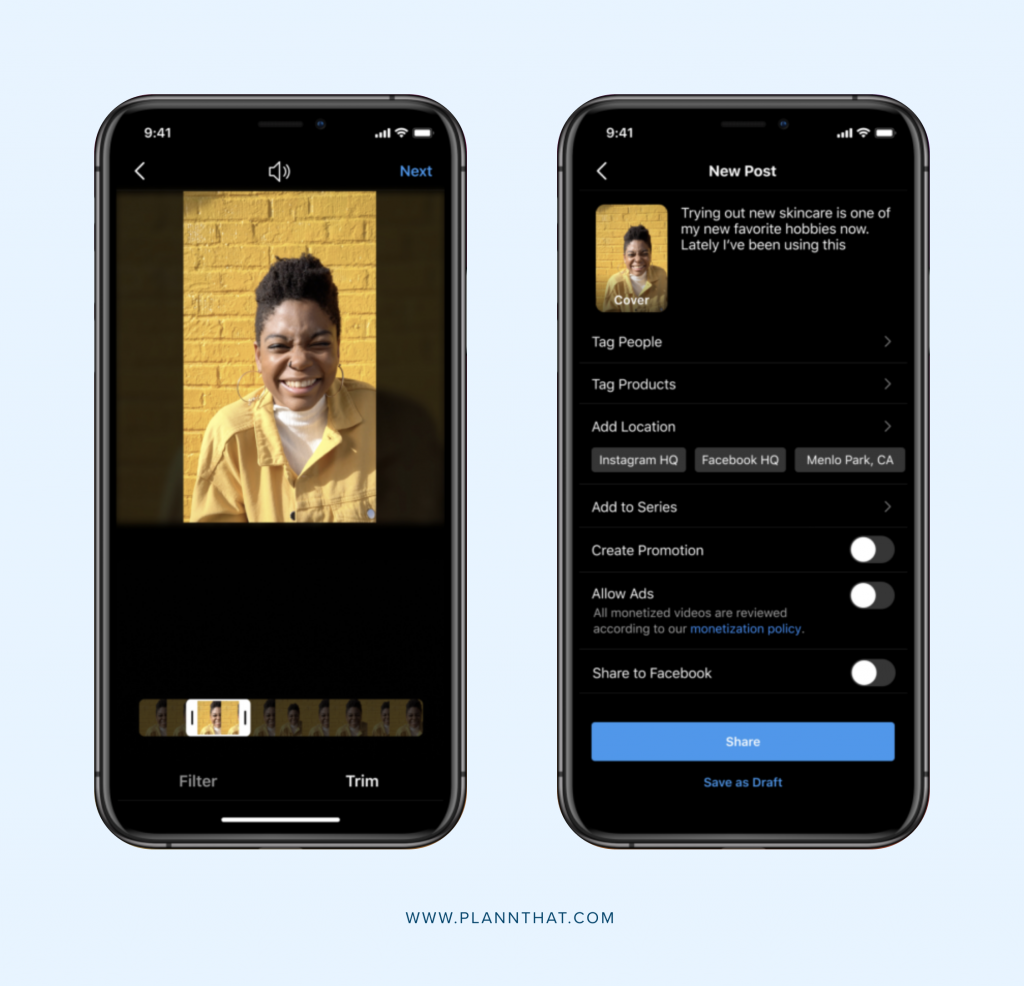 Instagram Videos are shared the same way feed videos were previously shared. This means any videos you already have scheduled should go up without a hassle, and any future videos can be shared the same way you previously shared feed videos on the app, or can be scheduled through your favorite scheduling platforms such as Plann with ease!
From what we can see, creators have essentially no limits with the new feature. You are still able to cross-post your Instagram Videos across Stories, and share via direct message (which as we all know, the algorithm loves!)
What does this mean for the IGTV and feed videos you've posted in the past?
We know you've worked so hard on all of your content, and the last thing you'd want to do is say goodbye to it! Thankfully, Instagram knows this about its Creators too. Well, don't worry, all of your past beloved video content will remain accessible via the new Instagram Video feature.
The only difference is that your previous videos won't show the same analytics as Instagram Videos shared post-update. It also means that no matter the type of video you post, you have equal the opportunity of appearing in the Discovery Feed.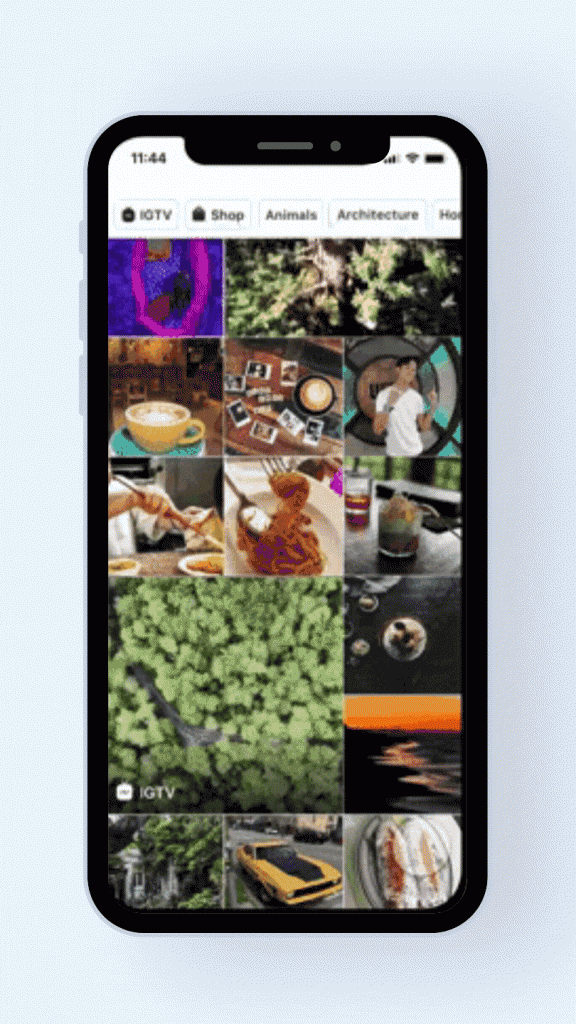 Should this change your Instagram video strategy?
Based on the strategy Instagram utilized when introducing Reels, it's a safe assumption that Instagram Videos will be prioritized by the algorithm to promote the use of their new feature and encourage a positive reception.
This means that if you've resisted the video revolution up until this point, it's time to get started with it! Many who have introduced Reels to their organic marketing strategy on Instagram have seen huge growth in a short period of time, and there's absolutely no harm in trying when it comes to your own social strategy.
We recommend experimenting with the new Instagram Video feature to see how it impacts your Instagram Insights (or Plann Analytics) at the end of the month and see if it's something that feels right for you.
Has this caused any changes to Instagram Insights?
The short answer is yes, in the best way possible! For those that have dabbled in both in-feed and IGTV video posts before, you would know how confusing it could be to get a clear understanding of how your posts have performed overall for the week or month. Previously, Instagram insights would separate in-feed and IGTV analytics.
Now, thankfully, all Instagram Video post insights will sit under the heading: Videos. So simple, so effective and so easy to navigate! You can find all of these easy-to-understand analytics via your Plann 'results' section, too.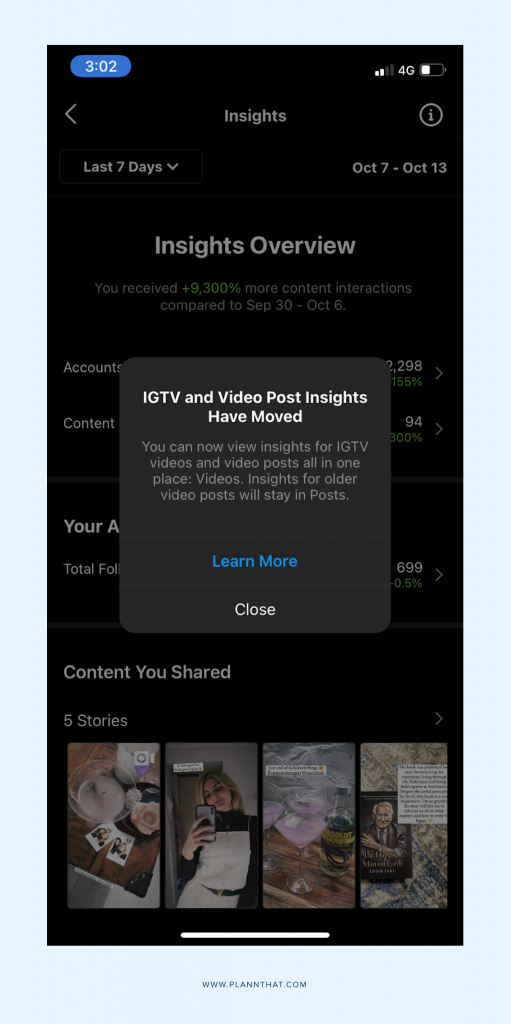 How will impact the future of Instagram?
When Reels were first introduced, they were similar to the previous IGTV tab — only accessible via your Instagram profile. As they became widely accepted as the cutting-edge form of content for the platform, Instagram then introduced a Reels Feed accessible from your Home Page, where new videos were easily discoverable and scrollable. Also looking at Facebook's introduction of the Watch Feed just a few years ago, we predict that Instagram could soon be looking to head in a similar direction with Instagram Videos receiving their own unique Feed. This could see Creators potentially achieving the same monumental growth through Instagram Videos as they have through Reels.
How do you know if Instagram Videos is right for you?
Instagram has a number of different ways to post video content, and it can be hard to know where to even begin or focus with your content marketing strategy. To make it clear where Instagram Video could fit into your strategy, we've broken down the 4 main sections where videos can now be shared on the app.
• Stories allow you to post everyday videos that last 24 hours, split into 15-second slides. This feature is best for creators with the intention of building trust with their followers, and providing them with updates or more ways to engage with you.
• Reels allow you to share quick and entertaining videos that are perfect for reaching new potential followers and showcasing what your profile is all about. These can be up to 60 seconds and are usually highly engaging and fun (usually to trending audio).
• Instagram Video allows you to share longer-form videos, up to 60 minutes in length that allow you to sell and storytell more on the platform. However, short-form video content is not ruled out! If you want to create a more formal, short-form video that doesn't feel like it would belong in the Reels feed, try using Instagram Video instead.
• Instagram Live allows you to reach your followers in real-time, giving you access to streaming anytime, anywhere for up to 4 hours. This is a great opportunity to get to know your followers, and for them to get to know you.
Overall, we are big fans of keeping things simple and streamlined and think this new update is going to change the way we all experience videos on Instagram for the better. We can't wait to see what this means for the future of the platform, and think this could be the start of something huge!
Author: Paige Poignand-Smith is the founder of Skye Creative. From a very young age, Paige knew she wanted to pursue creative horizons, and so this led her to the University of Technology, Sydney, where she attained a Bachelor of Arts in Communication, majoring in Creative Writing and minoring in Screen Studies. Following her degree, Paige amassed a wide knowledge of social media, working for one of Australia's best marketing agencies. While her passion and creativity may drive her, it is her social media background that gives her such an in-tune understanding of how to reach target audiences effectively. This understanding is what ensures her customer's marketing and content creation results are delivered.