"Give someone a video and they'll have content for a day, … teach someone to repurpose videos and they'll have content for a lifetime."
Okay, so that might not be exactly how the proverb goes. But, substitute a fishing reel with Instagram Reels and you've got yourself a pretty astute observation about marketing in 2021!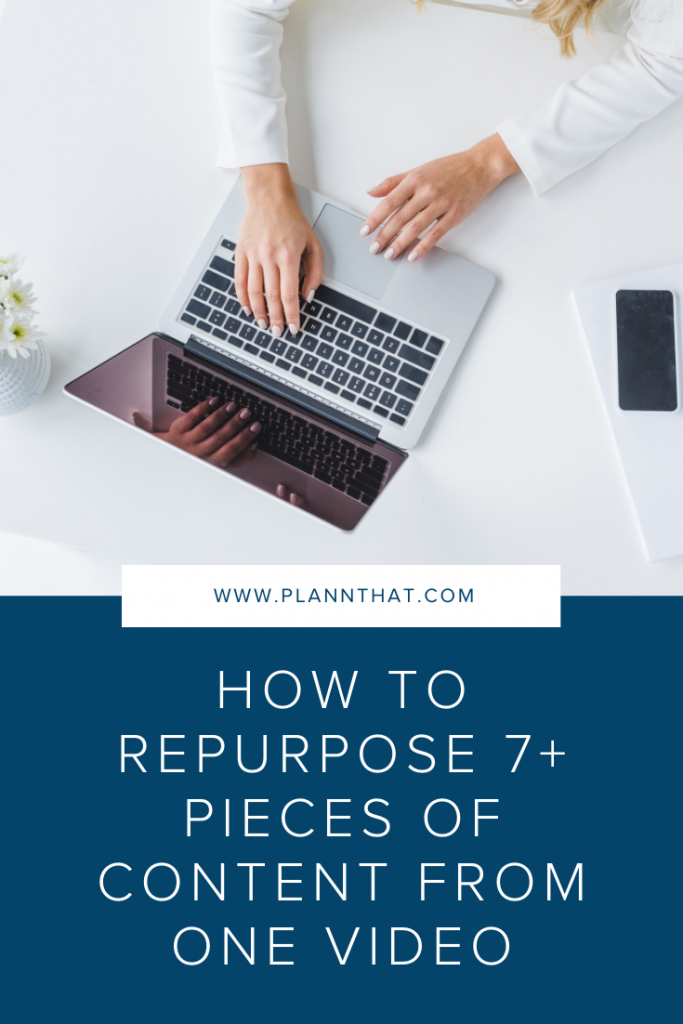 Chances are, you've heard us (and, every other marketer) wax lyrical about the benefits of video. And, it's not just hype! From exploding your reach and visibility to helping your target audience fall in love with the person behind your brand, there's not much you can't achieve with video. Yep, the best time to get on the video bandwagon was yesterday.
That said, unless you're a full-time YouTuber, you probably don't have the time or equipment to shoot elaborate videos every week. And the good news is, you don't have to! By creating even just one video per month, you can create an endless supply of content for your other channels.
From your blog to your podcast and social media channels, here's how to repurpose one video into 7+ different pieces of content.
Turn your video into audio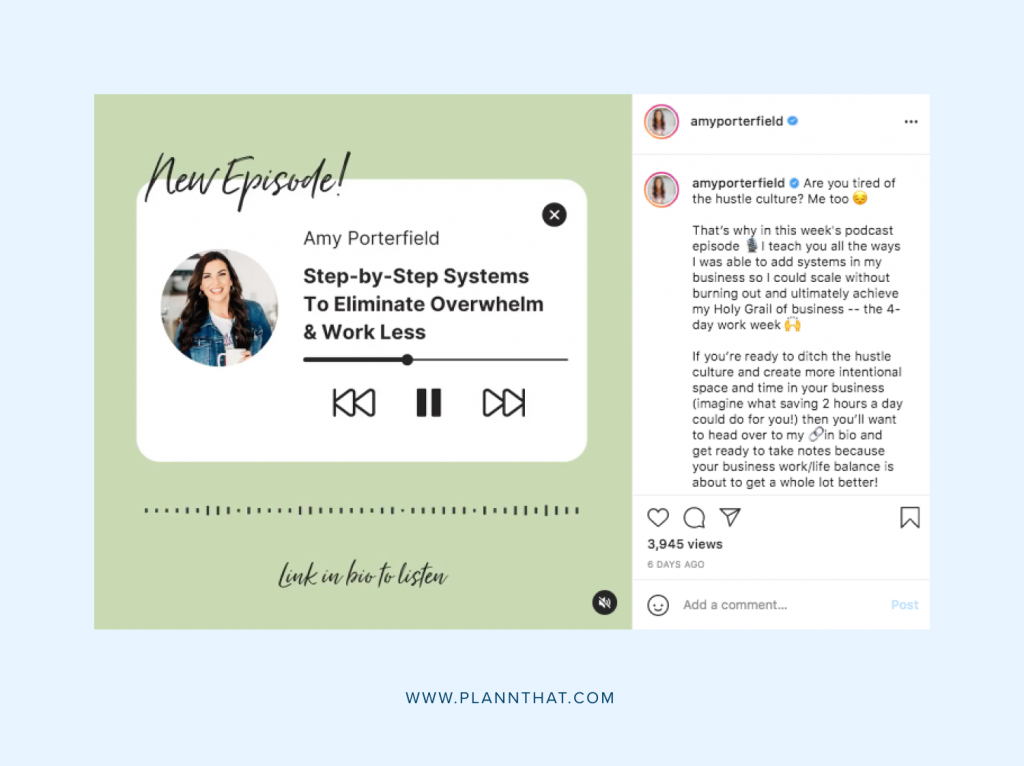 Whether you're recording an interview or an educational face-to-camera piece, audio is a great way to repurpose your video. Not only will it give you more bang for your buck, but audio is one of the fast-growing content types right now.
You can extract an audio file from your video file (psst… life hack — you can convert this simply by changing the 'mp4' into 'mp3' in your file name!) and upload it to a podcast platform. Tools like Anchor.fm allow you to upload your audio to one platform and distribute it across a bunch of platforms, like Apple Music, Google Podcasts, and Spotify.
Or, you could extract a snippet from your video and upload it as an audio Tweet on Twitter. You'll also soon be able to do this on Facebook, with their upcoming 'Soundbite' feature as part of their new suite of audio tools.
Want a way to display your audio snippets on your Instagram grid? You can also a tool like Waave to turn your audio into eye-catching branded animations that will look great on your feed.
Get your video transcribed into a blog post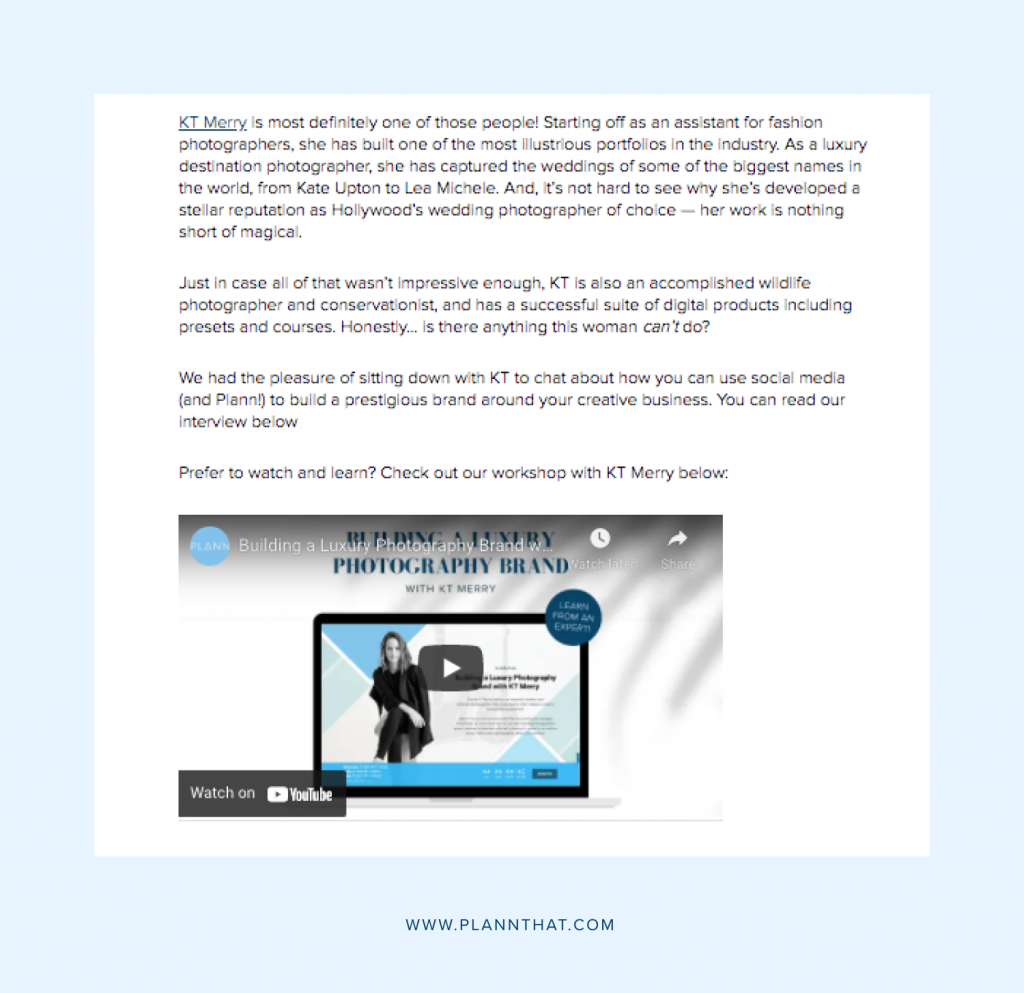 While video is dominating the digital space right now, blogging isn't going anywhere. In fact, regularly adding to your blog is of the best ways to please the Google gods and get your website discovered by new potential customers!
You can easily turn your videos into a juicy blog post by getting the audio transcribed, using software like Rev or Otter.ai. Once you have your text, add some sub-headings, images, and Google keywords and you're good to go! You can even embed your YouTube video on the same topic into the video to further amp up your SEO juice. Plus, you can link to the blog inside your YouTube description. Talk about a win-win!
Transform it into short-form videos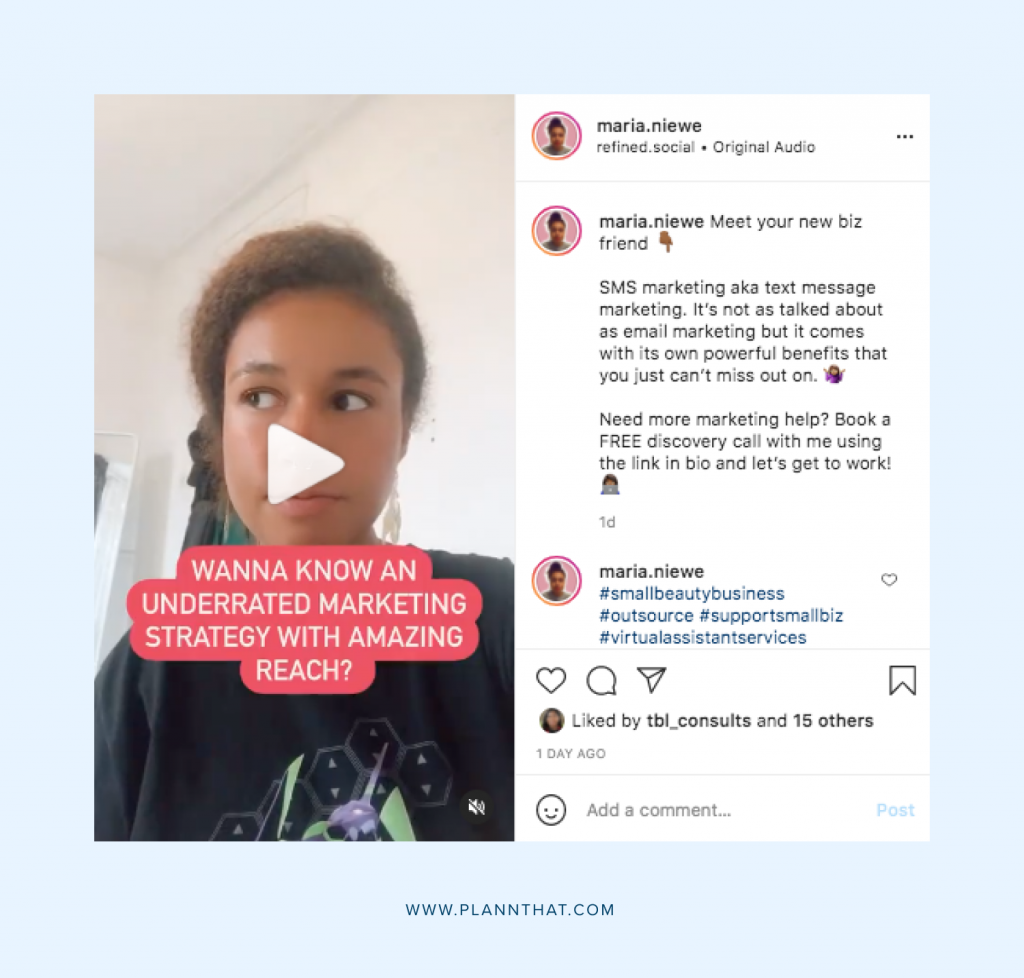 From the new YouTube shorts to TikTok and Reels, there are now more platforms than ever to post bite-sized video content. This means there are endless opportunities to repurpose your longer-form videos into shorter clips that fill up up your content feed for weeks to come! 
Now, you can upload videos of up to three minutes into TikTok, which means you can sneak in even more of that valuable content from your video. Meanwhile, the maximum length of YouTube Shorts is 60 seconds, while Reels can be 15 to 30 seconds. So, you could take various soundbites (or, video bites) from your longer video and splice it into shorter videos you post across multiple video platforms. That means there will be even more places for your target audience to discover you.
Turn key moments into a video series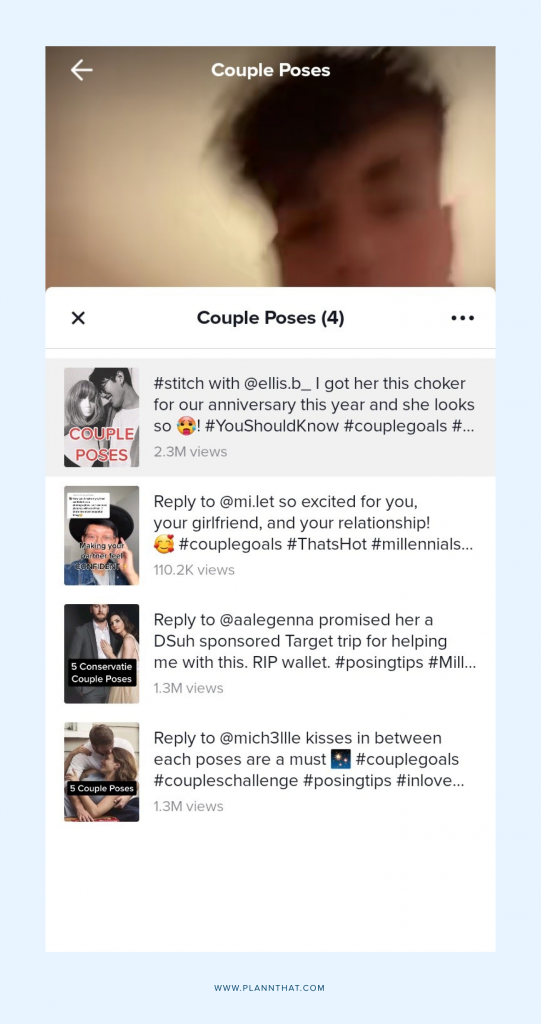 Want to make your video content go even further? One great way to do this is with a video series! Many video tools like TikTok or IGTV allow you to create 'playlists.' This means you could take a few different snippets from one longer video and turn them into a themed series of videos. 
Say, for example, you have a video on your 5 top tips for holding successful online events. You could create a short video for each of the points, and turn them into a playlist about tips for holding events. This is also a great way to build anticipation in your audience and get them looking forward to the next video in their series. Who knows, they may even subscribe!
Make a carousel graphic with key points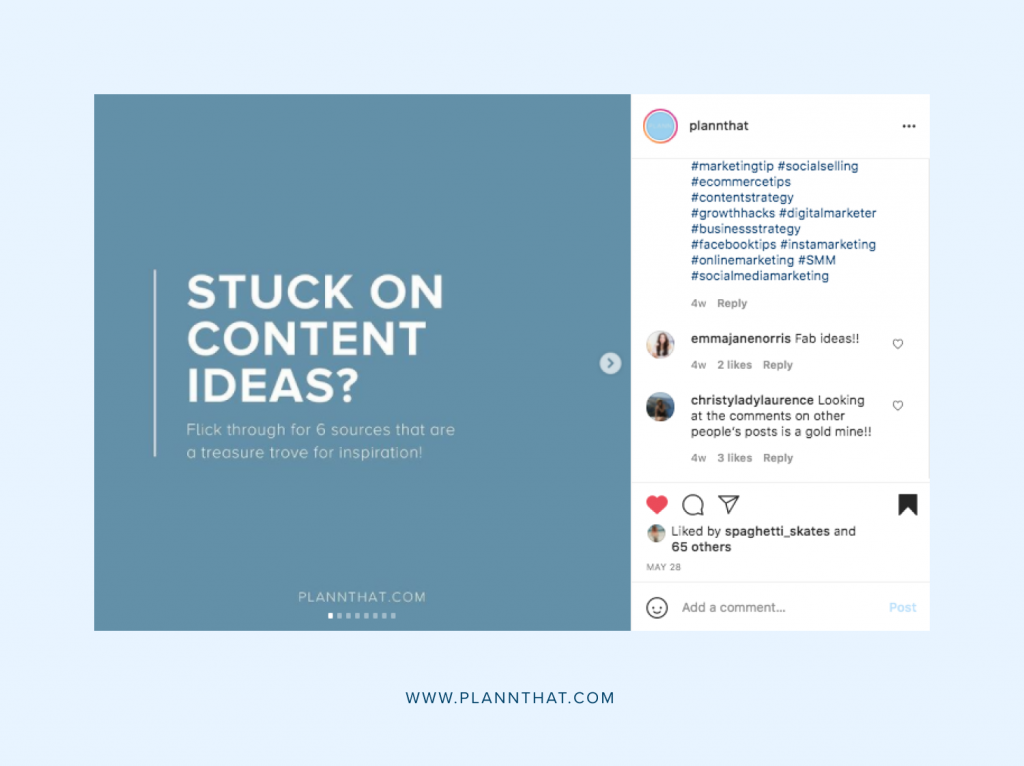 Giving away some great tips in your video? You can showcase these on your Instagram or LinkedIn using a carousel graphic. These are a series of frames within one post that your audience can flick through — with each slide normally including one tip or a new piece of information. You could also do this with key quotes from your video.
This is a great way to get more saves on Instagram in particular, as people like to revisit the information again later. And, saves are a great way to tell the Instagram algorithm that your content is valuable, which means your content is more likely to be shown on your follower's feeds, and the explore page!
You can find a great template for carousels on Canva, right inside Plann! All you need to do is add in your own text and branding and voila, you're ready to schedule!
Film a face-to-camera Live with key points
There's no better way to build a deeper connection with your audience than with Lives. And, from Instagram and Facebook to LinkedIn and TikTok, there are plenty of places to broadcast live.
But, you don't need to reinvent the wheel when it comes to finding content from your Lives. You could take one or two points from your existing videos, then talk about it in your Instagram Facebook Live. Then, once you've piqued their attention, you could direct them to watch the rest of the full video.
Some people even do this the other way around, where they record their video live then turn it into an evergreen video series or even a podcast recording. Genius!
Create a video teaser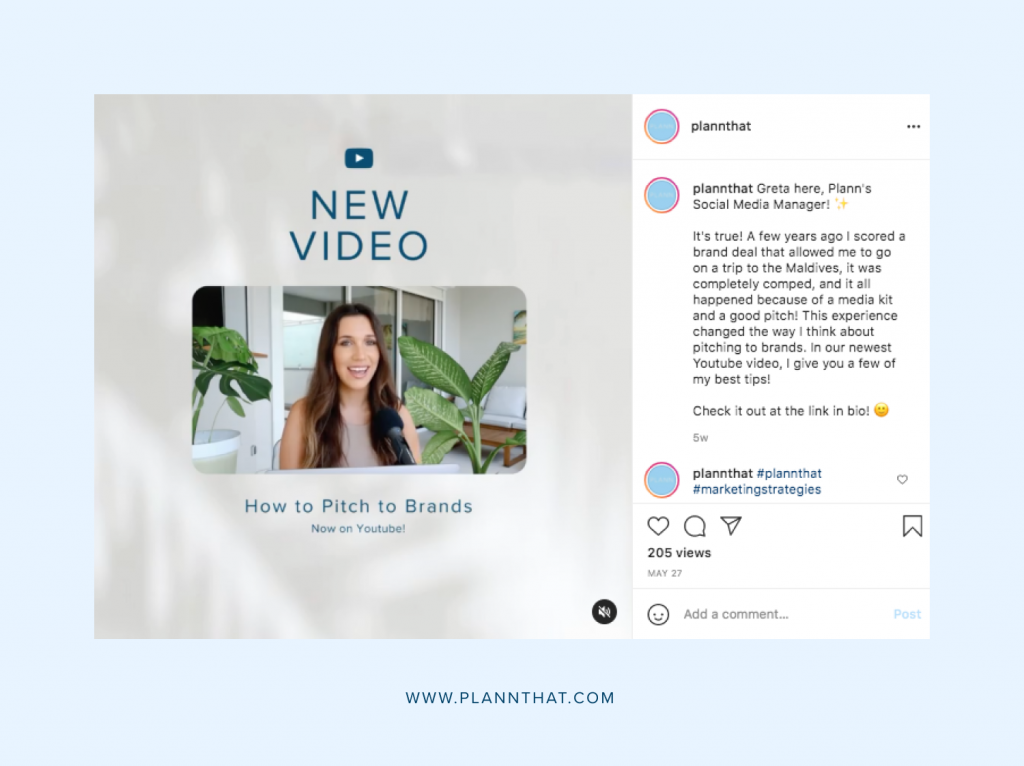 Not looking to take your audience away from your videos but rather, draw more traffic to them? A great strategy is to create a visual teaser that you display on your Instagram feed. Think of this like your 'movie trailer', which gives a brief synopsis of what's going to be inside your video. This will entice your followers to go over and watch the full video.
Not comfortable navigating your way around complex video software? Animoto and InShot are some great, beginner-friendly video tools you can use to bring your clips to life. 
Whether it's a video teaser or carousel post, you can use Plann to plan and schedule your content across multiple platforms and make maximum impact? S tart your free trial today to start experiencing the multi-platform magic.