Did you know that LinkedIn users spend more than 7 minutes engaging with content on the platform? This makes LinkedIn one of the top-performing social media sites, especially for businesses.
Why? Professional networking and thought leadership are two of the many benefits of using LinkedIn as a social media platform for B2B marketing. Plus, LinkedIn is a cost-effective tool for small businesses to reach a large audience while networking and building brand awareness.
So, how can you boost your organic reach on LinkedIn as a business or entrepreneur? We know that LinkedIn takes into account hundreds of indicators to assess your content's quality and estimate its relevance. You can improve your brand's LinkedIn presence and exposure on LinkedIn by learning how the algorithm works and how to boost your organic visibility.
So, if you're wondering how to increase organic reach on LinkedIn, here are some of our top LinkedIn hacks to help you reach a wider audience.
Connect with your current network on LinkedIn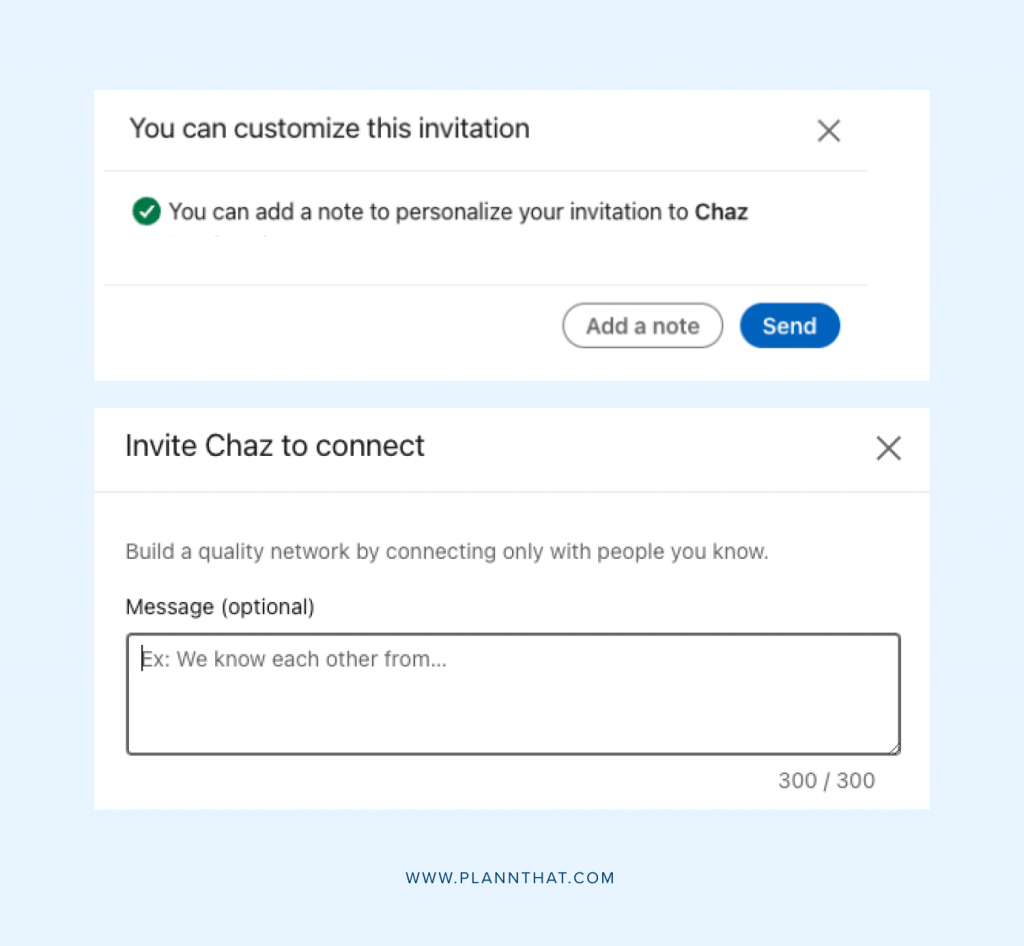 LinkedIn is a fantastic platform to connect with other leaders in your field and build rapport with current and potential clients. So, a great place to start to boost your organic reach is to build your network of connections on LinkedIn.
In practical terms, this means sending connection requests to coworkers (past and present), clients as well as likeminded leaders in your industry. Plus, if you're looking to boost reach on your LinkedIn Company page, make sure to invite all of your current connections to follow your page. Plus, if you're looking to boost reach on your LinkedIn Company page, make sure to invite all of your current connections to follow your page. However, networking on LinkedIn includes a lot of other aspects that you may want to consider to make the most of it.
When you post a new piece of content, why not tag a few connections in the caption and ask for their insights on the topic? It's also worth getting your team to interact with each post you share, as this can instantly help boost the organic reach of your LinkedIn posts.
Many organizations set up employee engagement programs on LinkedIn, getting their team involved in their social media content to spread the word and organically grow the reach of your content.
Use hashtags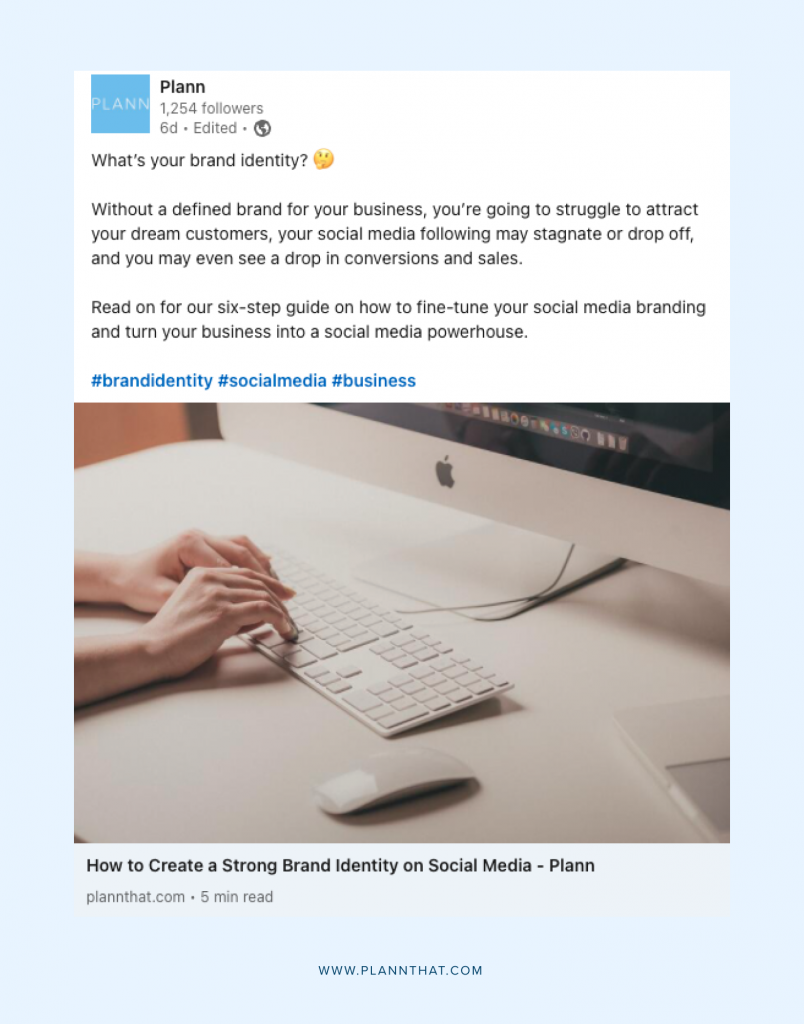 According to LinkedIn, you should utilize hashtags to:
• Establish your authority and knowledge
• Connect out to others who appreciate your opinions
• Begin meaningful conversations around common interests.
When crafting your posts, think about the key topics you're discussing and find popular hashtags you can inject into your caption to boost your post's organic reach.
It's important to use hashtags effectively on LinkedIn. That means you shouldn't use more than three hashtags per post and always place the hashtags at the end of your captions.
Tag active, high-profile LinkedIn users
If your post mentions an industry leader or another business, be sure to tag them in the caption. This will boost the chances of them seeing your post, and instantly expand the organic reach of your post.
Plus, spark conversation with your connections by asking active LinkedIn users to weigh in on the topic your latest post is discussing.
Experiment with native LinkedIn video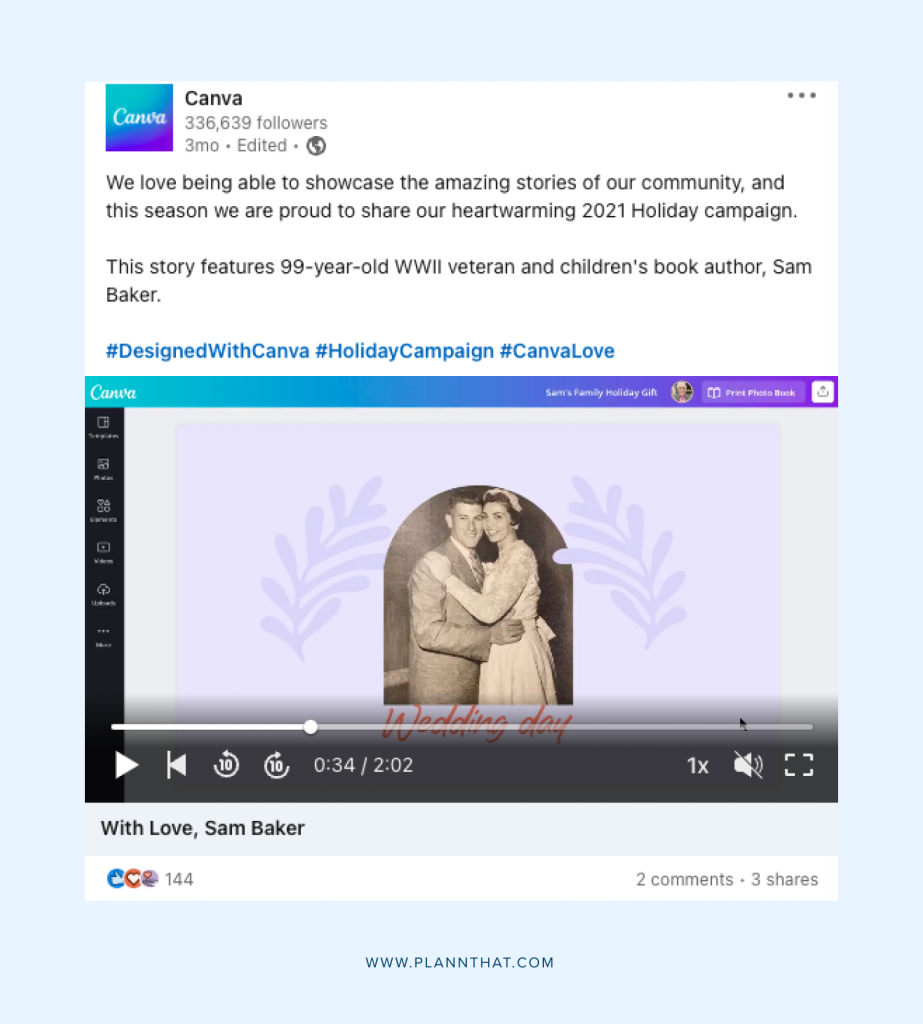 Native video on LinkedIn is a powerful way to share dynamic, engaging content with your network (without the need for a link). By uploading video content directly to the LinkedIn platform, you can keep users engaging with you and your business in the platform to easily boost your reach and visibility.
Make the most of this organic reach opportunity by posting your corporate videos straight to LinkedIn, even if you already have them published on Vimeo or YouTube. As far as video length goes, you can upload videos to LinkedIn that are up to 10 minutes long.
Engage your audience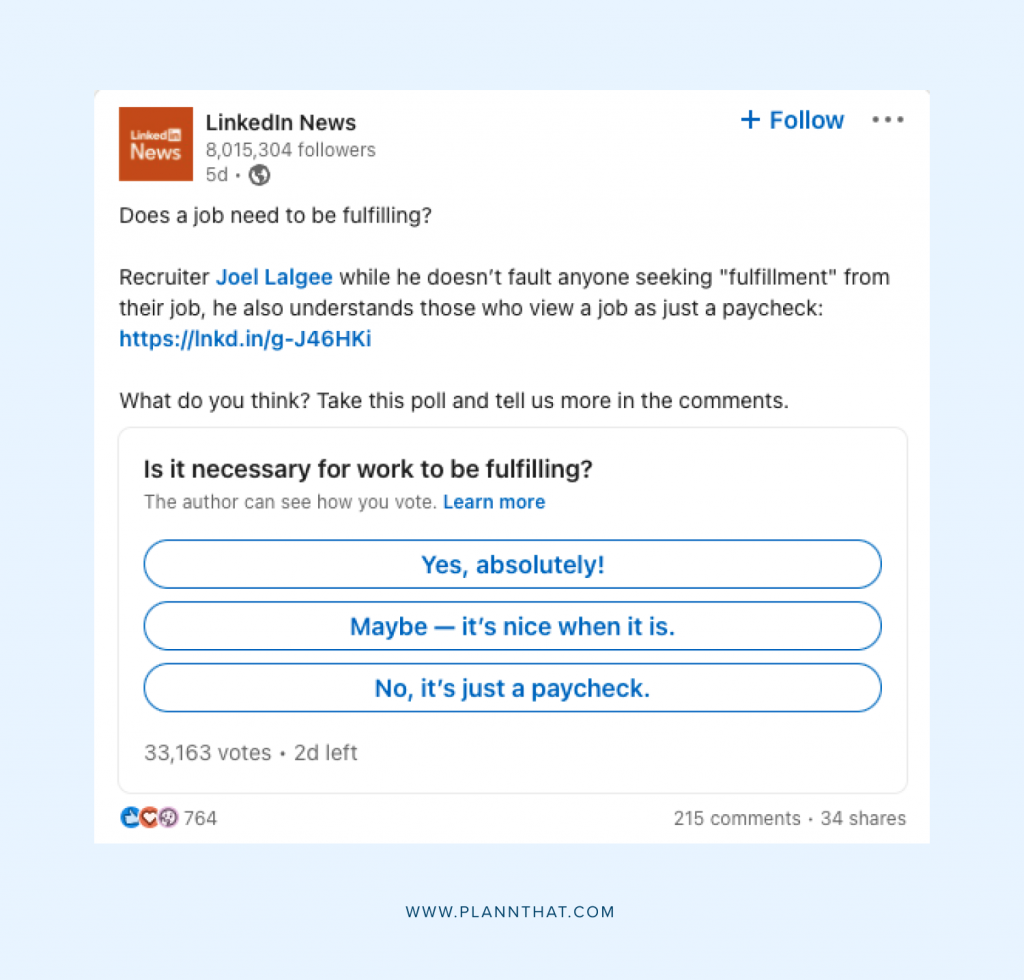 Like any social networking site, LinkedIn is designed to spark conversations.
Take advantage of interactive tools like surveys and polls to start open, two-way dialogue with your network. This will show the LinkedIn algorithm that you're an engaged user, helping to boost your visibility on the platform.
Plus, make sure you're promptly responding to any comments or engagements your LinkedIn posts receive within two hours of sharing. This will ensure your posts drive traction and get prioritized in the LinkedIn feed.
Use LinkedIn groups for engagement
LinkedIn Groups allow you to connect with industry leaders and major names (individuals and companies) and engage in meaningful discussion. You'll learn a lot, and you'll be able to contribute your thoughts and ideas.
LinkedIn makes it simple to locate relevant professional groups. Once you've joined, you may start a conversation by posting your articles and videos to the community.
Make sure to share and comment on other blogs and articles to begin creating connections and relationships with professionals in your field.
Post high-quality content
The best way to encourage LinkedIn to promote your content in the feed is to deliver valuable, high-quality posts. From professional photography to in-depth thought leadership articles, give LinkedIn a reason to prioritize your content and get it in front of valuable new audiences.
A few things to keep in mind when designing your LinkedIn content include:
• Resize images and graphics to either square (1080 x 1080 pixels) or horizontal (1200 x 627 pixels) sizing.
• Break up longer captions using bulleted lists or frequent line breaks to keep readers engaged.
• Using hashtags and tagging in your posts will help you reach more people seeking information on a certain topic.
Level up your LinkedIn Strategy with Plann
Are you ready to increase your organic reach on LinkedIn audience? Having the right tools in place is essential to success.
Go on, sign up for a free 7-day trial of Plann today and manage your entire LinkedIn strategy from post idea to publishing with ease.