Of all the social media giants currently dominating the social media market, Pinterest might be one of the least familiar to you. Since launching in 2010 as a photo-sharing platform, the platform welcomed 10,000 users in its first nine months post-launch.
Eleven years and several updates later, Pinterest has now evolved into a robust visual search engine. Currently, Pinterest ranks as the 14th largest social media platform in the world with about 478 million active users.
One of the most remarkable parts of this growth though is the evolution of Pinterest's algorithm along the way. In the beginning, Pinterest simply recommended content (known as Pins) based on each user's behavior.
Now, Pinterest works as a comprehensive visual search engine that draws on the principles of search engine optimization (SEO) to help brands, creators and influencers get their name out there.
Best of all, Pinterest has actually shared the inner workings of its algorithm publicly.
This means knowing how to use Pinterest with the right strategy, you can tweak your content to increase your credibility and make your content easier to discover. Before we look at how to get your content discovered, let's take a quick look at how the Pinterest algorithm works.
How Does Pinterest's Algorithm Work?
Are you wondering "how does Pinterest's algorithm work?". Good news: we're here to give you a rundown of everything you need to know.
In a nutshell, Pinterest allows users to "Pin" images found on the internet and on the platform itself to different curated collections (known as "Boards"). This means you can have Boards for recipes or supercars or any other topic that tickles your fancy.
Each Pin retains a link to the source website, making it easy for a user to find more information about that Pin from the original website. With Pinterest, users can then save ideas, products and inspirations for later.
Now, when users enter a search query in the Pinterest search bar (remember, it is more of a search engine than a traditional social media channel), the search engine uses a function known as Smart Feed to rank and prioritize the results that show up. And here is where the Pinterest algorithm comes in.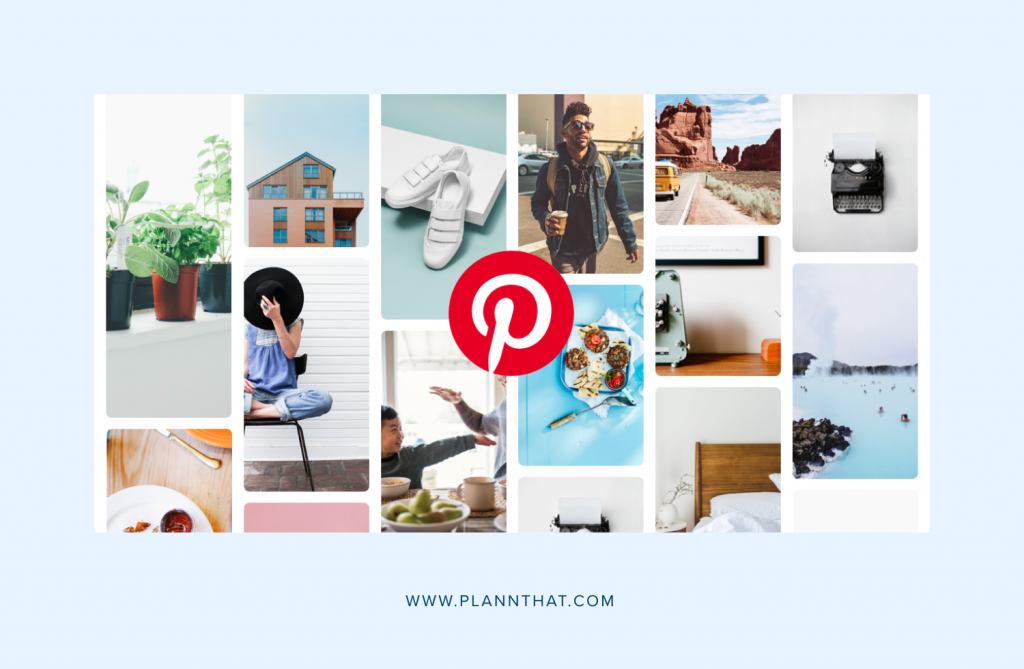 Pinterest's algorithm uses four major factors to rank and prioritize Pins to display in the user's search feed. These factors are:
1. Domain quality: Just as Google assigns a domain authority score (to show how reliable and authoritative a website is), Pinterest gives each website a domain quality score. This relates to the popularity of your website's Pins, how frequently people interact with your Pins, the types of interactions (click-throughs, saves, comments, re-Pins, etc). The more interactions you get on your website Pins, the higher your domain quality.
2. Pin quality: This measures the level of interaction with the specific Pin in question. The same metrics above apply and also the immediate response of your followers to the Pin (a.k.a. Do your followers immediately re-Pin your content or scroll past it?).

3. Pinner quality: This is slightly different from domain quality as it applies to your actions as a Pinterest user. The quality of your posts, how frequently you post, the interactions on your posts and also your re-Pins. Pinterest tracks the effectiveness of your account as a content creator and scores you based on this.

4. Topic relevance: This last factor simply answers the question: is your Pin related to the search in question? Your scores in all the other factors will have no effect if the Pin is not related to the search topic either through the visual content or through hashtags and keywords in the description.
Now, if all this sounds suspiciously like SEO, that's because it is, just on a different platform. With that said, let's look at a few tips to help you master the Pinterest algorithm and position your content for more visibility on Pinterest.
5 Tips to Help Your Content Get Discovered on Pinterest
Now that we know how the Pinterest algorithm works, here are a few tips to help you master it and drive website traffic with Pinterest.
Tip 1: Pin Quality Content
We'll start simple with a staple SEO move that most search engines are ruthlessly enforcing these days. Focus on creating and sharing quality content only!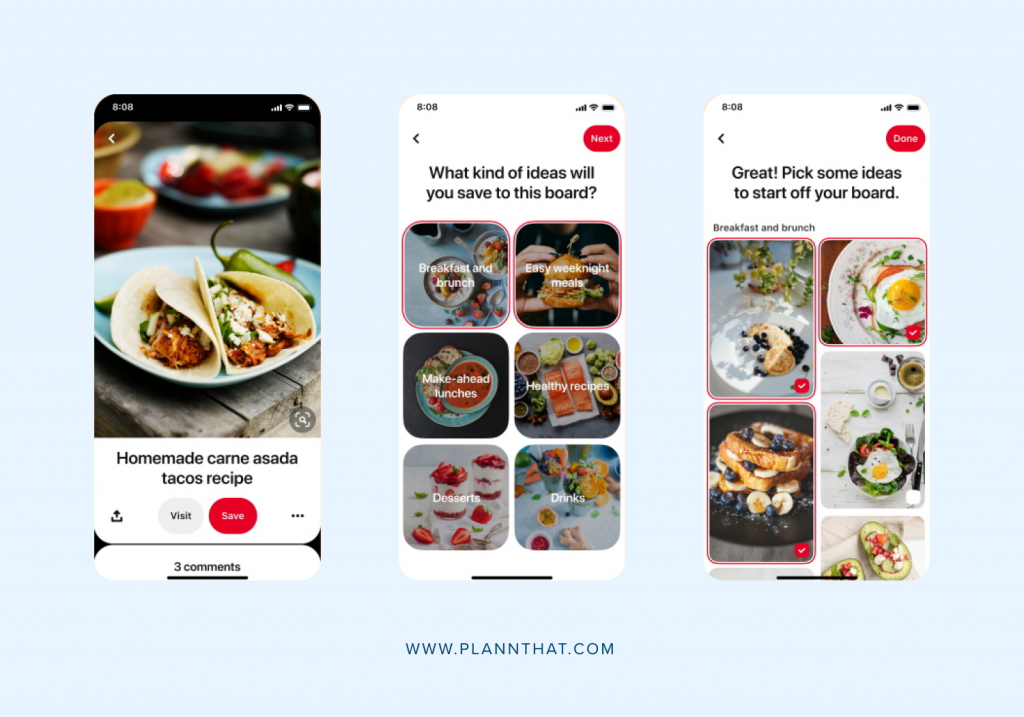 Pinterest recently released some new guidelines through their authorized partner Tailwind, disclosing new limitations on Pinning, including:
• Pin freshness over reused content. A fresh pin includes an image or video never before used on Pinterest and this carries more value than repurposed content.

• Re-pins should be limited to a maximum of 10 Boards with related content and also, a two day wait before re-Pinning content.
Essentially the platform wants to limit spammy content which means posting quality Pins will earn you higher visibility.
Tip 2: Do Keyword Research
If you think people just come to Pinterest to score fashion or interiors inspo, think again.
People are on the platform actively searching for content to inspire their next purchase, which means they are using keywords and phrases to find results tailored to them.
So, it's important to figure out what keywords and search terms your ideal customers are looking for on Pinterest and inject these into your Pinterest content (more on this in a second!).
Tip 3: Use Rich Pins
Rich Pins are pins that bring up extra information from your website when you click on them.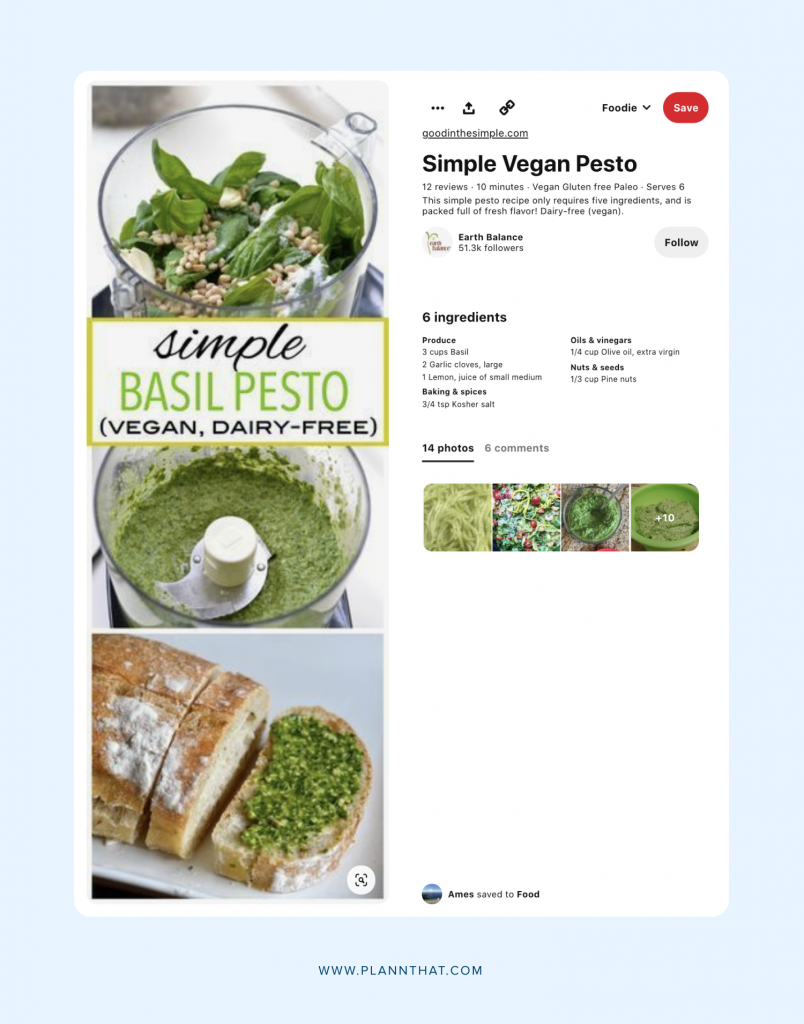 There are three types of Rich Pins your brand can tap into:
• Product Pins: sync up the latest price, availability and product information right from your eCommerce store.

• Recipe Pins: sync up the recipe title, serving size, cook time and ingredients from recipes listed on your website.

• Article Pins: sync with your website's blog content and carry over the headline, description and the author of your posts.
The benefit of using Rich Pins is this: it provides extra value to your audience and ensures you're sharing high-quality content to Pinterest.
While you'll have to apply to start using Rich Pins, you should gain access from Pinterest within a couple of days.
Tip 4: Schedule Your Posting
If you ever struggle to post content consistently to Pinterest (or any other social media channel) it's time to harness the power of content scheduling.
By planning out your content in advance, batching your content creation and using a platform like Plann to schedule your posts ahead of time, you can ensure you're sharing fresh, valuable content consistently.
Good news: Plann has just launched our new Pinterest feature, allowing you to craft and schedule your Pins with ease.
Tip 5: Optimize Your Posts (and Account)
We talked about keyword research earlier in this post, and now it's time to put your keywords into action. Once you have your SEO keywords mapped out, it's time to pepper these throughout your Pinterest account and content.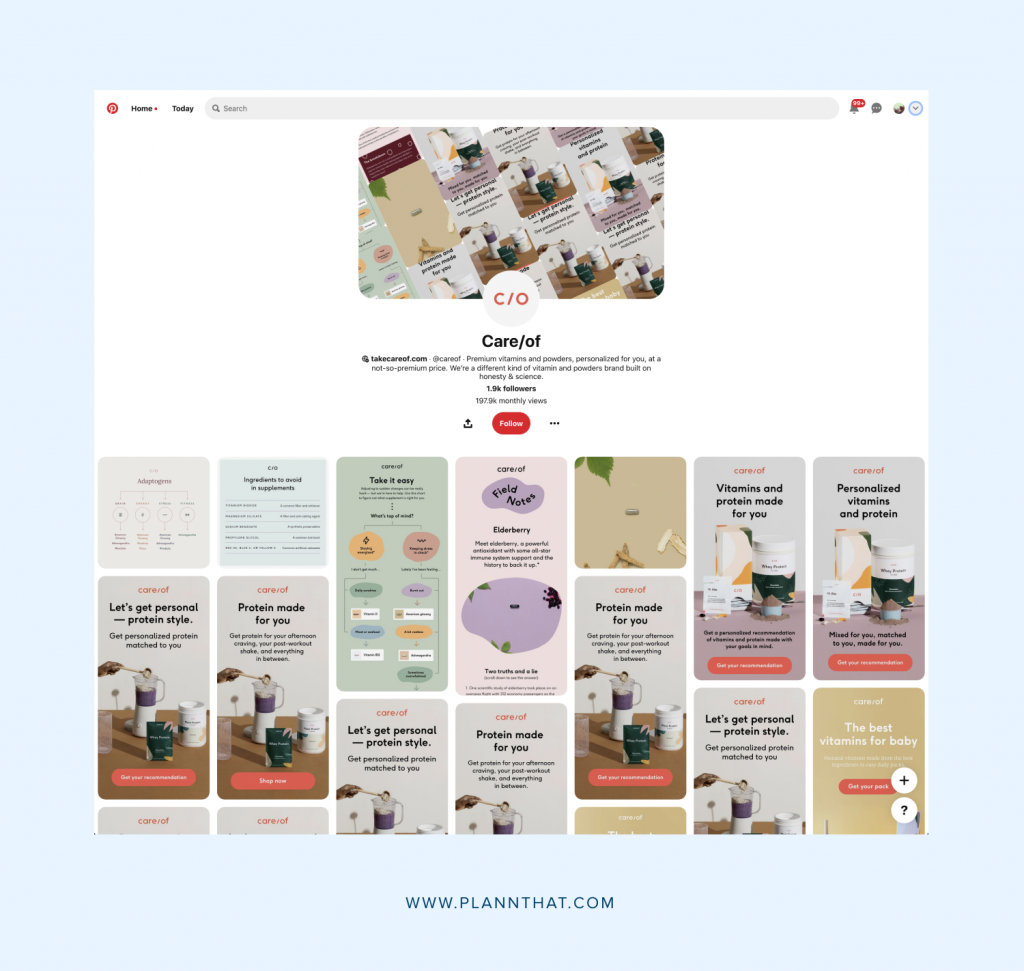 When optimizing your Pinterest content for SEO, make sure to inject your keywords into:
• Your Board names and descriptions
• Your Pin names and descriptions
• Your Pinterest Profile (including your account name and About section)
These simple keyword hacks will ensure your content shows up to high-intent Pinners to boost your visibility and website traffic through Pinterest.
Boost Your Pinterest Visibility with Plann
Ready to get your content in front of Pinterest's 478 million users? Take the guesswork out of your Pinterst content strategy and take advantage of Plann's new Pinterest feature.
Sign up for a free 7-day trial of Plann today and you can manage your entire social media strategy from one dashboard. All you need to do is… ready, steady, Pin!