One of the most effective strategies to expand your reach and improve sales is implementing a solid Pinterest search engine optimization (or SEO, for short) strategy.
Using SEO best practices on Pinterest is more crucial than any other social media platform.
That's because Pinterest is a powerful visual search engine, where information lives on for months, not minutes and is surfaced and resurfaced over again.
Leverage SEO to expand your brand's visibility on Pinterest, target relevant consumers and drive clicks and purchases for your business. Ready to get started? Let's show you how.
Top 10 Pinterest SEO tips to get discovered on Pinterest
1. Leverage keywords throughout your profile
Adding keywords to your display name is one of the quickest and easiest ways to boost your Pinterest SEO, so:
• Use keywords and phrases that your audience would use to find you and think about phrases that are relevant to your business, your industry or your niche.
• Include the main keyword in your Pinterest username too, to boost your chances of showing up in the Pinterest search results.
• Choose a memorable and straightforward username that accurately reflects your brand name.
• Use the same username throughout all your social media accounts and your website since this aids cross-platform discovery.
Leveraging keywords will improve your search engine optimization and make it easier for social audiences to recognize your Pinterest account.
2. Craft the perfect bio 
Whether you want to have a simple or a creative profile bio, you need to include relevant keywords to get seen on Pinterest.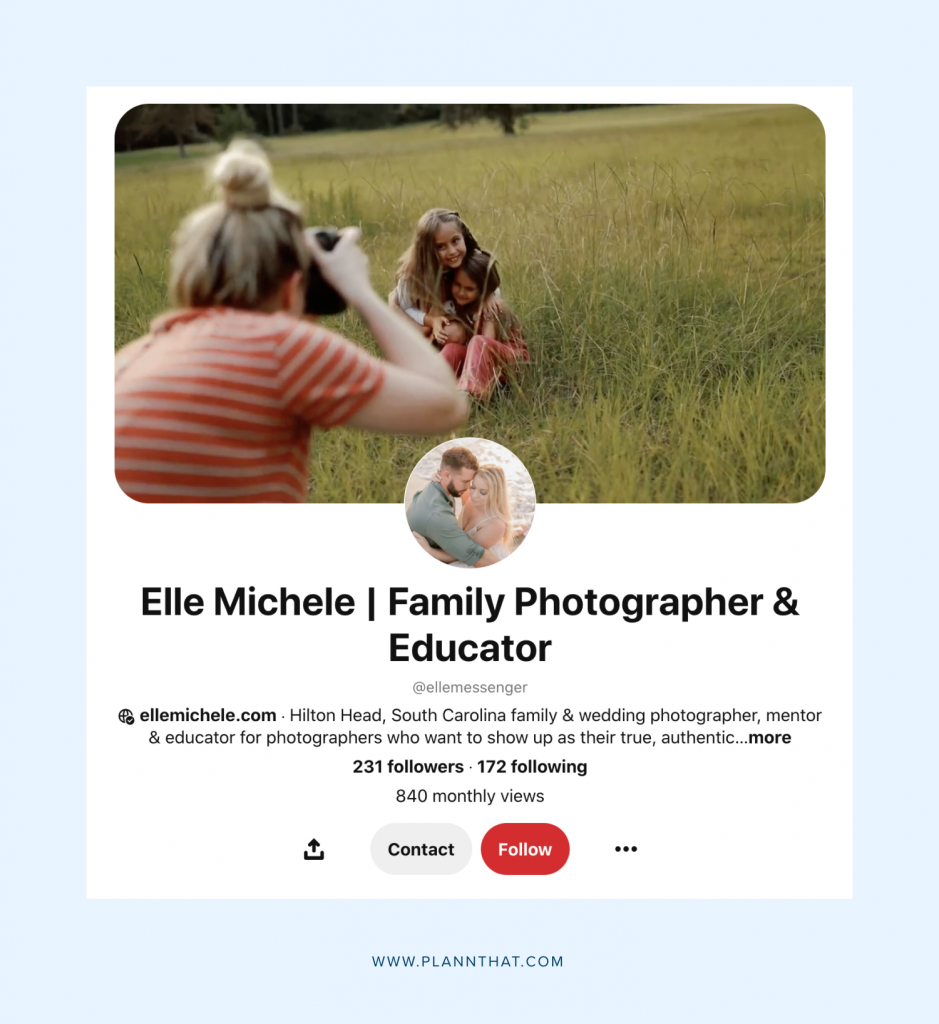 Not sure what this looks like? Here are some of our top tips for crafting the perfect bio:
• If you're unsure where to begin, write a bio that defines what you offer or provide.
• Once you have the first draft, look through it and underline the key terms someone would use to search your profile on Pinterest.
• If you're trying to craft a creative bio, include a unique slogan or a quote in the second sentence, and keep your first sentence for relevant, high-traffic keywords related to your brand.
• Don't forget to include a call to action in your bio. Including a CTA in this prime spot is a fantastic way to increase conversions.
3. Make your boards searchable
Pinterest Boards are yet another excellent way to increase your visibility on the platform. 
Your chosen names and descriptions appear in search results, so you'll want to make them as SEO-friendly as possible.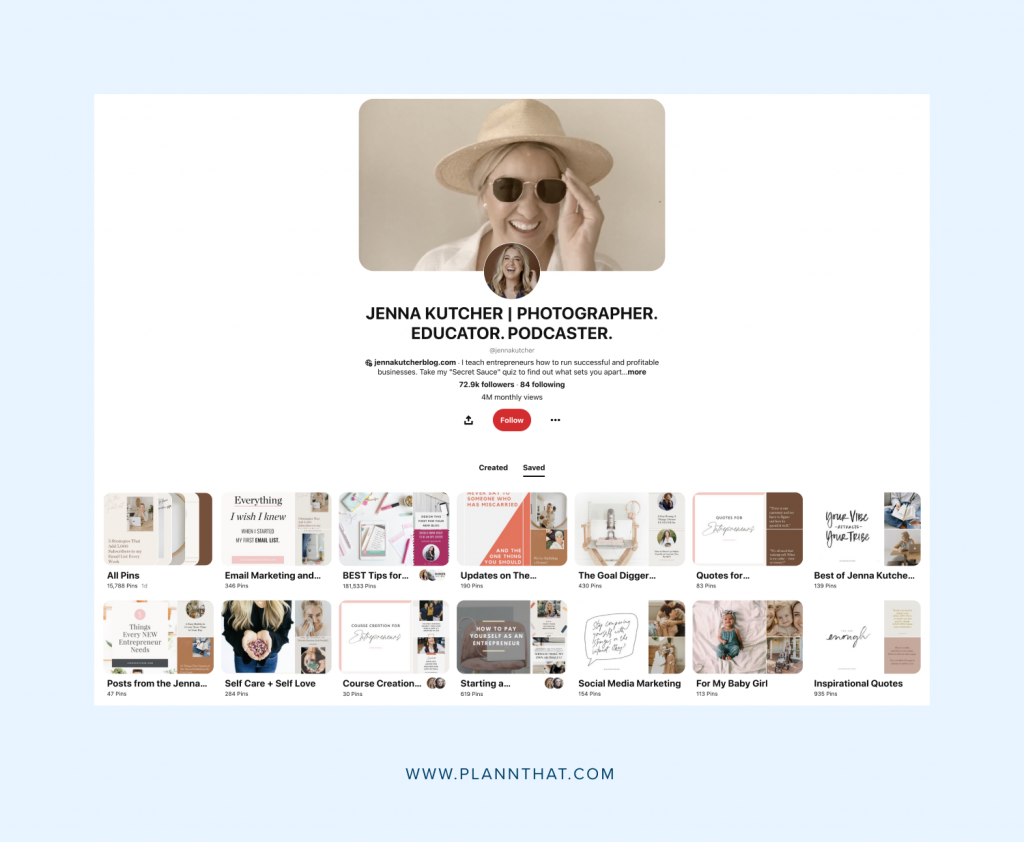 Make sure to include relevant keywords and searchable phrases in your Board name and description.
4. Create captivating, original content
What's the best approach to make your Pinterest profile search engine friendly? Create content that users want to look at, save and interact with.
To get Pinners' attention, you need to develop relevant, valuable and visually-appealing ideas. That means designing branded graphics, sharing high-quality images and crafting captions that deliver tangible value to your audience.
5. Write keyword-rich Pin titles and descriptions
You may use SEO keywords in various places, but your Pin title is one of the most crucial.
Ideally, your keywords should cover as many relevant topics as possible. Pin titles can be up to 100 characters long, so make it short, snappy and relevant.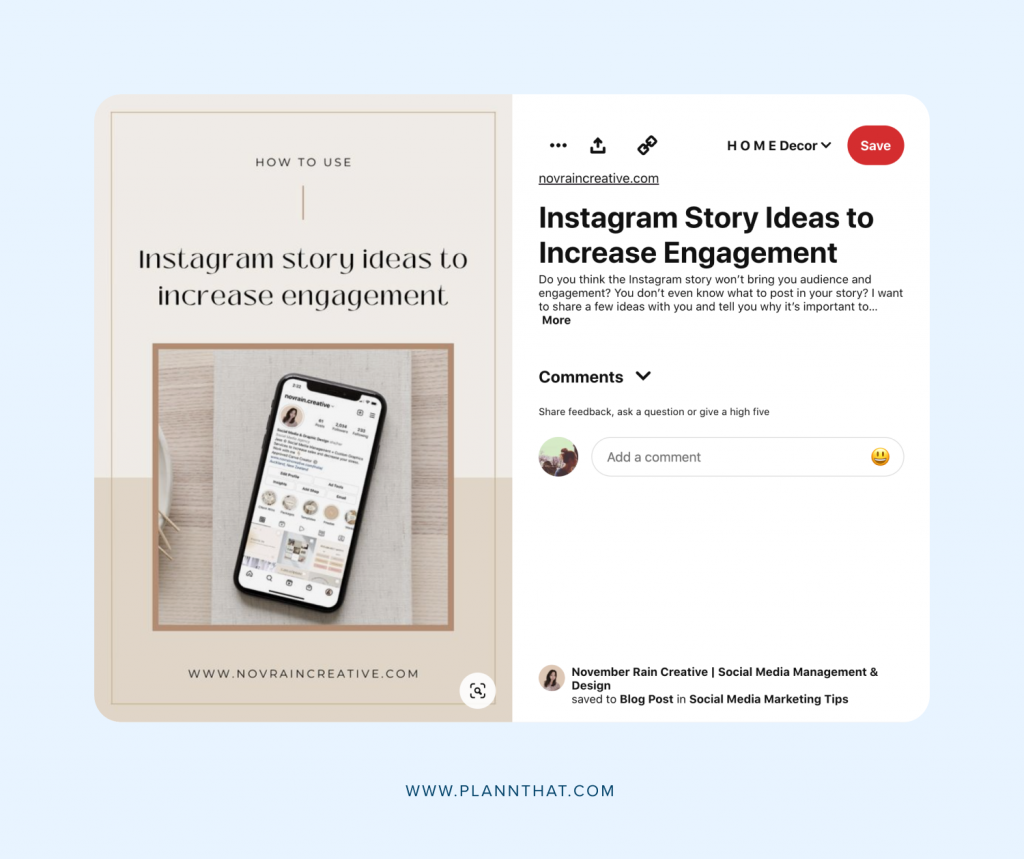 This will expand your reach and help develop your community by allowing your Pins to appear in search results.
In addition, you should include a range of relevant keywords in your Pin descriptions.
Always provide the most important and valuable information first in your Pin descriptions. While you may use up to 500 characters, Pinners will only see the top 50-60 characters on their feed, so leverage this space to your advantage..
6. Publish video Pins
Pinners are huge fans of video content. Organic video pin views are up 240% year on year, with the food and beverage, beauty, DIY, entertainment and home décor categories leading the way.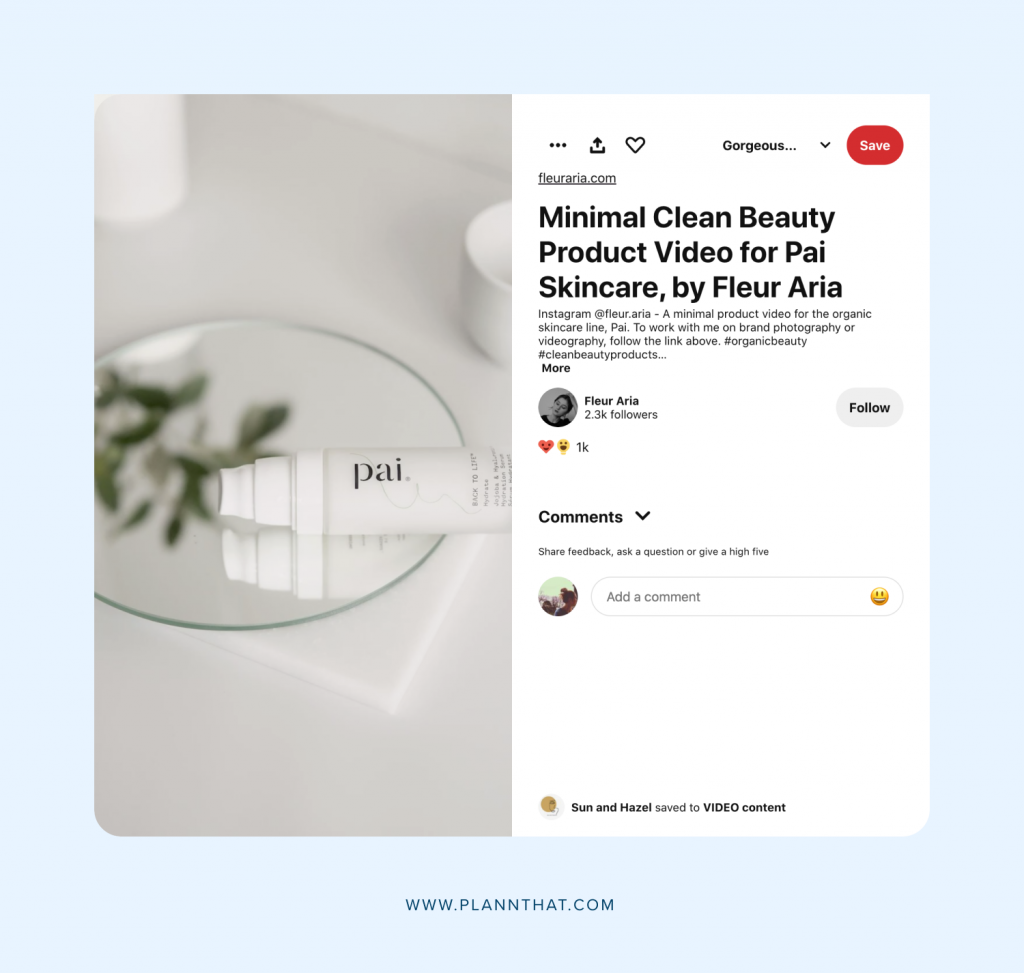 You can say so much more about your brand narrative with a video Pin than you can with an image.
That's not all, though. They're also fantastic for your search engine optimization tactic.
Video pins often appear at the top of the Pinterest mobile app search results. If you search for a keyword on your mobile device, you'll see a block of video Pins hovering above the rest of the stream.
7. Set up Pins with recommended ratios
When you use an appropriate image ratio, your Pins will appear fully in search results, which may make a significant difference in how well they perform.
The 2:3 ratio — roughly 600×900 pixels — is a sweet spot for Pin images. On the other hand, Pinterest may deprioritize images too long to display fully in search results.
8. Leverage Pinterest Ads
On Pinterest, content that you pay to promote are known as Pinterest Ads.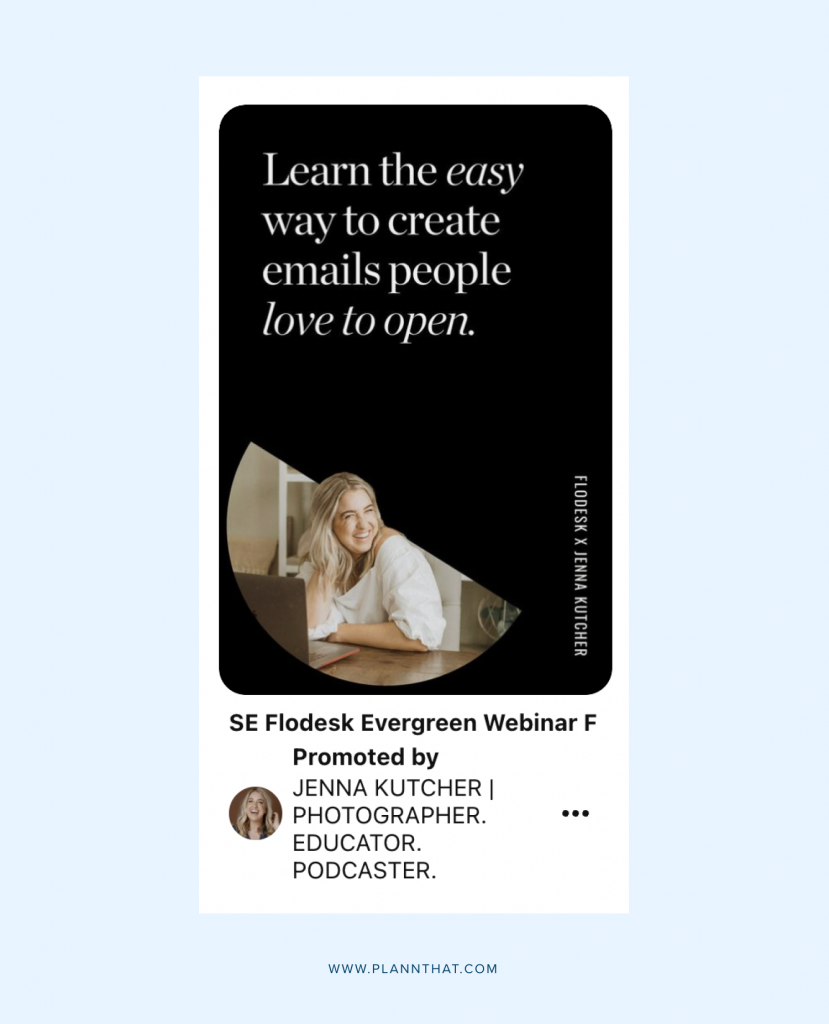 You have the option of promoting an existing best-performing Pin, a new picture or video to campaign as an ad or even Pin and advertising images from your website.
Because Pinterest is a discovery site, users aren't typically flooded with excessive noise from sponsored stories and posts. That's why, when an ad with new ideas or items appears, they're more likely to be curious.
9. Follow other accounts to boost your visibility
Pinterest is more of a discovery site than a social network, but who you follow is still crucial.
Pinterest uses your following list to decide where you'll appear in users' suggested Boards and profiles. Your Pins are more likely to appear in their followers' suggested Pin suggestions when they follow profiles similar to yours.
Choosing the relevant accounts to follow will put you in front of the right eyes, so choose wisely. 
10. Be consistent
Consistency on Pinterest, like most things in life, is essential.
The more you follow SEO best practices, the more the Pinterest algorithm learns about your account. This means your profile and content will be shown to relevant users when they visit Pinterest.
Ready to get noticed on Pinterest?
Since Pinterest works like a search engine, you need to incorporate SEO strategies to make sure that your profile and Pins get discovered.
Now that you know how to be discovered on Pinterest, it's time to implement these tips in your Pinterest marketing strategy.
Did you know that Pinterest is now available on the Plann up? Sign up for a free 7-day trial of Plann today, and start boosting your search visibility and organic reach through Pinterest.