New! Introducing Cross Post with Plann
You can now create and share a single post across multiple social media networks at the same time, all in one step!

The best part – you can make any edits and tweaks for each platform if you don't like the idea of just duplicating the same content everywhere – you can easily optimize for each platform and your different audiences, while optimizing your workflow to get back more of your time, win-win!
We're thrilled to add this feature to Plann so you can quickly (and easily!) create more social posts, across more platforms, helping you get more out of your social media presence.

Cross Posting is the best way to stay consistent and visible across multiple social media platforms, in a simpler, faster, more strategic way. We can't wait for you to try it! 

What is a Cross Post in Social Media Scheduling?
Cross Posting is a clever way of sharing the same content on different social media platforms using Plann. You can even customize each post for each platform to make it more effective. This is important because different platforms have different audiences and strategies, so you can make a positive impact on your growth, sales, and engagement.
Cross Posting is especially useful for brands, creators and small businesses because it allows you to expand your presence on multiple platforms without creating entirely new content. It's a smart shortcut that can bring a lot of benefits if used regularly, and strategically!
We want you to remember though, it's not a crime to post the same content everywhere if time isn't on your side, you're too busy or someone from your team has called in sick. There are times that the same great content can be received exceptionally well across all platforms so don't beat yourself up if you can't, or choose not to, edit or tweak every post.
Check it out! Schedule your first Cross Post →
Why Should You Cross Post and What to Keep in Mind?
When you're planning and creating your content, whether it's on Instagram, Facebook, Pinterest, TikTok or LinkedIn, you're doing so with the intention of engaging with each audience who consume content each a little bit differently.

For example, LinkedIn is a little more professional, with less emojis, where Instagram can have longer captions and TikTok videos captions can be less than 5 words long!
Two great reasons for you to start Cross Posting – one is to expand your reach by growing your audience across platforms. It's often not enough just to be on one or even just rely on one platform alone – it's important to be where new audiences are going, across demographics, so that you can keep building your social media presence. By Cross Posting content across more platforms, you're covering more ground, while engaging with your existing audience and potential new ones. 
The second, of course – is saving time and much less effort. By Cross Posting, you can use the same content across multiple channels instead of having to create more content with all that time you don't have! This is huge for busy people who manage multiple social platforms. The key here is to do it strategically and thoughtfully so you're not just duplicating content everywhere, but speaking to your individual audiences.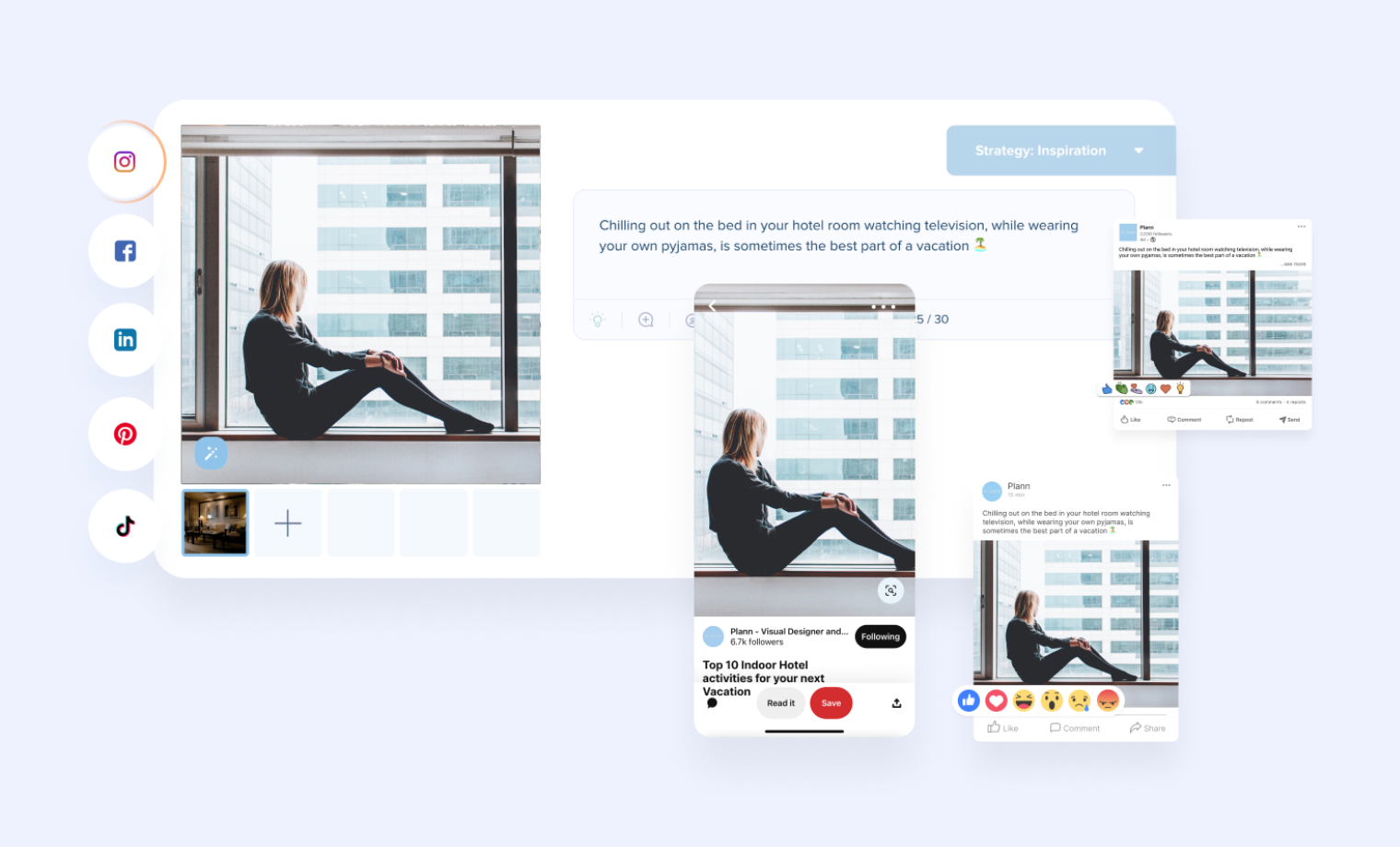 How to Make a Cross Post with Plann?
Access the Cross Posting feature via your usual create page inside Plann.
This is the same place and process where you would create and schedule any other post, we're ready to get started!
Step One:
Choose a platform to start with and create a post by adding a caption, hashtags, uploading images and even choose to schedule it for a time that works best.

Step Two:
Find the new Cross Post (+) button where you can select which social platforms you want to share that same post across other your social media networks too.

Step Three:
Click into each social media platform you've selected, it's here where you can make magic.

Make tweaks to your post while inside each social network, update captions + tweak hashtags, update image ratios, and then you can schedule all at once, OR, schedule each for a different time!
That's it!
Once you've chosen a specific time for your cross posts, Plann will automatically schedule and publish them to your social media platforms, at the times you've chosen.
If you're currently on our Free Forever plan and would like to leverage our Cross Posting feature, simply upgrade to any of our paid options and you can get started straight away!

See which plan is right for you →

Watch How It Works (2 Mins!)

Watch Greta Rose as she demonstrates how she can create a Cross Post with Plann for her brand across multiple platforms, in just ONE step!
What are the Different Media Requirements Across Social Platforms?
When Cross Posting across various socials, you'll also need to keep in mind the specific requirements of these platforms, outside of Plann.
For videos and reels:
– You'll be able to cross post reels/videos but only to platforms that support video posts. 
For stories:
– Please note that stories are not currently supported for Cross Posting. 
For static images:
– You'll be able to cross post static images but only to platforms that support this. Since TikTok only supports video content for example, you wouldn't be able to post static images to TikTok as part of Cross Posting.
How do I Create a Strategy for Cross-Posting that works? 
Each social media platform is unique and has its own style.

That's why we created Cross Posting, to help you adjust your posts to fit each platform and their unique audiences who consume content differently. But don't worry, you don't need a complicated strategy for each platform! Just set goals for each one based on what you want to achieve.
To start, make a list of the social media platforms you want to target and the content you already have or plan to create. Think about how you can frame each post to suit that specific audience and make it stand out. Keep in mind things like sizing for photos and videos, and the conversational style of each platform, including what will help it stand out more – specific keywords, shorter content vs. longer content or visuals, for example?
Then, you can use Plann to cross post your content (with your tweaks) across your social platforms. Connect your social accounts to your Plann account and use the shortcuts like ready-made templates, free stock images, hashtags, and captions to make creating posts easy and fun.
—
We're so excited to launch this much needed Cross Post feature inside Plann, which allows you to get more strategic and consistent on socials – but as always at Plann, in a fast, simple and easy way.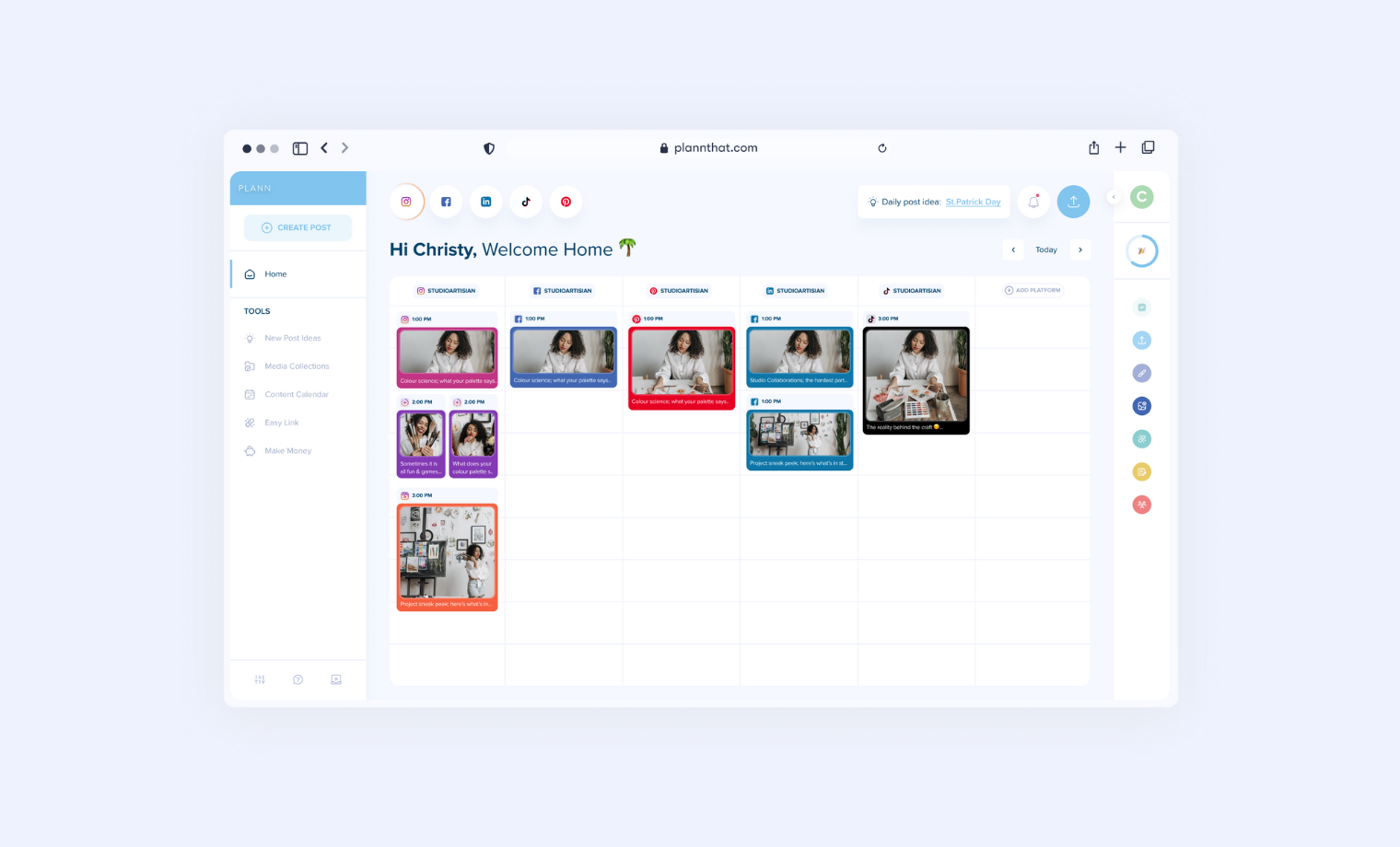 Give it a go! Schedule your first Cross Post in Plann →
Gift Plann to your friends, family or followers!

Gift your friends, family, or followers $10 off Plann with your unique referral link!
By using your unique link, you'll gift them a month of Plann free, PLUS, you'll get $10 Plann credit just for sharing a favorite tool.
Find your unique link in your Plann settings to gift the sunshine in someone's day
HOW TO FIND YOUR UNIQUE REFERRAL LINK: