Picture this: you're trying to batch create and schedule your social media content. You've got no idea what to post, how to make your feed look cohesive and your writer's block is at an all time high. Sound familiar? Trust us, we've all been there! 
In fact, it's the reason we launch Plann: designed to be your all-in-one social media management suite. From developing a social media strategy to picking click-worthy images and even prompts to help you write your captions, we've got you covered.
Ready to ditch inaction and overwhelm and start posting engaging, authentic content your audience won't be able to resist? We've curated a stack of free resources to save you time, stress and to boost oyur engagement and success across every social media platform.
What are you waiting for? Let's dive right into some of our favorite resource to level-up your social presence.
Resource #1: How do I know what to post?
Coming up with content ideas each day can be exhausting, so we've created a resource to help you do just that. Visit Plann's calendar and you'll find a caption prompt for every single day of the year. Seriously.
These daily post prompts are complete with done-for-you captions, hashtag sets, free hand-picked assets and ideas for how to repurpose each post across other social platforms.
From social media holidays, to promoting your upcoming events and driving sales, this is the perfect place to find inspiration for your next piece of content.

Learn how to find + use Plann's daily calendar prompts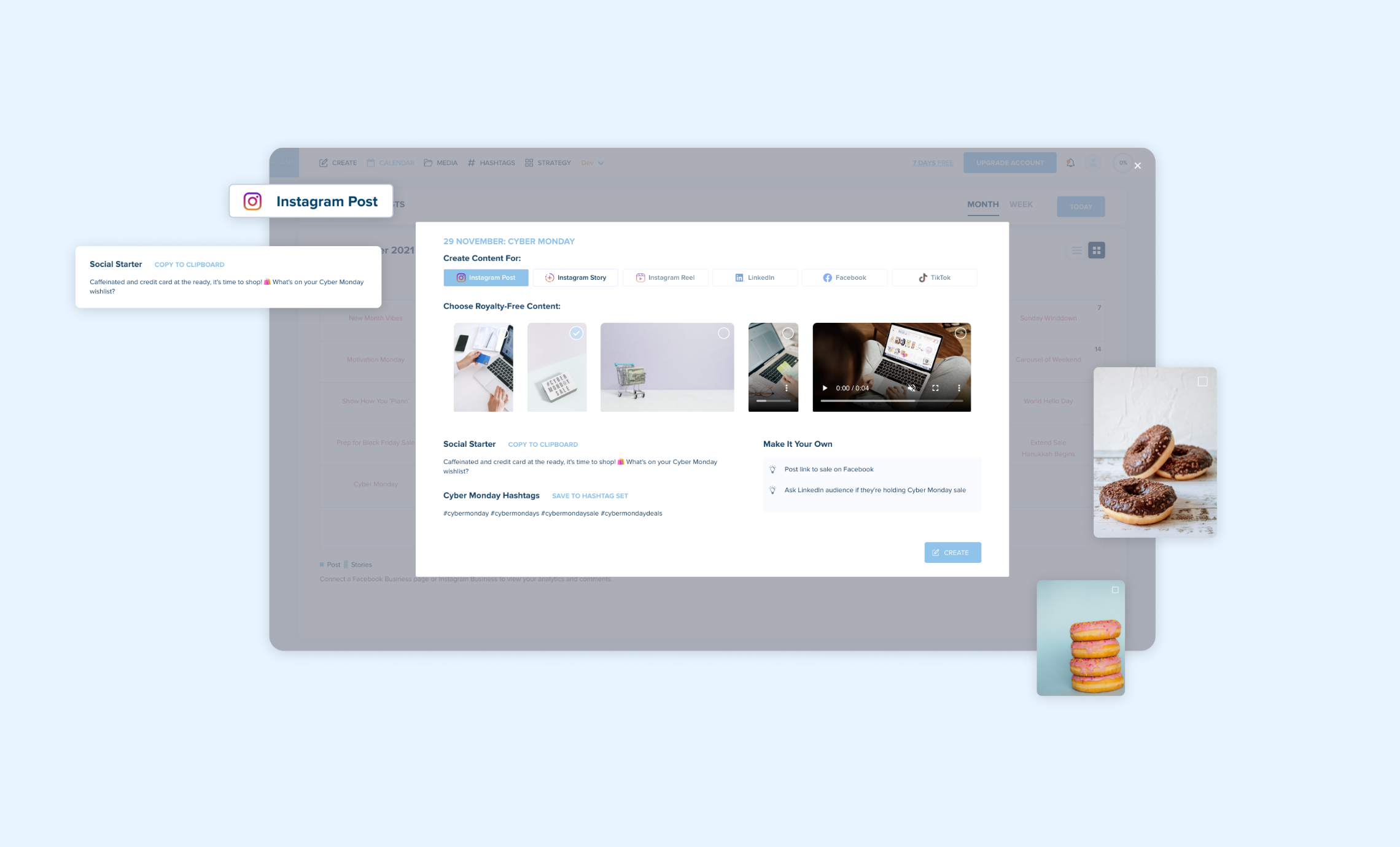 Resource #2: How do I create engaging captions?
Maybe you're launching a new product, introducing a new team member or want to take your audience behind the scenes.There is no need to worry about what you caption might be.
Right inside your Plann workspace, we have literally hundreds of pre-written, purpose-led, done-for-you captions, ready for you to use.
Whether you just want some inspiration or need a fill-in-the-blank guide, you'll be able to quickly add these captions to your posts or customize them to suit your brand message.You can choose from expert categories and content pillars to help you inspire, educate, and engage your audience (all while saving you time in the process). 
The best bit? No one will ever know you had a helping hand.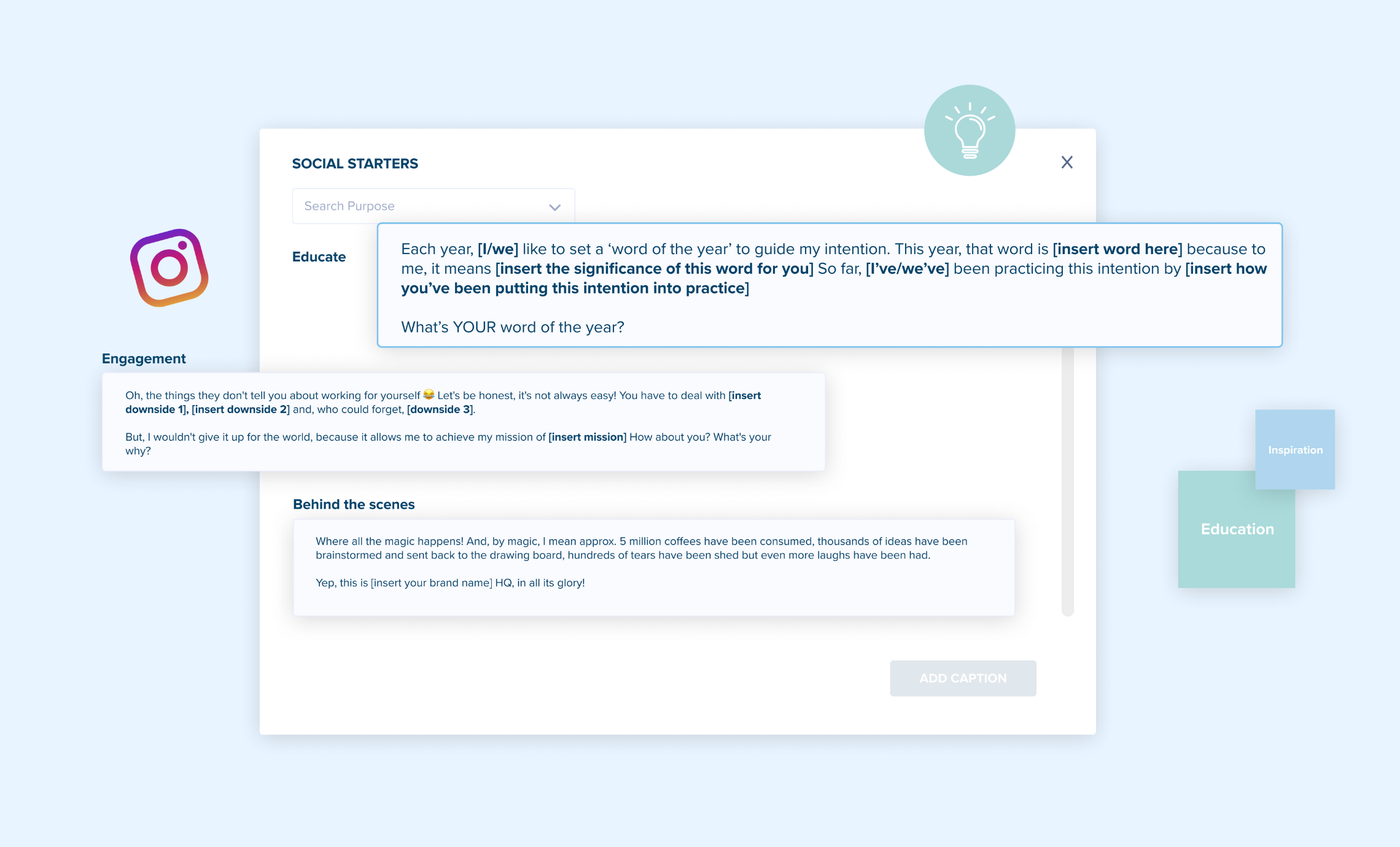 Resource #3: How do I create a strategy for social media?
Each industry is very different, and we all know how important it is to make sure you can market your brand directly to your target audience. That's why, when you add your business to Plann's workspace, we ask you to tell us about what industry you are a part of. 
Maybe you're a photographer, a restaurant owner, a social media manager, or a service-based business – whatever niche you consider your brand, Plann can help you strategize your content easily! 
If planning posts one-at-a-time doesn't work for you, you've got access to Plann's unique content prompts. You can search from over 50 industries, with niche-specific post ideas already mapped out and ready to customize. Plus, you can quickly swap these posts out with your own content and visually plan your grid ahead of time, too.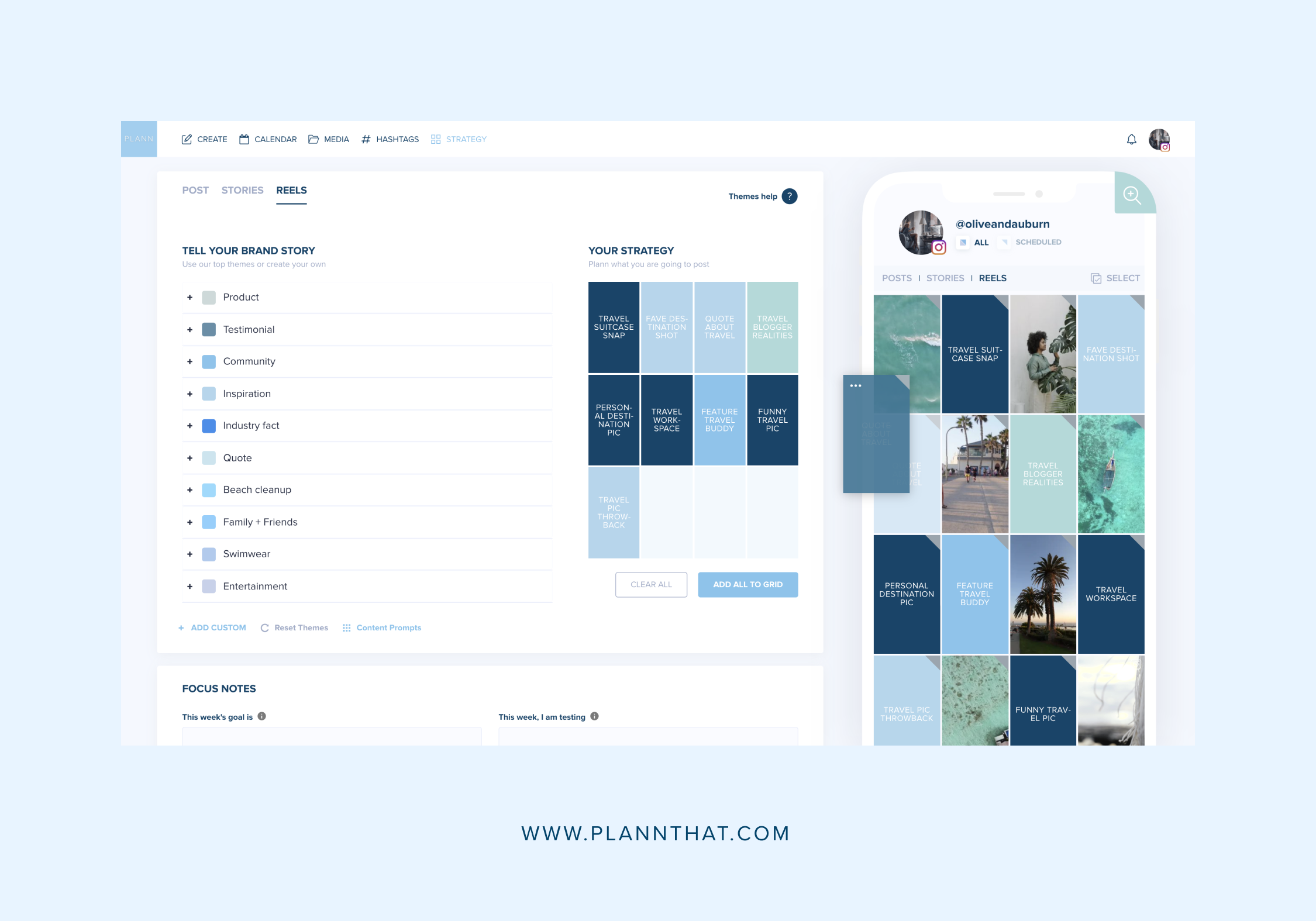 Resource #4: How do I get started with TikTok + Reels?
Bite-size video content (like Reels and TikToks) are becoming an essential part of any marketing strategy, and are some of the most engaging content formats available to brands, businesses and creators. If you find yourself asking "well… how do I even start?" you have come to the right place! 
Trends are constantly changing, and the TikTok and Reels algorithms can be confusing to get the hang of. Save time scrolling through videos trying to find what's trending, and hop on over to where we give you a step-by-step walkthrough of Trending TikTok + Reels Sounds to use for your brand. 
We update these each week to make sure you have a resource to help your marketing strategy stay trend-y! 
Resource #5: Where can I create content for my brand?
Want to strategize, create top-notch visual content, and schedule your posts all in one place? You can do everything you need without even leaving Plann with our wildly popular Canva integration. Here, you'll have access to free templates for every type of social media platform, including stylish Instagram Stories, Pinterest Pins, and more! 
Canva's Social Scheduler with Plann alleviates the pain (and massive time sponge) of downloading and then re-uploading media every time you spot a tiny typo (no judgement, you're only human!).
Psst. If you're a paying Canva customer you'll have access to your branding suite and pre-saved templates, too!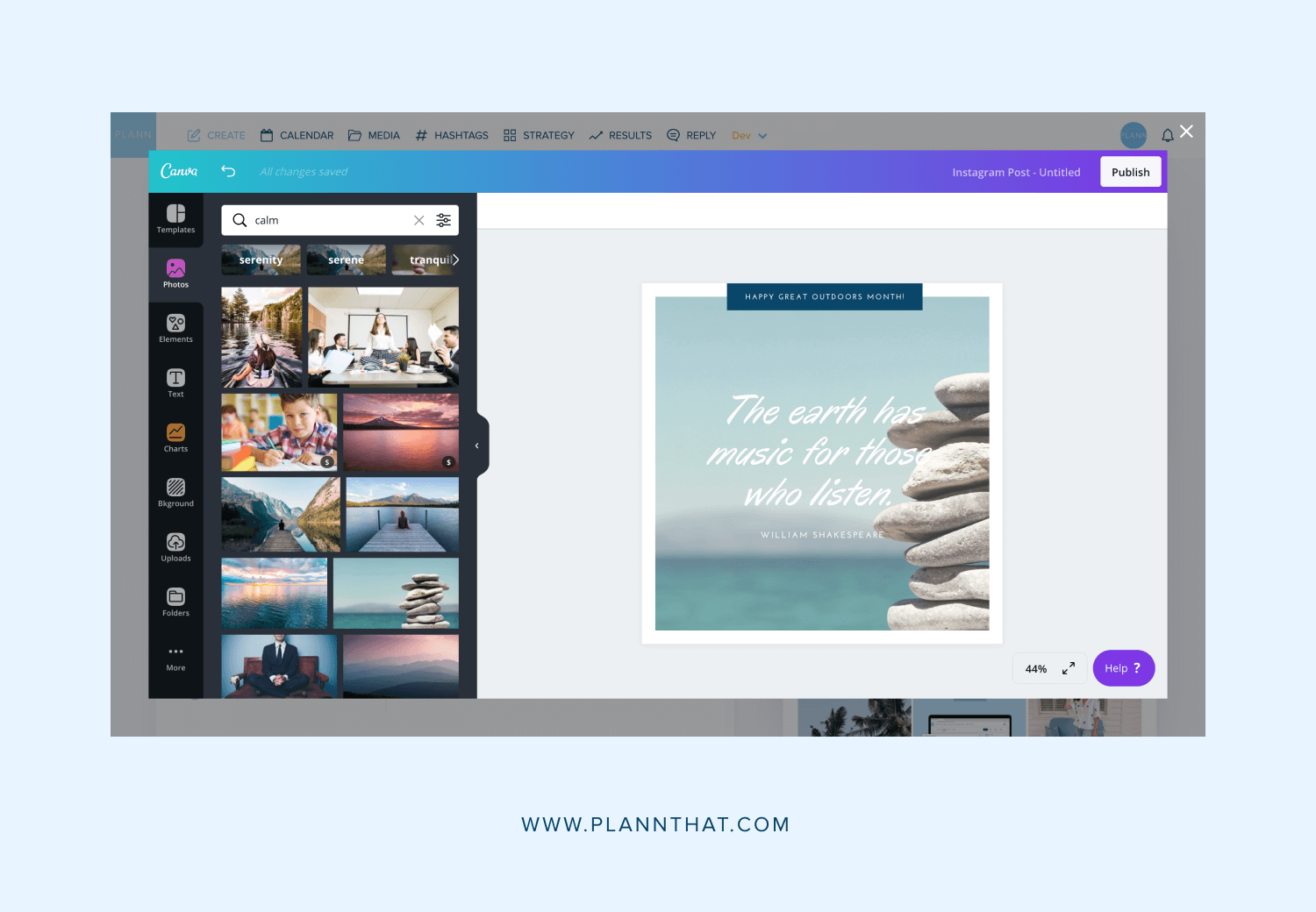 Resource #6: Where can I find pre-made images or videos?
If you want to find images or videos that are already created and ready to post, Plann gives you access to three of the world's largest growing stock libraries to import immediately into your social media workflow. 
Without even leaving Plann, you can search through our integration with Unsplash, Pexels and Pixabay for free videos and photos to use from seasonal events, industry props, locations, animals or people to inspire your next social media post. 
Not having recent photoshoots, modals, content or time will never be an issue again. Go on, browse our stock photo and video libraries and get your content sorted sooner.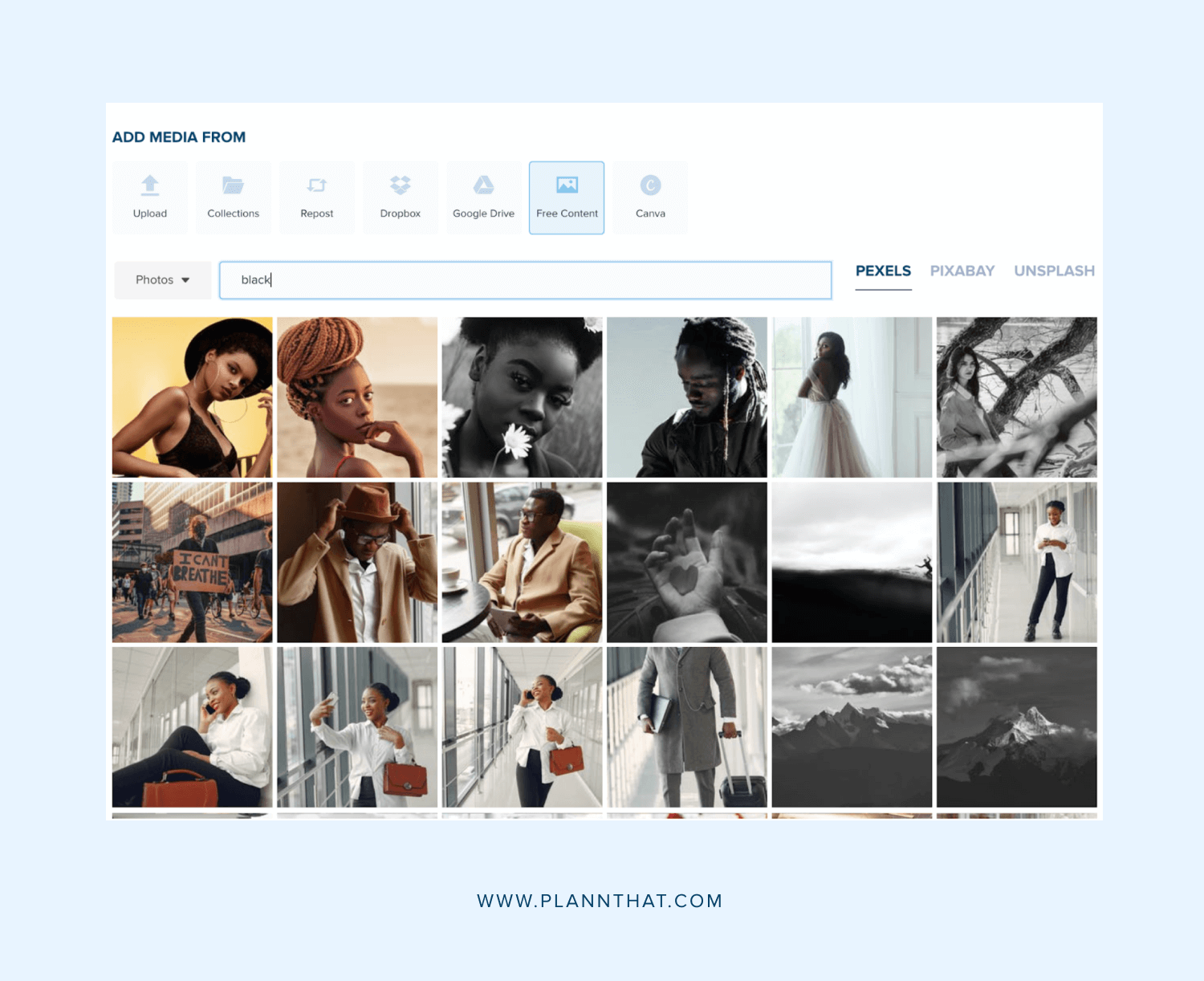 Ready to kick-start your social media planning? 
Now that you have heaps of inspiration to get you started, what are you waiting for? Redeem your 7-day free trial of Plann Plus so you never have to worry about what to post again! If you don't want to continue to a paid plan, you can keep using Plann for free.