Is your Instagram profile optimised for search?
*record scratch*
"What? You mean that SEO stuff isn't just for blogs?"
YUP!
With an optimised Instagram account, you can attract your ideal followers and come up for search terms related to your brand. The best part? It will take you less than 10-minutes to master and apply these Instagram SEO techniques.
Let's dive in!
How to Improve Your Instagram Search Engine Optimisation
Use a searchable username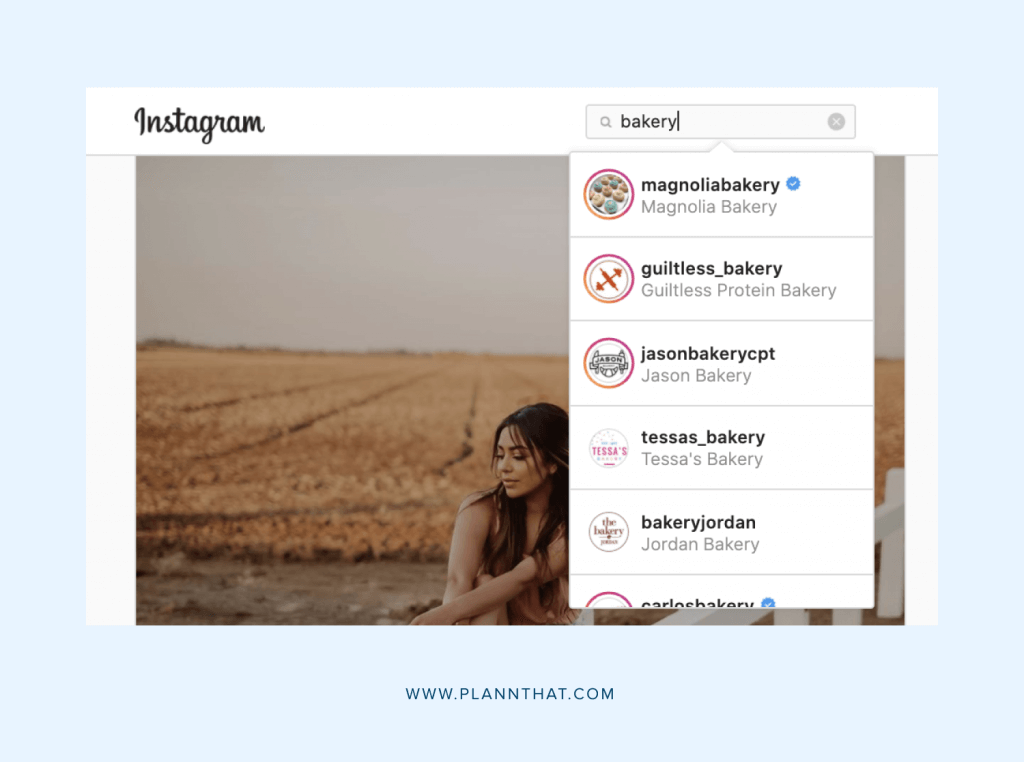 Your Instagram username needs to tell people what your account is about.
Opening up a brand new bakery? Make sure "bakery" is in your username.
Whatever your main keyword is to try to add it to your username. It's not always possible, but it will go a long way in boosting your Instagram SEO.
But whether you choose a username that includes your primary keyword or not, it has to be SEARCHABLE.
What makes a username SEO-friendly on Instagram?
• It doesn't include irrelevant symbols.
• There are no 'made-up' or nonsensical words.
• It's in the language your target audience would use to find you.
Add your primary keyword to your display name

Can't use your primary keyword in your username? Make sure you add it to your display name.
For example, if you offer virtual assistant services you can write something like:
"VA for coaches and creatives."
An Instagram business coach might say:
"Instagram business and marketing coach."
In the world of Instagram SEO, your display name is your YouTube video or blog post title. It's the #1 spot for your most important keyword.
Action Step: Update your display name to include the main keyword you want Instagram to associate with your account.
Read More: 8 Tips for Expanding Your Following Through Instagram Search
Add secondary keywords to your bio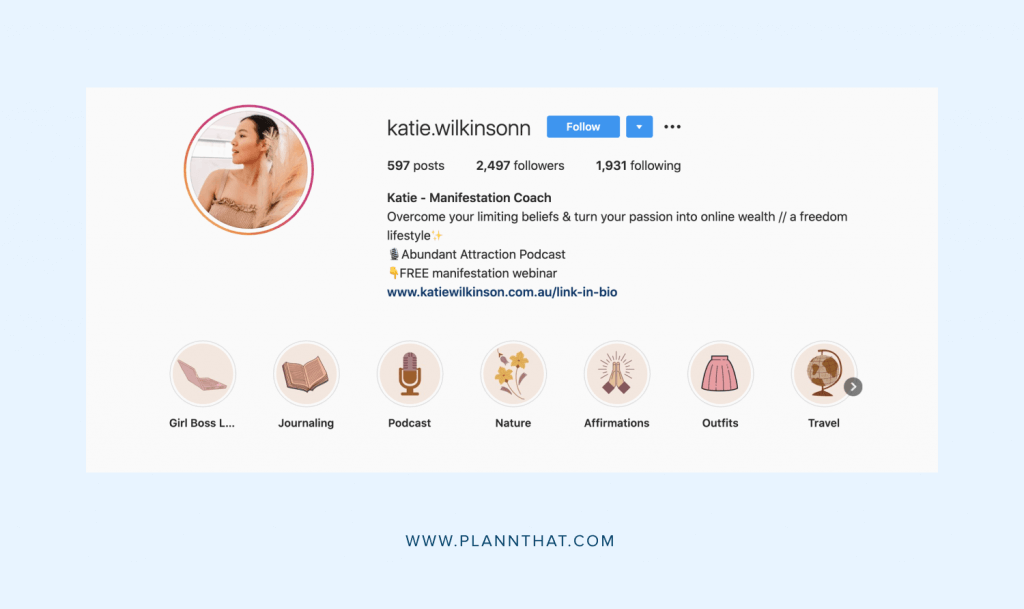 Before you open Instagram and hit that "edit" button for your bio – PAUSE.
Take 10-minutes to sit down and list all the other keywords you want to rank for that are related to your main keyword.
Let's say you're a remote work blogger, some of the other keywords you might use in your bio are:
• Digital nomad
• Location independence
• Work from home
Once you have your list, circle the most important ones to include in your bio. It's up to you how many related terms you want to use, but don't keyword stuff.
You still want your bio to read well and give users a good idea of what to expect from you.
Action Step: Re-write your bio and add your related keywords.
Do your hashtag research

Think of your hashtags as keywords. These words are how 'non-followers' are going to find your content on Instagram.
If you're feeling overwhelmed with choosing hashtags, create hashtag sets for each topic you speak about on your profile.
For example:
If you're a personal branding coach, you might have hashtag sets for:
• women in business
• social media marketing
• online business
By researching your hashtags and grouping them, it will save you so much time when you're planning your content.
Read More: Instagram Hashtags for Photography that Will Get You Noticed
Use Instagram's alt text
Psst…did you know Instagram allows you to create alt text for your photos?
It's a little-known trick that will boost your Instagram search engine optimization.
The feature was designed to help visually impaired users enjoy the app. If you don't take the time to edit the alt text for your photos manually, Instagram will do it automatically.
But why leave your SEO up to an app?
It's way better to do it yourself and make sure your image and the alt text match up.
How to edit your alt text
• Before you share your photo, click on the advanced settings tab at the bottom.
• Scroll to the bottom and tap on "write your alt text."
• Add your image description, save it and share your image.
It's the same when adding alt text for photos on a website. It can boost your posts with the algorithm, and your photo will come up when someone does a voice search.
Action Step: Add alt text to your next post and update a few of your older posts.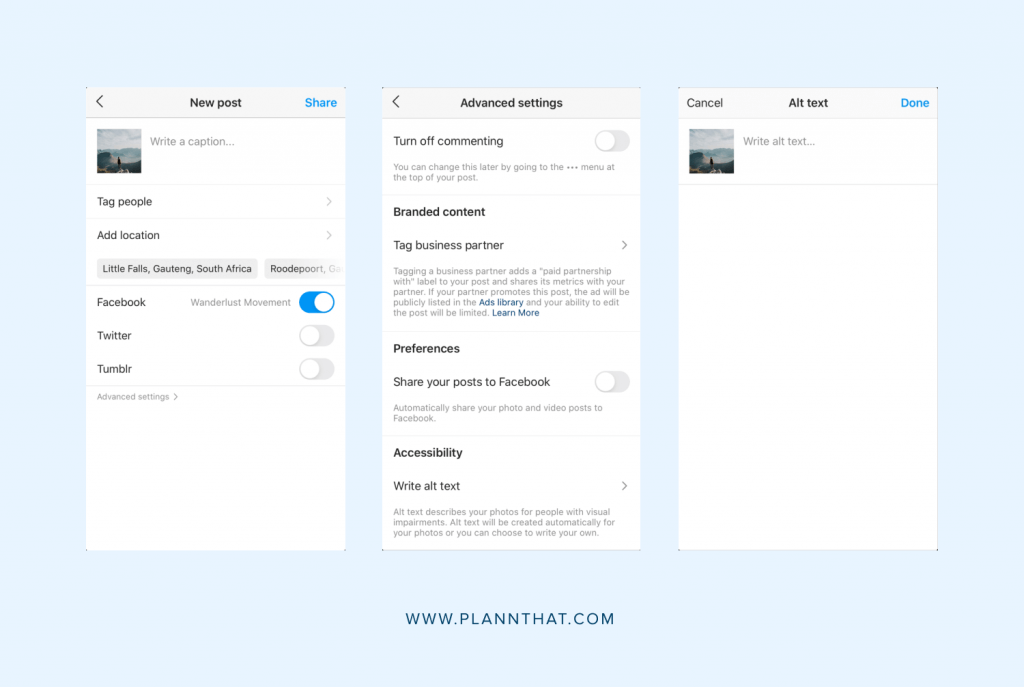 Think of your image captions as title tags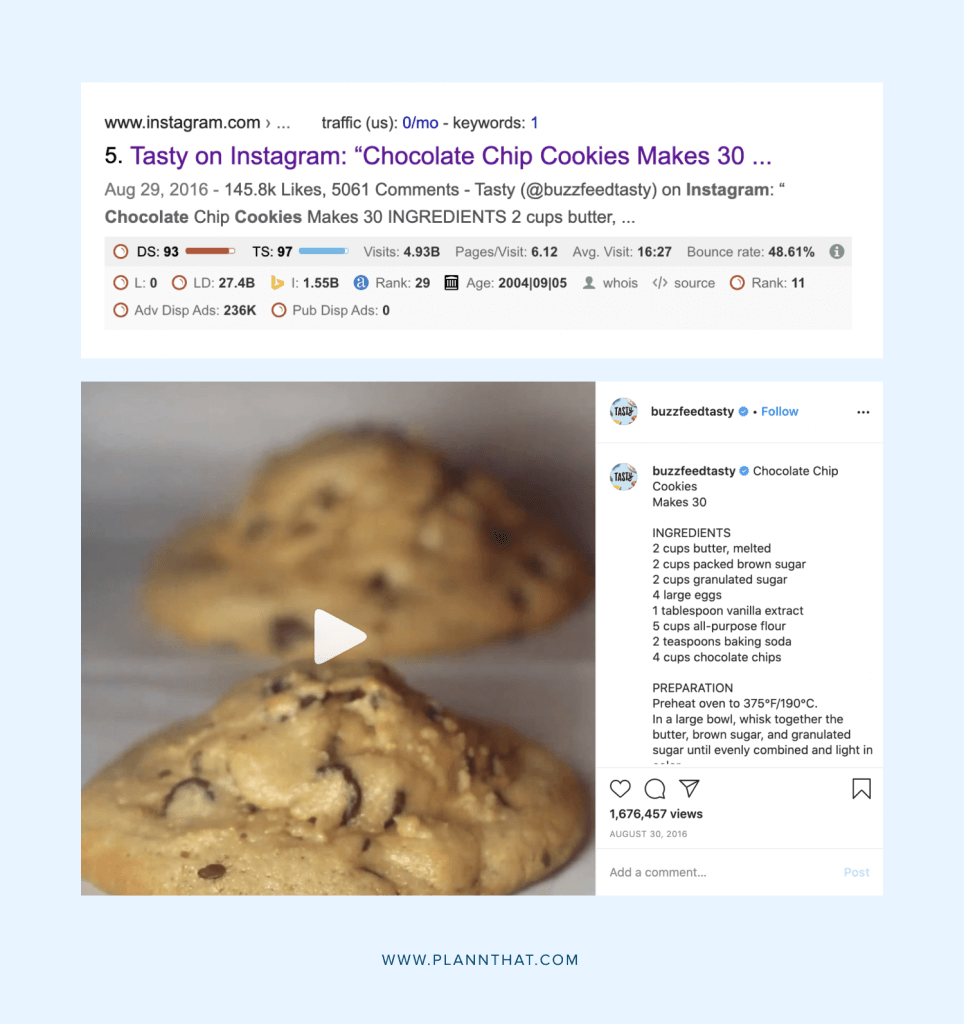 New to the world of SEO? Wondering what the heck is a 'title tag'?
We got you.
A title tag is the title of a blog post. It's what you'll see in Google search results highlighted in the dark blue font.
When you create a post, Instagram creates a unique URL for it and uses your photo's caption as the title tag.
While it might not always be possible to do this, you want to make sure that the most relevant keywords of your caption are at the beginning.
The reason?
Google will cut off your title after 60 characters.
Read More: How to draft a post on the Plann App
Avoid using Instagram black hat SEO techniques
Google isn't the only website cracking down on users trying to cheat the system.
Instagram uses shadowbans to punish accounts that repeatedly break the rules.
How can you avoid landing up on Instagram's naughty list?
Avoid these common Instagram black hat SEO techniques:
• Don't use bots to like and comment on posts.
• Don't buy followers.
• Don't use the same hashtag set for every single post.
• Don't mass follow accounts in one session.
While it's tempting to give in to these techniques to improve your vanity metrics, remember that's a goal that isn't going to help you in the long run.
Organic engagement from REAL people is what you want.
At the end of the day, if you have 10K followers who are all bots, what's the point if none of them are going to buy your services or products? 
You could have used that money you spent on bots on things like an ad campaign which would give you results that would lead to sales and growing your authority.
Start Optimising Your Profile with Instagram SEO
SEO may be a tactic for content marketers, but that doesn't mean you can't apply those strategies to your Instagram account.
By following these 6 steps, you can:
• Boost the chances of your ideal follower finding your account.
• Increase your vanity metrics e.g. the number of followers and likes.
• Help the Instagram algorithm figure out what your account is all about.
• Make it easier to sell to your audience.