What is Pinterest used for? Once, Pinterest was a place for recipes, weddings, and DIY projects. Today, the app has over 400 million users and offers stacks marketing potential for businesses across almost every industry and niche.
By adding Pinterest to your social media marketing strategy, you can capitalize on a highly engaged and sales-motivated audience who are on the platform to discover their next purchase.
To ensure that you're getting the most out of your Pinterest marketing efforts, it's important that you know how to use Pinterest for business. So, we've rounded up 7 must-try Pinterest marketing tips to help you along the way!
How does Pinterest work for business marketing?
Pinterest is a unique social media platform for a stack of reasons. In fact, it's more accurately described as a visual search engine, helping users find inspiration, ideas, and products related to their search behavior.
Driven by a visual-first format, Pinterest is well known as a conversion-driving tool for businesses. Take this impressive state: 82 percent of active Pinterest users claim to have purchased products after seeing it on the app.
Unlike many other social media apps, Pinterest users don't have to maintain time-consuming engagement strategies to grow. Instead, Pinterest's content algorithm relies on search and Pin data to serve users posts they are likely to be interested in.
Best of all, these are stacks of organic content opportunities on Pinterest, meaning businesses don't need to sink thousands of dollars into social advertising to get results on this platform.
Whether you're running a fashion outlet or selling cookware, there is a place on Pinterest for you and your business to boost audience reach and market to the masses.
Ready to kick start your Pinterest for business marketing strategy? Let's run you through 7 must-try tips for Pinterest.
Tip 1. Set up a Pinterest business account
The first step to Pinterest marketing success is choosing the right account type. The best choice is a business account as it gives your brand a stack of helpful features (from the ability to promote your content as well as detailed content analytics).
If you're completely new to Pinterest, follow these steps to set up your account:
1. Visit Pinterest for Business on your phone or desktop.
2. Click "Join as a business."
3. Follow the prompts to fill out your business details, then read and accept the app's Terms of Service.
4. Click "Create Account."
5. Fill in the rest of your Pinterest account information. On your profile, add your business logo, a brief description of your brand, and a link to your website.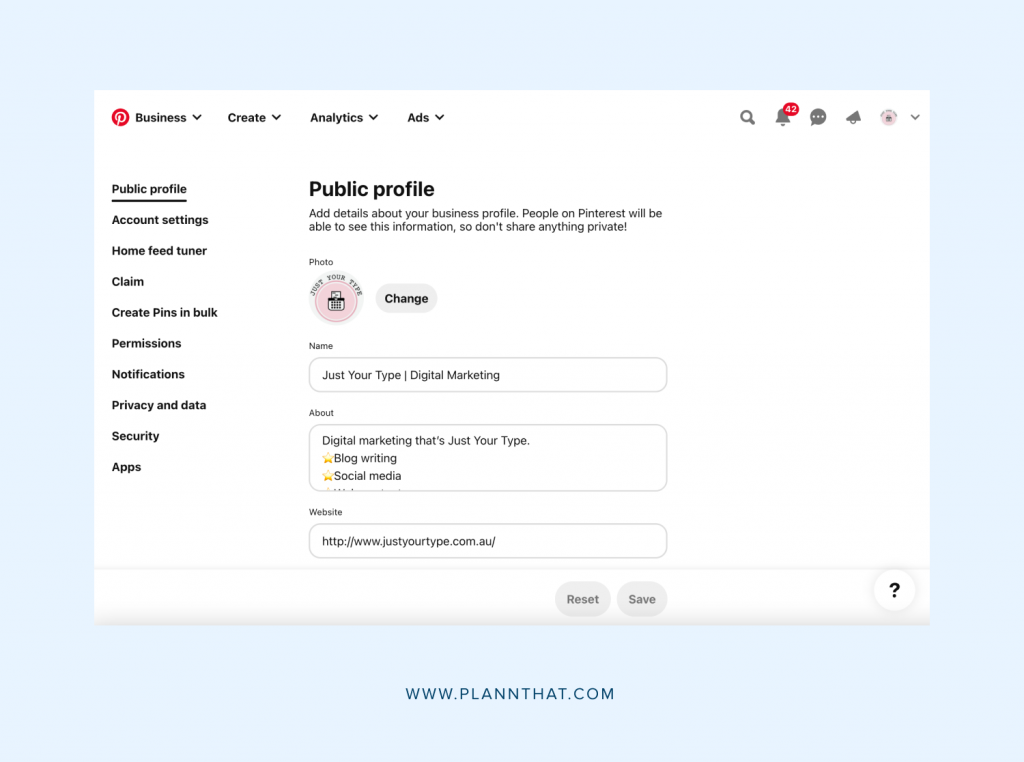 If you already have a personal Pinterest account and want to change it to a business account, follow these steps:
1. Log into your existing Pinterest account, and visit your profile.
2. Click the down-facing arrow that appears at the top right of your screen, and select "Settings," then "Account Settings."
3. Scroll down to "Account Changes," and choose "Convert Account."
4. Click "Upgrade" to turn your personal account into a business account.
5. Fill out all your business details, and update your profile to reflect your branding.
A Pinterest business account will give you plenty of marketing advantages, including access to advertising tools and account insights. More on those things later!
Tip 2. Create a clear Pinterest marketing strategy
As with any social media platform, Pinterest marketing is all about strategy. By setting clear and measurable goals, you can establish a strong and well-informed marketing plan.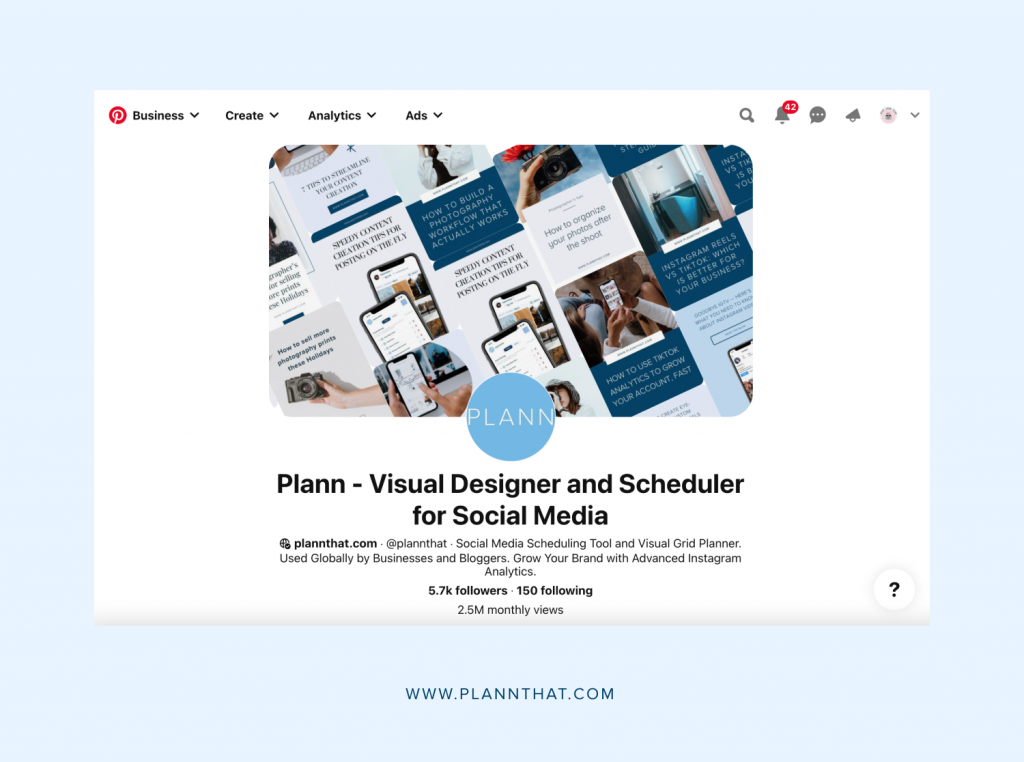 Start by understanding your target audience and the general demographics who are most likely to use the Pinterest app.
Pinterest users are based all around the world and are mostly female. Most users are aged 50 to 64, with the 30-to-49 and 18-to-29 age categories closely following. Will these audiences align well with your brand and its offerings?
Next, examine the Pinterest accounts and strategies being used by your key competitors. This will help you develop a stronger sense of what works and what doesn't on the platform for your industry.
Finally, create a clear and consistent content calendar for your brand's Pinterest account, posting regularly and ensuring that all posts are purposeful and on brand.
Tip 3. Share high-quality posts on Pinterest
Similar to Instagram and many other social media apps, Pinterest is a predominantly visual platform, relying primarily on photo and video content.
To keep your Pinterest communications clear and effective, ensure that all of your posts are of the highest possible quality, avoiding blurring and pixelation. Mix up posting formats, using a combination of single images, carousel posts, and videos.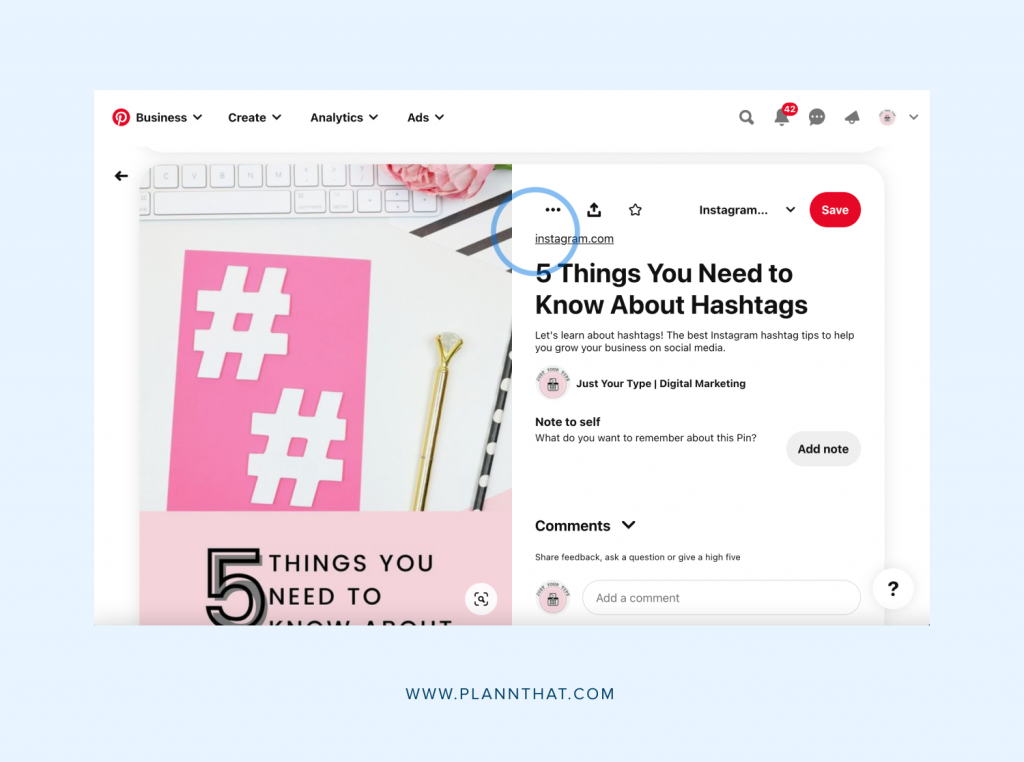 Many Pinterest users access the app via mobile, so content designed for mobile viewing is a must. It's best to use vertical imagery, generally aiming for a 2:3 aspect ratio.
Tip 4. Optimize your Pins to make the most of search engine optimization (SEO)
On Pinterest, SEO is even more valuable and important than on other social media platforms. Well-optimized written content can help Pinterest users to find and discover with your posts. That's because every single piece of content on Pinterest is searchable, giving your business huge opportunity to boost your reach and visibility with a few simple SEO tweaks.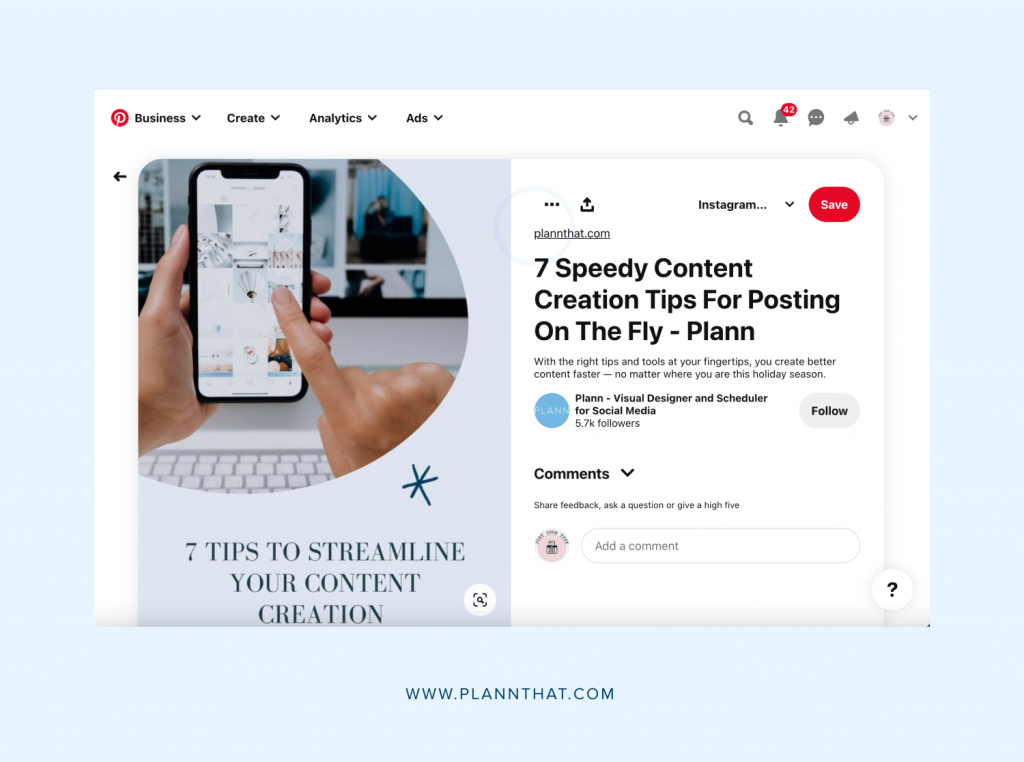 With every Pinterest Pin, include a clear headline and use searchable keywords that relate closely to your business, industry and products.
Apply the same theory to your Pin descriptions. Keep these brief, easy to read and incorporate keywords smoothly and organically. And don't forget a call to action!
For an extra chance at SEO and improved accessibility, fill in alternative text for all visual Pinterest content.
Tip 5. Always include an outbound link
Pinterest marketing is all about driving engagement and sales, and the best way to do this is by directing users to your primary sales channels. In other words, your website!
Outbound links can function as calls to action. These links should be highly relevant to the posts they appear in, taking users to your businesses' website where Pinners can purchase the products they discovered on Pinterest.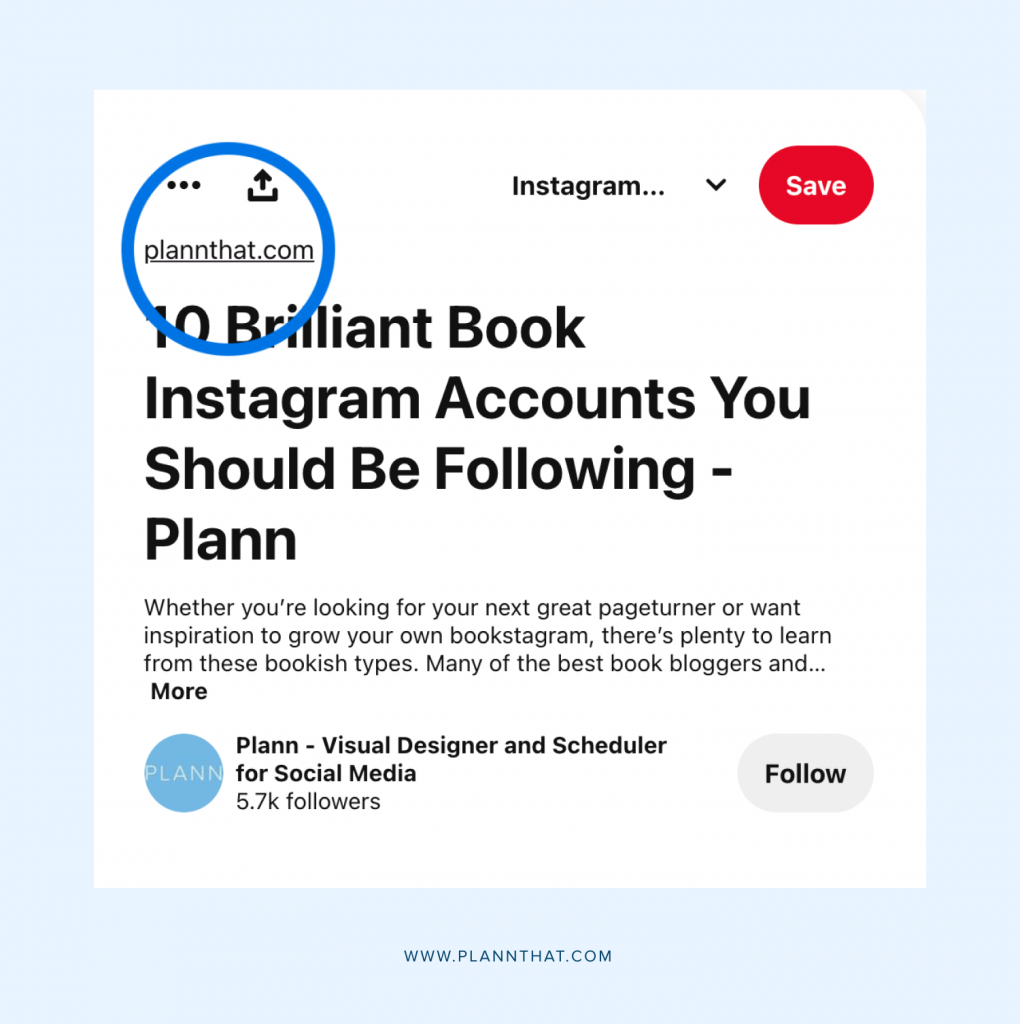 You can even use your website to drive new traffic to your Pinterest account by adding a Pinterest save button to product images.
Make sure that all outbound links are working correctly. There's nothing worse than a broken link when it comes to online shopping!
Tip 6. Try paid Pinterest advertising
While Pinterest offers great scope for organic marketing, it also has paid advertising opportunities.
If you're creating a social media marketing campaign, promoting your Pinterest posts can help you to reach new audiences. You can run paid ads for single Pins or for whole content collections of Pinterest content.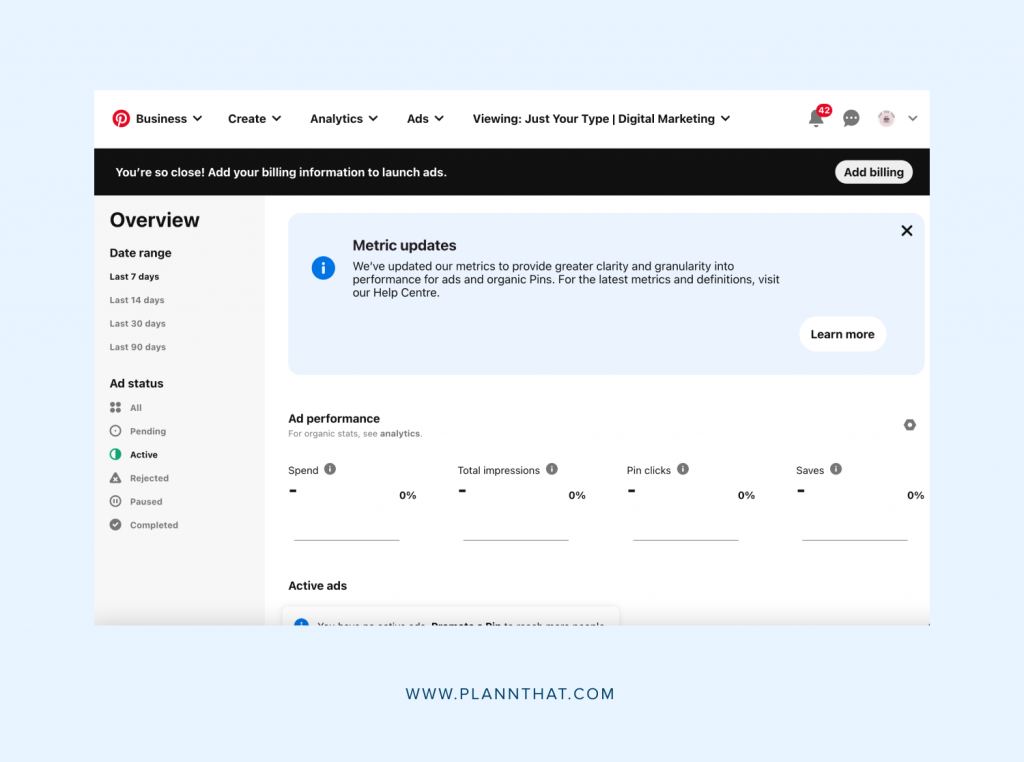 Tip 7. Keep track of Pinterest metrics and analytics
When it comes to growing on social media, there's nothing as important as understanding your account data and analytics.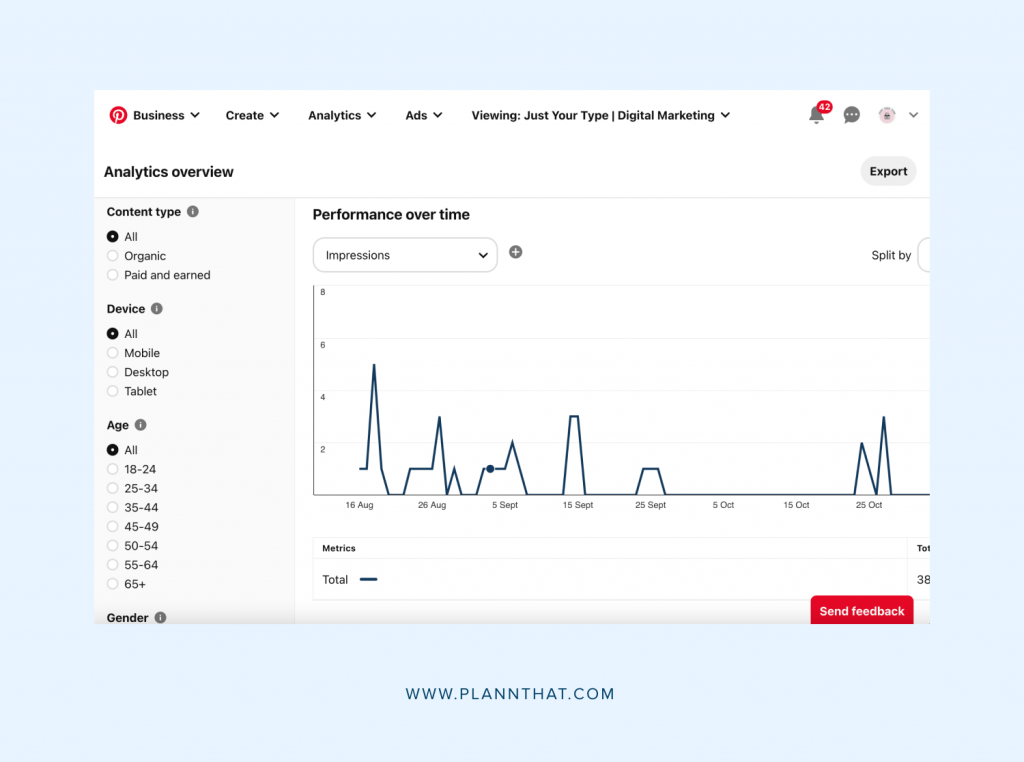 On desktop, you can find your Pinterest account data by clicking "Analytics" at the top of your screen. This will take you to a data overview which you can filter by time period, content type, device, and audience.
Using your Pinterest analytics, you can improve your understanding of your audience and their interests, helping you to adjust your marketing strategy and aim to produce content with higher conversion rates.
Master Plann'ing for Pinterest
Are you keen to start using Pinterest as the latest addition to your social media marketing strategy? The key to success is planning ahead!
Sign up for a free 7-day trial of Plann today and you can manage your entire social media strategy from one effortless dashboard.