Auto Post for Instagram Stories – No Push Notifications or Manual Posting Needed!
We have some fan-freaking-tastic news to share!!
Our team has been working tirelessly to make your Instagram experience even better.
We're thrilled to announce our latest feature: Auto Post for Instagram Stories. Get ready to say goodbye to manual posting and hello to effortless scheduling!
That's now Instagram Auto Scheduling for your Posts, Carousels, Reels AND Stories, all from Plann!
Let's dive into all the exciting details, available now for you to start scheduling your Instagram Stories on both Plann Desktop + Plann App straight away.
No Push Notifications Or Manual Posting!
YEEHOOIIEEEE!!
We've been jumping on couches and spilling wine ever since we saw Instagram update their documentation to be able to offer Instagram Stories Scheduling and got to work straight away.
Here at Plann, we understand how important it is to streamline social media management, we know it's difficult, especially when not all types of posts can be auto-posted.
With Auto Post for Instagram Stories, you can now schedule your Stories without the hassle of push notifications. Let's take a closer look at the benefits!
Easy Instagram Story Scheduling!
No more worrying about remembering to post your Stories at the perfect time.
This new update lets you schedule your Instagram Stories ahead of time, ensuring they are shared automatically without any additional effort on your part. Simply set it up and let Plann handle the rest for you, we can't wait to keep your online presence rolling.
Seamless Integration
Auto Post for Instagram Stories seamlessly integrates with your existing workflow! Whether you're a social media manager, a small business owner, or an influencer, Plann is designed to simplify your Instagram posting process. Enjoy a stress-free experience while maintaining an active and engaging presence on Instagram that gets you results.
Increased Efficiency
By automating your Story posting, you'll free up valuable time to focus on creating compelling content and engaging with your audience, or getting you more time back to work on your business. Our goal is to empower you to be more efficient and effective in your social media management efforts to ensure your online brand is successful.
Personalization and Flexibility
We understand that everyone has unique needs and preferences, that's why our Auto Post feature allows you to customize your Stories to reflect your brand's personality. From adding stickers and filters to adjusting the posting frequency, you have the flexibility to tailor your Stories to align with your goals with our Professional Editing Suite.
How It Works!
All Plann Plus (paid subscribers) will be able to create, edit and auto-schedule Instagram Stories to their connected Instagram account as of right now.
Simply create your next story and choose the time you'd like Plann to auto-publish it for you!
With Plann, you can choose to upload and schedule one item at a time, OR, choose to upload and add up to 10 pieces of media as a 'multi-story post' to tell a complete story, and we'll make sure to upload them in the right order!
Are There Any Limitations?
There are a few imposed by Instagram, including:
• You can publish up to 25 individual posts to Instagram within a 24hr period, which includes all Posts, Stories and Reels within the 24hrs.
• You must have an Instagram Business Page connected to Plann
• Currently unable to tag people, locations, external links or products (we're keeping an eye out for any of these changes, you'll be the first to know!)
• Publishing Emojis + Stickers through Instagram are currently not supported, but you've got full access to Plann's inbuild Image Editor.
Story Video Specifications:
• Container: MOV or MP4 (MPEG-4 Part 14), no edit lists, moov atom at the front of the file.
• Audio codec: AAC, 48khz sample rate maximum, 1 or 2 channels (mono or stereo).
• Video codec: HEVC or H264, progressive scan, closed GOP, 4:2:0 chroma subsampling.
• Frame rate: 23-60 FPS.
• Picture size: Maximum columns (horizontal pixels): 1920
• Required aspect ratio is 0.1:1 to 10:1 but we recommend 9:16 to avoid cropping or blank space
• Video bitrate: VBR, 25Mbps maximum
• Audio bitrate: 128kbps
• Duration: 60 seconds maximum, 3 seconds minimum
• File size: 100MB maximum
Story Image Specifications:
• Format: JPEG
• File size: 8 MB maximum.
• Aspect ratio: We recommended 9:16 to avoid cropping or blank space
• Color Space: sRGB. Images using other color spaces will have their color spaces converted to sRGB
Try Scheduling Your First Instagram Story! →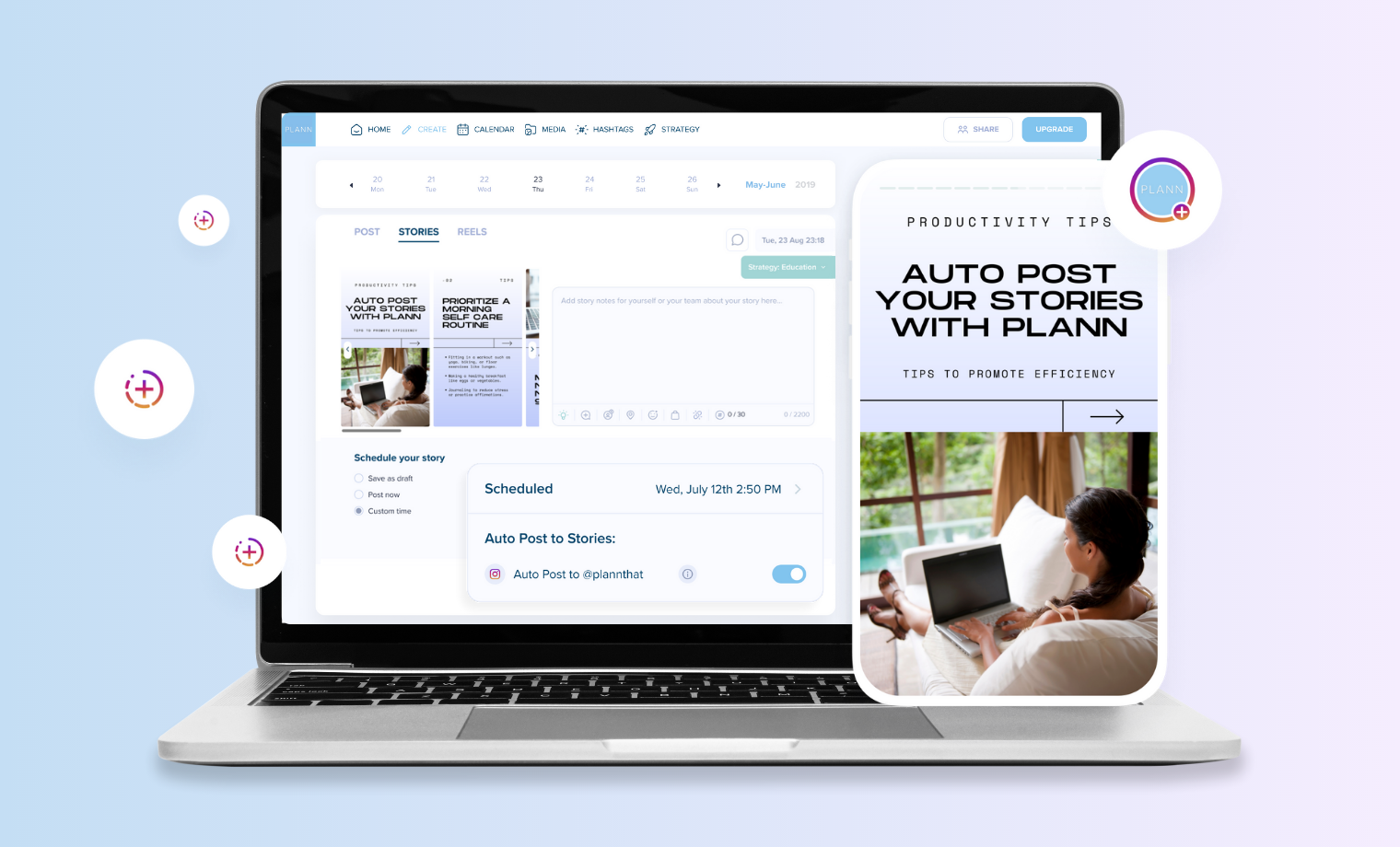 Our team is tickled pink to announce Auto Post for Instagram Stories, the latest addition to our social media management toolkit.
Embrace even more convenience and efficiency of scheduling your Stories without guessing, manual posts, or the need for push notifications. Get ready to save time, engage your audience, and elevate your Instagram presence like never before!
Start using Auto Post for Instagram Stories today and experience the difference it can make in simplifying your social media management. Stay tuned for more exciting updates as we continue to enhance our platform based on what you need.
What to Post on Instagram Stories?
Know you need to be more consistent and have more stories running on Instagram to give your brand the best chance at success, but are out of ideas?
Here are 10 ideas to get you started!
Behind-the-Scenes Sneak Peeks: Share exclusive glimpses of your business operations, product creation process, or team members at work. This provides an authentic and transparent view of your brand, fostering a sense of connection with your audience.
Product Demos and Tutorials: Showcase your products or services through short demos or tutorials on Instagram Stories. Highlight key features, benefits, and different use cases. This helps educate your audience and builds trust in your offerings.
User-Generated Content (UGC): Share user-generated content from your customers or followers who have interacted with your brand. Repost their photos, videos, or testimonials and give them credit. UGC not only adds authenticity but also encourages community engagement and loyalty.
Limited-Time Offers and Promotions: Utilize the urgency factor by posting limited-time offers, flash sales, or exclusive discounts on your Instagram Stories. Use engaging visuals, compelling captions, and clear instructions to drive immediate action from your audience.
Polls and Q&A Sessions: Encourage audience interaction and gather valuable insights by using polls and Q&A features in your Stories. Ask questions, seek opinions, or let your followers ask you anything. This fosters engagement, encourages feedback, and helps you understand your audience better.
Storytelling: Craft engaging narratives through a series of Stories. Tell stories about your brand's history, milestones, or customer success stories. Use captivating visuals, text overlays, and swipe-up links to keep your audience hooked and encourage them to explore further.
Collaborations: Partner with relevant brands or micro-influencers in your niche to create collaborative Stories. This helps expand your reach, tap into their followers' audience, and add credibility to your brand.
Day-in-the-Life Content: Take your audience on a virtual tour of a typical day in your business or showcase a day in the life of your employees. Share interesting moments, challenges, or exciting projects. This personal touch humanizes your brand and creates a stronger connection with your audience.
Event Coverage: If you attend industry events, trade shows, or conferences, document your experience through Instagram Stories. Share highlights, key takeaways, or interviews with industry experts. This gives your audience a sense of being part of the event and helps position your brand as knowledgeable and active within your industry.
Contests and Giveaways: Engage your audience and incentivize participation by running contests or giveaways through Instagram Stories. Ask followers to tag friends, answer questions, or share their own Stories related to your brand. This not only boosts engagement but also helps expand your reach as participants spread the word.
Remember to maintain your consistent brand voice, use high-quality visuals, and include interactive elements such as stickers, gifs, and music to make your Instagram Stories visually appealing and engaging. Analyze the performance of your Stories using Instagram insights to refine your content strategy and continue to provide valuable and captivating content to your audience.
Auto Post Your First Instagram Story Now →
With Plann Plus you also get immediate access to build your social media audience faster, with enhanced tools to boost your brand including:
→ Auto Posting your Instagram Posts, Reels, Carousels, and now Stories too!
→ Cross Post to all of your social media channels at once, all in one step.
→ Product Tagging to make sure all of your posts are shop-ready.
→ Premium strategy tools so you always have a plan for what to post next.
→ Additional customisations for your own Link-in-bio (EasyLink) page, included with your Plann subscription!
So much more!
Gift Plann to your friends, family or followers <3

Gift your friends, family, or followers $10 off Plann with your unique referral link!
By using your unique link, you'll gift them a month of Plann free, PLUS, you'll get $10 Plann credit just for sharing a favorite tool.
Find your unique link in your Plann settings to gift the sunshine in someone's day
How to find your unique referral code;