'Beep Boop Boop Beep' Are you ready for the robots? …AKA chatbots and making conversation part of your 2023 marketing strategy?
As business owners, we're always looking to stay ahead of the game. So, adding a simple customer support chatbot across Facebook Messenger, SMS, Whatsapp into your 2023 social media strategy is a must.
Why use a chatbot for your digital platforms?
The fact is, it's 2023 and human behavior has changed. Customers expect 5-star, red carpet treatment immediate personalized information, — preferably with jazz hands and a confetti shower. There's a precedent of 24/7 immediate service and let's be honest — the expectation is an instant reply back, even if you're on the toilet!
And if you can't provide that? No worries, there's always another business ready to swoop in that can! Expectations are high and small-to-medium businesses, solopreneurs, eCom, and brick-and-mortar stores alike are STRETCHED to the max.
So how can we easily introduce a simple, plug-and-play, automated solution to ensure all questions are answered on all platforms immediately, and that we're not leaving money on the table?
The answer, my friend, is chatbots! Now, before we move on, I want to address the elephant in the room. I know many of us tend to have negative associations with the term 'bot', because we think of spammy Instagram bots that comment things like 'cool pic! DM me!' Just to be clear, unfollow/follow/ comment bots are not what we are talking about here.
'Chatbot' is a general term, used to describe any software that automates a task in your DMs. Otherwise known as chatbot marketing, chat marketing, conversational marketing, messenger marketing or automated conversations, chatbots have been called the new email.
They're a new environment to have conversations 1:1 with your customer at scale. Automated messaging allows you to grow your marketing, sales and operations on platforms like Facebook Messenger, SMS and Instagram direct.
A chatbot gives your customers and leads what they want, how they want and when they want it. You can pre-create conversations in the exact brand voice you use to speak to your target audience — just like you're having a normal/ real conversation!
Takeaway Tip : Don't reinvent the wheel with your chatbot content. Take your top-performing content and leverage it in your bot. Email copy, landing page copy, transcribe videos, use the video in your bot and turn it into an interactive experience.
What can chatbots be used for?
Chatbots can streamline your sales, customer support, business operations and marketing. Basically, any conversation in your business that leads to more sales, engagement and customer satisfaction — you can use a chatbot to do at scale. This includes:
– Helping your followers get answers to frequently asked questions. This saves your team time, increases engagement directly, provides satisfaction and automates the need-to-know questions on autopilot.
– Helping your customers decide what products to buy. If you run an e-commerce store and sell a lot of products, a chatbot can support your customer get what they need faster
– Supercharge your marketing, such as sending out discount codes and announcements, capturING list subscribers via messenger code, at events or instore and retargeting abandoned carts.
The facts about chatbots
The growing world of chatbots is not to be ignored. Here are the stats you need to know:
• 65% of people say they are more likely to shop with a business they can contact via a chat app (Via the evolution of e-commerce: Conversational commerce" by BCG)
• 90% of customers rate an immediate response as important or very important when they have a marketing or sales question (Via Consumer Customer Support Survey" by Hubspot Research)
This translates to:
• 80-100% open rates in FB Messenger
• 60+% click-through rates in FB Messenger
• 2-5x Higher and faster conversions than traditional landing page + email funnels
(Source:School of Bots Clients database of 10 million+ messages.)
How to get started with chatbots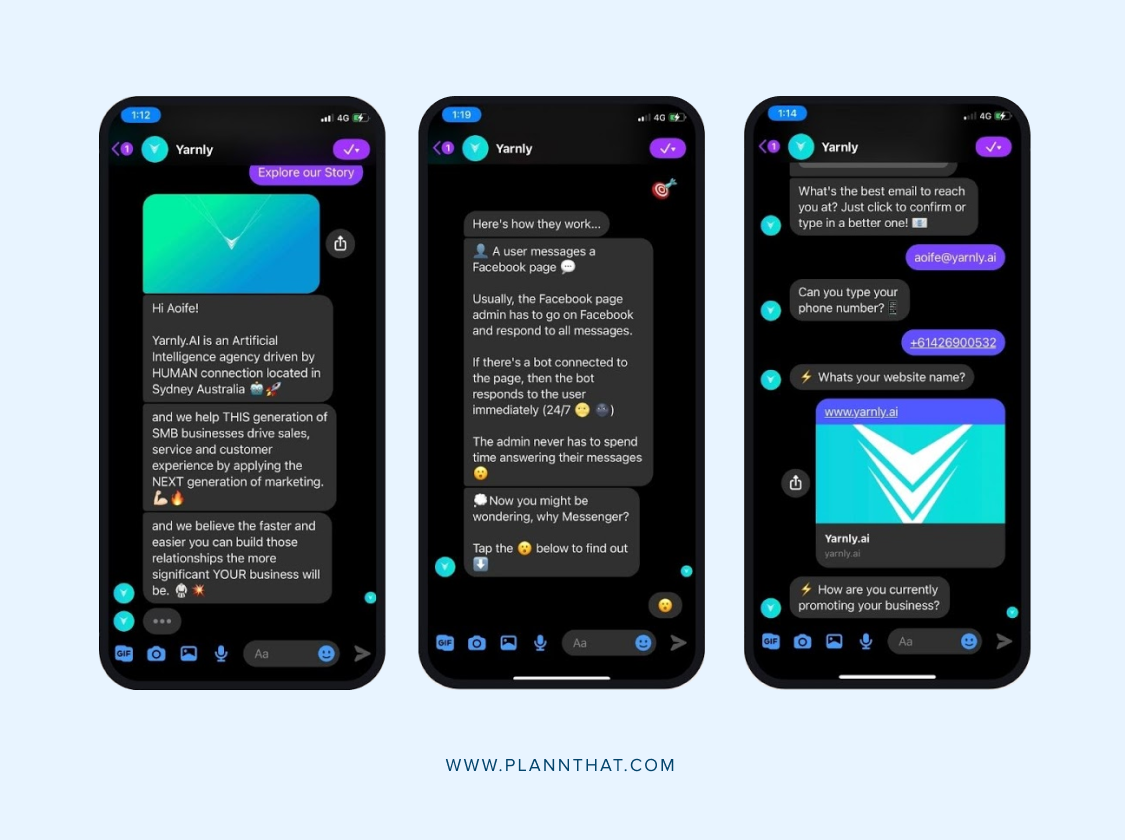 When's the best time to get started with chatbots? Yesterday! This technology isn't going anywhere, and now is the time to get on the bandwagon. The bottom line is, that the same way that every company today has an email list and social media accounts, every company will have intelligence linked to their Facebook Page inbox in the next year or two.
When it comes to creating chatbots, the best place to start is ManyChat. The great thing about ManyChat is that you don't have to know any code. It offers an easy-to-use interface, so you can build your bot and push it live on your Facebook page. It also allows you to personalize your bot. You can use your prospects' first names, have 10 roll carousels, multiple words that can trigger information, for instance, to make the conversation feel more intimate.
And what's even better is, you don't have to navigate the world of ManyChat alone. There are agencies that can build it for you! Yarnly.AI, a chatbot agency, and partner of choice to build on is ManyChat. We have everything a small business needs to get started for free, and our premium accounts start at $10USD a month.
You can learn more about Yarnly here
About the writer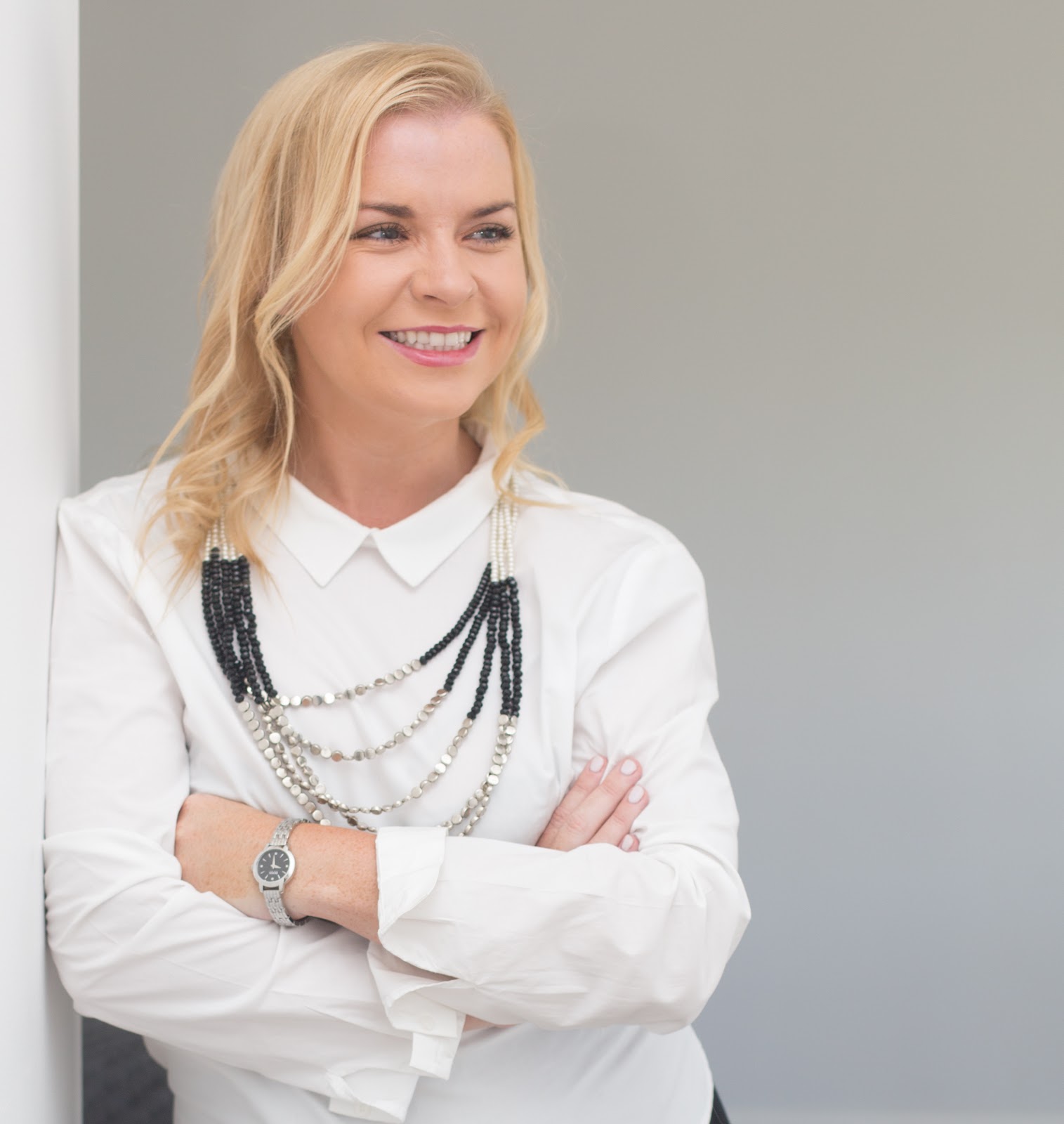 Aoife O'Connell helps business owners build brands, connect communities and scale online differently. Building brands that behave more like humans, that leave customers feeling good about digitalization and unlocking enthusiasm, creativity and new ideas for a better online experience. Aoife is the founder of Yarnly.AI a creative team of digital, chat, voice developers & designers located in Sydney Australia servicing clients globally. Don't hesitate to reach out if you need support on all things Chatbots and Artificial Intelligence for your brands and business goals.