Social media is truly the gift that keeps on giving. It's kind of like if you bought a fridge, and then someone just kept on coming to your door every week to fill it up with groceries, for free (we wish!)
You download an app once, and the tech wizards just keep on adding updates, features, and other bells and whistles periodically. We never know what we're going to get, but that's half of what makes it so fun!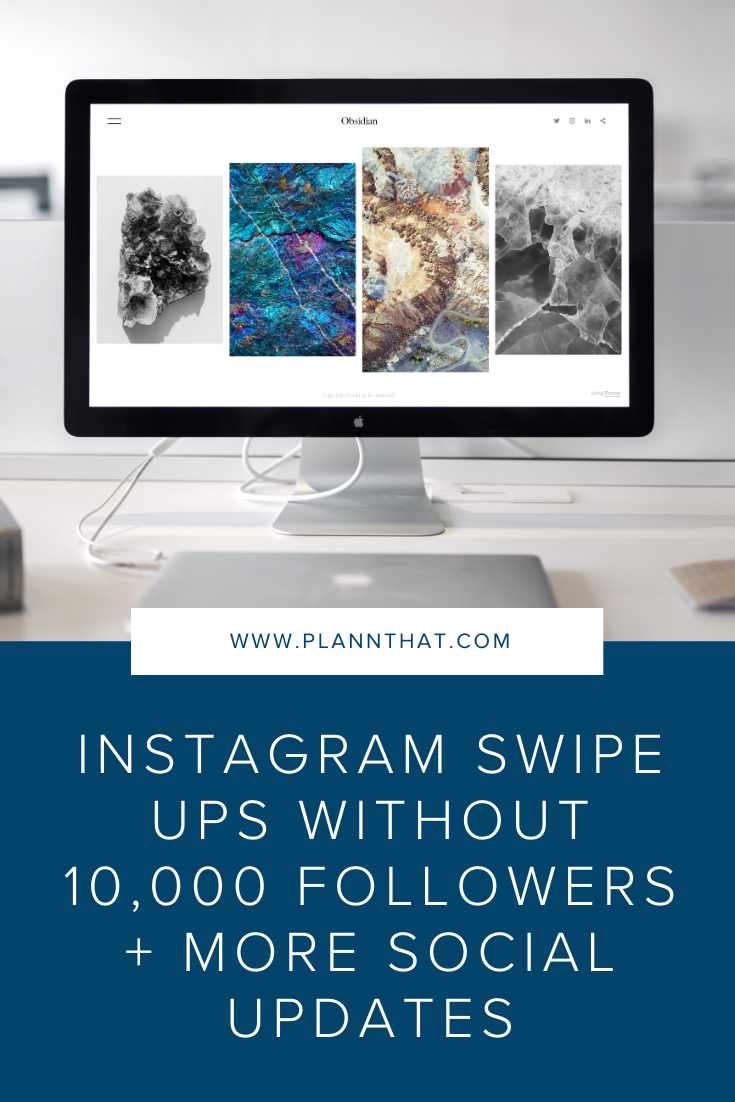 What's even better is when the social media apps finally add a feature we've been pining for forever. And, it seems that's exactly what's happening this month!
Word on the street is, Instagram is currently testing one of their all-time most requested features right now. Read on to get the inside scoop, plus four other updates that should be on your radar.
Instagram may be adding a link sticker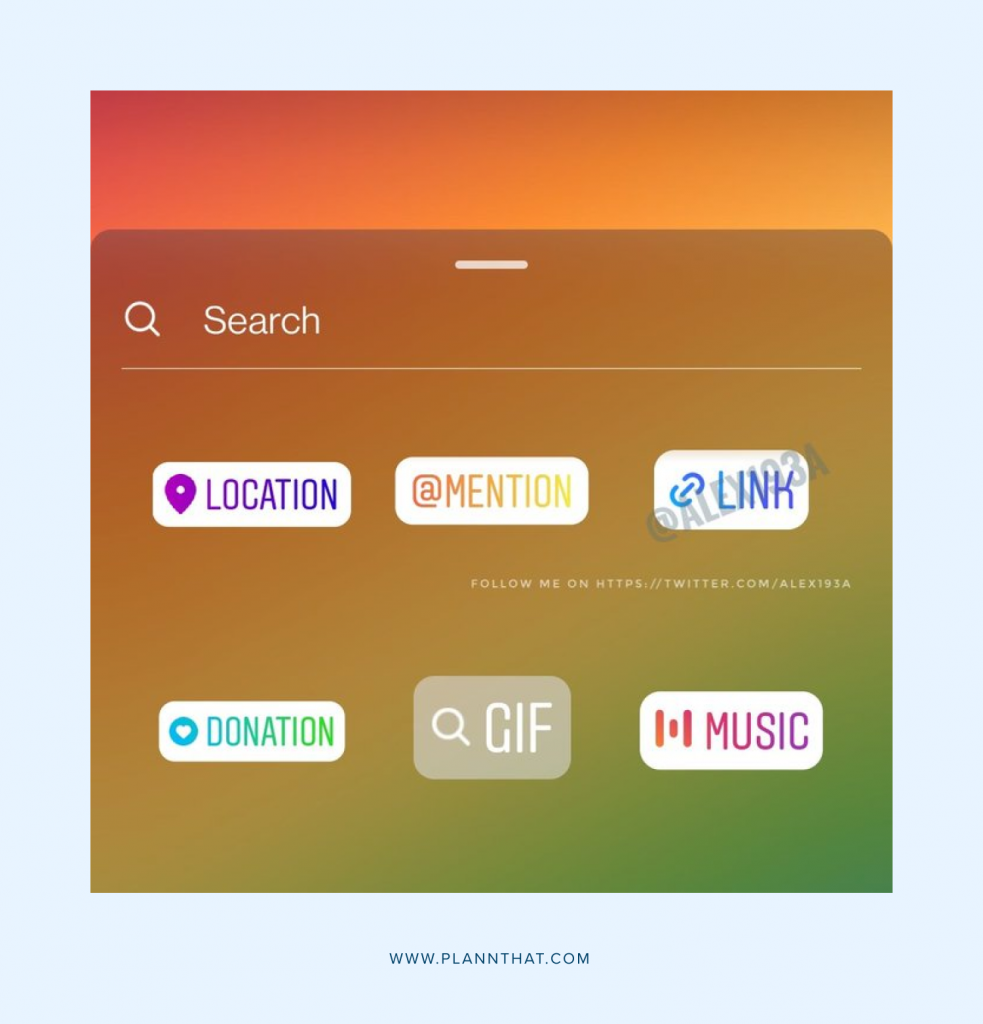 Have you been trying to crack the elusive 10K followers for ages now with no avail, but desperately want to ditch the 'link in bio' call-to-action on every post? We've got huge news! It seems there may soon be a way to add a swipe up to stories without 10,000 followers.
Now, it's important to note that nothing has officially been confirmed yet. But, eagled-eyed developer Alessandro Paluzzi noticed in Instagram's back-end that they appear to be testing a 'link' sticker. Presumably, this would be another way to link out to other content like blogs or your mailing list straight from your stories.
Currently, only people with 10,000 followers can add 'swipe up' links to their stories. But, in the absolute best-case scenario, this would bring the feature to everyone — possibly starting with video content as a way to keep people on the platform, rather than moving over to TikTok.
There was a lot of speculation in Alessandro's comment section, with the jury still out on whether this feature would be available for all users or only those with over 10K. But, we're holding onto hope for this one!
How to add a swipe-up without 10,000 followers
Sick of playing the waiting game? Want to add links to your stories like now? There's a hack for that! Here's how to use IGTV to add swipe-ups to your stories without 10K followers.
1. Create an IGTV video that's at least 1 minute long. Put the link that you want to direct people to in your IGTV caption
2. Create a short description video of what your link is about (for example, announcing a new blog), or even just text with you pointing to your title
3. Create a new Instagram story, then click on the 'link' button at the top of your screen
4. You will be able to choose your IGTV your video, which will add the link to your story
Voila! People will then be able to tap on the link in your IGTV to access the content
Facebook is launching new audio tools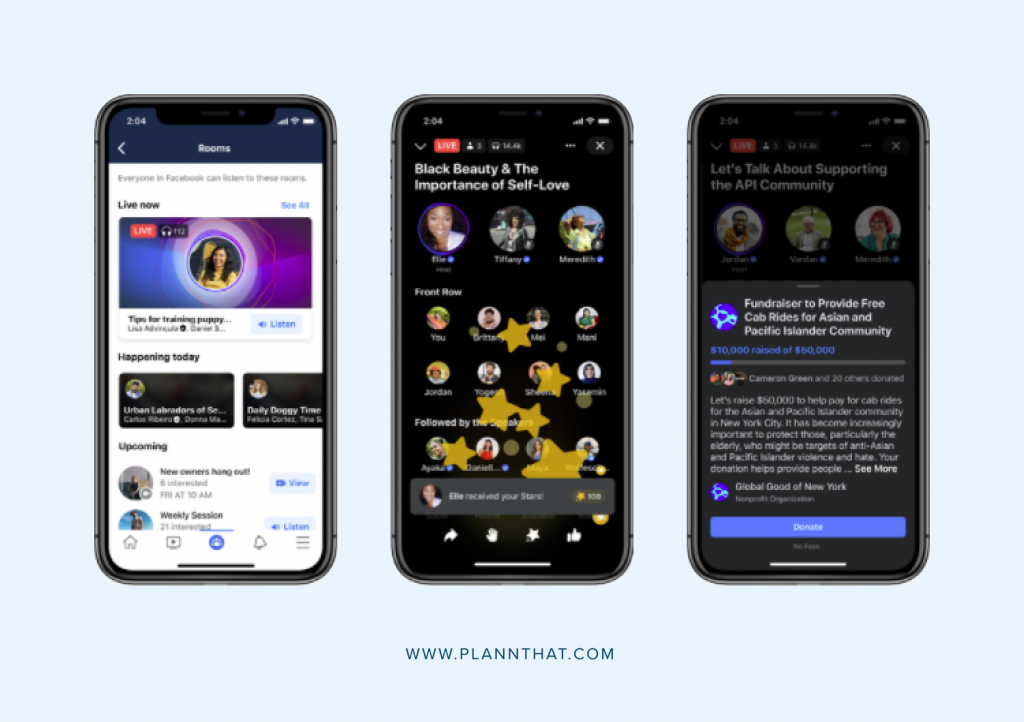 While Facebook's audio tools have been in the works for a while, they made things official last week.
"At Facebook, we've seen the continuing rise of audio on our platforms, from audio calls to audio messages on WhatsApp and Messenger. We're working to make audio messages easier to record, and more fun — including the ability for people to send familiar sound clips to their friends that range from sound effects like crickets chirping to quotes from popular songs. But we know there are more social experiences to create to help people say what they want to say, discover new voices they haven't heard before, or exchange ideas at the speed of sound," they said in the announcement.
They also delved more into detail about some of the tools that will comprise their 'social audio experience.' These are:
Soundbites: Facebook is working on implementing an audio studio right inside the app, where users will be able to create soundbites. These are "short-form, creative audio clips for capturing anecdotes, jokes, moments of inspiration, poems, and many other things we haven't yet imagined." There will also be a designated listening tab where you will be able to tune into soundbites from your fave creators.
Podcasts: For more long-form audio content, Facebook will also have a designated space for podcasts. you'll be able to listen to podcasts directly on the Facebook app — both while using the app or when the app is open in the background. Basically, Facebook will become a new place for discovering and listening to new podcasts, similar to Spotify, Apple Music, or Google Podcasts.
Live audio rooms: Clearly taking inspiration from Clubhouse and Twitter spaces, this is an update on Facebook's existing 'Rooms' feature that will allow for audio-only conversations. As well as in messenger, this will be available in Facebook groups and on professional profiles.
Twitter is testing professional accounts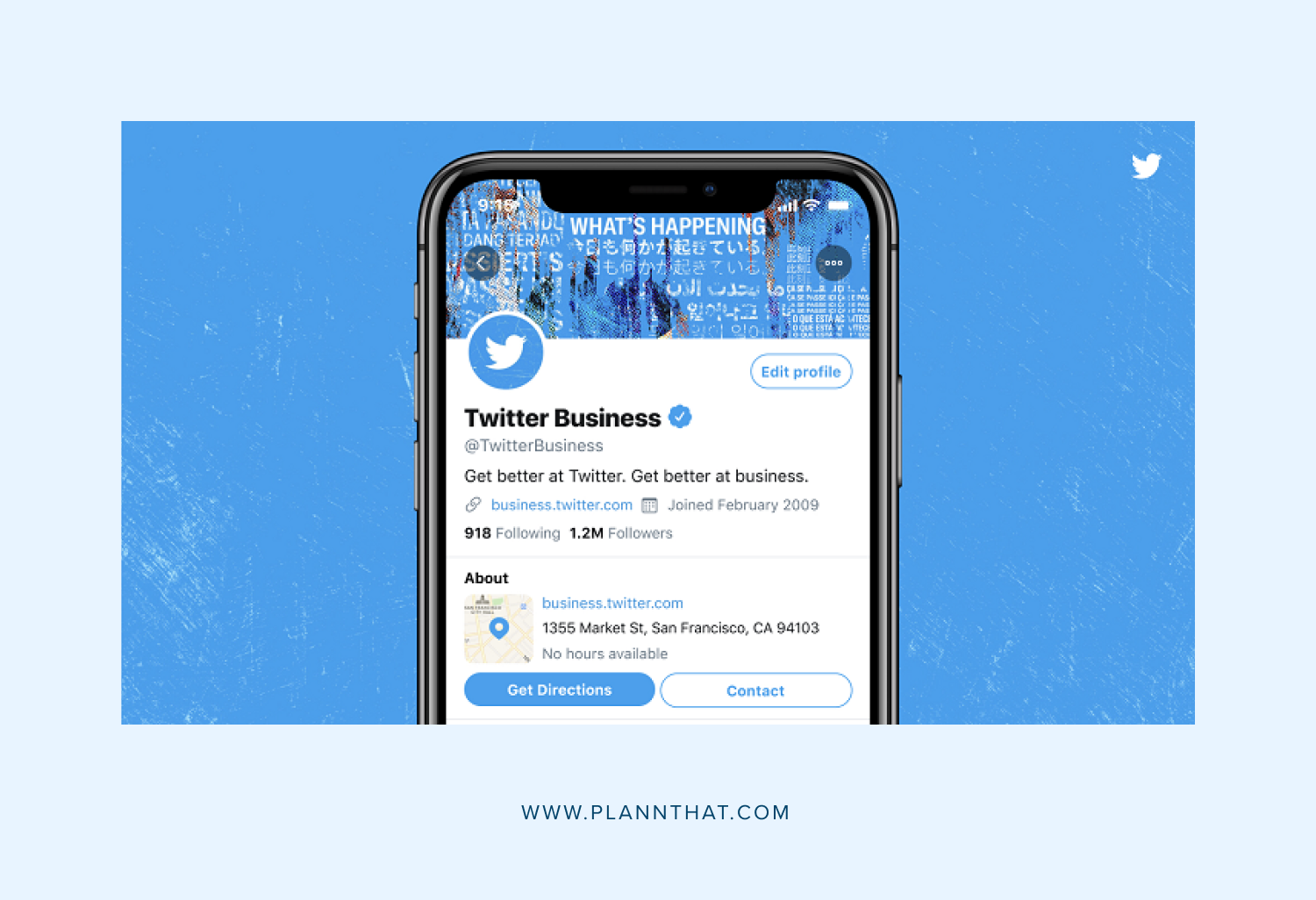 Recently, we posted about how Twitter is working on new monetization features. Now, it appears the platform is following LinkedIn's lead by elevating brands as thought leaders, not just individual influencers.
The platform is officially live testing a new 'company profiles' feature. This new profile type will give businesses tools and features that are more specifically tailored to work use.
As Twitter explained in a statement: "Professional Profiles are a new tool that will allow businesses, non-profits, publishers, and creators – anyone who uses Twitter for work – to display specific information about their business directly on their profile. We're starting with a small pool of businesses in the U.S. and will give more accounts access to Professional Profiles in the coming months."
Separating business and personal profiles — as Instagram and LinkedIn has done before them — will likely open the door to new opportunities for Twitter. Think, more eCommerce and ad feature opportunities to help brands reach their audience. We'll be interested to see where they go with this one!
TikTok has added playlists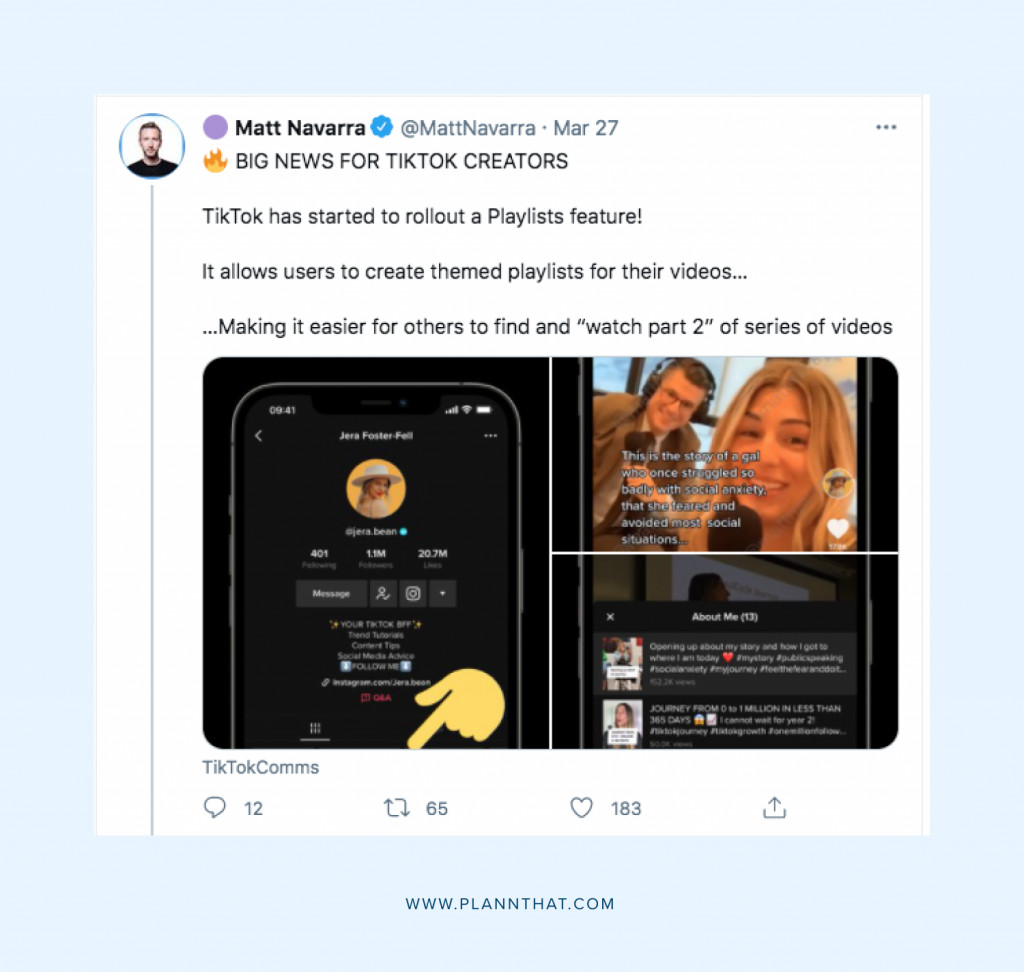 If you're an avid TikTok user, you might have noticed a little button with yellow text on the bottom left corner of some videos. That's TikTok's newest feature, Playlists! Adding onto their previous recipe cards and Q+A features, this allows creators to group their videos by themes. It works in a similar way to IGTV's 'series' to separate content into themed lists.
For example, a wellness influencer may compile all of their healthy cooking videos into one playlist. It can also be used to organize all multi-part videos together for easier viewing, for longer-form storytelling. Currently, this feature is only being rolled out to a select group of influencers. However, it's expected to hit all accounts soon!
Instagram is working on new monetization options for creators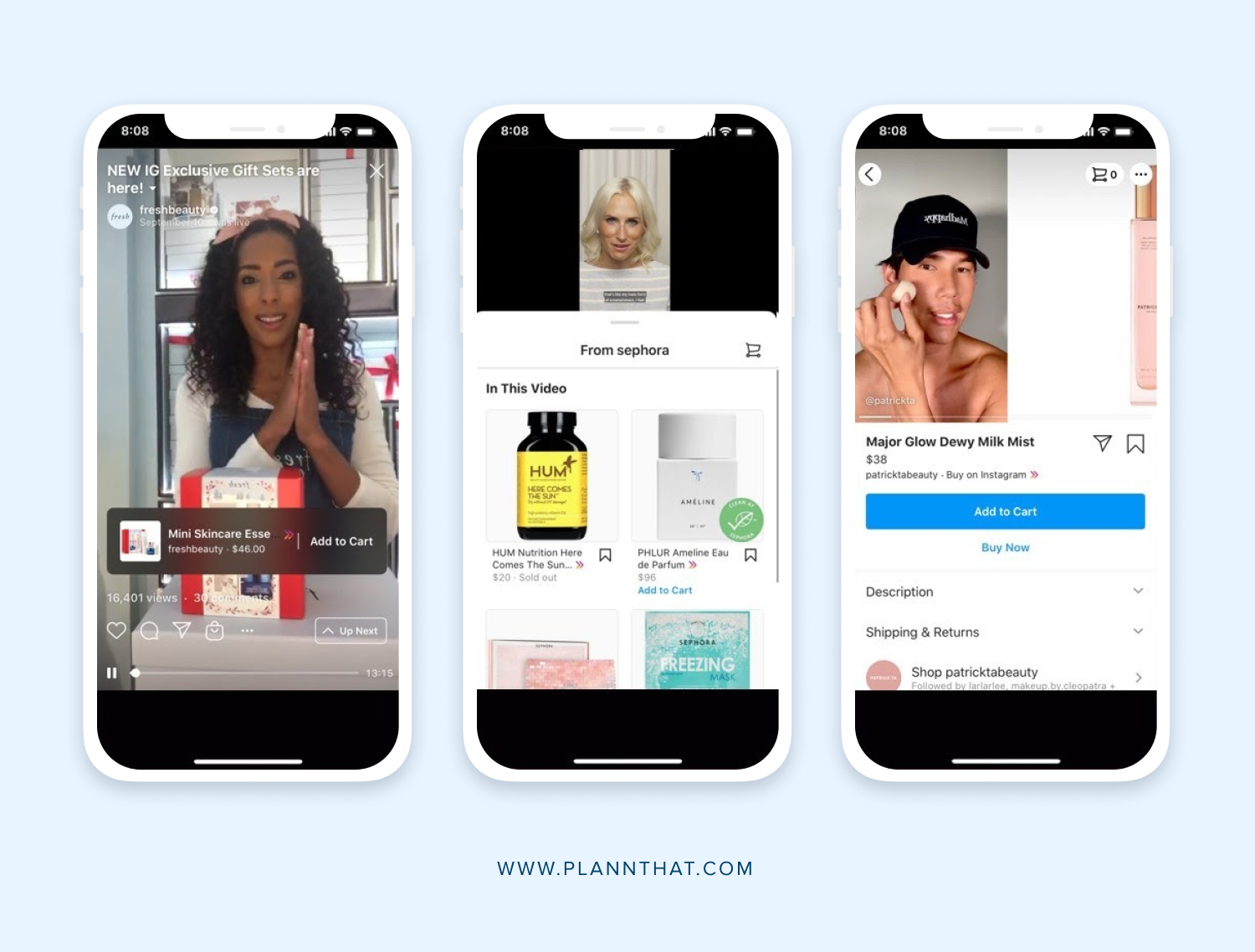 If there was ever any doubt that Instagram is investing in creators and shopping right now, that has now evaporated. Facebook founder Mark Zuckerberg and Instagram CEO Adam Mosseri (oh, how we would love to be a fly on the wall in a meeting with those two!) recently went live to announce a suite of new eCommerce features.
This includes Creator Shops, which builds on the existing shopping feature for businesses to allow creators to sell digital products, too (similar to YouTube's new merch shelves) They also announced that they're working on a branded content marketplace, which would match influencers with sponsors with 'very favorable terms' for creators. Also in the works is an affiliate recommendation marketplace, which would make it easy for creators to earn a commission on the products they recommend.
While there's no word on exactly when these features will be rolled out, there's no doubt that it's one step closer to making Instagram an all-in-one digital marketplace. All we can say is, it's a great time to be a creator (and a business!)
Social media is like a box of chocolates… you never know what you're going to get. And, it's all the more sweeter when you're the first to know. Make sure you're on our list so you never miss a social media update!