With over two billion active users, Facebook has the potential to grow your brand to infinity and beyond.
The only problem? You need to know how to impress your audience! With declining organic reach, it's left many marketers, brands and business owners unsure how to create a winning Facebook marketing strategy.
Now that you can create an individual Facebook strategy right in Plann with our Facebook Autoposting tool we want to ensure you have all of the tips to make sure your Facebook page is set up for success.
If you're feeling confused and frustrated with the platform, try these quick Facebook marketing tips. Whether you're a newbie or a Facebook OG, this post is packed with actionable advice to help you:
– Optimise your profile to attract new followers and make sales.
– Create engaging posts that people can't help but like, comment and share with their friends.
And a whole lot more. So, grab a cup of coffee and let's dive in!
Tips For Setting Up Your Facebook Business Page
Choose a Category for Your Business Page
Mastering Facebook marketing starts with the moment you create your page.
As you make your way through the set-up wizard, Facebook will ask you to choose the right category for your brand or business.
You can choose from six options:
1. Local business or place.
2. Company, organisation or institution.
3. Brand or product.
4. Artist, band or public figure.
5. Entertainment.
6. Cause or community.
Under each category, you'll have unique Facebook Page features.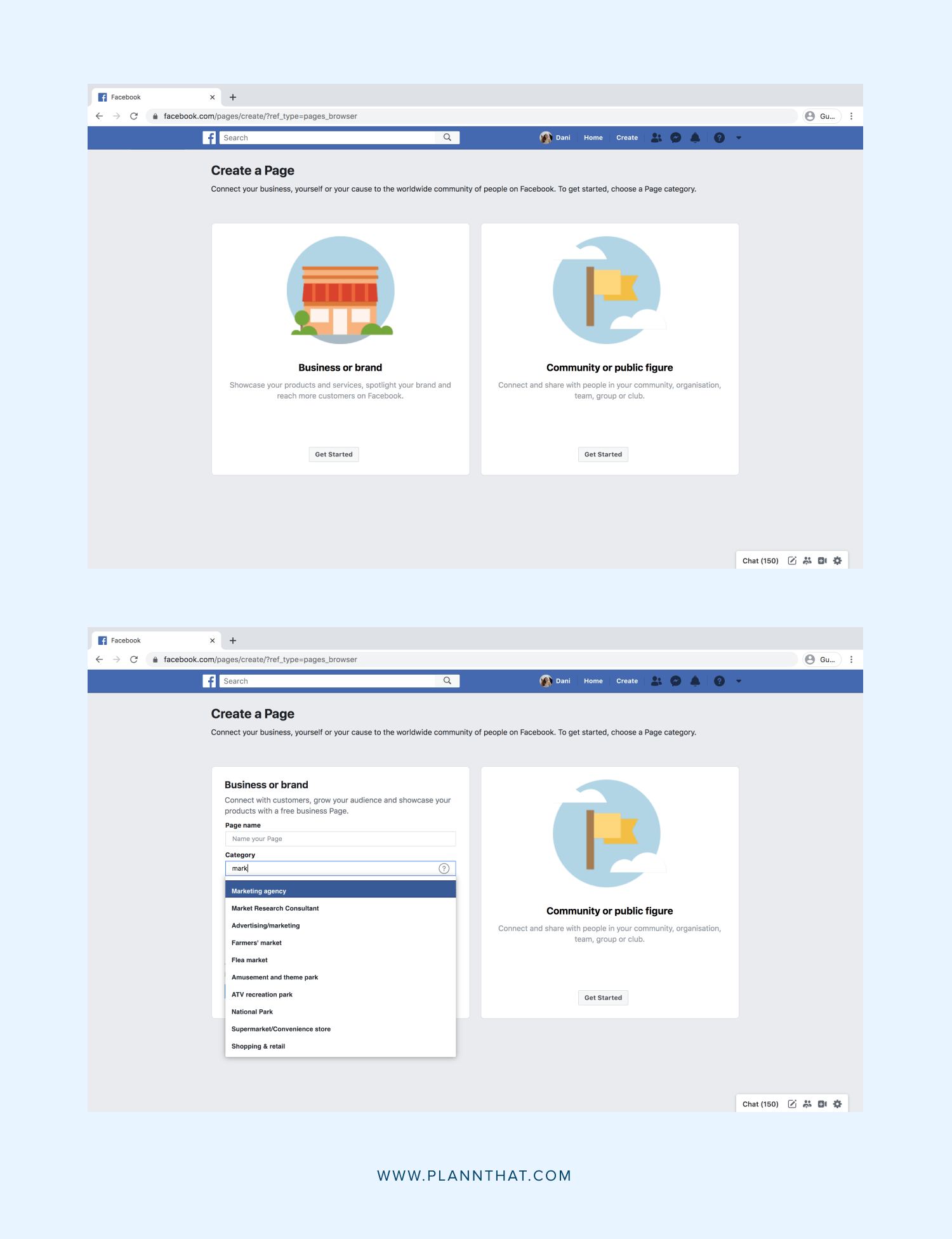 For example:
A cafe would select "local business or place" to have access to features like menu, opening and closing times, physical address and ratings and reviews.
Not sure which one is right for you? Here is a detailed guide on Facebook page types.
What to Do If You've Selected The Wrong Facebook Page Category
Step 1: Do not stress!
You don't need to abandon ship and start a brand new page. With a few quick clicks, you can change your page's category in under 5 minutes.
Here's what you need to do:
– Head on over to the "About" section of your page.
– Under the heading "General", you'll see a subheading called "Category".
– Click on the edit button next to it and re-select the category for your Facebook business page.
– Voila! You're done!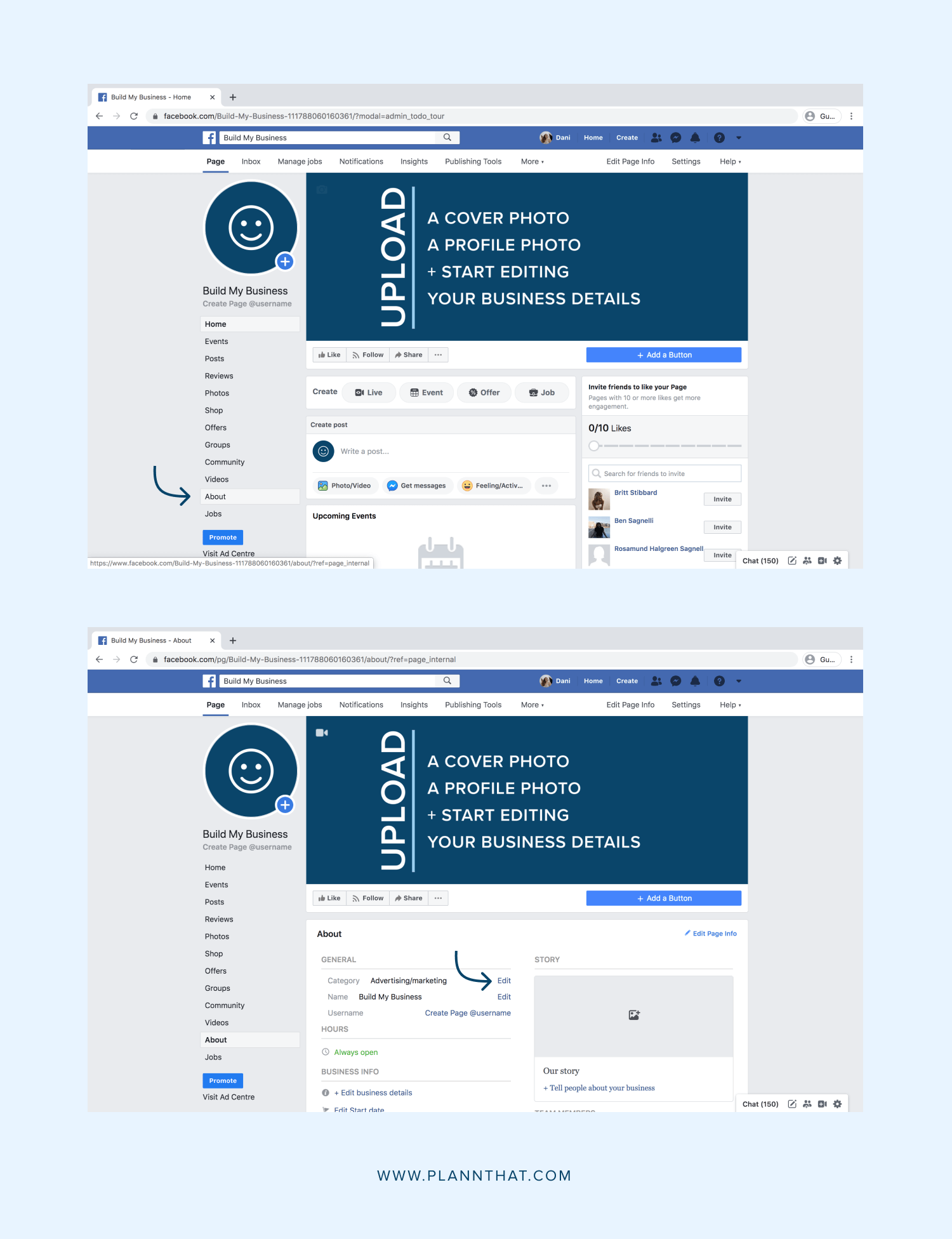 Optimise The Photos on Your Facebook Page
Does your page look like a throwback to 90s internet? Or *gasp* are you missing a profile or banner image?
Put your best foot forward by giving your page a much needed visual make-over.
When selecting your photos for your Facebook page, keep these tips in mind:
– If you're a business or a brand, use a logo. If you're an influencer or personal brand, use your face.
– Use your banner photo to show off your personality, call attention to an offer or a problem you solve.
– Switch out an image for a video to engage people and visually show them what you do.
For example:
At Plann, we use our banner image to tell people exactly what we do and how we can help them.
Not sure about the correct dimensions for Facebook? We've got you covered! Check out our 2020 Facebook image size guide and get all the deets.
Customise Your Call to Action button
Did you know you can customise the Call to Action (CTA) button on your Facebook Page? It's a quick, easy and FREE way to convert your social media stalkers into engaged followers and potential customers.
Choose from the following list of CTA's:
– Book Now.
– Contact Us.
– Use App.
– Play Game.
– Shop Now.
– Sign Up.
– Watch Video.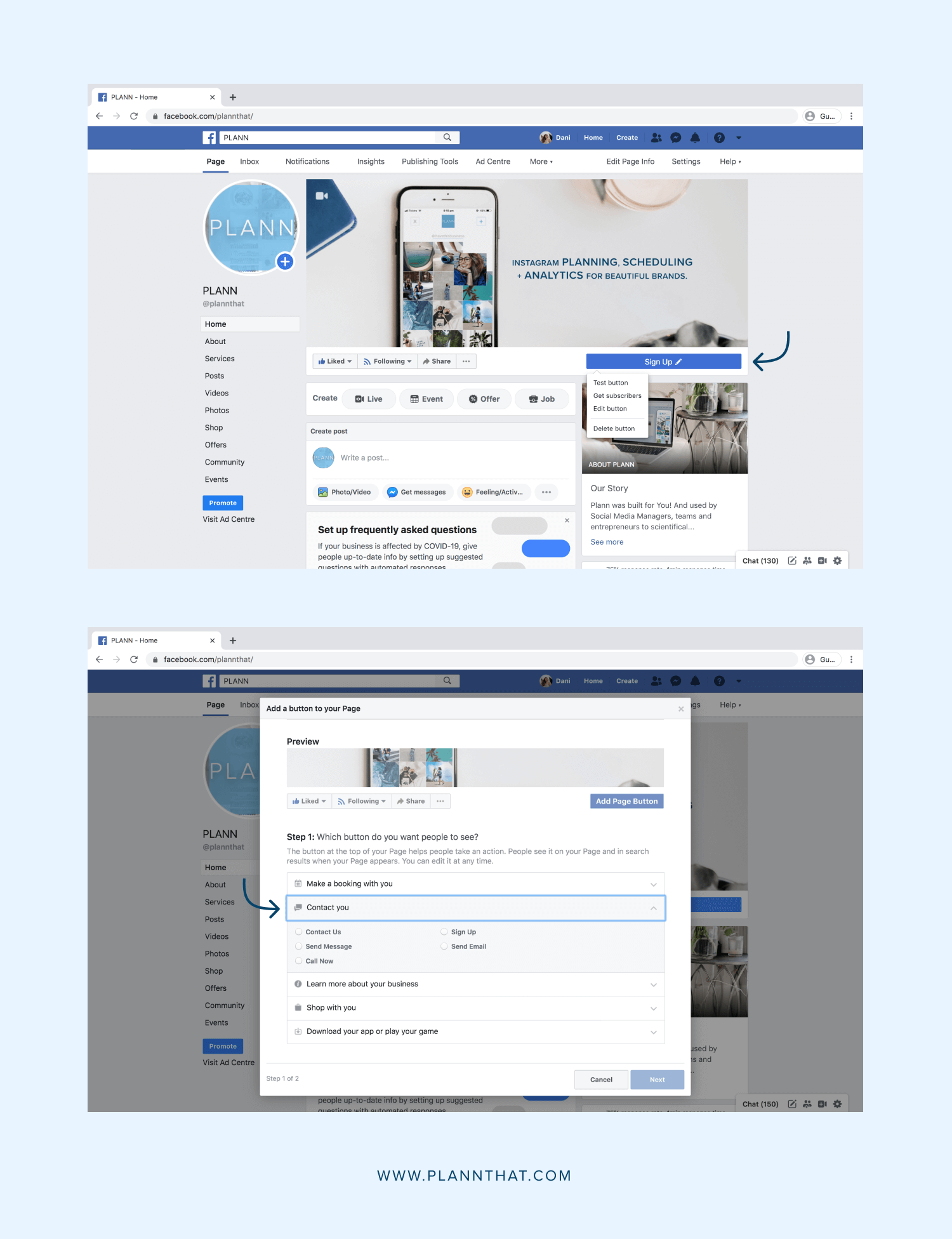 How to Use The CTA Button on Your Page
Here at Plann, our ultimate conversion goal is to get people to convert into active users. So we use the "Sign Up" CTA button on our Facebook Page.
It redirects to our home page where people can sign up to download our mobile app or use the desktop version.
Here are some ideas on how to use this feature:
– If your #1 conversion goal is app downloads, use the "Use App" CTA.
– If you're a Youtuber or you want people to see how to use your product, select "Watch Video".
– For services, choose the "Book Now" button to entice people to make a booking.
– Want to grow your email list? Link your "Sign Up" CTA to a landing page for your newsletter opt-in.
Here's how to set up your CTA button:
– Go to your page and click the + Add button underneath your cover photo on the right-hand side.
– A new pop-up window will appear where you can select the type of button you want.
– Fill in the URL of where you want to direct your followers and save.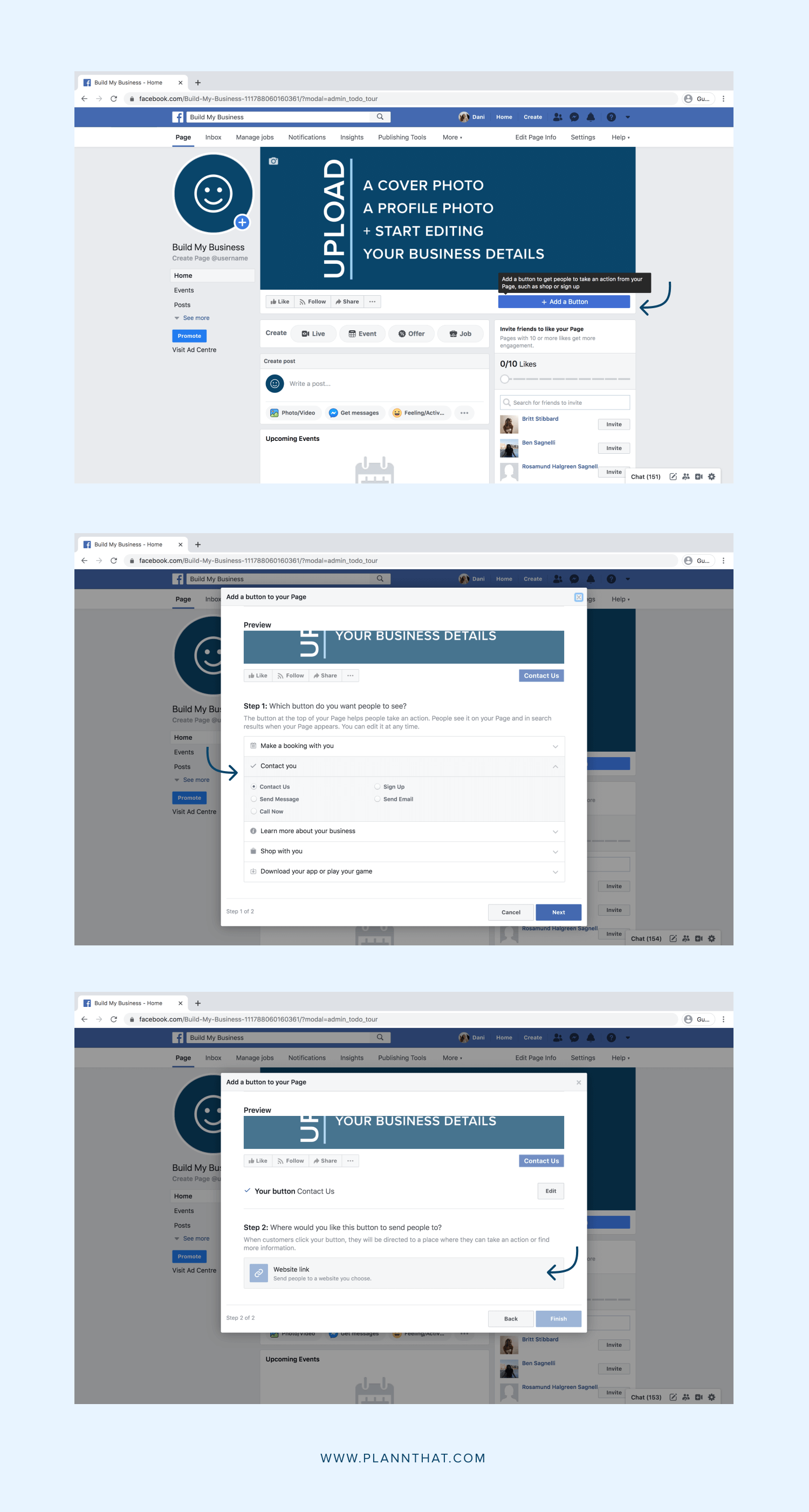 Use Custom Facebook tabs
Facebook tabs is another feature you can use to promote your brand and show off your personality.
It lets you add CTA's to your:
– Feed posts.
– Photos.
– Videos.
– Groups.
– Community.
– Offers.
– Services.
– Shop.
– Events.
– Reviews.
– Jobs.
We use the shop tab on our Facebook Page to highlight our free Instagram Masterclass course.
If you're not sure what tabs to use, Facebook has a bunch of templates to help you select the best layout for your business type.
You can choose from:
– Standard.
– Business.
– Venues.
– Non-profit.
– Politicians.
– Services.
– Restaurants and cafes.
– Shopping.
– Video page.
Click on the "view details" button to see the layout options and features for each type before you make a decision.
Here's how to add custom Facebook tabs and templates:
1. Go to your page and click on "Edit Page Info".
2. On the left side of the page, select "Templates and Tabs".
3. Under templates select "Edit".
4. A pop up will load with all the options.
5. Under the tabs section, you can see all the tabs active on your page.
6. To turn off a tab select the "Settings" button next to its name.
7. Click on the "turn off" button and click save.
8. If you want to add a tab, click on the "Add Tab Button".
9. Edit the links for each tab.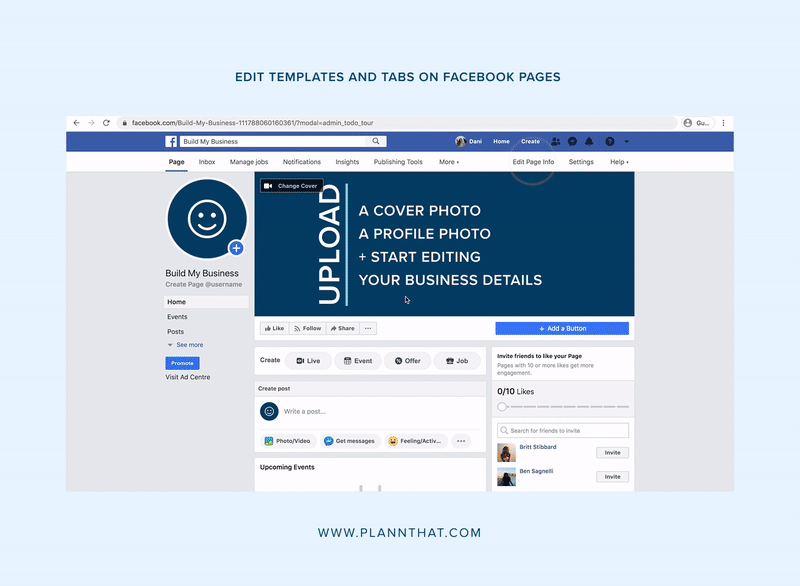 How to Build Custom Tabs
Not loving the standard tab options? Facebook gives page owners the power to build tabs using the Facebook Developer page.
If you're not a techie and you lack coding skills, it's best to hire someone who can help you as things can get complicated.
Tips For Building Your Facebook Marketing Strategy
Create Facebook Marketing Goals
Do you know EXACTLY what you want to achieve with your Facebook marketing strategy?
And what metrics do you need to track to measure your progress?
If you answered no, it's time to set some SMART goals for your social media marketing.
SMART goals are:
– Specific.
– Measurable.
– Actional.
– Relevant.
– Timely.
Depending on your business goals, here's a list of metrics you might want to track:
– Increase followers by 10%.
– Click-throughs to your website.
– Sign-ups to your newsletter.
– App downloads.
Start a Facebook Group
"I'm being bamboozled by Facebook, and you're asking me to add another community to my plate?!"
Yup, but only if it makes sense for your business and you have the time to manage it.
Here's why:
– Facebook Groups get a lot more engagement than Pages and help you beat the algorithm.
– It's a way for you to give extra value to your customers.
– It creates a sense of community and exclusiveness.
– You'll have DIRECT access to people who care about your business.
Start Using the "70-20-10" rule
So, er, what's this 70-20-10 rule?
It's a content strategy for Facebook that's going to keep people engaged with your page.
This is the idea behind it:
– Post original content you create 70% of the time.
– Include valuable and relevant content from other creators 20% of the time.
– Promote your products and services 10% of the time.
How to Always Have Content to Share
– Plan out what you want to share for the entire month and schedule all your posts with Facebook's Publishing Tools.
– Keep a running list of relevant blogs and websites you can check for articles.
– Connect your Instagram to your Facebook Page and share your Instagram photos with a single tap of your thumb.
– Mix things up by posting content other than blog links. Pose a question, create a poll or share a meme.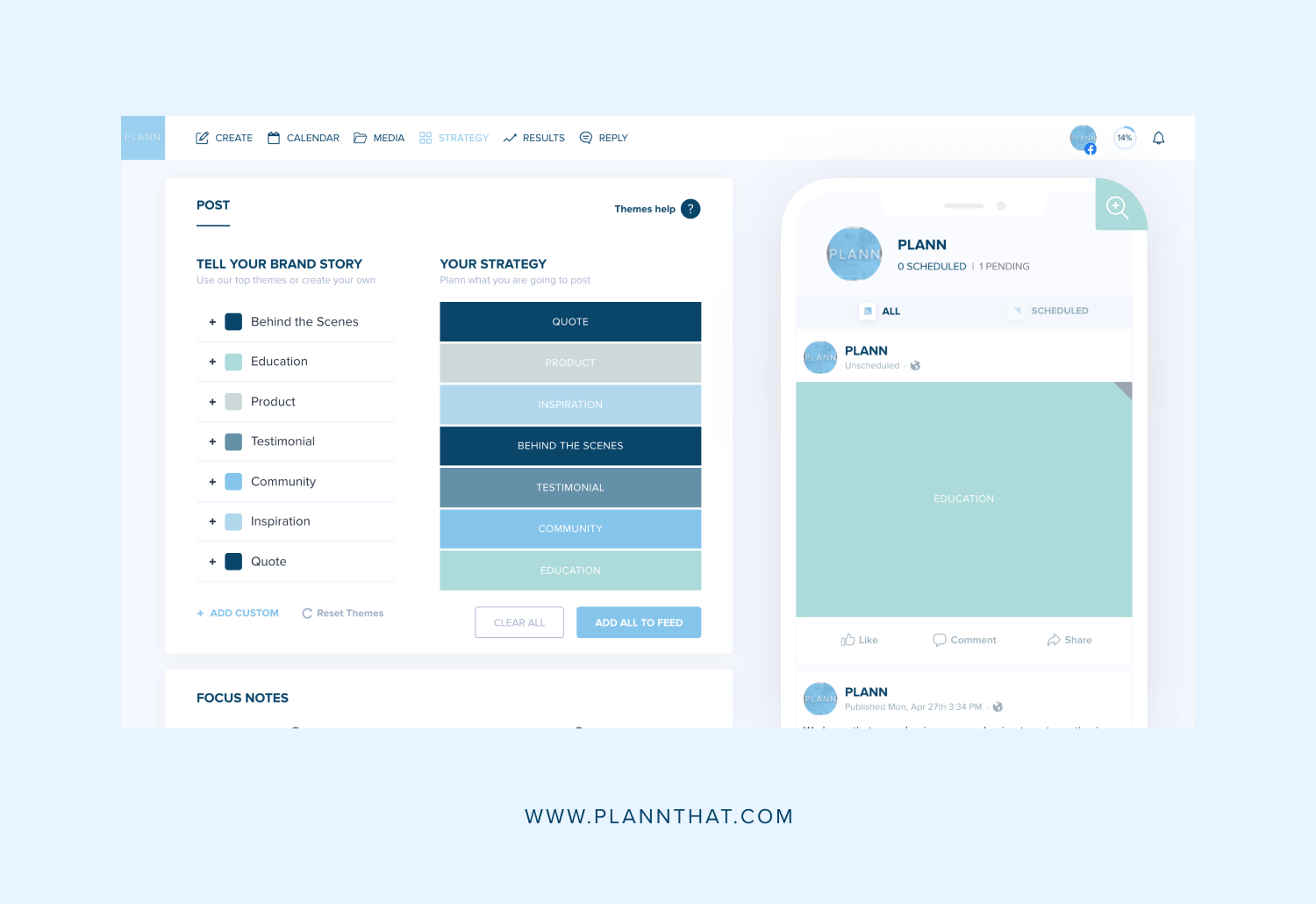 Share user-generated content
User-generated content (UGC) solves a bunch of problems with a quick jab, jab, hook.
It helps you:
– Spend less time creating content.
– Boosts sales and engagement.
– Gain valuable social proof.
– Generate brand loyalty and trust.
Not convinced? Here are some stats to back up its value:
– People view UGC as more authentic than content created by brands.
– 92% of consumers trust recommendations from other people.
– 80% of people say that UGC has a high impact on their purchasing decisions.
– Campaigns with UGC have 50% higher engagement rates.
Boost Engagement With Video Content
If your biggest problem on Facebook is dwindling engagement, start adding video (especially live videos) into your content mix.
Why?
Not only is Facebook pushing native video content, but users spend 100 million hours watching videos every single day.
Tips on Creating Engaging Videos for Facebook
– 85% of users watch Facebook videos with the sound off. By captioning your videos, you can increase the average watch time by 12%.
– Don't auto-play the sound on your videos. 80% of users find it annoying.
– Don't waste time in the beginning. Get to the "meat" of your video ASAP to avoid losing interest.
– Add a call to action. Tell people what you want them to do after watching your video.