The end of the year is fast approaching (don't let the door hit you on the way out, 2020!) But, if you thought that meant the social media platforms are slowing down with releasing new features, you've got another think coming!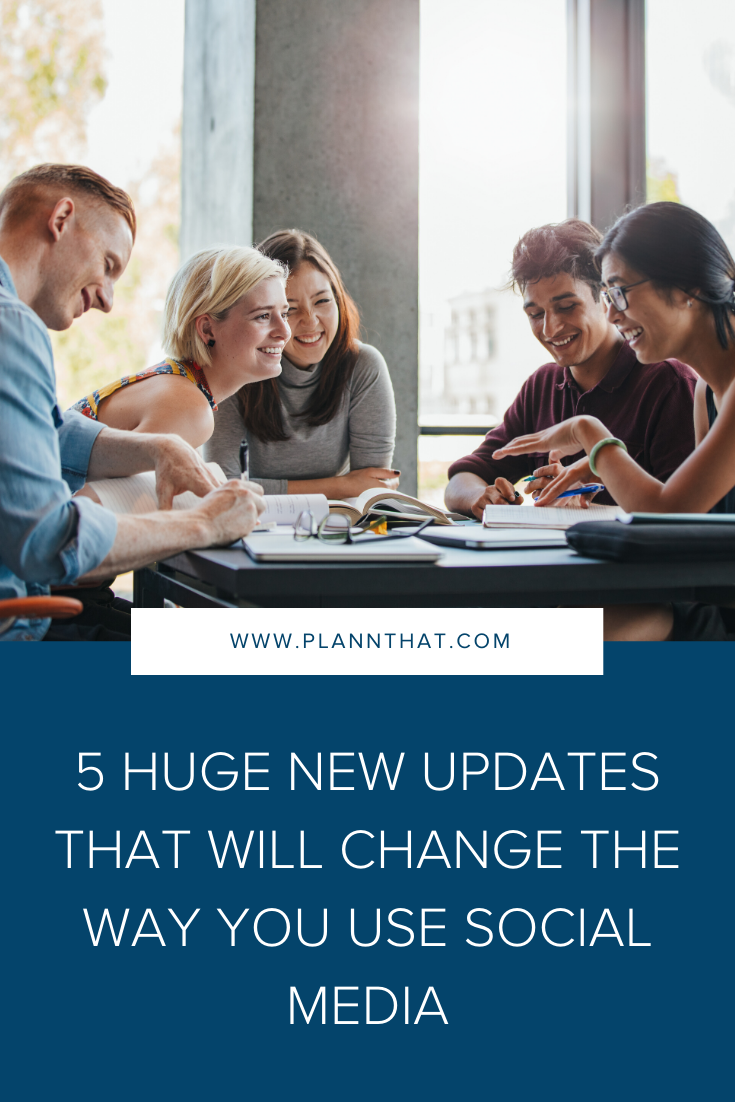 The elves…err…we mean developers, have been busy making Christmas arrive early by showering us with some cool new features. And, if you're feeling a little video-d out by all the Zooming and Reeling and Tikking and Tokking this year, you'll be pleased to know that a few of them involve the good, old-fashioned written word.
Read on for 5 HUGE new updates that are set to change the way you find and create content online.
1. You can now search for keywords on Instagram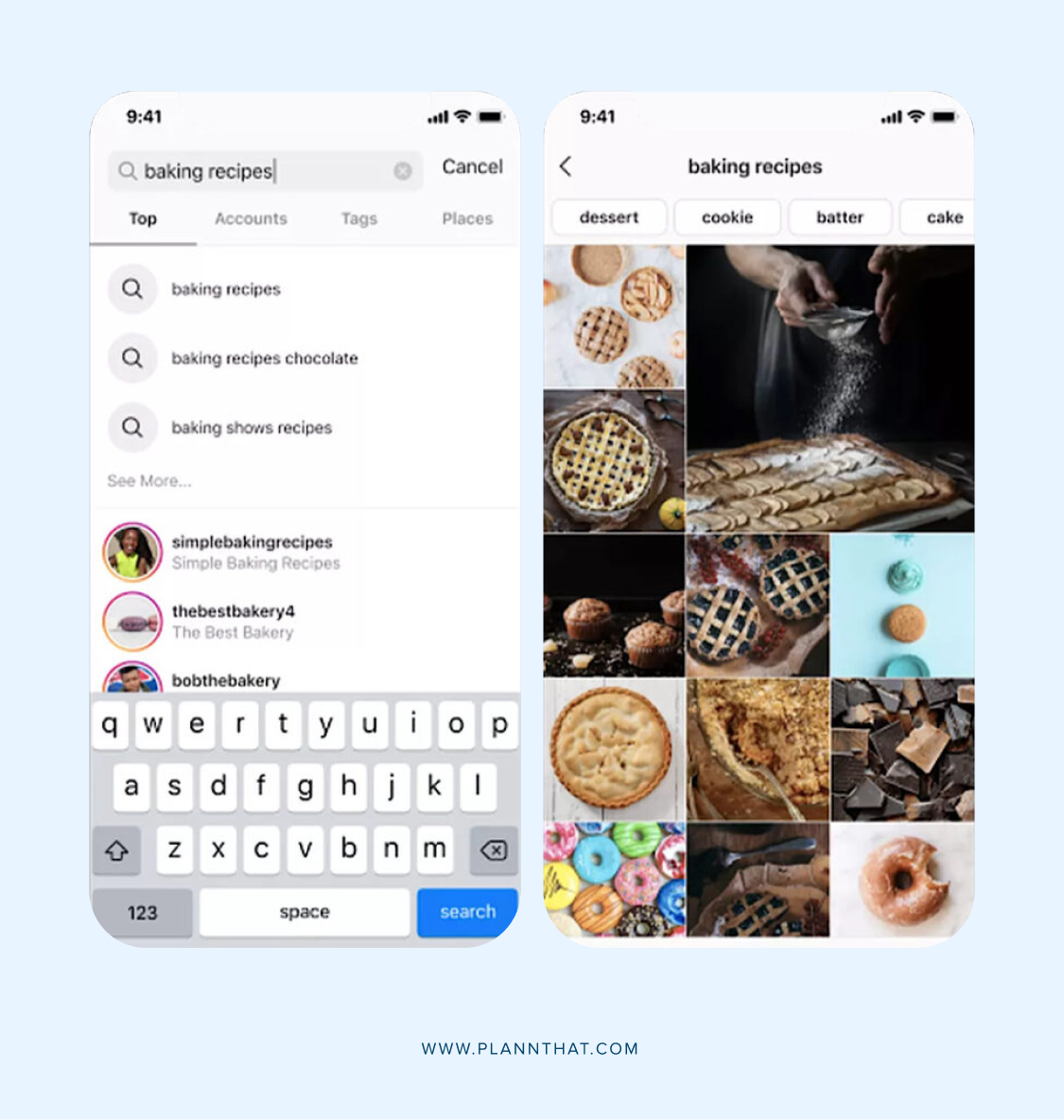 This may not be the flashiest new Instagram addition, in that it doesn't get its own dedicated section in the app. But, subtle as it may be, it's actually one of their biggest updates in a long time!
Up until now, you've only ever been able to search by hashtags, locations and profile names on Instagram. But with this new update, you can now search for keywords within Instagram and video captions. It kinda works in a similar way to Pinterest, where you don't need to put a # before a phrase in order for it to be searchable.
So, if you were to type 'self care' into your search bar, it would show up with related phrases like 'selfcare routines', 'selfcare routines meditation' and 'selfcare routines moistuizer.' If you click on those, it will show up with top posts that include that phrase, and also show other related keywords along the top bar.
It's not clear yet how exact Instagram picks the top posts within these keywords, or how accurate the keyword matches need to be. However, a spokesperson from the company told The Verge that Instagram considers "a number of factors" when returning search results, including the type of content, captions, when it was posted, and more.
So, if you're wanting to get your content discovered by keyword, your best bet is to use a few variations of it in your caption,to make sure you're creating relevant, high-quality content and to keep your engagement as high as possible.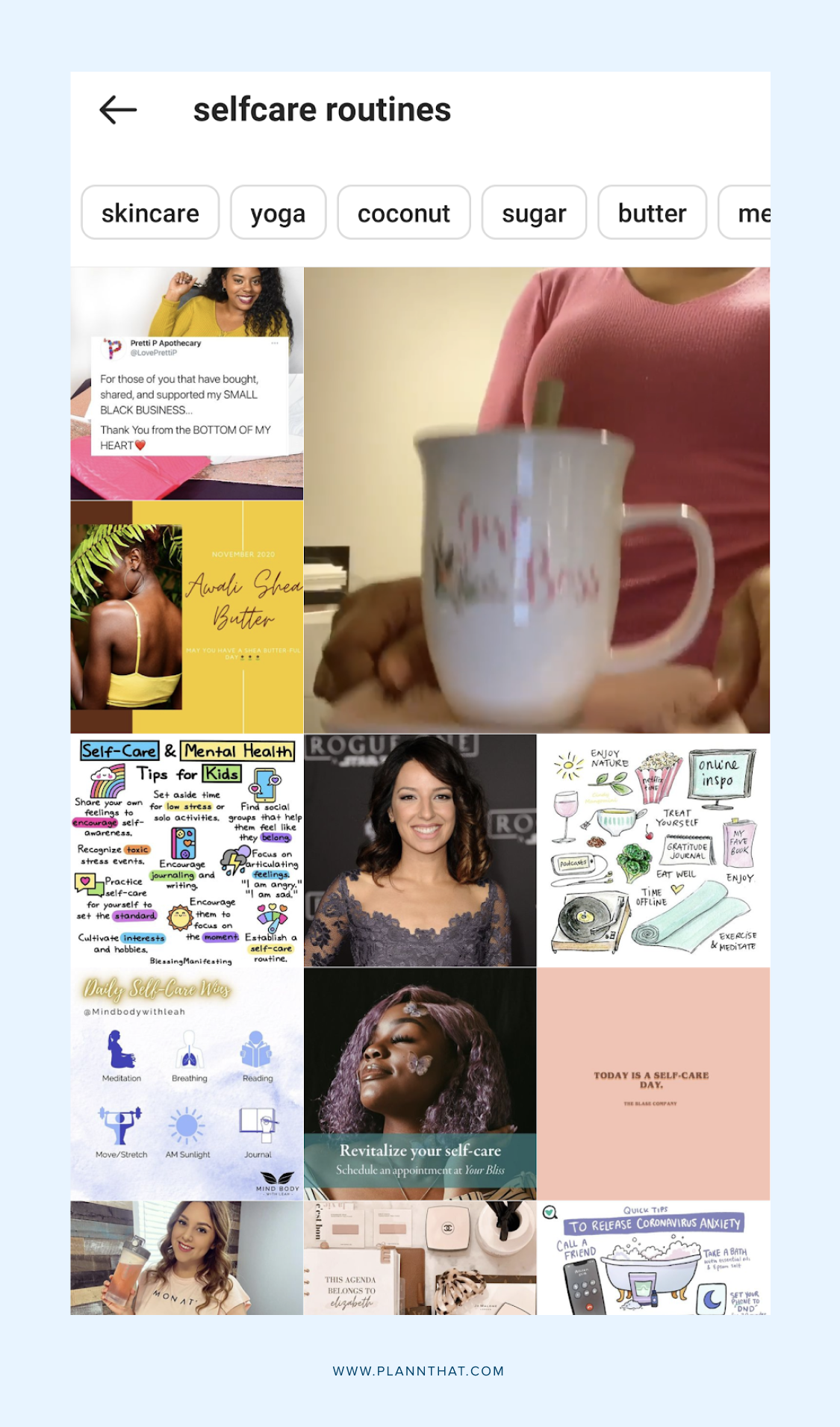 For now, it also seems that only certain keywords are searchable — or, as Instagram puts it "general interest topics and keywords that are within Instagram's community guidelines." So, you're not likely to find matching results for anything too controversial, niche or for people's names.
Currently, keyword search is available in six countries — Canada, the U.S, the U.K., Australia, New Zealand, and Ireland. While it's not clear exactly when it will be rolled out worldwide, one thing is for sure — Instagram SEO is now well and truly a thing!
2. Instagram guides are now available to everyone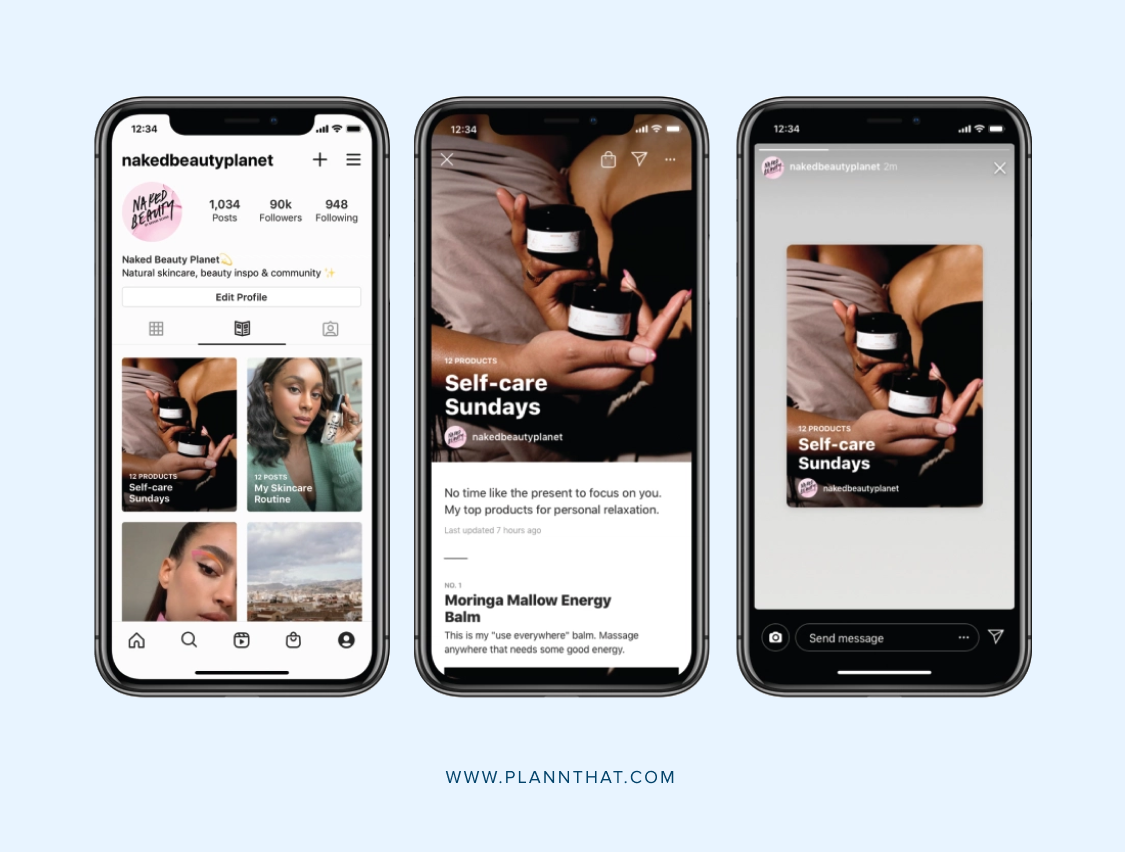 Ever since Instagram rolled out 'wellbeing guides' to a handful of creators back in May, we've been patiently waiting for this feature to hit the mainstream. Now, it's finally happened, and we couldn't be more excited! They're such a great way to curate, package and reshare some of your best content.
When Instagram originally launched this feature to a handful of creators, it allowed them to create blog-style style guides compiling mental health and physical wellbeing tips. Now, they've expanded the offering to cover three different types of content:
Posts — Create themed guides compiling relevant Instagram posts (both your own, and others!) and add headings, captions and descriptions. Great for anyone who creates helpful and educational content in their business
Product — Create gift and product recommendation guides including your favorite products from Instagram's shop catalogue (which is growing by the day as Instagram continues to push this feature!) Perfect for product-based businesses and affiliate marketers
Places — Create destination guides by using Instagram's location search feature and adding descriptions about each place. Excellent for travel bloggers, writers and influencers
You can incorporate videos, galleries, and images into your guides (as well as text), making them feel almost like a virtual magazine. Once you've created one, it will live in the 'guide' tab on your Instagram feed. You can also share your masterpieces to your story, or via DM.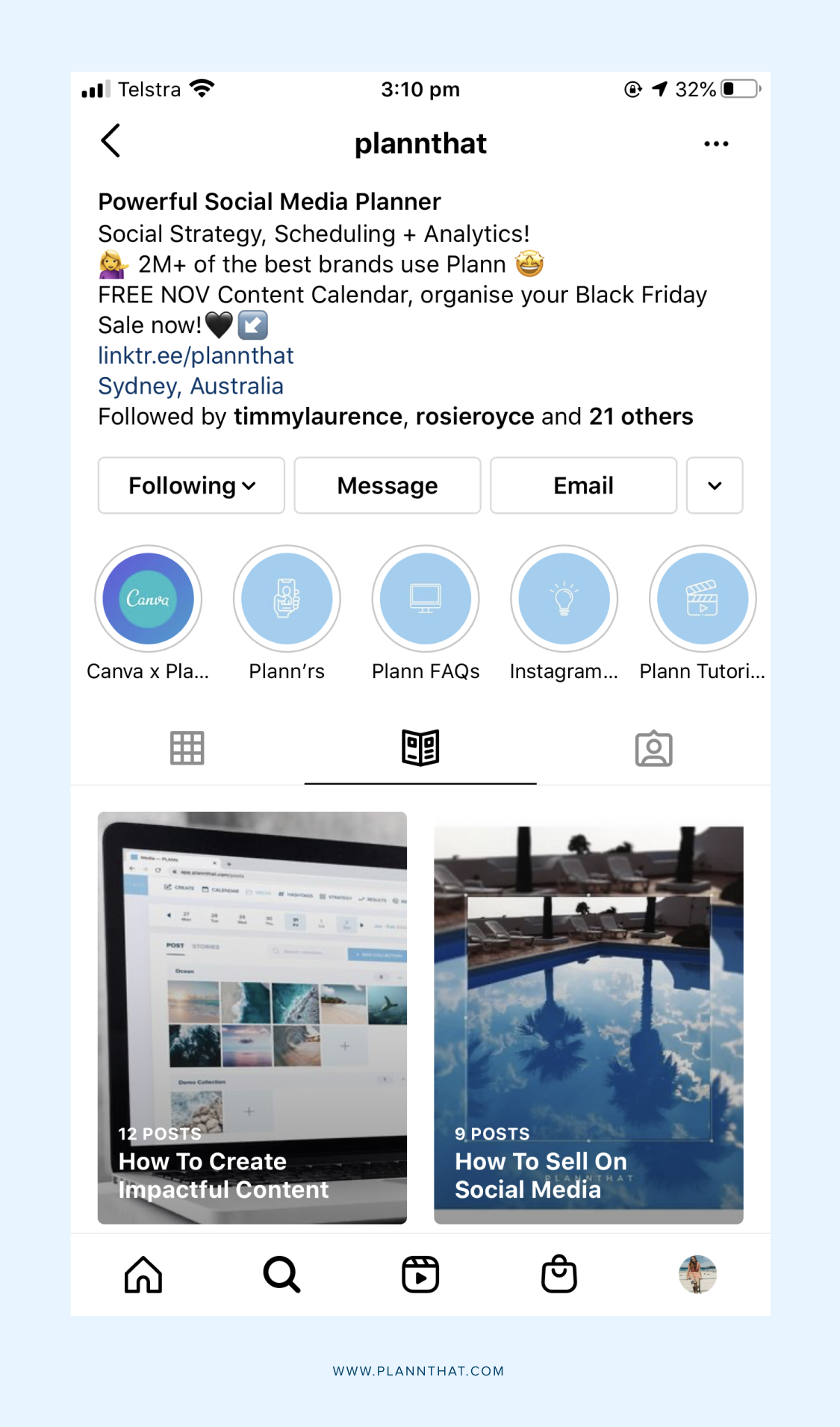 To take guides for a spin, just press the 'plus' icon on your feed and scroll down to select guides. Then, choose places, products or posts as your content guide and start creating!
3. TikTok is testing a learn tab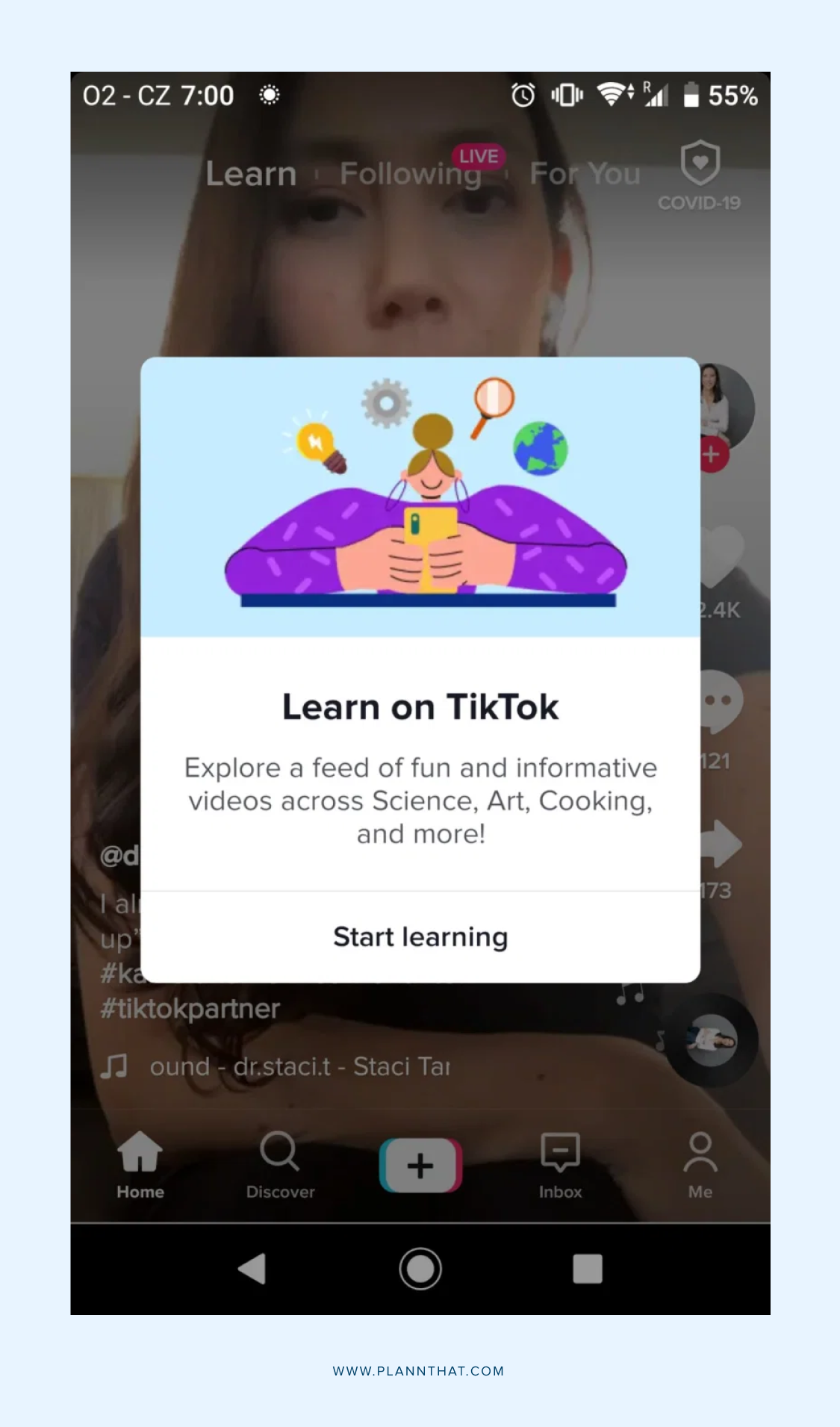 Despite its early reputation, TikTok has now well and truly shed its rep as a platform solely for teens doing silly dances. With a more diverse demographic now using the app, you can now come to TikTok to learn anything from marketing tips to how to contour or cook an elaborate cake.
So, it seems only natural that TikTok is currently testing out a 'learn' tab within the app! It comes off the back of their #LearnWithTikTok hashtag, which they rolled out a few months ago. Sitting alongside the 'for you' and 'following' tabs, the 'learn' section pools together some of this educational content from top creators. Think, short, helpful videos about cooking, science, art and everything in between!
In their original announcement for Learn On TikTok content, TikTok stated that it is "exploring additional ways to showcase the rich offering of instructional content that's thriving on the platform," which includes "building a creator learning portal that will provide insights, tools, and best practices on how to create quality content on TikTok."
This feature was originally being tested in the US but seems to have disappeared, passing the buck to UK TikTok users. It's part of TikTok's wider push to prioritize education in the platform, including their $5 billion educational fund and partnerships with educational institutions to create content. We can't wait to see how the School of TikTok evolves!
4. Facebook Messenger has launched 'vanish mode'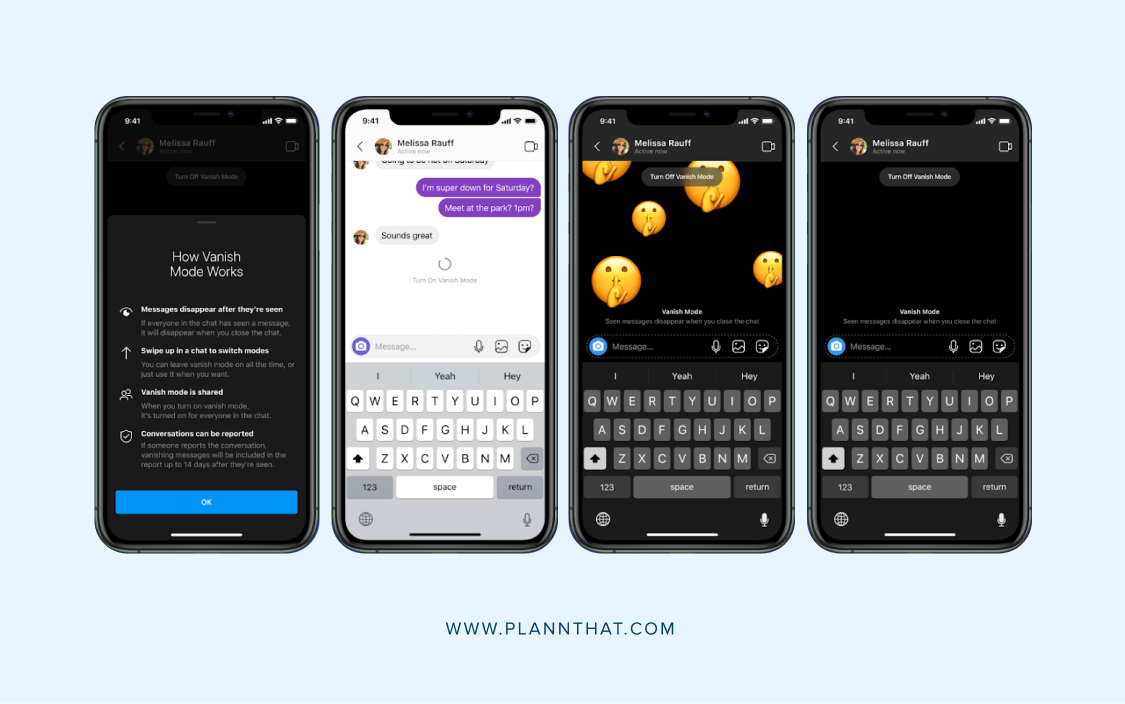 Now you see it, now you don't! Messenger is taking a leaf out of Snapchat's book, launching their own version of disappearing messages. Their new Vanish Mode allows you to send messages, and have them instantly — you guessed it! — vanish once the recipient has read it. You can also use it for gifs, photos and stickers.
It's kinda like an extension of their existing 'secret' encrypted messages, with the added feature of the messages disappearing. To use it, swipe up on an existing chat thread and you'll enter vanish mode. For safety reasons, the recipient will need to opt-in to join banish mode with you. Then, if you swipe up again, it will take you back to your regular chat.
Currently, Vanish Mode is being rolled out in messenger in the US, with other countries to come soon. We'll be interested to see if you can also use this in Instagram DMs, thanks to their recent merge with Facebook Messenger.
5. Twitter has rolled out fleets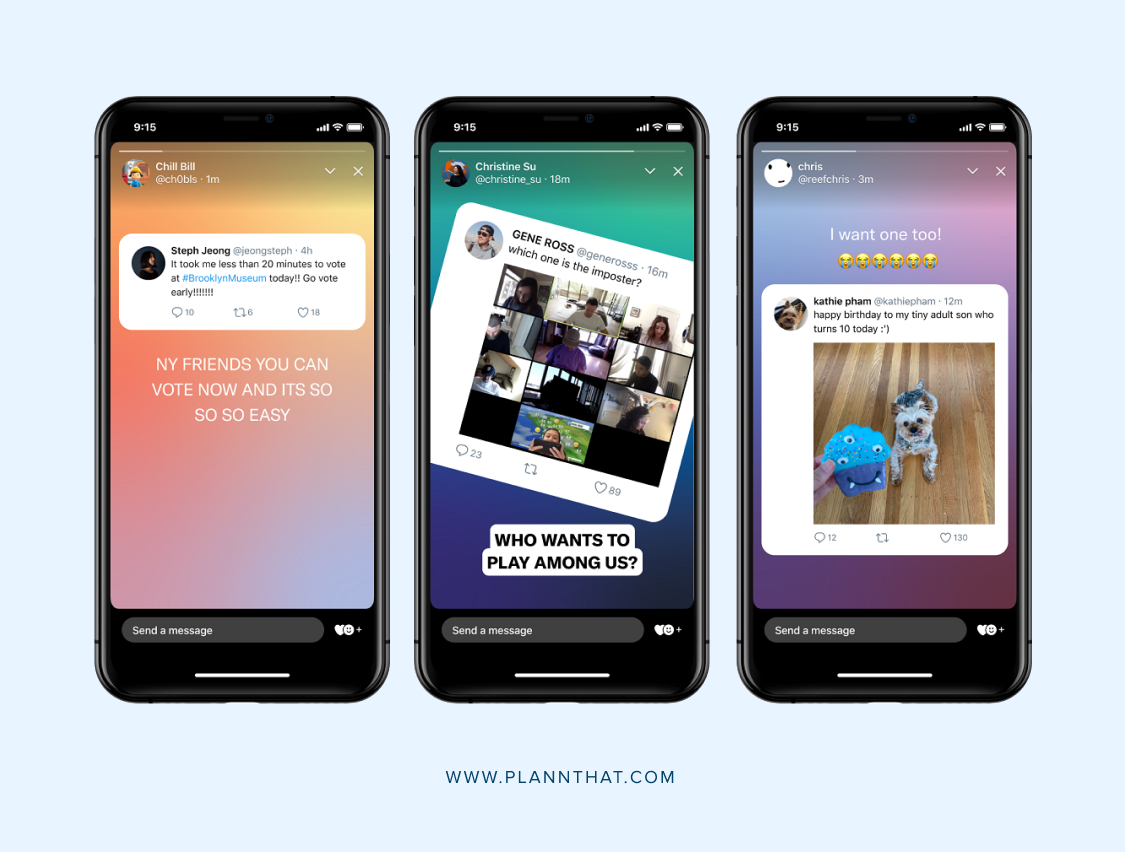 Remember back in March we mentioned that the race was on between LinkedIn and Twitter to launch their own versions of stories? Well, LinkedIn took our first place, but Twitter wasn't far behind — with Fleets finally being rolled out last week.
You'll now see the 'Fleets' along the top of your Twitter feed, much like on Instagram and LinkedIn. You can share text, images and videos, as well as re-sharing your own Tweets as Fleets. As is pretty standard, users can respond with emojis and comments, and the stories will disappear after 24 hours. Currently, there's no functionality to add GIFs, sticker or animation.
Overall, Tweets probably aren't the most game-changing update of the month. But, they're another place you can share some of that more raw, off-the-cuff content you're sharing on Instagram or get your tweets out to a wider audience. So, if you're already regularly using Twitter, it might be worth jumping on as an early adopter and reaping the reach benefits!
We cover the latest new features and platforms in social media land every fortnight. So, make sure to join our mailing list so you never miss an update!