With social distancing and self-isolation measures forcing millions around the globe to stay at home, everyone is searching for connection. In response, many brands and celebrities are taking to social media to reconnect with their followers in a time when staying in touch has never been more important. 
As you'd remember from our recent blog on how to host a successful Facebook Live from home, live streaming has become a powerful way for brands to connect with audiences in real-time. One of the most popular live-streaming platforms is Instagram Live, enabling Instagram users to host live broadcasts to their audiences across the world. 
It's no secret that Instagram is one of the leading social media platforms, attracting over one BILLION monthly active users (that's up from 800 million in September 2017). Instagram Stories proves to be the preferred way of consuming content on the app, with 500 million accounts using the feature on a daily basis, according to Instagram. Plus, a recent study by Livesteam indicated that 80% of respondents would rather watch a live video from a brand than read a blog. Clearly, it's time to get in front of the camera and start broadcasting!
With more and more brands taking advantage of Instagram Live in recent weeks, how can businesses use this feature to grow their network and engage with existing followers? To give you some inspiration, discover the ultimate guide to the best ways to use Instagram Live below! 
In this blog, you'll learn:
1. The basics of Instagram Live (and why brands should be leveraging this live broadcasting tool)
2. Why Instagram Live has grown in popularity in response to COVID-19
3. A step-by-step tutorial to setting up your first Instagram Live
4. Expert tips and tricks to creating a successful Instagram Live broadcast including inspiring examples from brands and celebrities + MORE!
Ready to start connecting with audiences in real-time? Keep reading to learn the art of mastering Instagram Live.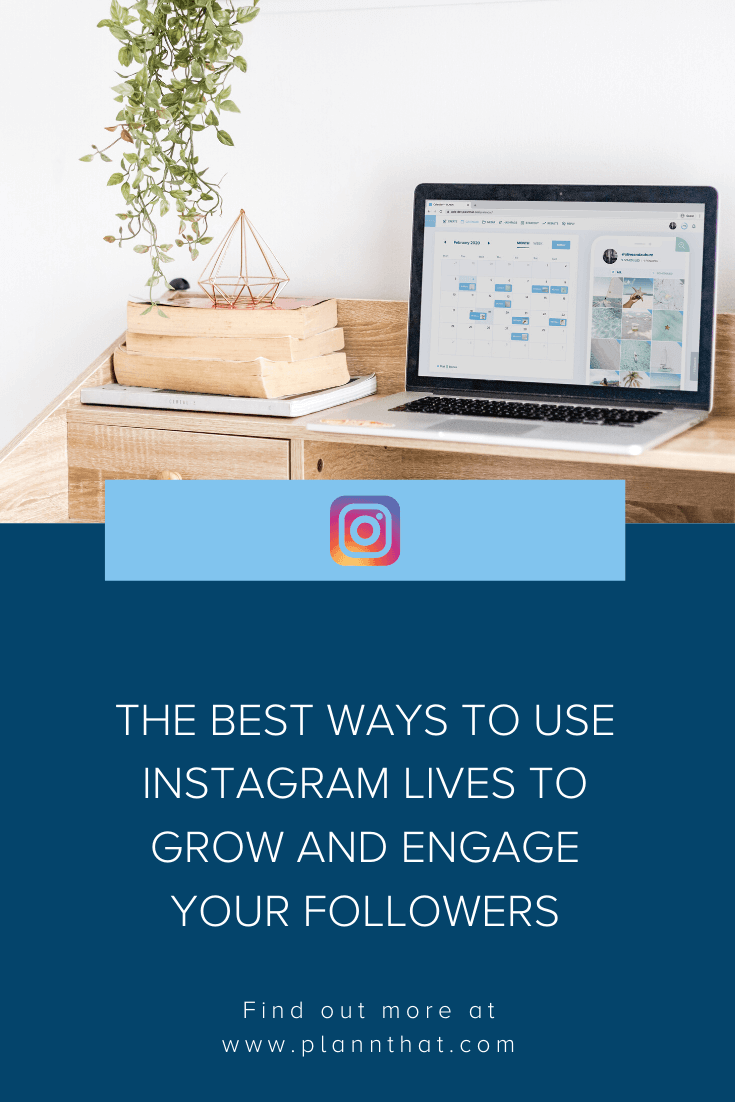 What is Instagram Live?
Have you ever received a notification saying an account you follow is 'now live' on Instagram? This occurs when a user takes advantage of the feature Instagram Live. In a nutshell, Instagram Live enables accounts to host live broadcasts, connecting brands with new and existing audiences in real-time. 
When a user hosts an Instagram Live, the feature will notify their followers with an in-app notification designed to boost reach and the number of attendees watching each broadcast. Live videos also help to boost engagement rates as these videos will be bumped to the front of the Instagram Stories feed. Plus, Instagram Live improves searchability and discoverability for brands as these videos appear in the Explore tab of Instagram to capture the attention of new audiences. 
Although this feature may seem similar to Instagram Stories, Instagram Live is all about sharing raw, unfiltered video content with followers in real-time. There's no pre-recording or fancy editing tricks to hide behind. Instead, Instagram Live offers brands the chance to offer radically transparent and authentic content with their followers. From hosting live Q&As to launching new products, Instagram Live is a powerful and interactive social media tool for businesses, particularly in a time when face-to-face contact isn't possible. 
Why has Instagram Live grown in popularity in response to COVID-19?
During the past few weeks, the global pandemic COVID-19 has caused countries across the world to dramatically shift the way citizens are able to live their daily lives. With cities practising self-isolation, social distancing and some even in total lockdown, thousands of people are flocking online to social media to rekindle social connections.
With many businesses sadly unable to operate as normal due to social distancing measures, many are getting creative and using features such as Instagram Live to stay connected with their customers and audiences in real-time. Although welcoming shoppers into physical stores and hosting in-person workout classes isn't possible at the moment, live video platforms such as Instagram Live help to bridge the gap between businesses and customers in times of need. In fact, live streams offer immediate and meaningful opportunities for human connection and provide users with the closest alternative to face-to-face interactions. 
As such, it's no surprise that countless public figures are already taking advantage of live streaming platforms such as Instagram Live. Numerous celebrities have been using the platform to cure boredom for their followers and engage with audiences in new and innovative ways. Actor Mark Wahlberg has been hosting virtual personal training sessions on Instagram Live, showing his followers the equipment free workout routine he's been following in self-isolation. Plus, singer Miley Cyrus has launched 'Bright Minded' on Instagram Live, a live talk show series discussing everything from mental health to pop culture with well-known celebrities such as Alicia Keys, Selmar Blair, Millie Bobby Brown and more. 
There's been a variety of creative live events taking place, including the virtual music festival 'Isol-Aid' that united Australian musicians on Instagram Live with 20-minute gigs raising funds for the music industry. Plus, the festival has helped to raise the profile of participating artists with performers tagging and telling audiences to head to the next artists' Instagram profile to watch the next set. In a time when large public gatherings such as concerts, theatre, sport and live music events aren't able to take place, live streaming is giving performers and artists a chance to stay in touch with fans and followers globally. 
Plus, we've even seen the rise of the #TogetherAtHome movement, launched by Global Citizen and the World Health Organisation. This virtual activation has used Instagram Live to bring users together across the globe and combat feelings of loneliness during this period of isolation, with celebrities such as Coldplay's Chris Martin live streaming a performance of the iconic song 'A Sky Full of Stars' using the hashtag #TogetherAtHome.  
How to use Instagram Live: A step-by-step tutorial
Ready to get broadcasting? Discover the key steps to hosting your first successful Instagram Live broadcast below. 
Step 1: Tap the camera icon on the top left of your Feed or swipe right while on your Feed.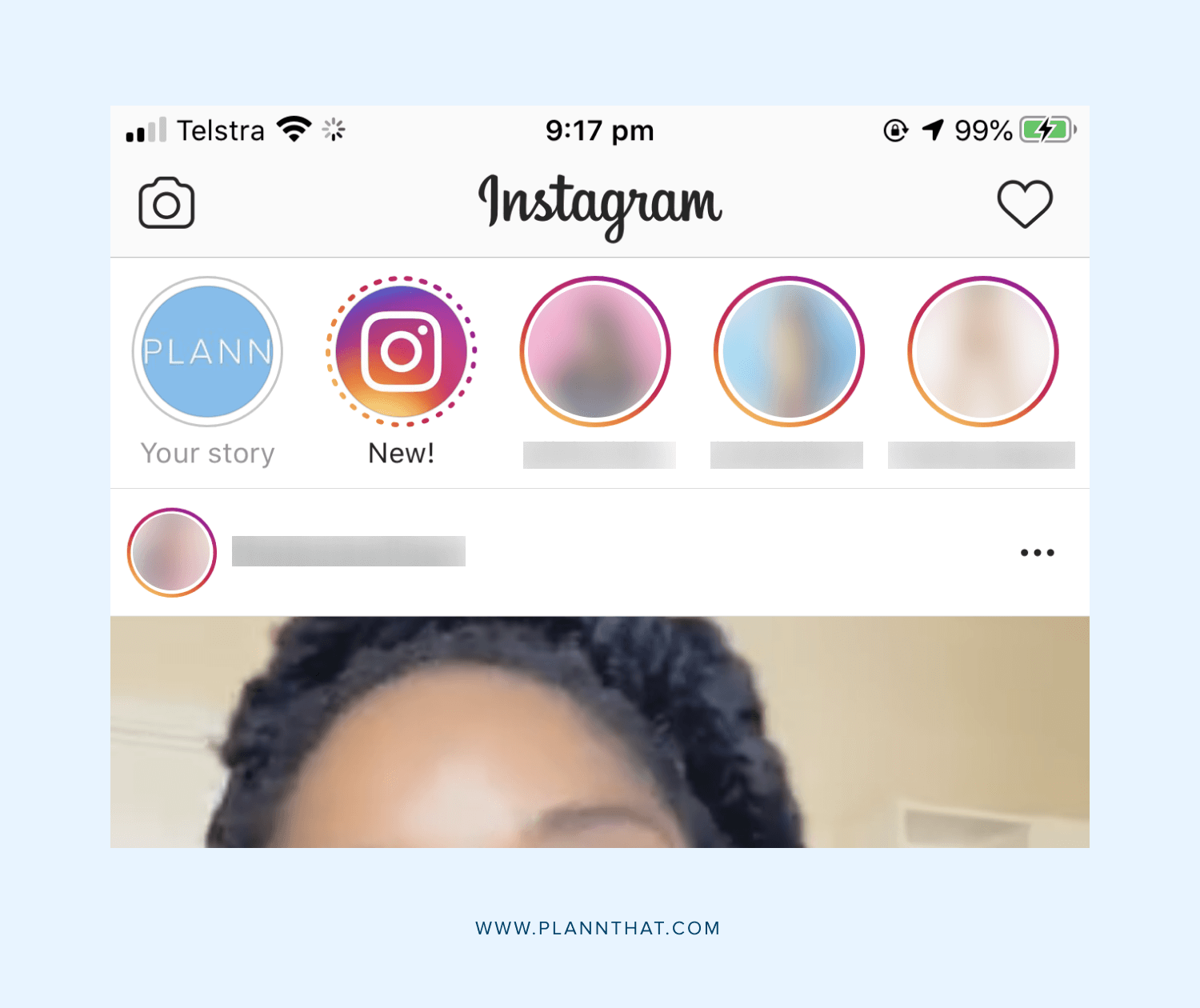 Step 2: Scroll to the Live option at the bottom of your screen.
Tip: The number at the top of your screen indicates the number of your followers that are currently active on Instagram.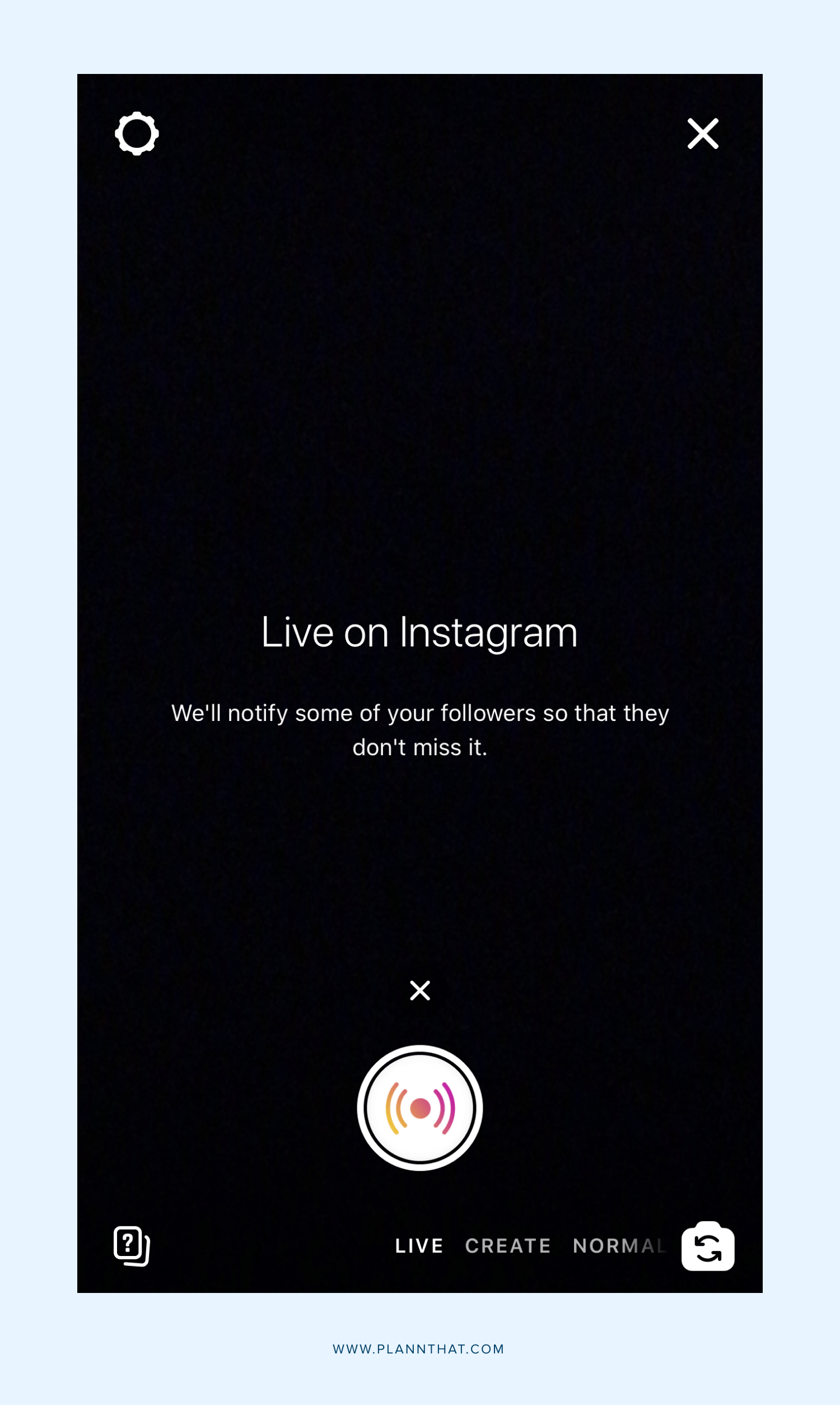 Step 3: Before beginning your broadcast, make sure to check your Instagram Live settings. Tap the wheel icon at the top left of your screen to adjust your settings. 
– You can hide your Instagram Live from specific users. 
– You can choose who can send message replies during Instagram Live broadcast, including Everyone, People You Follow or turn off completely. 
– Make sure to switch on the 'Hide Offensive Comments' option under 'Comment Controls' to disable any offensive comments you might receive during your live broadcast. 
– Make sure to switch on the 'Save to camera roll' option to save a copy of your broadcast to your phone. Plus, you can also 'Save to archive' which will enable you to save your broadcast to your Instagram Stories Highlights. 
– Want to increase the reach of your Instagram Live? Switch on the 'Share your story to Facebook' to automatically share this broadcast on your Facebook account.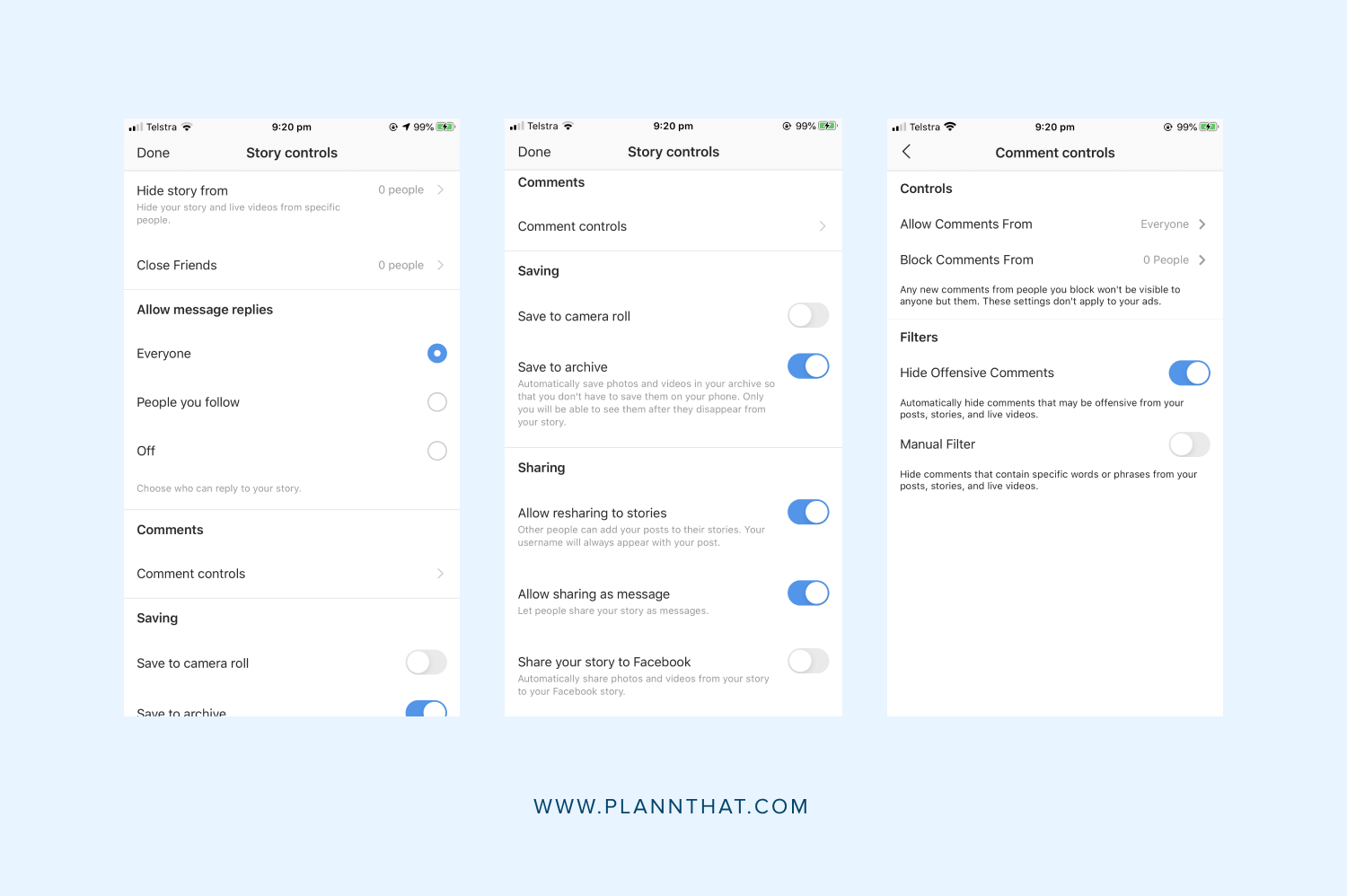 Step 4: Once you're ready to broadcast, click the 'Broadcast' button at the bottom of your screen. 
Step 5: During your broadcast, all audience comments are saved in the bottom left corner. Tap the 'Question Mark' box to read these comments. 
Step 6: Once you are ready to end the broadcast, tap 'End' at the top right then tap 'Confirm'. From there, you can also tap the 'Download' button to manually save this broadcast to your camera roll or share the broadcast to your Instagram Story. 
Top tips for using Instagram Live to grow and engage your followers
Hold on, there's still more expert advice coming your way! Before you get started with your first Instagram Live, discover our expert tips and tricks designed to help you attract, grow and engage your audience. Ready to learn how to host a successful Instagram Live broadcast? 
Tip 1: Notify your audience ahead of time 
Timing is everything when it comes to Instagram Live. With so many users taking advantage of this live streaming platform, it's important to make sure your audience knows exactly when to tune into your broadcast. Try sharing countdown posts to your Instagram Feed in the days leading up to your Instagram Live to build anticipation with your followers. Plus, take advantage of the countdown sticker feature in Instagram Stories to remind your followers to save the date and tune in. 
Example: Take a look at how the women's lifestyle platform Shameless are notifying their audiences of their upcoming Instagram Live broadcast with custom graphics on their feed. 
Tip 2: Plan your Instagram Live broadcast in advance  
Although Instagram Live encourages raw, unfiltered content, the most successful broadcasts are thoroughly planned ahead of time. The first step is to identify the purpose of your broadcast. What are you trying to achieve? Some objectives could include:
– Revealing a new product or service with your followers
– Answering questions about a topical issue or common customer pain point
– Delivering free value for audiences, such as online workouts, cooking classes or beauty tutorials 
Once you have clarified why you are jumping in front of the camera, the next step is to create a structure for your Instagram Live. Creating a clear roadmap for your broadcast will help you stay on-track and ensure you achieve the objective of the live stream. Put together a simple checklist of key talking points or topics you want to cover, as well as how long you want to spend discussing each. Keep a clock or timer handy throughout your broadcast to avoid running over time too. 
A great strategy for planning a successful Instagram Live is to practice ahead of time. This will improve your confidence when it comes time to broadcast live to your audience, and can help you refine your plan in case you need to adjust topics or timings. As they say, practice makes perfect! 
Tip 3: Go live with like-minded experts or collaborators 
Want to boost the reach of your Instagram Live? One of the most powerful strategies for growing your audience is collaboration. When planning for an Instagram Live, consider if there are similar brands, influencers or public figures you can team up with for the broadcast. Look for leaders in your industry or subject matter experts you could interview about topics relevant to your audience. 
For example, if your audience is looking for advice about how to alleviate stress and anxiety during self-isolation, collaborating with a psychologist or yoga teacher could be a smart move to provide valuable, engaging content to your audience. 
The best bit about collaboration on Instagram Live? You can instantly double your reach! That's right, by joining forces with a second account your Instagram Live is automatically broadcast to a whole new network of potential followers and customers who are likely to engage with your brand. 
Tip 4: Respond and engage with viewers
Audiences tune into Instagram Live for the chance to engage with brands in real-time. So, it's essential that businesses take the time to actively engage with viewers who carve out the time in their day to attend. Not only will engaging with viewers help to build meaningful relationships with your audience but will also help to create positive brand experiences that will boost the chances of viewers engaging with your businesses in the future.
Make sure to take advantage of the comments tab on the bottom left of your Instagram Live broadcast. Monitor this feed of questions throughout your broadcast and set aside the final few minutes of your Instagram Live to answer some of the top questions. This enables audiences to immediately receive answers to their burning questions plus builds valuable trust and rapport with your viewers. 
In such an uncertain time, providing an opportunity for connection using Instagram Live will serve your brand well both now and into the months and years to come.