LinkedIn has jumped on the stories bandwagon — giving professionals the opportunity to share those more on-the-fly moments.
But, how do LinkedIn Stories work, what's the point of them and how can you use them for your own business?

Created in 2002 (years before Instagram or even Facebook), LinkedIn was the OG social networking platform. But, the platform is really having its moment right now. With around 25 million people seeking work amidst COVID-19, more people have flocked to LinkedIn than ever before.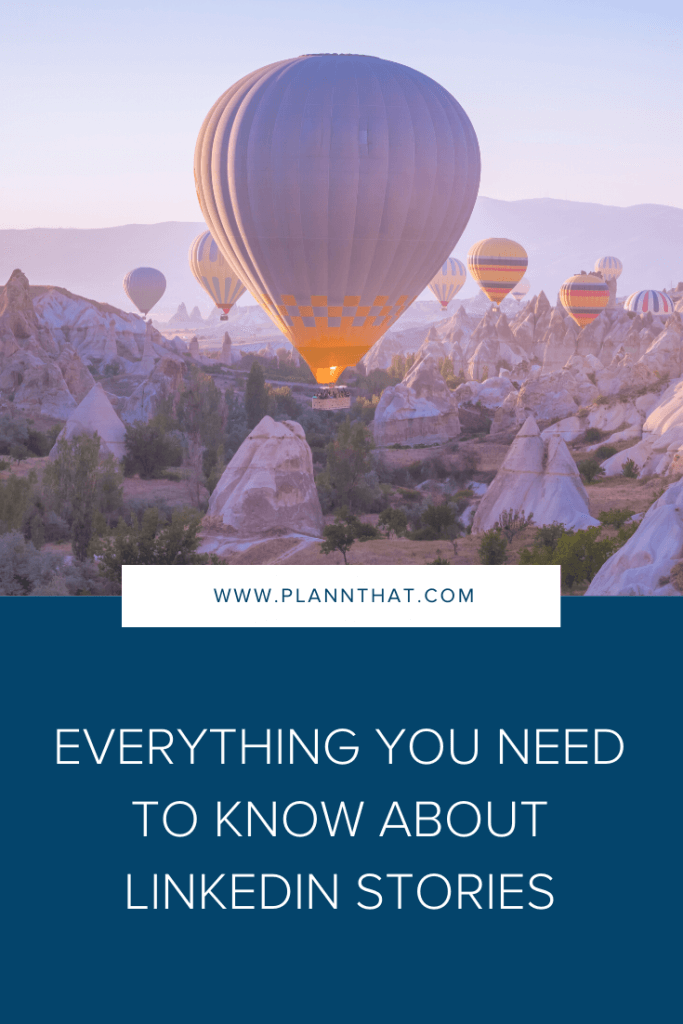 It's safe to say that LinkedIn is making the most of their time back out in the sun!
From LinkedIn Live to event streaming, they've been rolling out some pretty slick new features this year. The next cab off the rank? LinkedIn Stories is next.
Yep, just like Facebook, Instagram and, of course, Snapchat, LinkedIn has jumped on the stories bandwagon — giving professionals the opportunity to share those less polished, more on-the-fly moments. But, how do LinkedIn Stories work, what's the point of them and how can you use them for your own business?
What are LinkedIn Stories?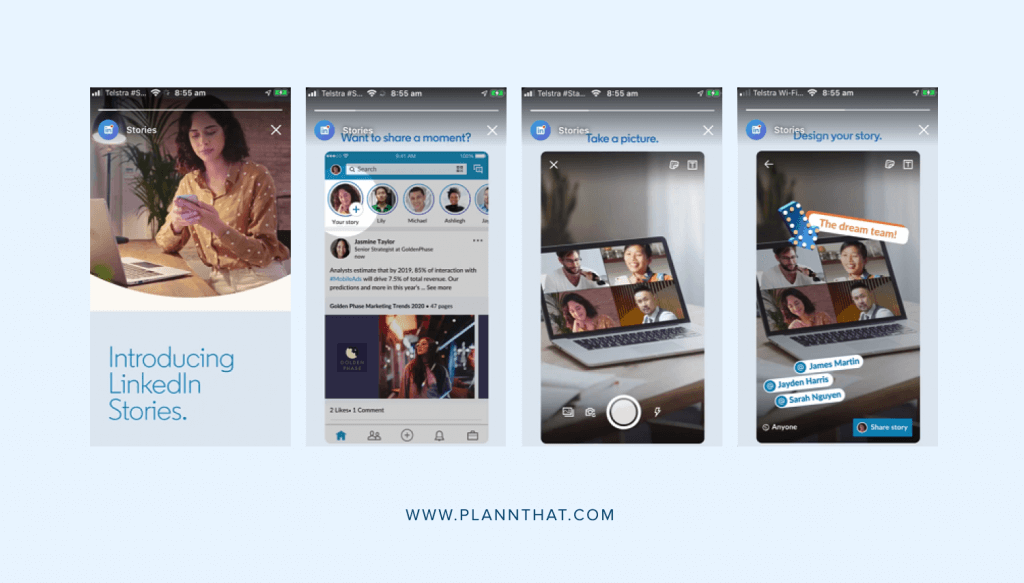 Much like the stories we know and love on other social platforms, LinkedIn Stories are temporary, visual status updates that disappear after 24 hours. 
For users who have access to the feature so far, a stories bar now appears along the top of their main feed. As is customary, the stories appear vertically and automatically display the next story if the user has posted multiple (unless the viewer clicks off).
Users can choose to post a photo or video (up to second seconds) to their story and access to a range of simple editing features — like adding text and stickers.
What is the goal of LinkedIn stories?
You might think stories seem a little out of place on a professional networking platform like LinkedIn. After all, surely your ex-boss from 10 years ago doesn't want to see cute videos of your cat (uh, their loss!) But, the introduction of this feature actually makes complete sense — especially given the world's growing appetite for connection. 
Research shows that stories are increasingly becoming the preferred way to consume content on other social media platforms. That's not to say that stories have to completely replace posting a status update on LinkedIn. But, offering the stories functionality simply gives users the option to diversify their LinkedIn content creation and reach a wider audience. 
This more raw, off-the-cuff style of content also allows LinkedIn users to give more of a glimpse into the person behind the brand. This is particularly useful for business owners, entrepreneurs and creatives who are keen to build that like, trust and know factor with potential clients and customers.
Where are LinkedIn Stories available?
So far, LinkedIn has rolled stories out to members and select pages in four different countries — Australia, Netherlands, Brazil and the United Arab Emirates. But, if you're keen to give it a go and it's not available in your country yet, don't fear! LinkedIn has confirmed they'll be introducing it into a new nation every few weeks. So, it's likely only a matter of time before this cool new feature is at your fingertips.
How do you create LinkedIn Stories?
If you're one of the lucky countries with early access to LinkedIn stories, this is how you can give them a whirl when they're announced for you.
Firstly, you'll need to grab your phone, as the stories feature is currently only available on LinkedIn mobile. 
Once there, head to your newsfeed and from the top left corner of the screen, tap the '+' icon above your story. From here, you'll be able to capture a photo or 20 seconds of video from within LinkedIn (ideal if you want to do talking head style content) or select from your camera roll. 
Once you've captured or selected your content, you'll see the option to add text or stickers (fun fact: if you're in Australia, there's some fun local-themed ones like the G'Day sticker!) 
Once you're done, tap the 'share story' button and voila, it's live on LinkedIn! If you're feeling super keen and want to post more stories, just view the first post and tap the '+New Story' button.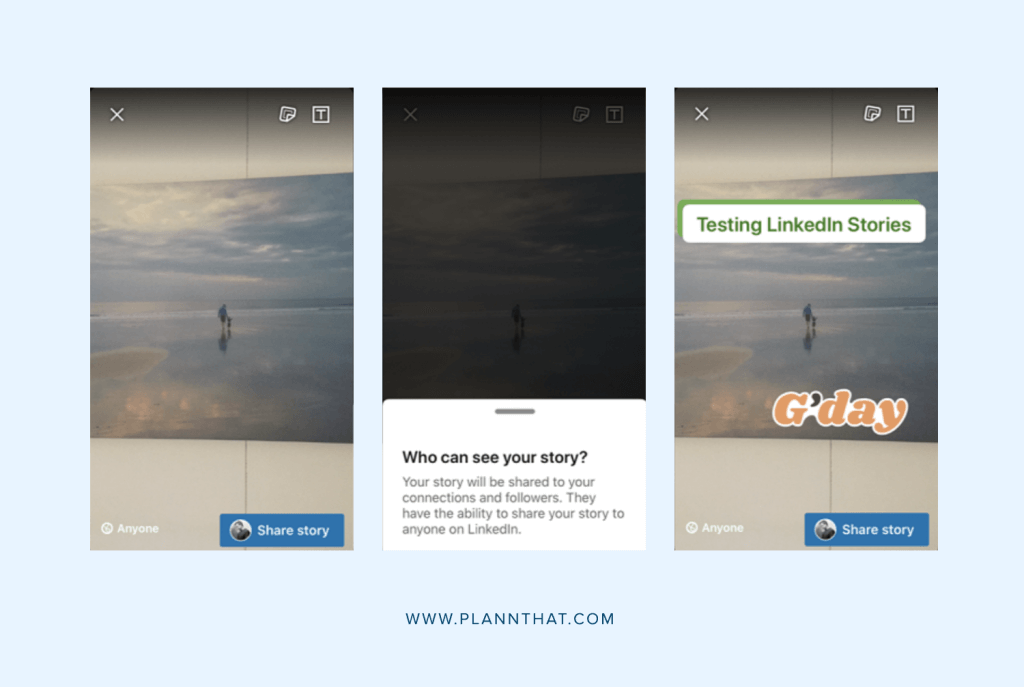 How do you view LinkedIn Stories?
Want to see what other people have been getting up to on LinkedIn stories? If it's available in your country, you can check out stories by heading to your newsfeed on LinkedIn mobile. Here, you should see a bar along the top that shows any of your connections that have posted stories. 
When you go to watch your first story, you'll be prompted to review your privacy settings. Much like how you can choose to remain private when viewing people's profiles, you can do the same for stories. So, if you don't want someone to know you've peeping their storiy, you can switch your setting to anonymous viewing here.
Plann's tips for using LinkedIn Stories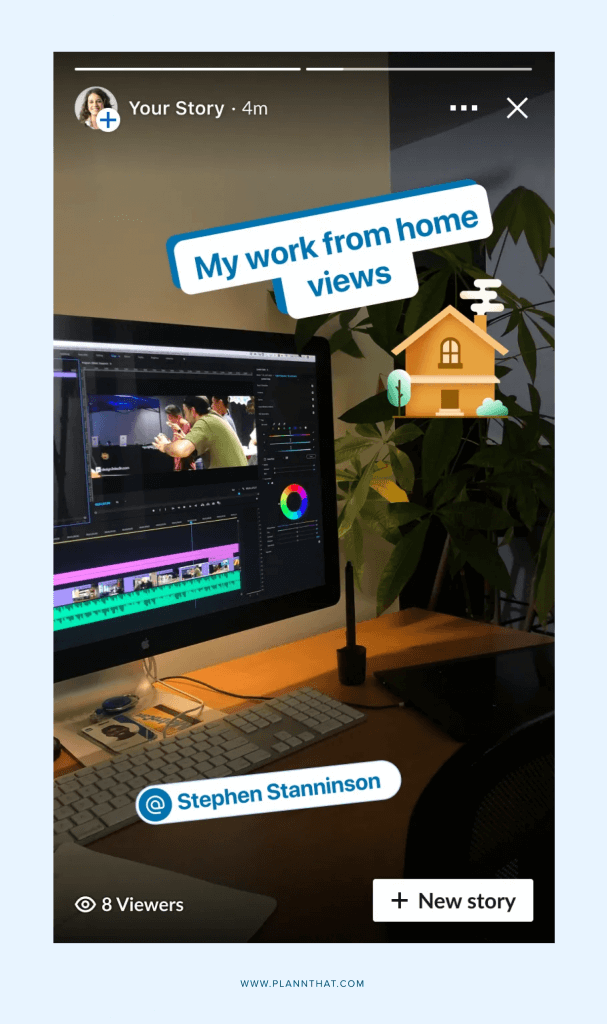 So, what do you actually post on LinkedIn stories?
After all, surely it's not the place to post your bomb Saturday night selfies or hilarious dance videos? 
Well, back in March, Linkedin's head of content product announced the company's vision for stories. He stated that they imagined a company might use stories to share "key moments from work events" or "tips and tricks that help us work smarter." So, those are some great places to start if you want to make sure you're keeping your content LinkedIn-appropriate.
Ideas for the types of content you might post on LinkedIn Stories include:
 • Share a behind-the-scenes video from a professional event or summit within your company
 • Give a sneak peek into an upcoming product or service within your business
 • Share some interesting updates or stats within your industry
 • Create a graphic to announce you have posted a new LinkedIn article
 • Post a short video weighing in on some changes or news in your industry
 • Share useful tips and tricks within your industry, or some recent learnings you've had
While stories are unlikely to become the main focus of LinkedIn (or, replace our daily IG stories fix) it's a promising new feature. From helping larger companies show their human side to giving entrepreneurs another platform for thought leadership, there are loads of benefits for you.
Over to you: Are you excited to use LinkedIn stories for your own business? 
Need help being more consistent with your LinkedIn posts?
New! Use Plann to design a posting strategy, create graphics, and auto-schedule straight to LinkedIn now!