Facebook Live is an engagement gold mine.
Users watch broadcasts 3x longer than pre-loaded videos and get 10x more comments.
But it's also terrifying.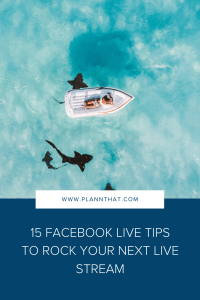 So many things could go wrong.
Whether it's technical difficulties, the number of times you say "um" or the behemoth: no one shows up and you're left to hang out with yourself on the internet.
The good news?
You can overcome every single one of those doubts and fears swirling around in your head.
In today's post, we're going to show you 15 Facebook Live tips that will help you feel prepared, confident and ready to rock your next live stream!
1. Promote Your Facebook Live Before and After
No one wants to be alone, at least not when the point is to have a crowd around you.
Whether it's your first time going live on your 100th, you always want to make sure you're speaking to an audience.
What's the best way to avoid those crickets?
You need to put yourself out there and PROMOTE!
But don't only rely on sprinkling in a few Facebook status updates here and there, you need to take your show on the road.
Hit up alllll your social media networks and let them know about your event.
Tease your audience with some of the golden nuggets you'll be sharing, entice them with solutions to their most pressing problems, and you'll have a handful of eager beavers ready to soak up all your wisdom.
And once your live stream is down, the promotion carries on. You can quickly rack up those sweet, sweet views by boosting your live stream post and running it like an ad campaign.
2. Pick The Right Time to Go Live
When Plann'ing your Facebook Live, timing is everything. 
Just like it's important to find the sweet spot for posting to Instagram for maximum engagement, the same rules apply here.
You want to make sure your audience is not:
– Catching up on their beauty sleep

– Attending any BIG events (like the Superbowl)

– Making that coin at work
Check the analytics for your Facebook page and see what times your audience engages with your posts the most.
If you're still stumped, throw up a poll on your page and ask your followers to vote for the time they want to watch your content.
3. Don't Wing Your Live Video
Unless you've kissed the Blarney Stone or you're naturally blessed with the gift of the gab, talking for 10-minutes can feel like a daunting task.
What if you get confused, panic, forget what you were saying and then there's awkward silence?
That's the stuff nightmares are made of.
The solution? A solid plan.
Whip out your notebook and make a list of your main and sub talking points and keep it in your line of sight to avoid going off-topic.
If you're hosting a Facebook Live to demonstrate a product or give a tutorial, do a quick dry-run. It will help you avoid those dreaded technical difficulties.
4. Flex Your Copywriting Skills and Compel People to Watch Your Live Video
Do you have the answers to questions people are DYING to know?
Like how to become a gazillionaire in 30-days?
Make sure people know the value of tuning into your Facebook Live with a compelling description.
Grab their attention with your words and keep them around with your witty and valuable banter.
5. Respond to Questions Live 
What is it about Facebook Live that draws people in and skyrockets engagement?
It feels like a two-way conversation. 
But only if you encourage comments by answering questions live.
It makes your viewers feel included, seen and heard.
Plus, the more buzz you generate in the comment section, the higher your Facebook relevancy score.
And that means Facebook's algorithm will finally be on your side. You won't need to shell out those extra dollars to get a little love on people's News Feeds.  
6. Call People Out
Want to make your viewers feel special? Use their names when answering their questions.
It's a super-easy way to build a connection and make your followers feel apart of the discussion and excited about watching the rest of your video.
7. Practice Re-introducing Yourself
Unlike Instagram Stories or YouTube videos, people can tune into your Facebook Live at any moment.
To make sure your new viewers know what's going on and who you are, keep re-introducing yourself and briefly recap the discussion.
For example, you can say:
"Thanks for joining us! I'm talking about how you can spin straw into gold at home, and we've just covered how to hide your gold from those pesky dragons."
Top Tip: If you really want to boost your brownie points, greet your new viewers by name!
8. Keep Asking for Engagement
Beat the Facebook algorithm at its own game by asking your viewers to like and share your broadcast.
You can sneak it in with a quick:
"Thumbs up if you like watching videos of cats!"
Or with an incentive:
"Share this video with your fellow entrepreneurs and you'll get a 30% off voucher for my retreat!"
9. Broadcast For At Least 10-Minutes
The longer you broadcast, the more time you have to gain:
– Likes

– Shares

– Comments
It gives Facebook a chance to push your video out to more News Feeds and boosts the chances of viewers discovering your video.
10. Link to Resources
Before you hit that "go live" button, get all your resources in order.
If you plan to mention any of your blog posts, open them up in a separate tab ready to go.
By having your resources organised, you can quickly direct people to your blog post or sales page while they're super interested in how you can potentially solve a problem in their lives.
11. Face a Window
Good lighting can make or break any video.
You want to make it easy for viewers to see you and focus on what you're saying.
When setting up for your live, find the nearest window and make sure it's in front of you, not behind you.
The result?
Your face is basking in gorgeous natural light, and your video quality will be on point – even if you're using a webcam or smartphone.
12. Film Your Broadcast Horizontally
Speaking of smartphones, if you're using your device to film your video, use the horizontal view.
It looks much better in Newsfeeds, and you can use the edit button in the top left corner to add a filter!
13. Leave Your Viewers With an Actionable Sign-Off
Resist the urge to push the finish button as soon as you've come to the end of your last talking point.
Instead, leave your views with a strong call to action.
Think about what you want them to do after your live stream ends. Maybe you want to drive traffic to your website, grow your mailing list or get people to sign up for your latest course.
A great sign-off for a Facebook Live should have:
– You mentioning your name one last time

– Thanking your viewers 

– Sliding in your call to action

– Saying goodbye
14. Use The Power of Analytics
Facebook's analytics are full of juicy details. 
At the end of your broadcast, take a deep dive into your "Insights" tab. Here you'll find all the tea on how well your video performed, what worked, and what was a flop.
You can use Facebook Live Video analytics to find out:
– Minutes viewed

– Unique viewers

– Total video views and 10-second views

– Average completion rate

– Number of reactions, comments, and shares

– Peak live viewer count

– Average watch time

– Total number of people reached

– Demographics of viewers
You can even zoom in and see which moments had your viewers in an engagement frenzy.
Maybe it was when you spoke about a specific topic? Use that data to inspire your next video or turn it into a product and make it rain dollar, dollar bills ya'll.
15. BONUS: Add Captions to Your Broadcasts
If you're feeling fancy and you want to go the extra mile for your viewers, add captions to your live video at the end of your broadcast.
It's a great way to connect with viewers who are hearing impaired. You can also use it to capture the attention of users who haven't turned on the sound for your video yet.
You can easily generate captions through Facebook or upload an SRT file.