Instagram Reels: Create 60-second clips set to music and open a whole new way to reach your target audience.
It's been just over a year since Facebook launched their own variation of rival TikTok, Instagram Reels, right inside their existing Instagram app.
Here's how you can use Instagram Reels to highlight even more of your business (plus! how you can repurpose content to make sure you don't have to spend hours on the content creation hamster wheel)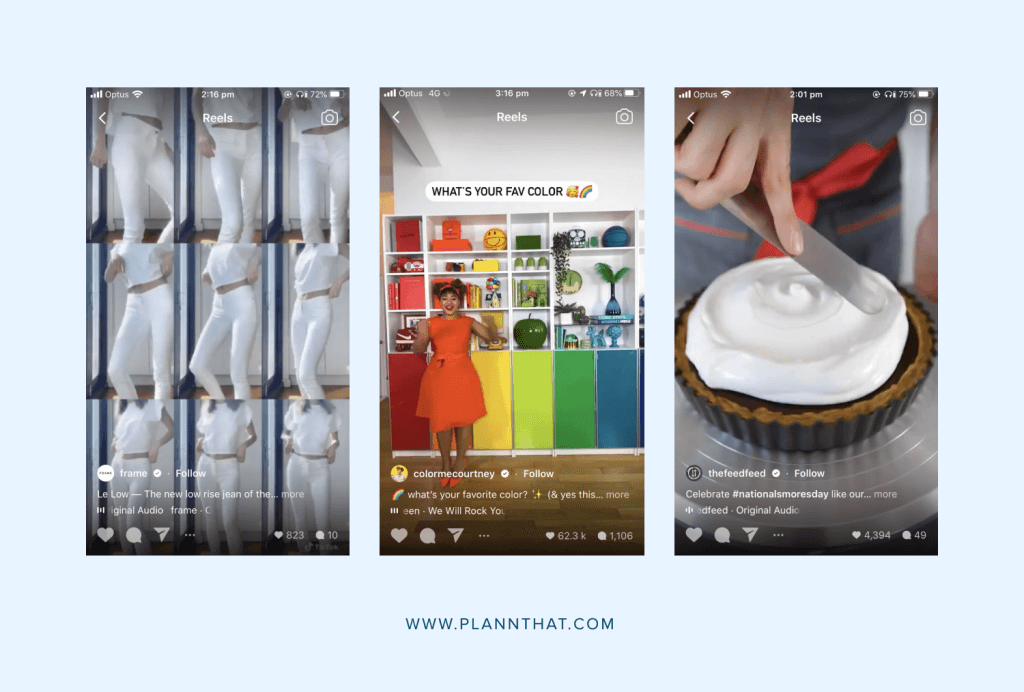 We're dishing on everything you need to know including: 
• What Is 'Featured' On Instagram's Reels — How Can You Get On There?
• Will Instagram Reels Take Off?
• How to Use Instagram Reels for Your Business
• Who's Using Instagram Reels and Who You Should Follow
• How To Repurpose Your TikTok Content For Reels
• Instagram Reels Ratios to Get You Started
What is Instagram Reels?
You might recall that Facebook originally had a stand-alone-app, Lasso, in the app stores. After 1.5 years, they very recently decided to remove it for download and pushed the features right into the hands of their existing community by building the short video format inside Instagram — this is a genius way to keep people from leaving Instagram and adds to the other features they've recently been working on.
Instagram Stories have proved to be an incredibly popular addition with more people actively posting there than directly to their grid, and demand is growing by the day. So, what do we think will happen with Reels?
How to Use Instagram Reels
Here's a quick look at where you can go to find, record and edit together Instagram Reels in your account.
You can choose to add audio from a huge library or add your own. You can also adjust your videos speed and add effects like gifs or a countdown timer.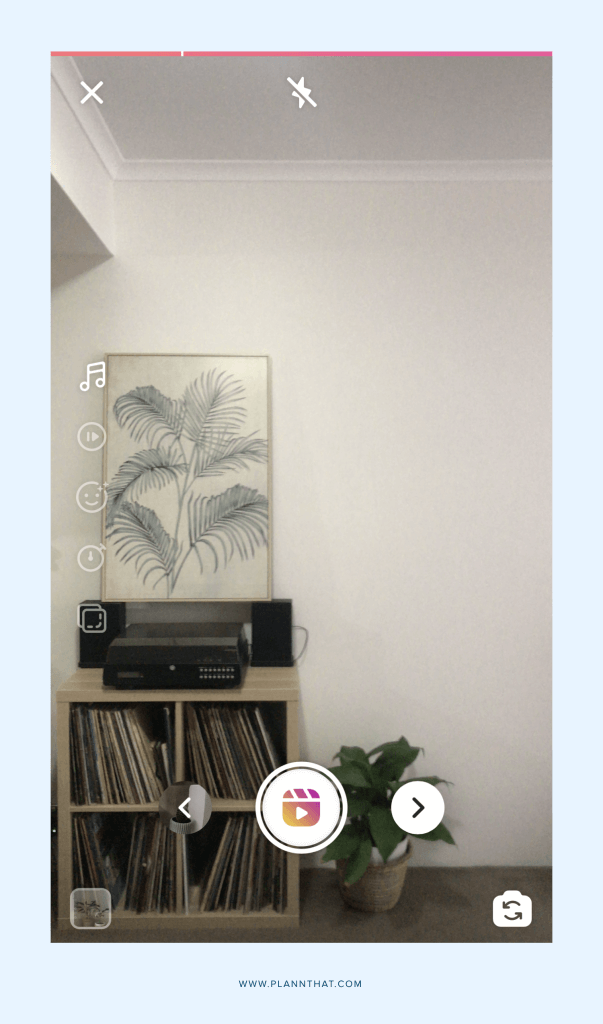 Once you're finished, you can edit the cover photo with a video thumbnail or add a cover from your camera roll. 
Then, you can share your videos to Stories, the Explore Feed or the new Reels tab on your profile!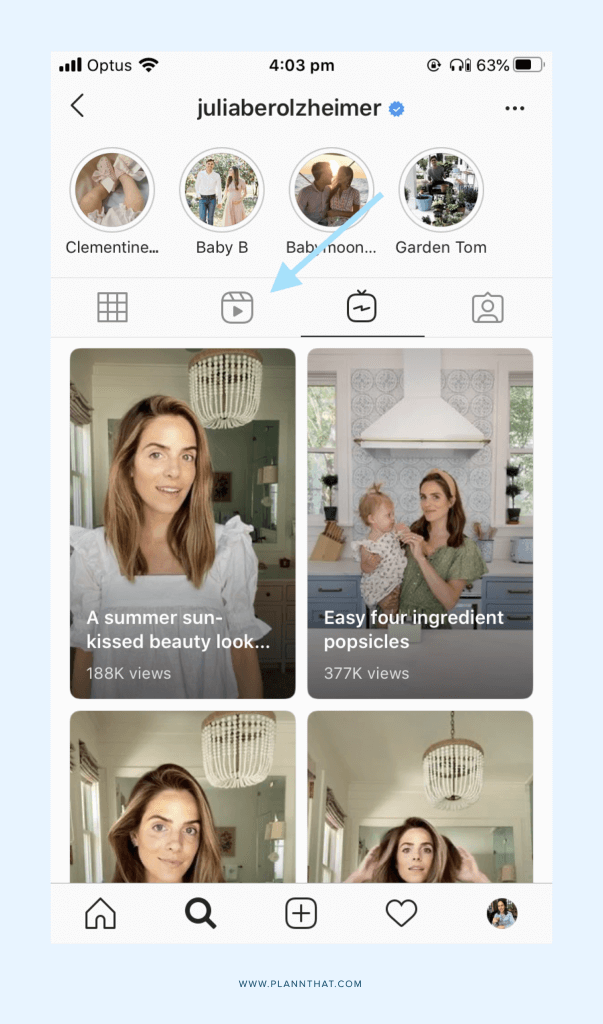 See more about creating and sharing Instagram Reels on Instagram's Blog
What Is 'Featured' On Instagram Reels — And How Can You Get On There?
Instead of only seeing Instagram Reels from accounts you follow as you scroll, you will see Reels from popular and trending accounts on Instagram.
Videos also have the opportunity to be 'featured', as you can see in the example below (Mocha the pomeranian is stylin'!) These featured videos are hand-selected by Instagram's in-house content curators — who have the enviable job of searching for trending themes and content! The videos users engage with then informs Instagram's personalised algorithm, which is powered by AI (artificial intelligence).
Want to get your Reels content noticed by Instagram? Make sure you're creating engaging, unique content that puts your own spin on current trends. This isn't the time to shy away from originality and quirkiness — it's important to let the reel (see what we did there) 'you' shine through!
Is Instagram Reels Here to Stay?
Originally targeted to the younger generation for dance offs, Instagram Reels helps people create 60 second 'short form content' clips that were made for entertaining, educating, creating or just pure unadulterated time wasting online.
The way Instagram Reels has been integrated into existing Instagram profiles (your main grid page and your explore page just to name a few), shows signs that Instagram are going to push the new features and functionality just as hard as they have IGTV and Instagram Stories.
We think it's here to stay, however our guts tell us it will evolve from dance battles and jelly shots to a place where it can also serve businesses and brands — infrastructure that already exists inside Instagram, and not yet for up and coming rivals.
How to Use Instagram Reels for Your Business
Okay, so now you know that it's worth investing some time and effort into incorporating Reels into your social media strategy. So, how do you actually do this? The good news is, you don't have to 'shake that laffy taffy' as the kids are doing or play ridiculous pranks in order to get on the Reels bandwagon. There are other ways you can take advantage of short-form content in a way that feels really authentic to your brand. Here are some ideas:
— Splice together existing videos from your camera reel:
Do you already have a bunch of videos of customers using your videos, or giving testimonials about your services? Or, maybe you went on a great trip recently and want to show off bits and pieces of footage? You can use Reel's in-built editing tools to splice these together to create a 15-second video
— Overlay text on videos: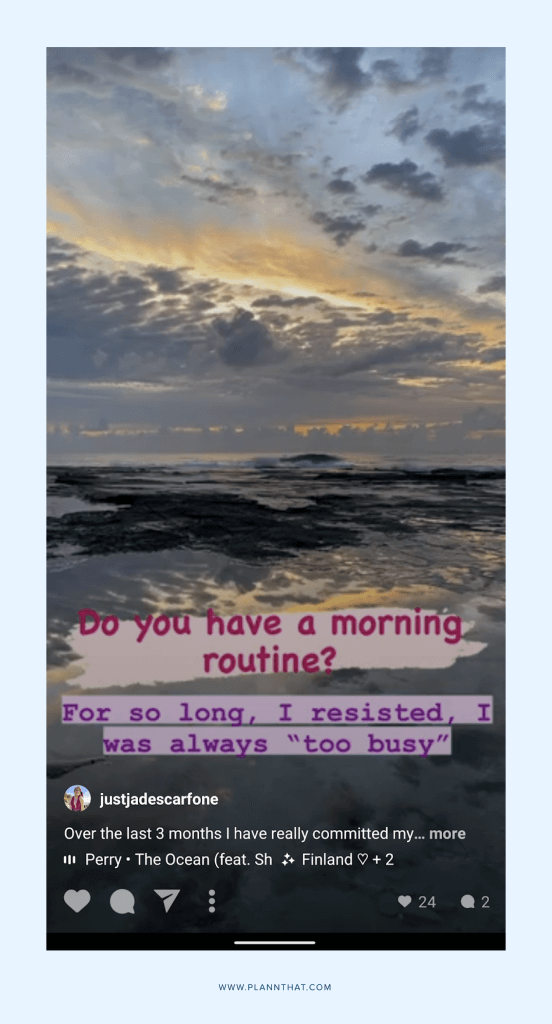 You can also overlay text onto video footage to create educational, tip-based content. For example, you might have a montage of your morning routine, and use Reels' text editing tool to annotate the different steps in your routine. You could also do the same with a cooking video and accompanying recipe.
Don't know where to start when it comes to capturing video footage? The good news is, you can use the same strategy with stock footage! With your Plann account, you have access to hundreds of short, free videos you can use as the 'background' of your Reels video — and add text on top of that.
— Create short, to-camera pieces:
Why not use Reels to capture short-form thought leadership content? This could involve using it on selfie mode to record yourself giving a quick tip, pep talk or your perspective on a trending topic. It's basically like a super short and digestible version of an IGTV, similar to stories!
— Show your products in action:
TikTok's coolest mom, Jessica Alba, recently pivoted to Reels to show off her Honest Beauty masks. She wears one to dance in her garden, on a patio table, and on her kitchen counter in her video, as her alarmed hubby Cash Warren looks on. But if that's not really your style, there are other ways you can showcase your products in a more natural and organic way. It's all about getting creative with it!
Whatever type of content you create, we recommend making sure it fits into your overall brand positioning and goals. One of the best ways to do this is to use Plann's in-built strategy tool to map out your content ahead of time and ensure you're being intentional about the content you're creating. Then, you can plan out your Reels content before you record or create it!
Who's Using Instagram Reels and Who Should You Follow?
It seems as though Instagram Reels has been around for years, not weeks! Everyone is jumping on in to give it a whirl – from big companies, to small businesses, influencers and everyone in between. Not only is it seriously addictive, but it's a great way to grow your business. Stuck for ideas? We've rounded up the best brands and peeps going viral.
Business Reels Accounts
Brands are getting millions of eyes on Instagram Reels showcasing their products by collaborating with top influencers and bloggers and creating fun how-tos and tutorials. Here are some of our faves right now: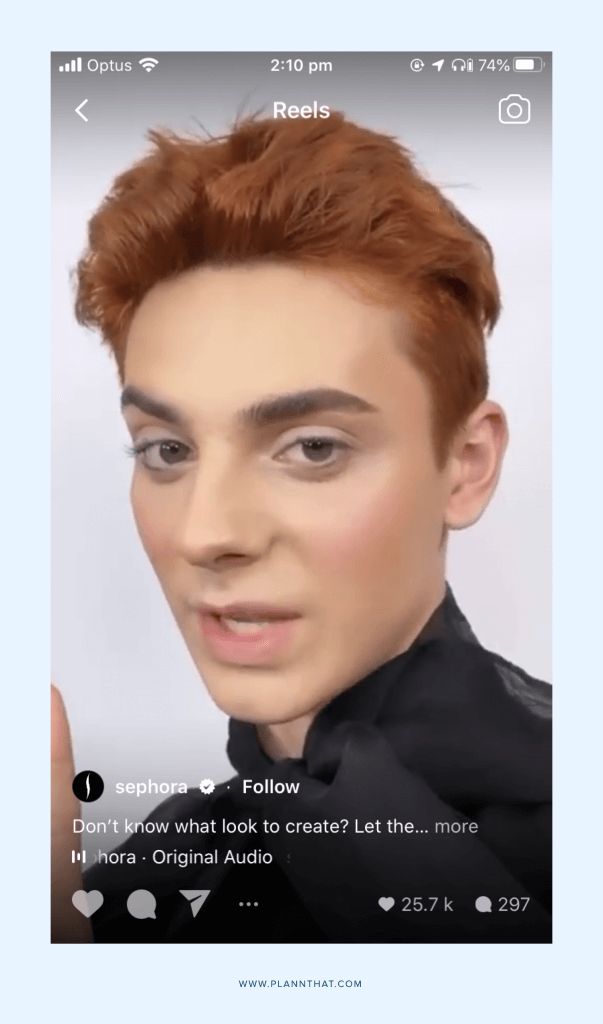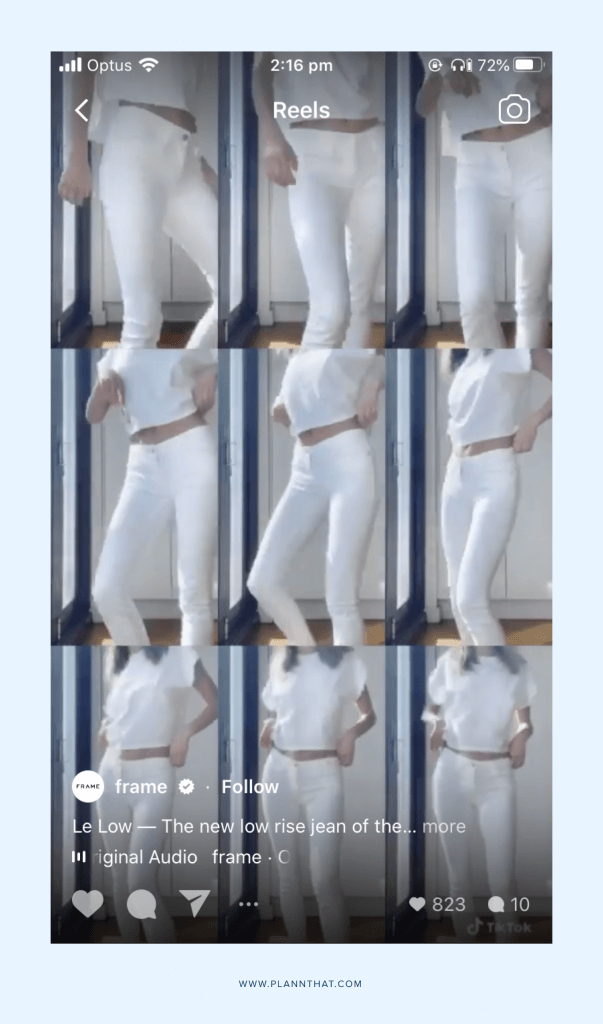 General Inspo Reels accounts (influencers, travel & beyond!)
If your goal is to grow exposure, then being an early-adopter of a new feature like Instagram Reels is the way to do it! Here are some accounts seeing BIG early numbers with their fun, inspo-filled videos!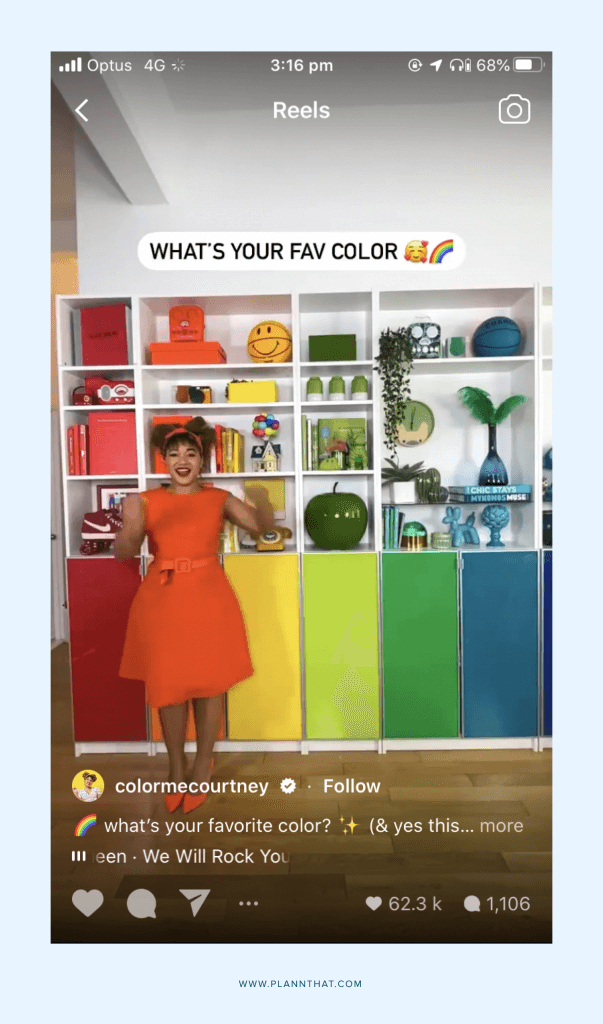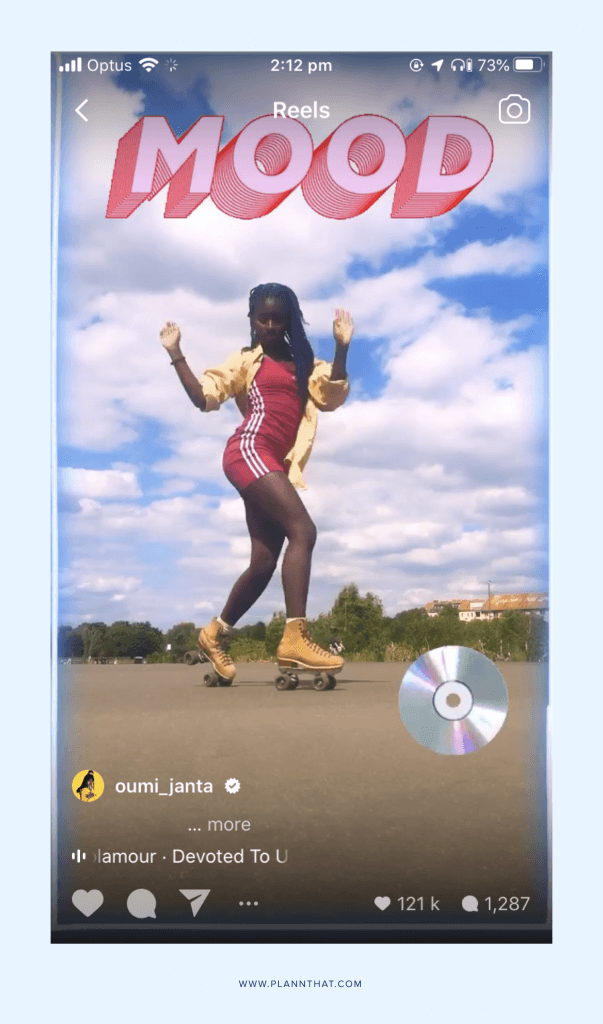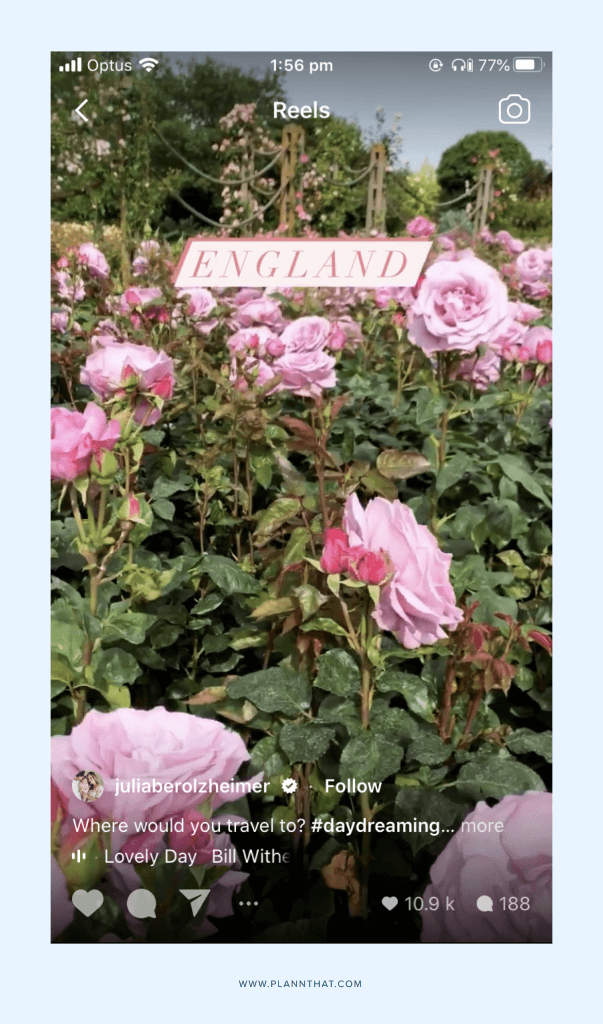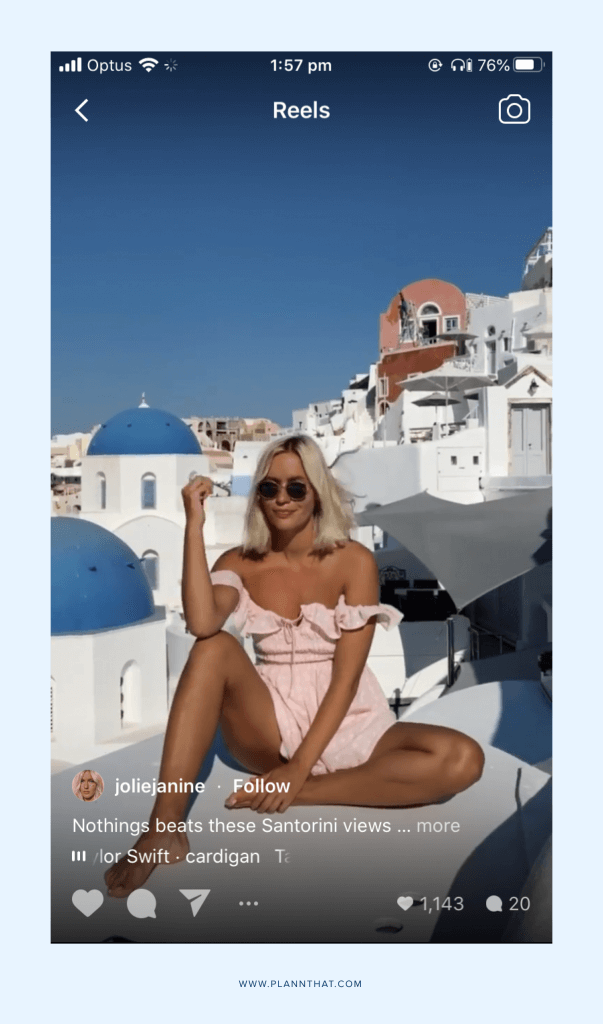 Food Inspo Reels accounts
Ummmm food videos are PERFECT for Instagram Reels — they are seriously addictive to watch! Quick recipe bites makes for seriously drool worthy content. Are you nom nomming any of these accounts? If not, you should be!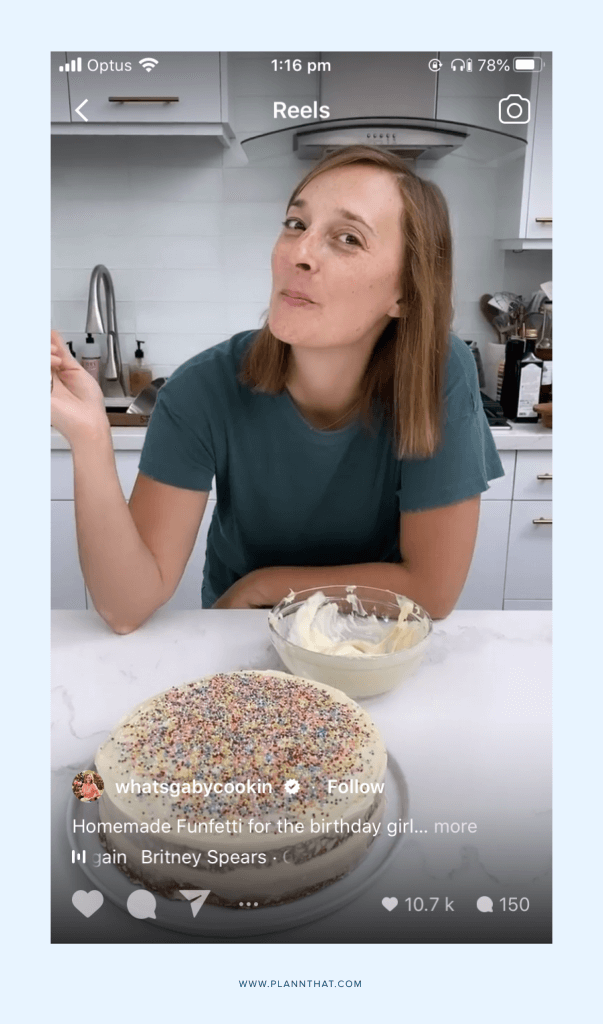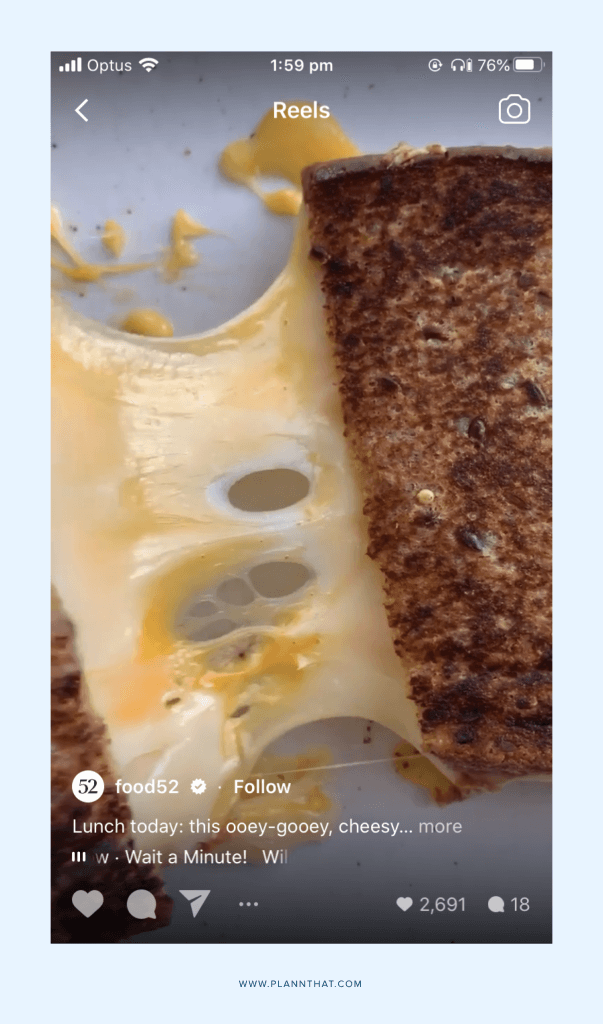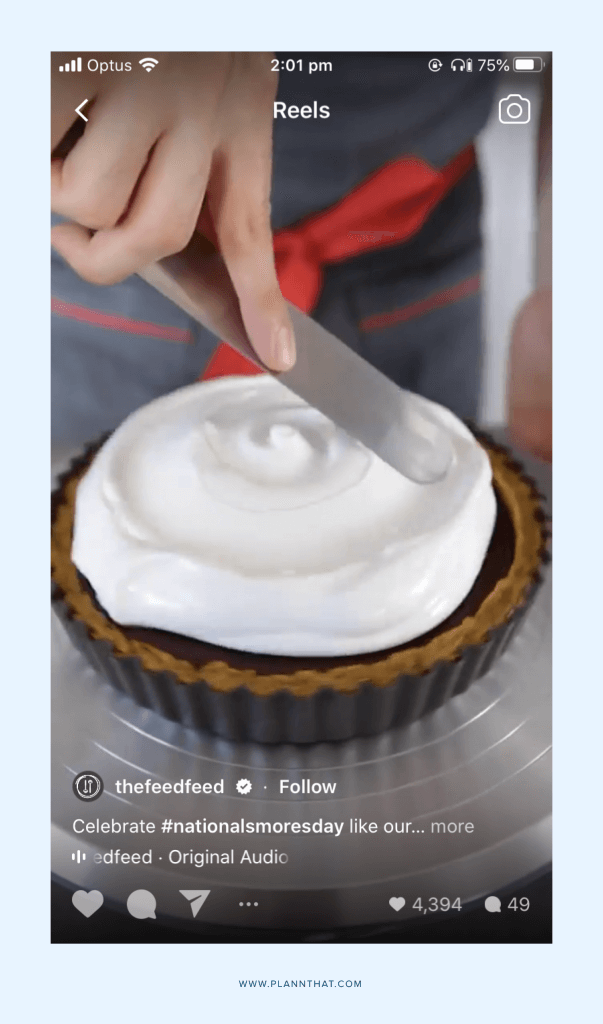 Fun Reels Accounts
Just because Instagram Reels can mean massive growth doesn't mean you can't have some fun with it! In fact, the more raw and real your vids are the more engagement they can get. Here are some accounts that have us loling!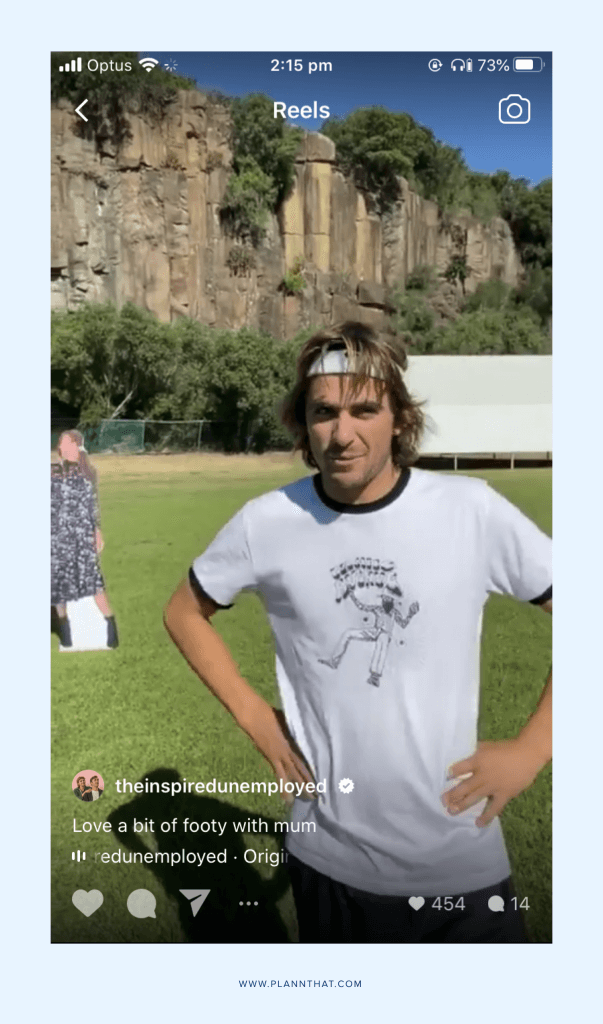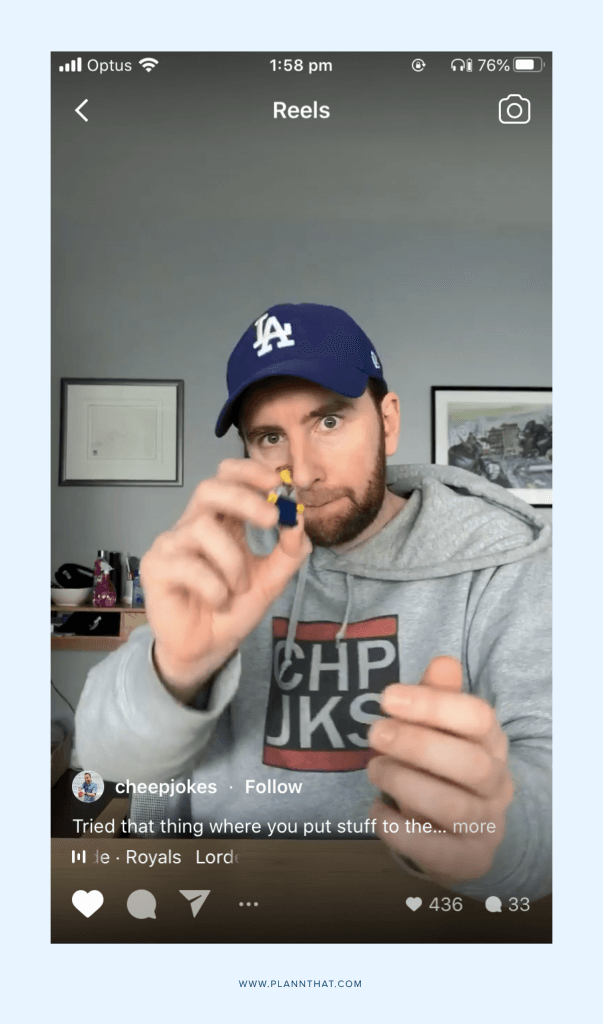 How To Repurpose Your TikTok Videos On Instagram
So, what about if you've just gotten your head around this whole TikTok thing — do you now have to create content for a whole new platform? Absolutely not! Reels and TikTok are so similar, you can easily use the same videos across both platforms. Just create your video either natively within Instagram or Reels (depending on which editing tools you prefer) and be sure to save it to your camera reel before you publish. Then, you can just re-post it across the different platforms! The only real thing you need to consider is potentially resizing it with the right dimensions, which we'll cover below. How To Link Your TikTok with Instagram.
Instagram Reels Ratios to Get You Started
With new features, comes new ratios, thumbnails, and content ideas that will help you if you're diving headfirst into creating Instagram Reels for the first time. @CheepJokes aka Andrew Morrey has given us a rundown of all of the dimensions you want your account to look tip-top. Check out all the details here
Level up your Instagram posting strategy with Plann 
Start planning, scheduling and auto-posting with Plann. Go on, redeem your 7-day free trial of Plann Plus. If you don't like it, keep using Plann for free!