The world is living through unprecedented times. Across the world, governments, citizens and businesses are grappling with the global Coronavirus pandemic. Since first emerging in Wuhan, China in late 2019, the virus has spread exponentially and affected hundreds of countries across the globe. 
For businesses, the impacts of COVID-19 are already being felt. With governments enforcing tough social distancing and self-isolation measures, many small businesses have been forced to close physical shop fronts and move their services and products online. And with experts warning these strict lockdown measures may remain in places for weeks and even months, all businesses are finding new ways to pivot and adapt. 
Now, more than ever, communication is key. With the majority of global citizens staying at home, now is an important time to leverage the capacities of technology and social media to keep audiences up-to-date. But, what on earth should businesses be posting on social media in response to the Coronavirus? To help Plann'rs create a clear social media strategy, keep reading to discover how other businesses and organizations are responding to this global pandemic on social media.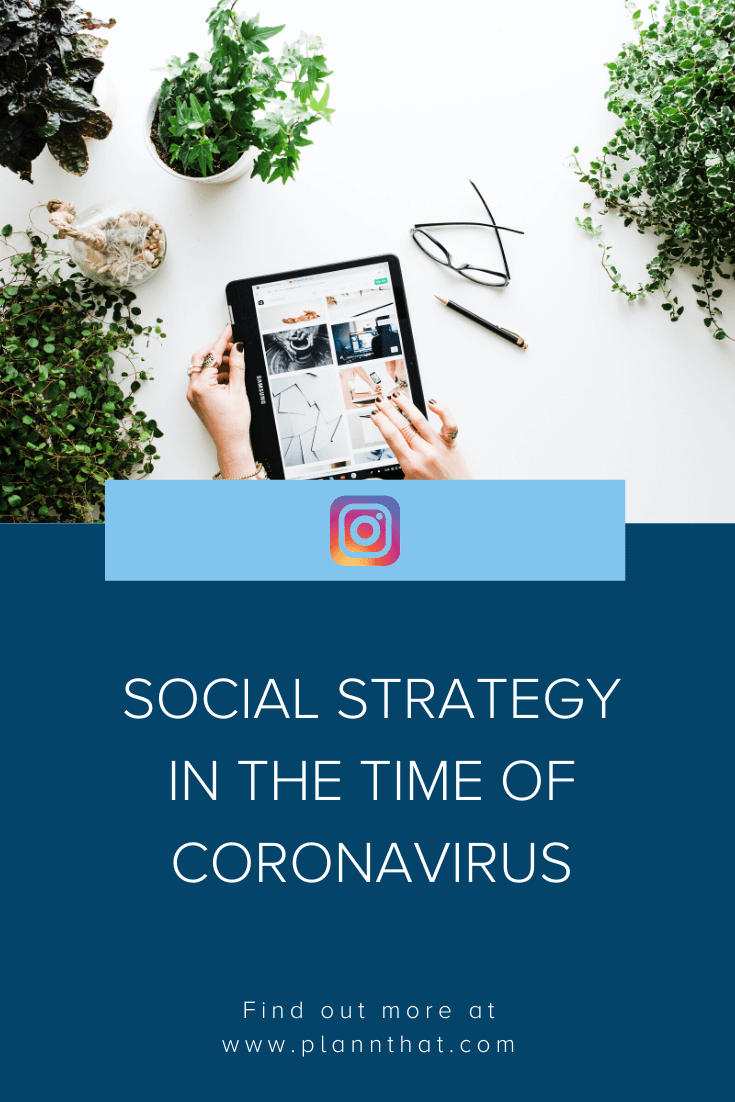 In this blog, Plann'rs will discover:
– Effective education strategies to empower audiences with stats and infographics
– How to share community messages and support other small businesses on social media
– Strategies for sharing public health precautions and safety practices online
– Why humor and memes can be a great strategy to give audiences a much-needed laugh
– How to create content that shows businesses adapting to the 'new normal' environment + MORE!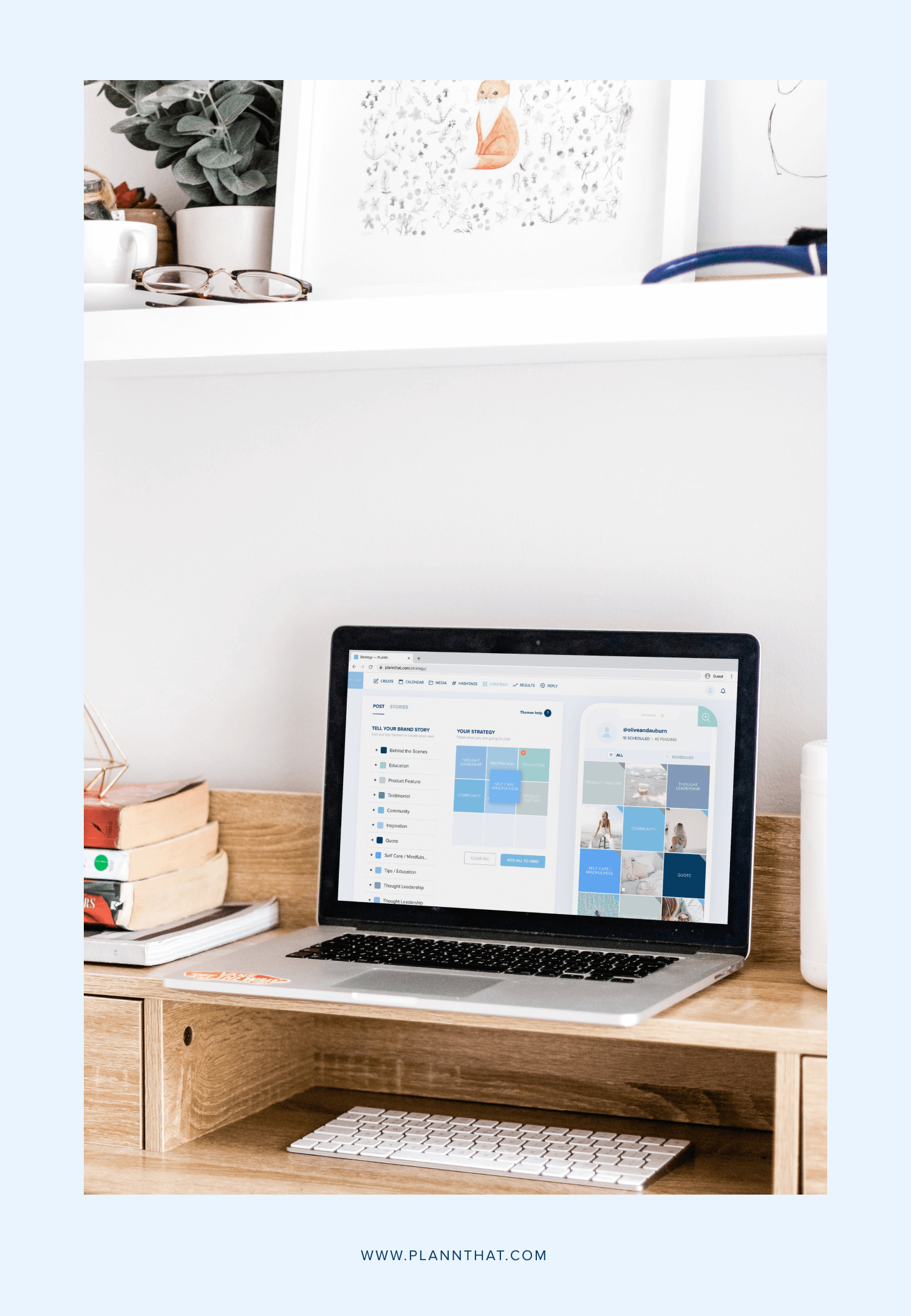 Social Strategy 1: Educational Content 
With health at the top of everyone's mind, sharing educational content can be a powerful strategy in the time of Coronavirus. With key health organizations providing clear recommendations for health and social distancing practices, businesses can leverage these to share informative social media content with their audiences. A great strategy is to create branded infographics and tips to share on businesses' social media channels, giving practical advice about how to wash your hands, what safe sneezing looks likes and more. Let's look at a few examples. 
Example 1: The World Health Organization (WHO) has created a branded infographic explaining how pregnant women can protect themselves against COVID-19.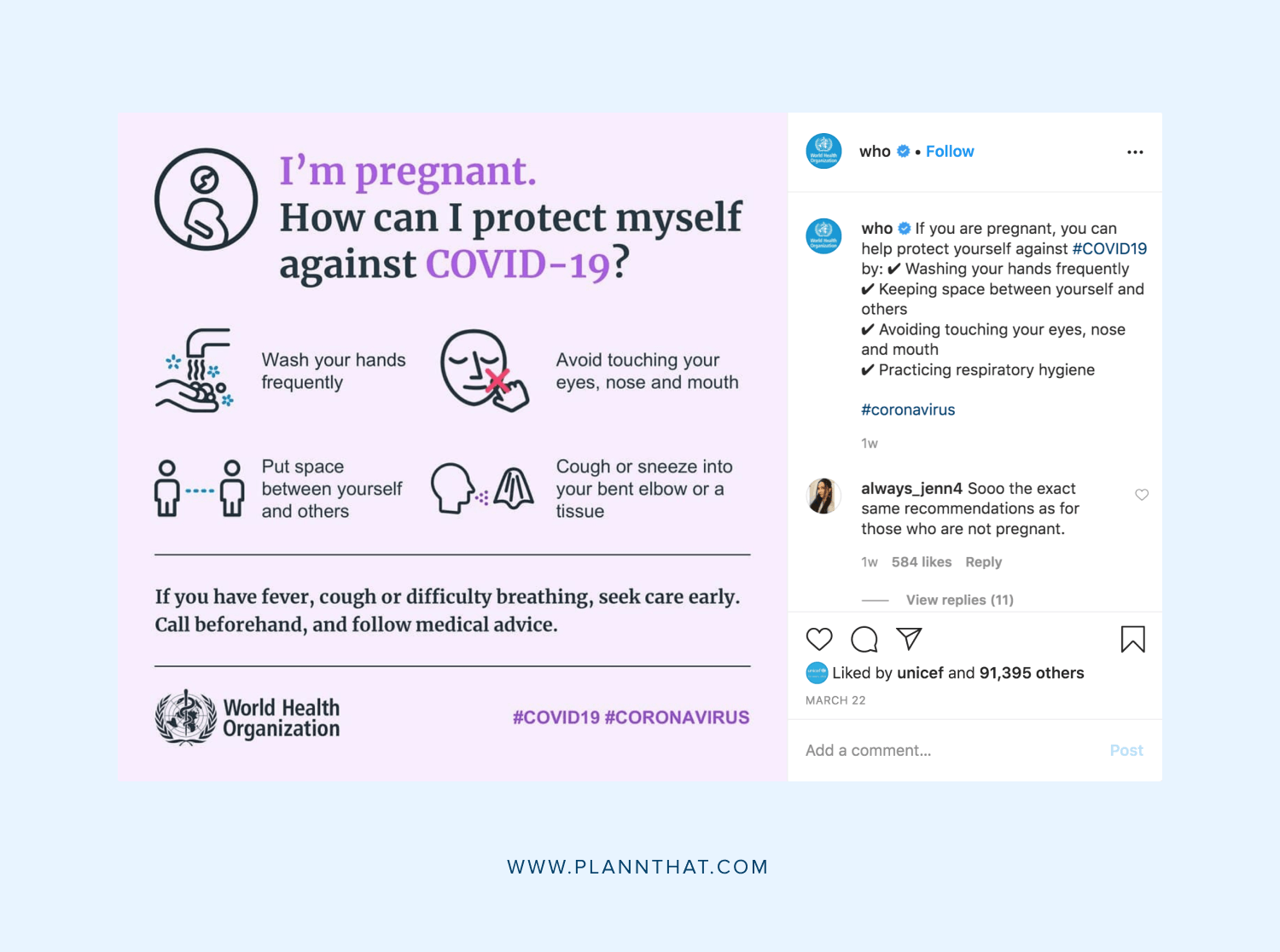 Example 2: The lifestyle media brand Mind Body Green has created a series of practical infographics on Instagram, explaining how audiences can properly clean their phone and laptop. Plus, they've added further information via articles that are linked in their bio. 

Example 3: Women's Health Magazine has shared a series of tips and advice about how audiences should be washing their hands in the time of Coronavirus.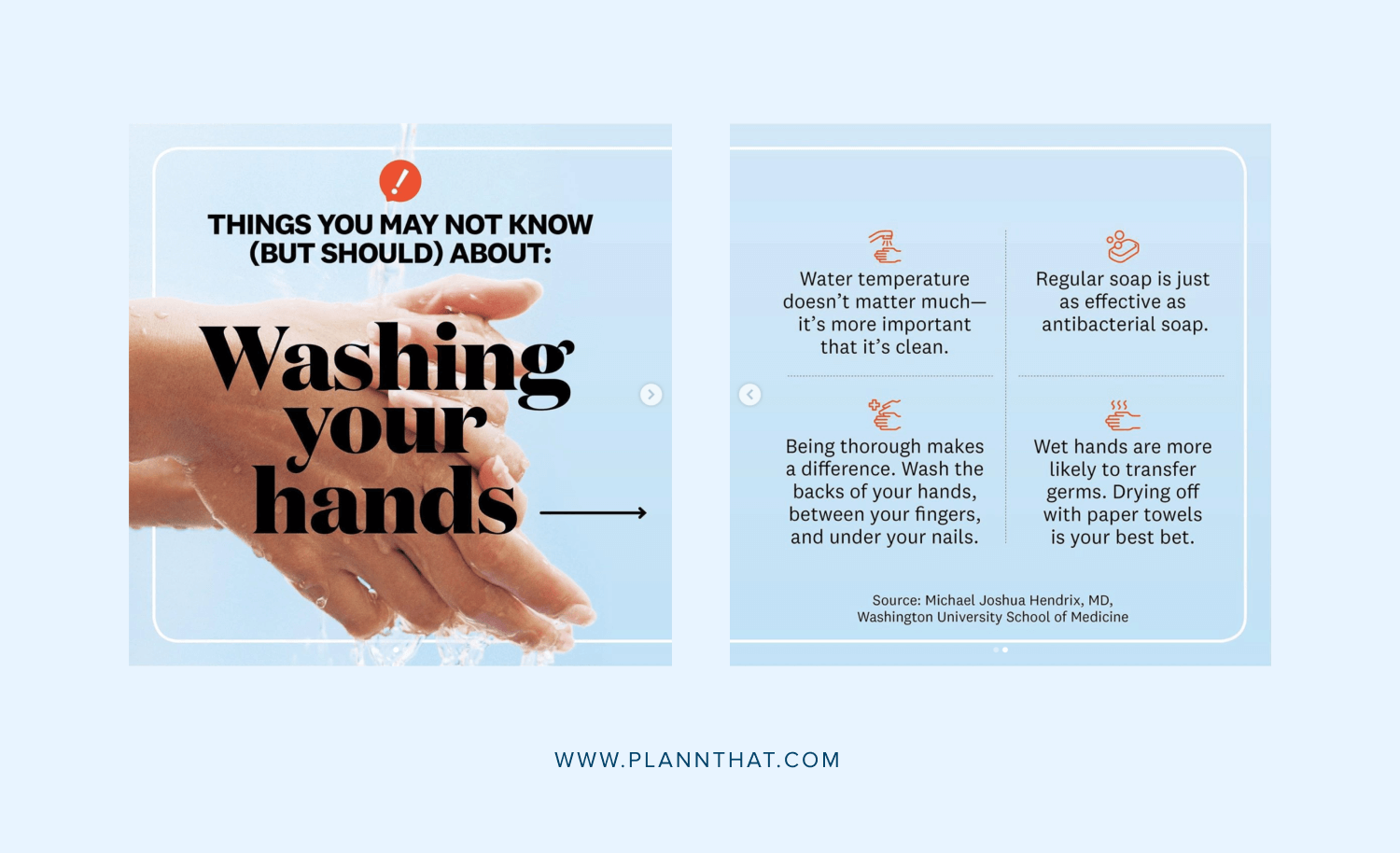 Social Strategy 2: Community Messages
Although businesses might not be able to welcome customers through their doors, many organizations are using social media to unite their audiences and share community messages. From sharing important announcements about changes to opening hours and upcoming events to finding innovative ways to encourage audiences to support fellow small businesses, using social media to foster a sense of community is a wise move in the time of Coronavirus. To give business owners an idea of what that looks like, discover three good examples of this strategy below. 
Example 1: Wellness and lifestyle platform Goop have announced they will be hosting 'Community Office Hours', which will involve daily live Q&A sessions with experts on their Instagram Stories, tackling topics including anxiety, at-home recipes, breathwork and more.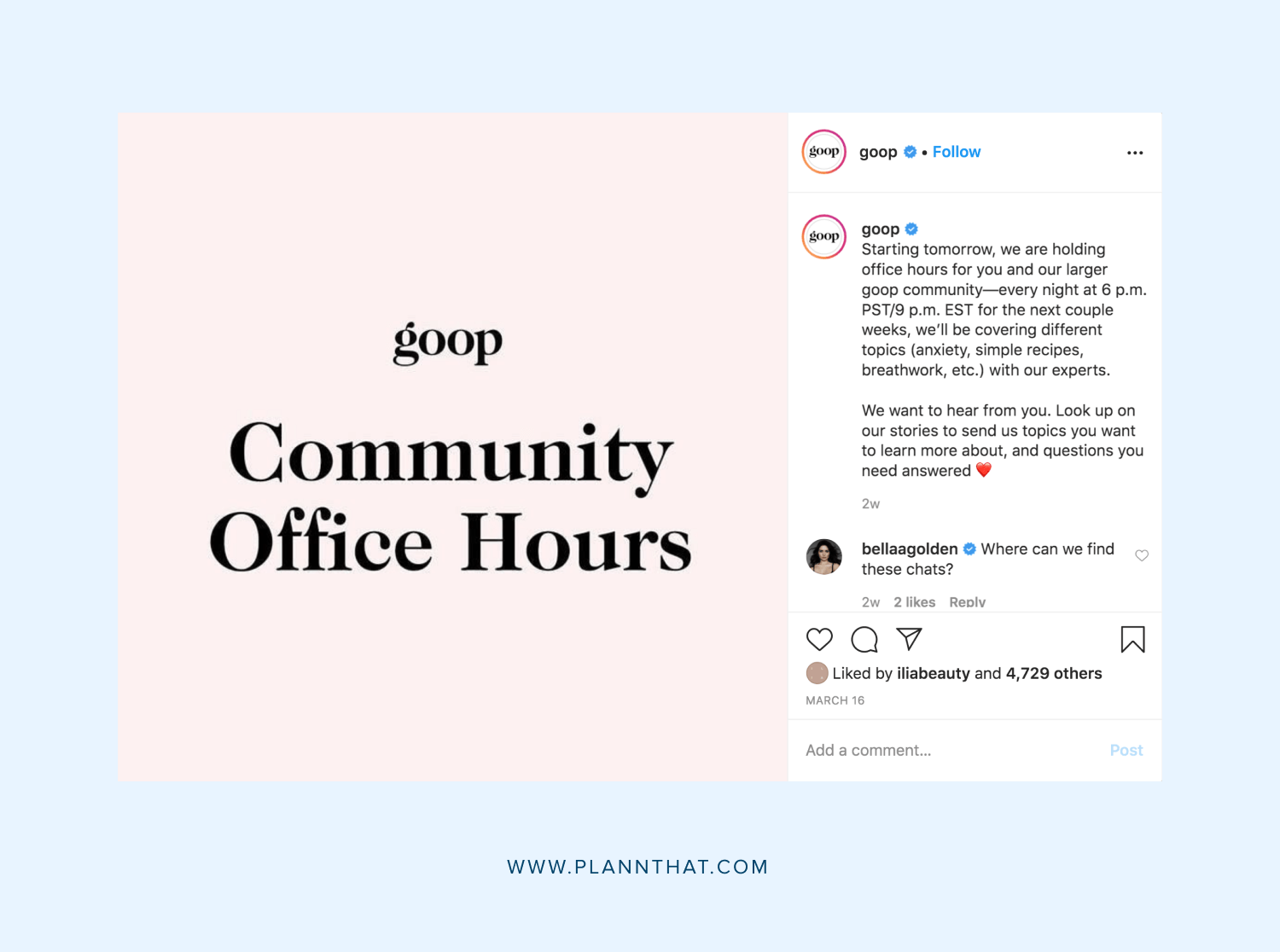 Example 2: Women's clothing store Madewell has announced via Instagram that they will be closing all stores for two weeks and have suspended all upcoming events and classes in an effort to protect the health of their customers. Sharing this information on social media is a smart strategy as it allows brands to keep audiences up-to-date with business changes in real-time.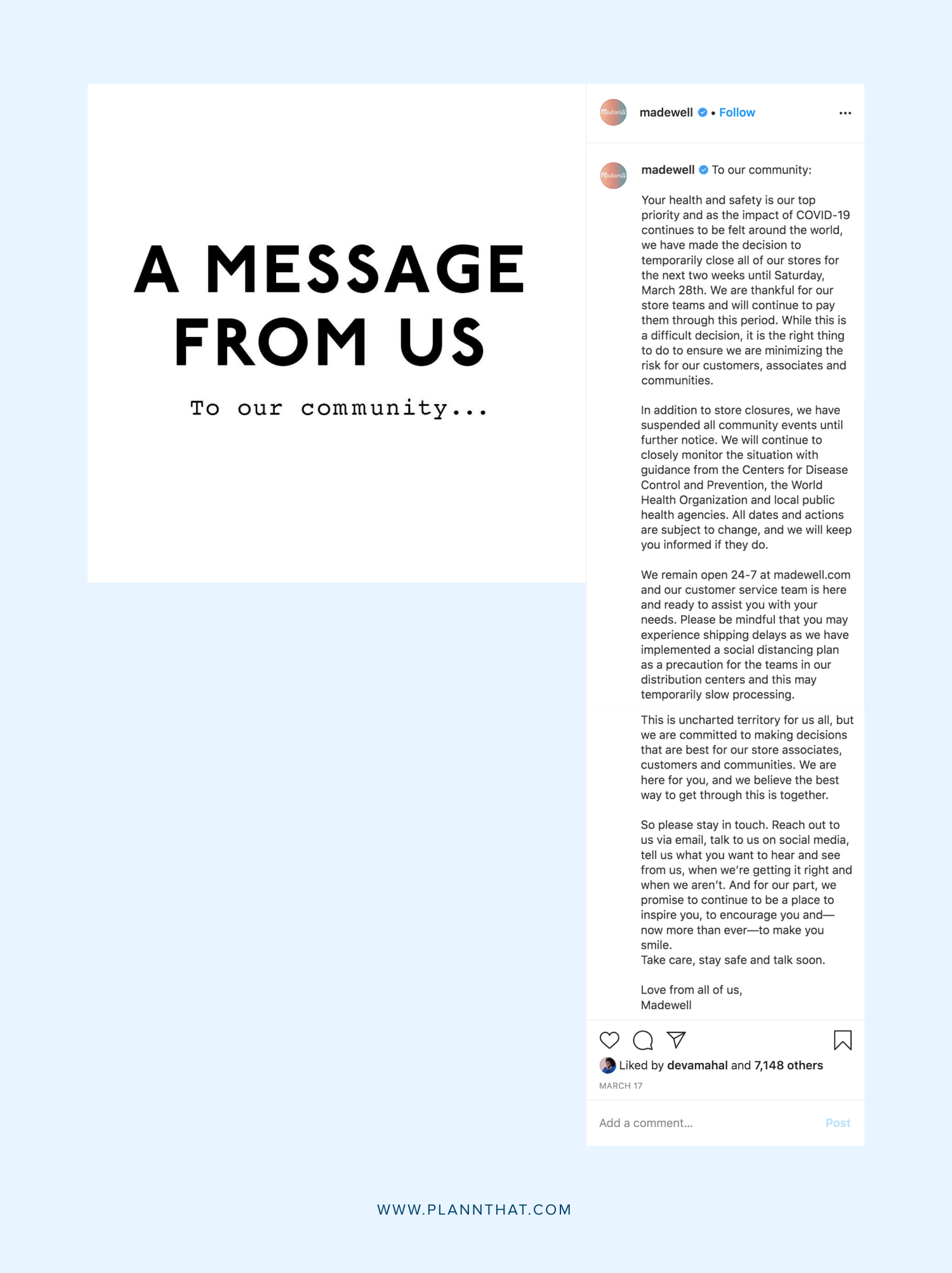 Example 3: Australian graphic designer Jasmine Dowling has created a sharable Instagram Stories template for users to show their support and tag their favorite local businesses.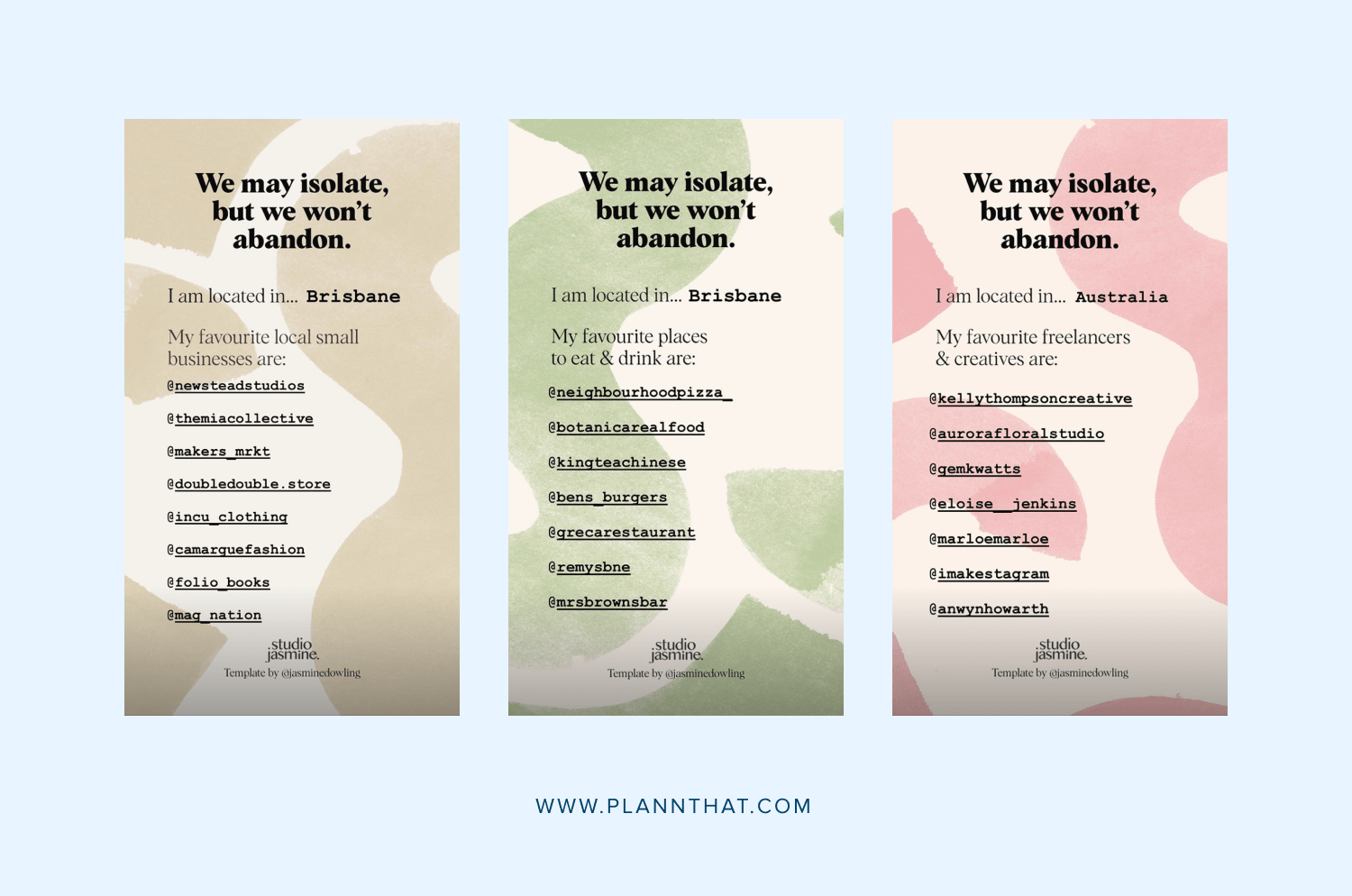 Social Strategy 3: Proactive Hygiene Practices
Particularly for business in the hospitality, health and fitness space, this next strategy is very important. In response to the outbreak of Coronavirus, customers are looking to see how businesses are implementing new health and hygiene practices to keep communities safe. By sharing these new practices on social media, businesses are able to reassure audiences that they are taking this situation seriously and are prioritizing the health of their community. Let's explore a few examples of this social media strategy in action.
Example 1: Cult fast-food chain McDonald's have informed customers about changes to their service via social media, announcing they will be closing the majority of restaurant dine-in areas and encouraging takeaway and Drive-Thru only.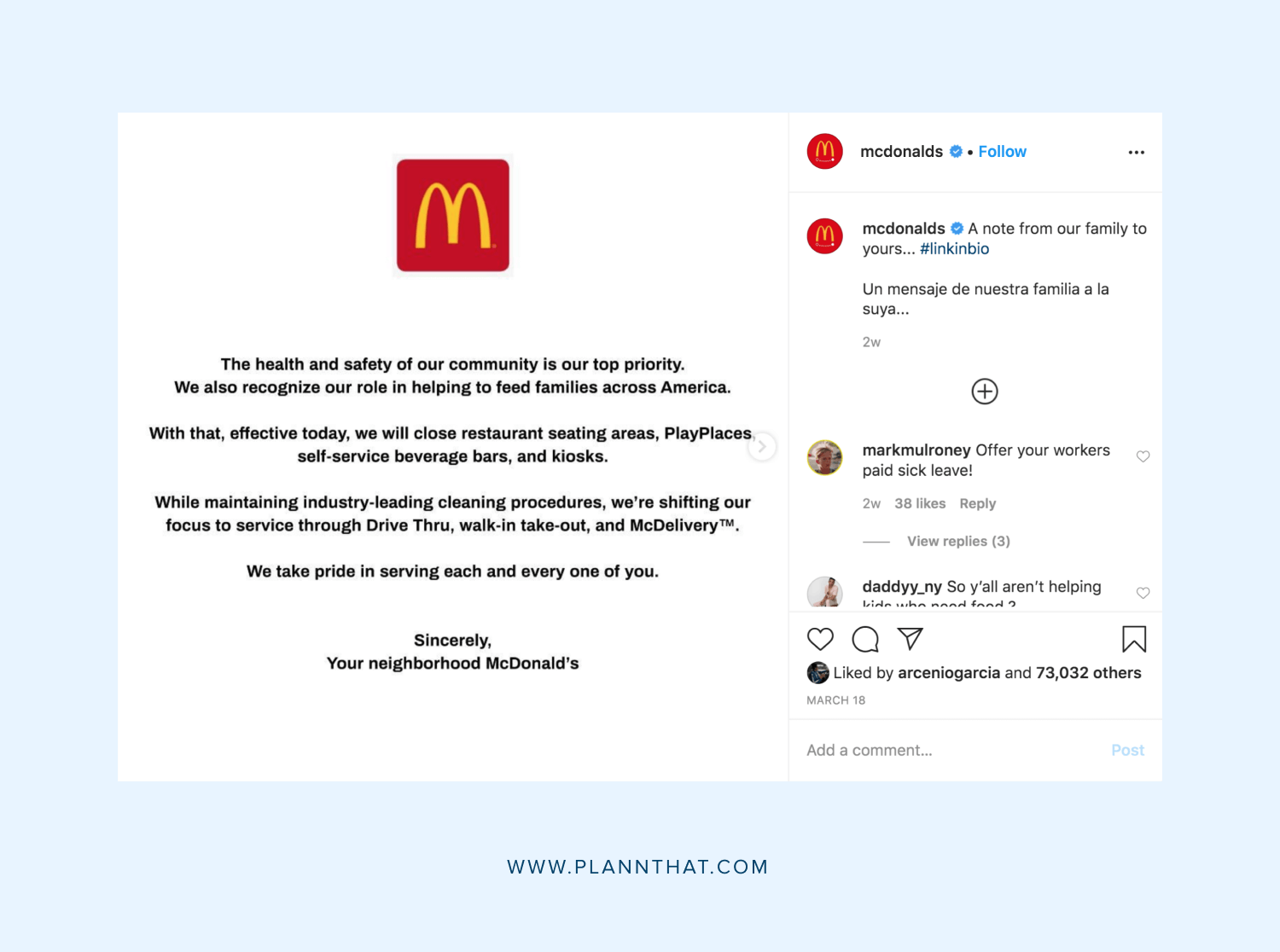 Example 2: Iconic supermarket chain Wholefoods have announced via Instagram that stores nationwide will be opening an hour earlier to enable vulnerable shoppers over 60 to purchase groceries prior to the store opening to the general public.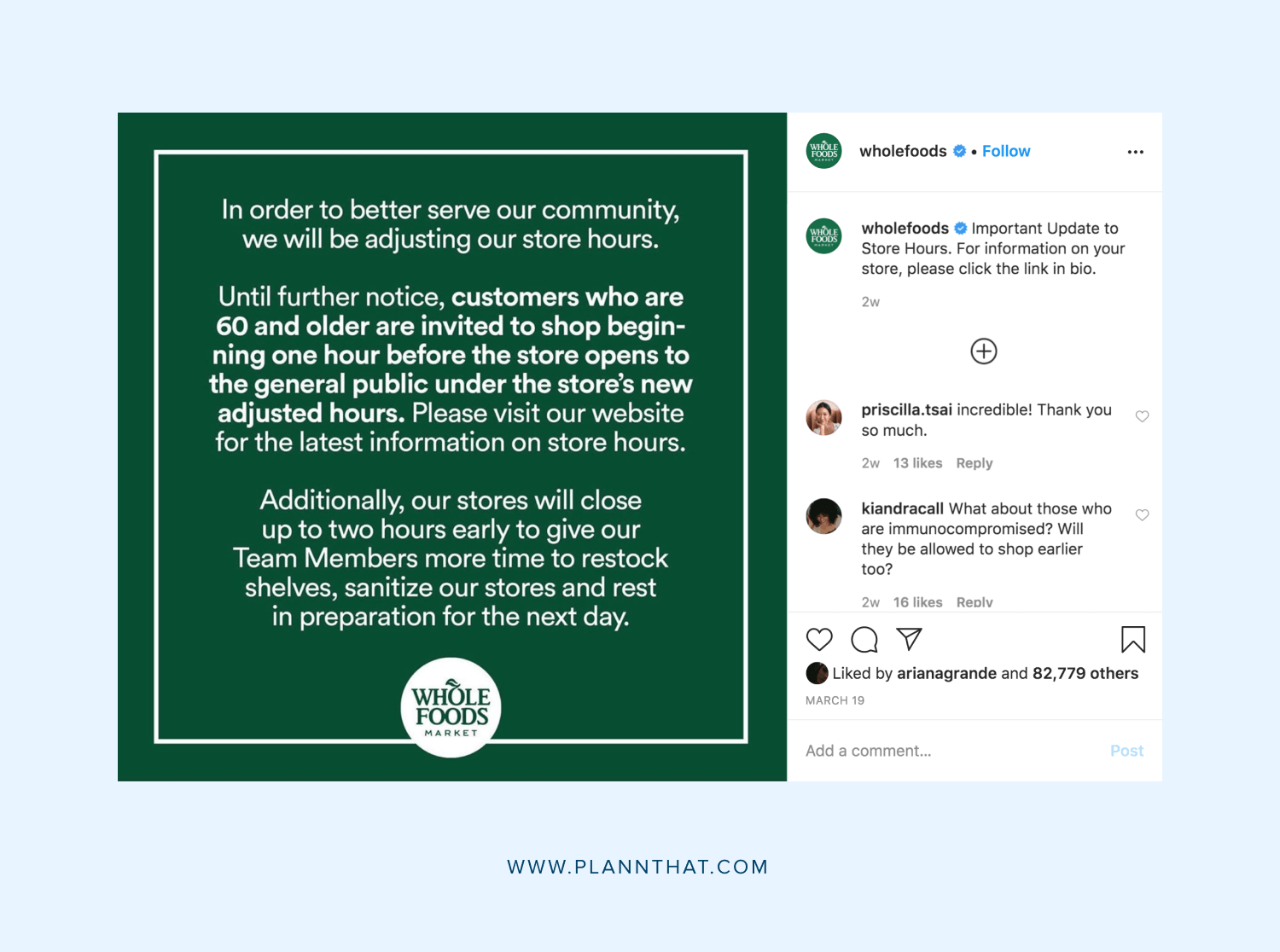 Example 3: Starbucks has used social media to share changes to its operations, announcing they are only offering grocery and Drive-Thru options for customers, as well as encouraging diners to order online delivery via UberEats.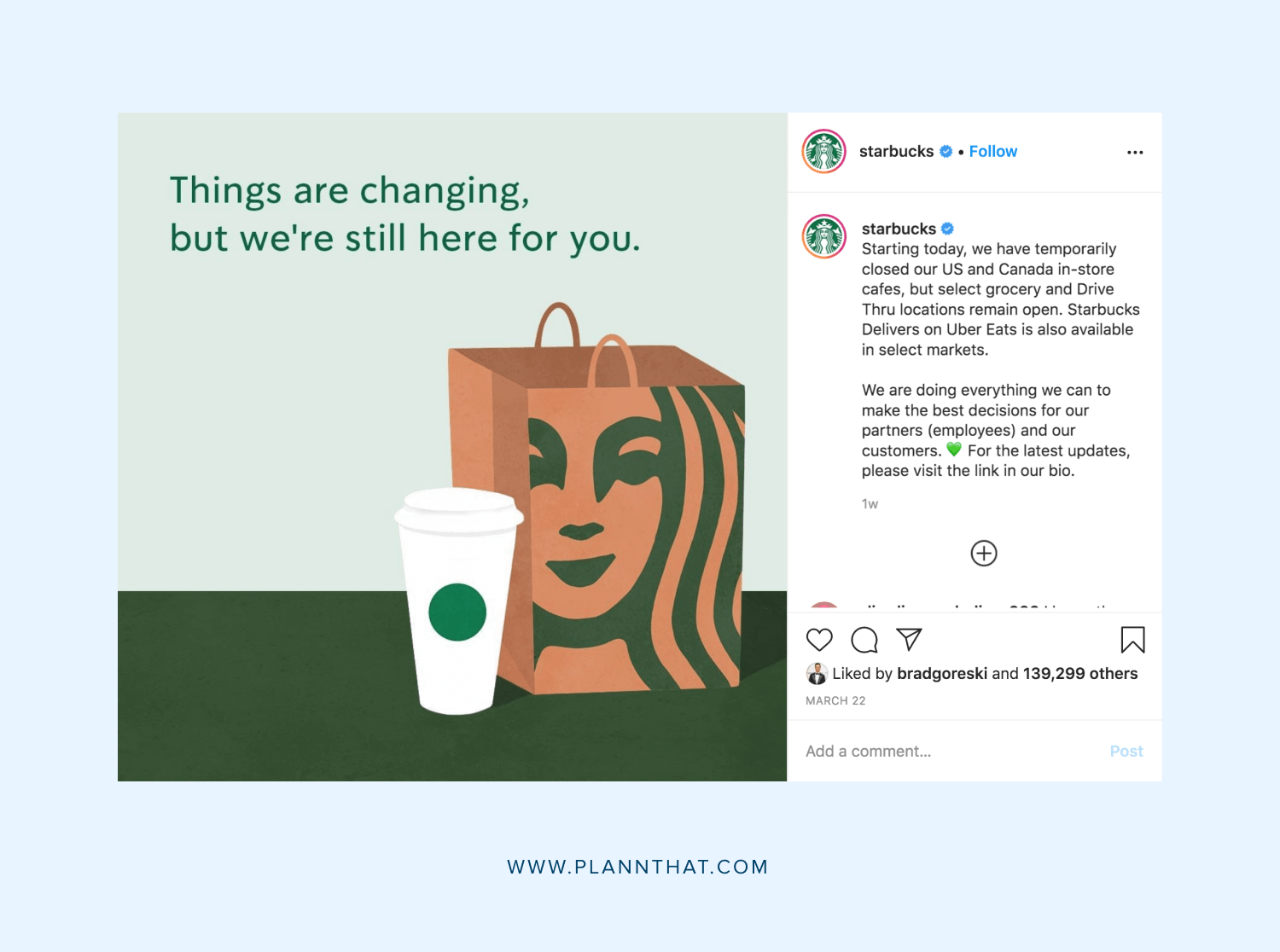 Social Strategy 4: Sharing Helpful Distractions
With the news cycle constantly sharing new breaking news headlines, audiences can feel overwhelmed and helpless. To give users a helpful distraction during these uncertain times, many brands are sharing practical tools and resources to help followers pass the time (without checking the headlines). From virtual fitness classes to what to watch online, businesses are using social media to share content that will help alleviate stress and anxiety. Here are a few examples of businesses following this strategy.
Example 1: With the majority of gyms and indoor fitness centers temporarily closed across the globe, yoga brand Lululemon is coming to the rescue by releasing a series of online workouts, meditation classes and even self-care tips on their Instagram channel.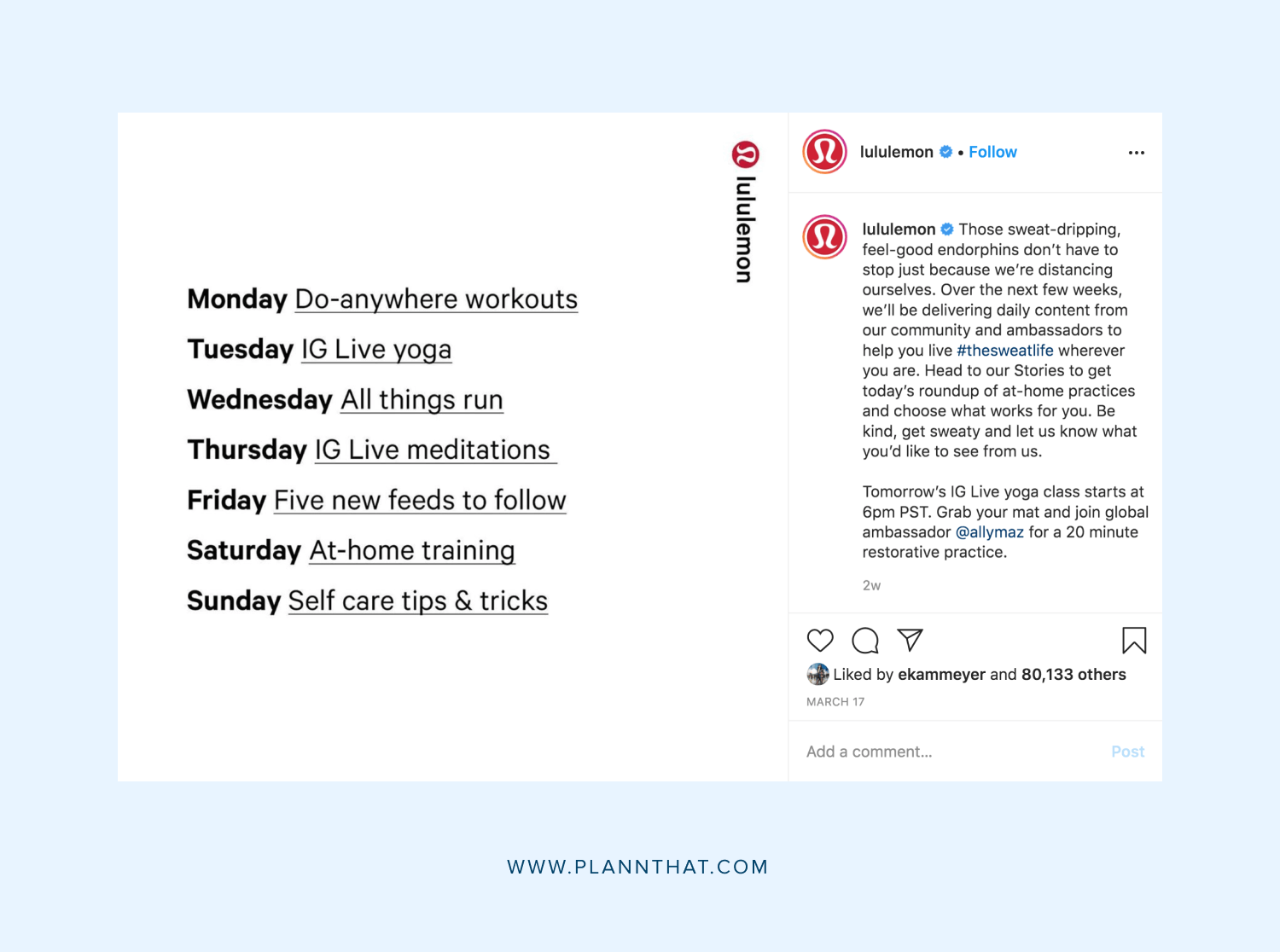 Example 2: Clothing retailer Urban Outfitters has created and shared a series of 'Stay In' Spotify playlists to encourage customers to stay indoors (and give them something new to listen to while in self-isolation).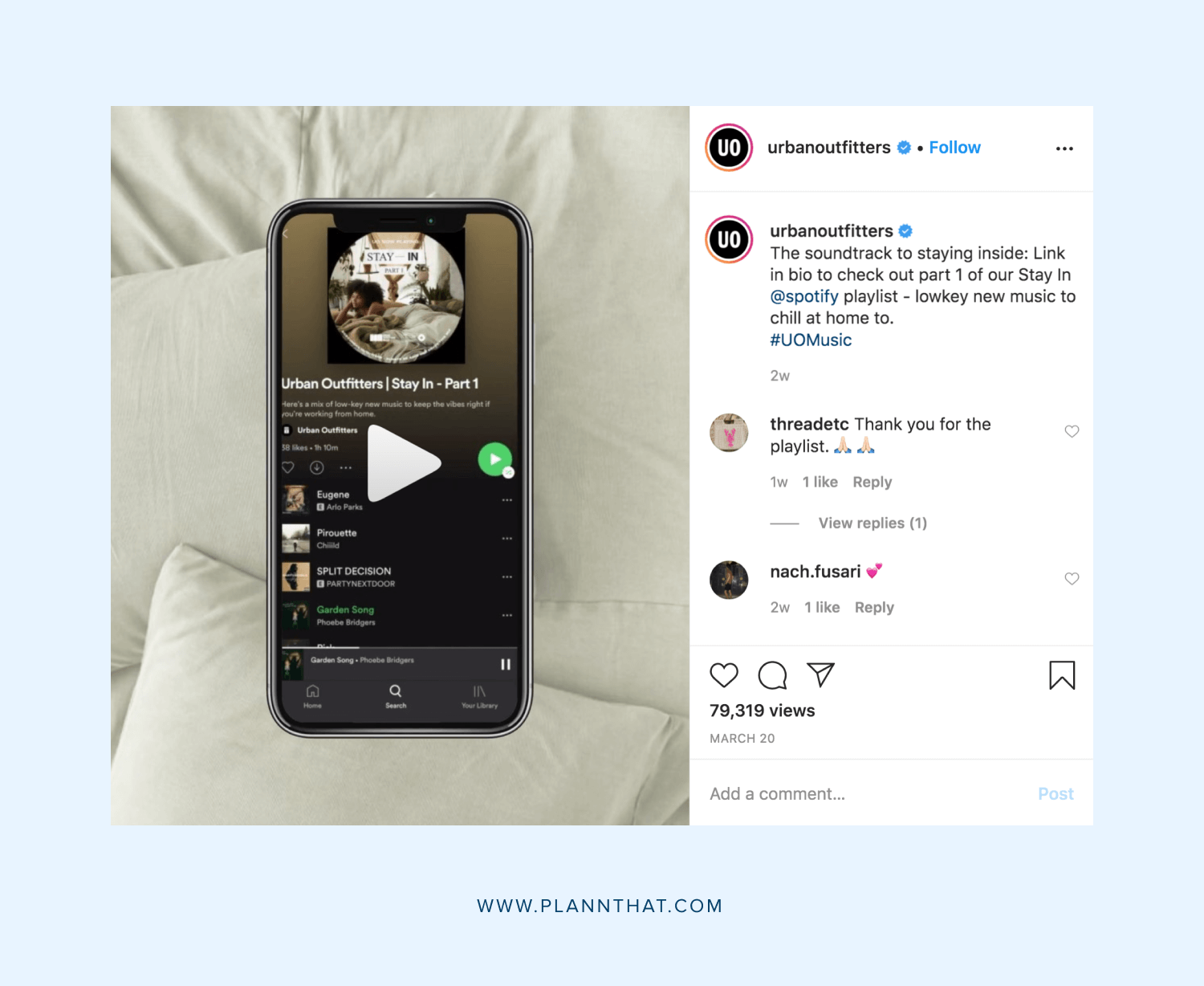 Example 3: BuzzFeed are giving readers something to do by sharing their recent article on Instagram about '24 Incredibly Bingeable YouTube Channels For When You've Watched Everything On Netflix Already'.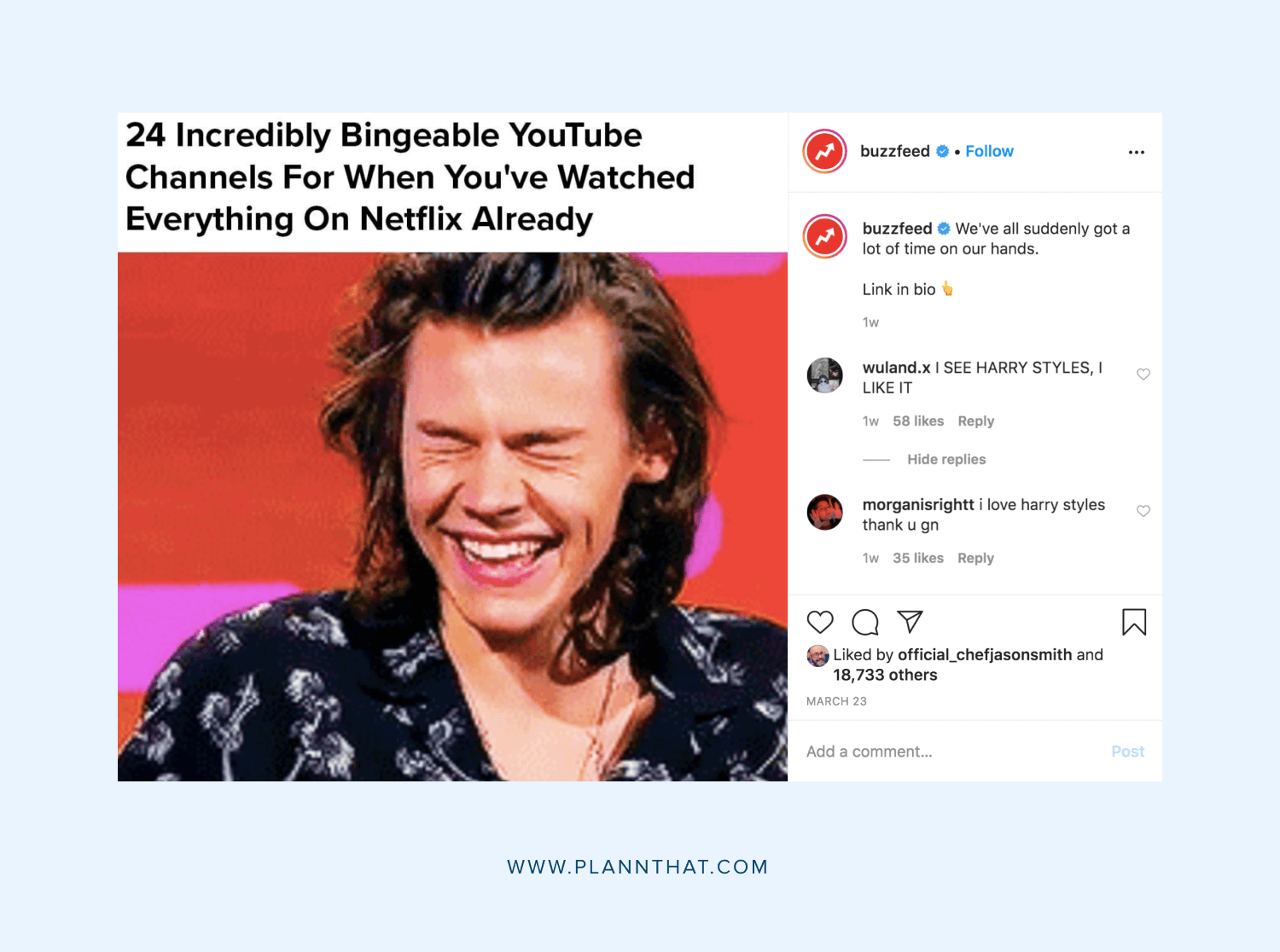 Social Strategy 5: Humorous Content
As challenging as it might seem, another great social media strategy to follow in the time of Coronavirus is to give audiences a reason to laugh with humorous content. Whether it be creating bespoke memes or sharing funny relatable quotes, many businesses are creating and sharing humorous social media posts. In a time when users are being bombarded with negative content, this strategy works to provide comic relief and help users find light in such a dark time. Let's look at some examples of this strategy below.
Example 1: The female empowerment platform BossBabe has taken to sharing memes about entrepreneurs responding to COVID-19, giving audiences a reason to giggle with relatable, humorous content.  

Example 2: Women-focused news and lifestyle site Whimn has been sharing lighthearted memes related to self-isolation and staying at home on their social media feeds (the perfect kind of content for users to reshare with their followers).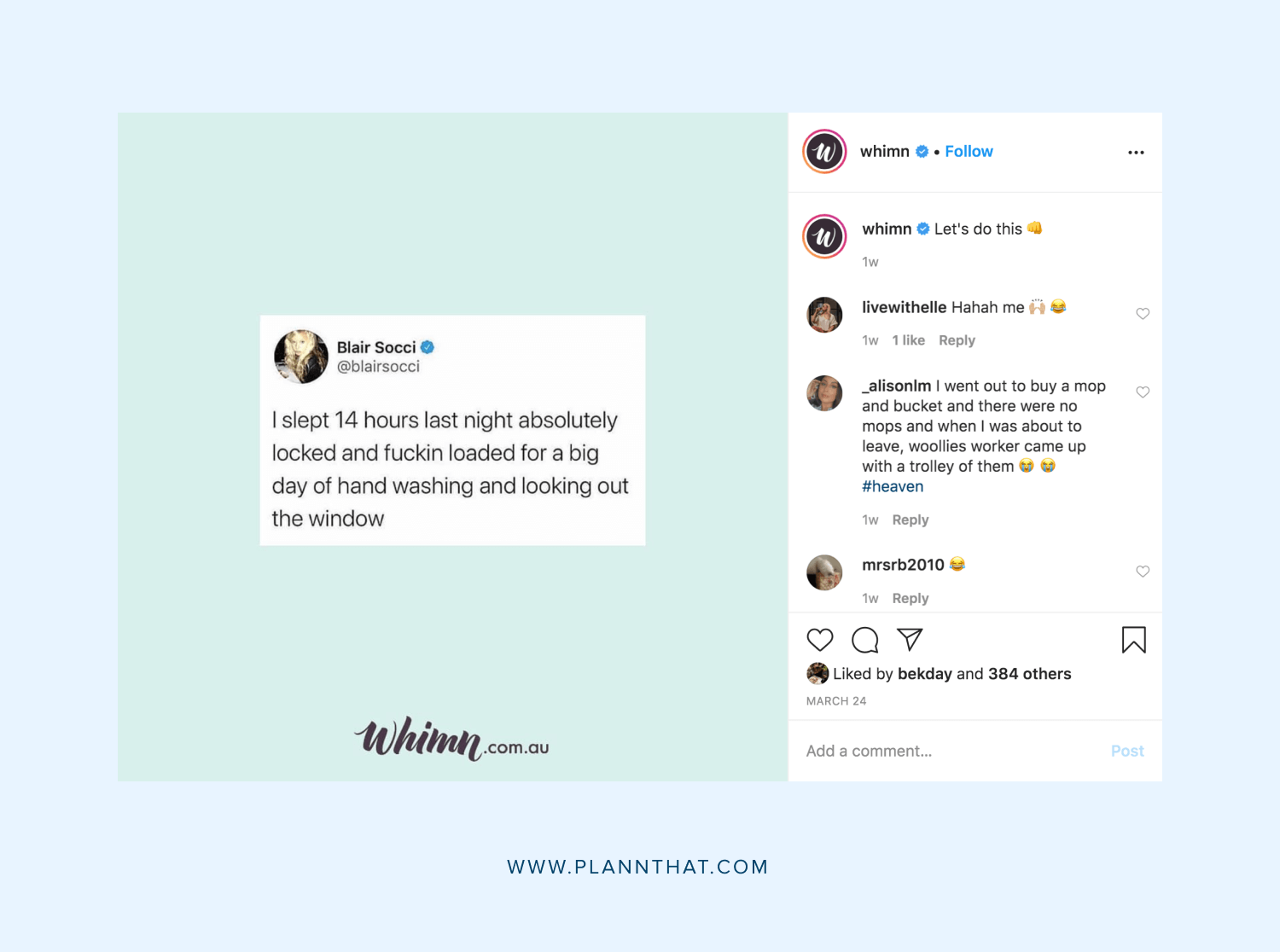 Example 3: Mashable has also mastered the art of humorous content, creating endless hilarious memes related to the Coronavirus outbreak.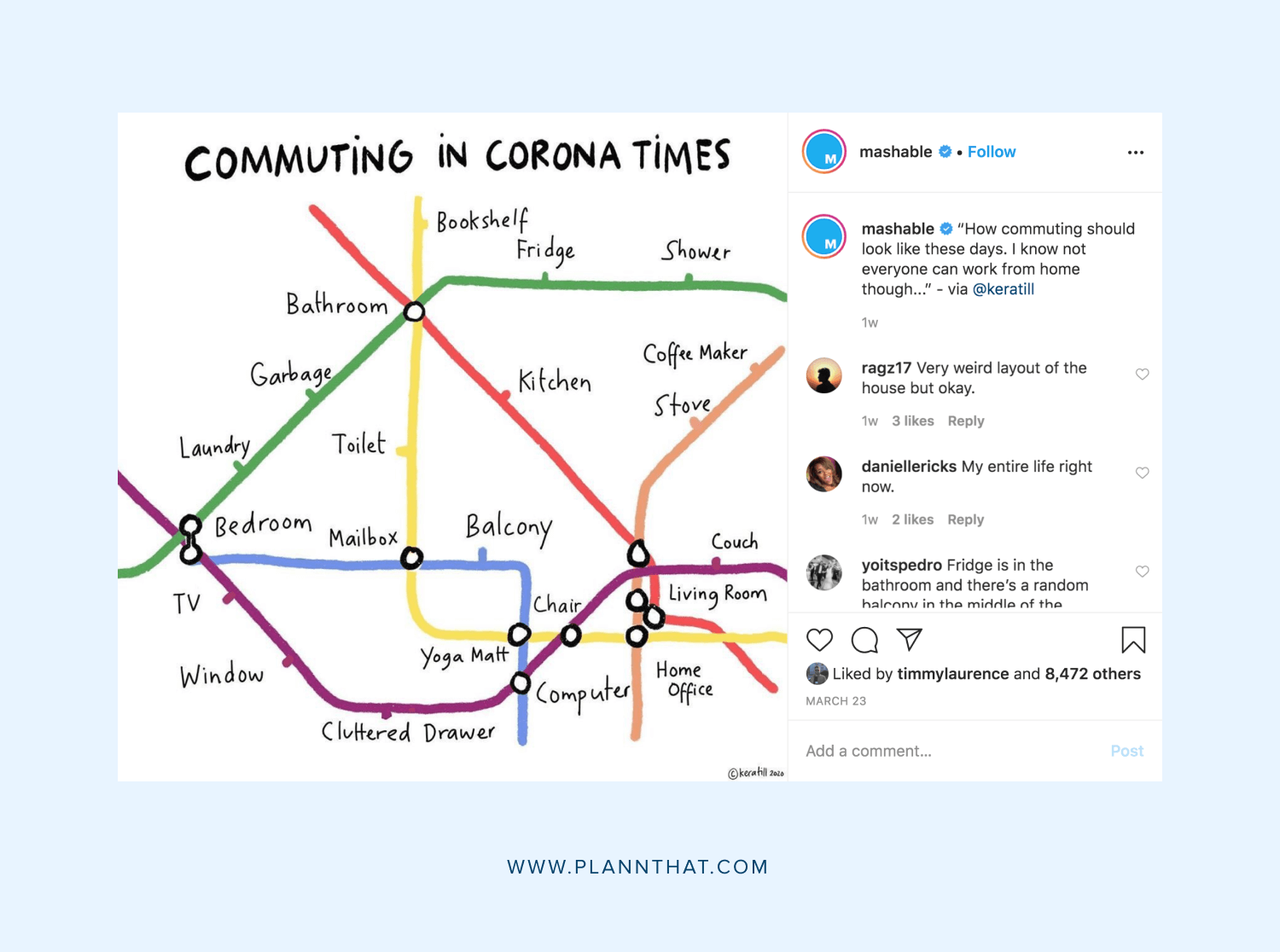 Social Strategy 6: Sharing Important News
Another great social media strategy many businesses are following is to share important news and updates from government and health organizations. By breaking down this advice and headlines into easily digestible quotes and social media posts, brands are using social media to share the most important health information about the Coronavirus with audiences online. Not sure how to execute this strategy? Let's explore a few examples of how to share important news on social media.
Example 1: BBC News has been sharing regular updates via social media to explain the key takeaway points from government and health experts globally. Take a look at this example using direct quotes and screenshots from UK Prime Minister Boris Johnson's recent press conference outlining new strict self-isolation measures for all UK citizens.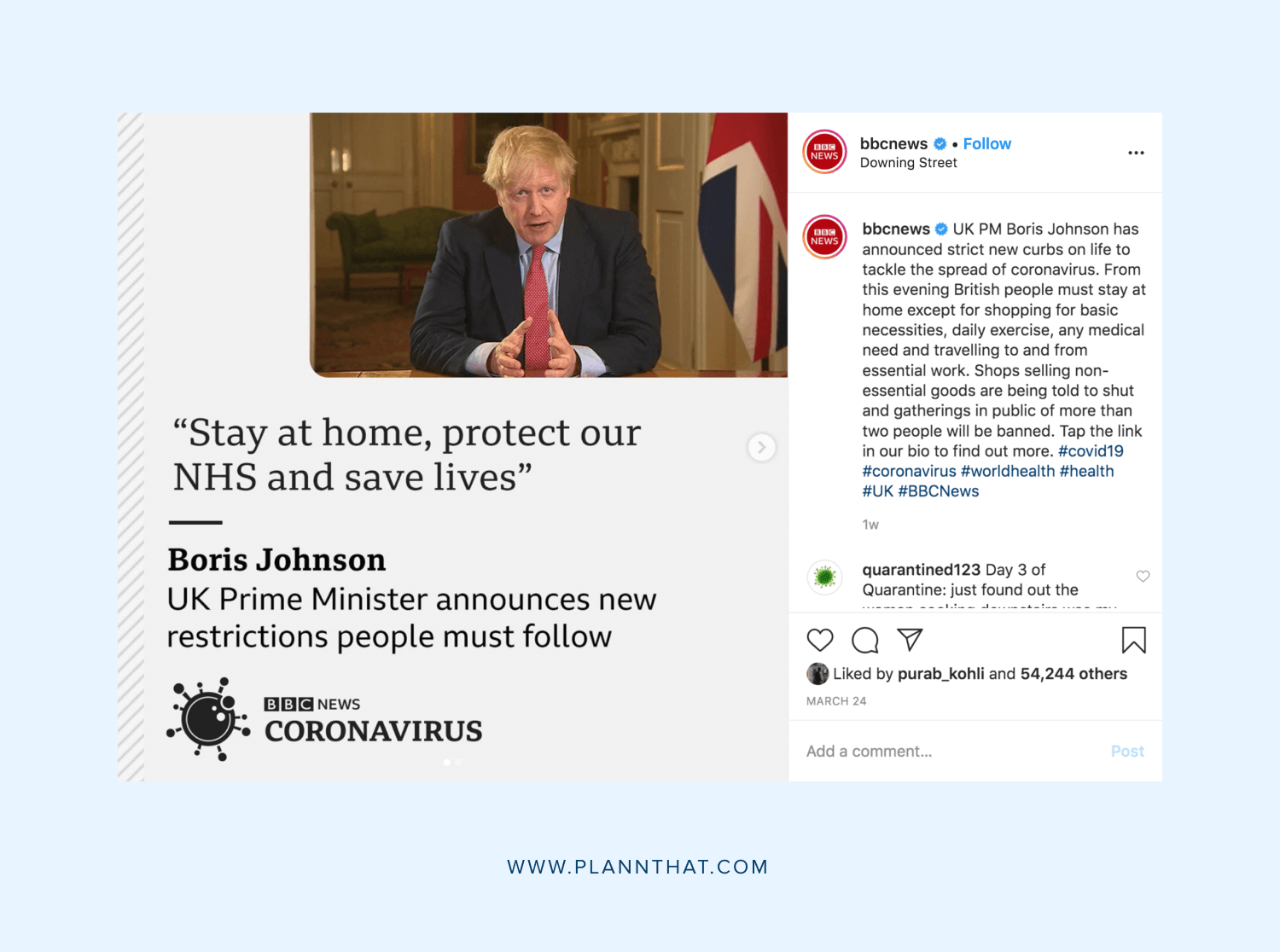 Example 2: Graphic design platform Canva has done a brilliant job of sharing important health information, creating a series of tips for how audiences can #StopTheSpread of COVID-19, based on facts provided by the WHO.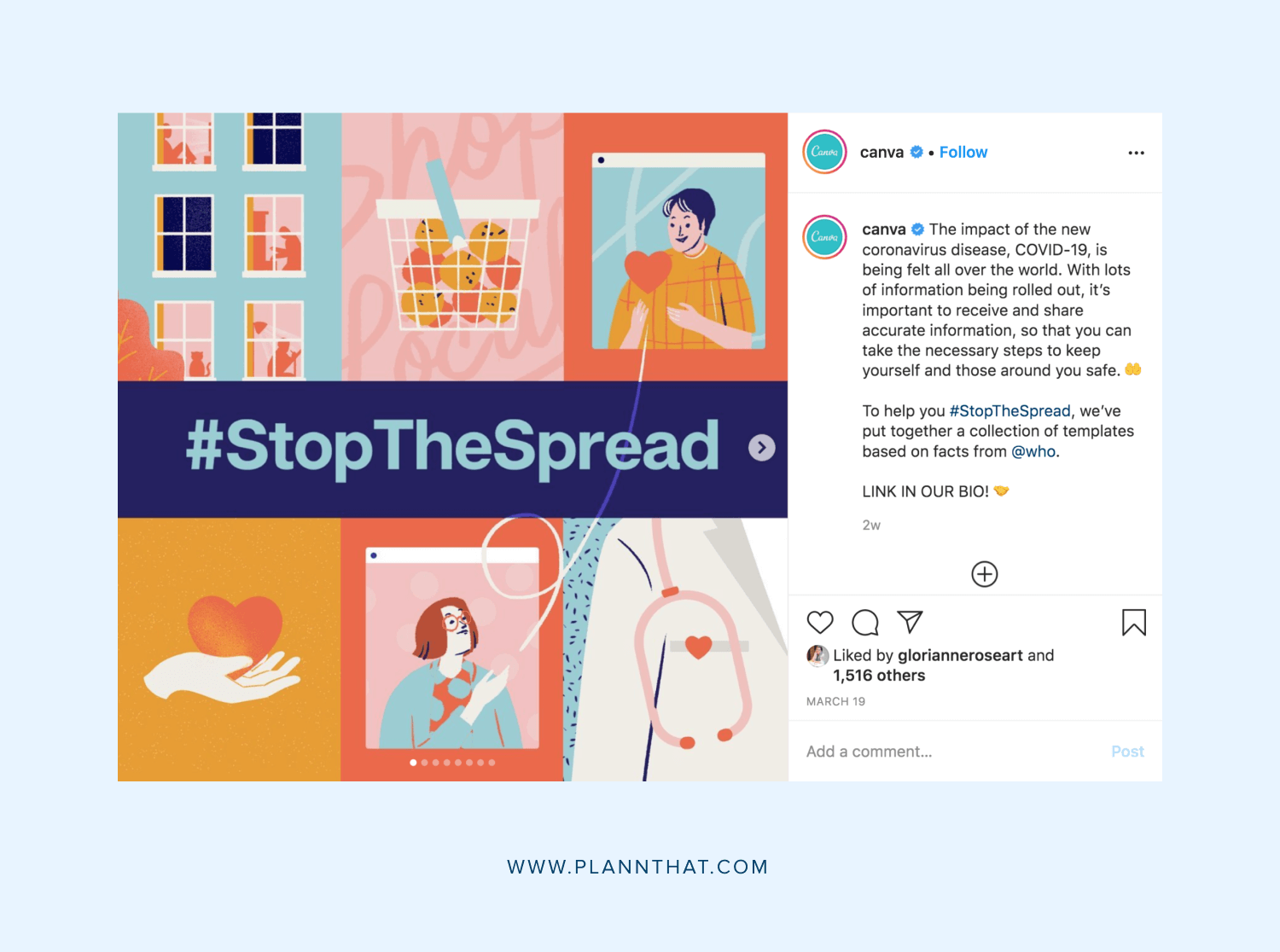 Social Strategy 7: Business As Usual 
For businesses able to offer the majority of their products and services online, sharing business as usual (BAU) content can be a smart social media strategy to follow. Whether you choose to incorporate some strategies mentioned above or keep your entire feed to BAU content, it's important to acknowledge the ways Coronavirus may be impacting audiences. Whether businesses choose to adapt and show their products and services in a 'new normal' environment or offer promotions and giveaways for users online, businesses should be conscious and considerate of the negative impacts many users and other businesses are experiencing as a result of COVID-19 too. Let's explore three key examples of BAU content in action. 
Example 1: Retailer Anthropologie has shifted to sharing luxe home office set-ups using their own products, leveraging the number of customers now working from home as a key content opportunity.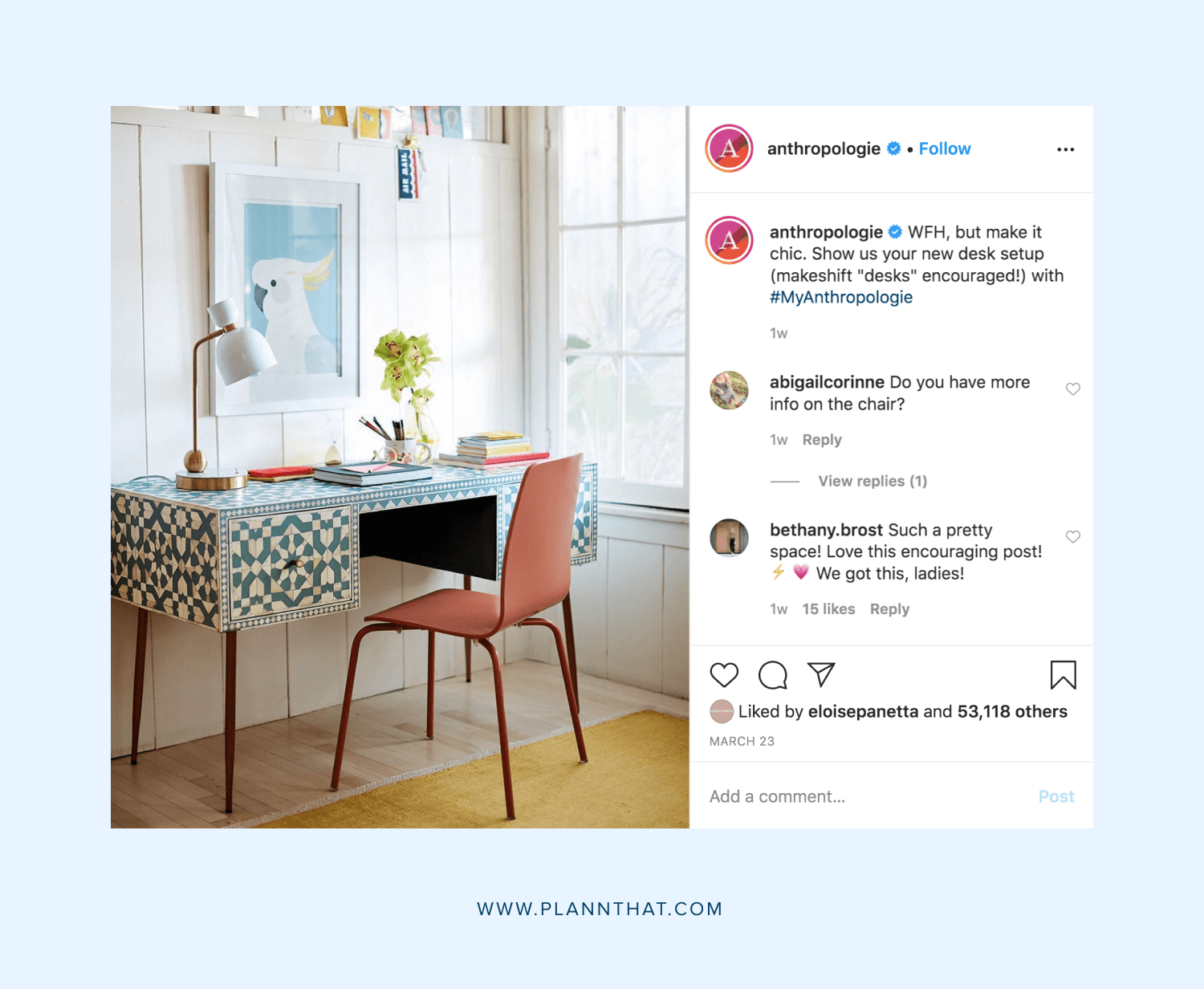 Example 2: Virtual cycling platform Peleton has teamed up with the organization Food Bank For NYC, vowing to donate $1 from every class taken this weekend to the organization. Not only does this encourage audiences to use this workout platform but it also shows a powerful act of corporate social responsibility.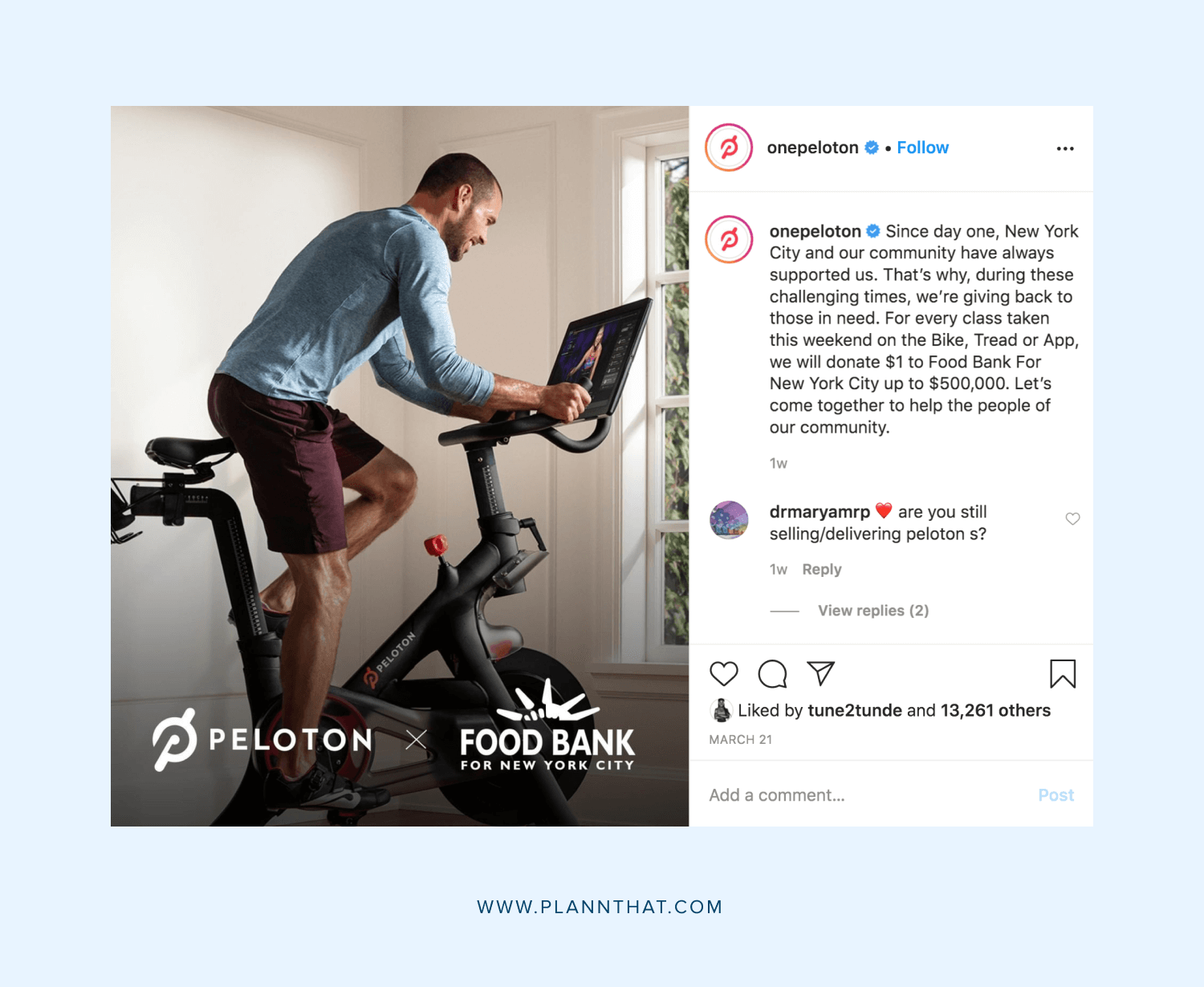 Example 3: Beauty platform Gritty Pretty has announced a flash sale of 20% off all beauty products using promo code "TREATYOURSELFGP". This leverages the idea of customers wanting to 'treat themselves' while spending more time at home due to social distancing measures.