The rise of social media has brought tremendous change to just about every industry globally. Be it the eCommerce sector or the event industry. Brands are working hard to boost their popularity on social media and strengthen their social media presence. 
And when we talk about social media, Instagram tops the list. Here's why: Instagram's usage has risen sharply over the past decade with more than 1 billion active users globally. 
Instagram is the most popular social media platform among content creators and influencers and an amazing platform for gaining an engaged audience for your brand. 
But there can be more to Instagram. You can create a dedicated Instagram wall for events and showcase compelling content through it to boost your reach. 
What Is An Instagram Wall?

In a nutshell, an Instagram wall is a social wall with a collection of content retrieved from Instagram. This content is gathered from any single source like a hashtag, user handle, user mention, or stories and is compiled beautifully and displayed on any digital screen. 
Users can create an Instagram wall for events with the help of a social media aggregator tool that allows users to collect content and publish it on digital screens.
But that's just the basics of it. Let us help you understand how you can create an Instagram wall.
How To Create An Instagram Wall
As we mentioned earlier, you can create an Instagram wall through a dedicated social media aggregation tool like Taggbox.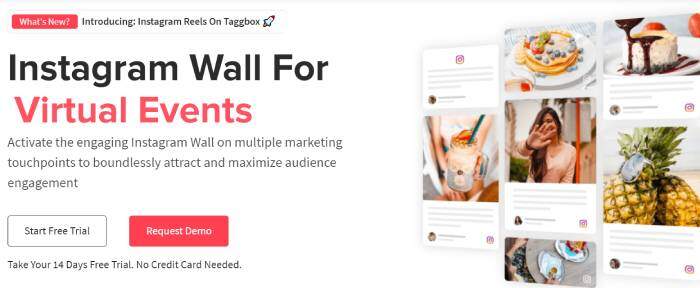 Any similar tool allows users to collect content from social media platforms like Instagram through any source of their choice, like a branded hashtag, user handle, user mentions, Reels, or stories. 
After subscribing to a social media aggregator tool, you can set up your Instagram wall using these steps:
The first step is to connect your Instagram business or creator account to the tool. 

Choose the source through which you want the tool to collect content – hashtag, user handle, stories, etc. 

After choosing the course, you can select a layout for your Instagram wall and customize the appearance of the wall according to your liking. 

You can moderate content by adding the posts you want to see on the feed and filtering out irrelevant content.

After you are done creating and customizing the wall, you can publish the Instagram wall on any digital screen.
Instagram walls can be used for events, as digital signages, and even in stores and is a smart way to boost a brand's visibility and engagement.
But that's just the start. Here are some of the biggest benefits of building an Instagram wall.
Benefits Of Building An Instagram Wall 
1. Boost Event Engagement 
No matter the type of event (be it weddings, concerts, or conferences) keeping your audience engaged and interested is a crucial part of hosting a memorable event. An Instagram wall can help event planners or event hosts exponentially. 
An Instagram wall runs in real-time, so hosts can actually display content from the event's audience along with their own content through hashtags, user handles, stories etc. 
Showcasing live content is an effective tactic to inspire more people to participate and boost event engagement.
2. Increase Brand Credibility
Brand credibility is as crucial as sales for any brand. Displaying an Instagram wall of social content like user-generated content, influencer content, or real-time content live from the event can increase your brand's credibility significantly.
You can display an Instagram wall at events, venues, and in stores. This Instagram wall can be a compilation of hashtag content, reviews or branded content. 
So regardless of the type, an Instagram wall can impress your audience greatly and increase your brand's credibility.  
3. Spark Conversations 
As they say, a successful event is one that can spark conversations and is talked about even after it ends. An Instagram wall is an excellent platform to boost interaction between the hosts and your audience.
Hosts can display engaging content and can spend more time hosting Q&A rounds, giving shoutouts to the audience, hosting contests, and even display valuable information like event guests' messages, feature content from the sponsors, and panel discussions.
4. Build Audience Trust
We have discussed many benefits of having an Instagram wall, but one of the biggest benefits of this tactic is this: growing audience trust.
It is no secret that UGC is the most effective social proof, and by displaying it on your social wall, you can get your audience to trust your brand more. 
Showcasing posts of people talking about your brand, reviews and visual UGC is a top-tier strategy to get audience trust. And this trust is great for any brand to turn its audience into customers. 
5. Boost Your Instagram Visibility & Reach
This is another major advantage of having an Instagram wall and displaying compelling content over it. Along with in-event benefits, you can also boost your Instagram visibility and reach.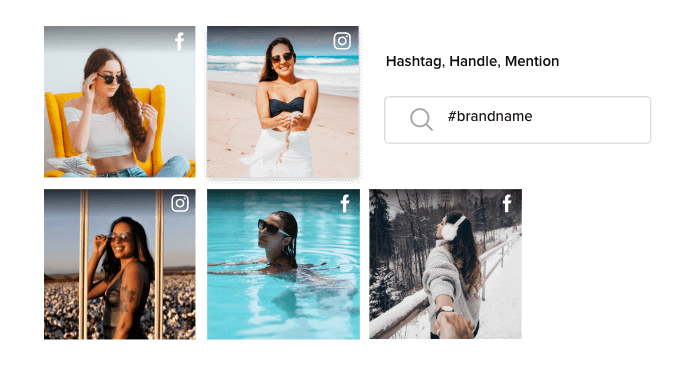 When you showcase relevant content on your Instagram wall during events like user-generated content, you attract many audiences and motivate them to find your Instagram.
A well-curated Instagram feed holds great value, especially if your feed is packed with engaging content. You can also run contests so any new visitor can participate and has something to stay on your page. This boosts your reach and visibility and can also be a great tactic to increase followers.
Grow your Instagram following with ease
If you want to take your events to the next level, then having an Instagram wall is a powerful strategy for you. An Instagram wall can benefit your event in so many ways and turn a simple event into an extraordinary one. 
Looking to plan and schedule your pre-event content effortlessly? Sign up for a free 7-day trial of Plann and take your Instagram marketing to the next level.