Engagement. It's a catch-all term used by marketers to measure success. But what does it actually mean? And why should you be crafting Facebook posts with the goal of engagement in mind? 
Think about all the actions you take when you use Facebook. You might click into an article to read a news story, tag your bestie in an epic competition giveaway or even purchase a new pair of yoga pants from a brand you've discovered via a Facebook Ad. Planners, every one of these actions is an 'engagement'! 
From likes to shares, engagement helps brands  measure how well their content resonates with their audience. The more engagements your content receives, the more likely users are to take valuable action such as purchasing your new products or sign-up for your latest service. 
So, what are the secrets to creating click-worthy Facebook posts to inspire meaningful engagement? Keep reading to discover 21 expert Facebook post ideas designed to boost your engagement on social media
Facebook Post Idea 1: Harness trending topics 
One of the best ways to beat the Facebook algorithm is to leverage existing topics of conversations. This tip is all about understanding popular and trending topics and creating Facebook posts tailored to those themes. 
Keep tabs on what other businesses in your industry are talking about on Facebook and look out for popular topical events or news stories that are aligned to your business. By creating and sharing timely Facebook posts you'll maximize your chances of ranking well in the Facebook algorithm and to help your content reach as many eyeballs as possible.
Facebook Post Idea 2: Create branded graphics 
Make your Facebook posts stand out by creating custom graphics for your business. This is a fantastic way to repurpose popular content from across the Internet (such as quotes, stats or memes) and can help you leverage popular post ideas with your own audience. 
By using easy-to-use design software such as Canva you can whip up a bunch of engaging graphics using your brand's colors and fonts to make your Facebook posts stand out in the feed. Plus, make sure to add your brand name or logo to the bottom of these branded graphics to maximize your brand's reach when other users reshare your posts. 
IMAGE: See this idea in action! The team from good news publisher Good Good Good frequently share news headlines using custom graphic templates to help their content stand out on Facebook.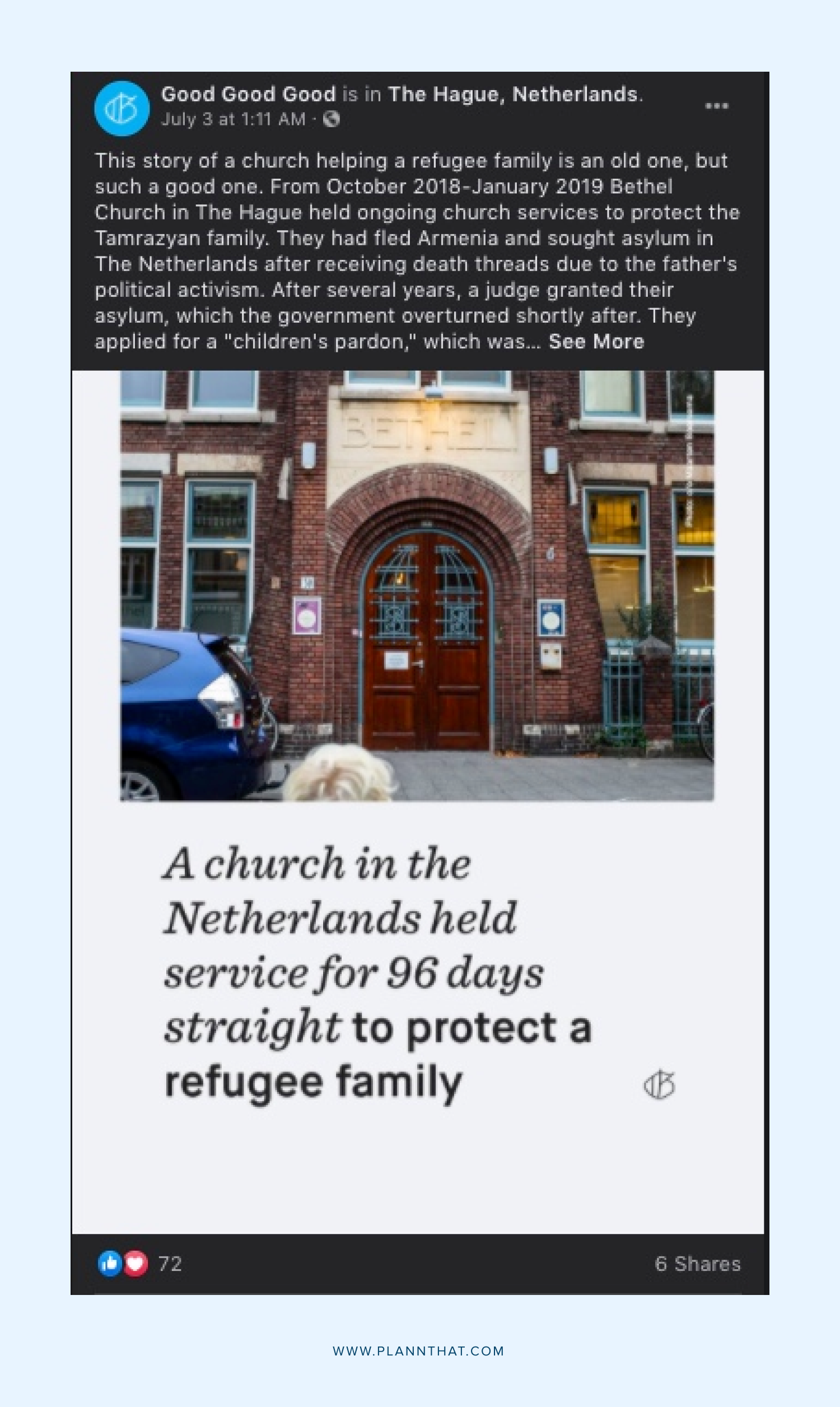 Facebook Post Idea 3: Reshare user-generated content from your fans 
Want to give your followers a reason to post about your brand online? Try resharing user-generated content! This simple Facebook content strategy is a simple way to build social proof and encourage other fans to advocate for your brand online.  
Every time a customer or follower posts about your product, leaves a review or writes a testimonial, you can repurpose this user-generated content and publish it on your own Facebook feed. 
The more often you do this, the more likely others are to do the same! Try adding a call-to-action to your Facebook posts' captions to encourage other your fans to share their experience to boost the bank of Facebook posts you can reshare and repurpose.
IMAGE: Take this great example from activewear label Outdoor Voices who reshare UGC to promote their product range.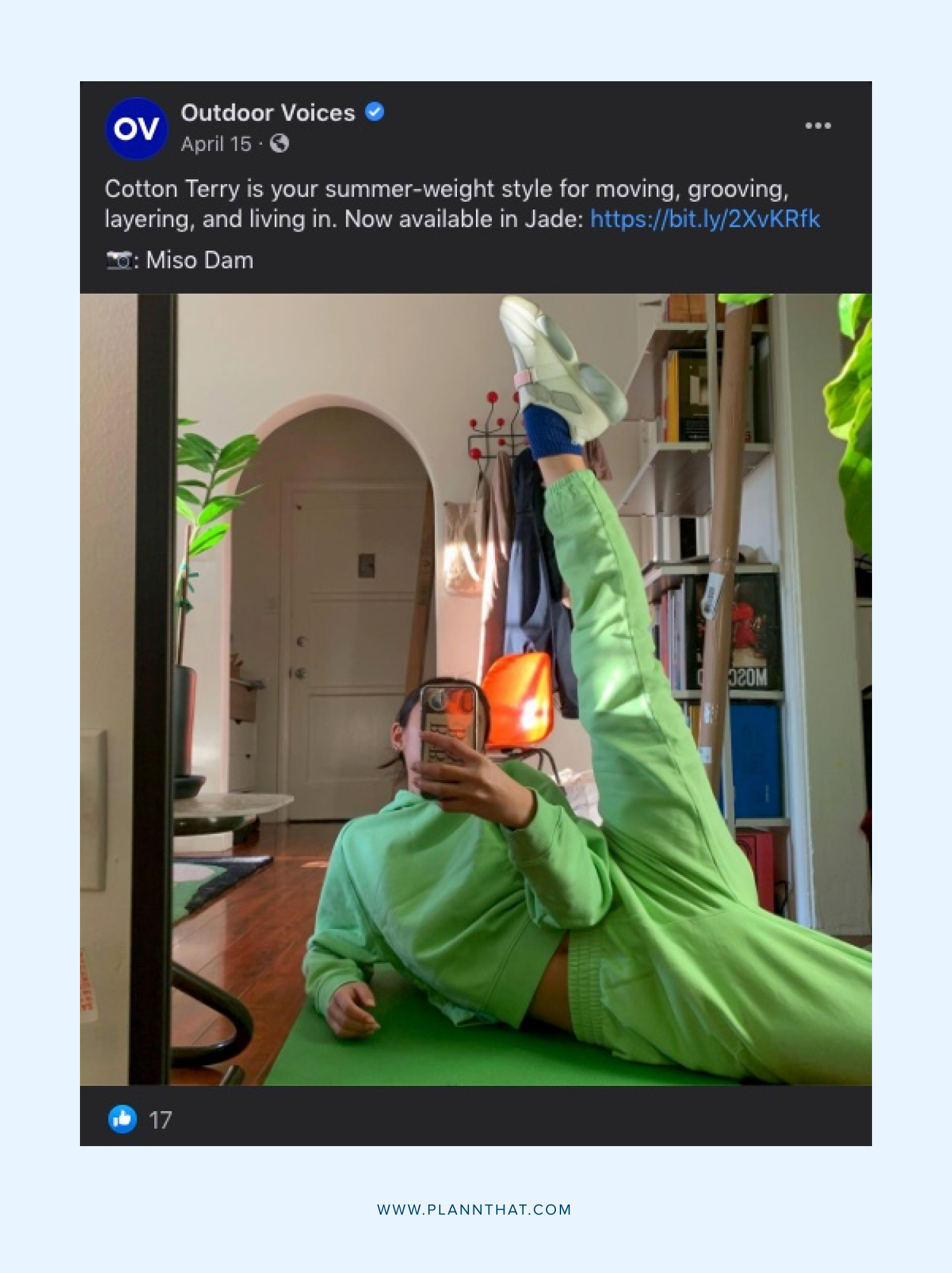 Facebook Post Idea 4: Boost engagement by asking a question
Your customers scroll through a LOT of content on social media (in fact, the average person scrolls through 300 feet of mobile content daily). Phew, bet you're exhausted just thinking about that!
To make your Facebook posts stand out from the rest, adding a strong call-to-action will give users a tangible reason to engage with your brand. And one of the best tactics for boosting engagement on Facebook is to ask a question! 
Whether you share a video, photo or even create a poll, adding a question to the caption of your Facebook post will give you the best chance of starting valuable two-way conversations with your audience on social media.
Facebook Post Idea 5: Share insightful industry news & tips 
Where do you get your news from? Chances are you're one of the 55% of  adults that get their news from social media on a regular basis. 
Here's the thing: news doesn't just mean the latest breaking news headlines. In fact, important industry-specific changes, events or updates are just as valuable to your audience on social media. 
By crafting Facebook posts that share this new information with your audience, you'll build your profile as a thought leader and trusted source within your industry. Get creative and find interesting ways to convey this news, whether that's a quick Facebook Live video, blog post or branded infographic.
IMAGE: The team from Oxfam have mastered the art of sharing industry news by creating branded infographics that simplify important report stats and info into easy-to-read Facebook posts.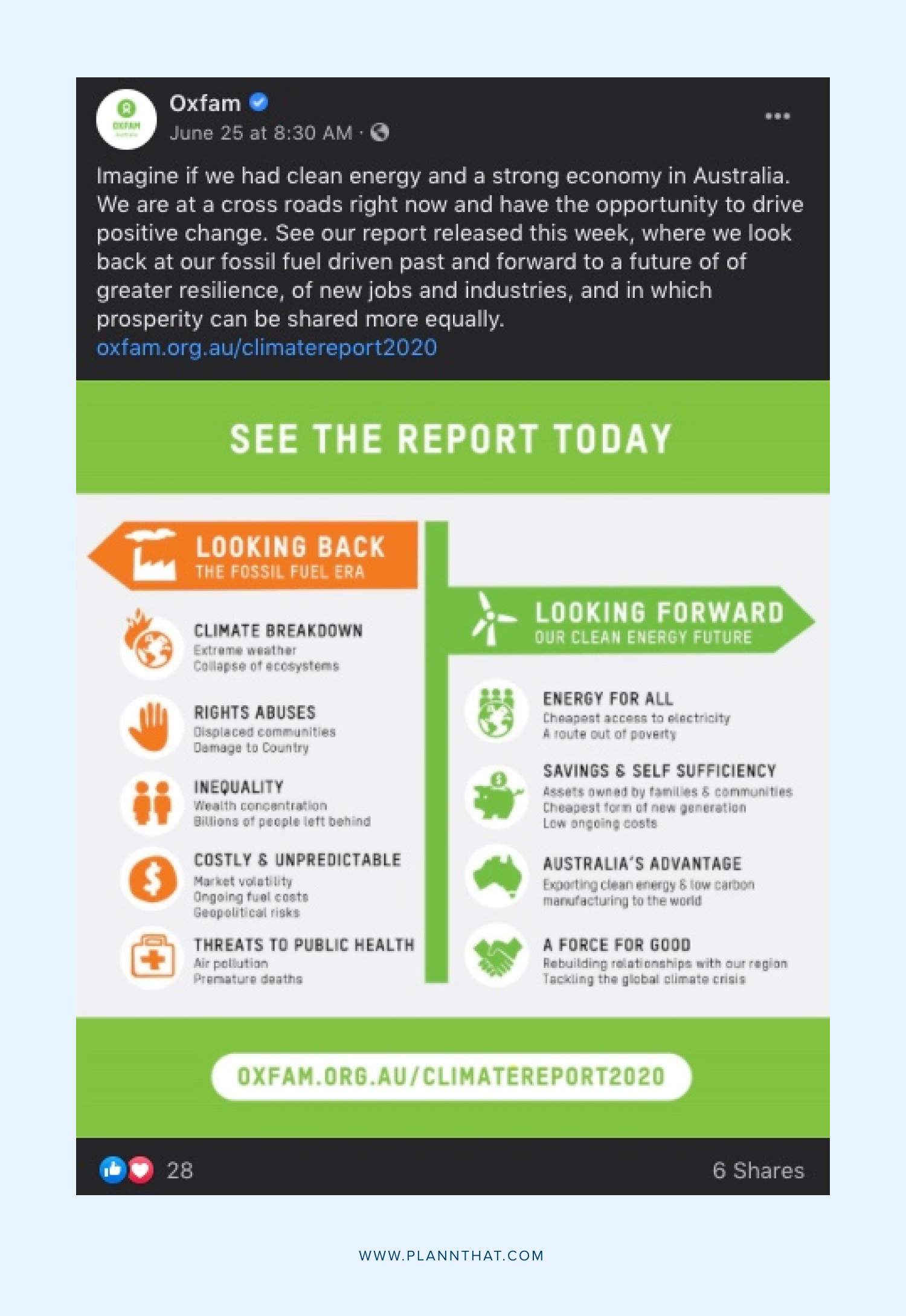 Facebook Post Idea 6: Publish a simple how-to video tutorial 
Speaking of video content, one of the best ways to educate your audience is to produce simple how-to video tutorials. And there's never been a better time to create engaging videos, with Facebook video content earning up to 8 billion views globally every day.
Think about simple time-saving hacks, product demos or industry-related tips that you could turn into a video tutorial. Keep it short and snappy (60  seconds or less), make sure you edit the clip to a square 1:1 ratio and consider adding captions (as 85% of Facebook videos are watched with sound off).  
Not only will you help your audience master a new skill but you'll boost your reach and engagement on the Facebook platform too!
Facebook Post Idea 7: Host a contest or competition 
Want to build hype about a new product or service you're launching? Thinking about creative ways to collaborate with like minded brands? Why not host a contest or competition to do just that!
Start by figuring out your goal for the competition: do you want to boost your Facebook followers, build your mailing list, gather user-generated content or increase web traffic? With this in mind, you'll be able to pick a contest format to suit your objective, whether that's a photo contest, sign-up form or 'comment to win' format. 
Make sure to actively promote your competition with a number of reminder Facebook posts to boost entries. Create a sense of urgency with a strong call-to-action in the captions of each post to boost your chances of great results!
IMAGE: To help shape their upcoming content, sustainable fashion label Lucy & Yak used a recent Facebook post to call out for customer feedback!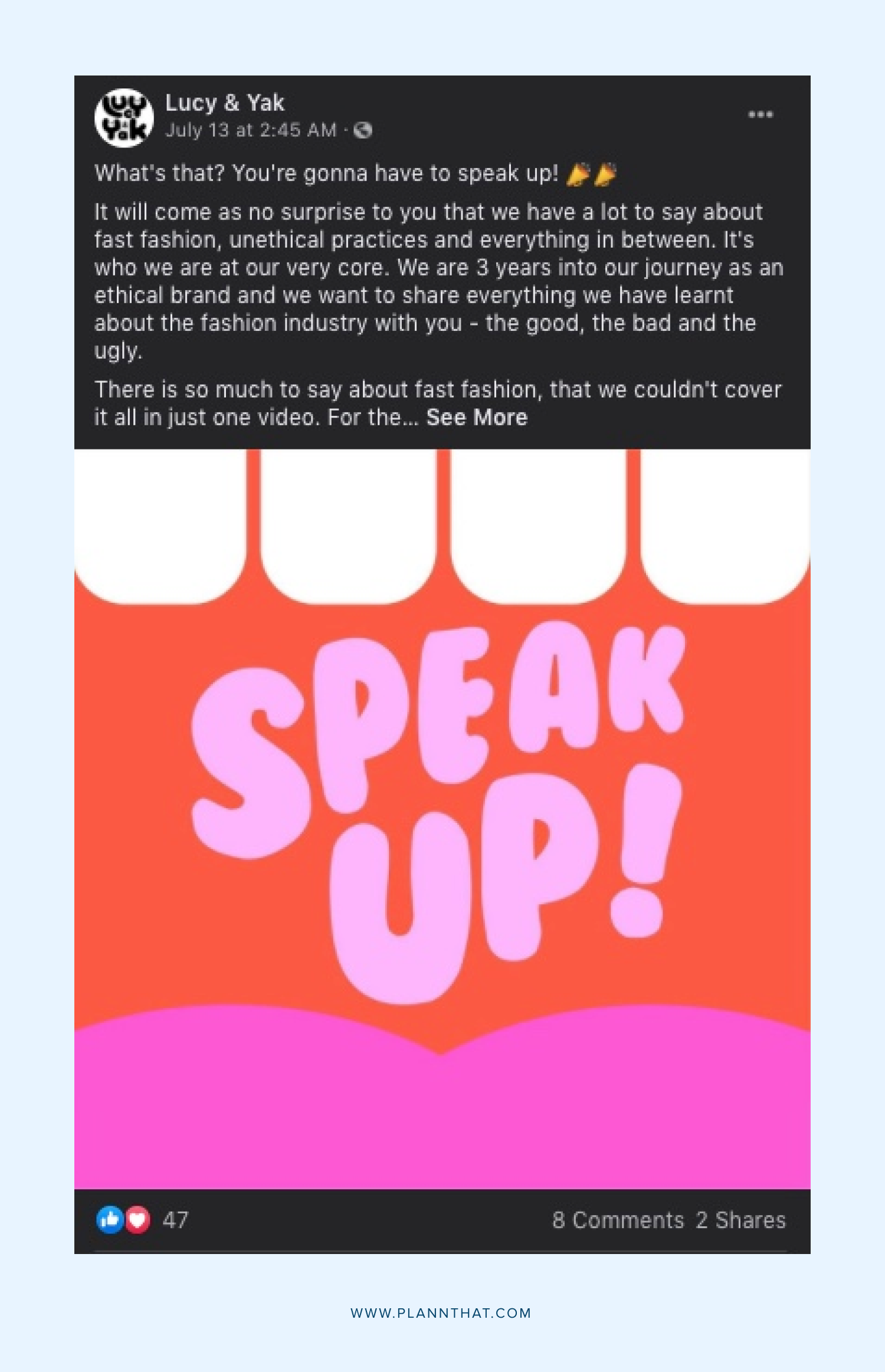 Facebook Post Idea 8: Call-out for customer feedback 
Another powerful tactic for creating engaging Facebook posts is to ask for honest customer feedback. Whether you're looking to refine your Facebook content strategy or want customer insights on a new product idea, a call-out for feedback will help you gain valuable data into the needs of your target market. 
Share an engaging image or custom graphic and use the caption to inspire your audience to provide feedback. To incentivize participation, let your audience know that their responses will help shape the content and/or products and service you create! 
This sense of influence will help boost the number of responses you receive and will give you a larger pool of data to work with. 
Facebook Post Idea 9: Use a poll or survey to refine your content strategy 
Want an easy, actionable way to understand what content your customers want to see from you on Facebook? Creating a simple poll or survey can help you do just that!
To create a Facebook poll, simply head to your Facebook Page, hit 'write a post', and select 'poll'. Here you can customize the options users can choose from and even add photos or GIFs to your post. Once you've crafted an engaging caption, hit 'Share Now' to publish. 
This is an easy way to ask your audience what types of posts they want to see from you to ensure your future Facebook posts are engaging and aligned to their needs and wants. 
Facebook Post Idea 10: Promote an upcoming digital event 
Are you planning a webinar, virtual conference or live video broadcast? Another powerful Facebook post idea is to craft content that builds anticipation for these upcoming digital events. 
In the weeks and days leading up to your digital event, share a series of Facebook posts that get users excited for this event. Make sure to include key information such as when and where the event is taking place and links if attendees need to sign-up ahead of time. 
To really maximize your chances of success, share a final reminder Facebook post on the morning of the event to boost attendees and keep your digital event top of mind. 
IMAGE: To promote and build interest for their upcoming Virtual 10k Event, iconic activewear brand LuluLemon has been sharing a series of Facebook posts promoting users to sign up ahead of time.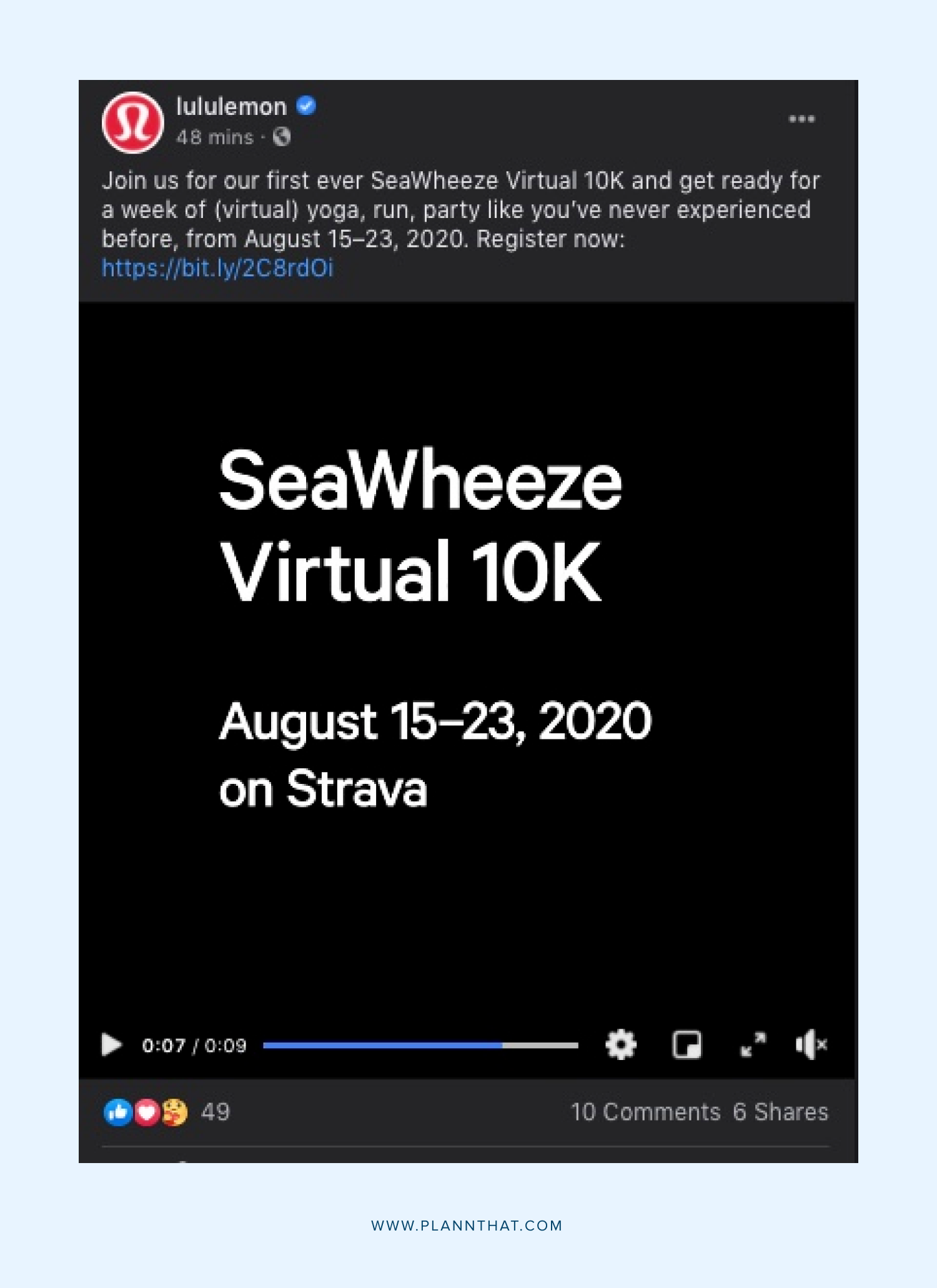 Facebook Post Idea 11: Go live with a Facebook Live broadcast 
You already know how valuable video content is for boosting engagement on Facebook. But for those wanting to take their Facebook posts to the next level, make sure to try hosting a Facebook Live broadcast. 
In fact, Facebook Live videos are shown to generate 6x as many interactions (a.k.a. engagements!) as pre-recorded videos (and are watched 3x longer too!).
To make the most of your Facebook Live broadcast, make sure to build anticipation for your live video with regular reminder Facebook posts prior to the broadcast. Plus, be sure to get audiences involved and engaged in the live broadcast by calling out for audience questions and pinning great audience comments to the top of the chat.
Facebook Post Idea 12: Share valuable blog content 
Want to drive meaningful traffic to your website from Facebook? Creating Facebook posts that share valuable blog content is a brilliant strategy to help you boost website visitors. 
The trick to getting audiences to engage and click on your blog posts lies in the caption. Why is this blog post relevant to your audience? What are the top tips you're sharing in the post? How will reading this blog post help your audience? 
Use these questions to help craft a concise and engaging caption to boost engagement and traffic to your blog posts. 
IMAGE: To empower audiences to reduce waste, sustainable living publisher The Good Trade shares regular blog posts to their audiences on Facebook.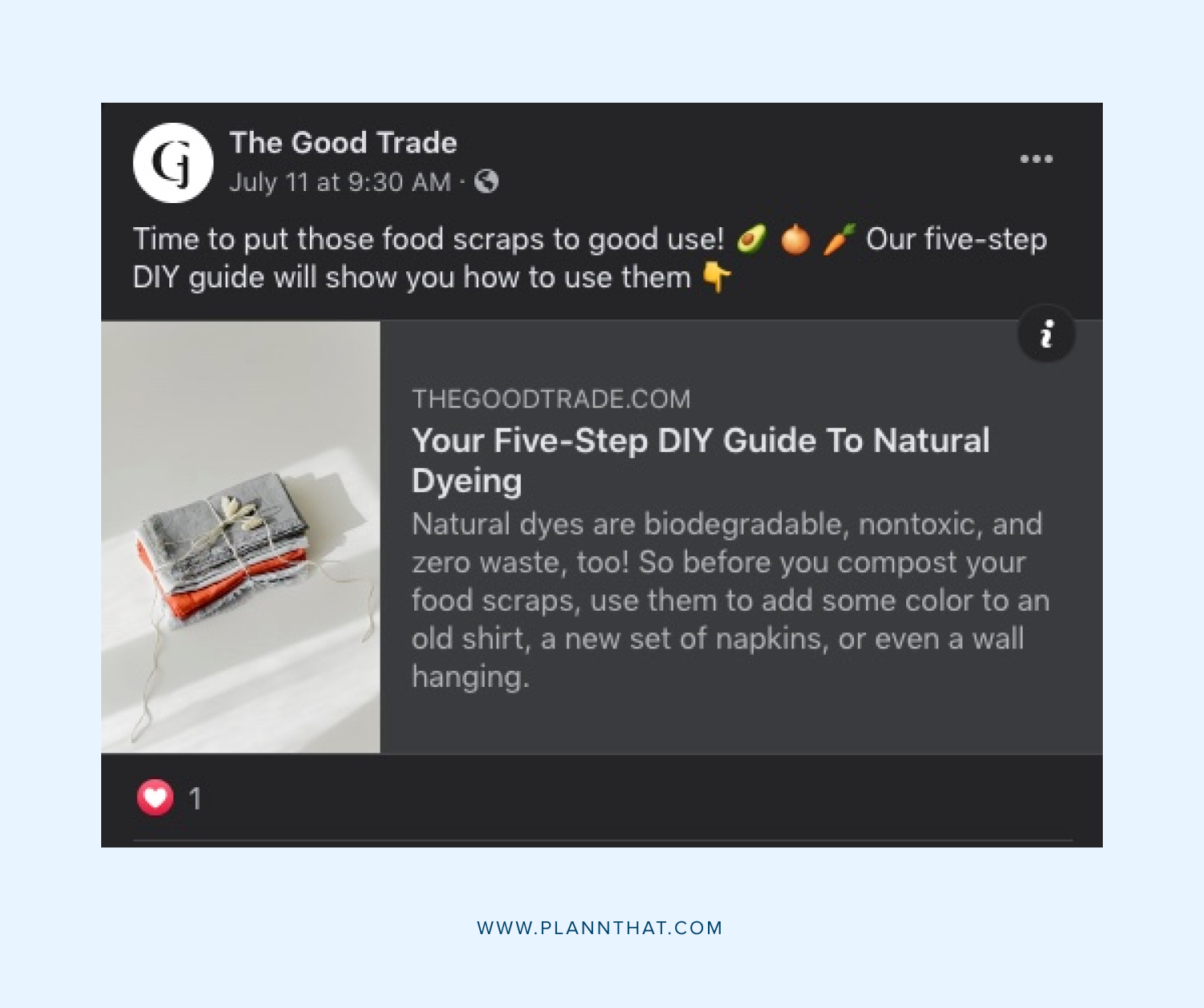 Facebook Post Idea 13: Introduce your team with BTS posts 
What makes you trust a brand on social media? One of the best ways to give audiences a reason to preference your brand over others is by sharing candid behind-the-scenes content. Why? Because this gives audiences a glimpse into the people-side of your business and humanizes your brand!
These are a bunch of ways to share engaging BTS Facebook posts. Try getting team members to take over your Facebook Stories to show a day in the life at your business, share quick 'Meet The Team' posts or show the design process of creating your newest product or service. 
The more candid and down-to-earth your Facebook posts are, the more likely users are to trust you and do business with you!
Facebook Post Idea 14: Facilitate a Q&A session 
Although it might seem like common sense, finding ways to start two-way conversations is key to boosting engagement on your Facebook posts. Because what's the point in liking, commenting on and sharing Facebook posts if no one is responding to what you have to say? 
That's where Q&A sessions come in! Whether you simply call out for questions via a Facebook status or facilitate a Facebook Like Q&A session, answering your audience's burning questions is a brilliant way to build trust and rapport with your customers!
Facebook Post Idea 15: Pull out stats and tips from your blog posts
Once you've shared your blog posts to Facebook, how can you repurpose this brilliant value-packed content? It's all about finding the best bits of the blog and creating dedicated Facebook posts that highlight these core pieces of information. 
One of the best ways to repurpose your blog posts is to turn stats, tips and quotes into custom graphic tiles! Make these graphics bold, punchy and use branded colours and fonts to ensure your content stands out in the Facebook feed.
These bite-sized pieces of information are easily digestible as individual Facebook posts and gives you the opportunity to link back to your original blog post too. Talk about a big engagement win!
IMAGE: To repurpose and promote their existing blog content, ethical clothing brand Know The Origin shared thought-provoking stats from their last blog.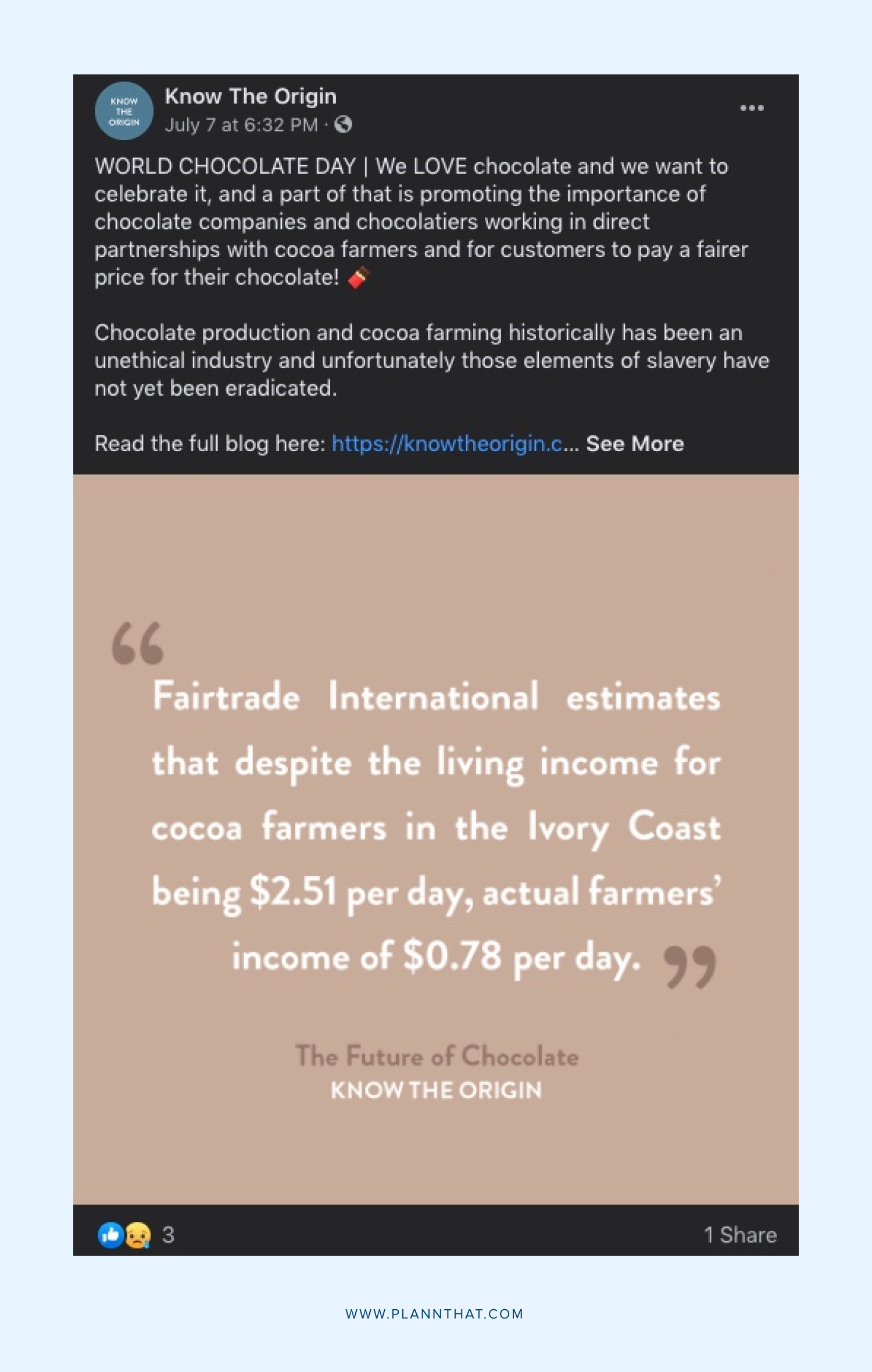 Facebook Post Idea 16: Tell an interesting story 
You don't need to be reminded that running a business is FULL of interesting stories! From scoring your first office space to building a growing team, business owners have a bank of unique experiences that provide endless opportunities for storytelling. So, make sure to keep this in mind when crafting your Facebook posts!
While you don't have to share all the nitty-gritty details with your fans, pick out some of the most interesting stories you've experienced and find ways to share these valuable insights and learning with your Facebook audience. Perhaps you can weave these personal experiences into your caption or add these learnings to your next blog post?
Facebook Post Idea 17: Showcase your charity or community partners
Rally your audience behind a cause you're passionate about by creating Faceobok posts to promote your charity or community partners. Not only does this show what's important to your brand but builds a sense of trust with your audience.
Consider adding regular Facebook posts about your charity partners to your social media content strategy. Whether you encourage audiences to donate to a campaign drive or simply raise awareness for this good cause, these posts are brilliant for boosting engagement and building rapport with audiences. 
Facebook Post Idea 18: Get audiences to fill in the blank 
Get creative with your Facebook engagement strategy by sharing fun, actionable posts to get your audiences engaging with your posts. One of the best ways to do this is to leverage the 'fill in the blank' content pillar, which uses a simple graphic to inspire audience engagement. 
Consider what topics or questions are most relevant to your audience and create bespoke graphics that ask audiences to answer an easy question. Add a bit of humor here and don't take these posts too seriously – the more lighthearted and funny they are, the better!  
Facebook Post Idea 19: Invite others to take over your Facebook Stories for a day
While we're all familiar with Instagram Stories, the rise of Facebook Stories has been slowly taking off. But this new feature offers powerful engagement opportunities for brands to take advantage of! 
To kick start your Facebook Stories journey, why not collaborate with another popular brand or influencer to facilitate a Facebook Stories takeover. Give this user the opportunity to show a day in their life or show their experience with your product or service. 
By letting an established and influential figure speak for your brand in their own words you'll build valuable social proof and boost the reach and engagement of your Facebook posts. 
Facebook Post Idea 20: Harness testimonials and positive reviews 
Speaking of social proof, testimonials and positive reviews are a brilliant user-generated content opportunity to help you boost engagement on Facebook. Not only do these posts solidify your skills and expertise but also act as a powerful relationship-building tool to turn your fans into brand advocates. 
Whether you're looking to boost sales or drive website traffic, using testimonials and reviews will inspire potential customers to engage with your Facebook posts and take meaningful action. 
IMAGE: Take this awesome example from skincare brand Go-To Skin Care who have shared a blog post compiling their best user product reviews!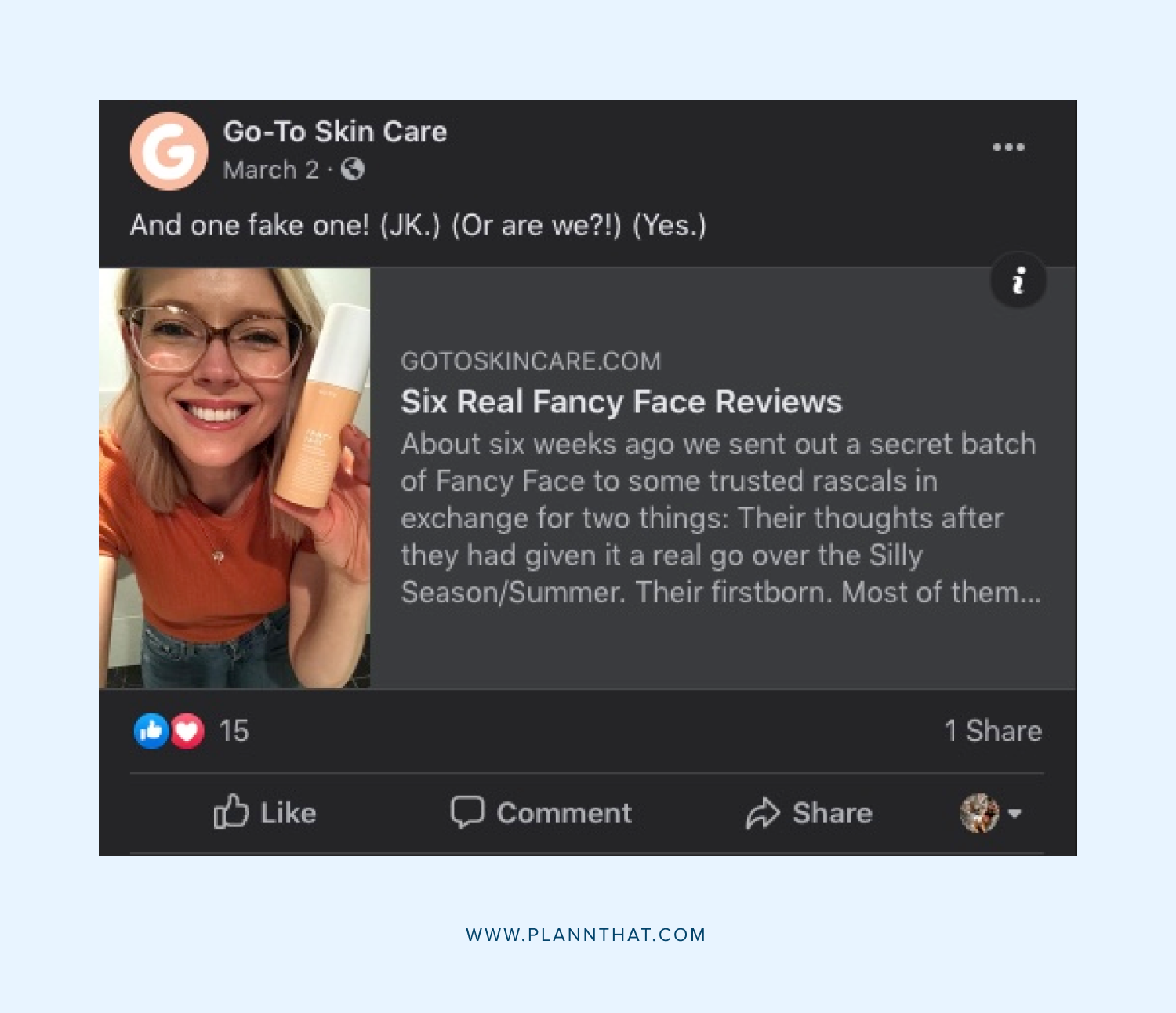 Facebook Post Idea 21: Promote your latest awards or nominations 
And last, but certainly not least, we have our final Facebook post idea – and this one is a goodie! Whether you've received a nomination, have been named as a finalist or even scored a well-deserved accolade, sharing the awards your brand receives is a brilliant tactic to boost your engagement on Facebook. 
Here's the thing: if you don't mention these achievements, chances are your customers won't ever hear about them. And since these awards require serious dedication and skills to win, it's so important to share this great news with your Facebook audience!  
[CONCLUSION]
When it comes to crafting engaging Facebook posts it's important to leverage a range of content formats to keep your audience coming back for more. Be sure to give a bunch of these Facebook post ideas a go to see what resonates best with your audience. Who knows what kind of amazing results you'll achieve along the way!