Getting results as a business on Facebook is about more than just posting content and hoping it drives sales. In fact, there are 2.5 billion monthly active users on Facebook worldwide (with engagement skyrocketing in the last few months) making it more important than ever to have a clear social media strategy to help your business stand out from the crowd.
Although anyone can share posts on Facebook, one of the most effective ways for businesses to inspire deep engagement is to create and share video content. It's no secret that Facebook users are big fans of video content, consuming 3 billion hours of videos every single day. And the shift towards customer preference for video content has never been stronger, with 54% of customers craving more video content from brands and businesses they follow on social media.
But for many businesses, the idea of producing video content can be daunting. Doesn't it cost hundreds, if not thousands, of dollars to produce professional videos? How are small business owners supposed to find the time to shoot, edit and publish videos on a regular basis? For many, video content is an untapped marketing opportunity that has been put in the 'too hard' basket for too long. But, for those wanting to get their content in front of the right people on Facebook, creating Facebook video ads is a powerful strategy to drive tangible results on social media.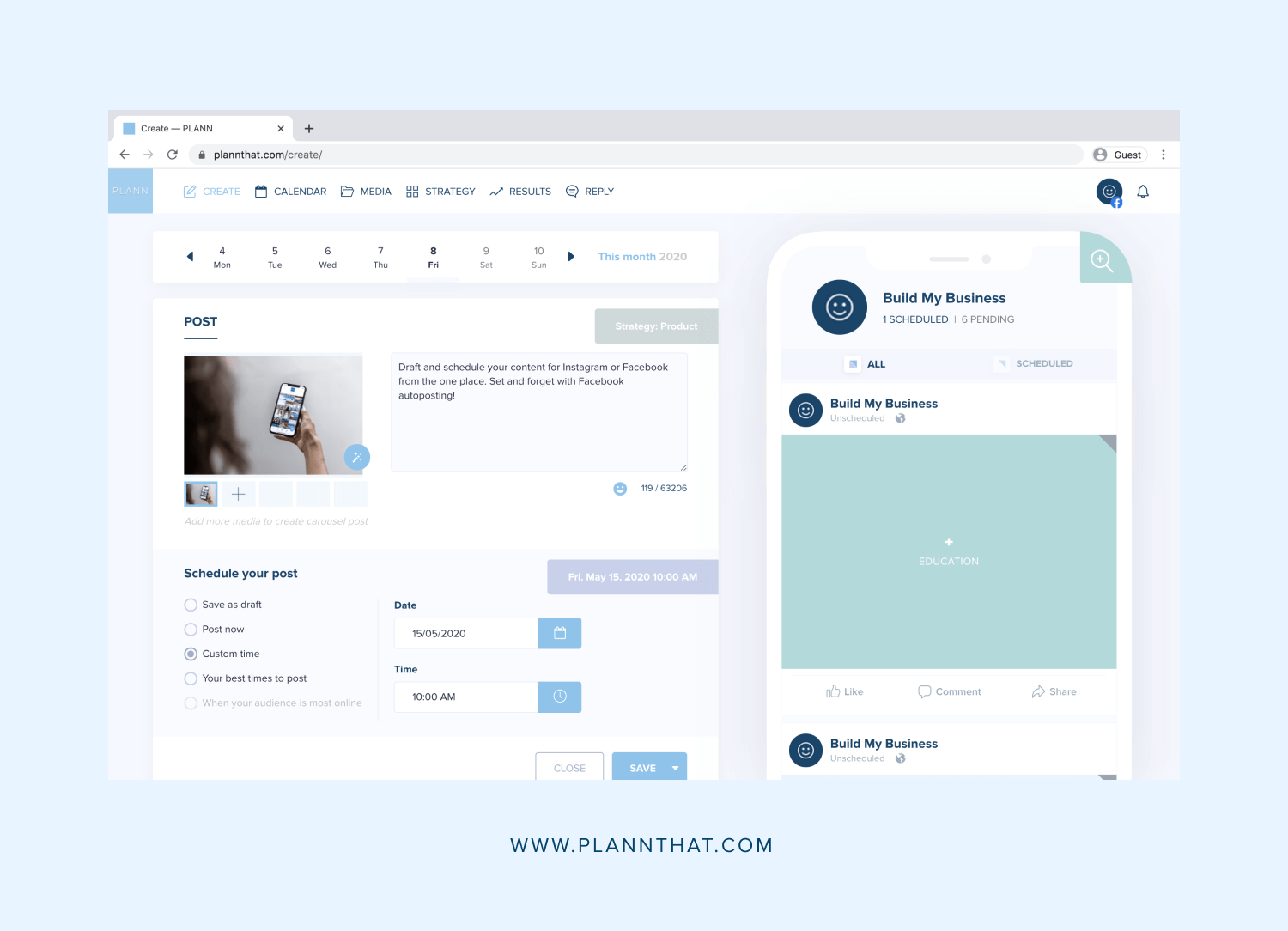 In this blog, discover:
– The basics of Facebook video ads and why they are a valuable marketing tool
– A step-by-step guide to creating and publishing your first Facebook video ad
– Expert advice on creating strategic Facebook video ads to convince and convert
– Why you don't need a professional videographer to create beautiful Facebook videos + MORE!
Ready to start generating quality leads and powerful results for your business using Facebook video ads? Keep reading to learn more!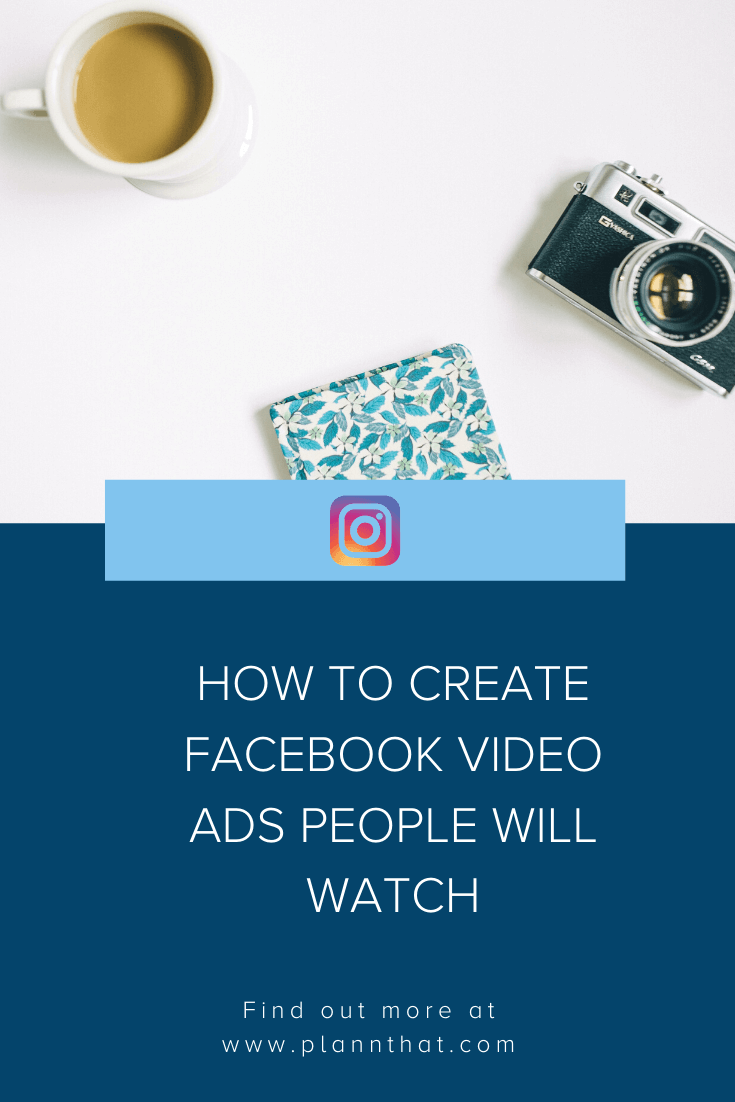 What are Facebook Video Ads?
As the name would suggest, Facebook video ads are a way to use video content to promote your business on Facebook. This ad format enables businesses to advertise particular products or services and leverage the power of video content to make the most of their efforts on Facebook. Did you know that by the end of 2020 video content is estimated to account for 75% of all mobile traffic? That means there's never been a better time to get started with Facebook video ads.
Facebook video ads are created in Facebook Ads Manager, the central hub for managing all ads across Facebook, Instagram and Messenger. There are a number of Facebook video ad types you can create, including:
– In-stream video ads: this puts your ad into the videos that people are watching on Facebook.
– Feed video ads: showcases your ad in the Facebook Newsfeed.
– Stories ads: shares your ad to customers as a Facebook Story.

Why should you be using Facebook Video Ads?
So, why should you invest your efforts in creating Facebook video ads? Video content is one of the best ways to increase brand recognition, build brand preference and inspire deep engagement from users on social media. And for businesses looking for results on Facebook, this is the best type of content to share. In fact, Adobe reveals that shoppers who viewed videos are 1.81x more likely to purchase a product from that brand than non-video viewers.
When it comes to increasing engagement, video content also hits the mark. Stats reveal that 4x as many customers would prefer to watch a video than read about a product, with video ads also receive 20% more clicks than image ads. Plus, when it comes to boost organic engagement and reach, video content is also the way to go (with users more likely to share video content than any other type of post).
Whether you're looking to build trust, showcase your new products or drive traffic to your website, creating Facebook video ads can help your brand succeed on social media.
Step-by-step guide to creating your first Facebook Video Ad
Now you've got a handle on the basics of Facebook Video Ads, it's time to put your knowledge to use. Want a hand setting up your first Facebook Video Ad campaign? You've come to the right place. Keep reading to discover every step you need to take to create and publish a video ad on Facebook.
1. Log into Facebook Ads Manager and click 'Create New Campaign'.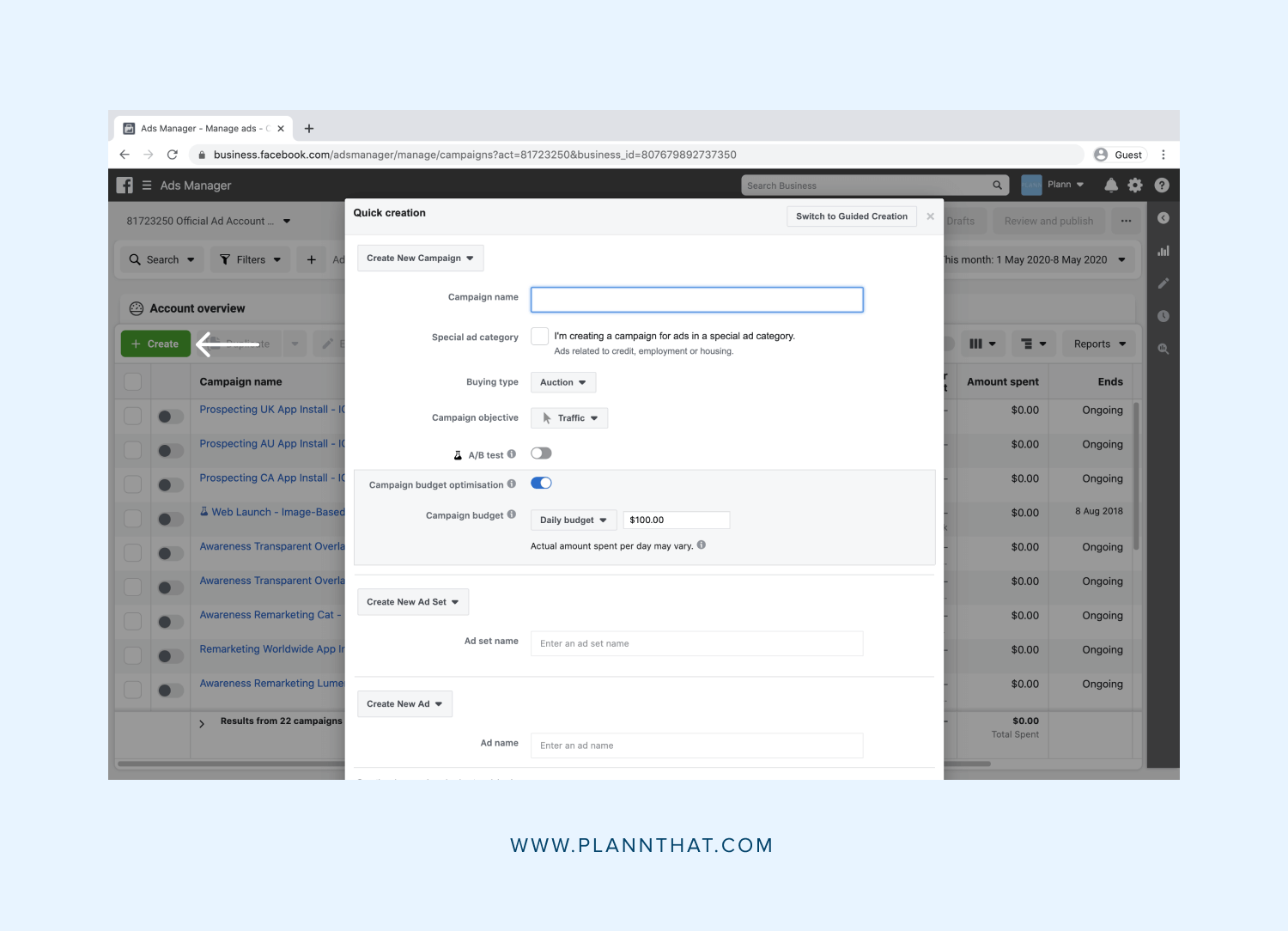 2. Set the objective for your campaign to 'Video Views'.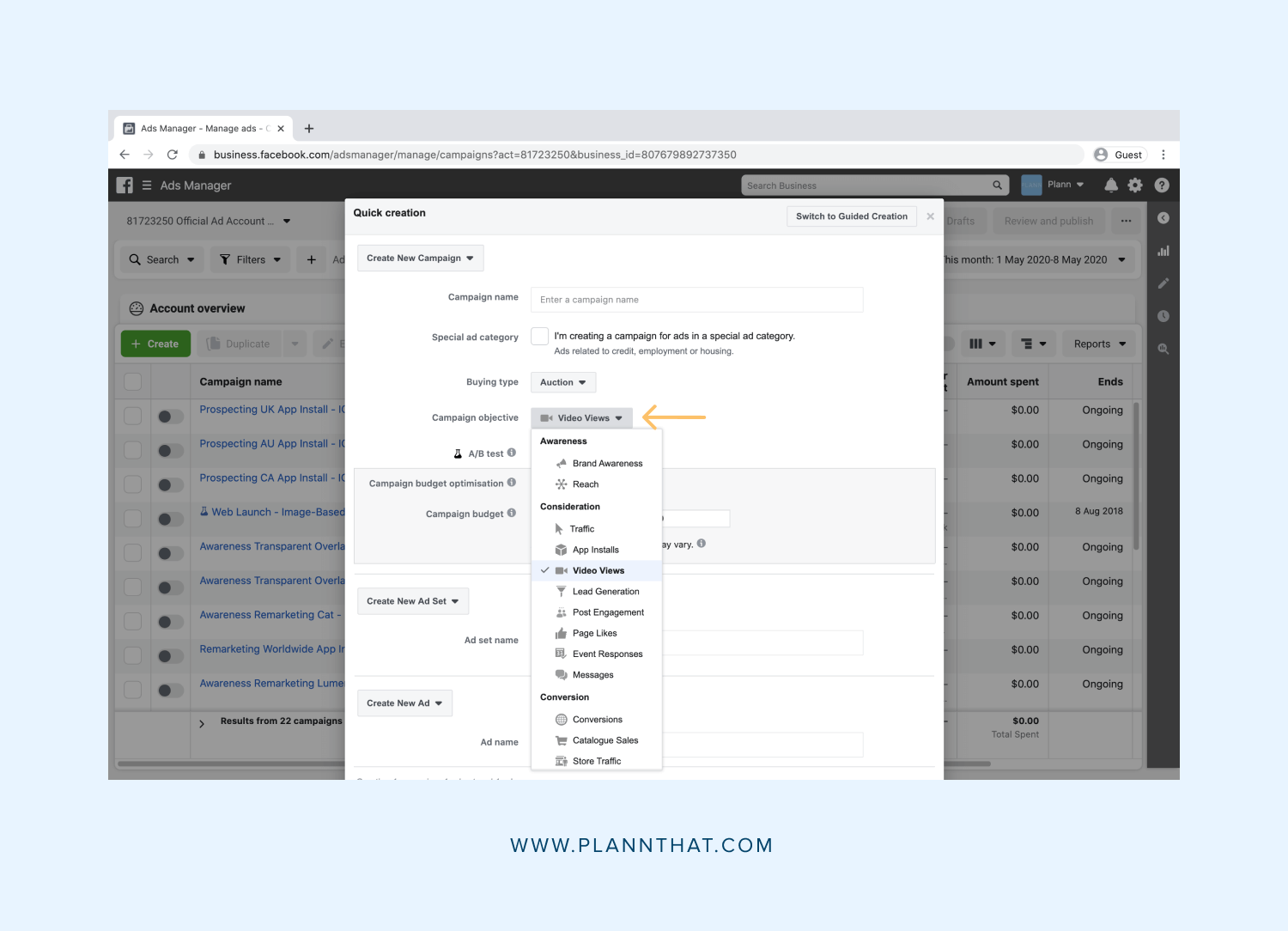 3. Create a name for your campaign. Start with something broad, such as the name of your business, the objective of your campaign and the month and year to make this easy to review at a later date (for example, 'Your Skincare Brand – Video Views – April 2020').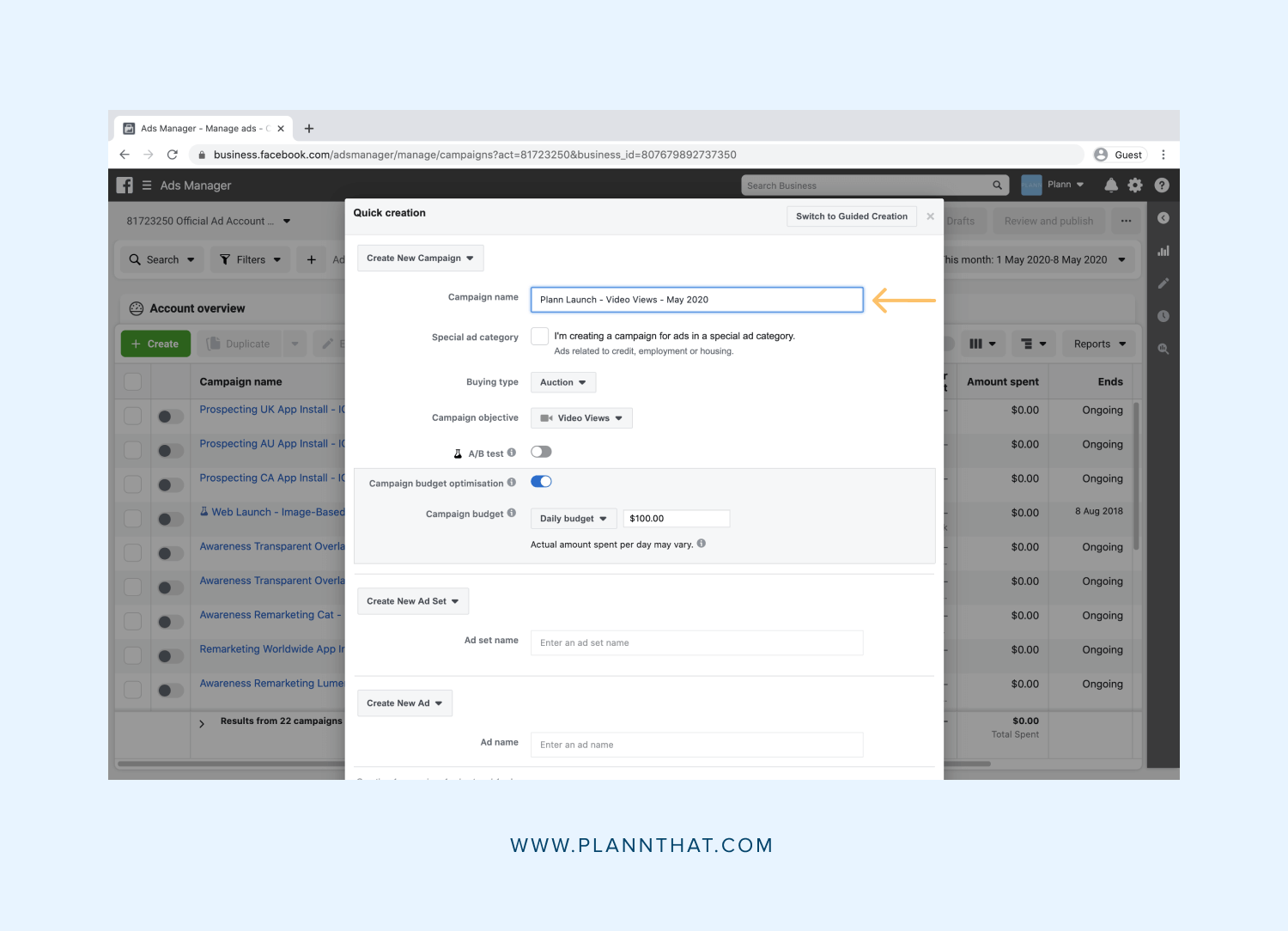 Tip: to make the most of your Facebook Video Ads, switch on both the 'Create A/B Test' and 'Campaign Budget Optimization' settings. This will enable you to test different video cuts, messaging and placements to see which content resonates best with your audience.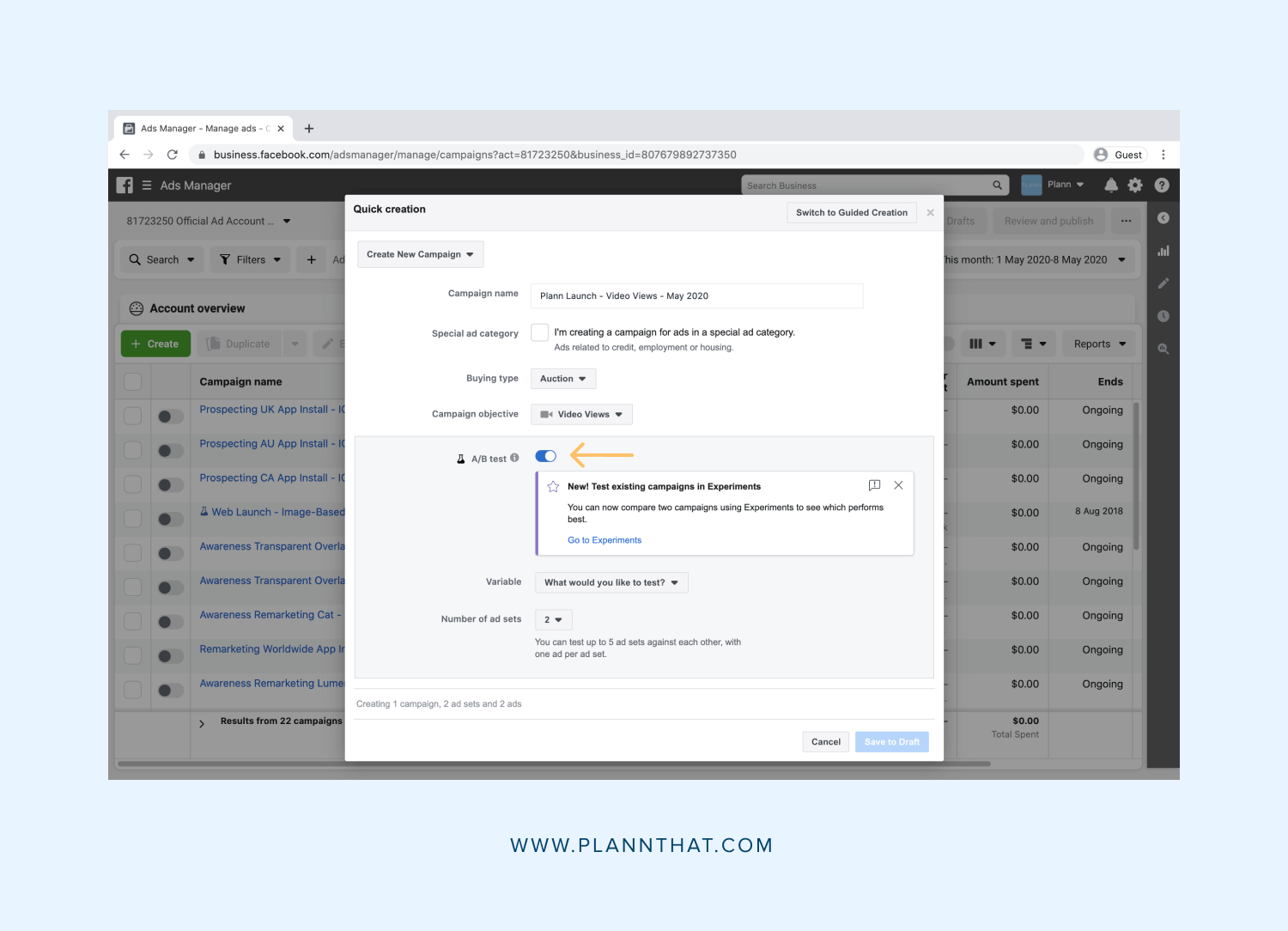 4. Create a name for your ad set. Start getting a bit more specific and explain what product or service you're promoting and the style of video you're going to be using, for example, 'Face Cream A – Short Cut Video'.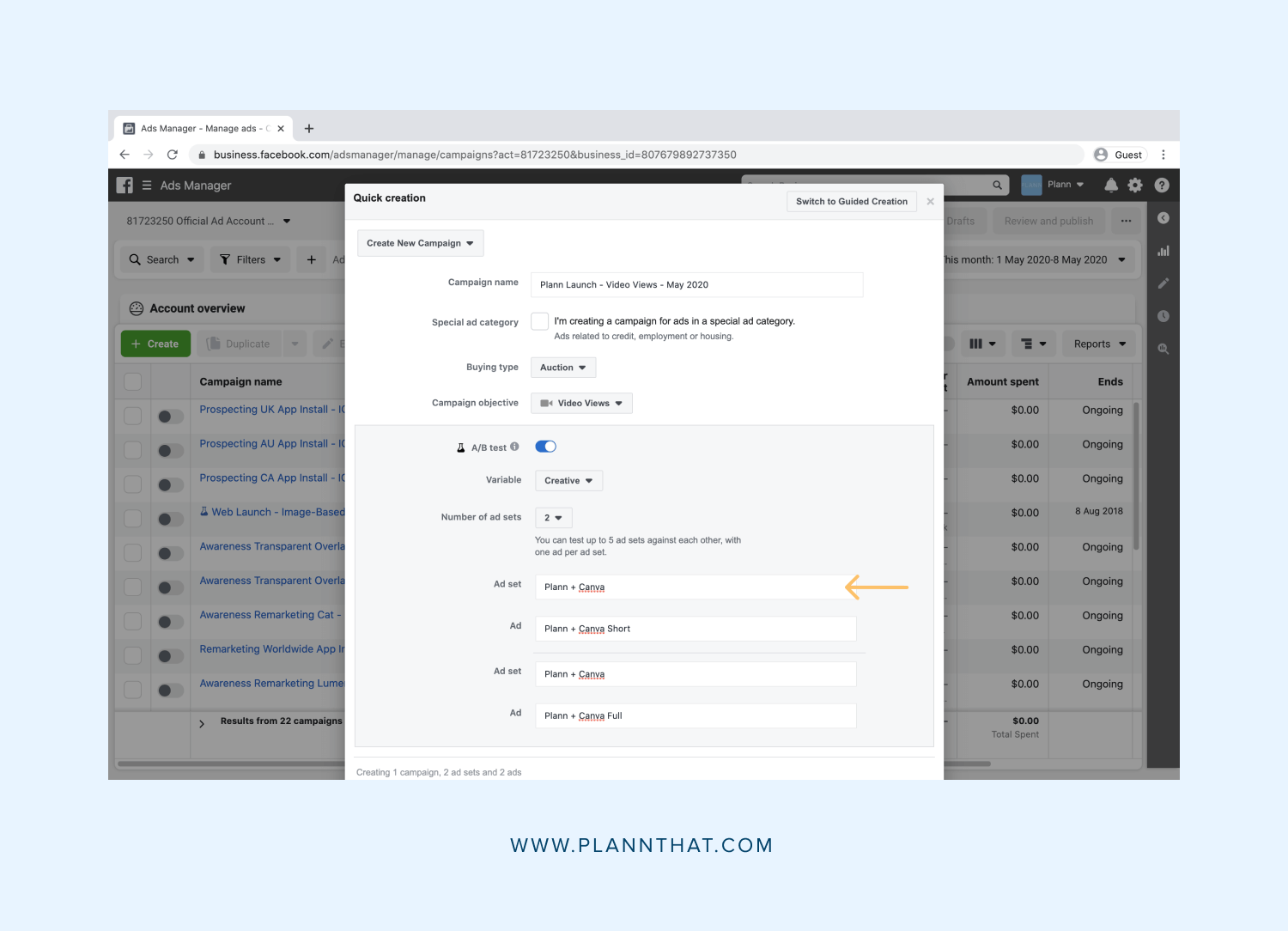 5. Select the audience you wish to show your ad to (you can either create a new audience or use a saved audience that you've already created). Plus, you can save this audience for future use to make your next ad campaigns a breeze by hitting the 'Save This Audience' button.
6. Select the placements for your ad (this means the different places on Facebook that your ad will be displayed, including the Feed, Marketplace, Messenger, Stories and more). For beginners, stick with Automatic Placements to let Facebook do that hard work for you.
7. Next, it's time to define your budget for the ad campaign. Facebook automatically sets your optimization for 'ThruPlay' which means you'll only be charged when your video ad is watched in full (if it's 15 seconds or shorter) or if a user watches at least 15 seconds of a longer video. Leave this as-is.
– Next, leave the cost control box empty to allow Facebook to optimize the placements of your video at the lowest cost.
– Set your 'Budget and Schedule' to a 'Lifetime Budget' and enter the total amount you want to spend for the entire campaign.
– Finally, select the start and end dates and times for your ad campaign and click continue.
8. Now, create a name for your ad. Make this really specific and use the ad name to distinguish between different ad variations you're trying to test. For example, your ad name could be '15 Second Cut – Short Caption'.
– Next, select your businesses' Facebook Page and Instagram Account (only select Instagram if you're planning to share this ad to Instagram as well).
– Next, click 'Create Ad' and set the format to 'Single Video'.
– Under 'Media', you have 3 options: upload your own video, create a slideshow using images on your Facebook Page or create a video using Facebook's Video Creation Kit (more on the below!). Select the best option for your campaign.
– Next, it's time to add your caption to the 'Primary Text' box and add a website URL with a call-to-action button (such as Learn More, Subscribe or Shop Now).
– For those sharing ads to multiple countries, use the 'Languages' feature to automatically translate your video ad into multiple languages.
– Once you're happy with the ad, click 'Confirm' to allow Facebook to review and approve your campaign. Well done, you've just created your first Facebook Video Ad!
Expert tips for creating powerful Facebook Video Ads
But before you go creating your first Facebook video ad, make sure to keep reading to discover the top experts tips and tricks you should leverage to maximize your results on Facebook.
Get To The Point And Make An Impact
Attention is scarce on Facebook, so getting your message across as soon as possible is essential. When it comes to creating successful Facebook Video Ads, it's all about capturing attention in the first 3 seconds. Seriously.
Make sure to open strong with an eye-catching graphic, question or image to spark interest from viewers. Lead with your most important (and valuable) message and be specific with the objective of each video. Try to pull out a single idea or theme to communicate for maximum impact.
Leverage Facebook's Video Creation Kit
Think you need a professional videographer to create professional videos for your Facebook Ads? Think again! The team from Facebook understand how challenging it can be to create video content, so they've launched a user-friendly Video Creation Kit for businesses to use. The platform enables you to turn static images and text into engaging pieces of mobile-first video content, with a bunch of handy features to customise the look and feel of the video.
Not sure where to start? Try out one the platform's templates to help you find a format to suit your ad's objectives. Add your personal touch with over 20 fonts to choose from and fun seasonal stickers and templates to align with key annual milestones (such as Easter, summer vacation and Mother's Day).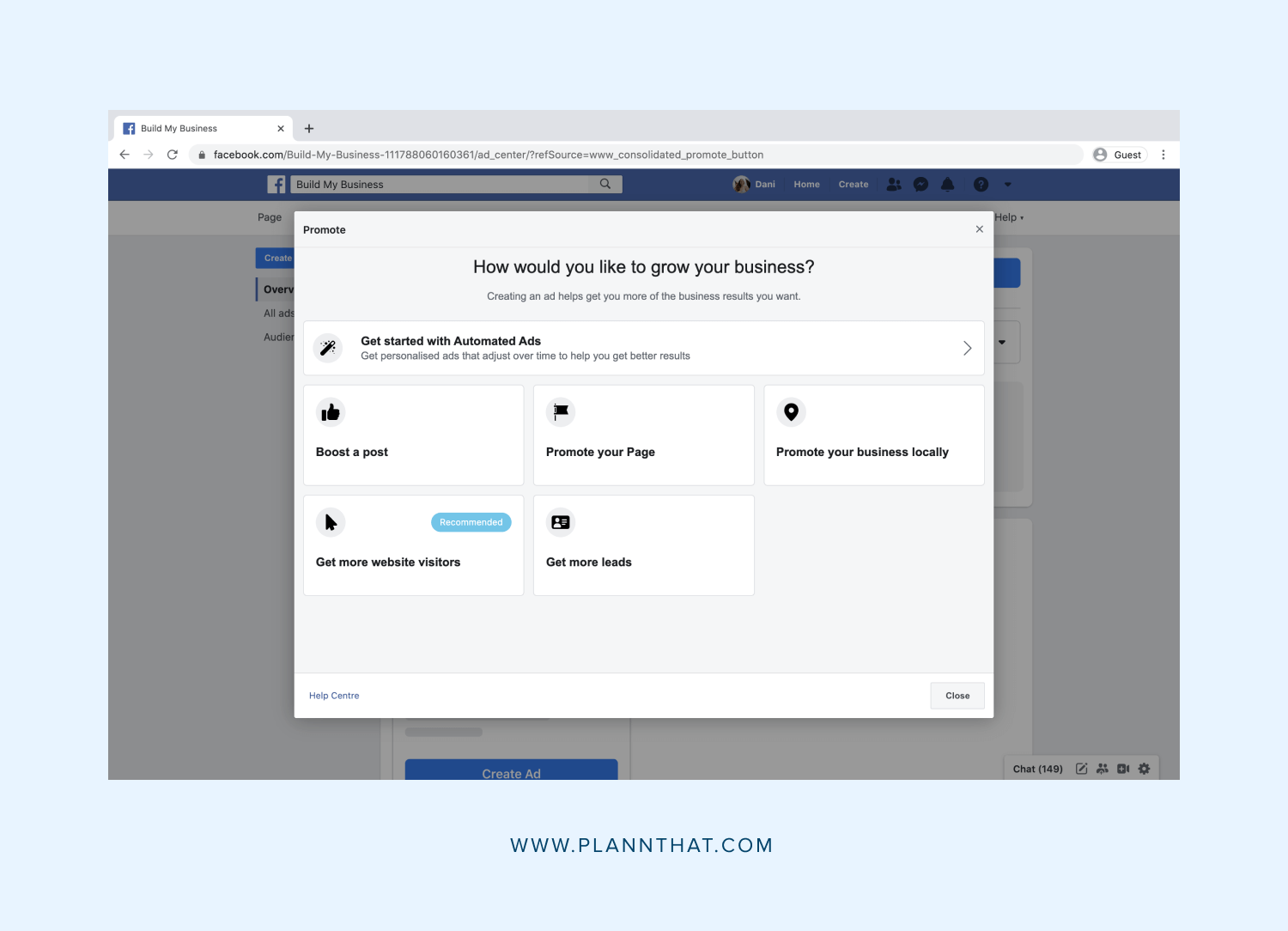 Want to customise the aspect ratio of your video to suit different platforms? You can easily create multiple versions of the same video to ensure it looks perfect for both Facebook Stories and Facebook Feed ads. This is a fantastic way to streamline your efforts and save time to get back to doing what you do best!
Design For Sound Off, Delight With Sound On
Did you know that 85% of Facebook video ads are played without sound? With this in mind, businesses must be strategic about how they create video content to ensure their message isn't lost when sound isn't turned on.
When designing for sound off, consider ways to add text and graphics to your Facebook video ads. Adding closed captions or text overlays will increase viewership and ensure your key brand messages are still being communicated at all times.
Set Up A/B Testing To Optimise Your Facebook Video Ads
Not sure which video to share with your audiences on Facebook? By running an A/B test campaign on Facebook Ads Manager you'll be able to see which style of content resonates best with your audience.
As we've mentioned in our step-by-step creation guide above, make sure to switch on the 'Create A/B Test' option at the beginning of the ad set-up process. This enables you to test variables such as your campaign's 'creative' (such as comparing the performance of video vs. still imagery), delivery optimization, audience and placement.
Want to learn more about A/B testing on Facebook Ads? Check out this helpful guide here.
Retarget Followers Who've Watched Your Videos
Want to make the most of your Facebook Video Ads? Why not use them as a remarketing tool to help engage potential customers. It sounds complicated but is simple to set up and can help generate powerful results for your business.
In Facebook Ads Manager, you can see a breakdown of exactly who has watched your videos ads (and whether they've finished the whole video or just watched the first few seconds). In fact, you can create custom audiences based on those who have watched your videos. As a general rule, those who have watched your entire video would be very interested in learning more about your product or brand. In marketing land, we would call this a warm lead.
By creating a new ad to specifically target this group of warm leads, you'll be more likely to convert these viewers into customers. To help get you started with retargeting video viewers, here is a helpful guide from Facebook to guide you every step of the way.
Checked out Plann's new Facebook Autoposting? Try it for free with Plann Desktop's 7 Day Free Trial.