Feeling at a loss as to how you can continue growing your business while stuck at home? Look no further than Facebook Live, the live streaming video feature connecting brands with followers in real-time. 
You've probably noticed a rise in the number of brands, businesses and celebrities) leveraging live video on Facebook (and Instagram – more on Instagram Lives in a post coming up soon) right now. The stats back this up with 35% of brands are now using Facebook Live (that's up 34% in 2018 alone) and we're obviously interested to learn the most recent stats, too (our guess is the numbers have had a massive surge!)
Did you know that users are shown to spend 3x longer watching live videos in comparison to traditional video content? Talk about meaningful engagement! Now more than ever, live video streaming is a popular way for businesses to build meaningful relationships with their audiences. In fact, there have been 3.5 BILLION broadcasts since Facebook Live launched four years ago. That's a whole lotta live video content! 
But what makes a successful broadcast, in a sea of many at-home lives? To help you on your path to live video success, discover the ultimate guide to how to do Facebook Live. 
In this blog, you'll learn:
– The basics of Facebook Live (and why its a powerful tool to connect with your audience)
– Why Facebook Live is the perfect platform to engage with your followers in real-time
– A step-by-step tutorial to setting up your first Facebook Live 
– Our expert tips for creating a successful Facebook Live stream + MORE!
Ready to dive into the world of Facebook Live broadcasts? Keep reading to learn more!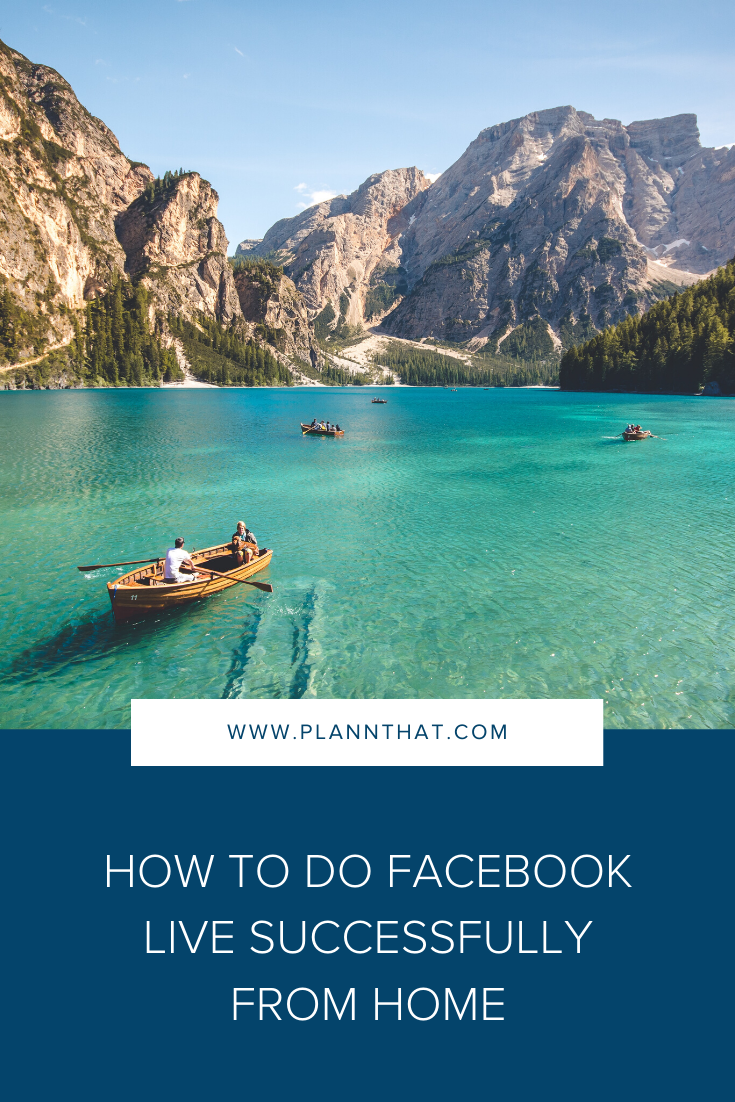 What is Facebook Live?
As the name would suggest, Facebook Live is a live streaming video feature designed to connect users with friends, family and followers around the world. 
The feature enables users to broadcast video with their desired audience, offering viewers the chance to engage, ask questions and receive answers in real-time. To get started on Facebook Live, you simply need a mobile or desktop device with camera functionality (which, let's face it, is most of us!) and strong internet connection. Essentially, Facebook Live is designed to host face-to-face workshops, Q&A sessions or seminars virtually. 
Since its launch in 2016, Facebook Live has dramatically risen in usage and popularity, giving brands the opportunity to engage with their followers in real-time. 
3 Reasons Why Facebook Live Is A Must-Try For Brands 
Now that you understand what Facebook Live is all about, why should you consider using this live video feature? This functionality offers incredible opportunities for brands on Facebook to keep connecting with their audiences, while face-to-face interaction is unfortunately not an option. But the benefits of Facebook Live don't stop there! Keep reading to discover the 3 key reasons why your brand should try Facebook Live in 2020 even once we break free from isolation!
Reason 1: Ability to connect with audiences in a personal way
With more businesses serving customers around the globe, Facebook Live is a fantastic strategy to foster personal, genuine conversations. If your business is based online, it's the closest thing most businesses can get to meeting their customers face-to-face! Show the human side of your company and build trust with your audience by hosting a Facebook Live stream. 
Reason 2: Respond to commonly asked questions in real-time
Even with a clear community management strategy, finding the time to individually answer commonly asked questions on social media can be a challenge. That's where hosting a live Q&A session on Facebook Live can come in handy. Boost your social media engagement and connect with your followers by hosting a successful Facebook Live stream. 
Reason 3: Broadcast offline events with online audiences
Want to share your offline experiences with your online community? Facebook Live is a fantastic platform to do just that. With these live broadcasts you can share seminars, workshops, events and more with your Facebook audience across the globe. 
How To Use Facebook Live: A Step By Step Guide
So, are you ready to get streaming? To help you succeed on Facebook Live, discover this handy step-by-step tutorial for setting up a Facebook Live broadcast on both desktop and mobile below!
Facebook Live Tutorial – On your desktop:
Step 1: Select the 'Live Video' button from the 'Create Post' menu on the top of your newsfeed.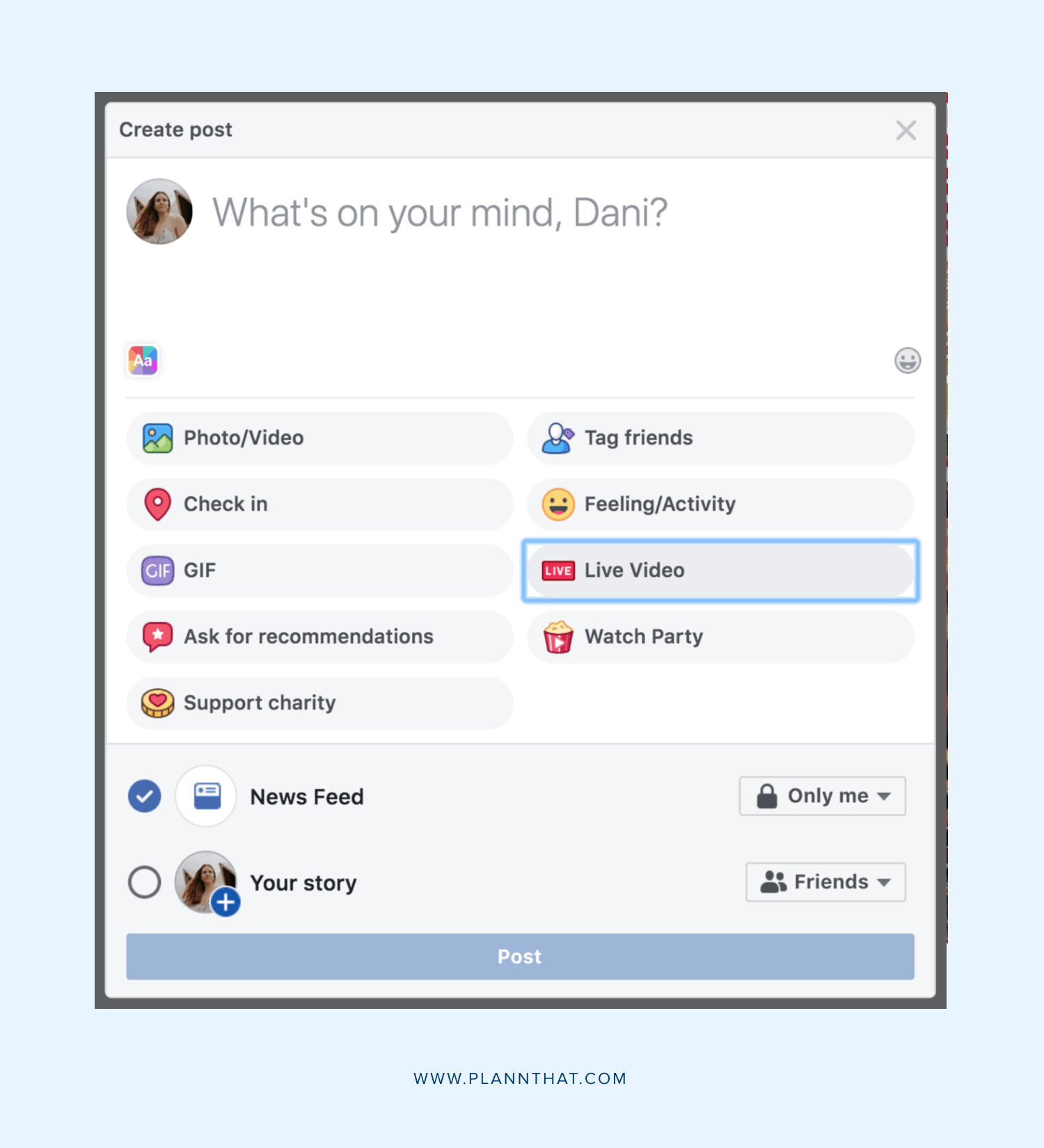 Step 2: Allow Facebook to use your microphone and camera.
Step 3: Choose where you want to post your Facebook Live broadcast (your options include 'Share on Your Timeline', 'Share in a Group', 'Share in an Event' and 'Share on a Page You Manage').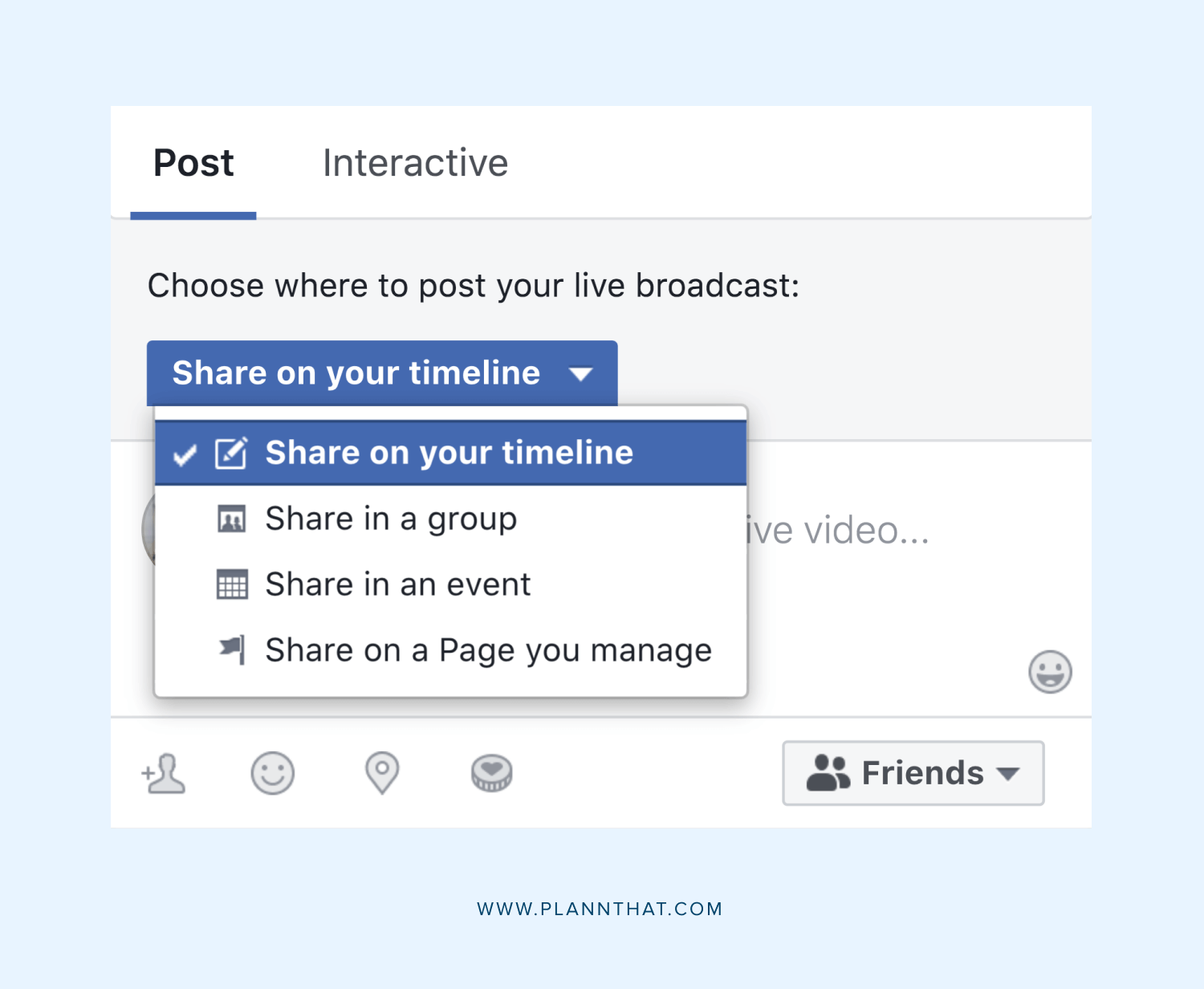 Step 4: Add a description to your video to explain what this live video is all about. Make sure to tag any other people who are appearing in your video and add a location (if appropriate).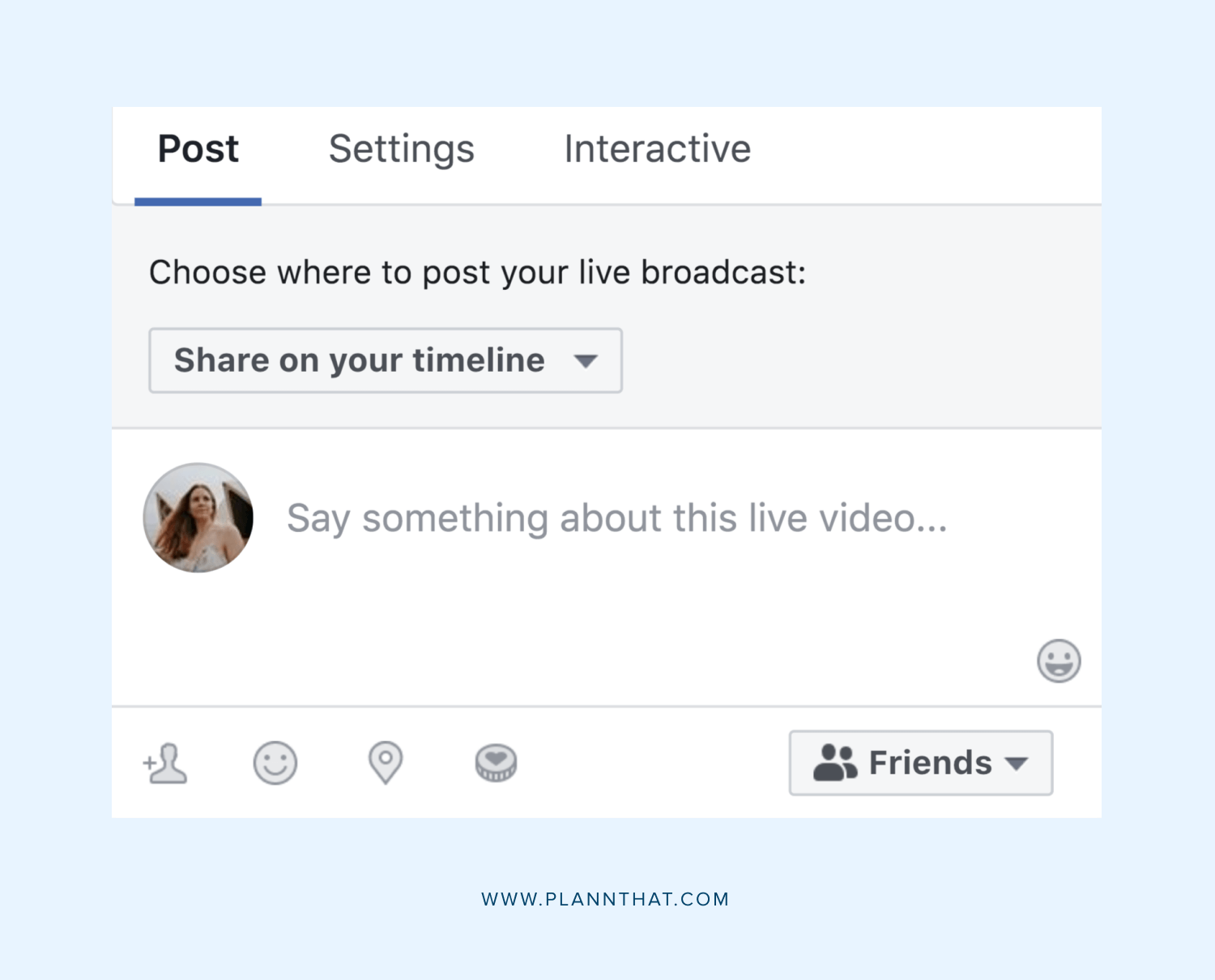 Step 5: Choose who will see your video from the dropdown menu (your options include 'Friends', 'Public' or 'Specific Friends').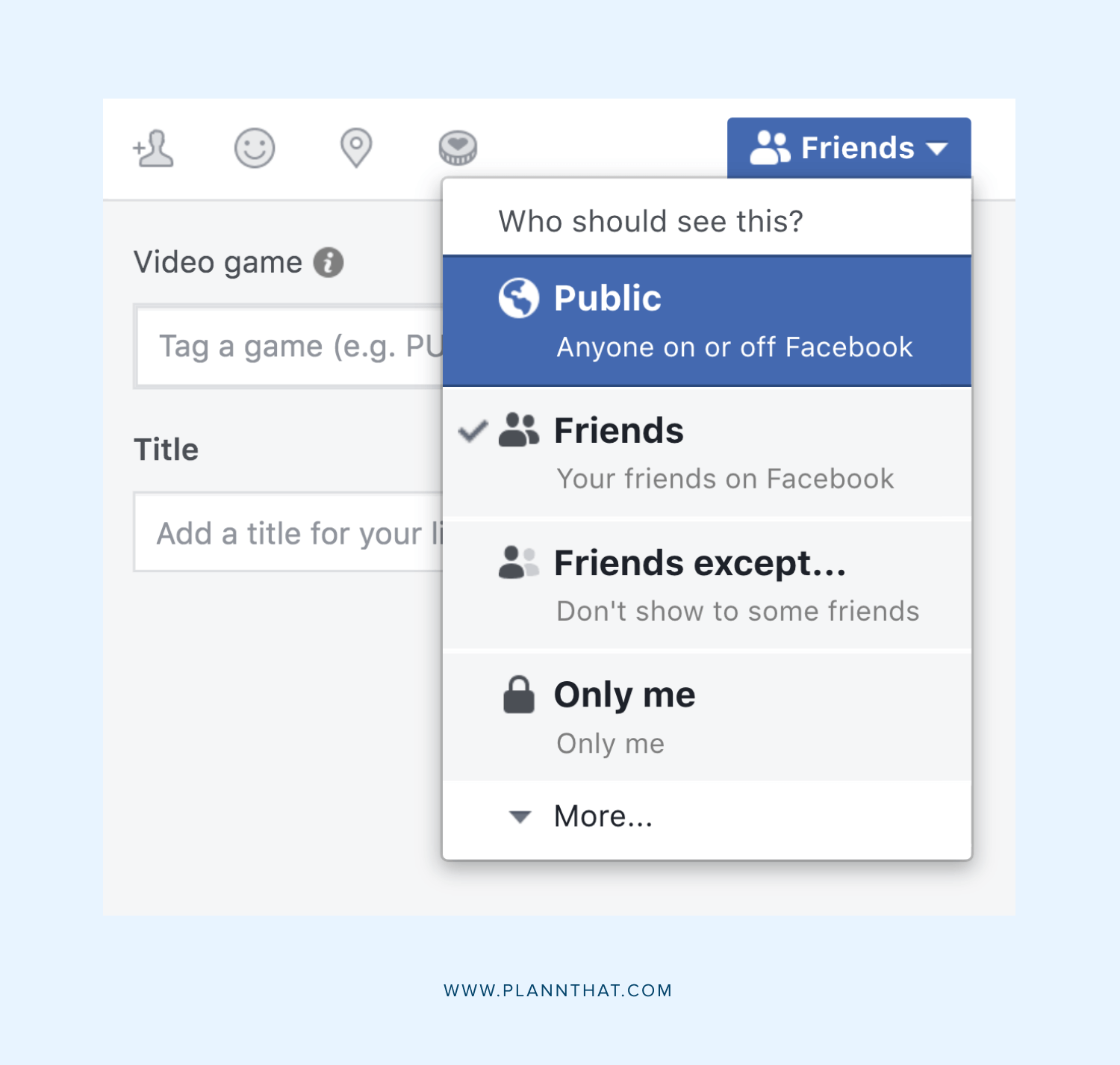 Step 6: Choose the option 'Share Screen' if you'll be sharing presentation slides.
Step 7: Add a title to your live broadcast.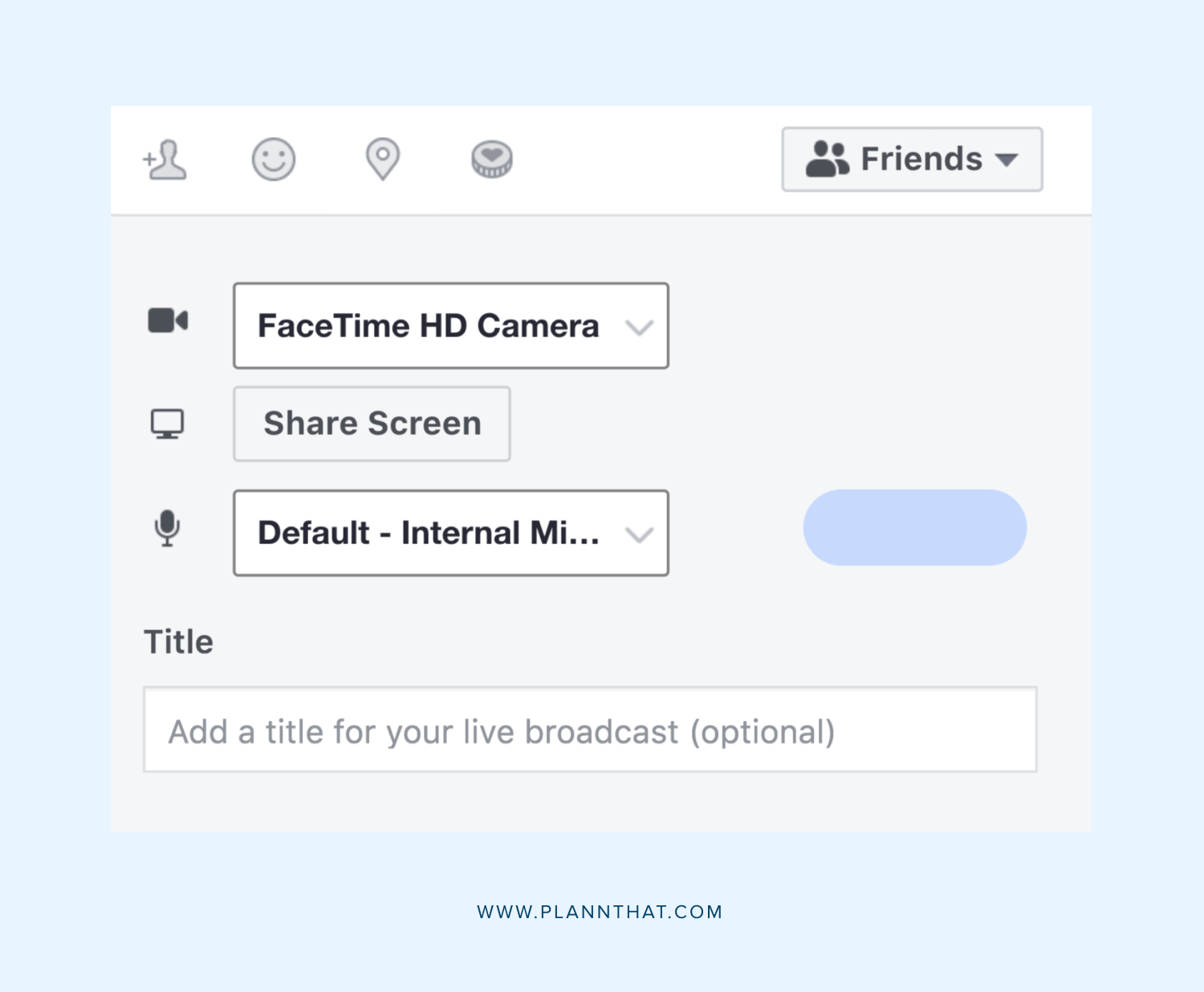 Step 8: Tap the 'Go Live' button when you're ready to kick off your broadcast.
Facebook Live Tutorial – On your mobile app:
Step 1: Select the 'Live' button from the top of your newsfeed.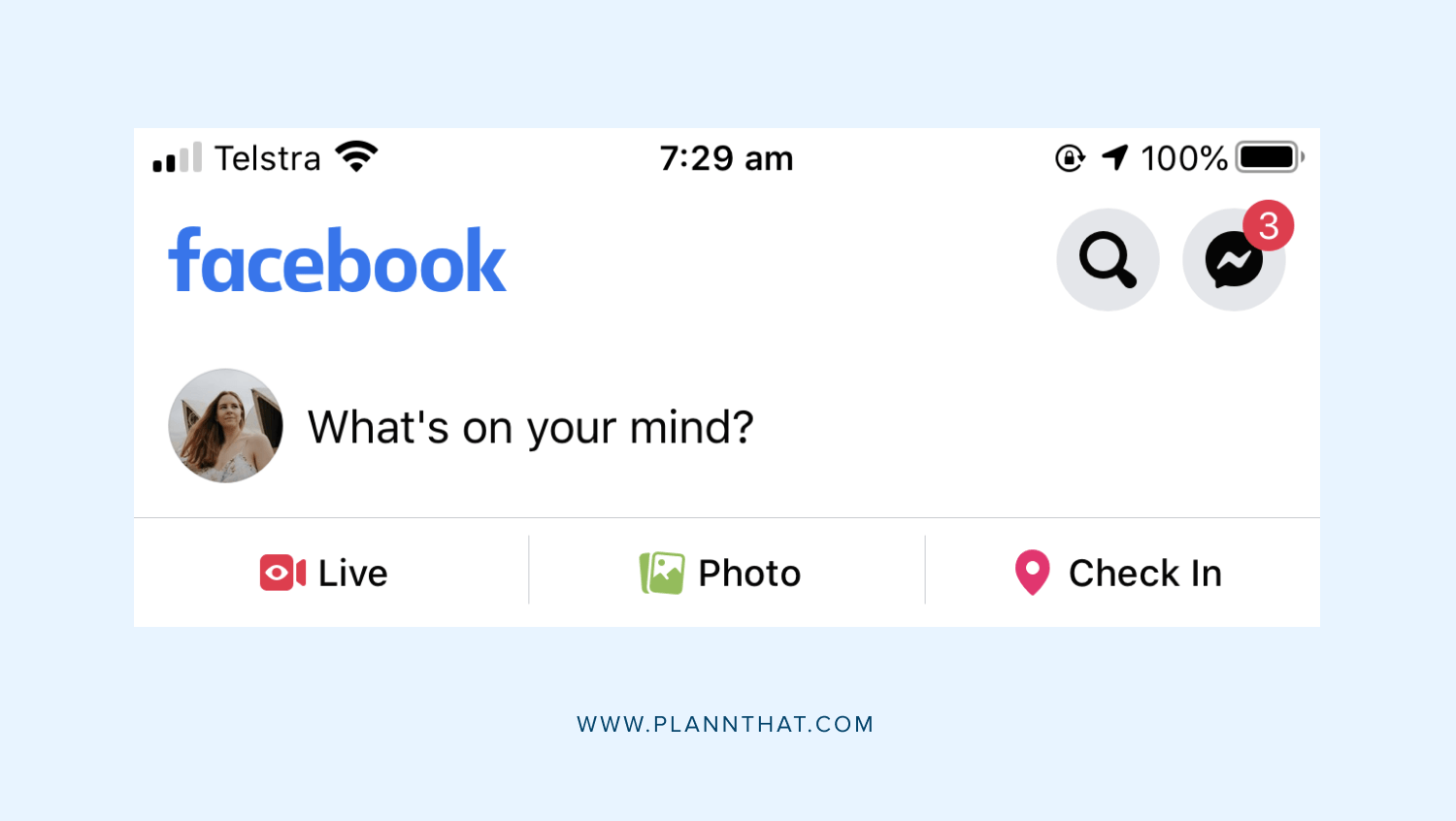 Step 2: Select 'To' to select the audience you'll share your broadcast with (your options including 'Public', 'Friends', 'Specific Friends' or even a custom list).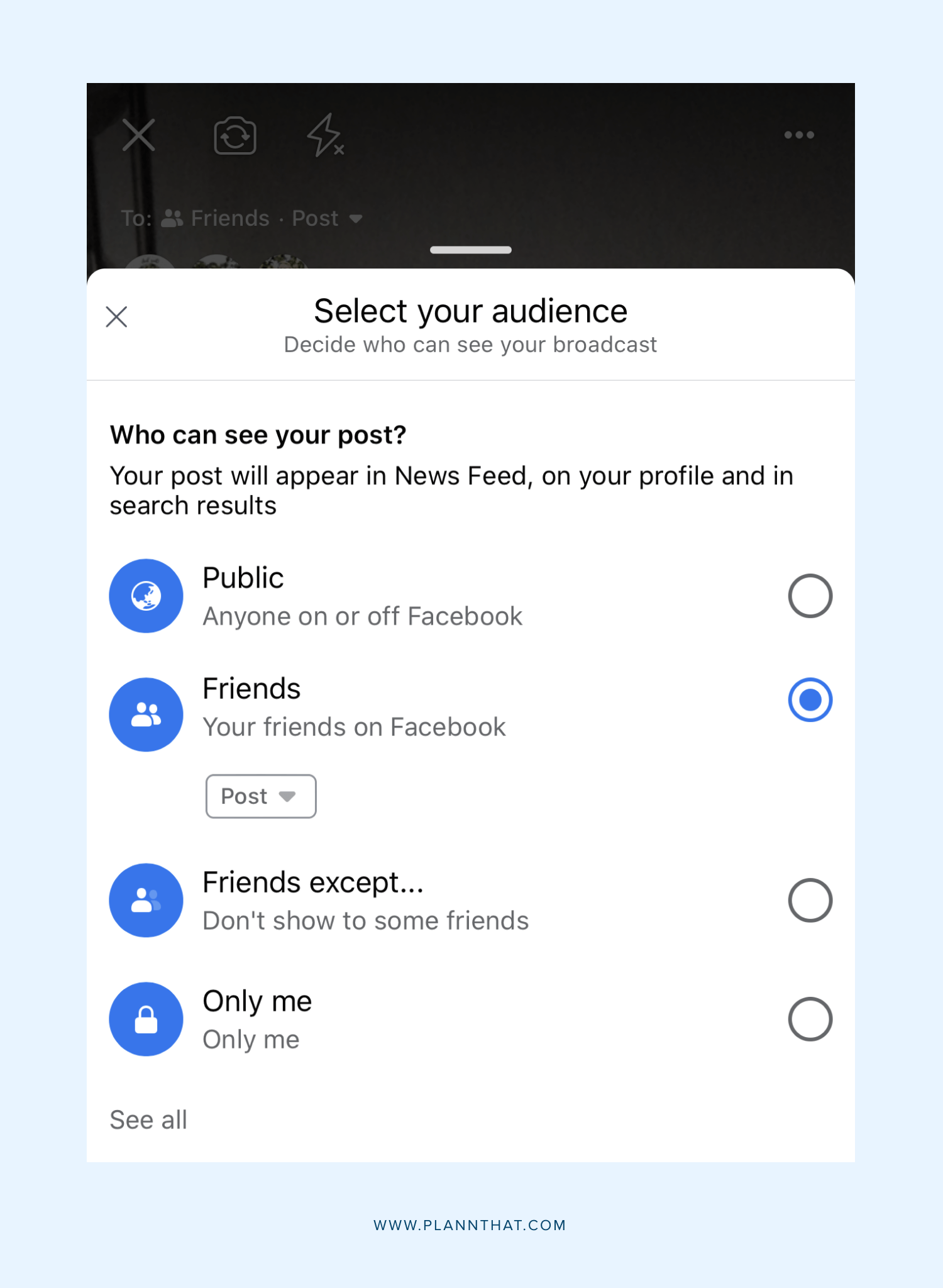 Step 3: Add a description to your video to explain what this live video is all about. Make sure to tag any other people who are appearing in your video and add a location (if appropriate).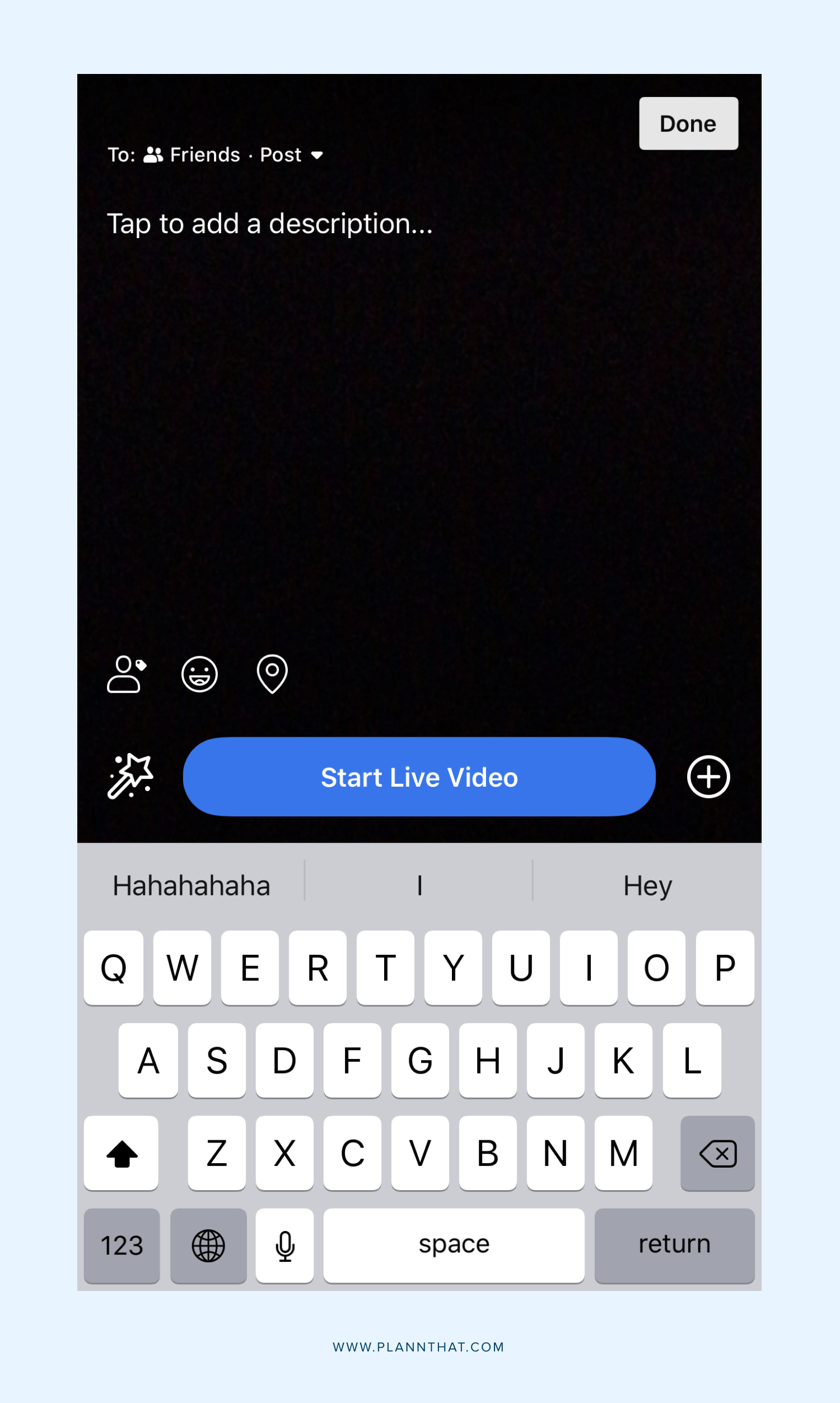 Step 4: Enhance your video with a mask, filter or theme created by Facebook. Get creative, the options here are endless!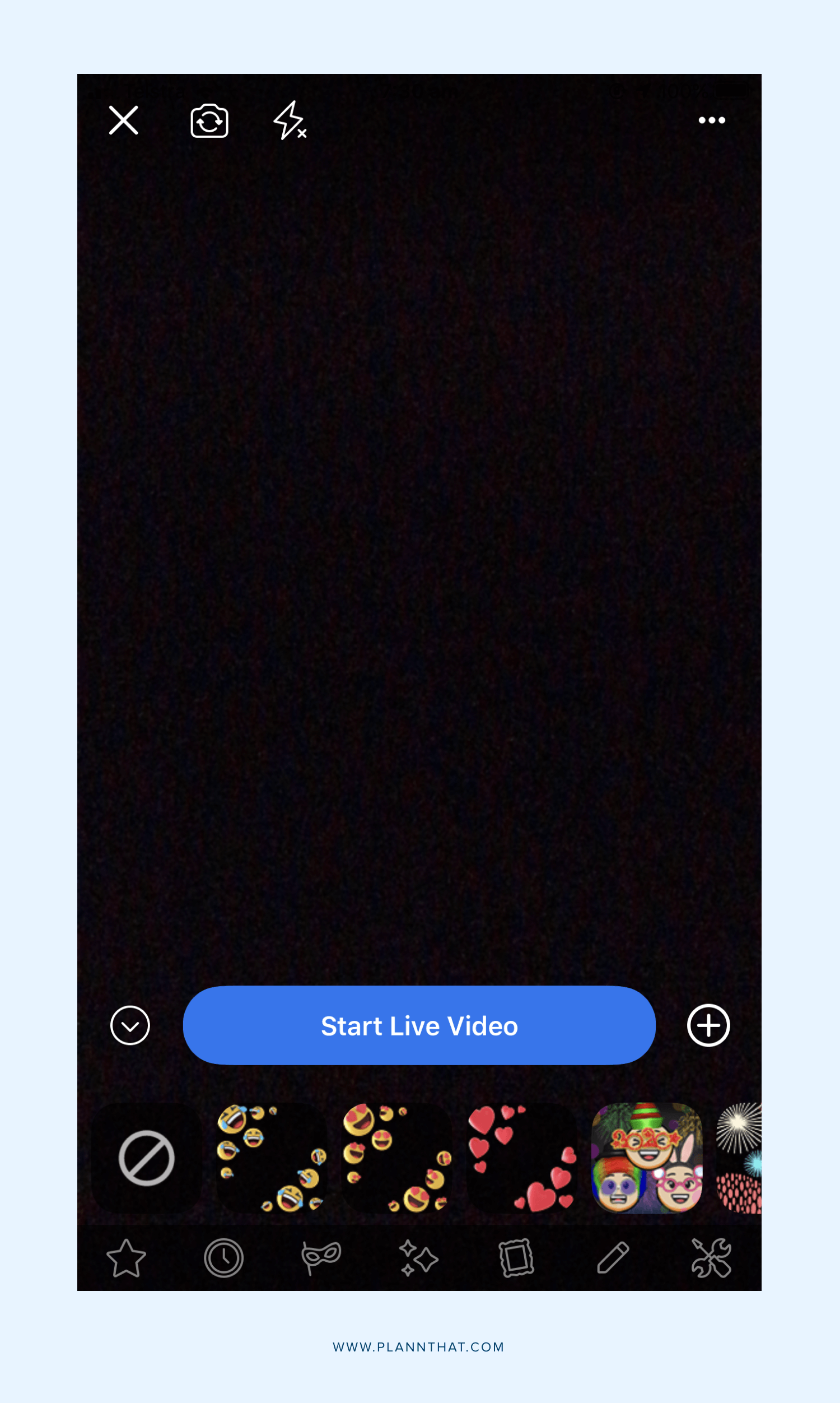 Step 5: Select 'Live Video' and tap the 'Start Live Video' button when you're ready to kick off your broadcast.
Our Top Tips For Creating A Successful Facebook Live Video
But wait, there's more expert advice coming your way! Before you launch into your first broadcast, there are some extra tips and tricks to ensuring you create a successful Facebook Live stream. So, what should you do to ensure the best results from your next live broadcast?
Tip 1: Have a plan
Set yourself up for success by creating a clear plan for your Facebook Live stream. Unfortunately, turning on your camera and hoping for the best isn't going to generate the best results for your business. Before you jump in front of the camera, clarify the purpose of your Facebook Live video. Are you announcing the launch of a new product? Do you want to answer your community's commonly asked questions? Will you be interviewing a special guest? 
The most successful Facebook Live streams require thorough preparation and planning to ensure the video is engaging, insightful and relevant for your audience. Make sure to come prepared with a list of questions or talking points to keep you on-track throughout your broadcast too. This will come in handy if you lose your train of thought during your live stream!
To beat the Facebook Live nerves, why not try practicing your broadcast prior to filming? The more preparation you can do ahead of time, the more confident you'll be when you start streaming!
Tip 2: Create anticipation by notifying audiences ahead of time
Want to ensure your audience tunes into your Facebook Live broadcast? The best strategy for boosting attendance is to notify your audience ahead of time. Share teasers and reminder posts to your social networks in advance to build a sense of anticipation. Plus, make sure your followers are alerted when you go live by asking them to turn on 'Live Notifications' on Facebook. 
Tip 3: Test your equipment before the broadcast
As you already know, practice and preparation are so important to creating a successful Facebook Live stream. To enhance the quality and professionalism of your Facebook Live, consider investing in additional equipment such an external microphone or tripod. 
But to avoid encountering technical difficulties during your broadcast, make sure to test all your equipment prior to your Facebook Live. This means checking you have a strong Internet connection, as well as setting up a back-up 4G connection in case your WiFi drops out at any point. 
One of the best ways to test your equipment is to use the 'Only Me' setting to run a test Facebook Live stream. This will help you feel more confident with the platform and can help you iron out any issues prior to your broadcast.
Tip 4: Respond to audience engagement
One of the benefits of Facebook Live is its ability to connect users in real-time. But, creating two-way conversations means hosts need to be ready to respond to questions and comments throughout their Facebook Live stream. Although it can be tricking to keep on top of comments as they come in during the broadcast, it's wise to set aside time at the end of the Facebook Live to host a Q&A. 
Start off your broadcast by asking a question or hosting a poll to give users a chance to reach out to you in real-time. Make sure you have a team member on hand to monitor and note down any relevant questions throughout the Facebook Live. This will ensure you don't miss any important questions and enables you to make the best use of your time for a successful Facebook Live stream.