Want to boost your Instagram engagement and level-up your social game?
Instagram Stories content needs to be an important part of any social media strategy, allowing you to connect with your audience in real time, sharing brand-building content.
Knowing how to increase Instagram Story views can seem like a challenge, but it doesn't have to be. When you're confident in your content strategy, your Instagram Stories can help you achieve all your grandest social media goals.
To help you on your way to Instagram stardom, we've put together 10 of our top tips to help you boost engagement on Instagram Stories!
The basics of Instagram Story engagement
Instagram Story engagement involves a few key components that work together to help you reach more people online. The most important things to keep an eye on are story views and interactions.
Story view data shows you how many people have clicked on your Instagram Story, tapped through to view more story content, or clicked away to exit stories and return to the Instagram feed.
Similarly, interaction data shows you the impressions your story content is creating. You can expect to find details about link clicks, profile visits, poll votes, and follows and unfollows.
To make sure your story engagement stays on track, remember to check Instagram Stories in your Instagram Insights and analytics tab. Here, you'll find plenty of useful information, including audience demographics, reach and viewer stats.
Get to know your audience well, and you'll be able to create better content in the future!
Why high engagement rates are so important
Why is Instagram Story engagement so important anyway? Well, Instagram Stories offer a unique content format, allowing you to share content quickly and easily. When you're not posting to the grid, Instagram Stories help you stay connected with your followers.
Instagram Story views and interactions also play an important role in the Instagram algorithm. That's right: leveraging the stories format can help you boost your overall Instagram reach. Get ready to watch your follower count soar!
By thinking strategically about your Instagram Story content, you can share stories that align well with your audience's interests and your account goals. You can communicate directly with your followers, building brand awareness and loyalty. Pretty awesome, right?
Our top 10 Instagram Story engagement ideas
The moment you recognize the importance of a strong Instagram Story strategy, you're on your way to producing amazing story content! Here are our best Instagram Story engagement ideas to help you.
1. Share Instagram Stories regularly
The world of social media is fast-paced. Keeping up is the first step to success! Posting regularly and consistently can help you get engagement on Instagram Stories.
If you share stories often, your brand will be visible at the very top of the Stories feed. Stories disappear automatically after 24 hours, so only regular posting can keep your content fresh and active.
For the best results, it's best to post to your stories at least once a day. Consistency is key, so include a daily story post as part of your marketing schedule on social media.
2. Add hashtags and location tags
You know the benefits of hashtag and location tagging from your experience on the Instagram grid. But guess what? Those things can apply to Instagram Stories, too!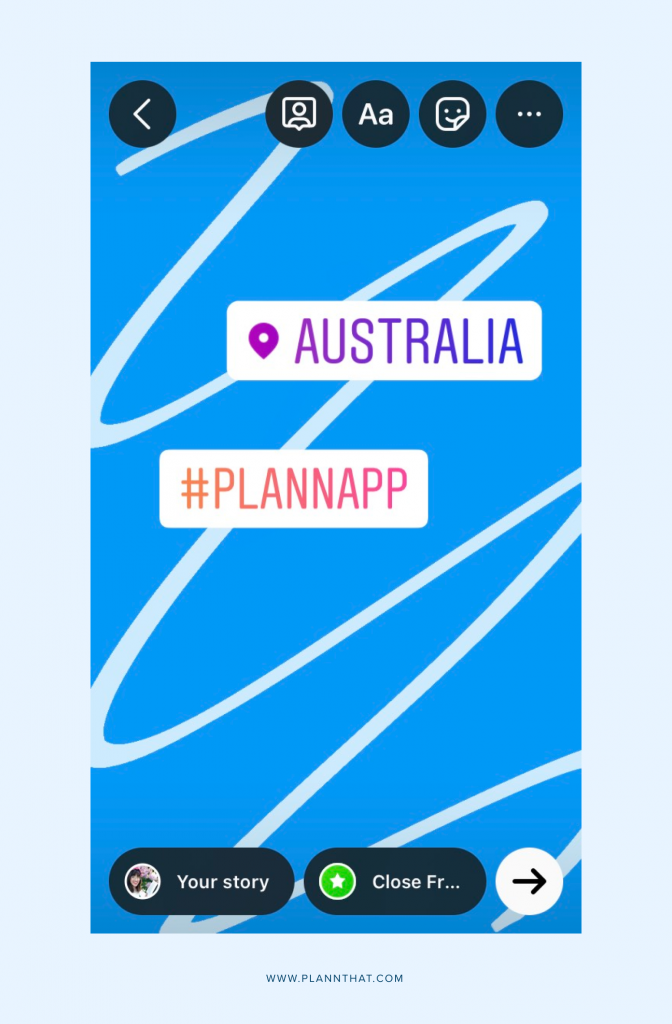 Hashtags and location tags help to make your Instagram Story content more visible and discoverable, allowing you to reach relevant audiences in your niche or region. When you tag stories, they are included in the tag's story compilation.
You can add up to ten tags per Instagram story. If you're worried about cluttering your aesthetic, hide tags behind another sticker or image.
3. Ask more questions
Questions are the classic call to action, helping to generate engagement from your followers.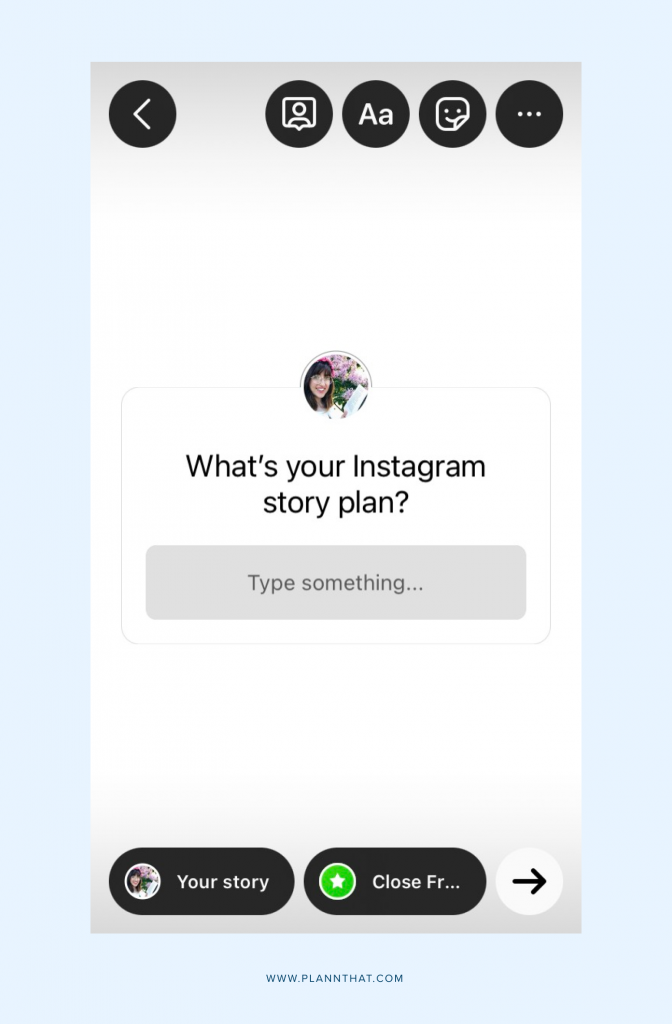 Like other social media posts, Instagram Stories should feature a strong call to action that encourages your audience to interact meaningfully with your content. Question stickers are an easy way to communicate with your followers, and even to conduct some informal market research.
The best way to chat on Instagram stories is by adding a Question sticker. You'll be able to reply to responders directly via DM or share their message as part of your next story!
4. Use polls and stickers
Polls and stickers are another great way to promote engagement and participation, giving your followers a clear way to interact with your Instagram account.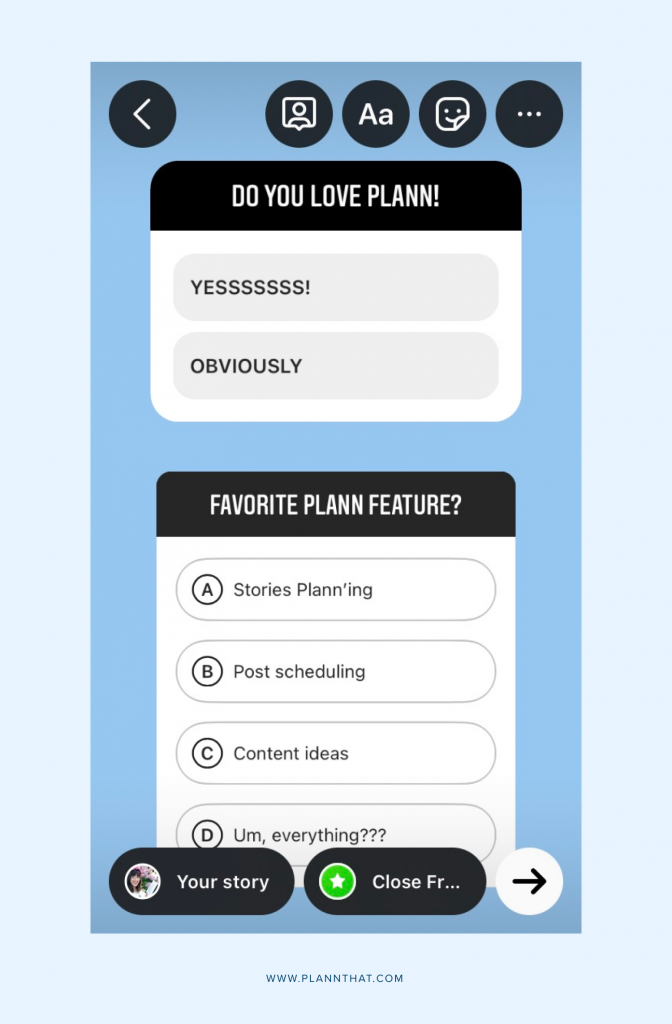 Polls, quizzes, and other Instagram Story stickers are a goldmine for engagement and also offer great opportunities for you to get to know your followers better. Share Instagram Stories with stickers that invite your audience to have their say in your account.
Looking for the results of your last poll or quiz? Check the bottom left corner of your screen to see who has viewed and interacted with your story.
5. Use the link sticker to drive website traffic
The link sticker is a new addition to Instagram Stories and is an amazing opportunity for you to refer your Instagram followers to your other digital channels.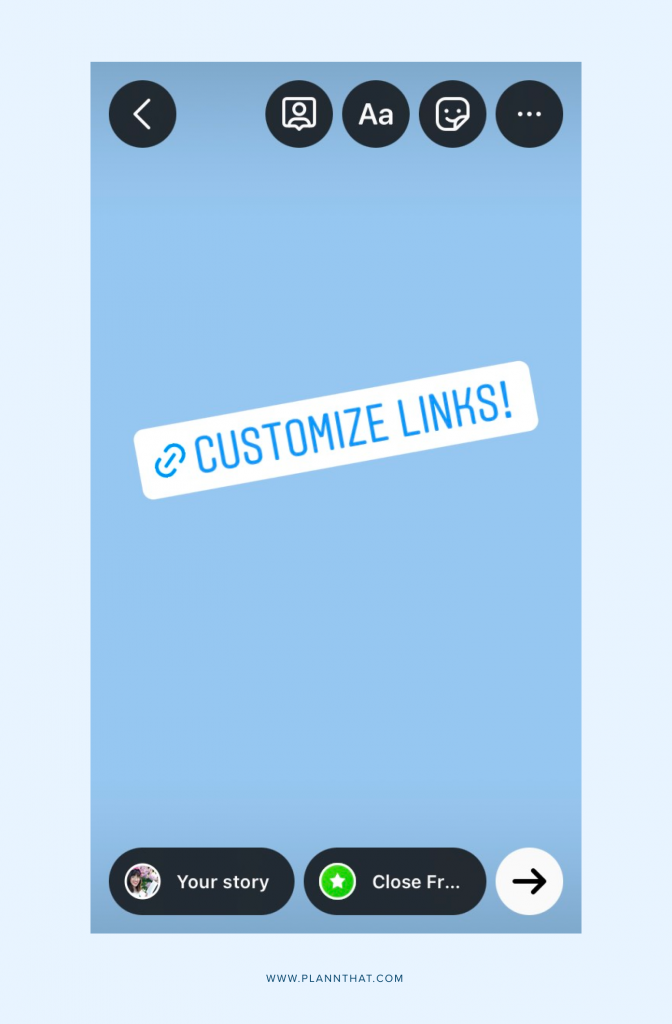 Designed to replace the old swipe-up link feature, the link sticker allows you to easily add external links to your Instagram Stories. Using this sticker, you can direct your audience to your latest, blog, your website or even your online store.
Pro tip for link stickers: Edit your link text so that it clearly states its online destination and aligns well with your brand and content goals.
6. Try a collab
Social media success is all about the power of community! Collaborating with other Instagram creators is a great way to boost engagement and reach.
When you work with other accounts in your niche, you can share resources and audiences, helping your content find new followers who are likely to be interested in the posts you share.
Instagram Story collaborations can take a lot of different forms, from challenges to account takeovers and even co-hosted Instagram lives. Brainstorm as much as you can to come up with something fun and unique!
7. Share other users' posts
Much like collaborations can help you improve your Instagram story engagement, sharing others' posts can be a great way to highlight community on Instagram.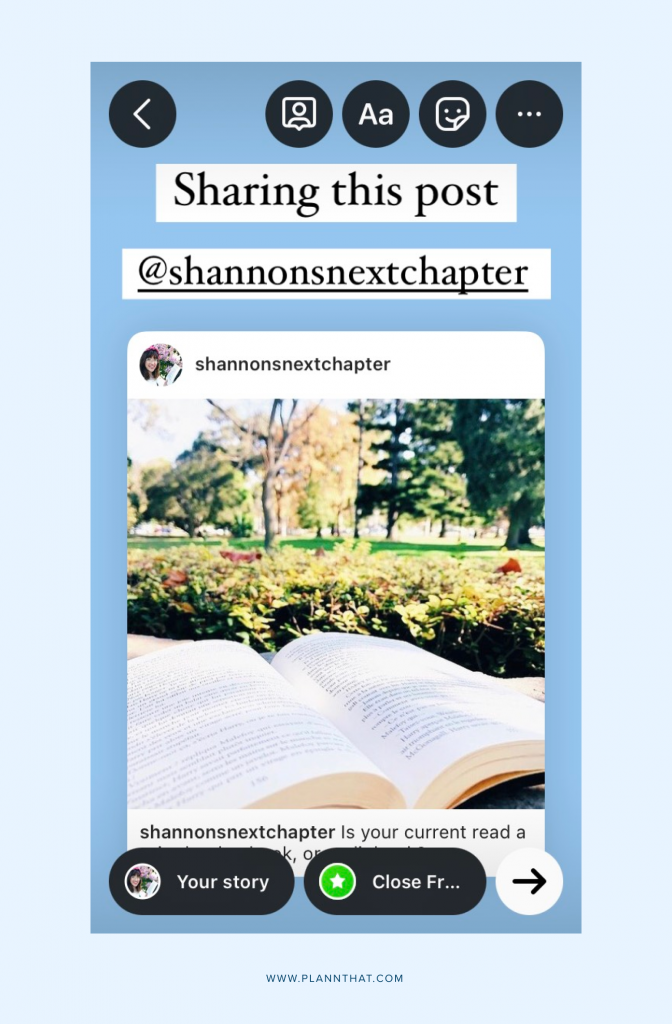 Instagram posts that include your product, service, or another relevant focus can help you fill in your content calendar when story ideas are running low. Think of this as a story-based approach to user-generated content!
Look for potentially shareable content by searching your account's tags and any branded hashtags or campaigns you're running. You can reshare UGC of customer visiting your store, using a new product or even reshare reviews of your products and services.
8. Create story batches
Here at Plann, we love to plan ahead (it's kind of the foundation of our brand!). You can save so much time and stress by planning, designing, and even scheduling Instagram Stories in advance.
Rather than trying to come up with ideas in the moment, we recommend mapping out a month of stories posts in advance. By filming, designing and scheduling these stories in advance, you can ensure you're showing up consistently on Instagram.
A well-planned, well-designed approach to Instagram Stories will encourage engagement and is a step in the right direction for strong brand management.
9. Know your audience
Your audience should be at the center of all your social media content! Stories are no exception.
Instagram Stories are a great place to help you get to know your followers better, finding out what content formats are popular and which posts respond best to audience interest.
Keep a close watch on your engagement rates to see how your followers interact with your story content. Today's analytics could be the key to tomorrow's content plan!
10. Stay on brand
Finally, even though Instagram Stories are mostly informal, it's important to stay on brand as much as you can.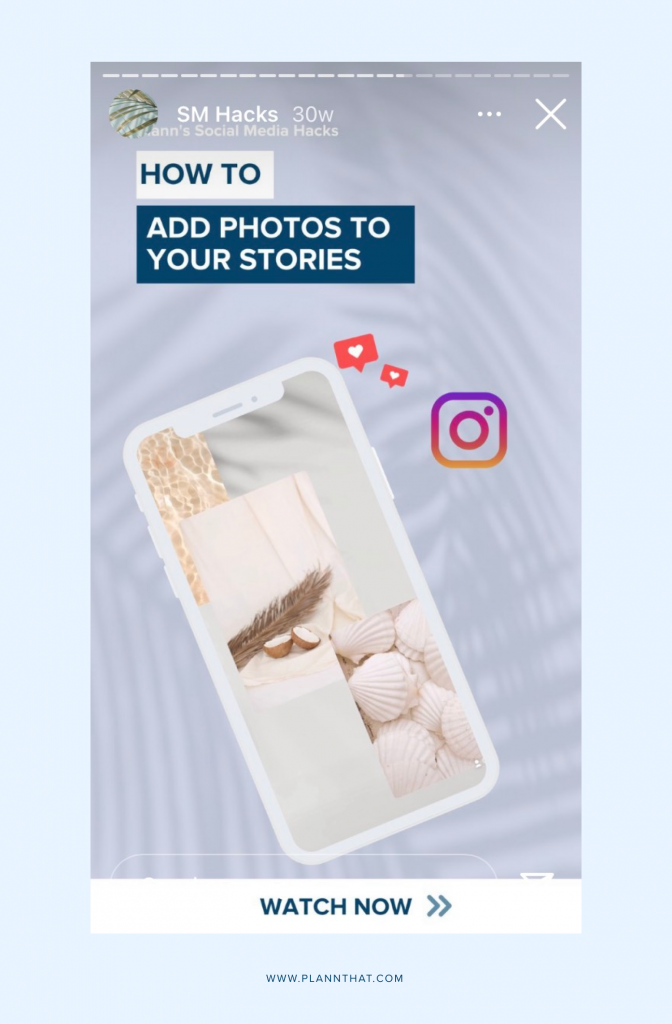 Whether you're sharing a new product launch or a day in the life at your business, stick to consistent branding materials, such as fonts, colors, and tone of voice. Remember your brand's values and mission, and make sure it plays a clear role in the content you create.
Good Instagram Story branding can help your followers recognize you on Instagram. Stories are a chance to build brand awareness. Make the most of it!
Ready to revolutionize your Instagram Stories game?
Looking for an all-in-one solution that simplifies your social media management? Plann has got you covered.
With our groundbreaking Auto Post feature for Instagram Stories, you can effortlessly schedule and publish captivating content, engage with your audience in real time, and keep your brand top of mind.
Take your Instagram presence to the next level with Plann and unlock the full potential of your Stories.
Go on, and redeem your 7-day free trial of Plann Plus. If you don't like it, keep using Plann for free!