Did you know that "How to skip a line in Instagram" and "How to add line breaks in Instagram captions" has over 500 million Google searches?!
You are not the only one who has pulled their hair out in the process of trying to clean up your Instagram captions, that's for sure!
It has been such a struggle (until now!) Yew!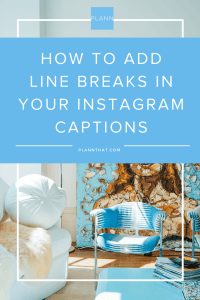 When you skip a line (add spaces) in Instagram it instantly gives you a cleaner more organised look, you can for example have "bullet points" or clearly defined paragraphs.
For example:
⭑ How to add a line breaks in Instagram captions is simple.
⭑ It helps your feed to look organised and clean.
⭑ Line breaks also makes it much easier for your followers to read the caption.
We have previously tried to create the above line breaks  with "special characters " or even underlines and dots, BAAH it's such a pain!
We are flipp'n excited to share a much easier way, where you literally just add a space, without any weird tools/signs/notes – you name it. You actually just have to press "return" to add a line break. YAS!

Step One: Open the Plann App
Open your Plann app and then follow these 100 steps – JOKING! It's super simple!
When you have added your pictures to your "Plann feed" just tap the picture you want to create a caption for, and begin writing the caption.
To create a line break just press "return" after finishing a sentence. TADA!
Create as many line breaks as you want to, as many times as you want to!
When you are ready to post to Instagram, just press the Instagram icon and you will be taken to your Instagram account.
The image/video you have chosen will be there ready to go, and to add your perfectly spaced caption just tap "paste" where you normally type in the caption in Instagram.
The caption will then follow – WITH THE LINE BREAKS. YEHO!
Say goodbye to notes, dots, "invisible emojis" – you are good as gold!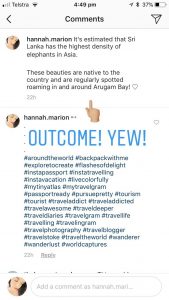 How excited are we about this feature?! So freakin' excited!
Bonus Tip: Schedule Your Post
For the people who do not have Plann yet, there are some nifty features that will help you to get your Instagram grid on point.
After you have added your line break in your caption, you can easily schedule the post for later. Plann'ing is the best way to make your Instagram thoughtful and stand out from the rest.
We also let you know your best time to post.
Read: *when you get most likes/comments on your post* – YAS!
When the time has come for your content to be posted to Instagram, you'll be sent a push notification to remind you.
Want to know when the best time for you to post is? Read here!
What should you write in your Instagram captions?
So, you have the perfect photo, filter, location, your best time to post and you know how to add spaces in the Instagram caption… but WHAT to write? Dun dun duuuuun.
Should you be serious, funny, straight to the point or..?
Let's say a great caption is the one that adds value, personality, engage with the audience and of course in many cases – has a clear but friendly call to action.
Does it sound like a small headache? Not at all! Now when we know how to make the caption organised and clean with the line breaks, we are already happy bees! You should definitely schedule your posts, just so you never have to write a half-arsed caption while you have 1000 of other things to doat the time. The best caption is one you've thought about!

Brand Voice
Always let your personality shine through. People like to get a connection with you, and your brand-voice is key! Use your personalized brand voice across all your channels, (blog, Instagram, Facebook, webpage etc). This makes it easier for your followers to feel engaged with you, not only with the post itself.
Emojis are great to use since they easily explain your mood, your face expression or even "what to do next" For example, add a finger pointing to your "check out xxx for more!"
Read more about brand voice here.
Call to Action
What is your goal with the Instagram post? It could be anything from like/comments, or for people to check out your blog or buy your products. Either way it's good to have a clear call to action.
If you are looking for comments etc, simply ask a question in your caption. If you uploaded a photo of a beach, simply ask: "Tell us about your favourite beach spot in the comments!" or if you uploaded the best food picture of your LYF, go ahead and ask: "Which one of us has ordered the best food?" Add a couple of suitable emojis, have your brand-voice on point and TADA!
This will help the followers in the direction to leave a comment and engage with you and your post. If your want them to visit your blog/website ask in a similar way and always add the link in your bio.
Depending on your purpose, a short or long caption can be effective. Do you have something to teach, give the followers a few bullet points (add the line break without underlines or dots with Plann) Save the call to action to the last sentence. Keep the caption interesting and without too much "fluff" to keep the followers engaged.
Mentioning someone else in your Instagram captions can also be a great way to show Insta-love and personality.
Can't wait to organise your captions with line breaks?
Go get'em tiger, we are very excited to see all of your new (perfectly spaced) captions! Download Plann here:
Psst, do not forget to schedule your post to go up at your best time to post; you can find that info inside the app!