Imagine this: you're searching for a product online and came across two similar brands offering what you're looking for. Company A has more than 500 reviews. Company B has only five reviews.
Which one would you choose?
Chance are, you'd be more likely to choose company A because the number of reviews shows that other people have already trusted the brand – that's called social proof.
Brands use social proof marketing in many areas, especially in online and social media marketing. Ready to learn how to harness social proof? We'll run you through why you need social proof for your brand and how to get started.
Let's jump right in!
What is social proof marketing?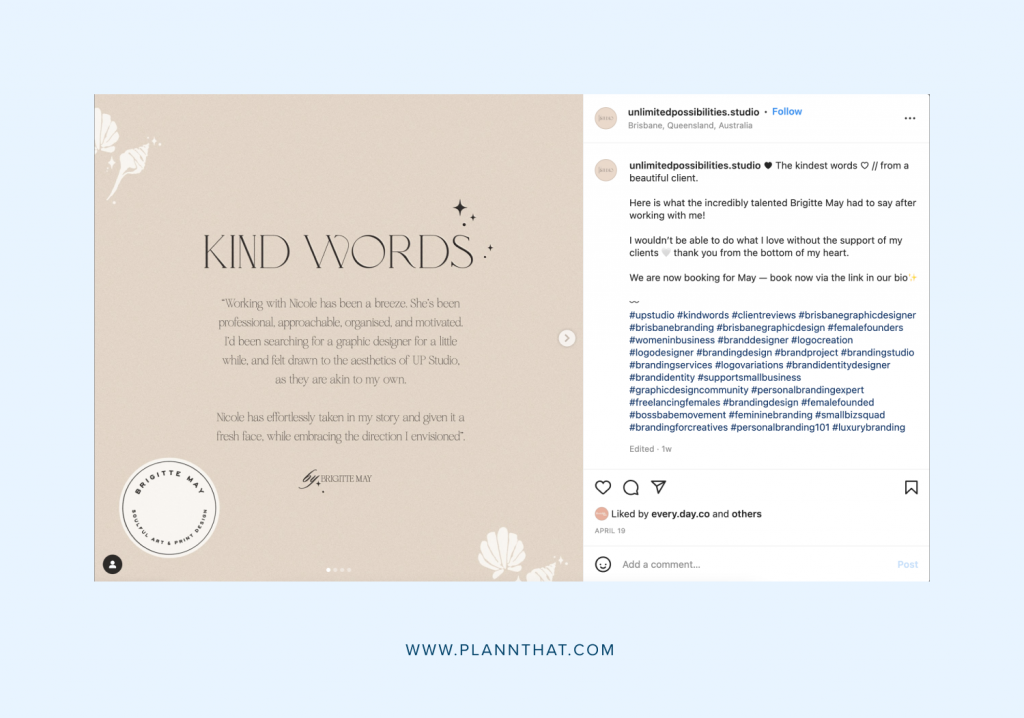 Social proof marketing harnesses the power of your audience and customers to convince potential customers to trust your brand. Social proof can come in a stack of different forms, from Google reviews to product ratings and even user-generated content on social media. 
Potential customers need to be convinced that your brand offers the best solution to their problem or the best product on the market. Social proof allows your happy customers to vouch for your products and services in their own words. 
What makes social proof so effective is that it comes from an unbiased, independent third-party source. Sure, you can brag about how great your products and services are via your own marketing. But, nothing is more compelling or convincing than a past customer raving about your latest release. 
We also know that social proof is a cost-effective way to drive results for your business. Why? Because you can score it free of charge from your past customers. By simply encouraging shoppers to leave a review, rate your products or share a photo of their experience on social media, you've scored a bank of high-value social proof that you can share with potential customers. 
Essentially, it's all about letting your past customers convince potential customers to trust and shop with you.
Five social proof examples
So, what are some tangible examples of social proof marketing? Here are a few content formats to get your creative juices flowing.
• Ratings and reviews: from Google reviews or eCommerce store ratings, your business can harness this positive feedback as a way to market your brand to new customers. 
• User-generated content: every single post your customers, store visitors or happy clients share about your business are a powerful piece of social proof (ready for you to repurpose and reshare!).

• Testimonials: glowing written feedback about your team, your products or services can easily be used in your next social ad or piece of marketing content to build trust with potential customers.

• Display of the number of current users/customers: another way to build trust through social proof is to show how many users have already converted and signed up to your app, bought your product or worked with your business.

• Positive action notifications on your website (e.g., "John has just purchased the product"): these website pop-ups show real-time notifications when a customer makes a sale. This can motivate potential customers to convert as they know other users are taking action, too.
8 ways to get started with social proof marketing
Ready to put this new knowledge into action? Let's guide you through eight practical steps you can take to add social proof to your marketing strategy.
1. Encourage customers to leave reviews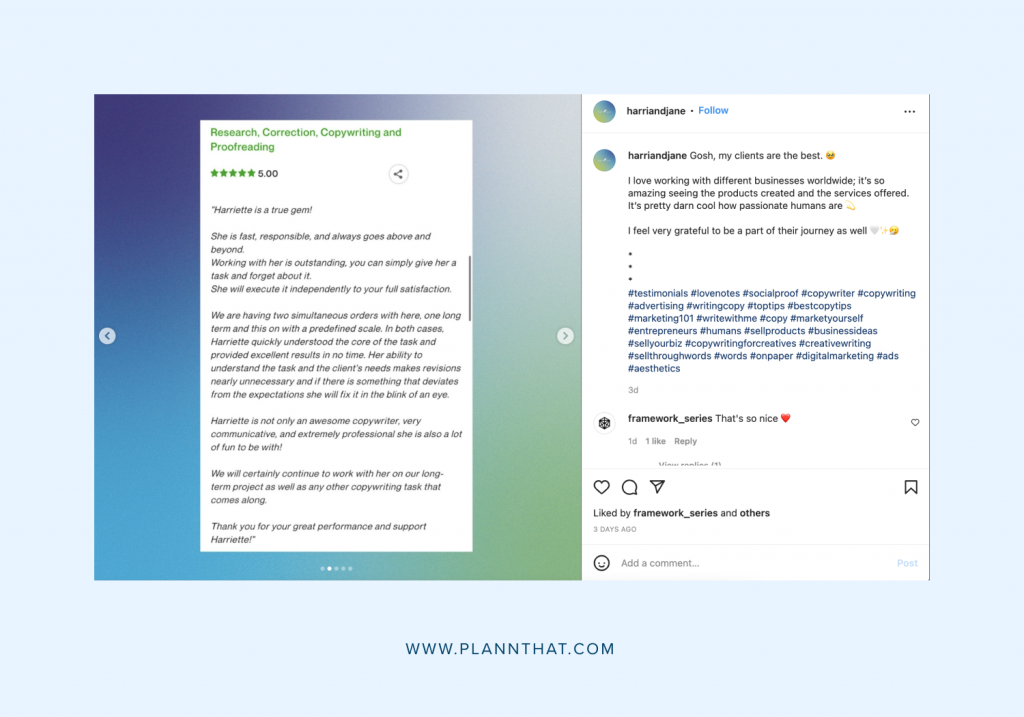 One of the best ways to increase your pool of social proof is to ask your customers to leave a review. Whether you add a review button to your eCommerce site, use a tool like Trustpilot or enable Google reviews, this is a simple yet effective way to increase your bank of social proof. 
Here are some tips for asking customers for positive reviews:
• Add prompt to your surveys
• Send a follow-up email asking for reviews from past customers 
• Offer incentives or host a contest on social media 
• Reach out to repeat customers
• Spotlight the customers who left reviews 
2. Be responsive
Responding to customer reviews builds customer loyalty and promotes engagement. 
In a nutshell, every review you receive should be acknowledged by your business with an interaction or comment. No matter whether these reviews are positive or negative, you need to be showing accountability and responsiveness at all times. 
Plus, responding to past reviews might even encourage customers to interact with your brand again or even become a repeating customers. 
3. Use influencer endorsements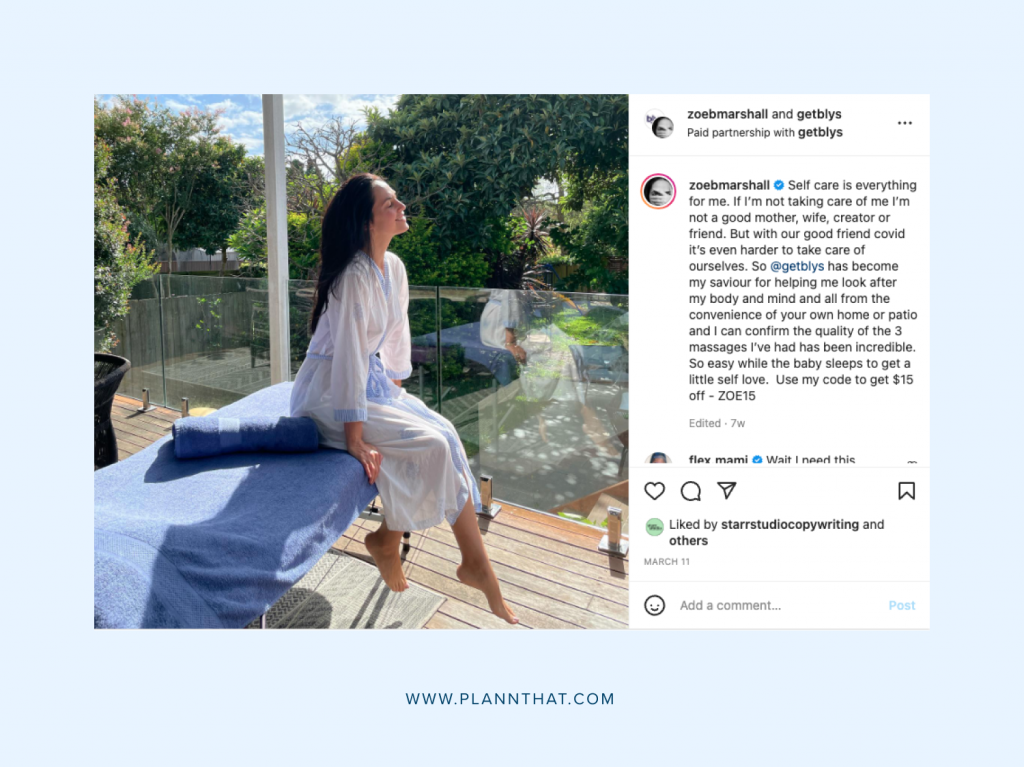 Influencer marketing is a low-cost way of generating valuable social proof.
This is more common on Instagram than on other social media platforms. As a brand, you can find influencers of any size (from big names to micro-influencers) to promote your product and build trust with new audiences. 
The key to getting the most out of influencer marketing is to ensure you pick influencers with an audience that is relevant to your target market. That way you can get your brand and products in front of valuable new audiences. 
4. Show appreciation for social proof moments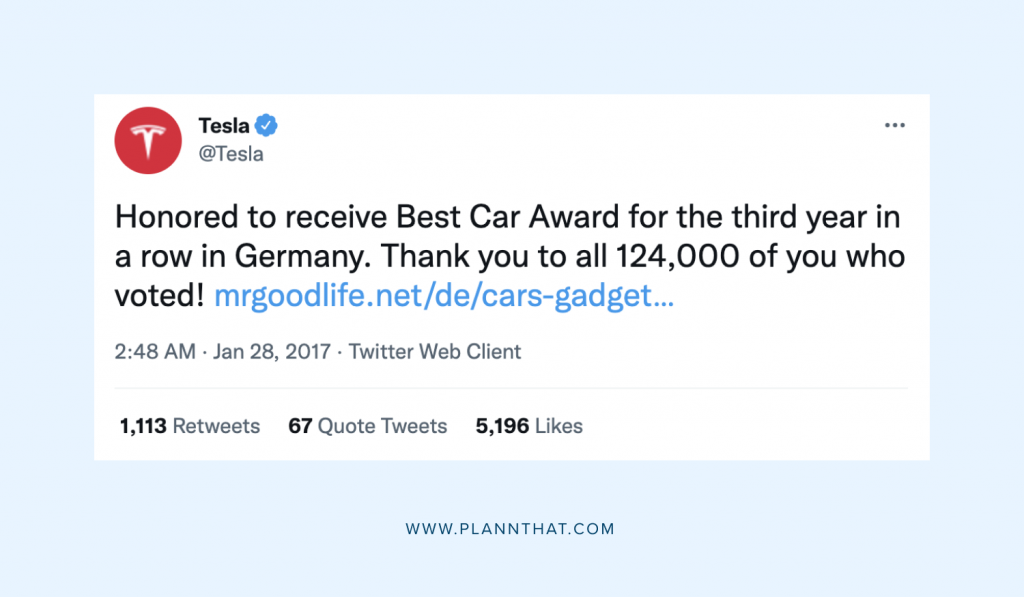 You could get a shout out or mention from the press, a large brand, or an industry influencer, it's important to harness these moments and use them to your full advantage.
By resharing or mentioning these moments on your own social channels, you're able to use this as an opportunity to connect with your audience and build trust in an authentic way. 
For example, when Tesla received the Best Car Award in Germany, they made a Tweet showing their gratitude to people who have voted for them.
So, next time you receive a piece of good PR or a brand shoutout, make sure to repurpose it on your own social channels. 
5. Share significant milestones
Showing gratitude for your user or follower-related milestones is another quick way to create social proof.
Here are some of the ideas of milestones you can celebrate with your followers:
• Reaching a total of X followers on your social media
• Getting X amount of users or customers
• Reaching X downloads of your mobile app
• Brand-related anniversaries 
6. Curate user-generated content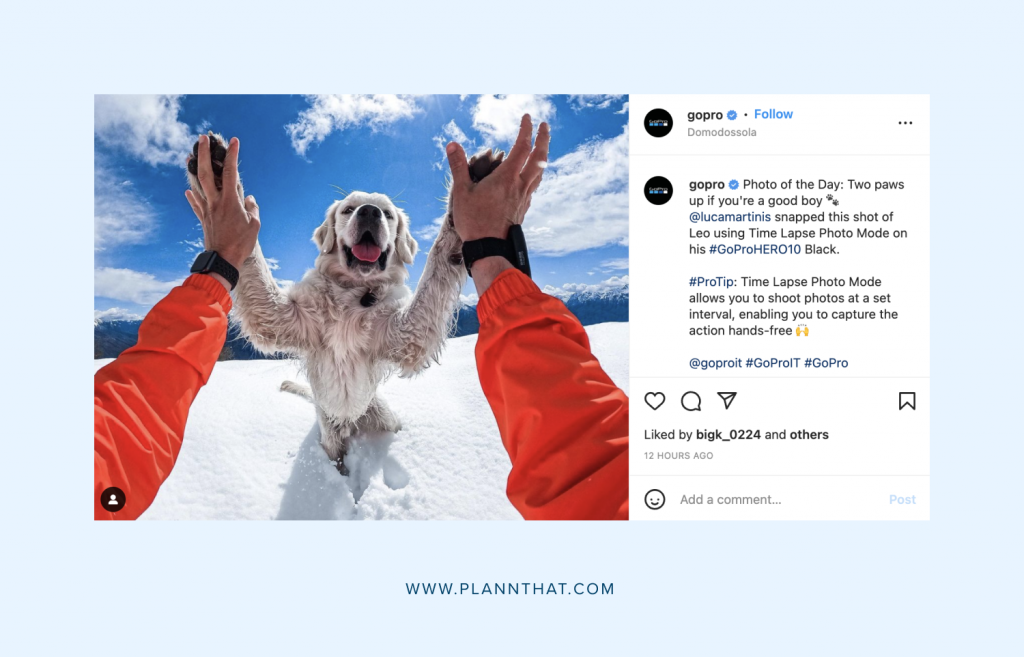 User-generated content (UGC) is one of the best ways to social proof your brand. You could encourage your customers to share their experiences on social media and include a branded hashtag.
Then you can easily go through the posts created with your branded hashtags and repost the content on your Instagram feed or Instagram Stories. But don't forget to tag and thank your customers when you repost their content!
7. Mention the size of your user or customer base 
If the size of your user base is significant, it's a good idea to include the number in your social media bios.
This is an excellent example of social proof and is a simple yet powerful tactic to show the size and scale of your audience. People are more likely to have a good first impression of your product if they see how many other users are already trusting your brand.
8. Get verified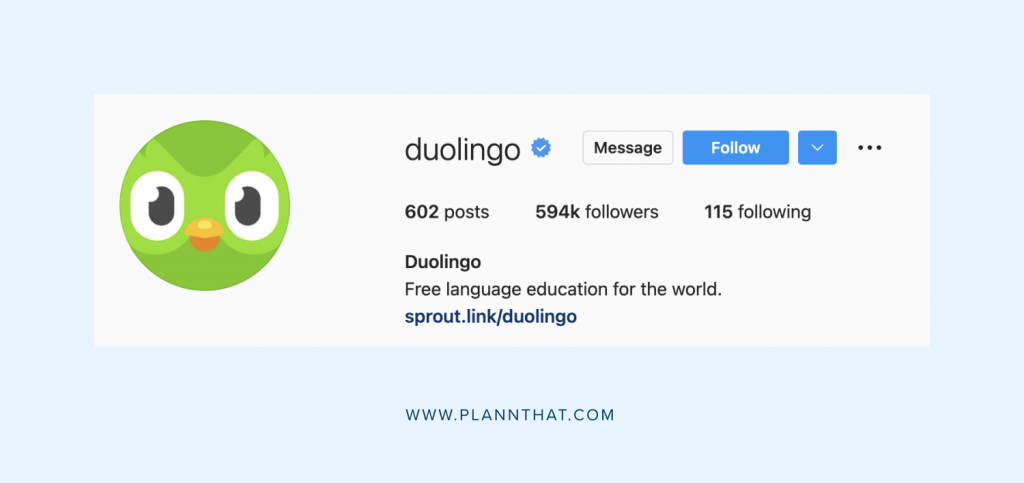 You can get verified on Facebook, Instagram, TikTok, and Twitter and obtain a blue checkmark in your bio.
A blue checkmark next to your name is a top-notch type of social proof certification. By scoring this checkmark, the social media network has reviewed your profile and has determined that you are famous, influential, or interesting enough to receive the checkmark, which is usually reserved for celebrities and large enterprises.
Ready to harness the power of social proof marketing?
Now that you know what social proof is and how to social proof your brand, it's time to make a plan and start generating genuine user reviews.
If you've got a bank of impressive reviews and UGC, now is the time to put this social proof to work. With the right tools in place, you can effortlessly plan, schedule and post your social proof on auto pilot (and watch your sales skyrocket).
Did you know that you can easily plan and post your content across social media with Plann? Go on, try a fully-featured Plann account with our 7-day free trial. If you don't like it, you can keep using Plann for free.