What's one of the best parts of social media? Having a convenient platform to share your life news with your friends, family and followers!
No matter whether you're an influencer, brand or just everyday person, there's nothing wrong with being a bit 'extra' with your announcements. It's an excellent way to spread positivity and give your audience more of a behind-the-scenes glimpse into your life!
Whether you're looking for social media ideas for pregnancy announcements, your engagement to the love of your life or other life occasions, you'll find inspiration to spark your next announcement
Let's start celebrating!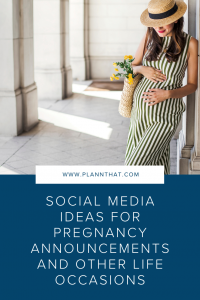 5 Fun Ways to Announce Your Pregnancy on Social Media
Stuck on ideas for how to announce your bundle of joy to the world? Here are some fun ways to let everyone know your family is expanding!
Post Your Sonogram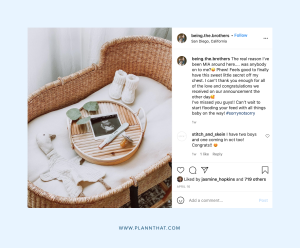 Posting your sonogram onto social media is a simple yet classic way to announce you have a bun in the oven.
Plus, you can get creative with how you use the sonogram! For example, you could post only the photo with your due date, or you could do a shoot with you and your partner holding it to the camera.
You can even incorporate your younger self and post your baby photos with your birth year and your baby's sonogram in the middle.
Let your imagination run wild!
Take a Photo With Balloons Spelling Out Your Pregnancy Announcement
Who doesn't love balloons?!
Grab some from your nearest store and spell out you're having a baby!
You can pun it up with something like 'holy guacamole", we're having a baby", or keep it simple with balloons spelling out your baby's gender.
Involve Your Older Children in a Fun Photoshoot
If it's not your first, get your other children involved in your social media pregnancy announcement.
You can have your eldest hold up a sign saying 'no longer an only child' or 'I'm going to be a big sister/brother' with your due date.
Another cute pregnancy announcement photo idea is to have your kids holding up a number (signifying their birth order) and the last number resting on an empty chair.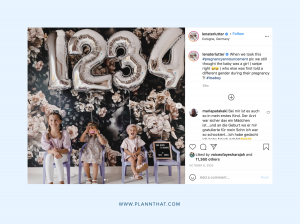 Make a Sibling Announcement With Your Pet
Don't have an older child? No problem!
Use your fur child to announce your pregnancy on social media.
Stage a photo shoot with your pets and add a sign that says something like 'the humans are expecting', 'my parents are getting me a human' or 'the battle for mommy's attention begins' with your due date.
End Your Post With These Pregnancy Captions
Once you have your pregnancy announcement idea sorted, write the perfect caption. Here are some ideas.
• The best is yet to come… (due date)."
• "We have a bun in the oven".
• "And the baby makes three."
Creative Engagement Announcement Pose Ideas for Social Media
An engagement is a special moment that only happens once in your life (or eight times, if you happen to be Elizabeth Taylor!)
Why not celebrate with a social media post that perfectly captures the moment and love between you and you're your partner?
Here are some of the best engagement announcement pose ideas.
Coffee Mug Announcement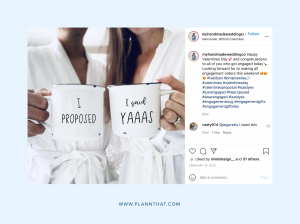 An engagement announcement mug is a super cute way to tell social media you're officially off the market.
You can find some on Etsy, or you can DIY your own.
Over the Shoulder Engagement Announcement
For a romantic photo idea that never fails, try the over the shoulder shot. Have your hand draped over your partner's back and get a close-up photo of your ring.
Upload to Plann, write the perfect caption, and you're ready to announce your engagement on social media.
'Follow Me' Engagement Announcement
The 'Follow Me' shot is a gorgeous idea that works for your travel shots and engagement announcement.
All you need to do is walk in front of your partner, grab their hand, and keep the focus on your hand with the ring.
Announcing Your Baby's Birth on Social Media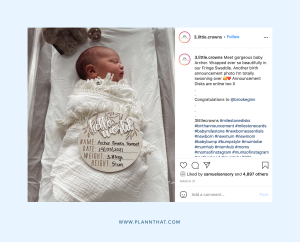 Okay, so what do you do once your bundle of joy is here?
Here are some fun ways you can announce your baby's birth.
Shoot a Sneak Peak
Don't want to share your little one's face just yet? No problem!
Post a photo of your baby's tiny feet or hands.
It allows you to show off your bundle of joy while also keeping their face-off on social media until you're ready.
Use a Baby Name Plaque
Wrap your baby up in a blanket, and lay a tiny baby name plaque on their stomach. It's a cute way to announce your baby on social media and let everyone know their name at the same time.
Start Plann'ing Your Social Media Announcements
Once you've planned out your shots and taken your photos, it's time to hop onto Plann and get them out into the world.
Upload your posts and videos and plan your social media announcement to go out at the perfect time.
Sign up for your free trial of Plann today and start sharing your good news!