Have you ever looked at your favorite Instagram account and thought to yourself, 'how do they get so many likes, comments and followers?' Is there a magic formula they're following? What makes their posts so engaging? How do they constantly have new, interesting content to share with the world? 

Unfortunately Plann'rs, there's no secret formula to nailing social media. In fact, it's all about understanding your audience to ensure you're creating value-driven content. Sounds complicated? Not at all!
In this blog, we'll be diving into:
– What social media engagement is and why it is valuable to your brand
– How to start genuine conversations with your audience on social media
– The importance of having a clear community management strategy
– Why you should be turning client feedback into social media content opportunities
– Examples of brands who are nailing social media engagement and MORE!
So, keep reading as we reveal 21 simple ways you can increase your social media engagement!
What is social media engagement (and why is it important)?
Think about all the ways you interact with other accounts on social media. From tagging your boyfriend in another cute dog video on Facebook to liking the latest Instagram photo from your favorite shoe brand, each of these actions is called an 'engagement'. Social media engagement occurs when a user interacts with your brand. The key metrics of social media engagement include:
– Likes
– Follows
– Shares
– Comments
– Retweets
– Click-throughs + MORE!
So, why is all of this important? Well, we're glad you asked! By paying attention to these engagement metrics you'll be able to measure the success of your social media campaigns. If your goal is to drive traffic to your website, analyse the number of click-throughs from your social media posts to see if your content is resonating with your audience (or not). 
Remember, social media is about fostering long-term relationships with your audience. Every interaction your customers have with your brand will make an impact on whether they choose to buy or engage with you in the future. So, how can you create meaningful relationships with your audience on social media? Keep reading to learn more!
1. Share valuable content to start a conversation
What are the ingredients of a good conversation? Is it when one person dominates the room? Or do the best conversations happen when we share ideas and ask questions? We're sure you know the answer here! In fact, the same principle applies when you're sharing content on social media. 
To boost your social media engagement, start by sharing content that is value-driven and tailored to your audience. Think about the common pain points or questions you're asked by your customers and use these topics as a starting point for creating social media posts. Why not create a blog post addressing these concerns and share this helpful content with your followers? 
Plus, you can also use this as an opportunity to engage your followers by asking open-ended questions. Try asking your audience:
– What tip did you find most surprising, and why?
– Are there any questions you have about X topic?
– What topics would you like us to cover in our next blog post?
2. Curate and share user-generated content 
Think about the last time you bought a big-ticket item like a new TV or car. How did you choose which brand or model to buy? If you spent hours scrolling through user reviews and ratings, you're not alone! In fact, nearly 95% of shoppers check out online reviews before deciding whether or not to purchase.
So, what does this mean for boosting your social media engagement? It's all about understanding the power of user-generated content (UGC). Every time someone posts about your brand on social media, they are creating valuable content for you to leverage! By resharing these posts to your own social media channels, you're letting your customers advocate for your brand in their own words and building valuable social proof.
To find this content, start by searching through any mentions of your brand in your notifications. Look through your @mentions and check any hashtags related to your brand to see what content is out there. 

Take a look at contemporary watchmaker Cluse's Instagram feed, which shows UGC in action. This brand has curated and reshared posts from their customers using the hashtag #CLUSEclub. 
3. Leverage seasonal events and topical subjects
What better way to boost your social media engagement than to join trending conversations? Keep an eye on 'trending' feeds on social media for popular topics that are relevant to your brand. By sharing content related to current events in real-time, you'll be able to capture the attention of new users as well as boost engagement rates with your current followers. 
But time-sensitive content doesn't have to be reactionary. In fact, one of the best ways to leverage topical subjects is to create content in advance around seasonal events (such as Mother's Day, Easter, Halloween, Black Friday etc.). 
Our tip? Create a social media content calendar which maps out key holidays and seasonal topics you want to leverage on social media. A little bit of preparation and planning will result in more thoughtful content (and better results for your business!).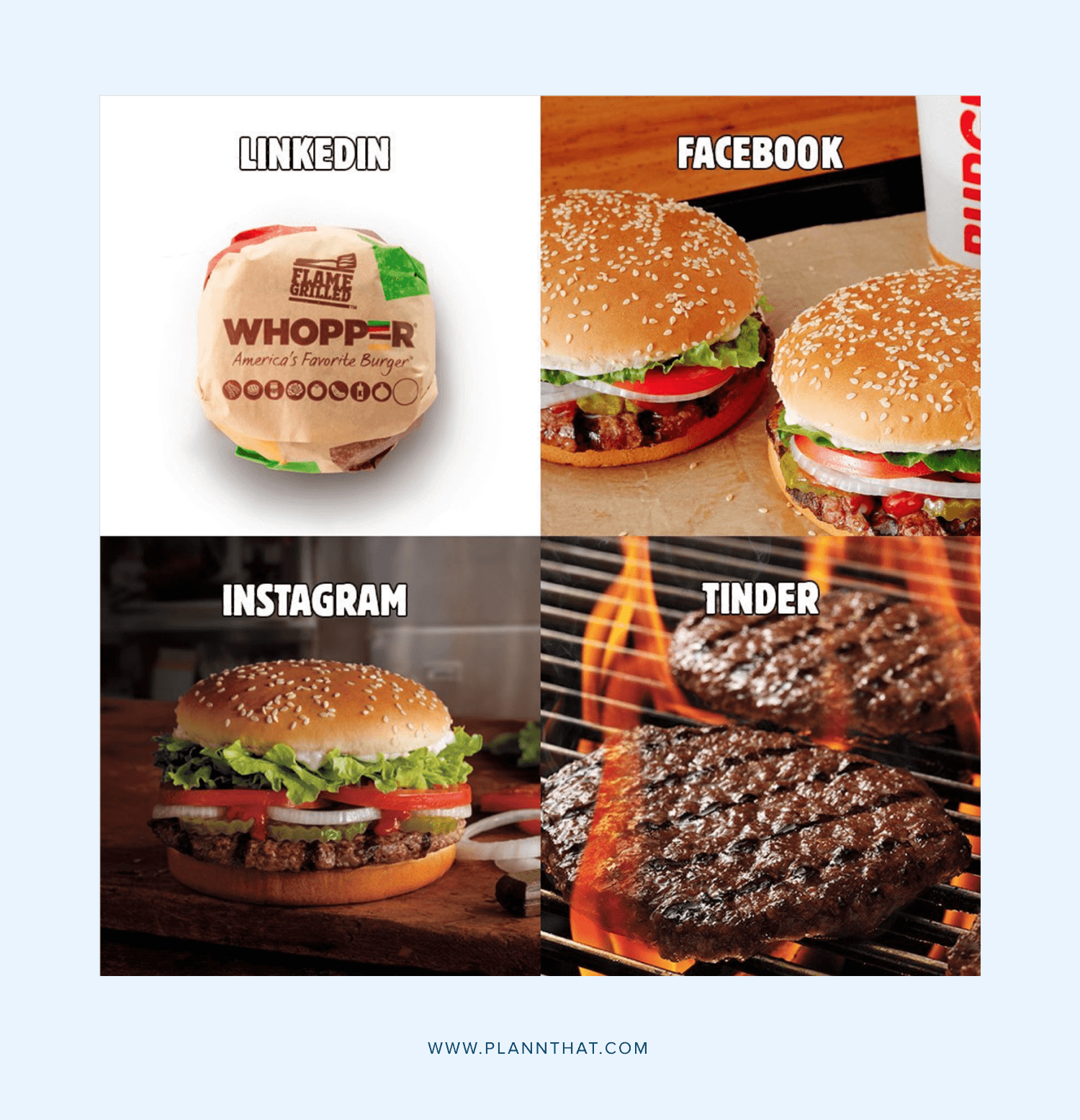 Remember the Instagram vs LinkedIn vs Facebook vs Tinder challenge? Well, Burger King has leveraged this social meme by creating their own version featuring one of their famous burgers (with this post alone earning nearly 40k likes!). 
4. Respond to your audience 
No one likes to be ghosted (whether you've just been on a bad Bumble date or not!). When a customer reaches out to your brand on social media, this is a golden opportunity to foster meaningful engagement. But, just like dating, timing is everything!
Give your customer a positive interaction with your brand by ensuring all messages and engagements are responded to within a few hours. Be alert and attentive and ensure you have a strategy in place to answer any requests you might receive on social media (more on that in our next tip!). 
Want to ensure your customers always receive a fast reply? Try setting up automated responses on Facebook using the 'Instant Replies' feature. You can set up automated Welcome Messages that greet new users who visit your page, or even create Away Messages to let users know you'll respond to their questions once you're back in the office. 
5. Create a community management strategy 
As the name would suggest, social media is all about encouraging social interactions. So, it's essential that you have a plan for responding to customer enquiries.
This is more important than you might think, with a recent study commissioned by Twitter revealing 71% of users expect brands to respond to social media messages within an hour.
If you have the capacity, consider assigning a team member to act as the Community Manager for your social media channels. Depending on the size of your audience, you might need to set time aside to check your channels once, twice or even multiple times per day. The goal is to control customer experiences with your brand to ensure questions are answered in a timely manner.
6. Identify your goals on social media
What do New Years' resolutions and social media strategies have in common? They're both driven by goals! As with any other part of a business, it's important to create a goal-driven strategy for your social media channels. Why? Because this enables you to measure and track the success of your efforts.
Start by asking yourself: what do you want your customers to do on your social channels? To get you started, here are some common goals to consider, including:
– Generating and nurturing leads 
– Driving new visitors to your website 
– Building your email database
– Gathering feedback on new products or services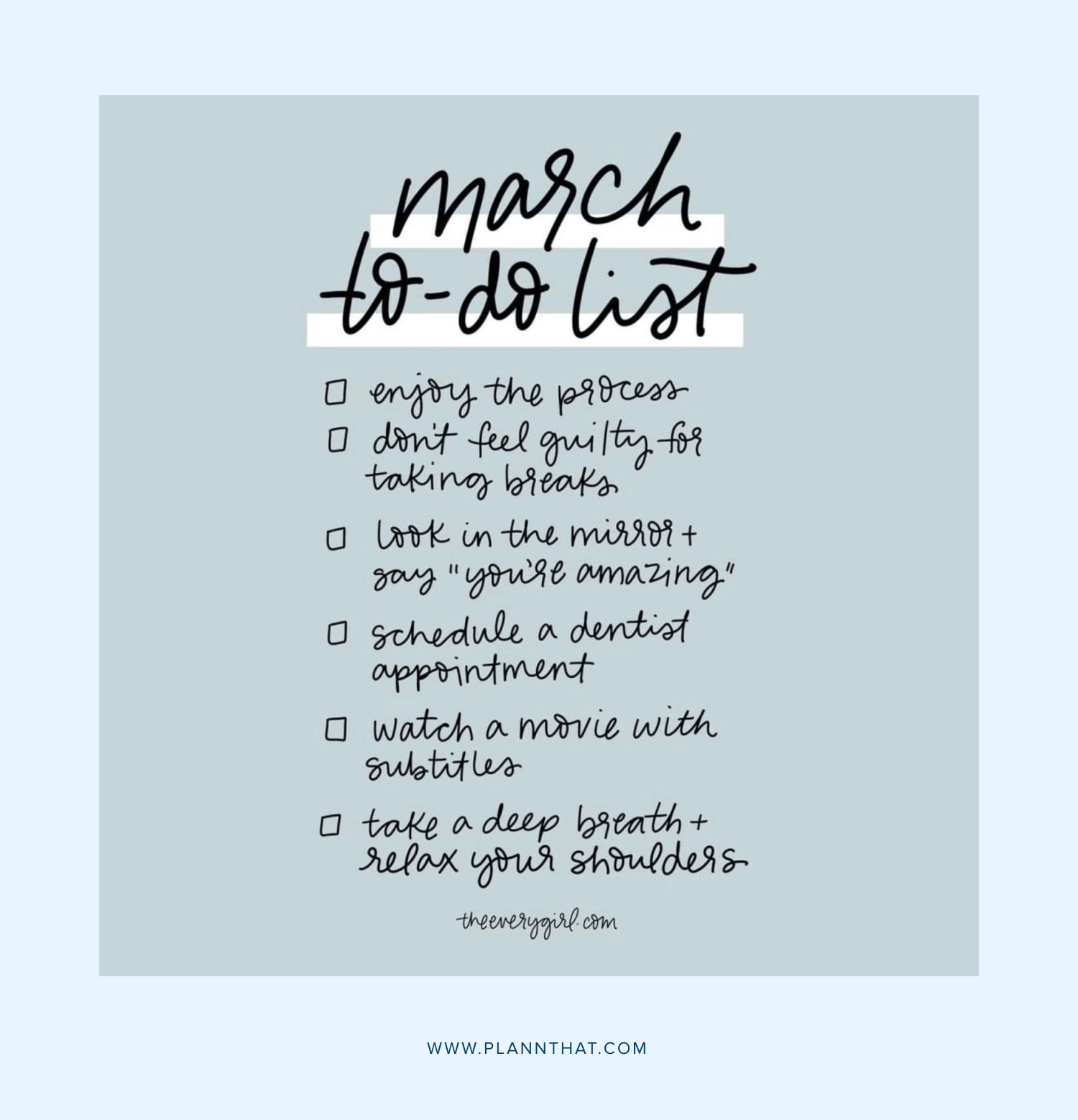 Check out the powerhouse brand The Every Girl, who have mastered the art of creating valuable, engaging content to inspire followers to engage by visiting their website. 
7. Articulate your brand's value proposition
Why should users engage with your brand on social media? What will followers gain from your social media content? To answer these questions, you'll need to uncover and clarify your brand's value proposition.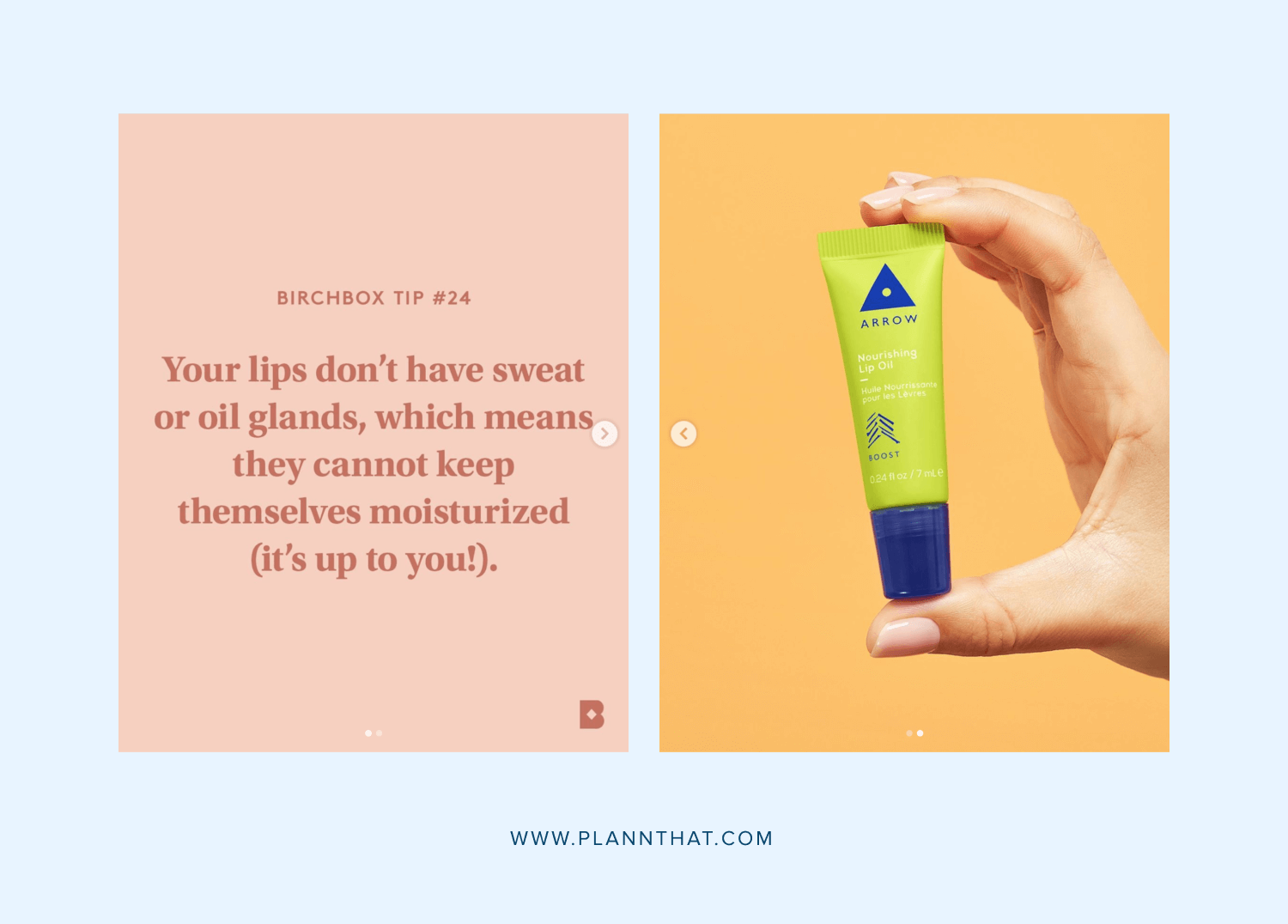 Want to see this tip in action? Head to Birchbox's Instagram feed to see how they are sharing beauty tips and advice with their audience. The best bit? These tips offer solutions using Birchbox's range of products.
8. Get to know your audience
Did you know your audience should inform everything you do on social media? Yep, from the way you write your social copy to the number of times you post each week, understanding your audience is essential to boosting your social media engagement. Why? Because your audience analytics will reveal what type of content your followers want to see!
Take a look at your analytics to identify your best and worst performing posts. Backed by these results, you'll be able to craft more engaging content that responds to your audiences' behaviour and interests. Remember, every brand's audience is unique so take the time to research your demographics to create content to inspire deep engagement.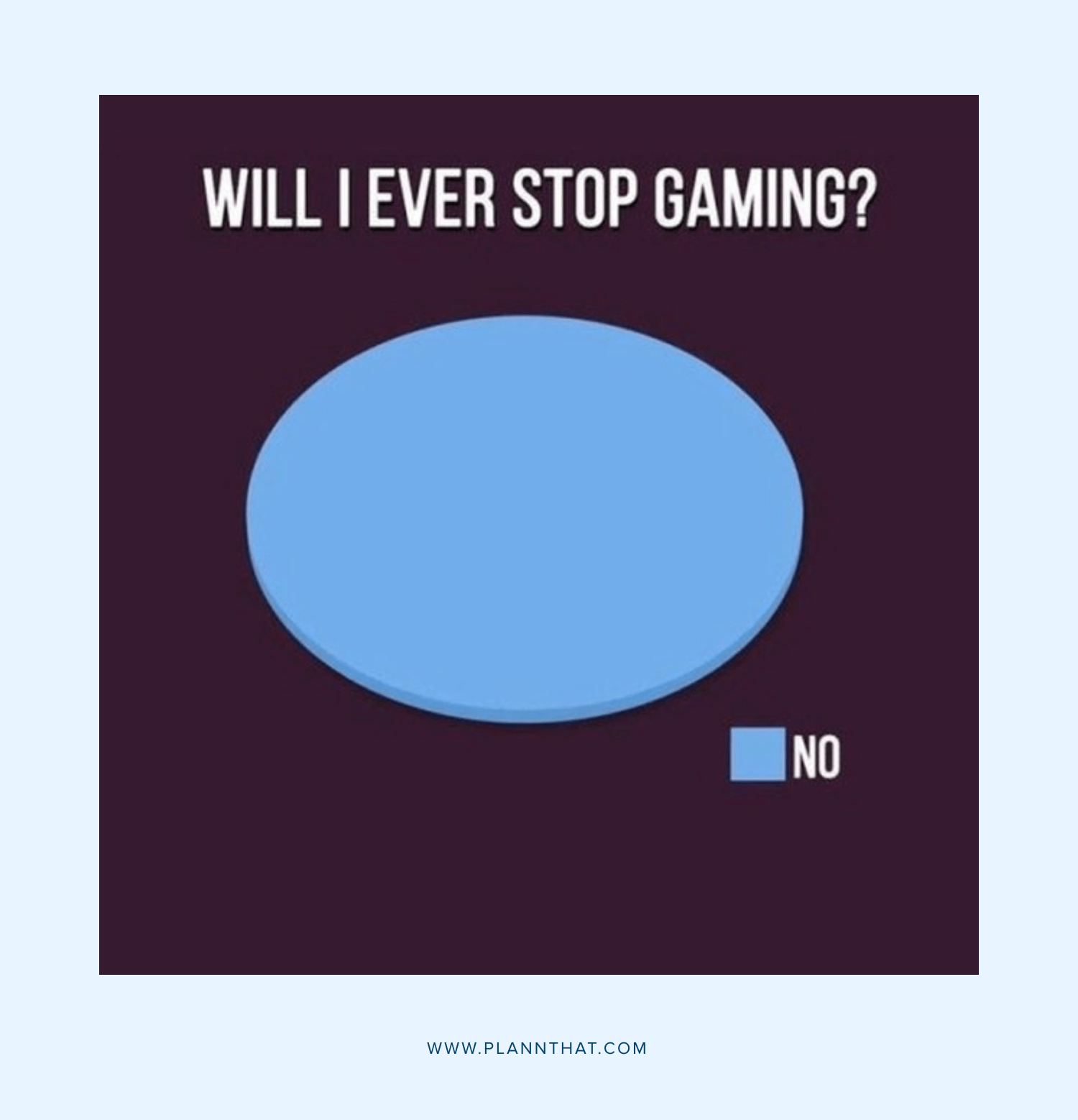 The team from fandom hub Lootcrate have nailed their social media content by crafting gaming-focused content that speaks their audiences' language, using plenty of memes and lighthearted humor.  
9. Offer your followers valuable content
In an era of information overload, we're all too busy to scroll through pages of generic quotes and pretty pictures. To stand out from your competitions and boost your social media engagement, make sure you are sharing content related to your brand. 
This comes back to understanding your audience and their common pain points. Create posts that are clear, simple and effectively showcase what your business does best. 
EXAMPLE: LUSH understand that their customers want to get the most out of their natural beauty products. On their Instagram feed, you'll find helpful instructional videos for how to use their core products, ensuring every user has the best experience possible. 
10. Take a proactive approach 
Increasing your engagement on social media means taking active steps to start meaningful conversations. To get the best results, it's important to do more than just respond to enquiries and engagements that might come your way. Our tip? Make the first move. 
Find and join relevant conversations that are already taking place on social media using keyword searches. By filtering by hashtags or search terms relevant to your brand, you'll be able to find new pools of potential leads and clients. Get proactive and become involved in these conversations by asking open-ended questions to inspire authentic engagement with potential customers on social media. 
11. Invest time and energy into fostering engagement
As you can probably tell, boosting social media engagement doesn't happen overnight. To get the best results, it's important to dedicate time and energy towards fostering connections with your online community.
Try blocking out 30 minutes to an hour each day and spend this time responding to new enquiries, reaching out to new connections and engaging with your community. The more time you invest, the better chance you have of improving your social media engagement.
12. Create and share content on a regular basis 
Give your followers a reason to engage and keep your brand top of mind by posting regularly on social media.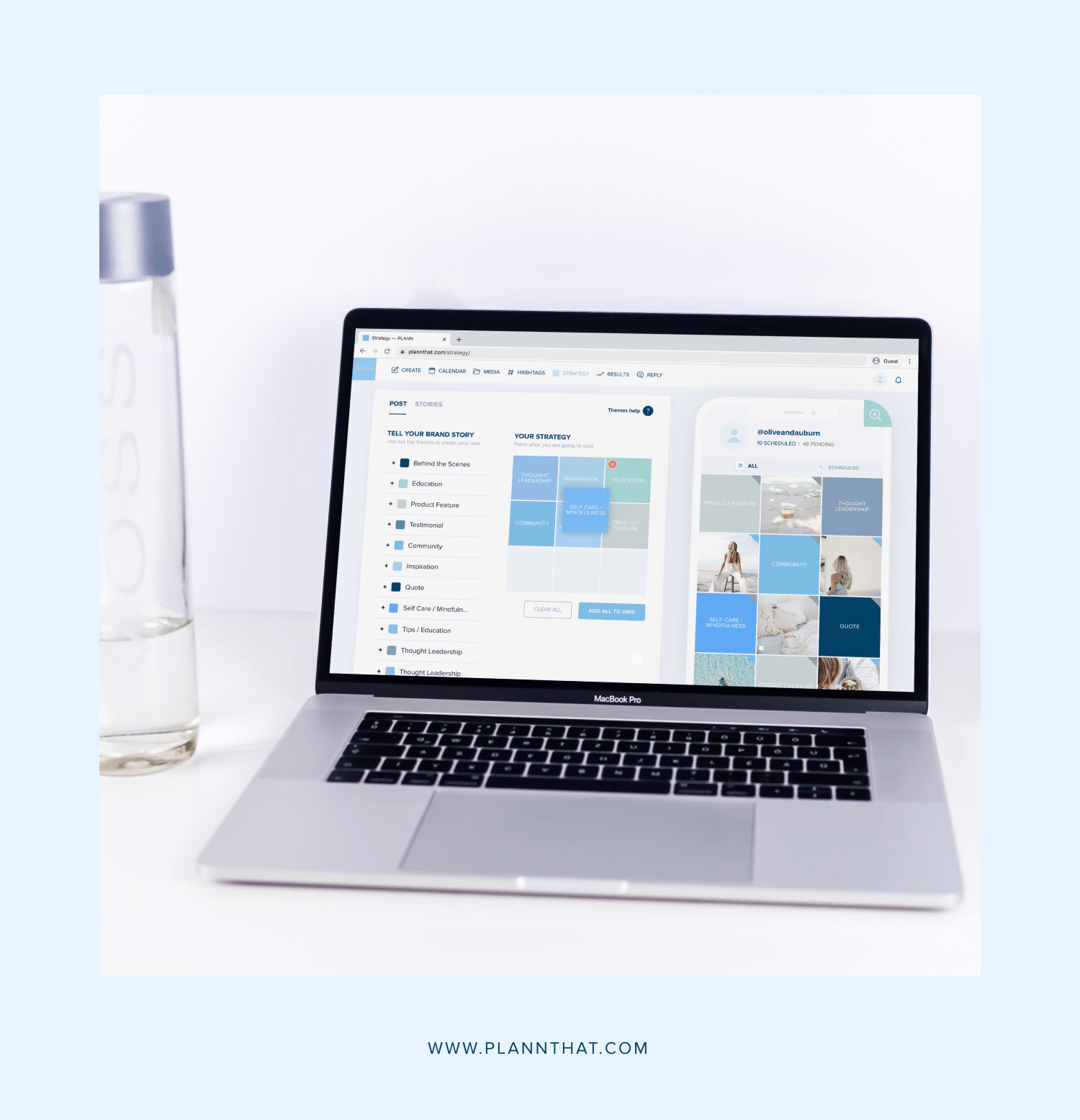 Do you struggle to find the time to post social media content on a daily basis?  A great strategy to alleviate this burden can be to schedule your posts in advance (*ahem* if you need help with this, Plann offers epic Instagram planning, scheduling and analytics software you can start using today #shamelessplug).
By posting at the same time each day, you'll create a sense of anticipation from your audience. Plus, this will also give your followers a reason to visit your feed and engage with your content!
13. Host giveaways and competitions
Who doesn't love scoring a freebie?! Another effective way to inspire social media engagement is to give users a chance to win your goods or services. But make sure to be strategic about hosting social media competitions. It's important not to overdo these as they will lose impact with your audience. Our tip? Try running one competition every quarter and offer lucrative prizes that give users a reason to take action and engage with your brand.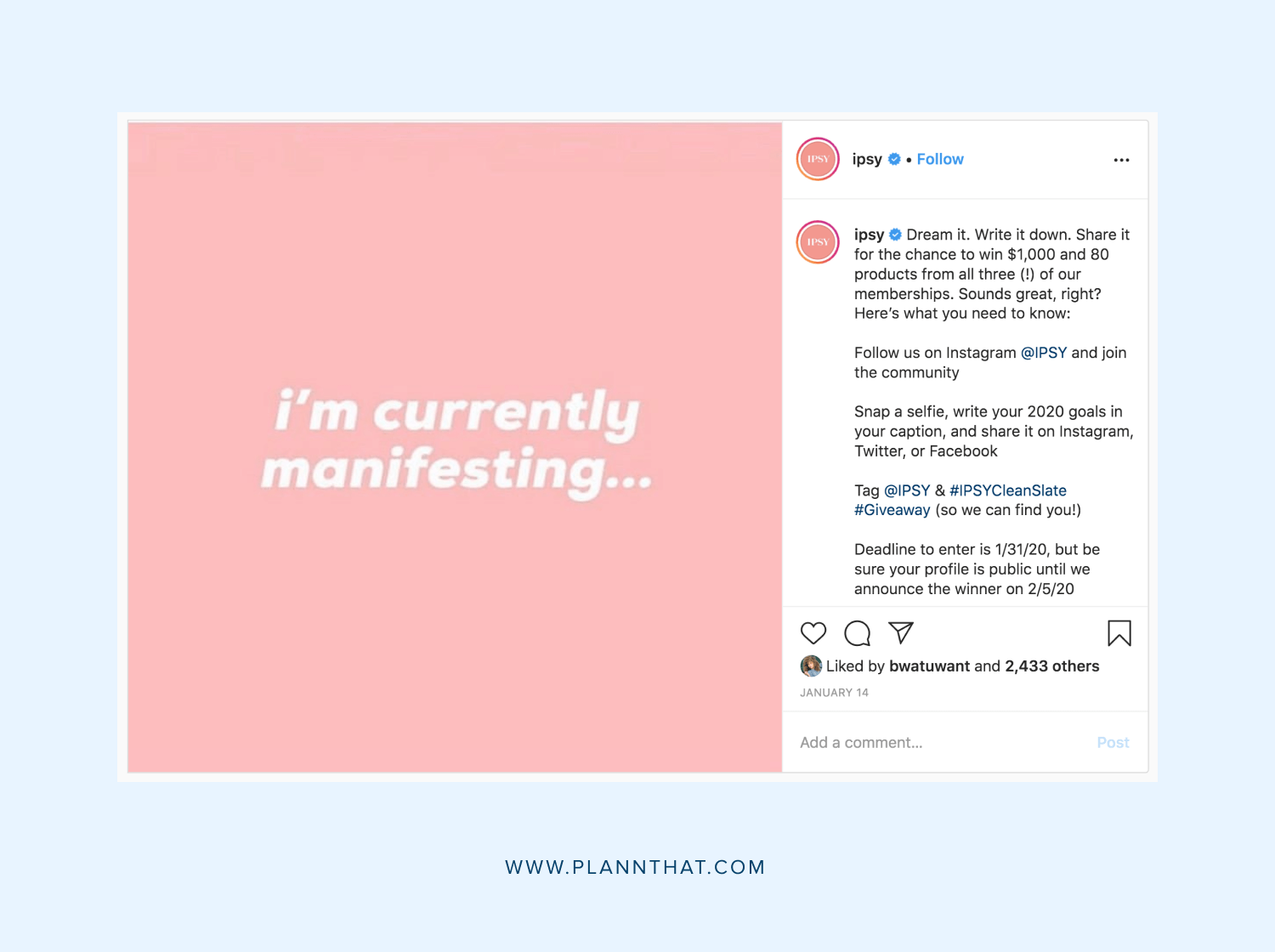 One of our favorite competition examples was recently run by Ipsy. As part of their New Year campaign, the Ipsy team took to social media to offer followers the chance to win $1,000 plus 80 products. To enter, users have to share a selfie with their 2020 goals using branded hashtags, thereby also creating an epic bank UGC to leverage too!
14. Be transparent and answer complaints openly
No one likes to receive negative feedback. But sweeping complaints under the rug can spell disaster for your social media engagement. Our tip? Use complaints as an opportunity to shift brand perceptions. 
If you receive a negative review, respond promptly and offer practical solutions to show a genuine sense of care towards the situation. By opening up an honest dialogue on social media, you'll improve the customer's experience and might even create a brand advocate in the process! 
Remember, all engagements (both positive and negative) deserve a thoughtful and considered response on social media.
15. Use analytics to measure the impact of your social media content
Data is key to improving your social media engagement. The number of times users comment, like and share your content is a powerful indicator of the success of your social media strategy. If you're not receiving the number of engagements you'd like, look at your social media analytics to identify patterns and trends in audience behaviours. If certain types of posts aren't receiving high engagement rates, ditch them and try something new. Test, learn and pivot your approach to see what works best for your brand. 
16. Craft a consistent tone of voice across your social media copy
Branding is more than just fonts, colors and logos. The way you speak to your audience in your copywriting is just as, if not more, important! To create a consistent and authentic tone of voice for your social posts, take the time to define your brand persona. 
Try creating a tone of voice scaffold with templated responses, key words and suggested copywriting that your team can use when posting to social media. Crafting an authentic tone of voice helps to humanise your brand on social media to make your brand honest and relatable.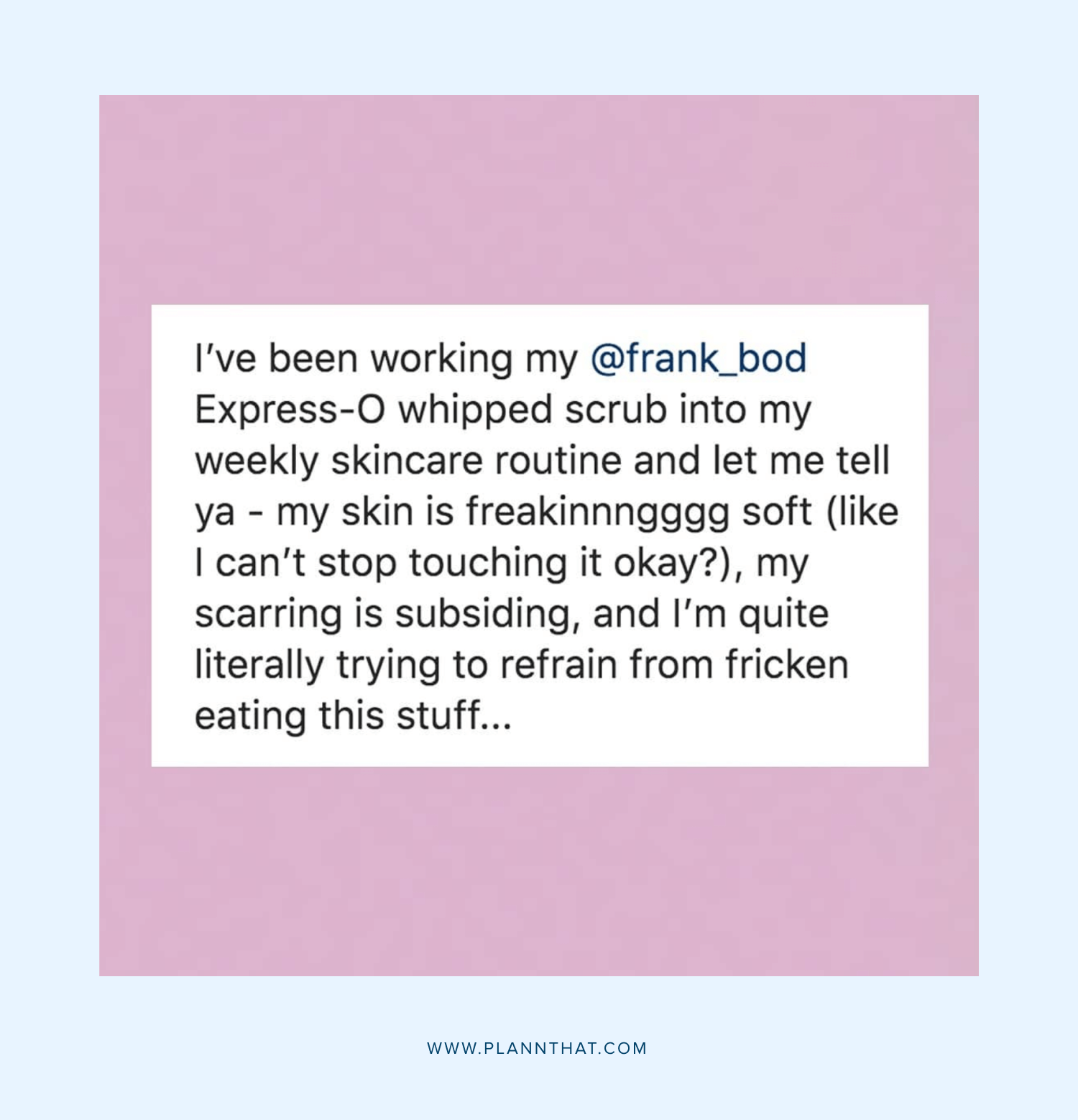 Want to see a clear brand TOV in action? Check out Frank Body's Instagram feed for seriously smart copywriting that personifies that brand with captions that speak in the first person.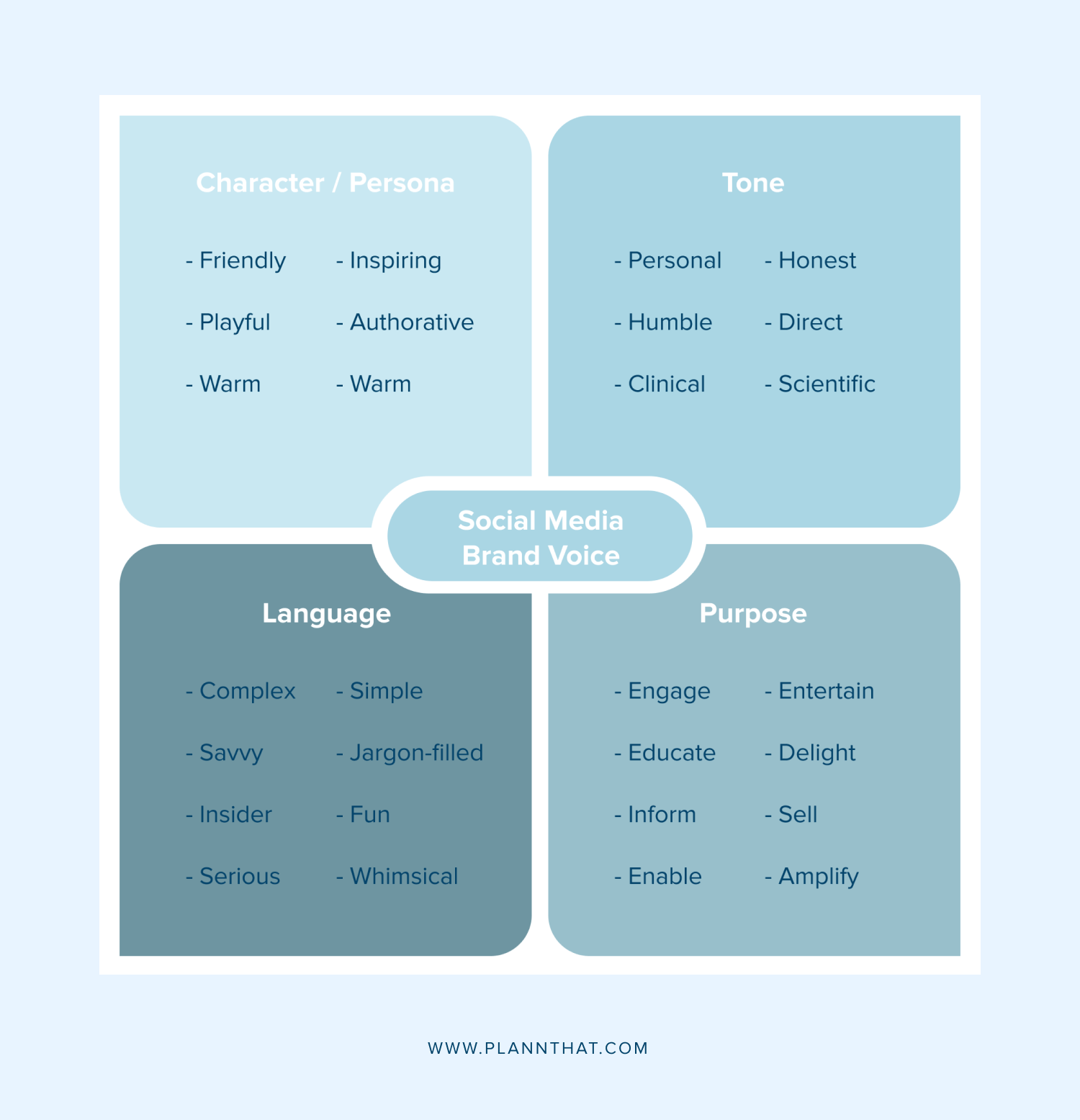 17. Have some fun with humor
Speaking of humanising your brand, adding a dash of humor to your social media posts is a fantastic strategy to increase engagement. Grab the attention of users and give them a reason to engage with your brand by using captions that don't take themselves too seriously. Not only will this brighten the day of your followers but it might just inspire them to share your content with their friends and family!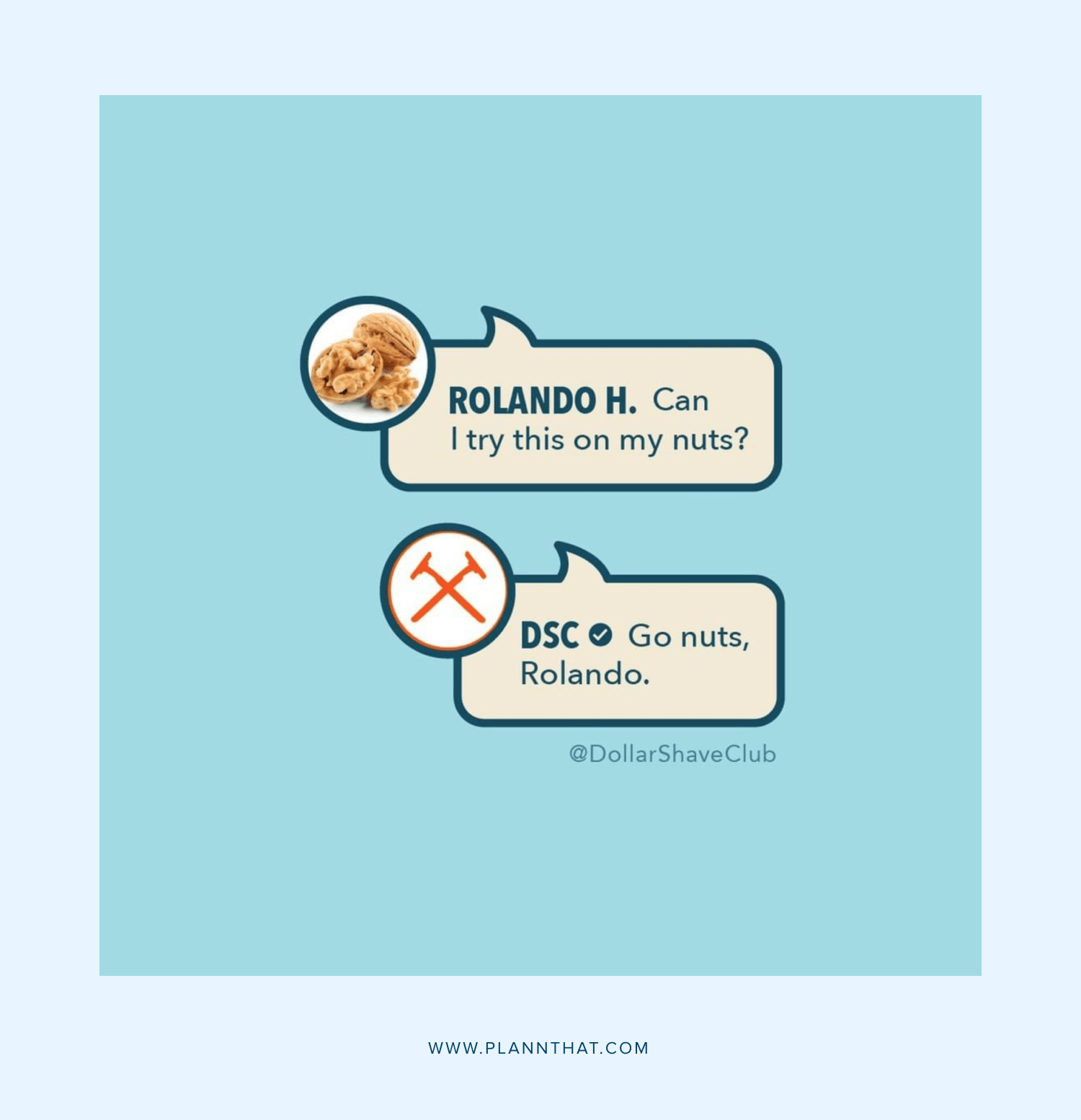 We can't stop laughing after reading the sassy copywriting and cheeky responses shared by the team from the Dollar Shave Club on Instagram. 
18. Be open to feedback and reviews
One of the best ways to improve your social media engagement is to ask for feedback from your followers. Not only does this show you care about your customer's experiences but also provides you with valuable insights into ways your brand can grow and improve. Invite followers to leave reviews and share their feedback in the comments of your social media posts.
19. Get playful and use Emojis 
Sometimes words just won't cut it on social media. Get to know your audience better by inviting them to share their feedback using Emojis. Try posing questions to your followers and ask them to respond using a common Emoji (such as 👍, ❤️ or 😂). This simple strategy gives your audience an easy way to engage with your content while also having some fun!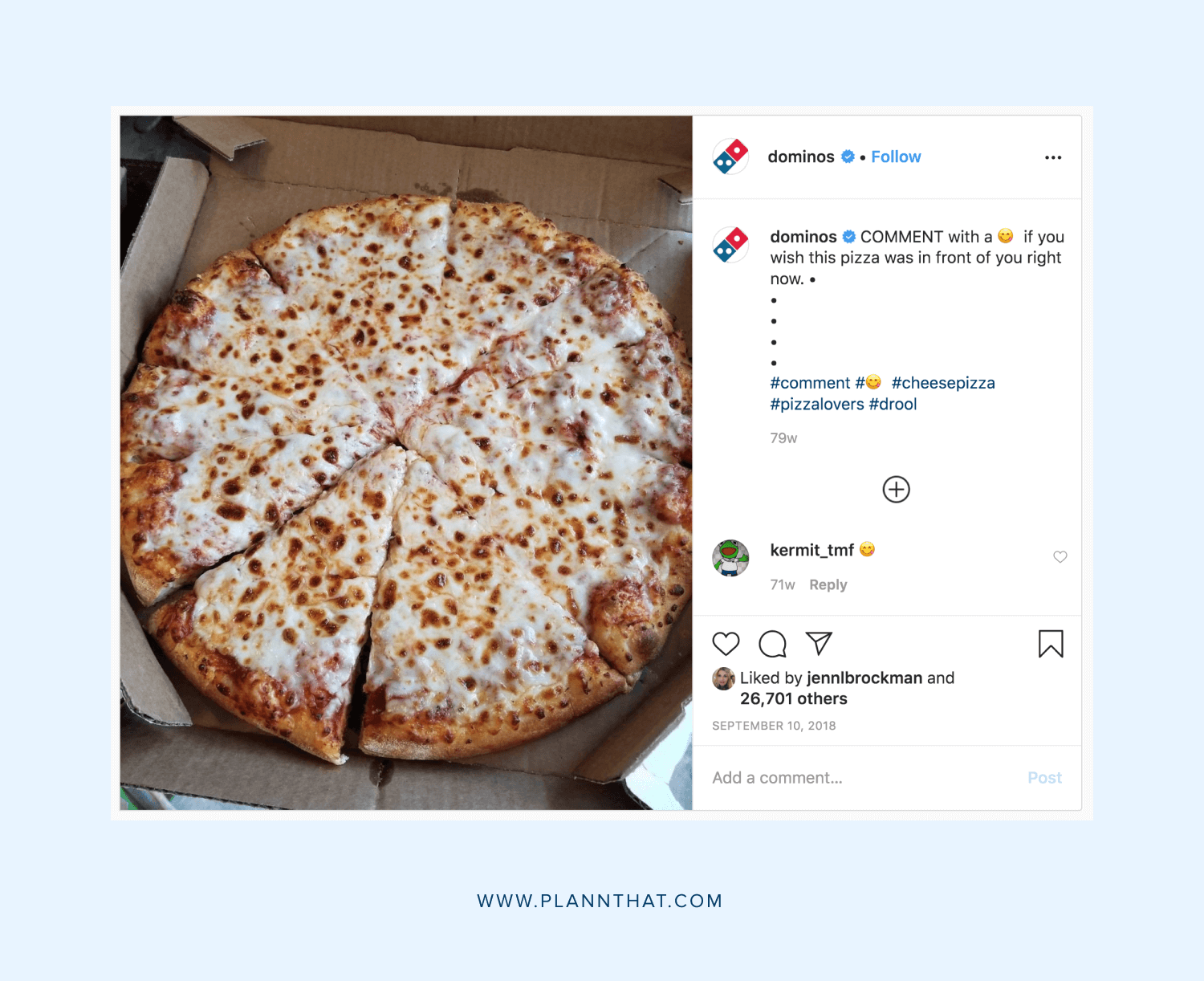 Check out how the team from Dominos have used Emoji reactions as a way to inspire engagement from their audience on Instagram. 
20. Educate audiences using interesting stats or facts
Help your audiences learn something new and showcase your industry expertise by sharing interesting stats or facts on your social media channels. Tailor these pieces of informative content to your industry and keep them brief to ensure maximum impact. Try adding in visual elements such as simple graphics and graphs to show this important information in visual ways. Plus, invite your followers to share these posts with their followers to boost your social media engagement. 
The team from stationary supplies company Staples have created a dynamic infographic video to showcase trends and stats relevant to their customers.  
21. Use Live Video to create a sense of community with your followers
Although this final tip might induce sweaty palms, Live Video is a must-try strategy to boost your social media engagement. Why? Because this new technology enables you to connect with your customers in real-time and provides a sense of immediacy between brands and audiences on social media. 
In fact, according to MarketingLand, users spend up to 3x more time engaging with Live Video in comparison to pre-recorded video content. 
Use Live Video as a chance to connect with your audience by hosting live seminars, workshops, product reveals Q&A sessions and more. The possibilities are endless!
Want to stay at the top of your social media game? Check out the 8 Instagram updates you need to know about here.