Business owners have a lot on their plate. From managing a team to keeping on top of cash flow and looking for new ways to build and grow your offering, it can be all too easy to work in (rather than on) your business. And in many cases, creating engaged social media communities is a task that can easily fall off the priority list. 
But here's some good news for you! If you're looking to streamline your efforts and maximize your results on social media, using powerful social media tools is a proven strategy to help businesses succeed in 2023. Whether you're looking to create engaging video content, build beautiful competition landing pages, dip your toe into influencer marketing or refine your hashtag strategy, using social media tools will save you time and energy so you can focus on doing what you do best!
In this blog, you'll learn how to:
– Produce professional social media graphics and beautiful mobile-first infographics
– Gain valuable insights and data into your audience with free online form builders
– Develop and refine your hashtag strategy across your social media channels
– Leverage influencer marketing tools to build brand trust and preference + MORE!
Ready to discover the 12 best social media tools you need to succeed in 2023? Let's get started!
What are the advantages of using social media tools?
Before diving into some of the top social media tools, let's look at why brands should leverage these tools in the first place. Although anyone can set up a social media profile for their business, those that succeed understand the value of investing in additional tools, training and resources to bolster their efforts. And here's why:
– Using social media tools is a practical strategy to reduce the time spent managing your businesses' social media channels. These tools provide handy shortcuts that automate the content creation, publishing and reporting process. As they say, time is money! 
– Social media tools are designed to be intuitive and easy to use, making them the perfect solution for those brands looking to maximize their results on social media. 
– Plus, these tools take the guesswork out of using social media for business and frees up extra time for business owners to focus on building your business. 
Now, let's reveal the top expert tools your business can start using today to boost your social media success!
Think you need a professional graphic designer to create engaging social media tiles? Think again! Say hello to Canva, the creative software that helps you produce amazing designs online. The best bit? You can now use Canva directly in Plann with our nifty integration.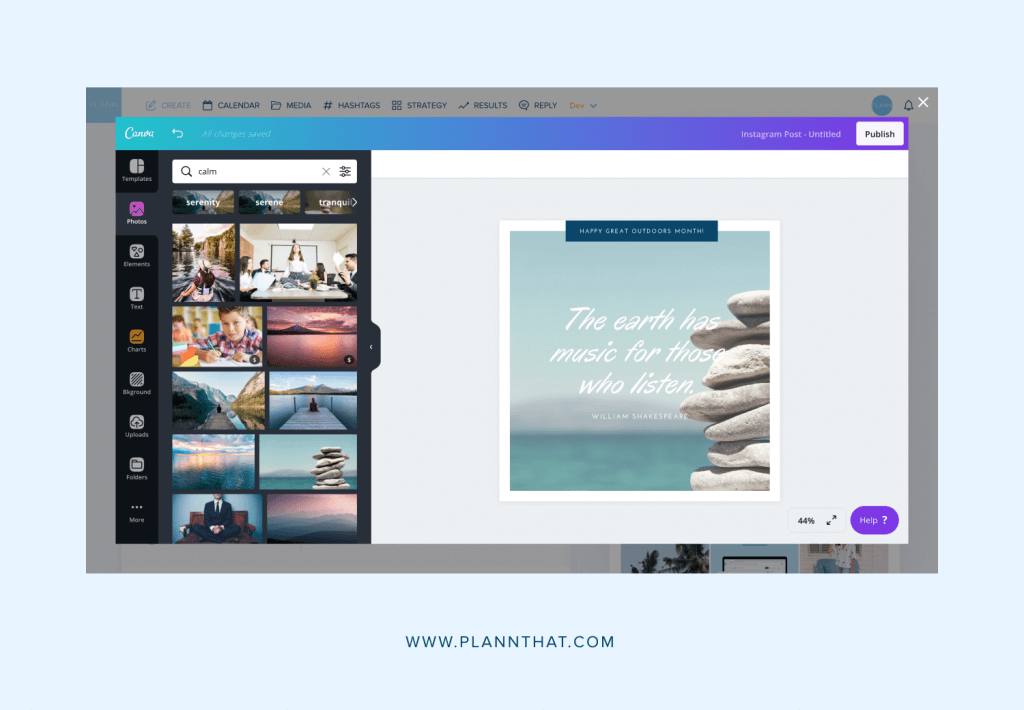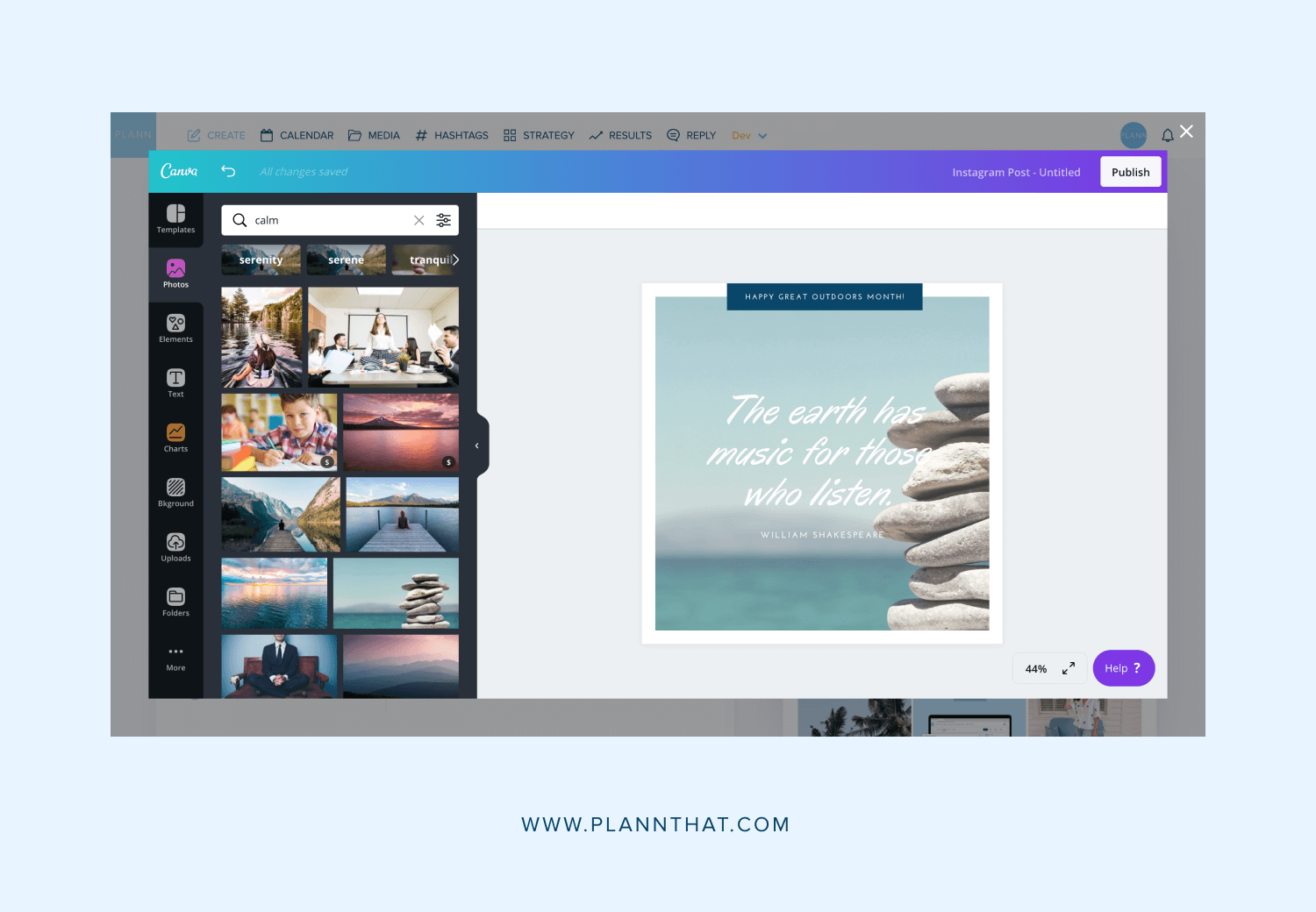 Don't have a Canva account?  The tool is free to try out (with additional features like branded fonts and colors for the paid plan that can also be utilized in Plann!). 
Perfect for the non-designer designer, you can create, design and publish social media graphics, documents, and digital designs. This intuitive software uses a simple drag-and-drop feature to produce professional layouts (no graphic design experience required!). Canva's software features thousands of templates, graphics and fonts to choose from, meaning you'll have plenty of creative inspiration to bring your ideas to life. 
Plus, with custom fonts and color palettes available, businesses can easily produce branded graphics and designs in a matter of minutes to ensure consistent and recognizable branding across all your communication channels. 
Speaking of producing engaging social media graphics, transform data and stats into beautiful pieces of content using the social media tool, Infogram. This easy-to-use visualization tool enables businesses to create infographics, reports, maps and social media visuals in a matter of minutes.


Using Infogram's collection of ready-to-use templates, simply add in the information you're wanting to share and customize the design to suit your brand's guidelines using colors, fonts and logos. Whether you're looking to share interesting industry trends or educate your followers with meaningful data, Infogram is the perfect social media tool to create branded visuals and stunning infographics. 
Statusbrew is an all-in-one social media management tool that lets you manage all your socials from a unified dashboard. It has solutions for businesses of all sizes, helping them engage with their customers at scale. It is used by over 10,000 businesses, including Samsung, Shopify, Spotify, Hilton, and more.

Statusbrew makes team collaboration and workflow approvals hassle-free with its social media collaboration tool. You can easily add team members and assign access rights to streamline complex workflows. The tool's Publish feature enables you to create, schedule, and publish posts across multiple social channels. And there's more!
Not sure what content to post on social media? Wondering what popular topics of conversation your brand could leverage? Look no further than BuzzSumo. Whether you're searching for inspiration, wanting to build an engaged online community or find the right influencer for your next campaign, this platform can deliver it all.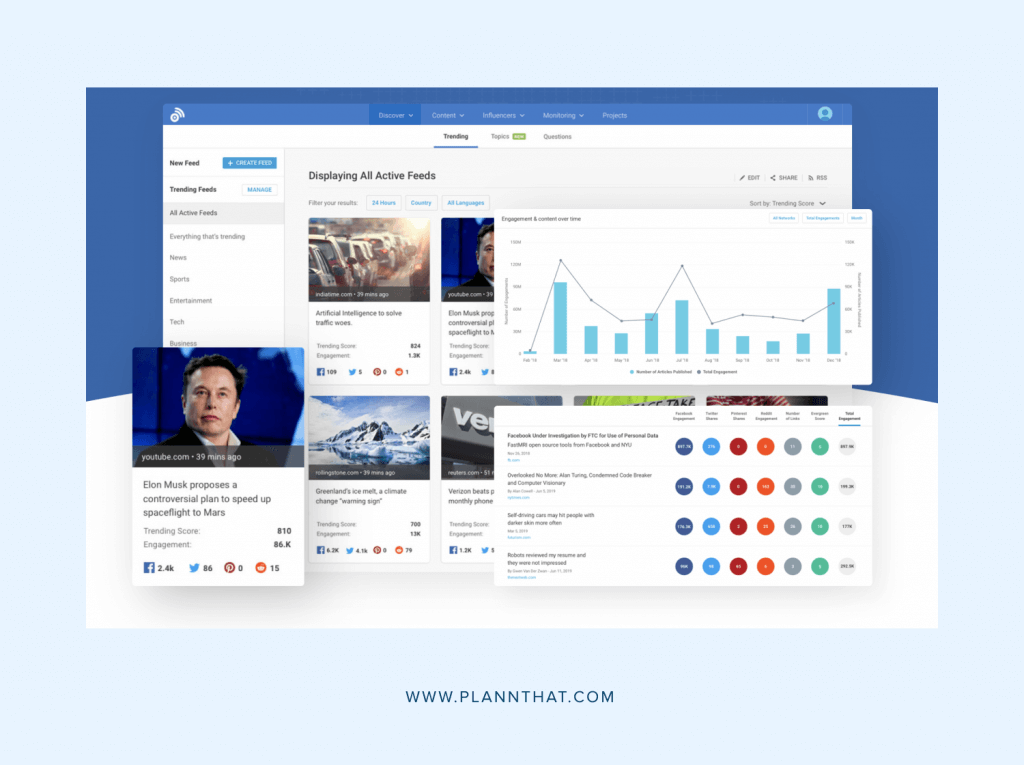 BuzzSumo is a content insights platform that enables brands to find new content ideas, analyze billions of data points, connect with influencers and track social content performance from one place. From accessing real-time analytics on viral trends and topics to uncovering the top content of your key competitors, BuzzSumo helps to save your time by quickly identifying golden content opportunities for your brand on social media.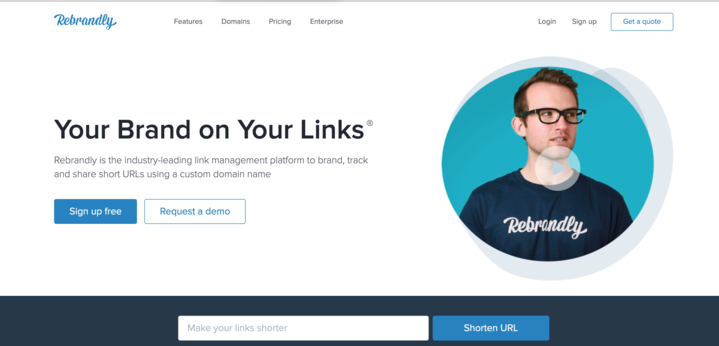 Rebrandly is a great tool to use in order to create custom short links for the links that are created and shared on your social media channels. With Rebrandly you are able to track every link that is created and shared online and learn more about your audience — such as what country the clicks are coming from, the most popular times and days and what social media platform the clicks originated from. Other handy features include link retargeting, custom reports, UTM builder and traffic routing, to name a few.
Want to learn more about your audience on social media? To gain valuable data points about audience behavior, try using Typeform, the free online form and quiz builder. This easy-to-use platform enables brands to create stunning quizzes in a matter of minutes, with access to millions of images and videos to personalize your online form. Plus, using Typeforms' custom layouts feature you can edit and tweak this form to ensure it's aligned with your existing branding. 

From running audience surveys to simple questionnaires and even form templates to facilitate your next social media competition, Typeform enables you to gather important data from your audience to help inform and refine your social media strategy.
Driving website traffic is a goal for many businesses on social media. To boost your chances of success, Bitly is the social media tool you need to know about. This simple link-shortening tool creates click-worthy links by helping brands to produce custom links in just a few clicks.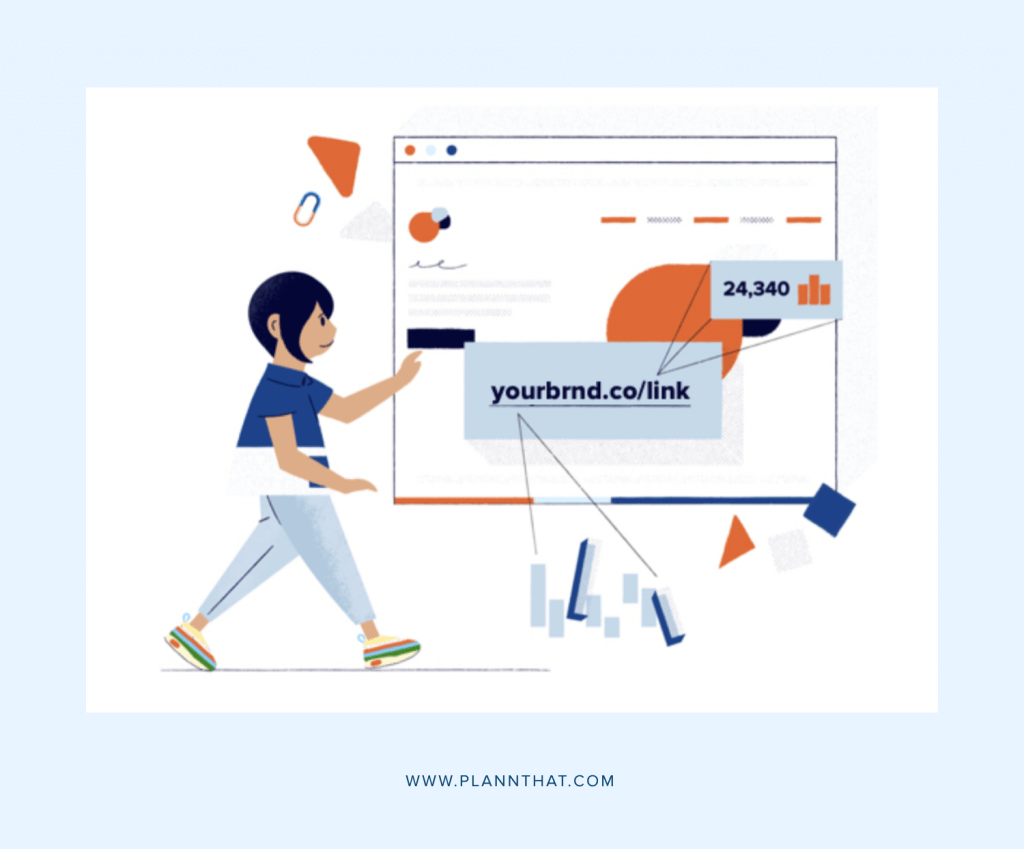 Want to boost your website click-through rates from your social channels? By creating a custom link you'll be able to choose your own domain name and ensure the naming of links is consistent and recognizable for audiences across channels. In fact, stats from Bitly reveal using custom links can help businesses boost link clicks by up to 34%. 
Aside from creating custom links, Bitly also enables brands to track the performance of links and campaigns with real-time analytics. Discover where your website traffic is coming from with comprehensive data and analytics that reveal everything from geographic data to your top referring social channels.
Hashtags are one of the best ways for brands to increase their reach and searchability on social media. But how do you know if you're using the right hashtags for your brand? Could you be tapping into new audiences by simply changing the hashtags you're using? To help track and measure the success of your social hashtag strategy, Keyhole is a powerful social media tool to help you get your content in front of the right eyeballs.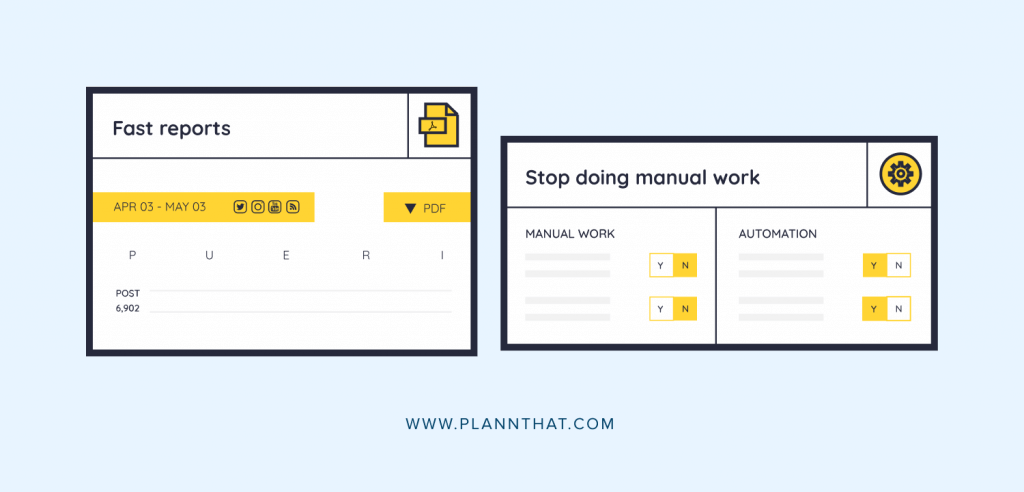 This powerful analytics tool enables brands to track the performance of their hashtags and produce easy-to-understand reports that explain the impact and ROI of your social media campaigns. From accessing real-time analytics across Instagram, Twitter and Facebook to creating custom reports and shareable dashboards, Keyhole is the perfect tool for businesses looking to optimize their hashtag strategy and boost their success on social media.
For brands looking to increase engagement on social media, running competitions can be a great strategy to drive powerful results. And to help make running your next competition easier than ever before, try Shortstack. This all-in-one contesting software enables businesses to create custom landing pages, run social contents, send emails and analyze their results (all from one place).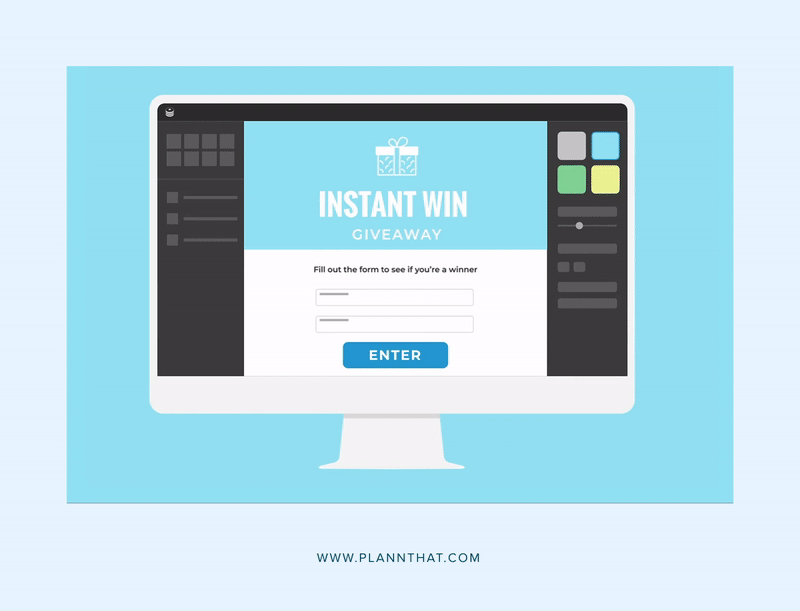 Stockstack's branded landing pages are the perfect way to encourage more followers to participate in your social contests, allowing brands to create an unlimited number of interactive pages. Here you can build engaging landing pages that gamify the competition experience, with creative rewards for participants to incentivize entry. 
Plus, Shortstack has a range of social-specific contest creators, including Hashtag Contest and Comment Contest builders to streamline the contest process. From effortlessly collecting entries to random entry selector tools, this social media tool automates the competition experience so brands can focus their energy on building their business instead. 
For many businesses, managing multiple social media channels can be a time-consuming process. From producing new pieces of content to responding to comments and new inquiries, keeping in touch with your social media communities requires considerable time and effort. So, why not use a social media tool that collates all your brand mentions in one place?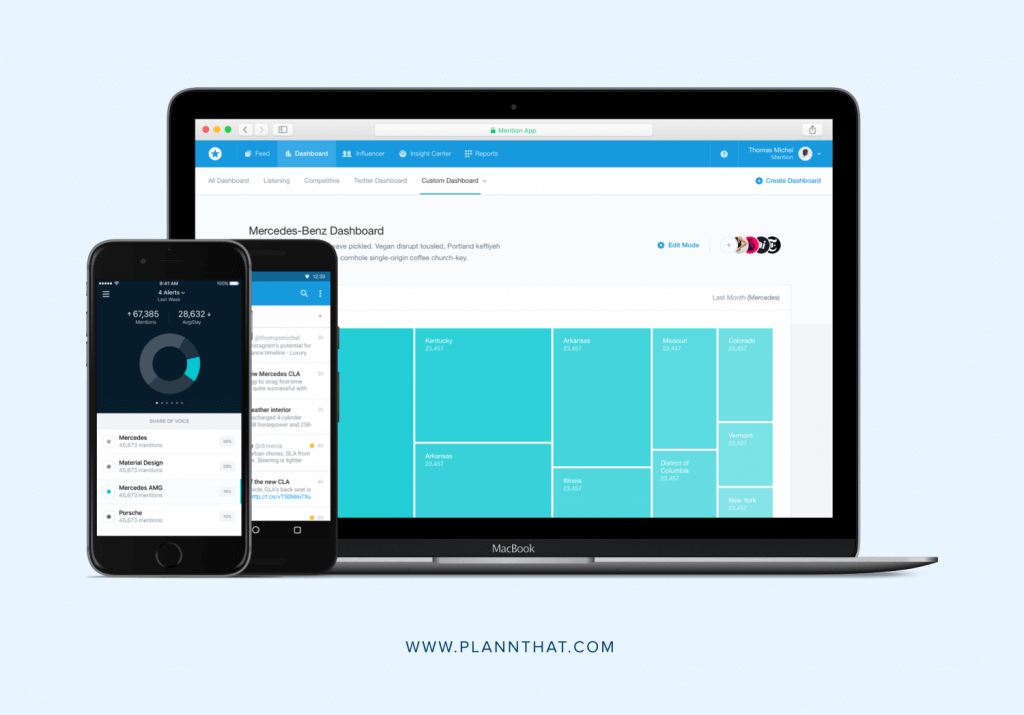 Say hello to Mention, the social media monitoring software the curates and collates all your online media mentions in one place. Mention helps brands listen to their audience with analytics that help businesses monitor what customers have to say about their product or service online. 
Each day, the tool gives users a recap of all the key mentions of their brand online. Plus, Mention's comprehensive analytics provides insights into trending topics in your industry as well as your benchmarking your efforts against your competitor's social strategy. 
Influencer marketing has gained considerable popularity in recent years, and with good reason. When it comes to building trust and brand preference, strategically aligning your business with influencers relevant to the audiences you're trying to attract is a proven way to make an impact on social media. In fact, 49% of consumers look to influencer recommendations to dictating their spending habits (with 40% purchasing a product after seeing it on Twitter, YouTube or Instagram).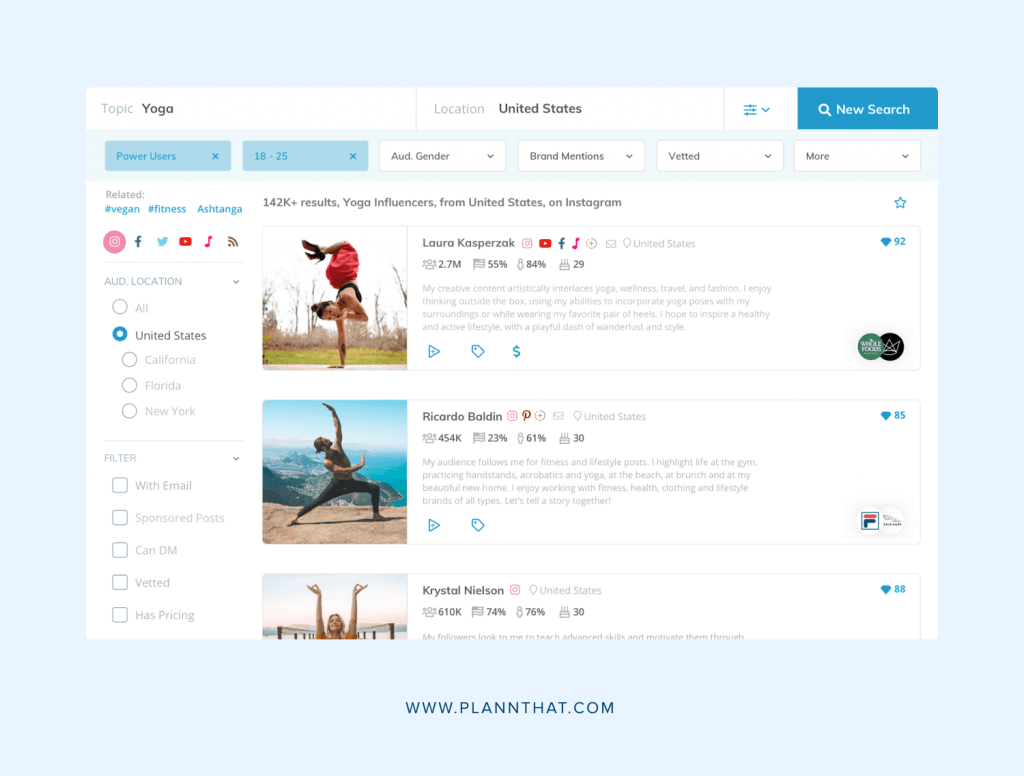 Not sure where to stay with influencer marketing? The influencer marketing platform Klear is one of the best social media tools for influencer discovery and management. Using this tool, brands can use this targeted search engine to identify potential influencers, with a bunch of helpful filters to streamline your search based on social channels, audience demographics, niche topics and more.
Want to compare the analytics of multiple influencers? Using Klear's Influencer Research feature you can instantly review and compare key metrics such as reach, engagement and audience demographics to ensure you're partnering with the right influencer for each social media campaign.
Plus, Klear's Management tool helps you to project manage your campaigns with contact information, outreach and the status of content deliverables contained in one easy-to-use dashboard. To help you keep in contact with influencers, the tool also offers an influencer communication portal with in-app messaging tools to help you ditch lengthy email chains. And once your campaign has finished, you can analyze the results of your efforts and build beautiful reports to measure mentions, engagement, reach and ROI.
Looking for a complete Instagram suite to plan, schedule and track the analytics of your success? Plann is the social media management tool for you! For businesses looking to streamline their Instagram content, Plann has a range of helpful features to help you succeed.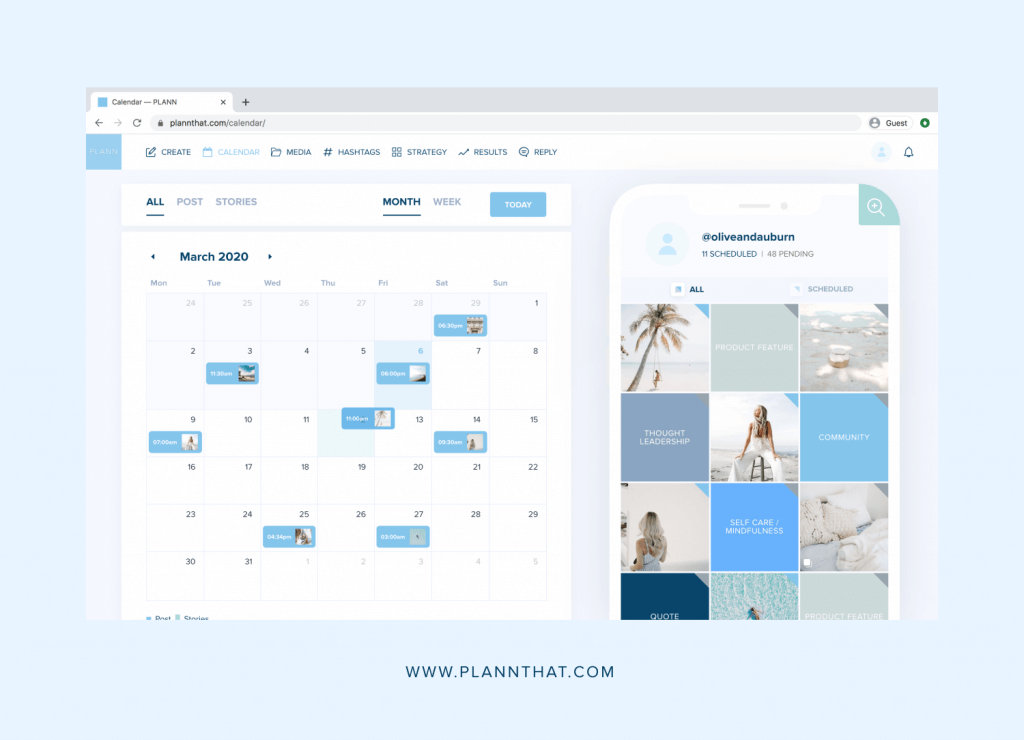 Discover, curate and repost user-generated content and stock imagery all in one place using Plann's media management tool. Seamlessly arrange your Instagram profile with this drag-and-drop scheduling workspace (perfect for post and story scheduling). Plus, users can skyrocket their growth with advanced Instagram analytics, collaborate with team members in one place, engage and respond to audiences in one place and so much more. To find out more and get started on Plann, click here.