Ah, hashtags – those funny little characters at the bottom of everyone's Instagram posts.  So popular, they've even made it into conversations offline now (in an ironic way, we hope).
But what are they, actually?
Back when (cast your mind back to ye olde 2007) social media was just a whisper on the marketing streets and hashtags merely lurked in the shadows. No one was particularly sure what they were, or how to use them.
They knew the hashtag sign (#) as a pound key (not this kind –  £). Sounds incredibly alien, right? People soon caught on that hashtags help to filter topics of conversations into streams on social media. 
For instance, you can click on trending hashtags like #food and see an aggregation of all of the posts on that channel about food (see image below and also say hello to 370 million pictures of food!). It's almost like creating a chat room based on that hashtag and this is applicable to most social channels. 

But, are hashtags even still relevant in 2023?
Ya damn skippy they are! Instagram might have been through more changes than Madonna in her career, but one thing stayed the same – hashtags. They help people find your posts organically, which is great when you're growing awareness and engagement for you or your brand. After all, you want people to notice and engage with what you're posting – that's why it's called social media. Otherwise, it's like having a conversation with yourself and you can do that alone at home (no judgement, we've been there too).
When you use hashtags (even just one),  you can drive up to 12.6% more engagement than posts without a hashtag. Imagine what several would do! Now that's a party.
And you might bring people to the party with hashtags, but you can also join their social soiree, by clicking on the hashtags and interacting with their posts which use it. The more interaction you do, the more you can grow your own audience. 
But, how does that work? 
Well, when you're spreading love (authentic love, not just meaningless comments which could have been made by a 'bot), then people are more likely to hop over to your profile and engage with your content. Tit for tat. But it has to be for real because people really see through disingenuous comments.
Ok, ok, but how do I use hashtags in 2023?
We are so glad you asked.
There are a few ways to use them:
1. On every post and Instagram Story. You can post up to 30 on your Instagram posts and 10 on your Story. Rule of thumb – post your hashtags in the first comment on your posts, so it looks tidier and doesn't interrupt your genius caption. On Stories, you can reduce the size of Instagram hashtags so they're not taking up the entire Story (you don't want to distract from your selfie).

2. In your profile: you can use a few to showcase who you are and what you do, to make it searchable.
How do I even find the right hashtags?
It's as simple as using Plann's Suggested Hashtags feature!
Curated by marketing professionals (with a strict criteria to offer you maximum discoverability), search through over 300+ sets on your Plann workspace with something for everyone.
Whether you're a fashion blogger, a fitness coach, or even a rabbit influencer, Plann's suggested hashtag sets offer every niche the ability to skyrocket your success on Instagram.
As your social media bestie, we want to inspire you with new ideas and empower you with the ability to maximize your brand's potential on social media using the most relevant hashtags for your niche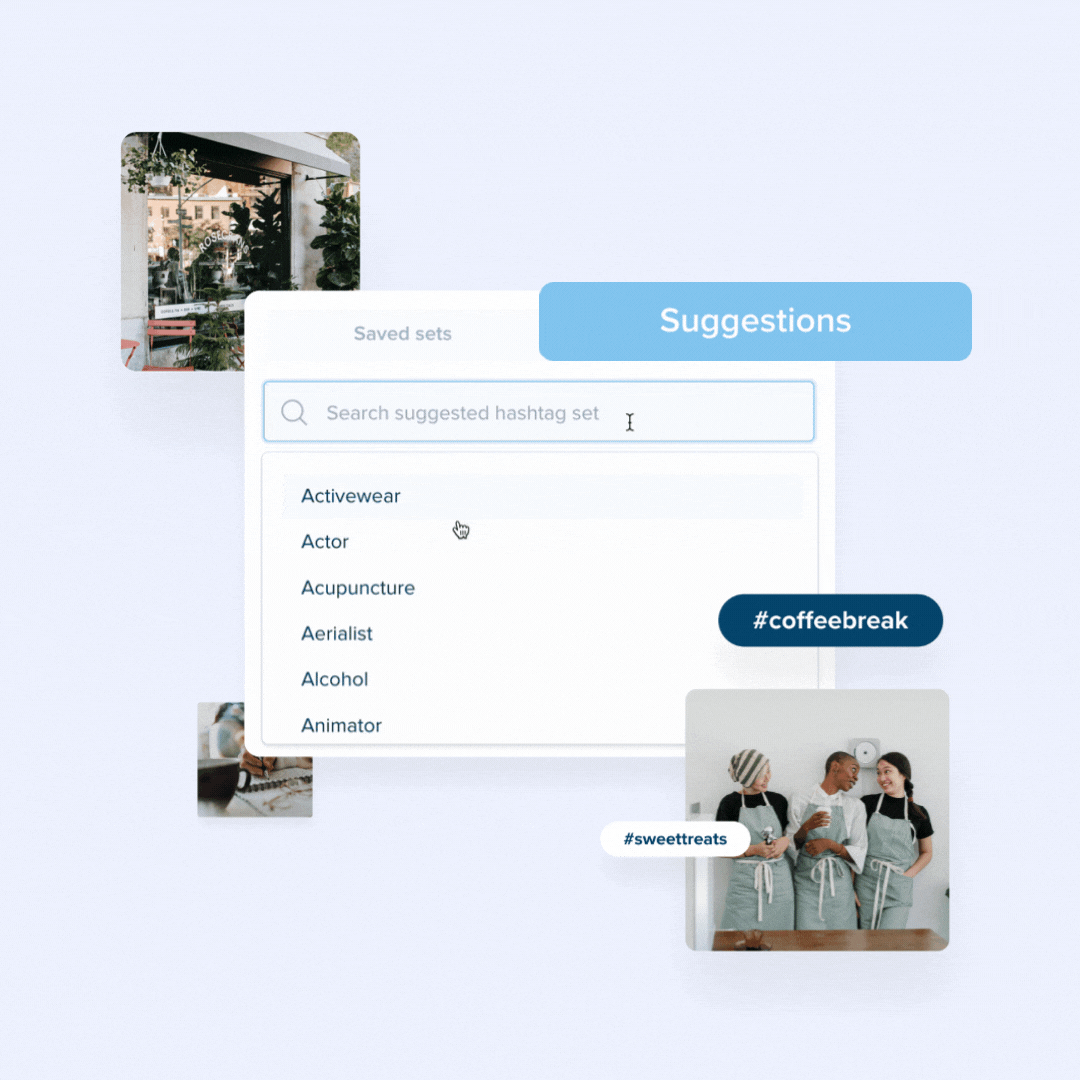 Psst…it's important to note that popular hashtags doesn't always equal the best for you to use. In order to get maximum reach with your content, it's wise to use a mix of big hashtags like the above, mid-sized (think 10,000 to 50,000) and more niche in your industry. We also recommend changing up your sets of hashtags often, as the Instagram algorithm doesn't look favorably upon using the same ones all the time.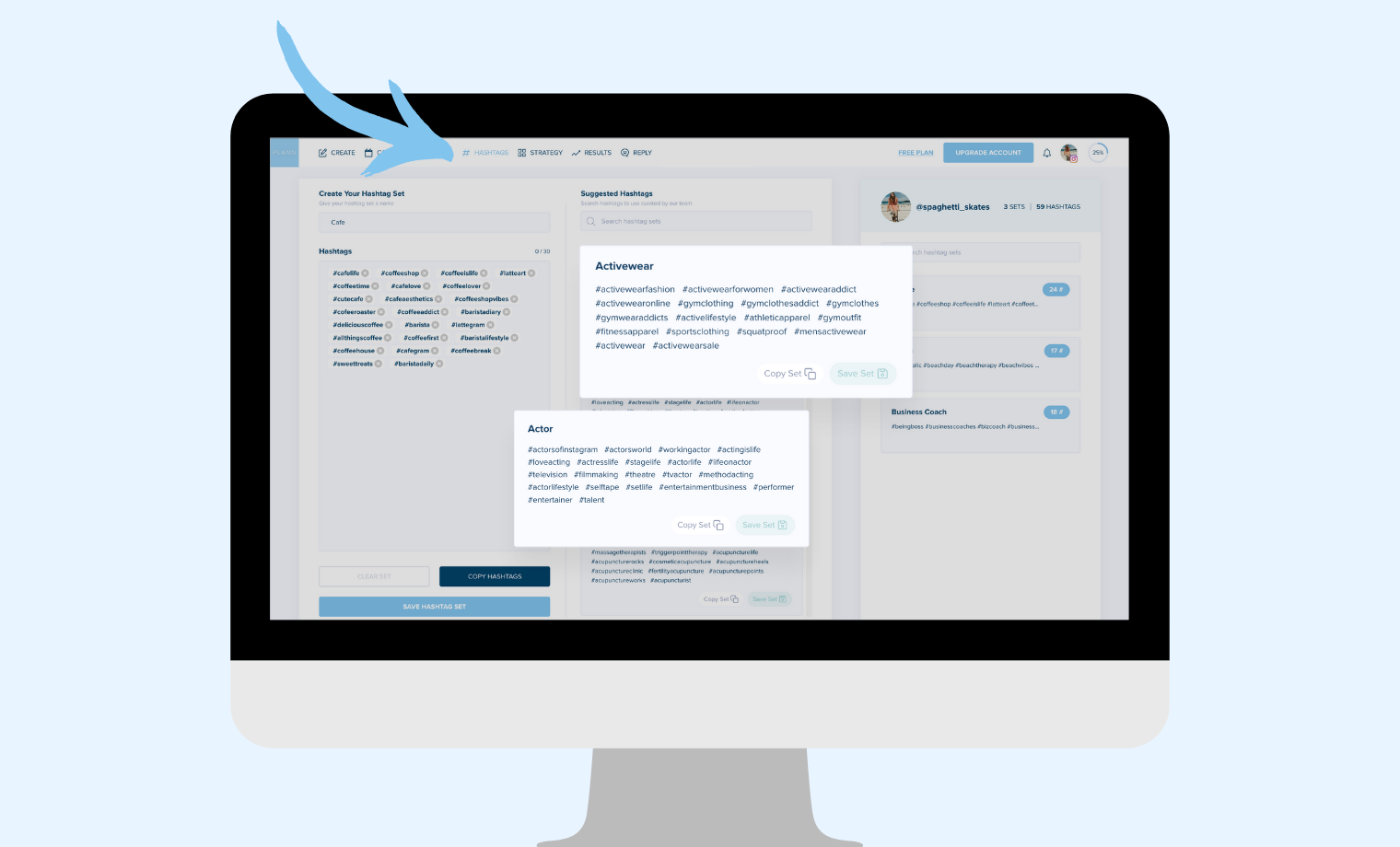 You can use Plann's hashtags collection features hand-in-hand with Plann's suggested sets to save a few sets of your favourite hashtags. Then, with the click of a button, you can easily pick and choose from them every time you go to post!
Most popular Instagram hashtags to use in 2023
#Love
#Instagood
#Bestlife
#Happy
#travel #fun
#igers
#igersuk
#igersusa
#Igersperu
#Igersjapan
#Igworldclub
#Igworldtravel
#Ig_captures
#Ig_portraits
#Igers_daily
#Igers_stories
#Photooftheday
#Fashion
#Beautiful
#Happy
#Cute
#Tbt
#like4like
#Followme
#Picoftheday
#Follow
#Me
#Selfie
#Summer
#Art
#Instadaily
#Friends
#Repost
#Nature
#Girl
#Fun
#Style
#Smile
#Food
#Instalike
#Likeforlike
#Family
#Travel
#Fitness
#Igers
#Tagsforlikes
#follow4follow
#Nofilter
#Life
#Beauty
#Amazing
#Instamood
#Instagram
#Photography
#Vscocam
#Sun
#Photo
#Music
#Beach
#Followforfollow
#Bestoftheday
#Sky
#Ootd
#Sunset
#Dog
#Vsco
#Instacool
#Makeup
#Inspiration
#Foodporn
#Hair
#Pretty
#Swag
#Cat
#Model
#Motivation
#Girls
#Baby
#Party
#Cool
#Lol
#Gym
#Design
#Instapic
#Funny
#Healthy
#Night
#Workout
#Yummy
#Flowers
#Lifestyle
#Hot
#Instafood
#Wedding
#Fit
#Handmade
#Black
#Pink
#Work
#Blue
Want more help with hashtags?
Grab our ultimate hashtags cheat sheet, where we hash out everything you need to know about growing with hashtags.